The rugged construction of the 988F Series II is made for tough working conditions. It keeps material moving in high volume with Cat reliability, durability and low operating costs.
Overview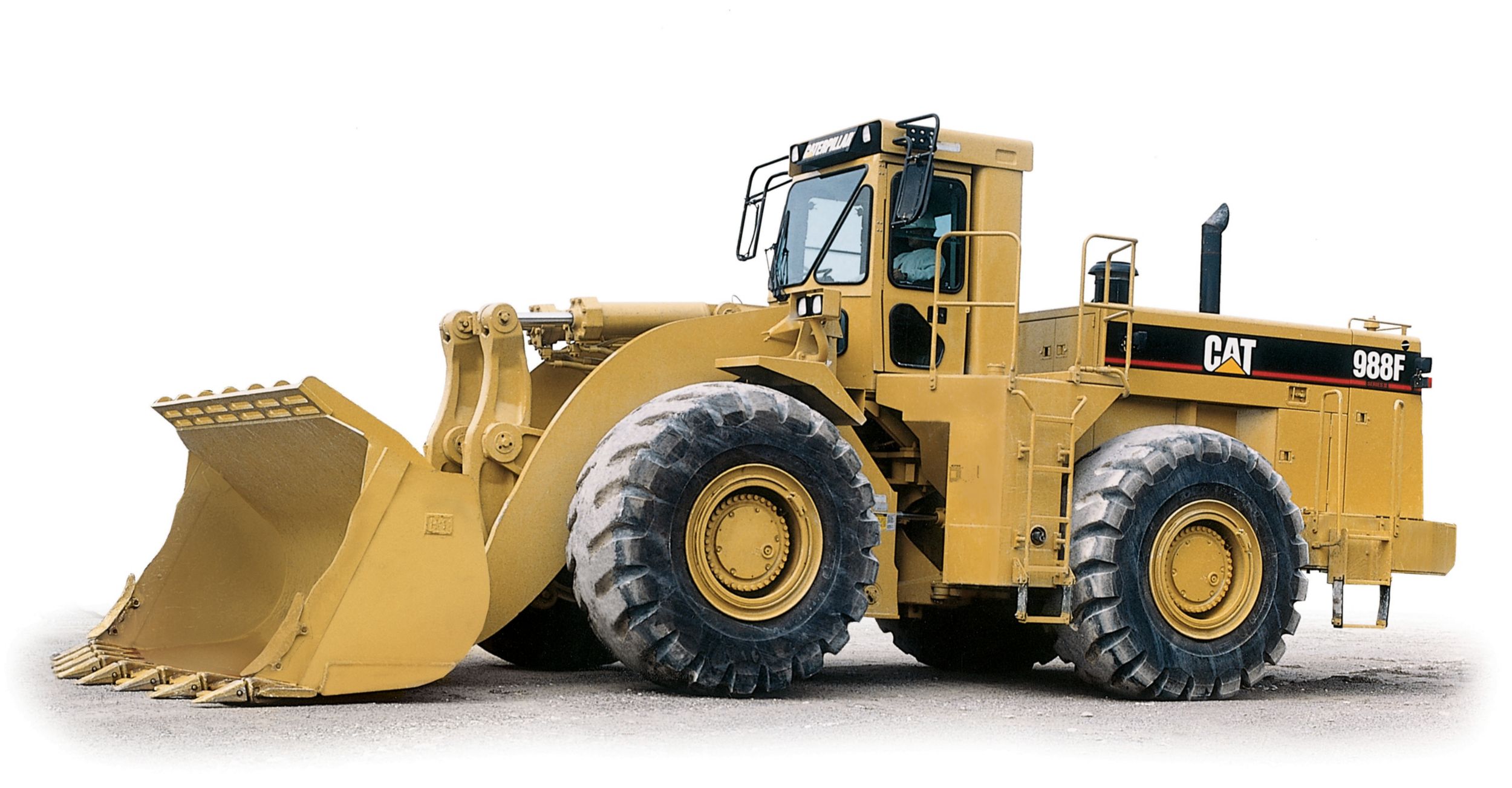 Made for demanding work.
Power Train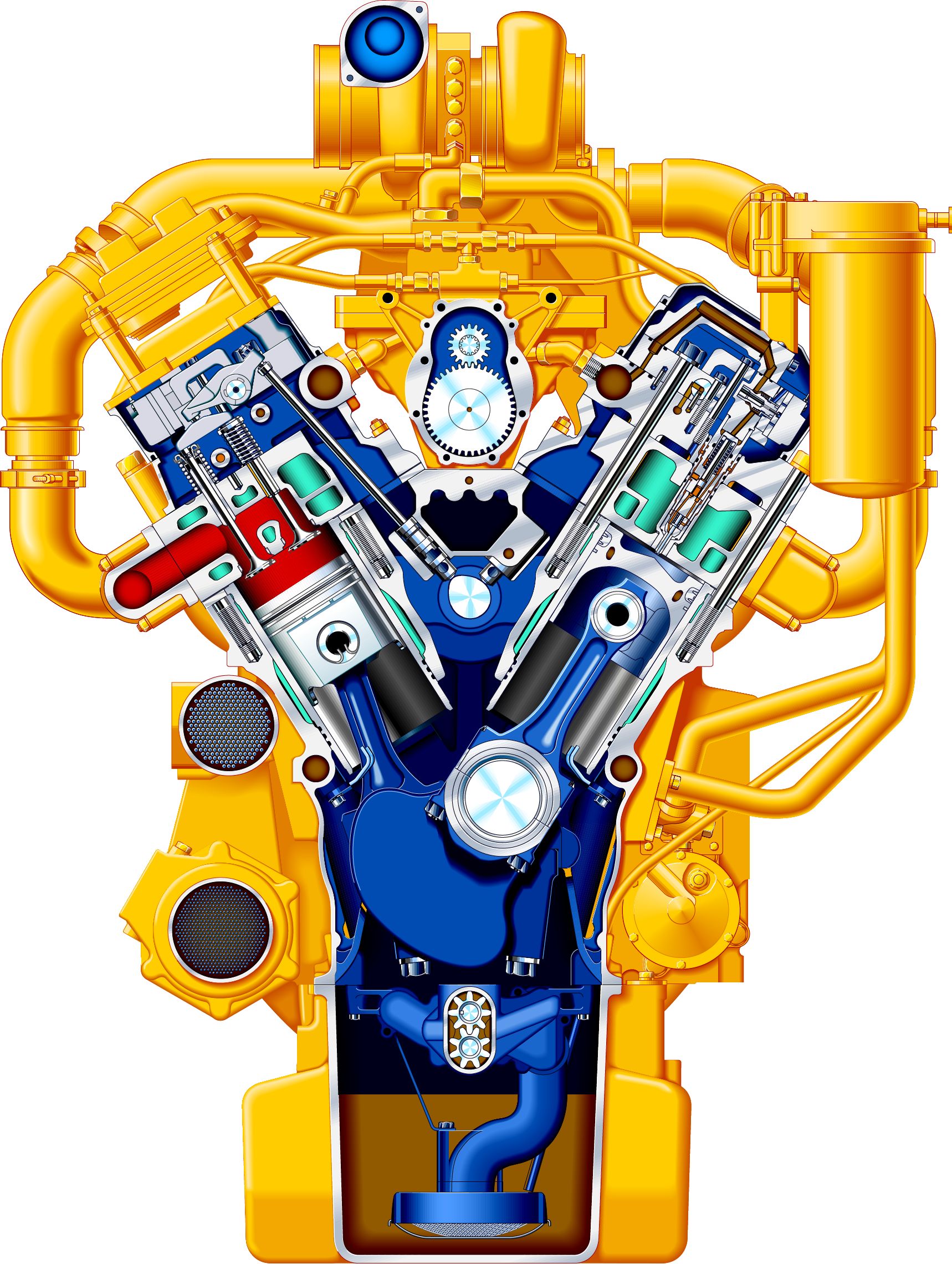 Proven components combine to deliver the most durable/reliable power train in the industry, keeping costs low and production high.
Caterpillar 3408E Engine
The HEUI fuel system and Electronic Control Module (ECM) deliver power and efficiency in the most demanding applications.
Variable Capacity Torque Converter
The variable capacity torque converter allows operators to vary rimpull based on operating conditions.
Axel-shaft, Oil-disc brakes
Axel-shaft, oil disc brakes are fully hydraulic, completely sealed and never need adjustment.
Planetary, Electronic, Power-shift Transmission
Electronic shifting provides smooth consistent shifts with fingertip controls housed in the STIC controller.
Drive Shaft and U-joints
Drive shaft and U-joints are capable of carrying 15,000 ft-lbs peak torque.
Axles
Axles have high capacity bevel gear sets and differentials use a new gear cutting process for increased strength.
Operator Station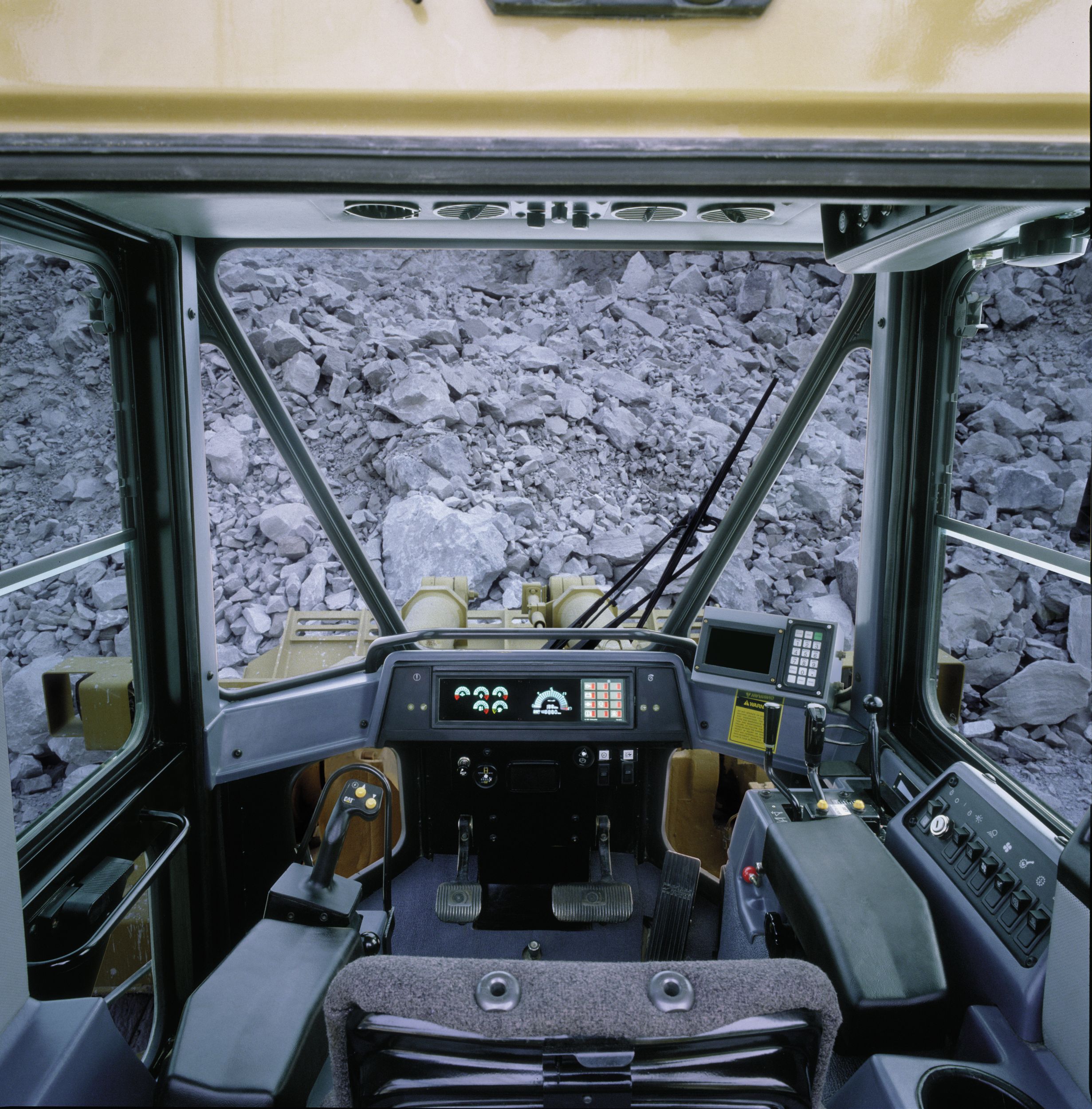 Thoughtfully designed for operator's maximum comfort and productivity.
Ergonomically Designed
Ergonomically designed to incorporate innovations for operator comfort and productivity.
STIC Control System
The STIC control system is a revolutionary system that integrates steering and transmission into a single controller.
Noise and Vibration Suppression
The resiliently mounted platform and sound suppressed cab isolates the operator from noise and vibration.
Contour Series Seat
The Caterpillar Contour Series Seat with air suspension is ergonomically designed and fully adjustable for operator comfort.
Quick Shift Feature
The quick shift feature allows quicker cycle times by shifting from 1st Forward to 2nd Reverse.
Computerized Monitoring System (CMS)
The Computerized Monitoring System (CMS) uses a vacuum fluorescent display allowing gauges to be easily read in direct sunlight or at night.
Lift and Tilt Hydraulic Controls
Lift and tilt hydraulic controls are located to the right side of the seat. The armrest is height-adjustable so that operators of any size can find a comfortable operating position.
Left Foot Pedal
The left foot pedal disengages the transmission and stops the machine allowing higher engine speed for better hydraulic response.
Radio Ready
The operator's station is radio-ready for entertainment and 2-way radio with 12-volt converter with power wires and built in speakers.
Axel Temperature Sensor
The axle temperature sensor detects and alerts the operator of elevated axle oil temperature.
Throttle Lock
The throttle lock allows the operator to preset the engine speed for a variety of applications.
Optional Payload Control System II
The optional Payload Control System II measures bucket payload weight accurately and quickly, on the go or stationary. It also has easy download capability.
Optional Ride Control System
The optional Ride Control System is used in roading, load and carry and other applications where load retention, spillage and operator ride may be a problem.
Structures
Superior construction means superior strength.
Robotically Welded Structures
Structures on the 988 F Series II are more than 75 percent robotically welded.
Box Section Rear Frame
The box section rear frame absorbs torsional forces generated in a loading cycle, maintaining alignment for hitch pins and driveline.
Four Plate Loader Tower
The four plate loader tower resists shock and torsional loads maintaining hitch and loader linkage pin alignment.
Optimum Strength
The 988F Series II is designed for optimum strength.
Computer-Controlled Machining
Computer-Controlled Machining at the top level allows structures to remain in their fixture throughout the machining process to ensure pin bore, axle pad and engine/transmission alignments.
Special Arrangements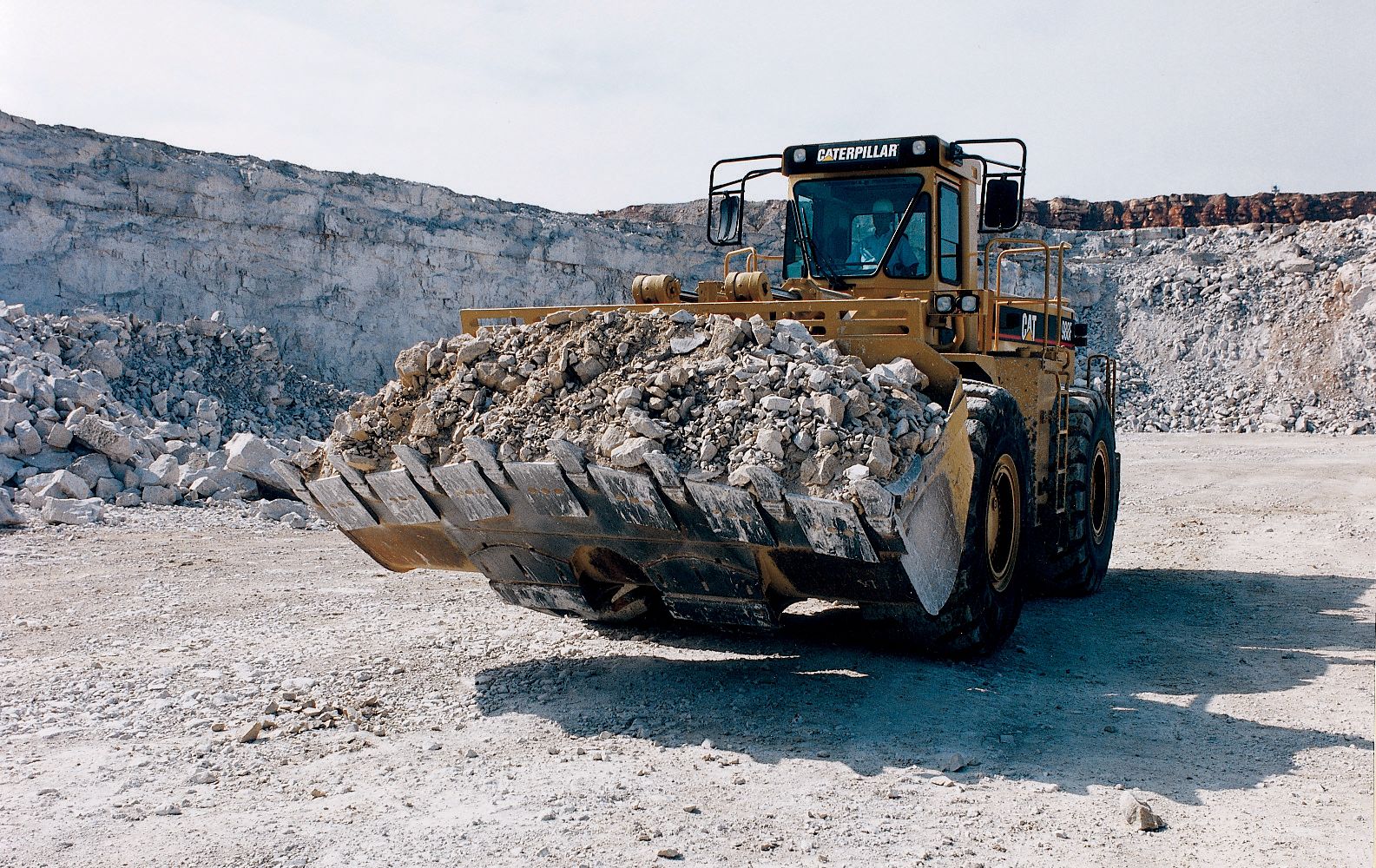 A variety of machine arrangements to deliver more of what you need in special applications.
High Lift Arrangement
The high lift arrangement has production rates similar to standard 988F Series II.
Load and Carry Arrangement
The load and carry arrangement can include STIC control, Auto-shift, or both.
Block Handling Arrangement
Four arrangements are available to meet a variety of quarry block handling applications.
Steel Mill Arrangement
The Steel Mill Arrangement has a number of options for work in and around steel mills.
Log Loading Arrangement
The log loading arrangement provides options for the logging industry.
Buckets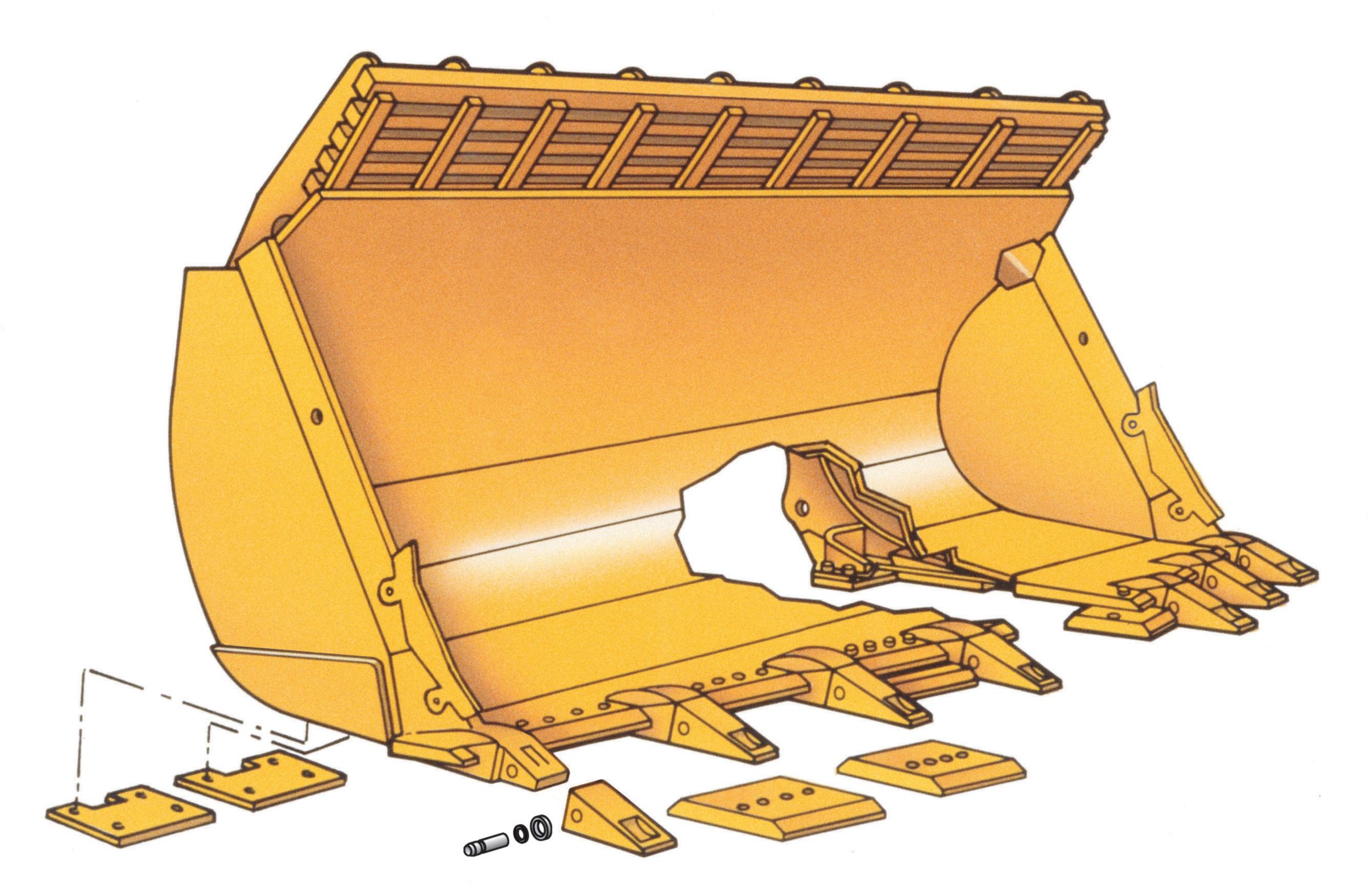 The wide choice of Caterpillar buckets helps you match the machine to the job.
Rugged Design
All buckets are built with shell-tine construction that resists twisting and distortion.
Spade-edge rock bucket with Modulok System
The Spade-edge rock bucket with Modulok system is recommended for high-abrasion rock loading. Wear surfaces are pinned on rather than welded for quick changes. It leaves a clean working floor and there are several tip options available.
Spade and Straight-edge Rock Buckets with Bolt-on Segments
Easily changed bolt-on segments extend base edge life. Buckets are equipped with shouldered double-strap adapters and prove good penetration and smooth work floors. There are several tip options available.
Spade and Straight-edge Rock Buckets with Bolt-on Edges
Spade and Straight-edge Rock Buckets with Bolt-on Edges provide smooth work floors, protects the base edge when in loose and abrasive materials and is easily reversible for a second wear surface.
Serviceability
Less time spent on maintenance gives you more time on the job.
Easy Maintenance
In addition to the servicing features built into the engine, the 988F Series II is easily maintained.
Diagnostic Connector
The 988F Series II has a diagnostic connector that enables the quick evaluation of eleven staring and charging functions.
Hinged Doors In Platform
The 988F Series II has hinged doors in the platform which provide access to the hydraulic tank fill, implement and steering filters, transmission dipstick and filler spout.
Engine Compartment Doors
The hinged doors in front of the engine compartment provide access to the pilot oil filter, transmission oil filter, and the air cleaner.
Lube Points
Lube points are centralized into four locations and are accessible from ground level.
Battery Accessiblity
Batteries are accessible through hinged doors in the bumper.