990H Wheel Loader
The Cat® 990H is a proven performer in quarry and industrial applications around the world. With superior quality and world class productivity, the 990H provides the lowest cost per ton of any wheel loader in its size class.
Product Details
Engine
| | |
| --- | --- |
| Net Power | 468.0 kW |
| Engine Model | Cat® C27 ACERT® |
| Gross Power | 512.0 kW |
| Net Power - ISO 9249 | 468.0 kW |
| Net Power - SAE J1349 | 463.0 kW |
| Net Power - DIN 70020 | 650 PS |
| Bore | 137.0 mm |
| Stroke | 152.0 mm |
| Displacement | 27.1 L |
| Net Power - EEC 80/1269 | 468.0 kW |
| Net Power - ISO 14396 | 499.0 kW |
Operating Specifications
| | |
| --- | --- |
| Operating Weight | 77842.0 kg |
| Rated Payload | 15.0 tonnes |
Buckets
| | |
| --- | --- |
| Bucket Capacities | 8.4 m3-9.2 m3 (11 yd3-12 yd3) |
Transmission
| | |
| --- | --- |
| Transmission Type | Powershift |
| Forward 1 | 7.0 km/h |
| Forward 2 | 12.8 km/h |
| Forward 3 | 22.4 km/h |
| Reverse 1 | 7.9 km/h |
| Reverse 2 | 14.1 km/h |
| Reverse 3 | 24.8 km/h |
| Converter Drive - Forward 1 | 7.0 km/h |
| Converter Drive - Forward 2 | 12.1 km/h |
| Converter Drive - Forward 3 | 20.8 km/h |
| Converter Drive - Reverse 1 | 7.7 km/h |
| Converter Drive - Reverse 2 | 13.4 km/h |
| Converter Drive - Reverse 3 | 22.8 km/h |
| Direct Drive - Forward 1 | Lock-up disabled |
| Direct Drive - Forward 2 | 12.8 km/h |
| Direct Drive - Forward 3 | 22.4 km/h |
| Direct Drive - Reverse 1 | 7.9 km/h |
| Direct Drive - Reverse 2 | 14.1 km/h |
| Direct Drive - Reverse 3 | 24.8 km/h |
Axles
| | |
| --- | --- |
| Maximum Single-Wheel Rise and Fall | 572.0 mm |
| Front | Fixed |
| Rear | Oscillating |
| Oscillation Angle | ±11° |
Hydraulic Cycle Time
| | |
| --- | --- |
| Raise | 9.2 Seconds |
| Dump | 2.9 Seconds |
| Lower Float Down (Empty) | 3.8 Seconds |
| Total Hydraulic Cycle Time | 15.9 Seconds |
Loader Hydraulic System
| | |
| --- | --- |
| Main Hydraulic System Output at 2,128 rpm and 6900 kPa (1,000 psi) | 650.0 L/min |
| Relief Valve Setting | 31000.0 kPa |
| Cylinders, Double Acting: Lift, Bore and Stroke | 234 mm × 1270 mm (9.25 in × 50 in) |
| Cylinder, Double Acting: Tilt, Bore and Stroke | 292 mm × 820 mm (11.5 in × 32.3 in) |
| Pilot System, Gear-Type Pump Output at 2,000 rpm and 6900 kPa (1,000 psi) | 46.0 L/min |
| Relief Valve Setting (low idle) | 2400.0 kPa |
Steering
| | |
| --- | --- |
| Minimum Turning Radius (over bucket) | 10337.0 mm |
| Steering Angle, each direction | 35.0 Degrees |
| Hydraulic Output at 2,128 rpm and 6900 kPa (1,000 psi) | 410.0 L/min |
| Relief Valve Setting | 31000.0 kPa |
| Minimum Turning Radius (over bucket) - HL | 10757.0 mm |
Service Refill Capacities
| | |
| --- | --- |
| Fuel Tank | 1074.0 L |
| Cooling System | 190.0 L |
| Crankcase | 95.0 L |
| Transmission | 110.0 L |
| Differentials and Final Drives - Front | 271.0 L |
| Differentials and Final Drives - Rear | 261.0 L |
| Hydraulic System (tank only) | 174.0 L |
| Hydraulic System - Lift/Tilt and Brakes | 435.0 L |
| Hydraulic System - Steering and Engine Cooling Fan | 194.0 L |
| Hydraulic System (including tank) | 435.0 L |
Cab
| | |
| --- | --- |
| Cab - ROPS/FOPS | Meets SAE and ISO standards |
| Sound Performance | Sound Performance Meets ANSI, SAE and ISO standards |
Brakes
| | |
| --- | --- |
| Brakes | Meet SAE/ISO 3450 1996 |
Tires
| | |
| --- | --- |
| Tires | Tires used for measurement - 41.25/70-39 42 ply |
Productivity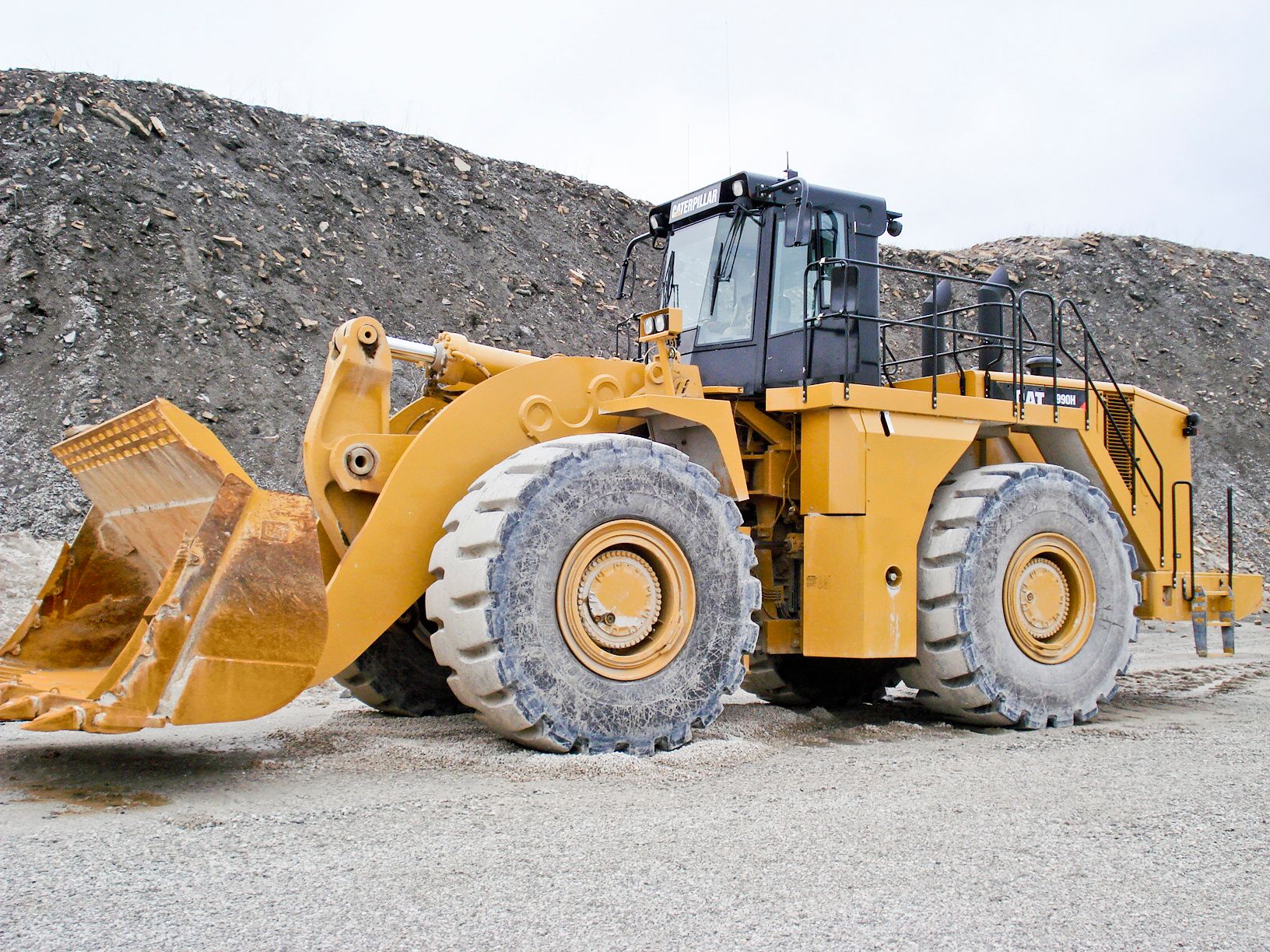 Designed with the right features to meet the daily demands of your job site
Engine
The Cat® C27 engine with ACERT® Technology is U.S. EPA Tier 3 and EU Stage III compliant. It features increased horsepower and efficient fuel management for quick response, high productivity and exceptional service life. A sculpted cylinder block provides greater strength and is lighter weight.
Impeller Clutch Torque Converter (ICTC) and Rimpull Control System (RCS)
ICTC combined with the RCS allows the operator maximum flexibility in the modulating rimpull.
Left brake pedal modulates rimpull from 100 to 20 percent for reduced tire slippage and wear. After 25 percent is achieved, further pedal travel applies the brake.
RCS reduces the potential for wheel slippage without reducing the hydraulic efficiency. An in-cab switch allows the operator to set percentage of maximum rimpull to meet operating conditions. Four settings are available, and operators can set rimpull at 70, 80, 90 and 100 percent.
Fuel Efficiency

Fuel Management
Load Sense Steering System
Typical steering systems can draw more than 30 kW (40 hp) from the engine. The draw is constant, even when the operator is not steering. This system maximizes performance by directing power through the steering system only when it's needed. More efficient use of power results in decreased fuel consumption and higher production.
Torque Converter Lock Up Clutch
The torque converter lock up clutch provides direct drive for improved fuel economy, especially in load and carry operations. This feature activates in second and third gears forward and first through third gears reverse.
Demand Driven Cooling Fan
A variable displacement pump drives the fan's hydraulic motor so that fan speed varies independent of engine speed. The pump increases output as temperatures increase, improving cooling capability. The fan draws only the power needed for cooling, reducing fuel consumption and increasing efficiency.
Engine Idle Shutdown
This new feature will automatically shutdown the engine after the machine has been in a safe idling state for an extended amount of time. The operator in the cab will be audibly and visually warned before the shutdown occurs.
Reliability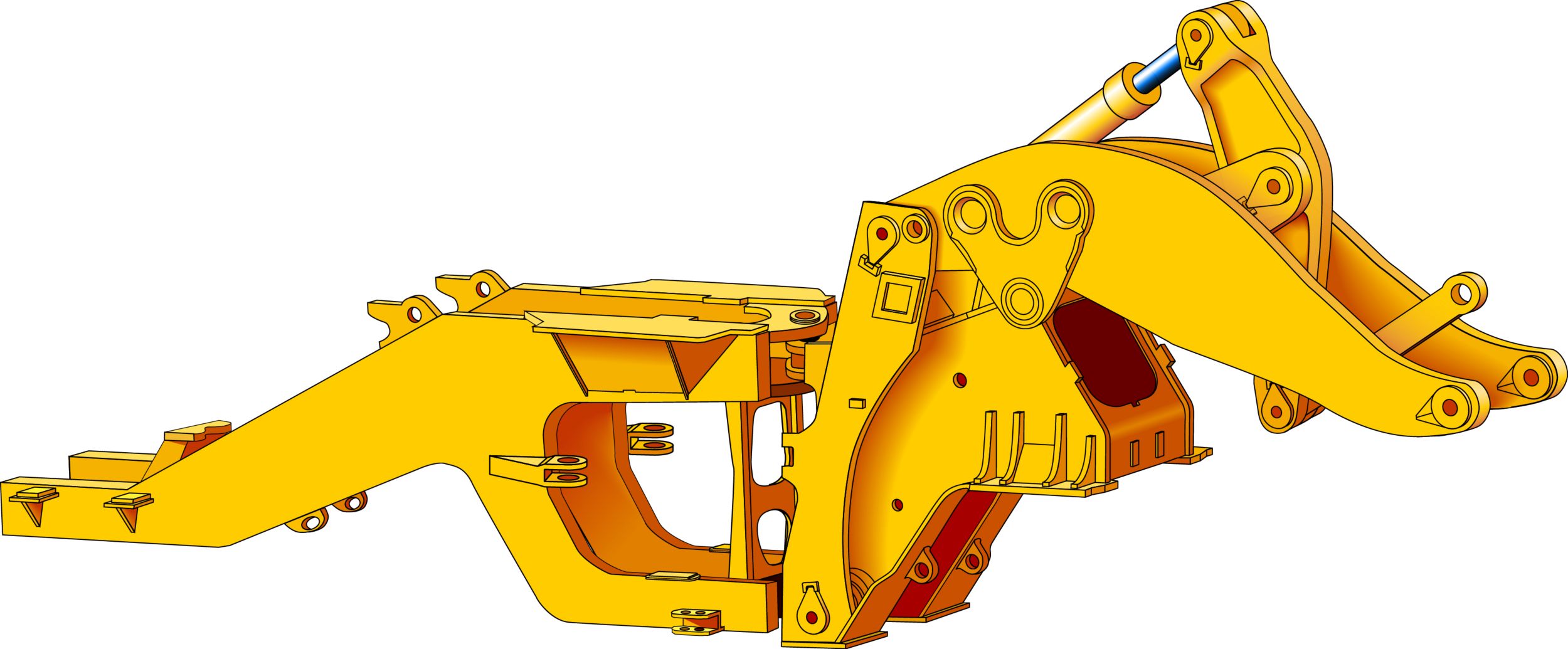 Maximize uptime, long life - it's what you expect from your Cat® wheel loader
Structures
Combining the use of robotic welding and castings in critical high-stress areas, more than 80 percent of the 990H structure is robotically-welded to provide highly consistent welds and increased strength. Castings are also used in several areas to increase strength by helping to spread the loads and reduce the number of parts.
Front Frame and Rear Frame
Highly engineered and field-proven, the 990H uses high-strength plates and castings which distribute loads and increases structure robustness. A key differentiator from other manufacturers' machines is the box-section rear frame and box-shaped loader tower. The box section absorbs torsional forces generated in a loading cycle, maintaining alignment for hitch pins and driveline. The box-shaped loader tower resists shock and torsional loads, maintaining hitch and loader linkage pin alignment, maximizing pin life.
Axle-Shaft, Oil Disc Brakes
These brakes are adjustment-free, fully hydraulic and completely sealed. Disc face grooves provide cooling even when brakes are applied for a longer component life.
Location of the brakes allows for improved serviceability. The axle shaft brake design allows for brake service while leaving the final drive intact.
Axle-shaft brakes require less force by operating on the low torque side of the axle. Combined with improved axle oil circulation for increased cooling, the oil-enclosed, multiple disc brake design improves durability.
Z-bar Loader Linkage
Proven Z-bar loader linkage geometry delivers maximum productivity. Fewer pivot points and moving parts are designed to reduce maintenance costs.
Operator Comfort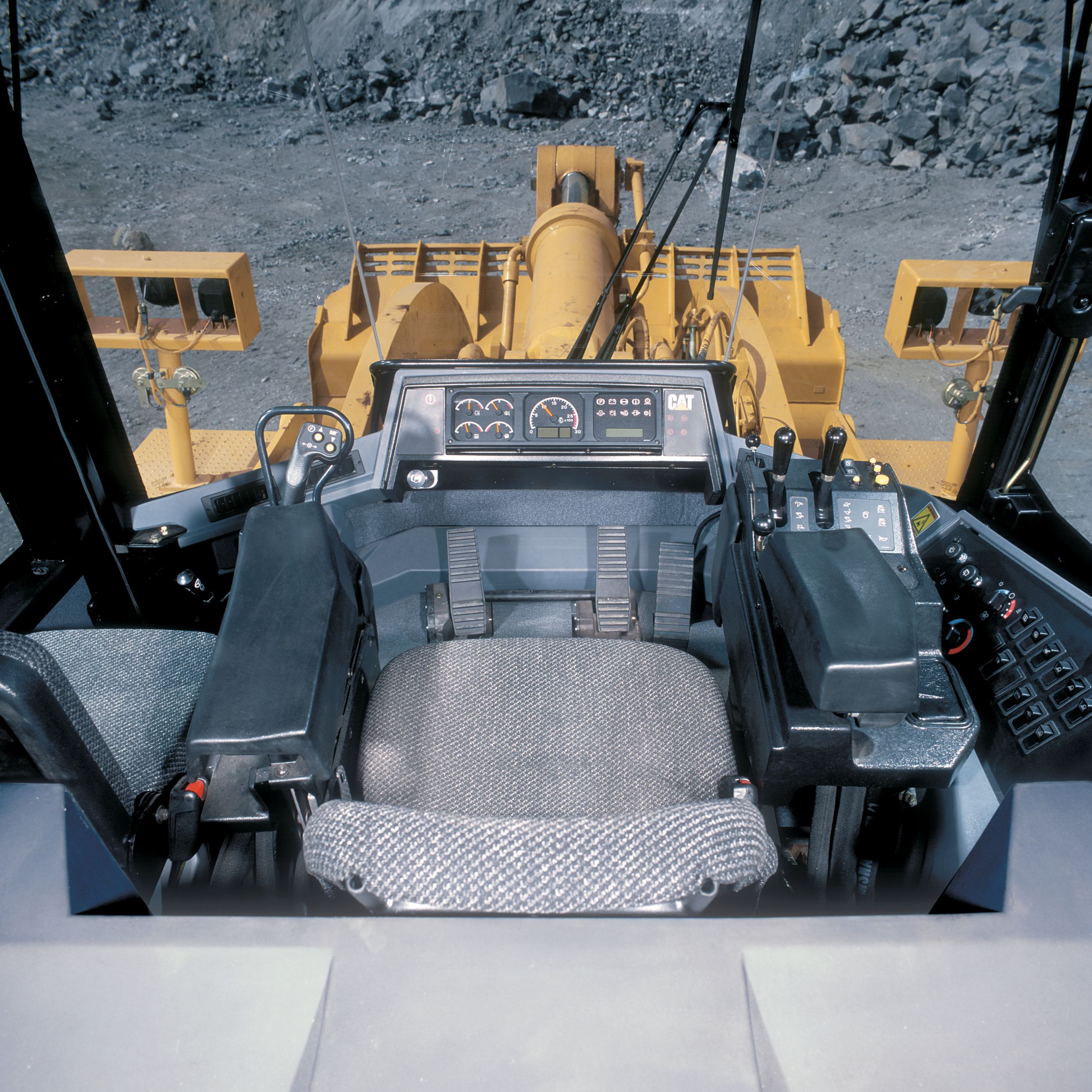 Best-in-class working environment
Best-in-Class Working Environment
A comfortable operator is a productive operator, which is why Caterpillar has designed the 990H with a best-in-class working environment for this size wheel loader class.
World class cab incorporates features for operator comfort and ergonomics, visibility and ease of operation.
Ergonomic controls are fully adjustable and designed for low-effort comfort. Switches and controls for various systems are located within easy reach of the operator.
Interior noise levels are reduced to a quiet 72 dB(A).
Cat Monitoring System (EMS-III) provides information on machine's major components. This includes gauge displays for the fuel tank level; temperature gauges for the engine coolant, torque converter and hydraulic oil; tachometer analog gauge with digital readout for gear selection and ground speed and a monitoring system.
Optional features are available for improved visibility. These options include a rear vision camera to clearly monitor movement behind the wheel loader and high intensity discharge (HID) lights for greater visibility at night.
Standard trainers seat allows for a safe method to properly train your operator.
Technology Solutions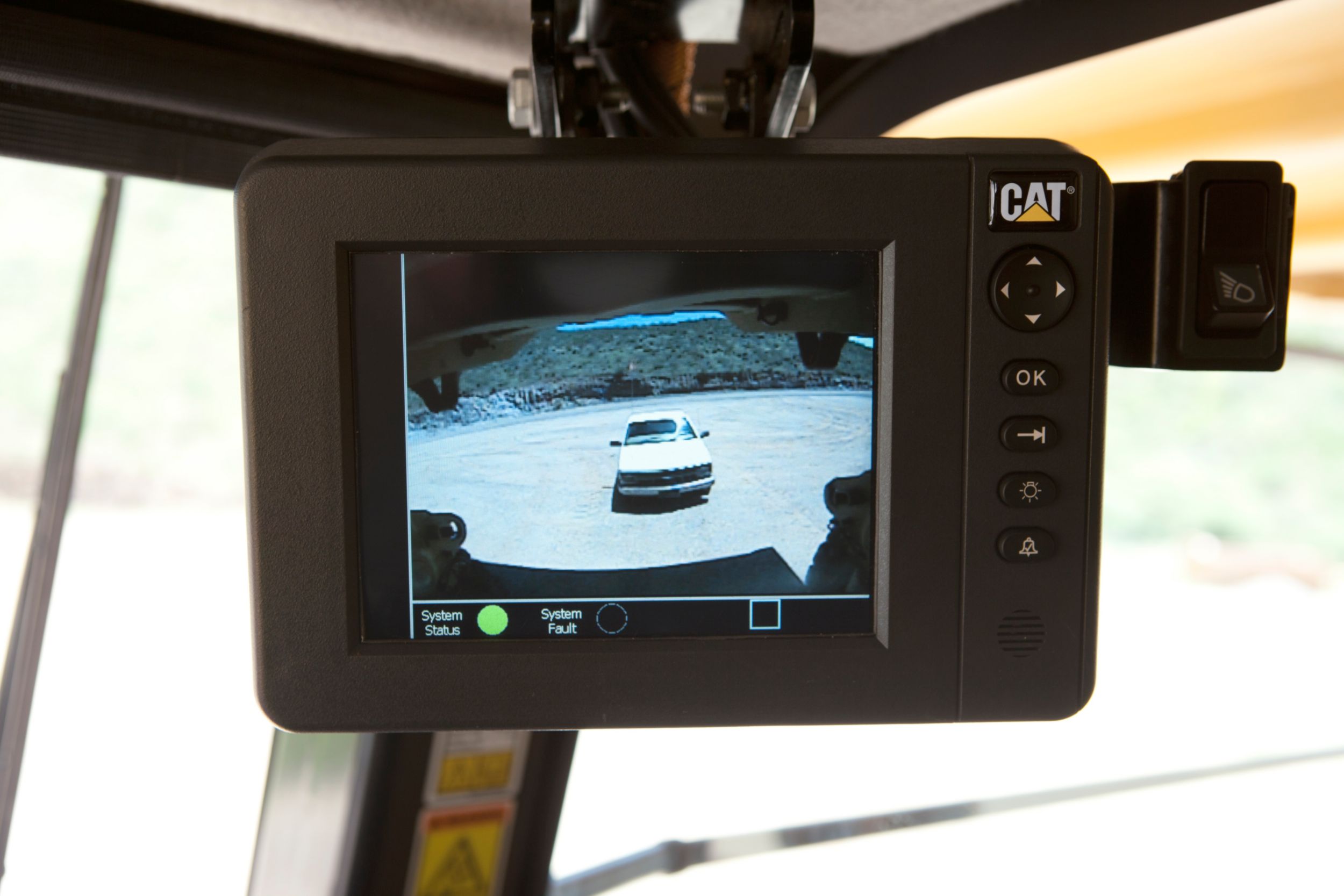 Systems and features to achieve even greater productivity
Payload Control System
Payload Control System (PCS) is designed to help the 990H owners and operators manage truck payloads and produce accurate records of material movement. This advanced electronic control system is designed for on-the-go weighing.
Cat Product Link
Cat® Product Link enables convenient, remote monitoring of equipment. It provides usable information to keep jobs on schedule, maintain machine health and reduce fleet owning and operating costs.
Simplify fleet management and monitor machine use
Link all machines, regardless of brand
Three levels of insight to meet specific business requirements
Cat Detect
Using a combination of radars, an in-cab display, and multiple cameras, Cat Detect provides equipment operators with enhanced awareness for increased site safety. The touch screen display alerts the operator when objects have entered critical areas around the equipment. The radar view provides a visual indication of where the objects are relative to the machine.
Buckets and Ground Engaging Tools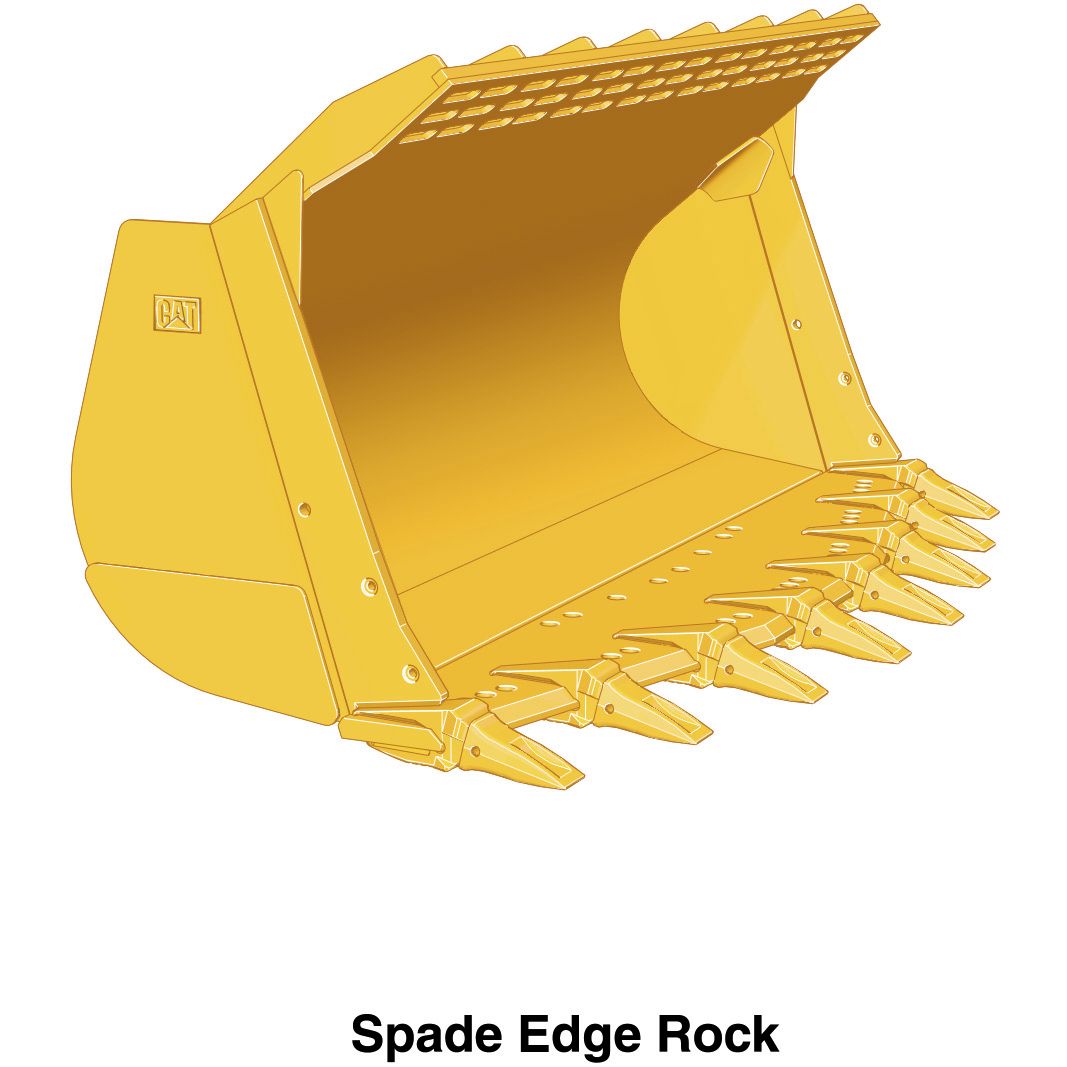 Provide flexibility to match the machine to your application
Buckets
Buckets for the 990H range in size from 8.6 m3 (11.25 yd3) to 9.2 m3 (12 yd3) and may be configured for a variety of impact and abrasive conditions. All buckets are built with shell-tine construction that resists twisting and distortion and feature replaceable, weld-on wear plates to protect the bottom of the bucket. The integral rock guard helps retain big loads while heavy-duty pins and retainers provide durability.
Rock Buckets
Available in spade edge or straight edge configurations. Spade edge buckets use bolt-on segments and are available from 8.6 m3 (11.25 yd3) to 9.2 m3 (12 yd3). An 8.6 m3 (11.25 yd3) Straight Edge Rock is also available. Each bucket accepts up to two sets of sidebar protectors, features double-strap adapters, easily changed bolt-on segments and several tip options.
Heavy-Duty Quarry Bucket
Available as an 8.6 m3 (11.25 yd3) capacity bucket and is recommended for use in face loading where moderate abrasion and high impact is encountered. It features additional wear protection items, including: thicker base edge and adapters, additional liners and wear plates, bolt-on half arrow segments and four sidebar protectors.
High Abrasion Bucket
Available as an 8.6 m3 (11.25 yd3) capacity bucket and is recommended for use in face loading where high abrasion and moderate impact is encountered. This bucket features additional wear protection items including independently attached edge and adapter covers, flush mount adapters, additional liners and wear plates, four sidebar protectors (two sets) and a thicker base edge. Flush mount adapters provide a smooth finish floor and reduce wear on the adapters.
Serviceability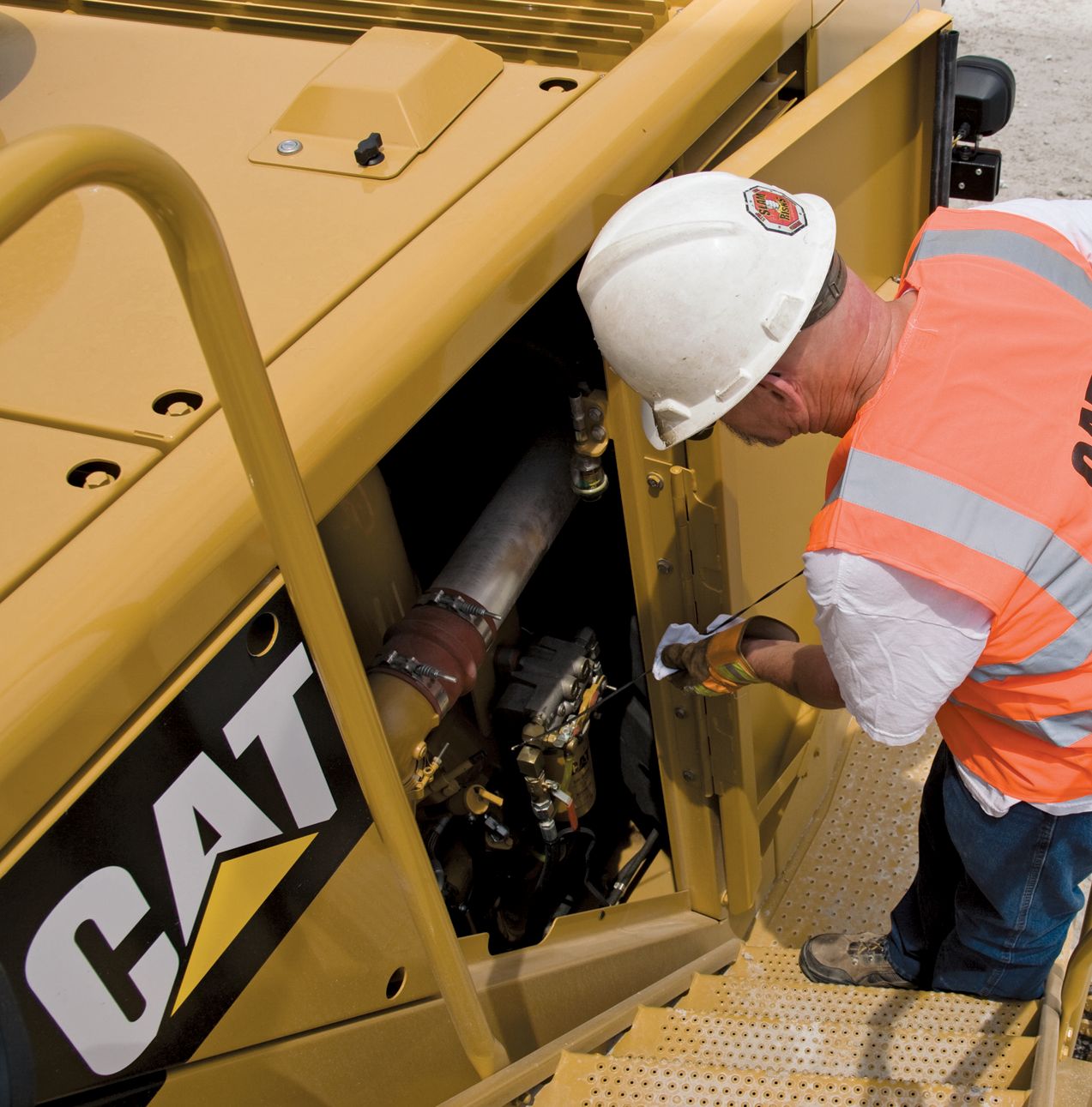 Increase uptime by reducing service time
The 990H is designed to ensure minimal downtime through ground level or platform access, grouped service points, and attention to key serviceable areas on the machine.
Maintain three points of contact at all times through ground level or platform accessible service areas.
Ground level viewable site gauges on all major systems.
Ground level engine shutdown, battery disconnect switch and steering hitch lock lever allow service technicians to perform maintenance while the machine stays static.
Longer service intervals on fluids and filters.
Swing-out doors on both sides of the engine compartment provide easy access to the engine oil dipstick and filler spout, S·O·SSM ports, fuel filters, air conditioner compressor, engine oil filters, alternator, starting receptacle, air filter service indicator, cooler fill and ether starting aid.
Maintenance-free batteries
Ecology drains for ease of service and prevention of spilling potential environmental contaminants. Ecology drains are standard on the hydraulic, engine, transmission and coolant systems.
Customer Support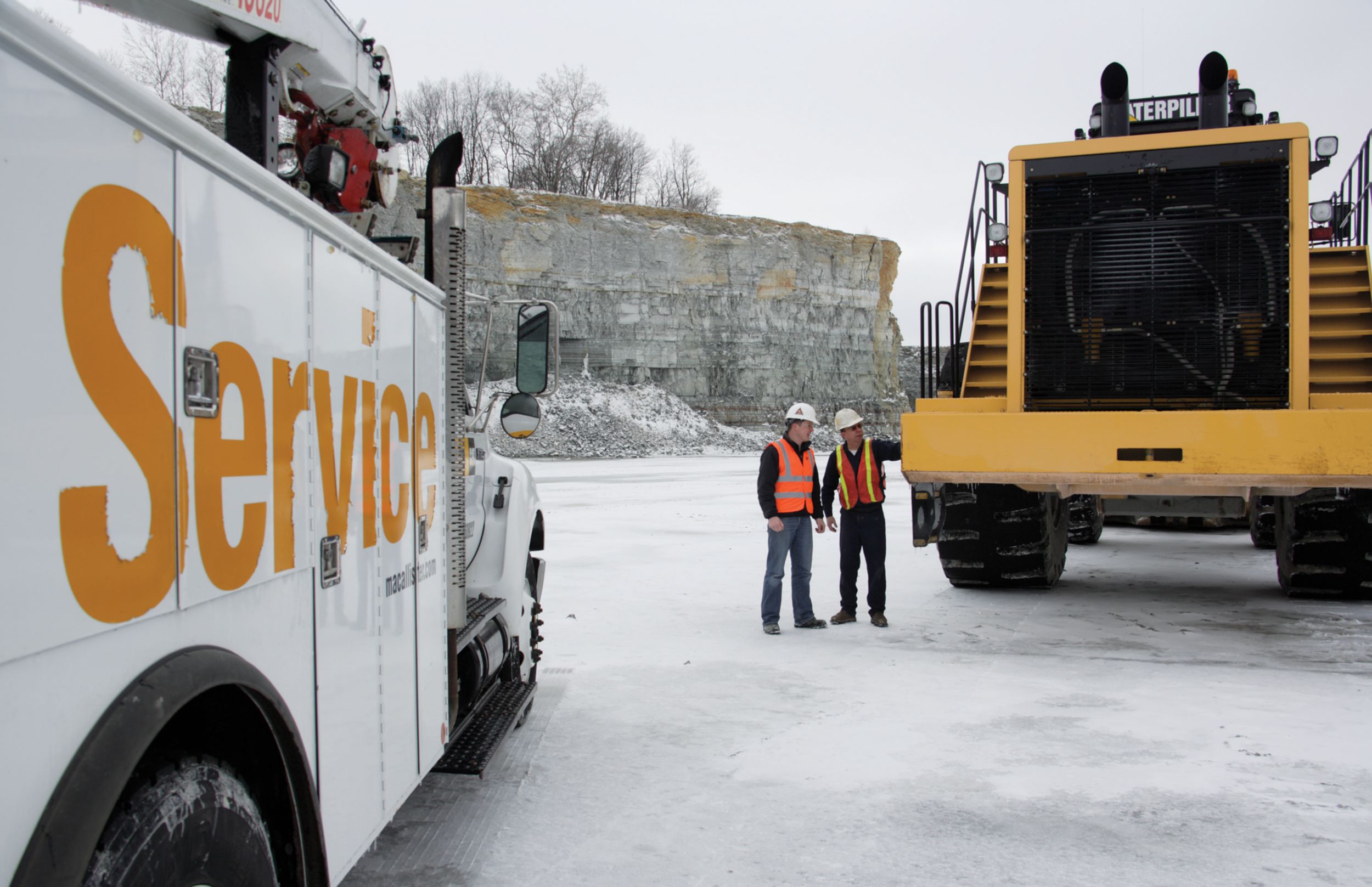 Count on Cat dealers for business solutions
Selection
Cat dealers can help customers compare and choose the right machine for their business.
Financing
Cat dealers offer financing options to meet a variety of needs.
Operation
Improve operating technique for better productivity and profit with the latest Cat dealer training resources.
Product Support
Cat dealers are with customers every step of the way with unsurpassed worldwide parts support, trained technicians and customer support agreements.
Sustainability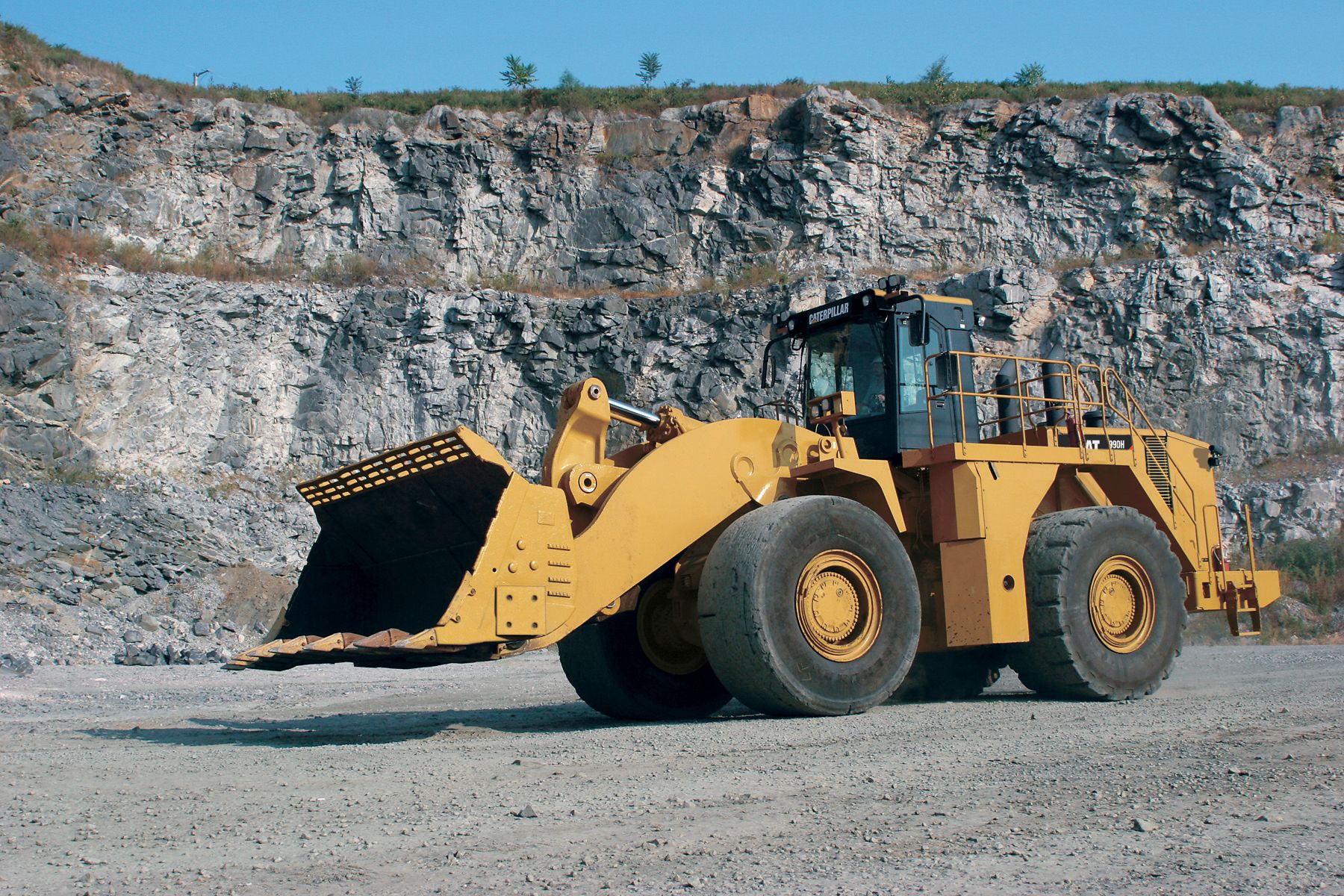 Protecting the environment
Protecting the Environment
With the 990H having a long legacy, it is only fitting this machine has features and services that show environmental responsibility.
First in this wheel loader size class to meet Tier 3 emissions, and Caterpillar continues to develop technology to meet changing regulatory requirements.
Maintenance-free, ease of maintenance or extended maintenance, attention has been paid to lowering routine maintenance cost while eliminating waste to the environment.
Caterpillar provides a number of sustainable options such as our Reman and Certified Rebuild programs. In these programs, reused or remanufactured components can deliver cost savings of 40 to 70 percent, which lowers operating cost while benefiting the environment.
Caterpillar offers retrofit packages to bring new features to older machines, maximizing your resource. And, when you go through the Cat Certified Rebuild program, these retrofit kits are part of the rebuild process.
Safety
Keeping your people safe and productive is our number one priority
At Caterpillar, we have designed the 990H with your most important asset in mind - People. Drawing from a history of technological advancements and practical wisdom, you can be assured that your people are protected while working in, on or around the 990H Wheel Loader.
Visibility
Whether it be positioning to the truck or watching for people and vehicles on the site, the 990H offers a number of standard and optional features to enhance job site visibility. Features include:
Articulated wiper/washer system with intermittent features
Optional high intensity discharge (HID) lights
Optional warning beacons
Optional rear vision camera
Access and Egress
The 990H has a number of features to ensure your operator gets safely on and off the 990H.
Primary and secondary stairwell exits
Punch stamped tread plates
Ground level night time stairwell lights
Full perimeter railings and toe kicks on upper platform
Side platform emergency egress
Optional roading fenders
Maintenance Safety
With the 990H, design efforts were taken to group service points with convenient access. As seen in the serviceability section, all service points are at ground level or platform access to maintain three points of contact, and a number of disconnect switches are available to ensure the 990H is static during service.
Operator Health and Well Being
The 990H offers many features that enhance operator comfort and aid in keeping the operator safe.
Ergonomic cab controls designed for easy adjustment, low effort and minimal motion
Cab air filtration system
Laminated cab glass to minimize sound levels
Optional secondary steering
Electrical

Alarm, back-up
Alternator (95-amp)
Batteries, maintenance-free
Deutsch terminal connectors
Diagnostic connector starting and charging system
Electrical system, 24-volt
Electronic transmission control
Lighting system, halogen: (front and rear) working, plus stop lights
Starter, electric
Starter receptacle for emergency start

Operator Environment

Air conditioner
Cab, sound-suppressed rollover protective structure (ROPS/FOPS): Radio ready for (entertainment) includes antenna, speakers and converter (12-volt 5-amp)
Cigar lighter and ashtray
Coat hook
Computerized monitoring system (EMS II) - Instrumentation, gauges: Coolant temperature Fuel level Hydraulic oil temperature Tachometer Transmission oil temperature - Instrumentation, warning indicators: Axle oil te
Heater and defroster
Horn, electric
Indicator lights: Quick-shift, throttle lock, torque converter and reduced rimpull control
Lift and tilt function lockout
Light, dome (cab)
Lunchbox and beverage holders
Mirrors, rearview (exterior mounted)
Quick shift feature
Seat belt, retractable, 76 mm (3 in) wide
Seat, Cat Comfort, (cloth) air suspension
STIC™ control system
Tinted glass
Wet-arm wiper/washers (front, rear, and corner): Intermittent front wiper

Air conditioner
Cab, sound-suppressed rollover protective structure (ROPS/FOPS): Radio ready for (entertainment) includes antenna, speakers and converter (12-volt 5-amp)
Cigar lighter and ashtray
Coat hook
Computerized monitoring system (EMS II) - Instrumentation, gauges: Coolant temperature Fuel level Hydraulic oil temperature Tachometer Transmission oil temperature - Instrumentation, warning indicators: Axle oil te
Heater and defroster
Horn, electric
Indicator lights: Quick-shift, throttle lock, torque converter and reduced rimpull control
Lift and tilt function lockout
Light, dome (cab)
Lunchbox and beverage holders
Mirrors, rearview (exterior mounted)
Quick shift feature
Seat belt, retractable, 76 mm (3 in) wide
Seat, Cat Comfort, (cloth) air suspension
STIC™ control system
Tinted glass
Wet-arm wiper/washers (front, rear, and corner): Intermittent front wiper
Power Train

Brakes, full hydraulic, enclosed, oil-disc: Axle-shaft oil-disc service brake, parking/secondary brake
Demand fan
Engine, Cat C27 ACERT® with MEUI fuel system, ATAAC and ECM
Fuel priming pump
Precleaner, engine air intake
Radiator, Next Generation Modular
Separated cooling system
Starting aid (ether) manual override
Throttle lock
Torque converter, impeller clutch with lock-up clutch feature and rimpull control system
Transmission, 533 mm (21 in) planetary power shift (electronic) (3F/3R)

Brakes, full hydraulic, enclosed, oil-disc: Axle-shaft oil-disc service brake, parking/secondary brake
Demand fan
Engine, Cat C27 ACERT® with MEUI fuel system, ATAAC and ECM
Fuel priming pump
Precleaner, engine air intake
Radiator, Next Generation Modular
Separated cooling system
Starting aid (ether) manual override
Throttle lock
Torque converter, impeller clutch with lock-up clutch feature and rimpull control system
Transmission, 533 mm (21 in) planetary power shift (electronic) (3F/3R)
Other Standard Equipment

Automatic bucket leveler
Automatic lift kickout
Axle temperature sensor
Engine, crankcase, 500 hour interval with Cat approved oil
Fenders, steel (front)
Grouped labeled lube points
Guards, crankcase and power train
Hood, tapered
Hitch, drawbar with pin
Mufflers (under hood)
Oil sampling valves
Sight gauges for steering/fan and implement/brake
Stairway, left side rear access
Steering, load sensing
Step for front windshield cleaning
Vandalism protection caplocks
Venturi stack

Tires, Rims and Wheels

A tire must be selected from the mandatory attachments section. Base machine price includes a tire allowance.

Antifreeze

Premixed 50% concentration of extended life coolant with freeze protection to -34° C (-29° F)
Buckets
Bucket attachments:

Bucket teeth, long (set of 8)
Bucket teeth, short (set of 8)
Bucket teeth, HD?long (set of 8)
Side bar protectors (set of 2)

Camera, Rear Vision
Filtration, Case Drain
Fuel system - Fast Fill meets EUI Pressure Vessel Requirements
High Ambient Cooling Arrangement
High Lift Arrangement
Lights

Engine Compartment
HID
Warning Beacon

Oil change system
Payload Control System II
Precleaner, Cab
Ride Control System
Sound Suppression/Spectator
Stairway

Left/Right with Roading Fenders
Right Hand

Starting aids

Cold weather starting system: Diesel fuel heater Heater, engine coolant

Cold weather starting system: Diesel fuel heater Heater, engine coolant
Supplemental steering
Tires
360° Exterior View
360° Interior View