Oman Packaging & Material Handling Exhibition (OPMEX) 2016
Oman International Exhibition (OITE) Centre, under the auspices of Mohsen Bin Khamis Al Balushi, Advisor of the Ministry of Commerce and Industry, recently conducted Oman Packaging & Material Handling Exhibition (OPMEX) 2016. The event was held at the OMAN International & Exhibition Centre, Muscat from 8-10th February 2016. Oasis Trading and Equipment Co. LLC, Oman based Cat® authorized dealer , participated in the event with a clear objective to offer visitors exclusive information about their Products, especially Lift Trucks. The three-day event witnessed 50 international brands from eight countries displaying products and technologies for the packaging and material handling industry. Alongside the exhibition at OITE Centre was a conference where decision makers and thought leaders discussed topics in packaging and material handling that will help those in industry and trade. The exhibition was an opportunity for the relevant companies to showcase their latest products in various areas of businesses and industries, in addition to viewing the new technologies and services of the exhibiting companies. Oasis trading was exhibiting the products at Stand No., HI-1, Hall No. 2. The participation of Oasis Trading was successful having evoked good response, generated substantial number of leads and spot sale of exhibited units. The event featured an array of Cat Counterbalance forklift trucks from DP15-35N, DP40-55NB, DP70N and EP16-20(C)PN. Oasis Trading Sales Engineers and PSSE's effectively engaged the visitors/customers by guiding them through the Cat products and solutions at display. The display of Cat lift truck parts, especially the PM kits at the stand, by the Product Support Dept., generated interest among visitors, at the same time added flavor to the show. The Oasis Trading stand also gave away amazing giveaways and offered information in a very interactive manner. Customers were entertained and informed at the same time, leading to a pleasant and useful visitor experience. As the event concluded on a successful note, Oasis Trading looks forward to participating in similar events in future, to enable prospect customers learn about Cat equipment, and offer industry leading solutions to Material Handling requirements.
Registration desk at OPEMEX 2016
Cat Products on Display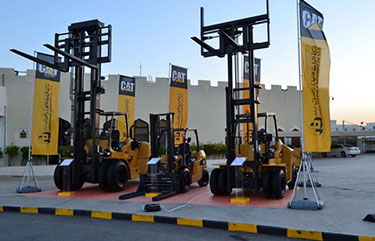 Customers Interacting
Panel Discussions
SUBSCRIBE FOR FUTURE EVENTS
"Call Back Option available only for UAE, Bahrain, Kuwait, Oman and Qatar."