Quick loading, high travel speeds and the ability to load and dump on the run yield fast cycle times, allowing Cat® Wheel Tractor-Scrapers to deliver a high rate of productivity.
Operator Station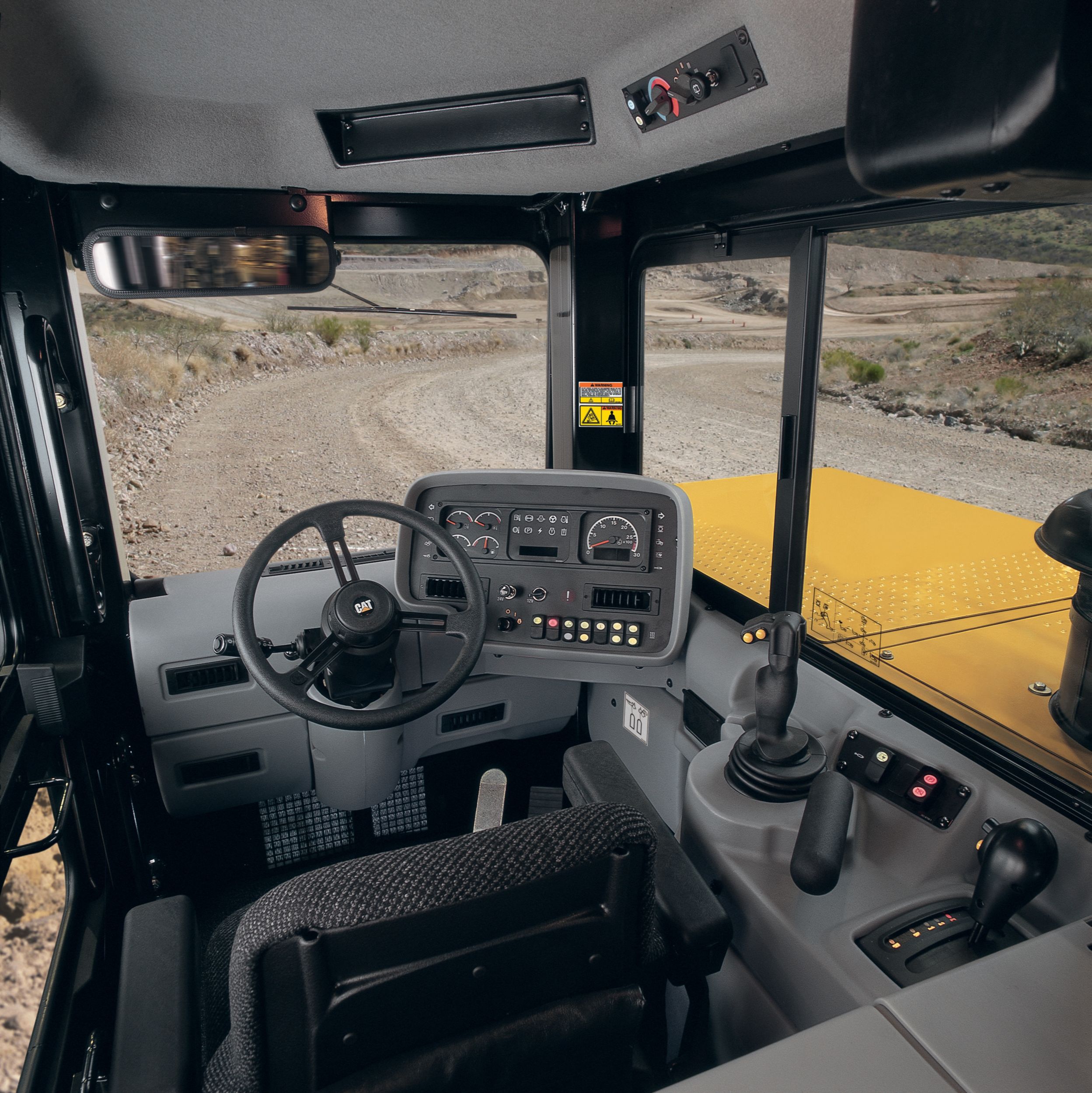 Redesigned for enhanced operator comfort and productivity
Operator Comfort
Ergonomic layout with plenty of room to work.
Fatigue fighting low-effort controls with convenient auto-kickouts and detents
Air suspension Cat Comfort Seat adjusts and rotates for more comfortable machine operation
HVAC, defroster, radio ready are standard
Productivity
Excellent visibility to bail, cutting edge and bowl
Transmission hold maintains gear selection for optimum loading performance
Dual throttle pedals for independent front and rear engine control
Single joystick control replaces three implement levers in previous models
Differential lock improves traction, reducing tire slip, wear, and operating costs
Hydraulic retarding for braking on grades
Safety
Hand rails strategically placed for three points of contact
Seat adjusts for best visibility and access to controls; integrated seat belt
ROPS/FOPS integrated into cab structure
Front and rear windshield wipers
Optional secondary steering helps maneuver the machine when primary steering is inoperable
Four braking systems: primary, secondary, parking and hydraulic retarding (optional)
Instruments
1) Bowl (up/down), 2) Ejector (forward/back), 3) Thumb rocker switch, apron, 4) Transmission hold, 5) Cushion hitch, Trigger switch (not shown) bail control
Simple gauge cluster is easy to read
657G dash can display either front or rear engine data
Backlit switches are close at hand
Messaging alerts technicians and operator to service needs
Power Train - Engine
Heavy duty diesel technology for performance and efficiency
ACERT™ Technology
U.S. EPA Tier 3, EU Stage IIIa emissions compliant
Controlled combustion using proven systems, components
Cross flow cylinder heads for clean air, better circulation
Delivers fuel at the right time and pressure
Rate shaping manages emissions in the combustion cycle
Cat C18 Engine - Tractor
Excellent power density, load response across the curve
High compression ratio improves cold start and performance
MEUI fuel injection matches quantity and timing to load
Matched to the high efficiency torque converter and electronically controlled power shift transmission, it has the torque rise to power through tough material and provide years of dependable service
Cat C15 Engine - Scraper
Strong block and head - 18:1 compression ratio improves cold start performance
Coolant, oil flow design improves heat transfer for durability
Articulated two-piece piston with forged steel crown improves thermal stability and strength
ADEM A4 ECM cold start strategy protects the engine, reduces white smoke and warm up time
Automatic altitude compensation
Mechanical Hydraulic Electronic Unit Fuel Injectors (MEUI) improve combustion with precise injection and atomization
Engine Speed Lock
Allows the operator to maintain a given engine speed without using the accelerator pedal.
Power Train - Transmission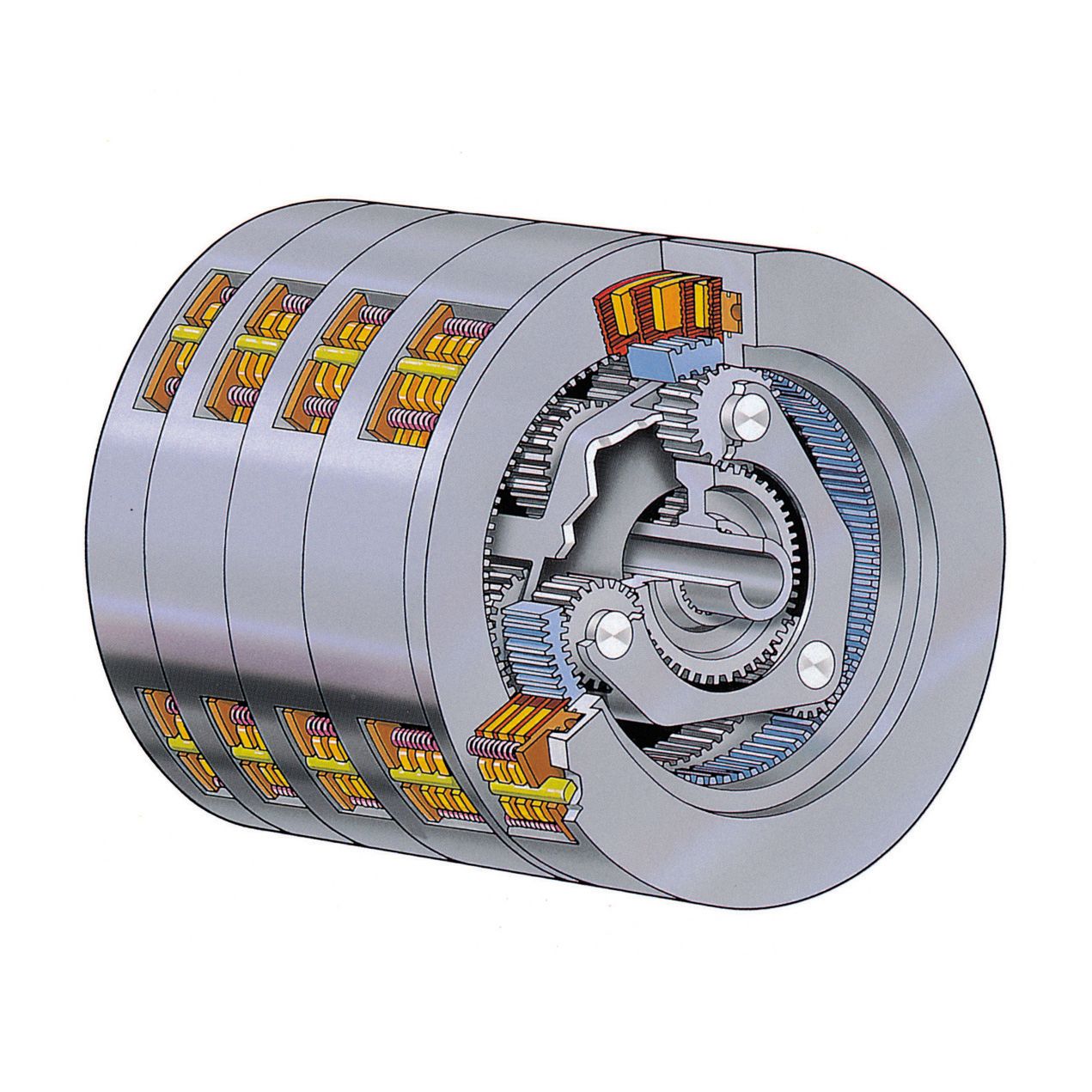 Integrated electronics monitor the power train extending component life
Planetary Powershift Transmission Is Electronically Controlled
Tractor gears 1-2 - converter drive for increased torque, tractor gears 3-8 - direct-drive for drive train efficiency. Scraper gears stay in converter drive for optimum torque
Transmission Hold maintains converter drive for max rimpull, or holds current gear for best control
Programmable Top Gear manually sets top gear available (3rd-8th) to match conditions or speed
Neutral Coast Inhibitor prevents power train overspeeding by synchronizing engine rpm, pump lubrication and drive train speed, preventing under-lubrication
Hydraulic Retarder (optional) reduces service brake wear and enhances machine control
Final Drives
Outboard-mounted, planetary design reduces torque loads within the power train
Double-row roller bearings and Duo-Cone™ seals assure reliability
Differential Lock improves traction in slippery conditions, reducing tire wear
Brake Performance
Wide brake shoes and brake drums improve brake performance and reduce brake and drum wear
Separate front and rear circuits. Secondary brakes engage automatically if service pressure drops
Parking Brake features a spring-applied, air-released mechanism that operates the service brakes
Torque Converter
Increases rimpull and shortens load times, and eliminates engine stall to efficiently deliver power to the ground and move more dirt.
Electronic Controls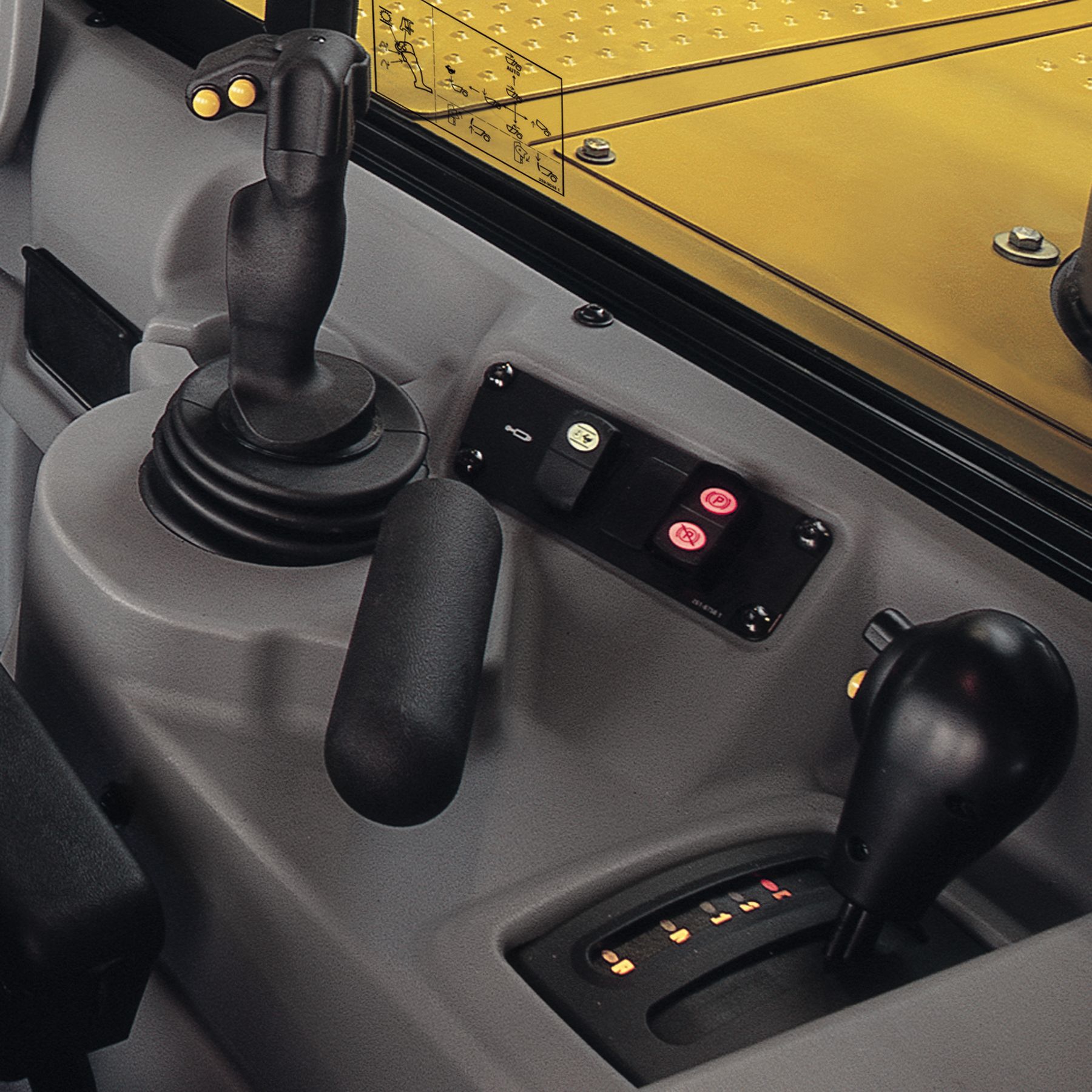 Optimized machine performance and advanced diagnostic capabilities
Benefits of Electronic Control Modules (ECMs)
ECMs (3 on the tractor, 2 on rear-powered scrapers) offer:
Better fuel economy by optimizing engine settings
Greater reliability with operator warnings if problems arise
Combining tractor and rear powered-scraper monitoring systems, easy access diagnostics, more durable components improves serviceability
Reduced exhaust smoke by optimizing the fuel/air ratio during cranking, starting and acceleration
Air filter restriction indicator alerts operator if filter exceeds allowable limit
Periodically raises engine rpm during low idle to keep the batteries fully charged
Combined Electronic Monitoring System (EMS III)
Monitors both the tractor and scraper status on the 657G; access fault codes from one location. The tractor and powered scraper use the same controller for parts commonality and easier servicing.
Product Link Ready
This wireless system lets the customer track location, service meter hours and machine health information. Can also issue alerts if the machine is operated beyond owner defined time and location limits.
Easy Access Diagnostics Means Faster Problem Solving
Diagnostic codes, via the Electronic Technician (Cat ET), and a radio call can often let the service technician know which tools, manuals, and possibly even replacement parts to bring.
Cushion Hitch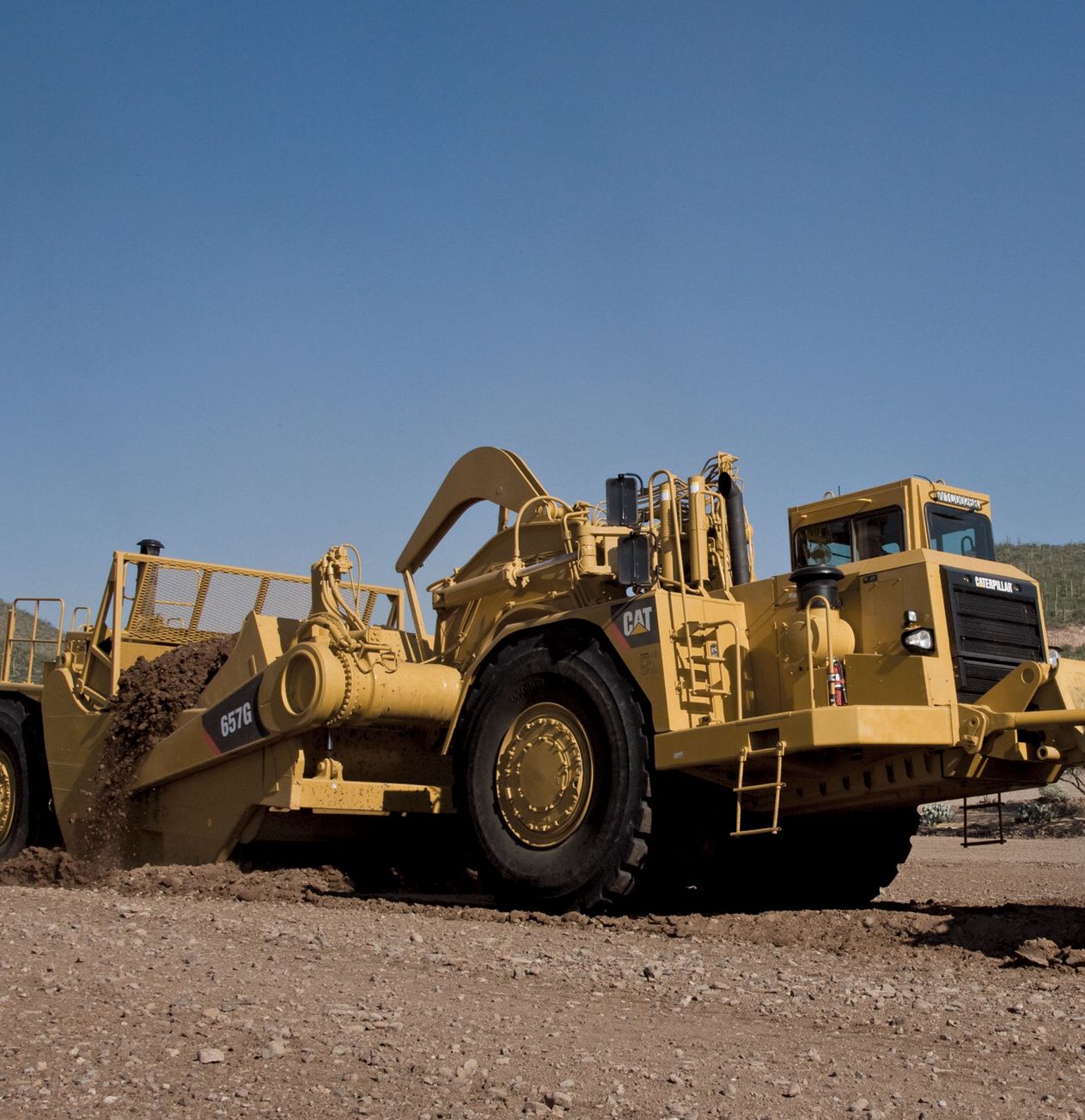 Superior design and construction delivers long term durability
Cushion Hitch
The electronically actuated cushion hitch has a parallelogram-type linkage for exceptional strength. Vertically mounted hydraulic cylinder transfers road shocks to nitrogen accumulators. Nitrogen accumulator absorbs and dampens road shocks, thus preventing these loads from being transmitted to the operator.
controlled oil flow dampens rebound oscillation
leveling valve applies pressure via an orifice to automatically center piston in the load cylinder
steel castings are used to eliminate many welded joints and increase strength
double-kingbolt design withstands high external forces and simplifies installation and removal
Lockout Switch
An operator-selectable lockout switch, located on the joystick, locks the cushion hitch down for improved cutting edge control when loading or dumping.
Scraper Bowl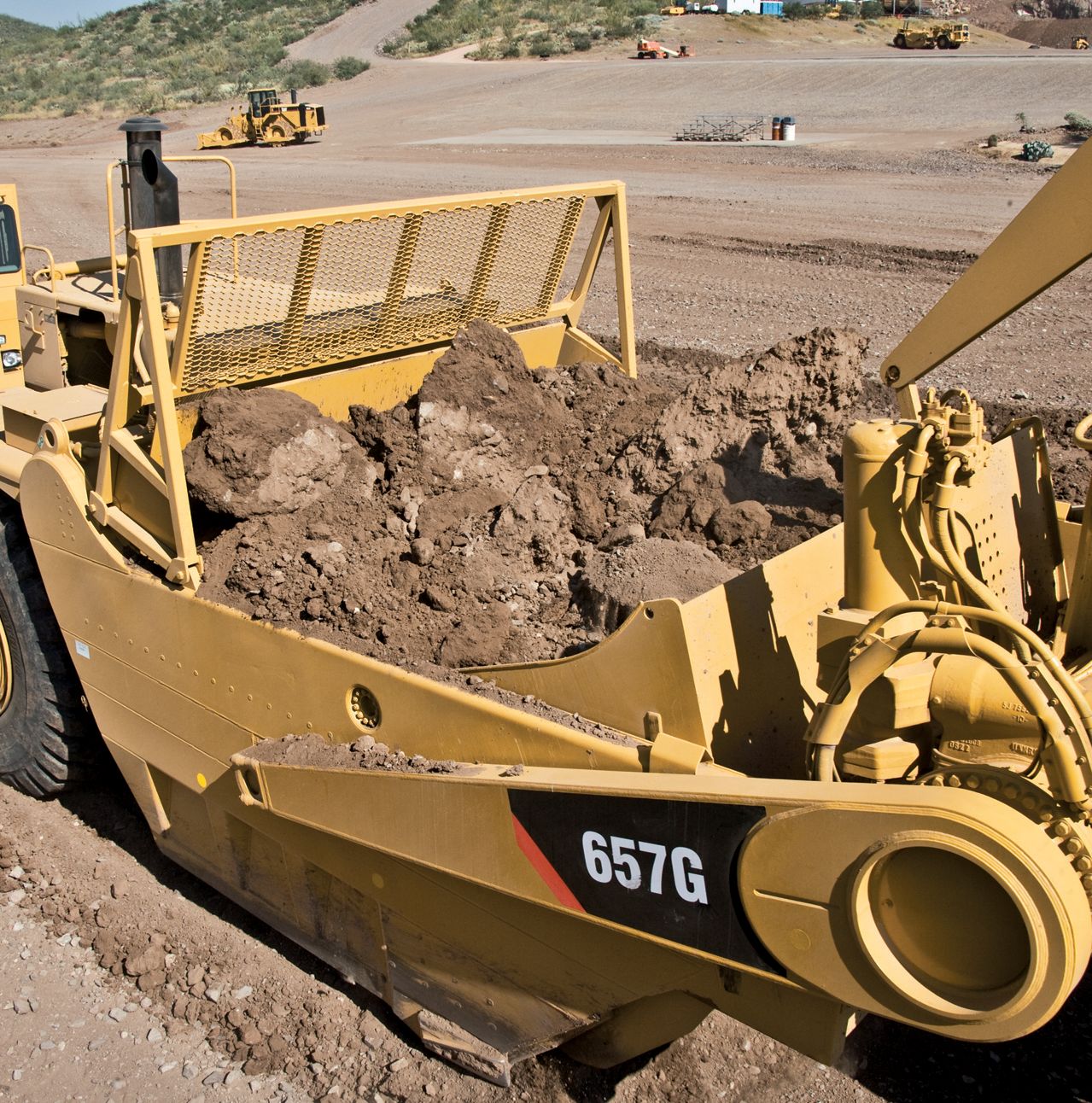 Designed for fast and precise loading and controlled ejection
Bowl Design
Excellent productivity, improved draft arm protection, and better load retention. Low profile design offers less resistance to incoming materials, while cellular construction adds strength and dent resistance to bowl sides and floor.
Bulldozer Ejection System
Combines constant spreading control with minimum carryback.
Overflow Guard
An available overflow guard on the scraper bowl helps retain material, and limits spills onto the rear of the scraper.
Push-Loading
Where material types include rocky/abrasive material, or become traction-limited, push loading a 657G with a Cat D10 or D11 will optimize tire wear and productivity.
Cutting Edges and Cat Ground Engaging Tools (GET)
May be adjusted according to job conditions. Smooth and serrated cutting edges with available tip options can be applied to match job site conditions. For most efficient loading, use the thinnest cutting edge that provides satisfactory wear life and impact resistance.
Tandem Engines
Tandem engine machines improve cycle times on grades and in slippery underfoot conditions. Also improves the machine's loading characteristics in tough materials like clay.
Material Appetite
Well suited to handle a wide variety of material from clay to shot rock.
Coal Bowl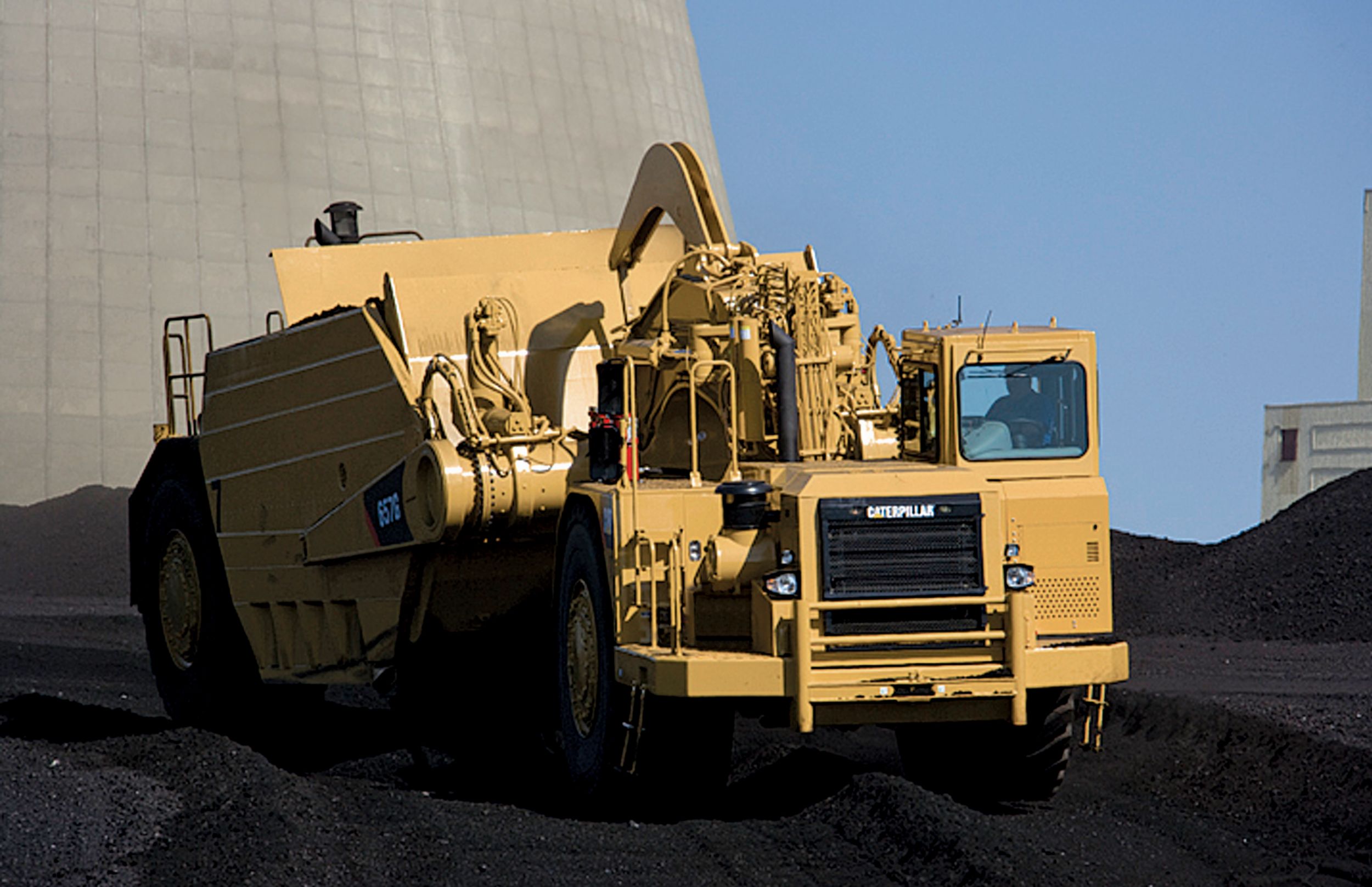 Purpose-built to meet application specific needs
Bowl Capacity
High-capacity bowls, built longer and taller than earth-moving bowls, allow the 657G to achieve rated load in light weight coal.
Wheel Tractor-Scraper Benefits
High speed, self-loading productivity for stockpile and feeder management
Coal pile compaction
Bowl capacity 56 m³ (73 yd³) heaped
All-wheel drive allows the machine to work in poor underfoot conditions and operate on piles of loose coal
Push-Pull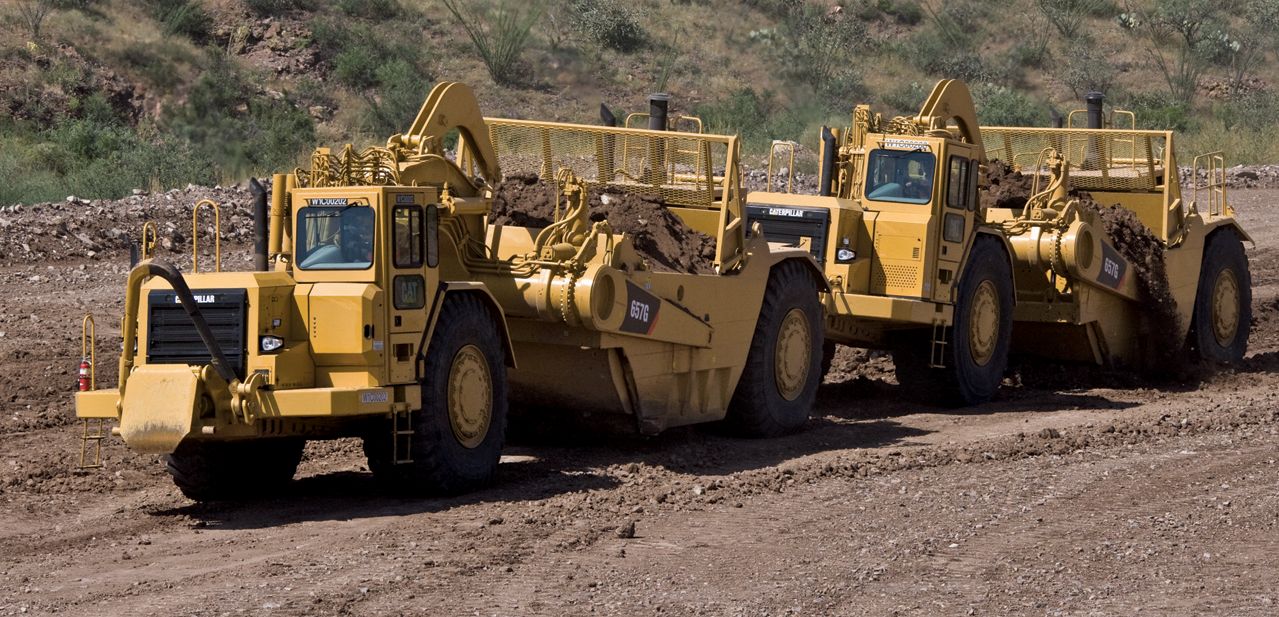 Two machines acting as a single self-loading system
Combined Power Increases Production
Push-pull applies the power of four engines to a single cutting edge. The benefit is realized in tough-to-load material and fast loading of both machines. Push-pull applications have the potential to produce the lowest cost per unit volume, and a high rate of production.
Hydraulically Actuated Bail
The push-pull arrangement uses a hydraulically actuated bail and cushioned plate to push, and a hook that is attached to the rear of the scraper to pull.
Serviceability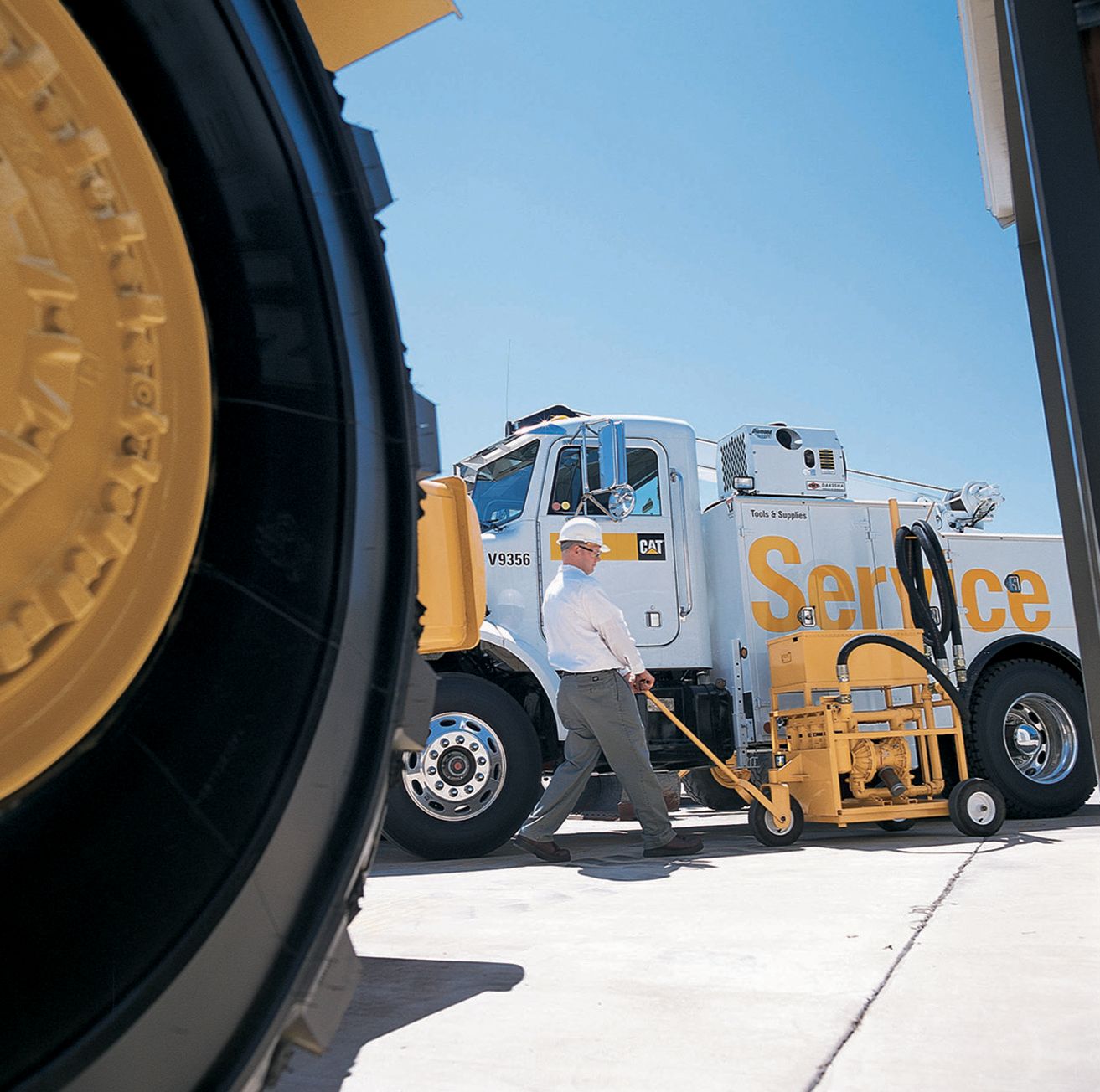 Easy to Maintain - Easy to Service
Engine Service Points
Maintenance/service points grouped on the right side
Grouping fluid fill and check points, filters and sampling ports shortens maintenance times
Electronic Monitoring System (EMS) provides real-time information to the operator of system warnings
Electronic Technician (Cat ET) displays real-time system data to better inform the service technician
Implement Valve Relocation
The implement valve is relocated from the tractor to the top of the scraper draft tube, reducing the number of hoses and tubes crossing over the gooseneck. This reduces potential leak points and improves service access.
Scraper Electrical Harness and One Piece Power Block
The flexible ribbon wiring harness oscillates with the machine, and polyurethane boots offer better protection against the elements. The jumpstart receptacle and disconnect switch are integrated into a one-piece power block, with a lockable cover, for better electrical integrity and serviceability.
Electro-Hydraulic Implement Control Simplifies Serviceability
Removing the cab pilot valve and associated lines improves reliability and reduces noise. The high efficiency electro-hydraulic pilot oil filter provides cleaner oil for the pilot system.
Support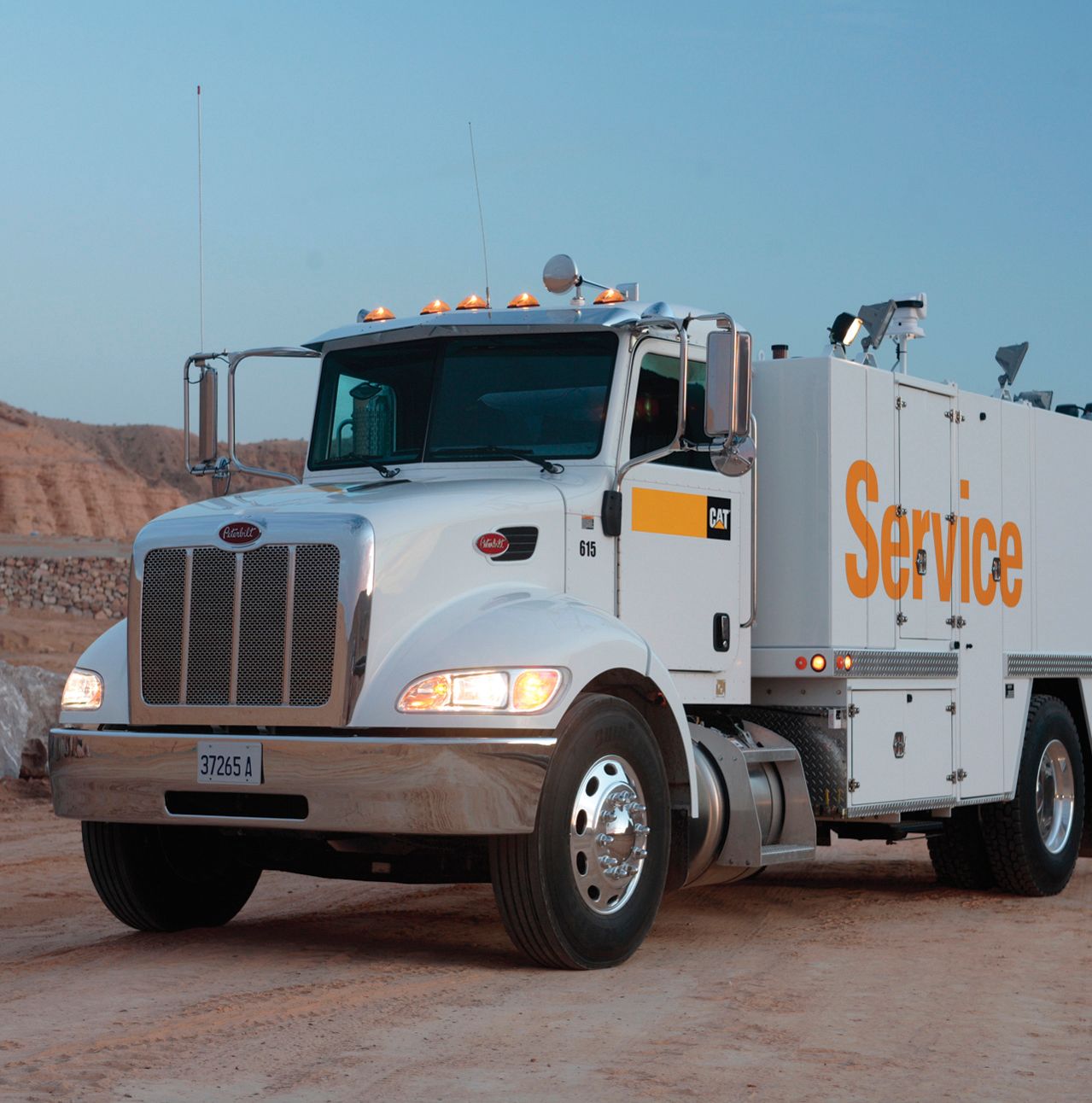 Cat Dealer services
Product Support
You will find nearly all parts at your dealer parts counter. Cat dealers use a world-wide computer network to find in-stock parts to minimize machine down time. Save money with genuine Cat Reman parts. You receive the same warranty and reliability as new products at substantial cost savings.
Operation
Better operating techniques can help maximize your machine investment. Cat dealers have resources to help you increase productivity, and Caterpillar offers certified operator training classes on most machines.
Machine Selection
Compare machines under consideration before purchase. Cat dealers can estimate component life, preventive maintenance cost, and the true cost of lost production.
Maintenance Services
Talk to your dealer about the range of available maintenance services like S·O·SSM Analysis and Coolant Sampling. Repair option programs guarantee the cost of repairs up front.
Customer Support Agreements
Cat dealers offer a variety of product support agreements that can meet customers' specific needs. These plans can cover the entire machine, including attachments, to help protect your investment.
Replacement
Repair, rebuild or replace? Your Cat dealer can help you evaluate the cost involved so you can make the right choice.
ELECTRICAL
Alarm, backup
Alternator, 80 amp - tractor engine
Alternator, 50 amp - scraper engine
Batteries Tractor (4), 12V Maintenance Free, High Output
Batteries Scraper (4), 12V Maintenance Free, High Output
Electrical System, 24V
Lighting System - Tractor
Lighting System - Scraper
Starting Receptacle - tractor and scraper engines
Alarm, backup
Alternator, 80 amp - tractor engine
Alternator, 50 amp - scraper engine
Batteries Tractor (4), 12V Maintenance Free, High Output
Batteries Scraper (4), 12V Maintenance Free, High Output
Electrical System, 24V
Lighting System - Tractor
Lighting System - Scraper
Starting Receptacle - tractor and scraper engines
OPERATOR ENVIRONMENT
Air Conditioner (includes heater and defroster)
Automotive style fuse panel with fuse puller
Cigarette Lighter and Ashtray
Coat Hook
Cup holder
Diagnostic Connection Port (12V)
Dome Courtesy Light
Engine speed lock
Fan defroster
Gauge Group
Horn
Implement Control Joystick
Rearview Mirrors
Radio Ready
2 radio openings, speakers, and 5-amp converter
ROPS Cab with Sound Suppression and Pressurization
Static Seatbelt
Scraper Engine Controls
Seat, Air Suspension, Caterpillar Comfort, cloth
Steering Wheel - tilt and telescoping
Storage Compartment
Transmission Hold
Windows - sliding side, swing out
Windshield - laminated glass
Windshield Wiper/Washer - front and rear
Wrist Rest/Grab Handle
POWER TRAIN
Tractor
Scraper
OTHER STANDARD EQUIPMENT
Tractor
Scraper