The Cat 627F Scraper's rugged construction and easy maintenance assure long life with low operating costs. The scraper bowl design combined with hydraulic ejection provides fast cycle times for high productivity. Also available in an auger configuration.
Engine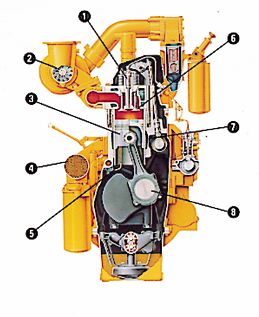 The six-cylinder, turbocharged engine is built for power, reliability and economy.
Proven Cat Engines
Proven Cat engines feature high torque rise for excellent lugging in tough loading applications and are designed to work long hours in the most demanding job conditions.
Displacement-to-Horsepower Ratio
High displacement-to-horsepower ratio reduces stress for long engine life.
Fuel System
Direct injection fuel system is adjustment-free, with individual injection pumps and valves.
Timing
Automatic, variable-injection timing delivers fuel as needed for maximum fuel efficiency when engine rpm varies between cut or fill work and high speed hauling.
Fuel/Air Ratio Control
Fuel/air ratio control is tamper resistant. Break-off blots and seal wires protect the control from adjustments that will not meet emissions regulations.
Tuborcharger
Turbocharger air flow is matched with the horsepower rating for improved performance and lower emissions.
Exhaust Ports
Exhaust ports have stainless sleeves to reduce heat rejection, resulting in less heat transfer to the jacket water system.
Cooling Jets
Dual-tube cooling jets in the block provide more oil to the bottom of the piston for better cooling.
Front Engine Support Group
Front engine support group is isolation-mounted to reduce vibration transfer.
Ground-Level Engine Shutoff Switch
Ground-level engine shutoff switch provides convenience and emergency access.
Thermo-Shield
Laminated Thermo-Shield improves tractor protection by reducing the temperature of exposed engine surfaces, cools engine and operating compartments, improves hose and wiring life.
Transmission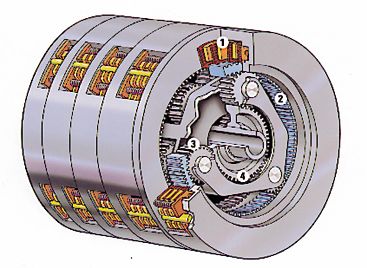 Smooth, automatic shifts for top production
Eight-Speed Power Shift Transmission
Eight-speed power shift transmission provides automatic, on-the-go shifting for simple, reliable operation. It also eliminates torque converter drive at haul road speeds above 5 mph (8km/h).
Neutral Coast Inhibitor Control
Neutral coast inhibitor control utilizes a ground speed sensor which automatically downshifts the machine to the current ground speed until torque converter drive speed is reached.
Top Gear Control
Top gear control helps prevent shifting above a programmed gear to better regulate haul road speeds.
Directional Shift Management
Directional shift management reduces drivetrain stress during an aggressive directional shift.
Electronic Programmable Transmission Control (EPTC II)
The Electronic Programmable Transmission Control (EPTC II) records both current and intermittent faults.
Cushion Hitch
Smoother ride improves productivity.
Design
Caterpillar cushion hitch design dampens shocks to provide a smoother ride. The result is higher speed capability, less machine wear and increased productivity.
Auger Scraper Arrangement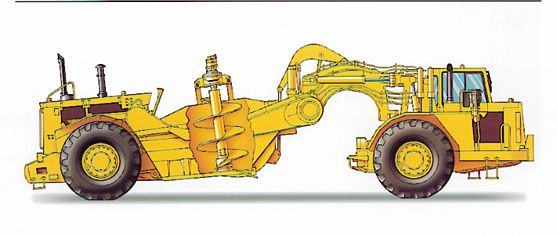 Excellent self-loading capability in a wide range of material.
Optional Auger Mechanism
An optional auger mechanism in the bowl improves self-loading capabilities by lifting material off the cutting edge and carrying it to the top of the load.
Optional Push-Pull Arrangement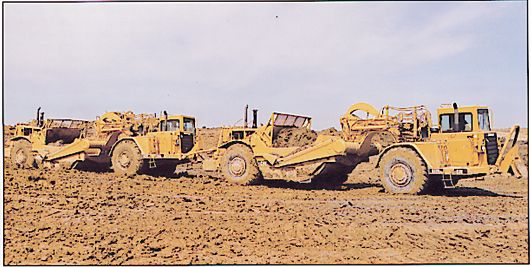 Self-loading power with flexibility to match any job requirements.
Arrangement Features
The push-pull arrangement includes a hydraulically actuated bail and cushioned plate which are bolted to the front of the tractor and a hook which is attached to the rear of the scraper.
Operator's Station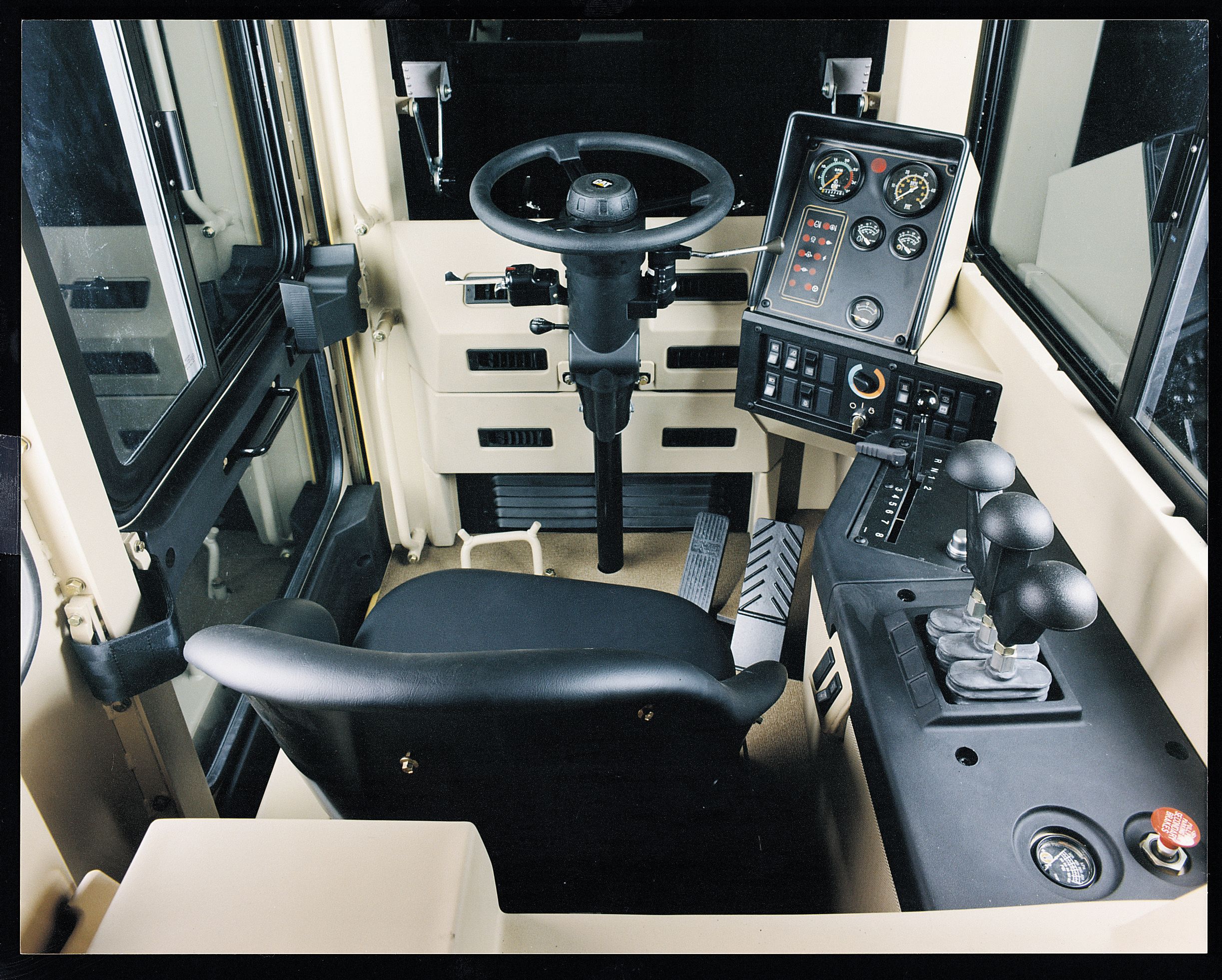 Comfort and control increase operator efficiency.
ROPS Cab
Sound suppressed, rubber-mounted ROPS cab reduces sound and vibration for comfortable, shift-long operation.
Electronic Monitoring System
The electronic monitoring system checks important machine systems and provides a three-level alert system.
Hydraulic Servo-Steering System
Hydraulic servo-steering system provides low-effort, automotive feel and excellent maneuverability.
Telescopic Steering System
The telescopic steering system is height adjustable and tilts at knee level for enhanced operator comfort and easy entry and exit.
Implement Controls
Pilot-operated implement controls can reduce operator fatigue by requiring a very low effort to actuate a machine function.
Seat
Air suspension seat is multi-adjustable.
Radio Ready Arrangement
Radio ready arrangement includes speakers, a 5-amp converter and two radio openings. A 15/25-amp converter is available from Custom Products.
Serviceability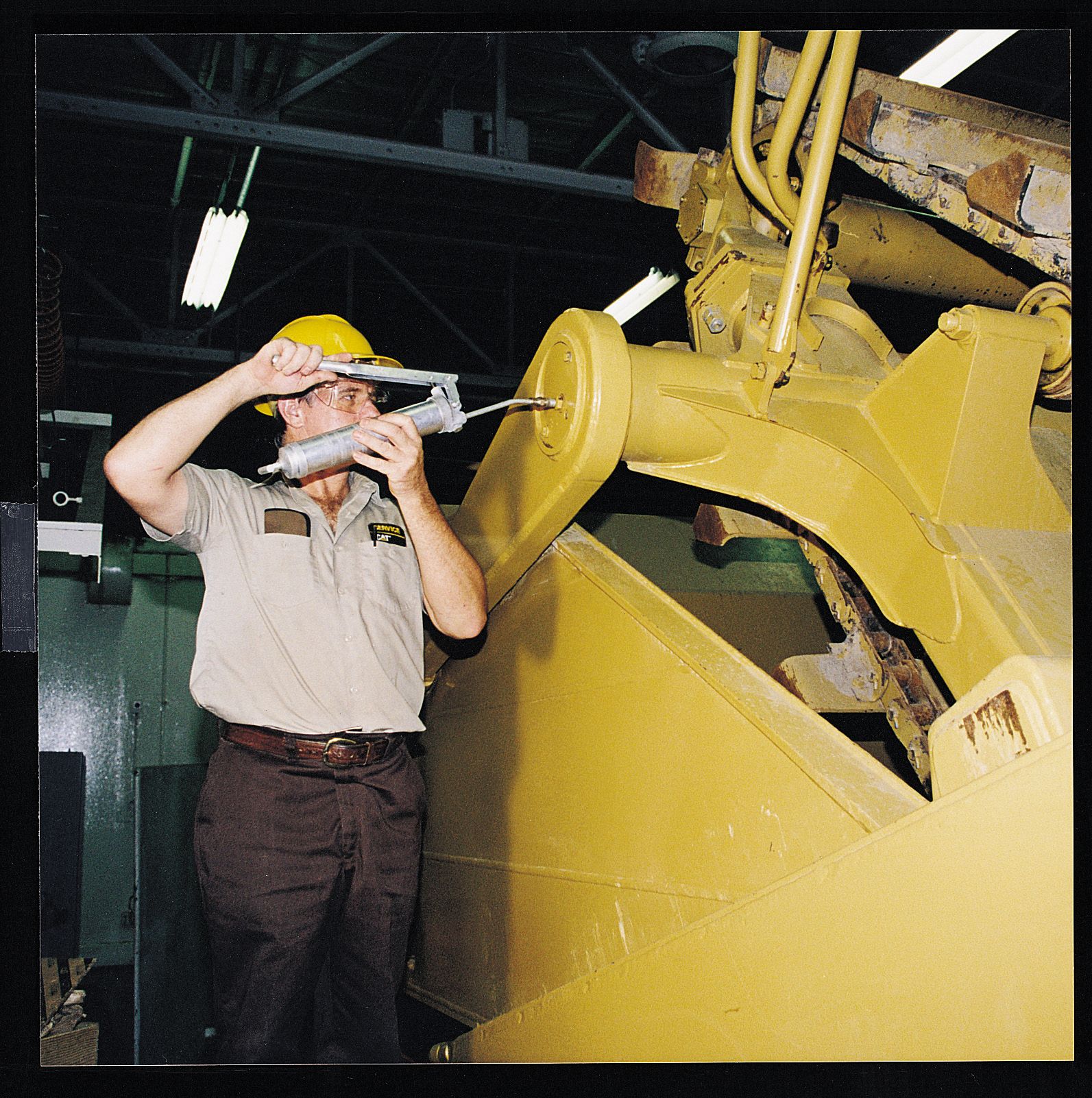 Simplified service means more productive uptime.
Service Features
There are many convenient service features that keep these machines on the job.
O-ring Face Seals
O-ring face seals help make these machines "dry".
Hydraulic Chain Adjuster
New hydraulic chain adjuster is easily adjusted using a grease gun, reducing service time and improving overall chain life.
Centralized Lubrication Blocks
Centralized lubrication blocks for the hitch and steering reduce lube time.
Service Points
Service points for the engine are grouped on the righthand side for easy access.
Platforms and Handholds
Service platforms and numerous handholds for easy access and safety.
Folded Core Radiator
Folded core radiator allows individual cores to be replaced as a module which reduces service time and expense.
Sealed Floor Rollers
Sealed floor rollers eliminate lubrication.
Customer Support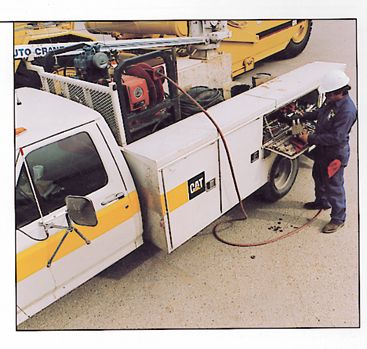 Unmatched in the industry.
Parts Availability
Most Cat parts are immediately available from any dealer. Cat dealers rely on our worldwide computer network to find parts instantly and minimize machine downtime.
Machine Management Services
Cat dealers help manage your equipment investment with effective preventive maintenance programs.
Reliability
Cat is committed to provide the most dependable machines on the market.
Retarder
Optional retarder extends brake life when working on severe, downhill slopes.
Component Commonality
Increased component commonality with other Cat scrapers improves parts availability.
Bumpers
Rounded off bumpers reduce hooking into high walls.
Ground-Level Engine Shut-Offs
Ground-level engine shut-offs for operator convenience and emergency access.
Castings
Extensive use of castings in the frame, hitch and bowl provides long service life.
Wiring Harness and Hose Assemblies
Wiring harness and hose assemblies run down the draft arms to eliminate the need for "jump-over" lines which can reduce hydraulic system efficiency.
Tires
Standard tires provide the maximum flotation.
Scraper Driveline Guard
Scraper driveline guard protects the output case, differential and ejector cylinder which can minimize driveline maintenance costs.
Laminated Thermo-Shield
Laminated Thermo-Shield helps keep surface temperatures in the engine compartment below the flash point of diesel fuel.