The Cat® 988H Block Handler Arrangement is designed to withstand the demanding and harsh environment of block handling applications. The block handling package includes a purpose built linkage, larger lift and tilt cylinders, additional counterweight and a high rimpull powertrain. Read on to learn more about how the 988H Block Handler delivers sustainable productivity, fuel efficiency, serviceability, reliability and versatility.
Productivity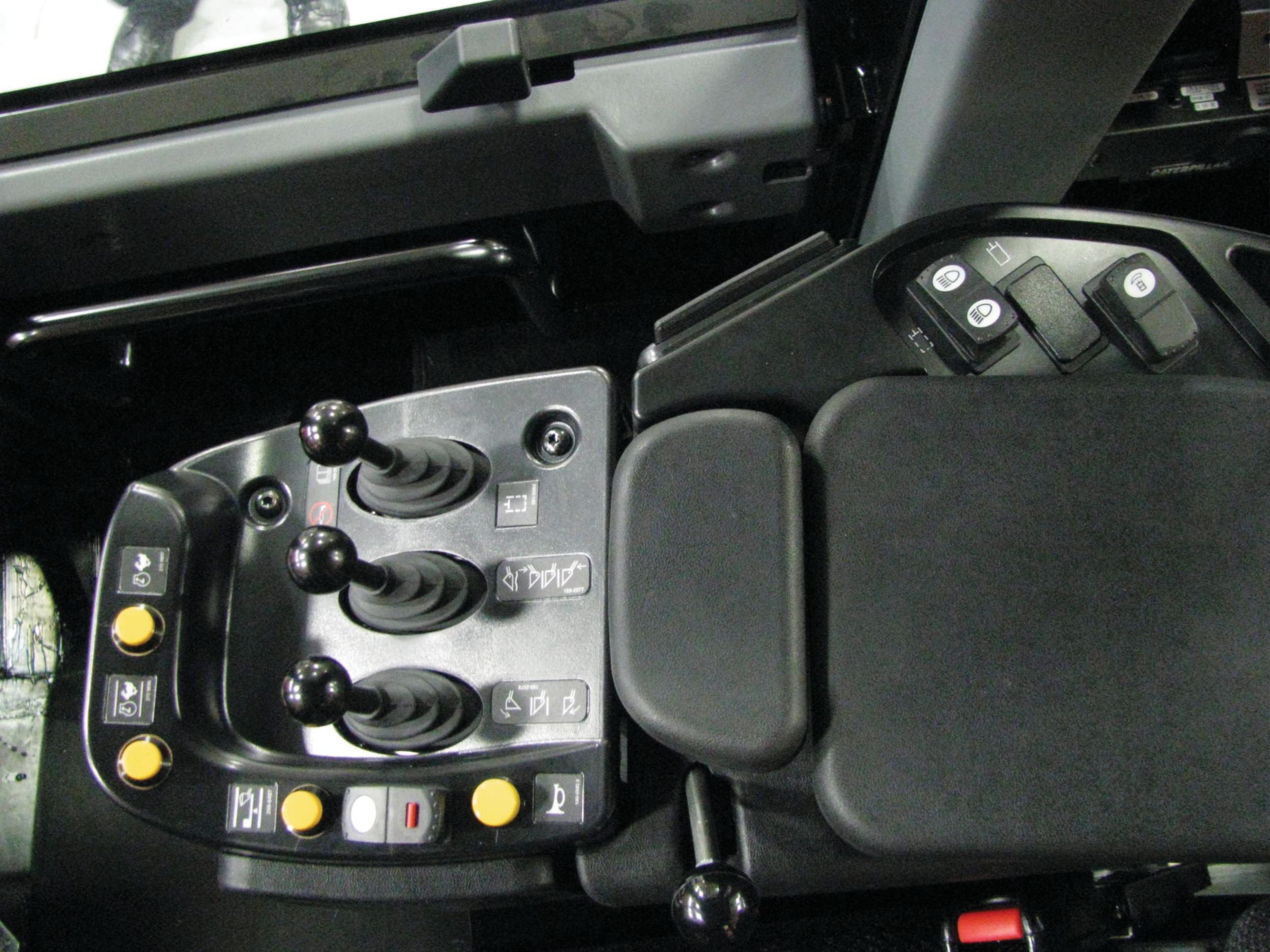 Improving your bottom line
Purpose Built Linkage
The 988H Block Handling Arrangement includes a specially designed linkage with a shorter lift arm and additional counterweight for maximum stability and larger lift and tilt cylinders for optimized hydraulic performance for block handling application.
High Rimpull Powertrain
Modified transmission gearing and torque converter design provides high rimpull for increased climbing ability and ground speed on steep slopes.
Positive Flow Control (PFC)
PFC has concurrent pump and valve control and a force feedback system that keeps displacement where it is required for optimized pump control. By optimizing pump control, hydraulic oil flow is proportionate to implement lever stroke. The benefits include:
Lowered fuel consumption
Improved hydraulic response, giving the operator a better feel and control of the forks
Improved power efficiency and system heat
Cat C18 Engine with ACERT™ Technology
The Cat C18 engine with ACERT Technology is U.S. EPA Tier 3 and EU Stage III compliant. It features 414 kW (555 hp) gross power and efficient fuel management for quick response, high productivity and exceptional service life.
Fuel Efficiency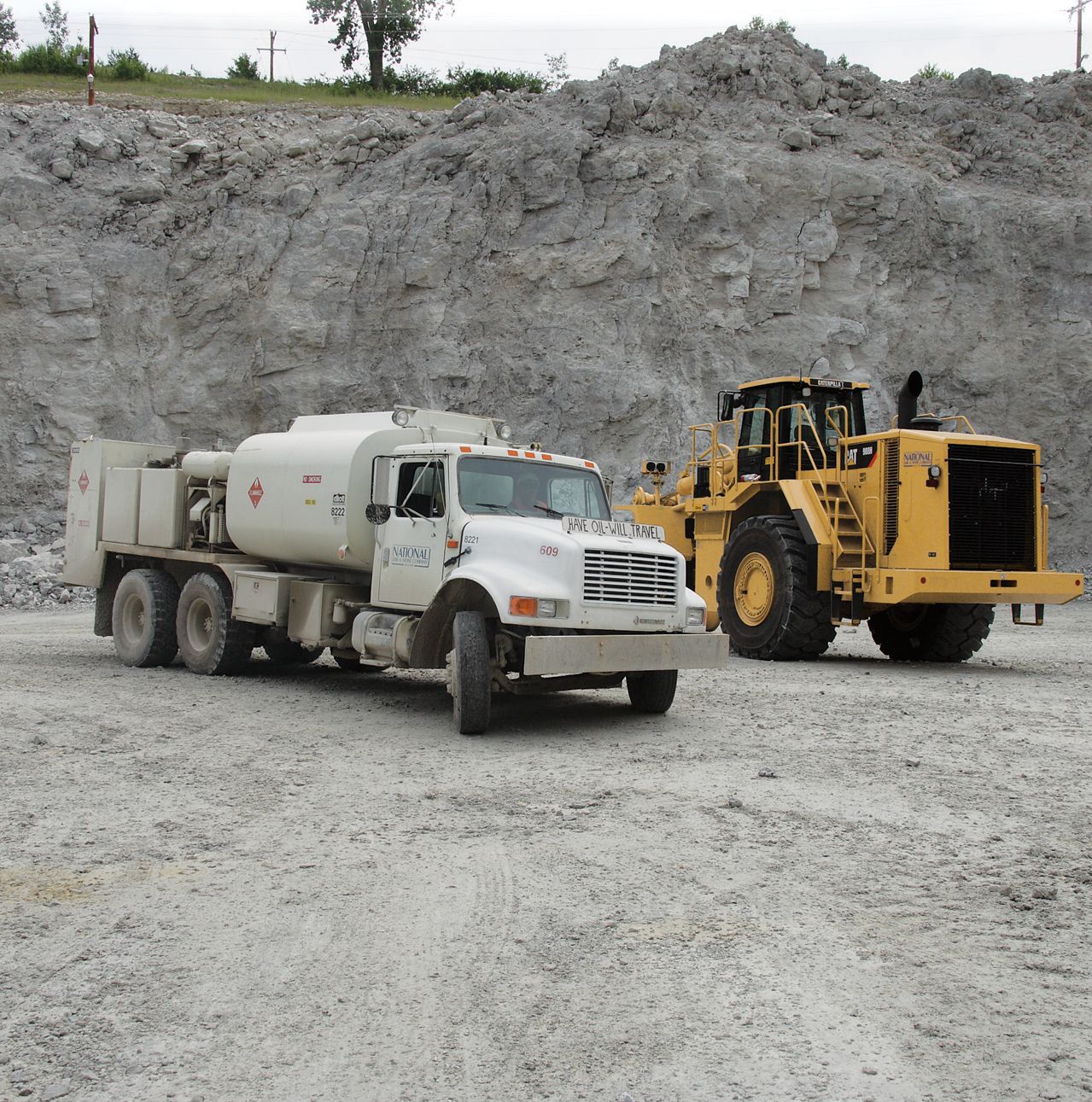 Minimizing costs
Auto Idle Kickdown
If an operator is not actively operating a machine for a period of time, the AIK system will temporarily reduce engine speed to save fuel. The system will automatically resume the engine speed at the previous setting when the operator engages the implement control pod, the F-N-R switch or the STIC steer.
Idle Shutdown
The engine will automatically shut down after the machine has been in a safe idling state for an extended amount of time. The operator in the cab will be audibly and visually warned before the system shuts down.
Impeller Clutch Torque Converter (ICTC) and Rimpull Control System (RCS)
ICTC combined with the RCS allows the operator maximum flexibility in the modulating rimpull.
Left brake pedal modulates rimpull from 100 to 25 percent for reduced tire slippage and wear. After 25 percent is achieved, further pedal travel applies the brake.
RCS reduces the potential for wheel slippage without reducing the hydraulic efficiency. An in-cab switch allows the operator to set percentage of maximum rimpull to meet operating conditions. Four settings are available, and operators can set rimpull at 70, 80, 90 and 100 percent.
A lock-up clutch torque converter provides direct drive efficiency which translates into improved fuel efficiency in certain applications.
Variable Shift Control
VSC matches transmission shifting patterns to machine application requirements, by shifting at lower engine rpms. This both improves shift quality and fuel efficiency in certain applications.
Reliability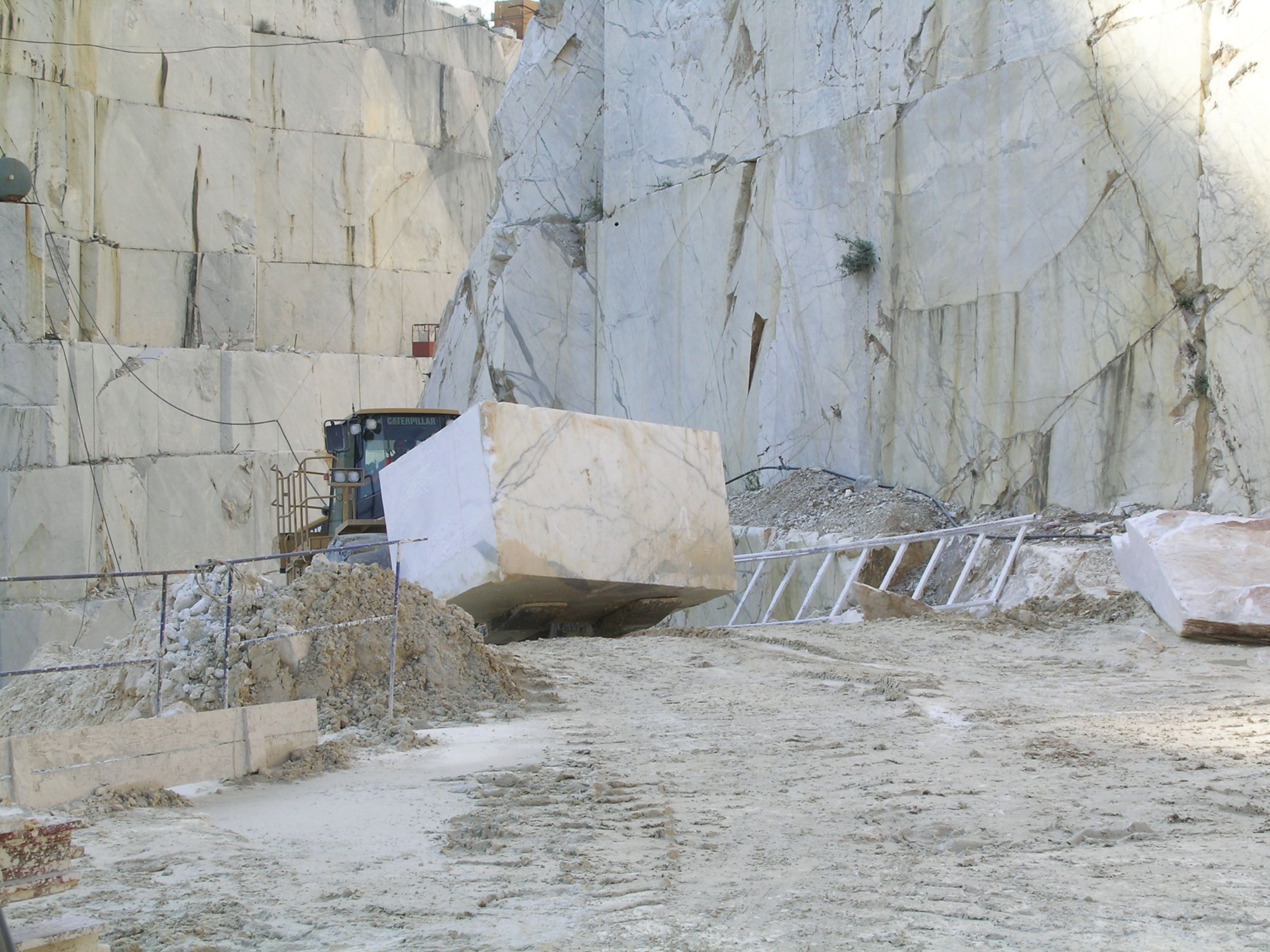 Maximizing uptime, long life - it's what you expect from your bottom line
Structures
Combining the use of robotic welding and castings in critical high stress areas, more than 90 percent of the 988H structure is robotically welded to provide highly consistent welds and increased strength. Castings are also used in several areas to increase strength by helping spread the loads and reduce the number of parts.
Front Frame and Rear Frame
Highly engineered and a field proven combination, the 988H uses high strength plates and castings which distribute loads and increase structural robustness. A key differentiator from other manufacturers' machines is the box section rear frame and box section loader tower. The box section absorbs tensional forces generated in a loading cycle, maintaining alignment for hitch pins and driveline. The box shaped loader tower resists shock and torsional loads, maintaining hitch and loader linkage pin alignment, maximizing pin life.
Linkage
The 988H features the revolutionary box boom linkage design. Known for its durability, the 988H box boom linkage has high strength castings in pin joint areas that resist twisting and minimize stress.
Axle-Shaft, Oil Disc Brakes
These brakes are adjustment free, fully hydraulic and completely sealed. Disc face grooves provide cooling even when brakes are applied for a longer component life. Location of brakes allow for improved serviceability. The axle shaft brake design allows for brake service while leaving the final drive intact. Axle-shaft brakes require less force by operating on the low torque side of the axle. Combined with improved axle oil circulation for increased cooling, the oil-enclosed, multiple disc brake design improves durability.
Safety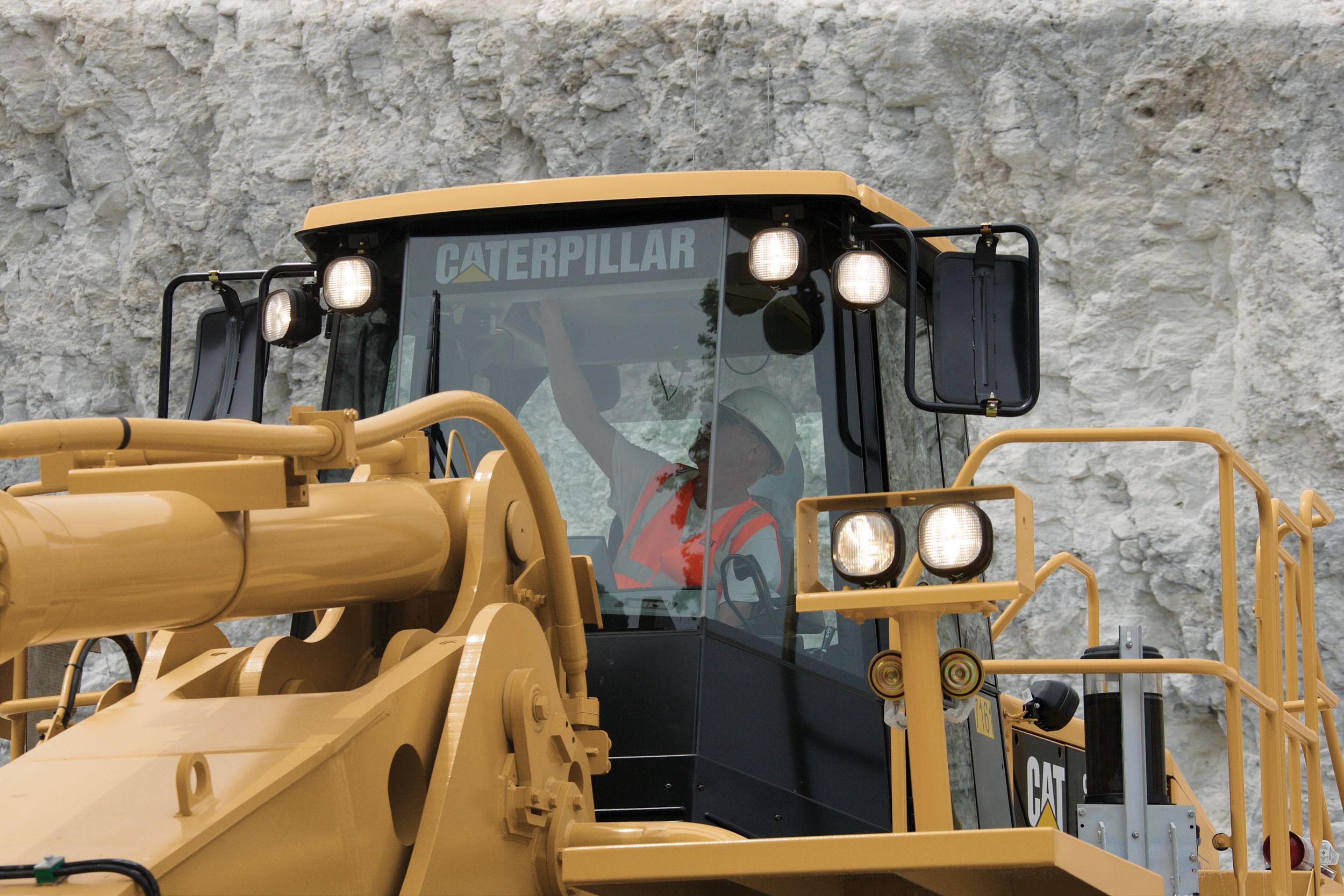 Built to protect you
Entry and Exit
Getting on and off the machine is one of the leading causes of injury on a job site. The 988H has a number of features to ensure your operator gets safely on and off the 988H. The 988H includes primary and secondary stairwell exits, punch stamped tread plates, ground level nighttime stairwell light switch, full perimeter railings on upper platforms, side platform emergency egress and toe kicks and optional roading fenders.
Rearview Camera
With the new optional rearview camera, visibility is greatly enhanced. The camera is located in a pocket on the grill to protect it from damage and the elements. The camera can be set to activate only when the transmission is in reverse to help eliminate distractions in the cab, especially when in dark environments.
Visibility
The 988H offers a number of standard and optional features to enhance job site visibility. Standard and optional features include long life LED lights, articulated wiper/washer system with intermittent features, optional rear vision camera, optional high intensity discharge lights, optional warning beacon and optional turn signals.
Serviceability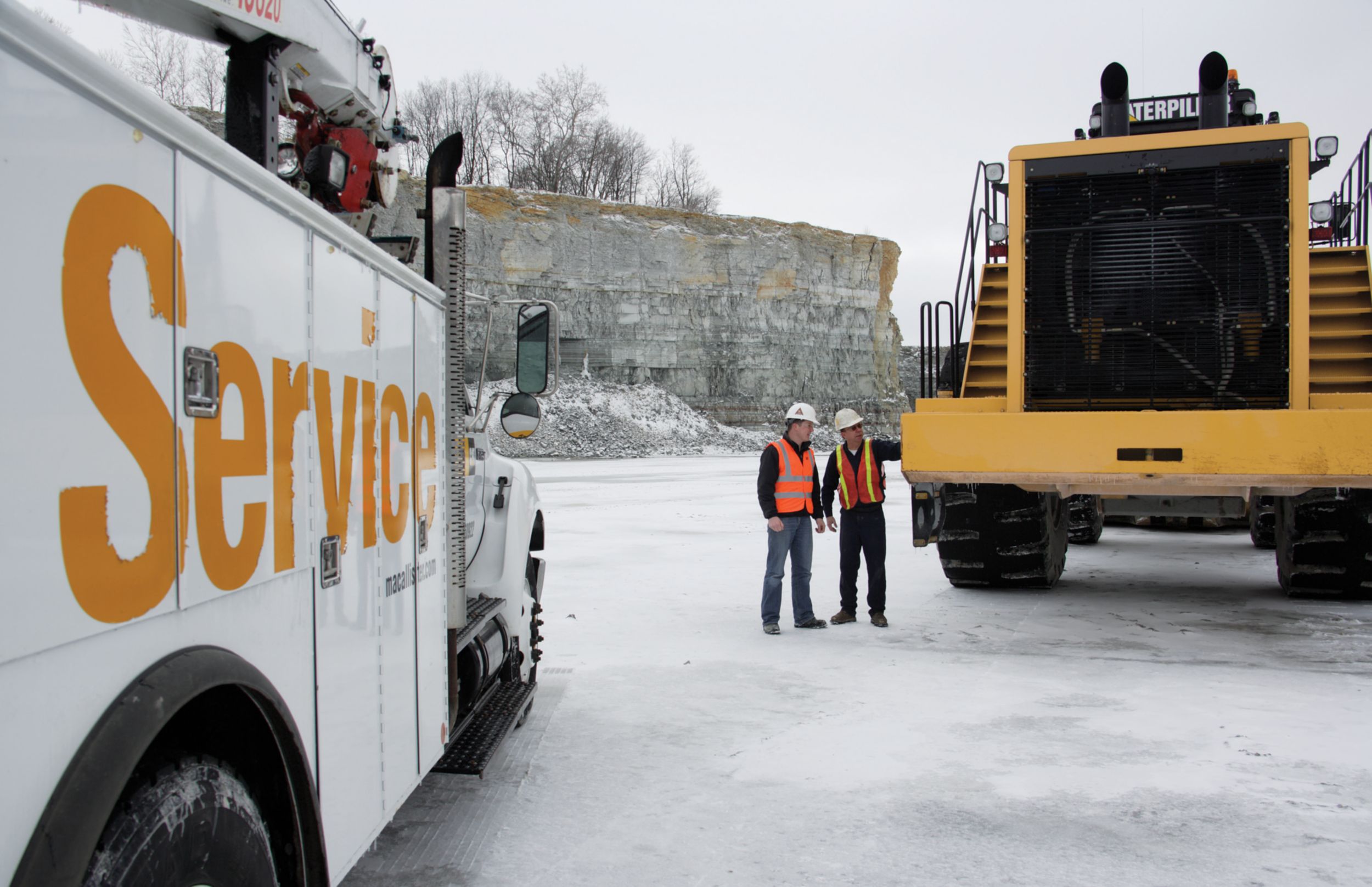 Easy to maintain. Easy to service.
Optional Swing Out Radiator Fan
The optional swing out radiator fan provides for easy access to the radiator cores for easy cleaning and inspection.
Hydraulically Driven Demand Fan
The demand fan automatically adjusts fan speed for optimal cooling, resulting in reduced power draw on the engine, better fuel efficiency and more power for hydraulics and rimpull.
Component Access
Swing out doors on both sides of the engine compartment provide easy access to the engine oil dipstick and filler spout, S·O·SSM ports, fuel filters air conditioner compressor, engine oil filters, alternators, starting receptacle, air filter service indicator, cooler fill and ether starting aid. There are also ground level viewable sight gauges on all major systems and centralized remote pressure taps.
Shutdown and Lockout Features
An electrical disconnect switch and hydraulic lockout switch allow service technicians to perform maintenance while the machine stays static. Other shutdown or lockout devices include ground level engine shutdown and ground level steering hitch lock lever.
Versatility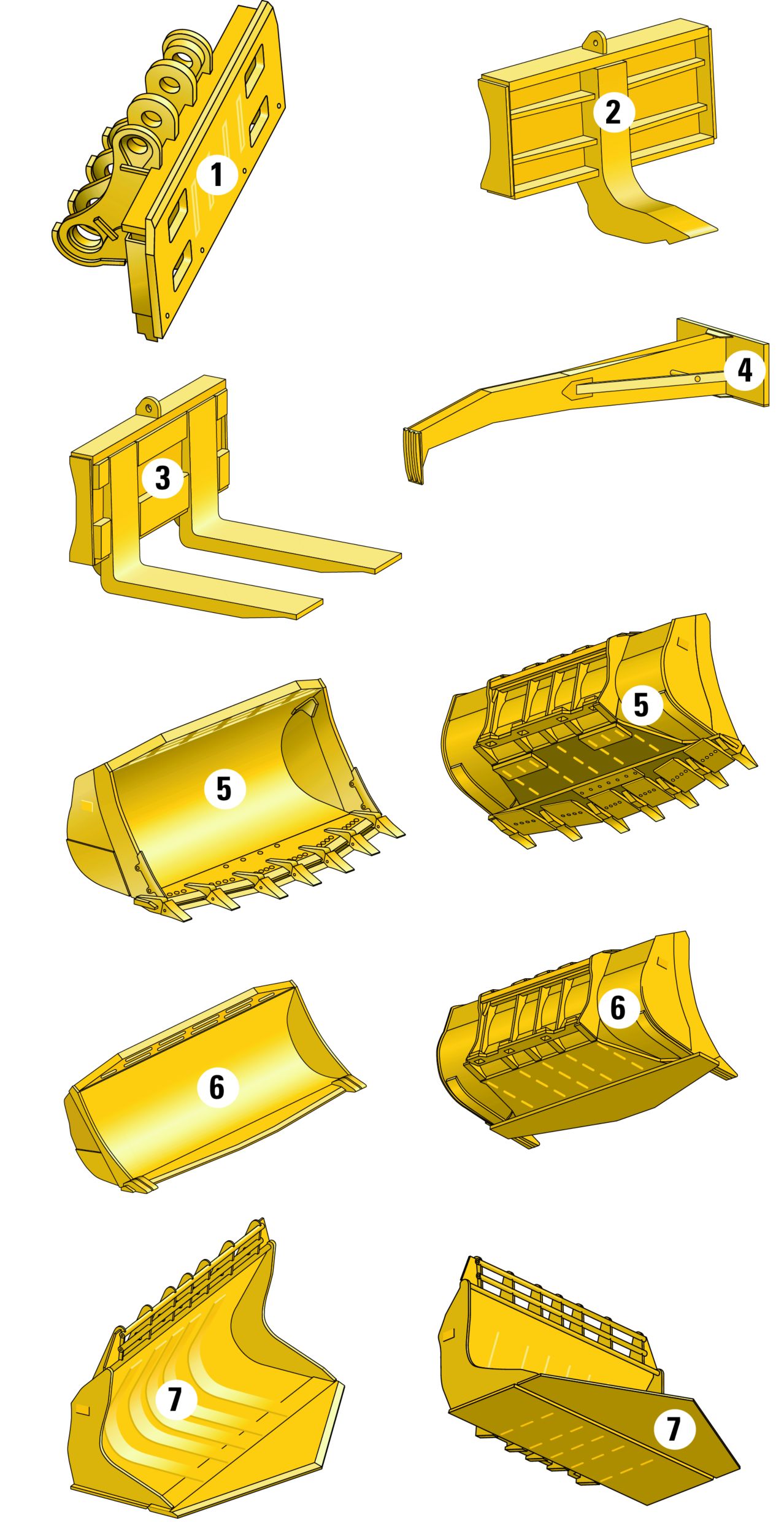 Work Tool Options to Meet Your Block Handling Needs
1 Quick Coupler.
The quick coupler is designed for optimal utilization of lift and break out forces. Features such as the Cat cylinder, safety valves, pressure and isolating valves, safety covers and lock indicator enhance visibility and are optimized for handling large rocks and blocks.
2 Breaker Tine.
The center mounted, heavy-duty, single piece, forged fork tine is used for prying loose large stone blocks. It is built with an extra thick tine to handle a variety of materials in this demanding application.
3 Forks.
Heavy-duty pallet forks are engineered to handle weight and load stress when maneuvering and placing blocks in a quarry operation. Dual tine forks are designed to allow blocks to be placed close to the machine for greater balance and safe handling.
4 Clearing Rake.
Used primarily for clearing and controlling loose objects at the quarry face and working levels, the block handling rake is designed with a curved boom or enhanced operator visibility. The length of boom is matched to the machine size for optimal performance.
5 Rock Bucket.
Heavy-duty bucket offers superior durability, protection and performance in rock and overburden applications. It includes large size teeth and segments. The HD400 (high wear resistant) metal shell and bottom offer maximum strength, durability and wear life.
6 Marble Bucket.
Special bucket construction allows for effective loading of large blocks and boulders. The HD400 metal shell and bottom offer maximum strength, durability and wear life. The corner teeth ease block tilting and handling. The heavy duty V-edge is particularly suited to handling high value, breakable marble before cutting operations.
7 Heavy-Duty Block Bucket.
Special bucket construction allows for effective loading of large blocks and boulders. The deep carved sides and extra long, heavy-duty bottom allow the special V-edge to penetrate under large blocks. The interior bucket profile allows blocks to further fit back in the bucket for increased load and lift capabilities, better balance and rack-back. The HD400 (high wear resistant) metal shell and bottom offer maximum strength, durability and wear life.