988H Wheel Loaders Steel Mill Arrangements
In the harsh environment of a steel mill application, you need a wheel loader designed for the job. That is why all Cat® Wheel Loaders are purpose-built with standard and optional guarding on major components and systems. Read on to learn more about how these steel mill wheel loaders deliver sustainable productivity, fuel efficiency, serviceability, ergonomics and operator comfort.
Product Details
Engine
| | |
| --- | --- |
| Net Power | 373.0 kW |
| Engine Model | Cat® C18 ACERT™ |
| Gross Power | 414.0 kW |
| Net Power - ISO 9249 | 373.0 kW |
| Gross Power - ISO 3046-2 | 388.0 kW |
| Bore | 145.0 mm |
| Stroke | 183.0 mm |
| Displacement | 18.1 L |
| Net Power - EEC 80/1269 | 373.0 kW |
| Net Power - ISO 14396 | 393.0 kW |
Operating Specifications
| | |
| --- | --- |
| Operating Weight | 58330.0 kg |
| Attachment Type | 9 yd3 Rock Bucket |
| Breakout Force - SAE Rated (3.88 m linkage) | 49062.0 kg |
| Breakout Force - SAE Rated (4.25 m linkage) | 52971.0 kg |
| Hinge Pin Height, Unloaded | 4909.0 mm |
| Overall Length | 12410.0 mm |
| Tipping Load - Articulated 43° | 30210.0 kg |
| Tipping Load - Straight | 33861.0 kg |
| Turning Radius at SAE Carry | 8762.0 mm |
Buckets
| | |
| --- | --- |
| Bucket Capacities | 6.4-7.7 m3 (8.3-10 yd3) |
Transmission
| | |
| --- | --- |
| Converter Drive - Forward 1 | 6.7 km/h |
| Converter Drive - Forward 2 | 11.8 km/h |
| Converter Drive - Forward 3 | 20.8 km/h |
| Converter Drive - Forward 4 | 36.0 km/h |
| Converter Drive - Reverse 1 | 7.6 km/h |
| Converter Drive - Reverse 2 | 13.5 km/h |
| Converter Drive - Reverse 3 | 23.7 km/h |
| Direct Drive - Forward 1 | Lock-up disabled |
| Direct Drive - Forward 2 | 12.3 km/h |
| Direct Drive - Forward 3 | 21.9 km/h |
| Direct Drive - Forward 4 | 38.6 km/h |
| Direct Drive - Reverse 1 | 7.9 km/h |
| Direct Drive - Reverse 2 | 14.1 km/h |
| Direct Drive - Reverse 3 | 25.1 km/h |
Axles
| | |
| --- | --- |
| Maximum Single-Wheel Rise and Fall | 568.0 mm |
| Front | Fixed |
| Rear | Oscillating ±13° |
Loader Hydraulic System
| | |
| --- | --- |
| Main Hydraulic System Output at 2010 rpm and 6900 kPa (1000 psi) | 492.0 L/min |
| Relief Valve Setting | 35000.0 kPa |
| Cylinders, Double Acting: Lift, Bore and Stroke | 220 × 911 mm (8.7 × 35.9 in) |
| Cylinder, Double Acting: Tilt, Bore and Stroke | 220 × 1770 mm (8.7 × 69.7 in) |
| Pilot System, Gear-Type Pump Output at 2010 rpm and 2500 kPa (363 psi) | 76.0 L/min |
| Relief Valve Setting (low idle) | 2400.0 kPa |
Steering
| | |
| --- | --- |
| Steering | Meets SAE and ISO standards |
| Total Steering Angle | 74.0 Degrees |
Service Refill Capacities
| | |
| --- | --- |
| Fuel Tank | 712.0 L |
| Cooling System | 103.0 L |
| Crankcase | 60.0 L |
| Transmission | 70.0 L |
| Differentials and Final Drives - Front | 186.0 L |
| Differentials and Final Drives - Rear | 186.0 L |
| Hydraulic System (factory fill) | 470.0 L |
| Hydraulic System (tank only) | 267.0 L |
Cab
| | |
| --- | --- |
| Cab - ROPS/FOPS | Meets SAE and ISO standards |
| Sound Performance | Meets ANSI, SAE and ISO standards |
Weights
| | |
| --- | --- |
| Operating Weight | 58330.0 kg |
Brakes
| | |
| --- | --- |
| Brakes | Meet SAE/ISO 3450:1996 |
Reliability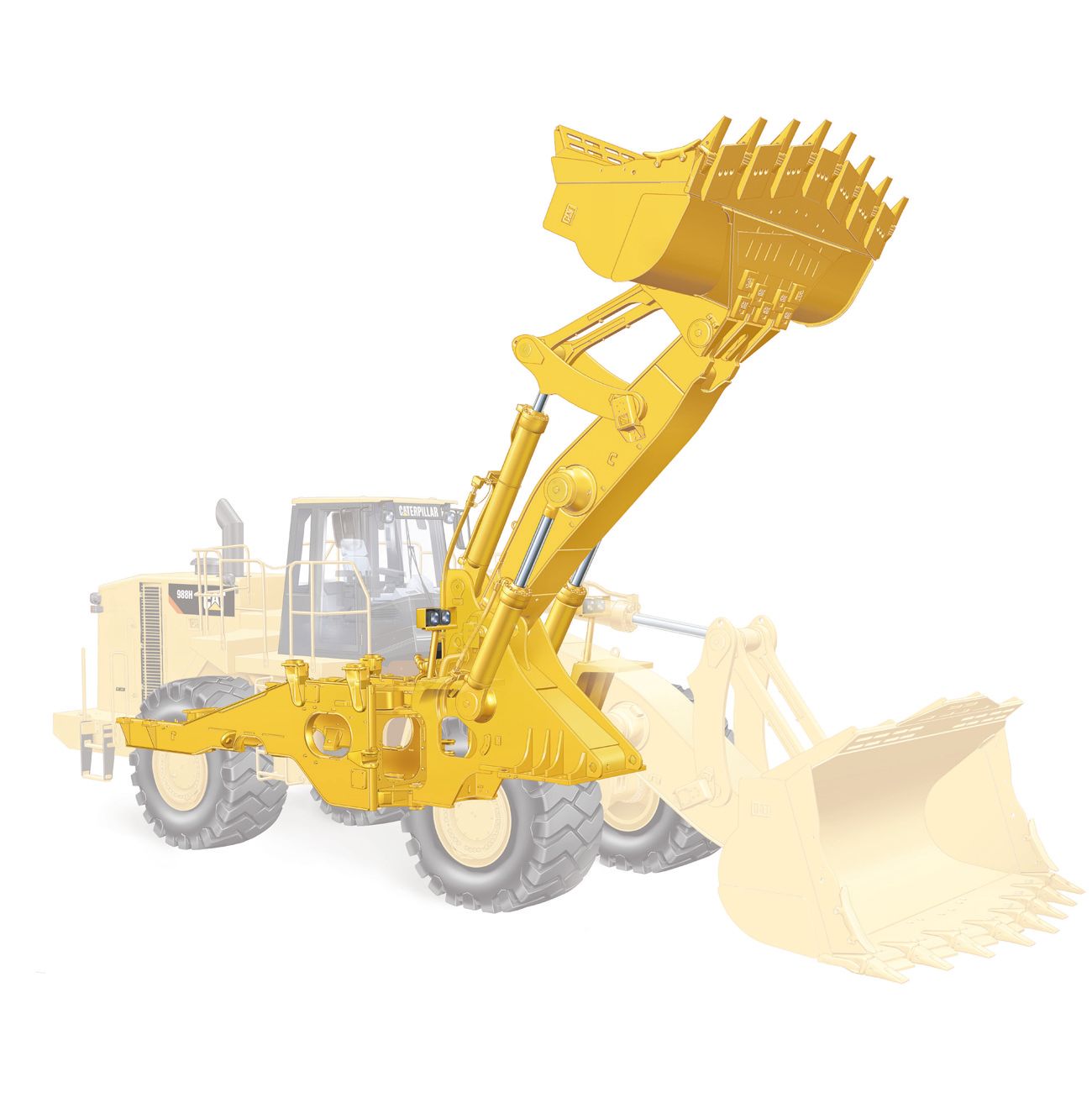 Maximizing uptime, long life - it's what you expect from your Cat Wheel Loader.
Structures
Combining the use of robotic welding and castings in critical high stress areas, more than 80 percent of Cat® Large Wheel Loader structures are robotically welded to provide highly consistent welds and increased strength. Castings are also used in several areas to increase strength by helping spread the loads and reduce the number of parts.
Front Frame and Rear Frame
Highly engineered and a field proven combination, Cat® Large Wheel Loaders use high strength plates and castings which distribute loads and increase structural robustness. A key differentiator from other manufacturers' machines is the box section rear frame and box section loader tower. The box section absorbs tensional forces generated in a loading cycle, maintaining alignment for hitch pins and driveline. The box shaped loader tower resists shock and torsional loads, maintaining hitch and loader linkage pin alignment, maximizing pin life.
Axle-Shaft, Oil Disc Brakes
These brakes are adjustment free, fully hydraulic and completely sealed. Disc face grooves provide cooling even when brakes are applied for a longer component life.
Location of brakes allow for improved serviceability. The axle shaft brake design allows for brake service while leaving the final drive intact.
Axle-shaft brakes require less force by operating on the low torque side of the axle. Combined with improved axle oil circulation for increased cooling, the oil-enclosed, multiple disc brake design improves durability.
Steel Mill Specific Features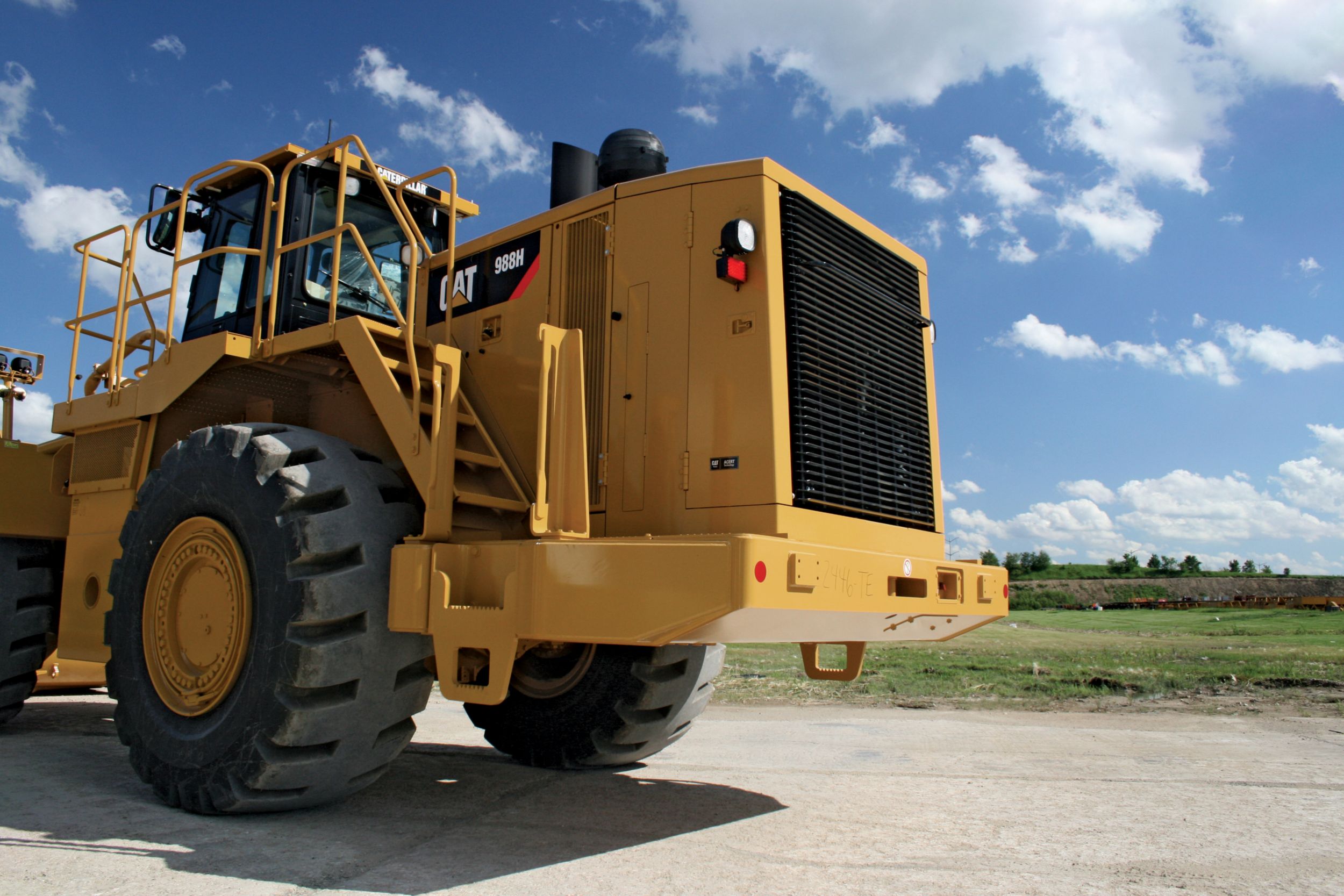 Safeguarding the operator and critical machine components.
Operator Station
Steel roof and cab skirts provide additional protection from heat and debris.
Transmission Override
A transmission override control in the cab allows the operator a secondary transmission control in the event of damage to transmission Electronic Control Module (ECM). The operator can select 1F or 1R to move the machine to a safe area for repairs to be made.
Machine Guarding
Front frame bottom guard and steering cylinder guards protect sensitive machine components from the effects of hot materials. Solid metal steps, profiled bumper guards and solid metal handrails are designed to survive tight working spaces.
Hydraulic and Electrical System
All exposed wiring harnesses and hydraulic hoses are insulated with protective sleeving to protect from extreme heat. Guarding on fuel and hydraulic tanks provides protection from puncture and excessive heat.
Optional EcoSafe Hydraulic Fluid
Fire resistant EcoSafe hydraulic fluid is available from the factory and is fully compatible with Caterpillar hydraulic system components.
Extreme Temperature Axle Seals
Caterpillar extreme temperature axle seals provide excellent sealing characteristics and life in the extreme heat of the still mill application.
Parking Brake Override
The parking brake override control, located at the rear of the bumper, allows the parking brake to be disabled with the engine not running.
Productivity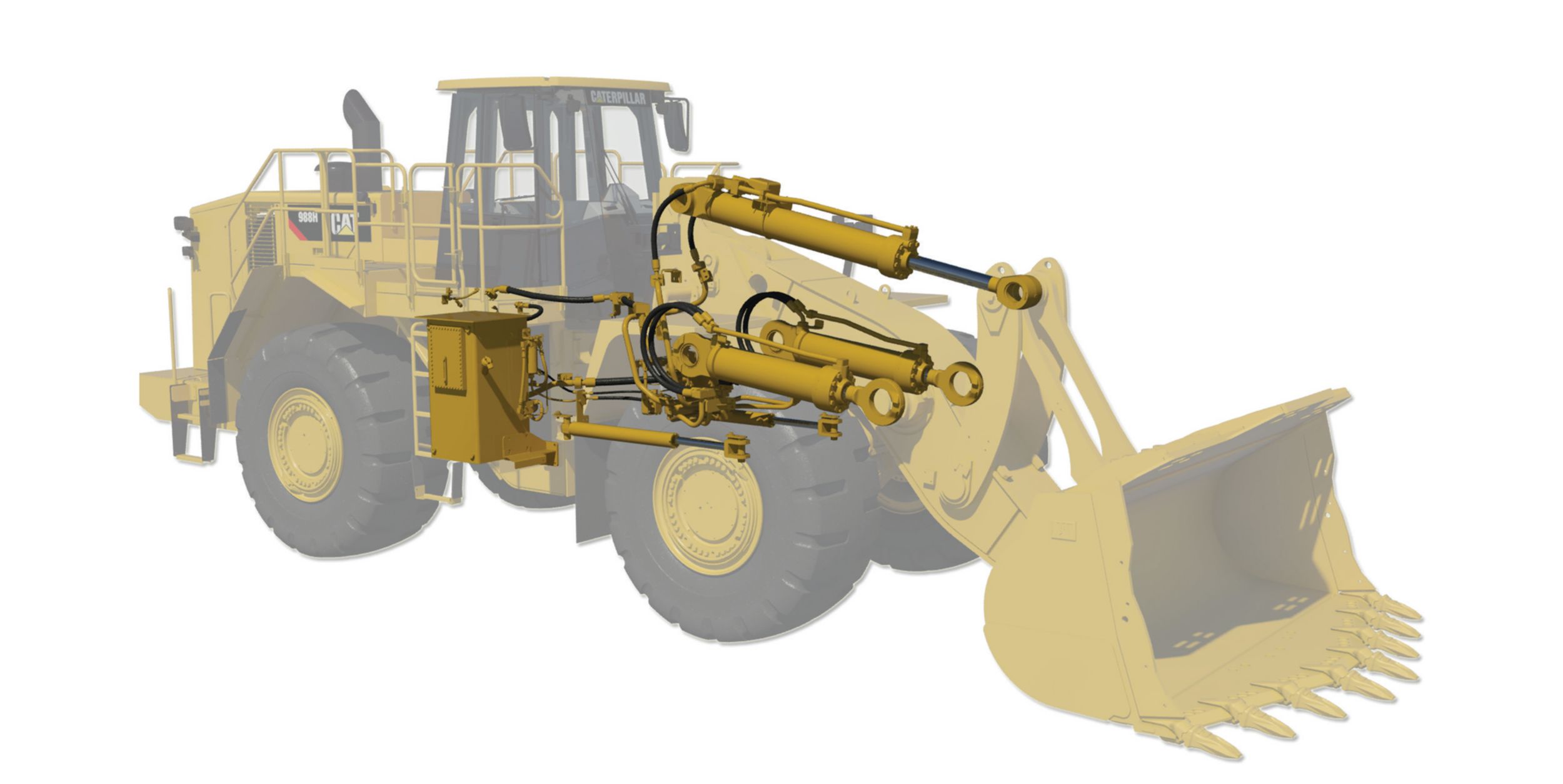 Designed with the right features to meet the daily demands of your job site.
The 988H features are specifically designed to increase productivity on your job site.
Engine
The Cat® C18 engine with ACERT™ Technology is U.S. EPA Tier 3 and EU Stage III compliant. It features increased horsepower and efficient fuel management for quick response, high productivity and exceptional service life. A sculptured cylinder block provides greater strength and is lighter weight.
Positive Flow Control Hydraulics
The 988H Positive Flow Control (PFC) Hydraulic System is setting a new standard for hydraulic response, performance and efficiency. The implement system is equipped with one electronically controlled, fully variable piston pump for fast, productive cycles. PFC has concurrent pump and valve control. This is achieved through an integrated solenoid with a force feedback system which keeps the displacement where it is required for optimized pump control. By optimizing pump control, hydraulic oil flow is proportionate to implement lever stroke. Benefits:
Lowered fuel consumption by up to five percent
Improved hydraulic response, giving the operator better feel and control of the bucket
Improved power efficiency and lower system heat
Operator Comfort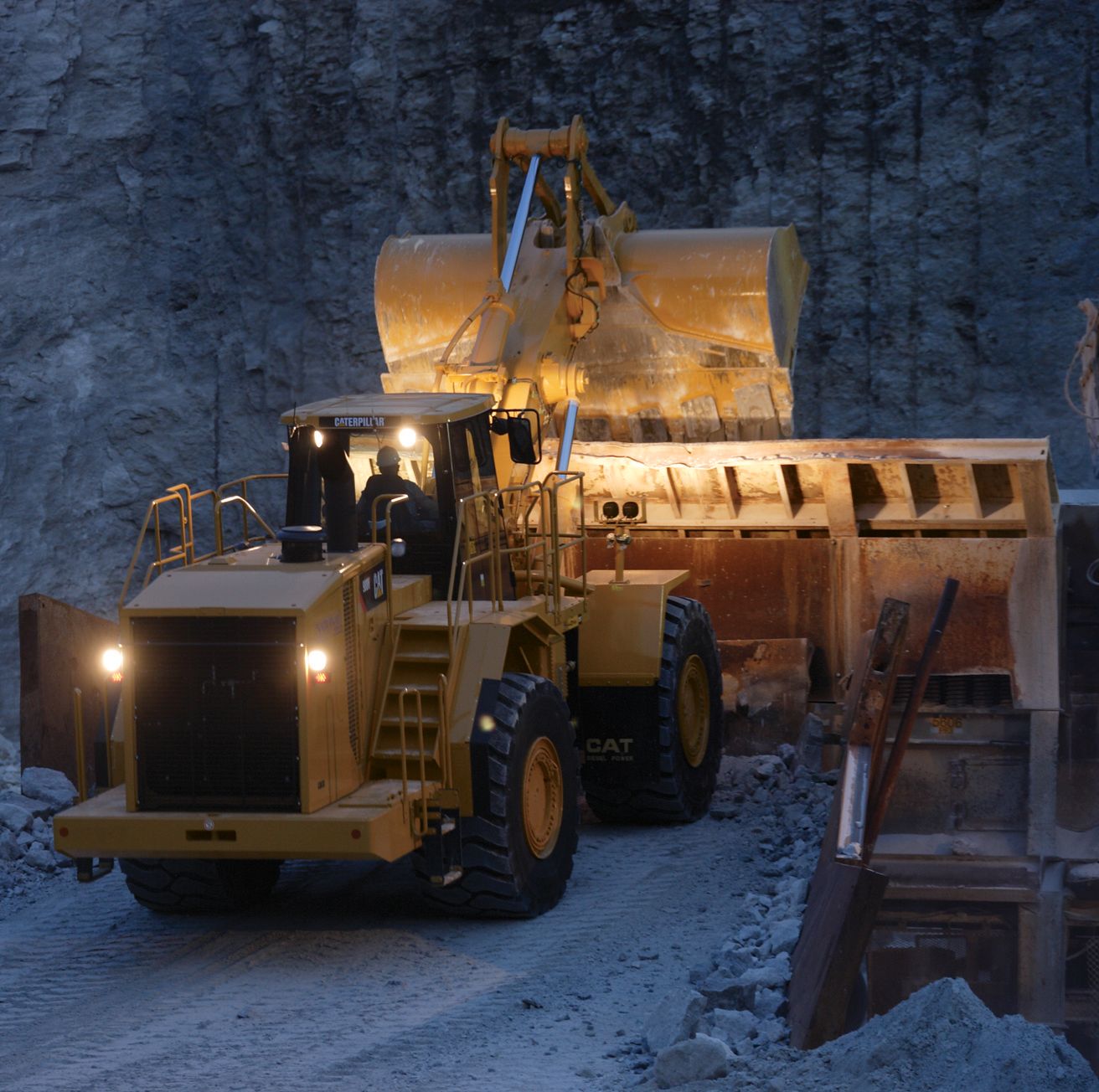 Best-in-class working environment
Best-in-Class Working Environment
A comfortable operator is a productive operator, which is why Caterpillar has designed the 988H with a best-in-class working environment for this size wheel loader class.
World class cabs incorporate features for operator comfort and ergonomics, visibility and ease of operation.
Ergonomic controls are fully adjustable and designed for low-effort comfort. Switches and controls for various systems are located within easy reach of the operator.
Interior noise levels are reduced to a quiet 72 dB(A).
Caterpillar Monitoring System (EMS-III) provides information on machine's major components. This includes gauge displays for the fuel tank level; temperature gauges for the engine coolant, torque converter and hydraulic oil; tachometer analog gauge with digital readout for gear selection and ground speed and a monitoring system.
New options to include heated seat for cold weather operations and radio offerings of Bluetooth, MPS and satellite options are now available.
Serviceability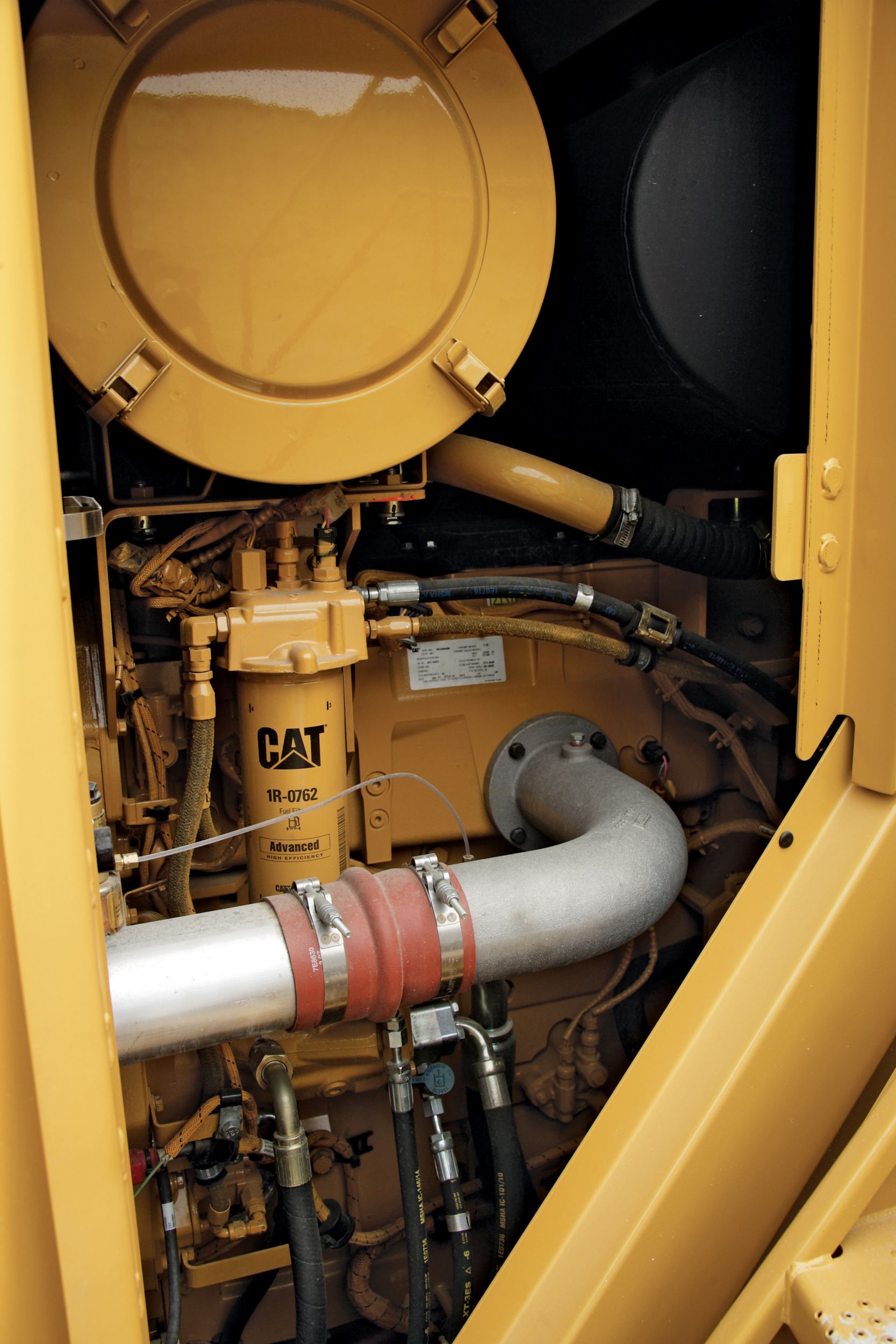 Easy to Maintain. Easy to Service.
Optional Swing Out Radiator Fan
The optional swing out radiator fan provides for easy access to the radiator cores for easy cleaning and inspection.
Optional Auto Reversing, Hydraulically Driven Demand Fan
The demand fan automatically adjusts fan speed for optimal cooling, resulting in reduced power draw on the engine, better fuel efficiency and more power for hydraulics and rimpull. The fan reverses automatically at preset intervals to remove debris from the inlet screen. It can also be reversed manually from the cab.
Component Access
Swing out doors on both sides of the engine compartment provide easy access to the engine oil dipstick and filler spout, S?O?SSM ports, fuel filters air conditioner compressor, engine oil filters, alternators, starting receptacle, air filter service indicator, cooler fill and ether starting aid. There are also ground level viewable sight gauges on all major systems and centralized remote pressure taps.
Shutdown and Lockout Features
An electrical disconnect switch and hydraulic lockout switch allow service technicians to perform maintenance while the machine stays static. Other shutdown or lockout devices include ground level engine shutdown and ground level steering hitch lock lever.
Safety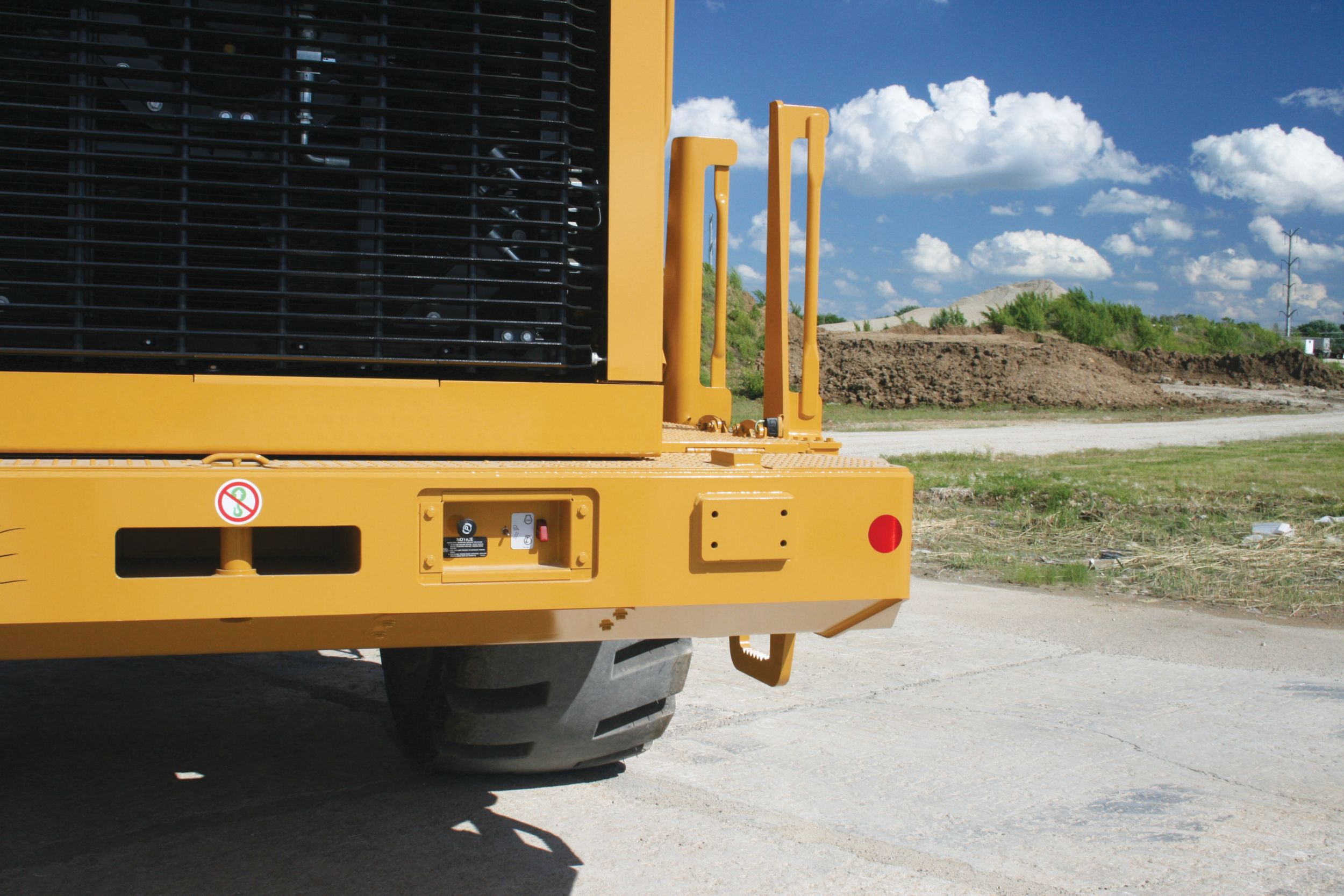 Built to Protect You
Entry and Exit
Getting on and off the machine is one of the leading causes of injury on a job site. Cat® Wheel Loaders have a number of features to ensure your operator gets safely on and off the machine. Features include primary and secondary stairwell exits, punch stamped tread plates, ground level nighttime stairwell light switch, full perimeter railings on upper platforms, side platform emergency egress and toe kicks and optional roading fenders.
Rearview Camera
With the new optional rearview camera, visibility is greatly enhanced. The camera is located in a pocket on the grill to protect it from damage and the elements. The camera can be set to activate only when the transmission is in reverse to help eliminate distractions in the cab, especially when in dark environments.
Visibility
Cat® Wheel Loaders offer a number of standard and optional features to enhance job site visibility. Standard and optional features include long life LED lights, articulated wiper/washer system with intermittent features, optional rear vision camera, optional high intensity discharge lights, optional warning beacon and optional turn signals.
"Call Back Option available only for UAE, Bahrain, Kuwait, Oman and Qatar."