Revolutionary design, Caterpillar quality. Electro-hydraulic controls, increased power and torque rise, an all-new front linkage, and unmatched operator comfort work together for increased performance and added durability to make the 988G an innovative, 21st Century large wheel loader geared for maximum production in the toughest conditions.
Structures and Fabricated Box Boom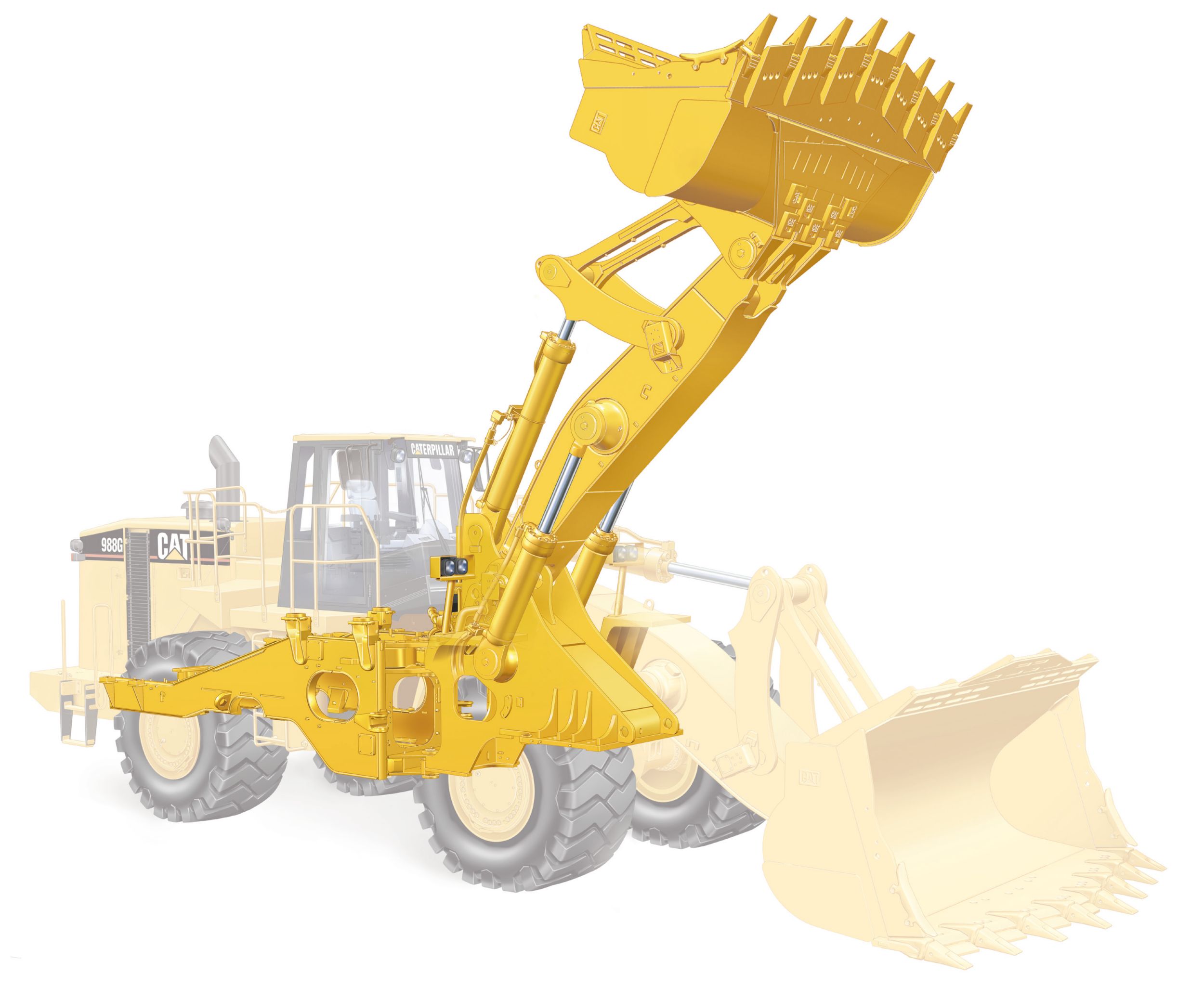 Superior design of structures, along with bold, new box-section front linkage provides superior strength.
Full Box-Section Frame
Full box-section frame has been redesigned for maximum strength and minimum weight.
Box-Shaped Tower
Box-shaped tower is designed for improved resistance to twisting for maximum strength.
Upper and Lower Hitch-Pins
Upper and lower hitch-pins pivot on double-tapered roller bearings.
Spread-Hitch Design
Spread-hitch design increased the spread 26 percent to help square up the frame and provide increased clearance for access to the hitch and hydraulic lines.
Steering Cylinder Mounts
Steering cylinder mounts are located on the axle pads providing efficient transfer of steering loads to the axle.
Fabricated Box Boom
Fabricated box boom replaces the traditional steel plate lift arms found on wheel loaders.
Box-Section Design of the Fabricated Boom
Box-section design of the fabricated boom has more torsional strength than the previous Z-bar design.
Power Train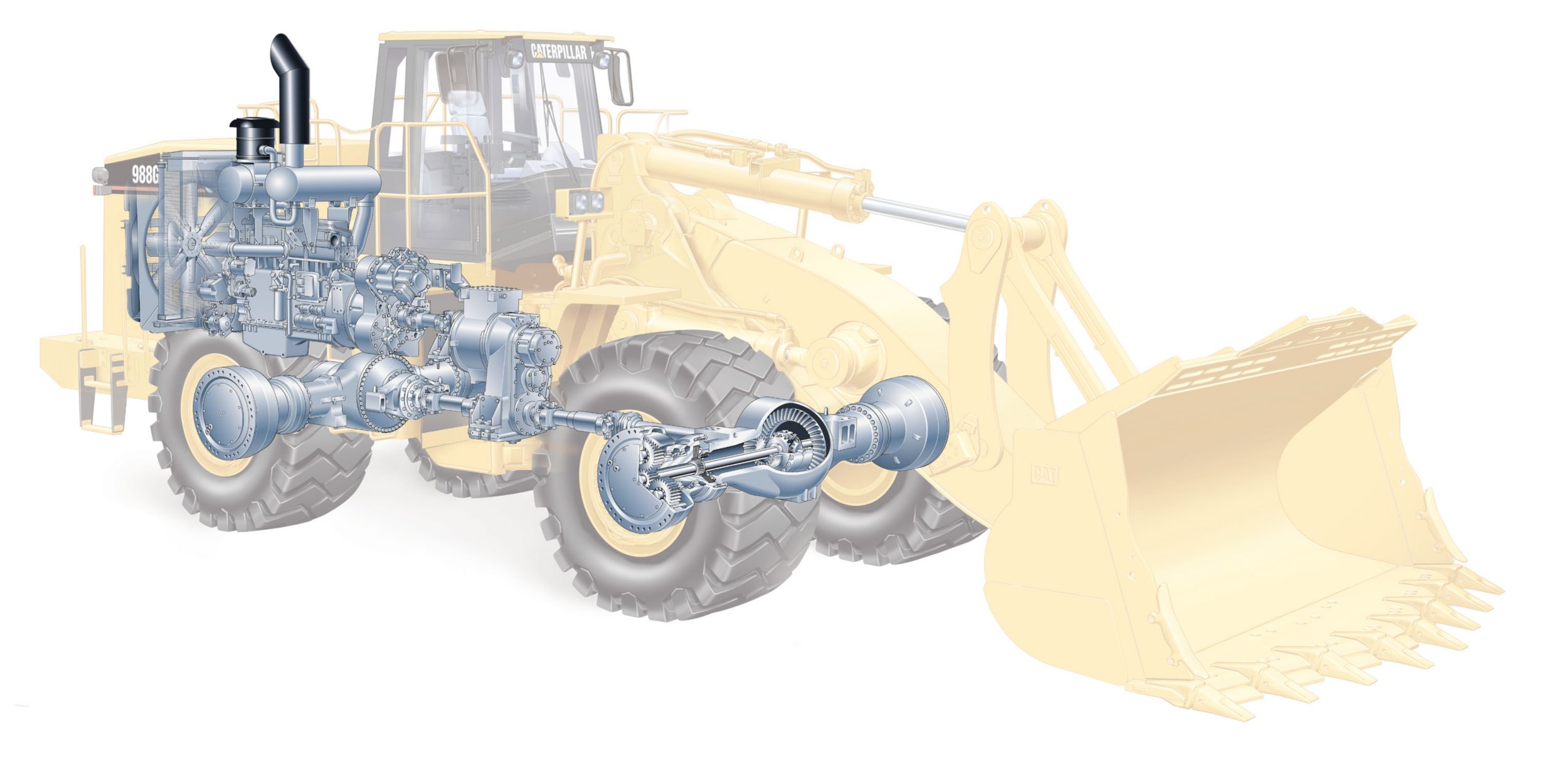 Cat power train delivers top performance and durability in tough applications.
Engine
The turbocharged and aftercooled 3456 Electronic Unit Injection Diesel Engine delivers 10 percent more power and 24 percent improvement in torque rise.
Separate Engine Cooling System
Separate engine cooling system isolates the radiator and fan from the engine compartment for more efficient cooling and allows for a sloped hood for increased viewing.
Power Shift Transmission
Electronically controlled Caterpillar planetary, power shift transmission features perimeter-mounted, large diameter clutch packs that control inertia for smooth shifting and increased component life.
Impeller Clutch Torque Converter (ICTC)
Impeller Clutch Torque Converter (ICTC) combined with the Rimpull Control System (RCS) allows the operator maximum flexibility in modulating rimpull.
Heavy-Duty Axles
Heavy-duty axles feature optional axle oil coolers, permanently lubed universal joints and stronger axle components in both the differentials and final drives for increased performance, serviceability and durability.
Axle-Shaft, Oil Disk Brakes
Axle-shaft, oil disk brakes are adjustment free, fully hydraulic and completely sealed. Disc face grooves provide cooling, even when brakes are applied, for a long, fade-resistant service life.
Hydraulics and Electronic Controls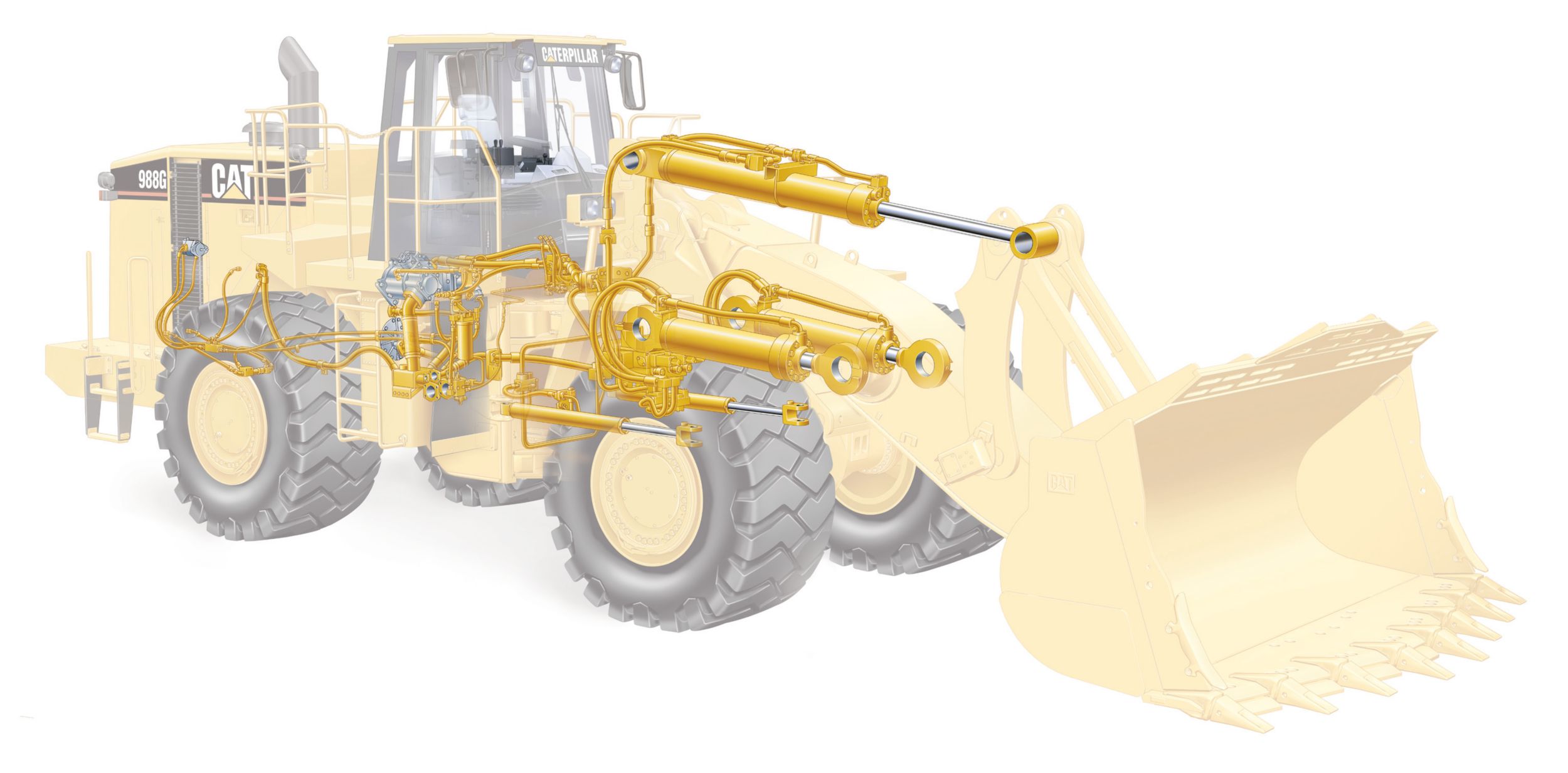 Efficient, well-balanced hydraulics and low-effort electronic controls means high performance and exceptional durability.
Revolutionary electro-hydraulic control system
Revolutionary electro-hydraulic control system increases hydraulic efficiency and enhances operator comfort through low-effort finger tip controls. Caterpillar's XT-3 and XT-5 hoses and reliable components help reduce the risk of leaks and blown lines, helping protect the environment.
Lift and Tilt System
Lift and tilt system consists of larger bore lift and tilt cylinders and a two position main hydraulic pump contributing to increased performance and serviceability.
Load Sensing Steering
Load sensing steering with STIC control system integrates steering and transmission into a single controller.
Case Drain Filtration
Case drain filtration is an optional attachment included throughout the hydraulic system to protect against contamination and provide easy access for service. A total of three filters protect the main hydraulic, steering, and fan pumps.
Demand Fan
The demand fan is a speed controlled, hydraulic fan that provides maximum cooling efficiency by directing the appropriate amount of power through the fan system based on ambient conditions.
Advanced Electronics
Advanced electronics play a major role in the operation of the 988G. Productivity improvements, enhanced serviceability, increased operator efficiency and lower costs are direct benefits of the 988G advanced electronics.
Operator Station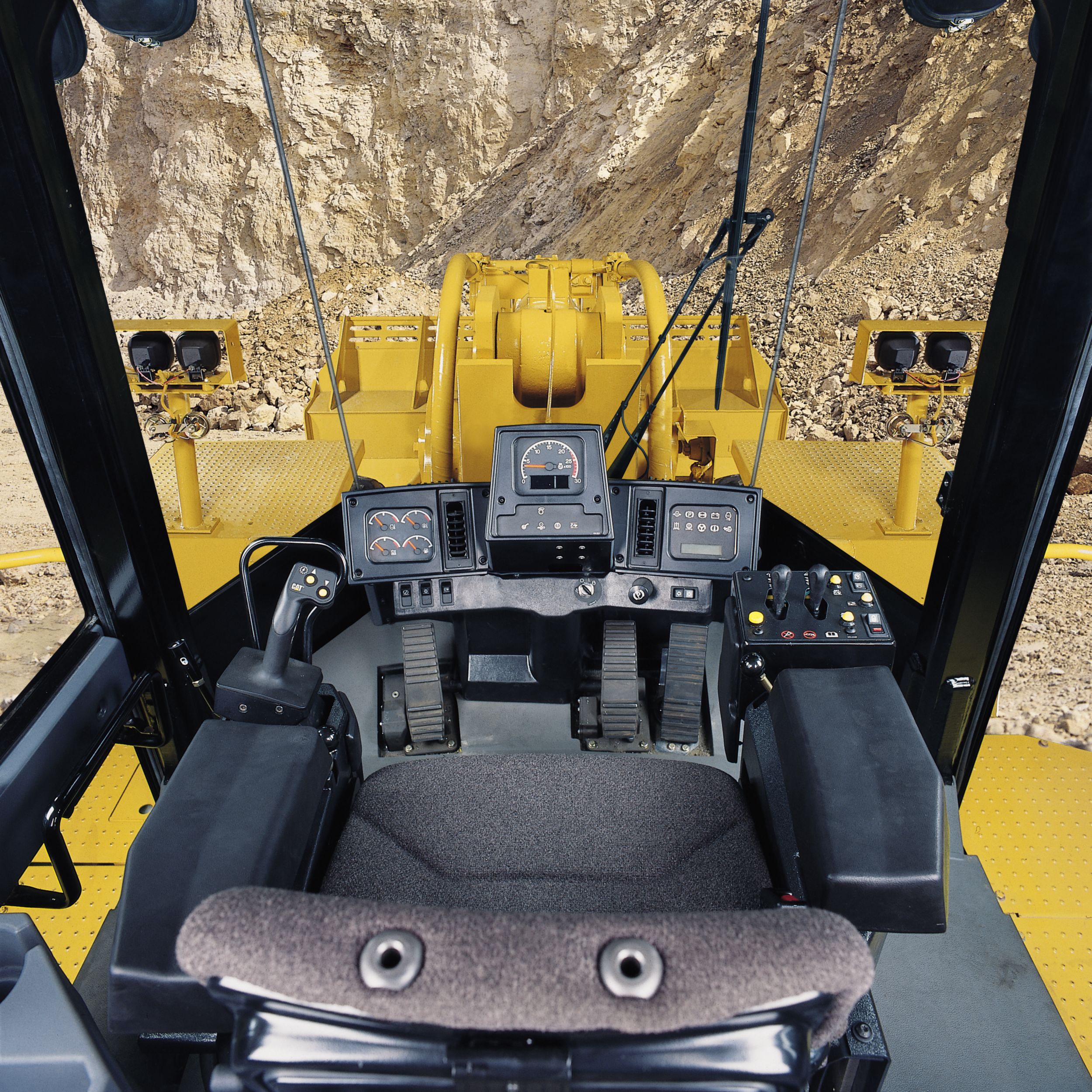 A new industry standard for comfort and efficiency.
STIC Control System
STIC control system combines gear selection and steering into one control lever that requires less effort and provides smooth shifting.
Left Pedal
The left pedal operates impeller clutch torque converter.
Cat Comfort Seat
Cat Comfort Seat replaces the previous Contour Series Seat.
Controls and Arm Rests
Floor mounted Electro-Hydraulic Controls and armrests provide low effort, finger tip control for enhanced comfort and stability.
Electronic Monitoring SystemII (EMS II)
Electronic Monitoring System II (EMS II) display system provides information on the machine's major components and system.
Throttle Lock
Throttle Lock allows operator to preset the engine speed for a variety of applications, resulting in faster cycle times and increased productivity.
Rimpull Control System Switch
The Rimpull Control System (RCS) Switch turns RCS on and off.
Rimpull Control System Settings
Rimpull Control System (RCS) has four factory preset reduced rimpull settings.
Kickout Positioner Control
Kickout Positioner Control is one of the many in-cab electronic features designed to enhance productivity.
Optional Ride Control Switch
The Optional Ride Control Switch turns Ride Control to off or automatic position.
Autoshift Feature
Autoshift feature allows the operator to set the maximum gear into which the transmission will be allowed to shift. This feature allows additional comfort and focus on the job. The switch also offers a manual position for operator controlled shifting.
Lock-Up Clutch Torque Converter Switch
Optional lock-up clutch torque converter switch activates lock-up clutch for direct drive efficiency.
Loose Material Operating Mode
Loose material operating mode tailors hydraulics to provide maximum loose material loading efficiency.
Front and Rear Window Wiper/Washers
Front and rear window wiper/washers are within easy reach to maintain a clear field of vision.
Improved Viewing Area
Improved viewing area with bonded front windshield eliminates distracting metal frames for excellent bucket and work site visibility.
Lock-out Switch
Electro-hydraulic lock-out switch disables hydraulic controls.
Buckets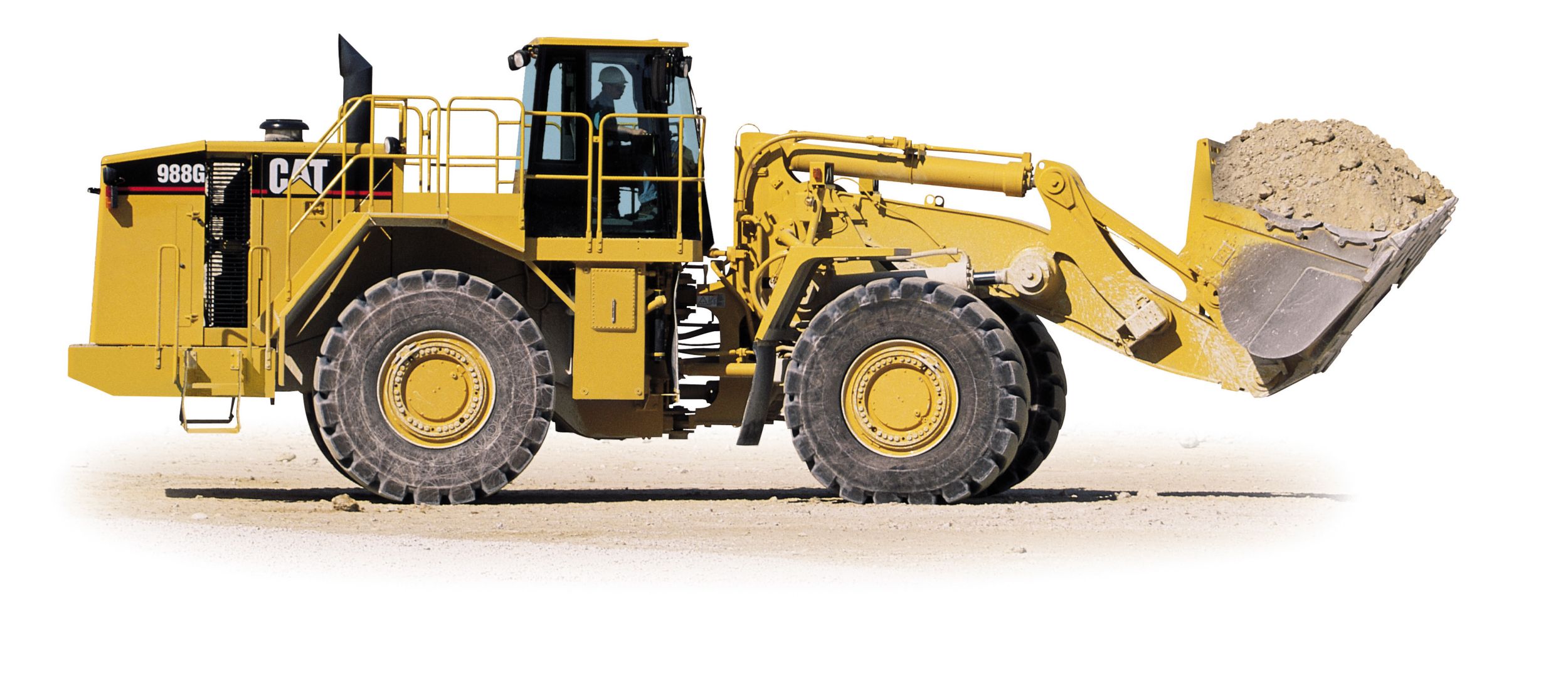 Caterpillar Buckets and Ground Engaging Tools provide the flexibility to match the machine to your application.
Options
The 988G has several buckets available that may be configured for a variety of impact and abrasive conditions.
Spade-Edge Rock Buckets
Spade-Edge Rock Buckets with bolt-on segments are available.
Straight-Edge Buckets
Straight-Edge Buckets are available in Straight-edge Rock and General Purpose configurations. The Straight-edge Rock features shouldered, double strap adapters and accepts two sets of side bar protectors, bolt-on segments and tips. The General Purpose Bucket is available with bolt-on cutting edge, bolt-on adapters, or bolt-on adapters with segments.
Heavy-Duty Quarry Bucket
Heavy-Duty Quarry Bucket is available and is recommended for use in face loading where moderate abrasion and high impact is encountered.
High Abrasion Bucket
High Abrasion Bucket is available and is recommended for use in face loading where high abrasion and moderate impact is encountered.
Bucket Match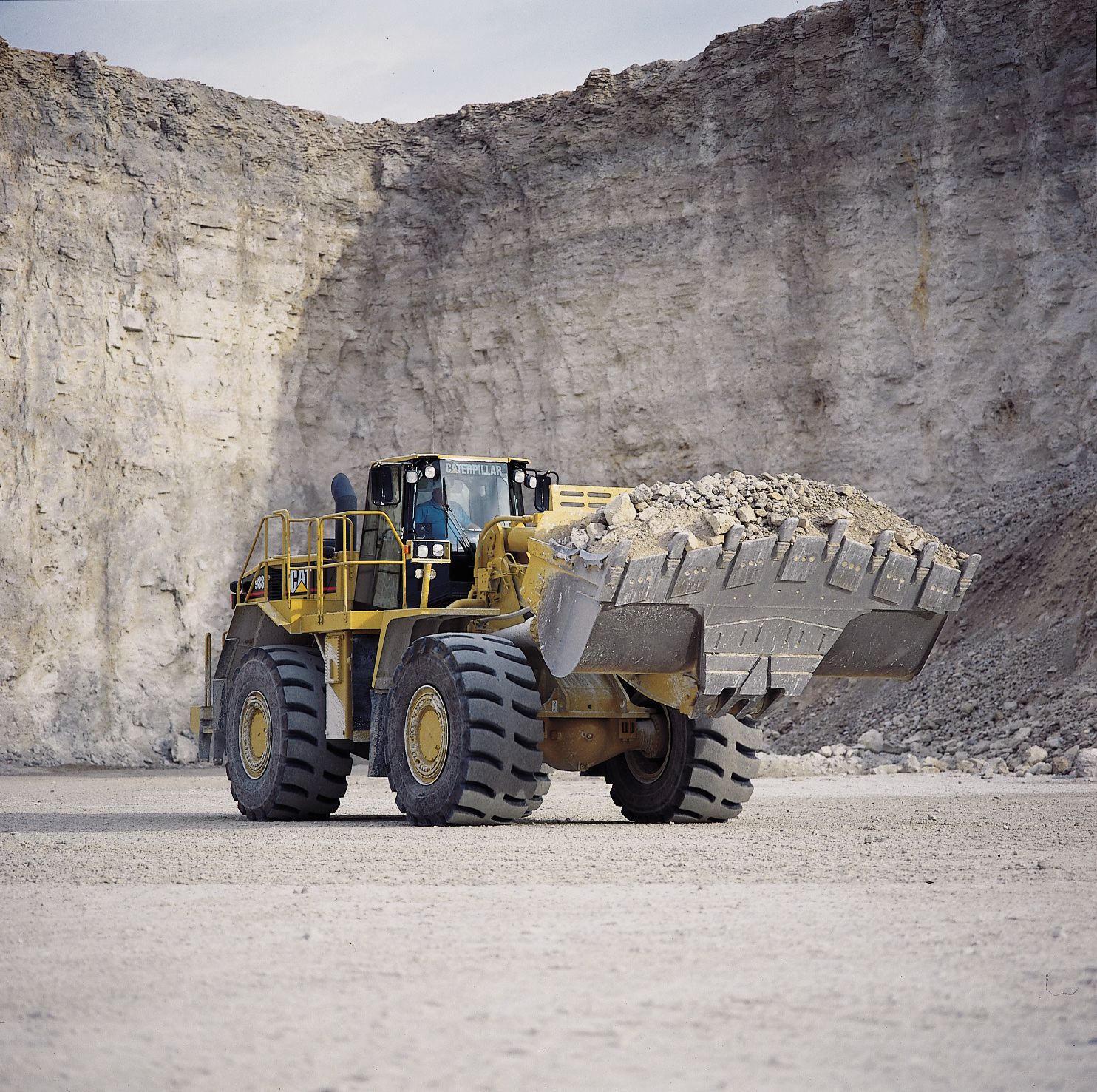 Proper bucket and application match delivers increased stability and peak performance.
Buckets
The 988G offers a variety of bucket types and available Ground Engaging Tool configurations to properly configure the machine based on material density, impact and abrasion.
Appliction Truck Match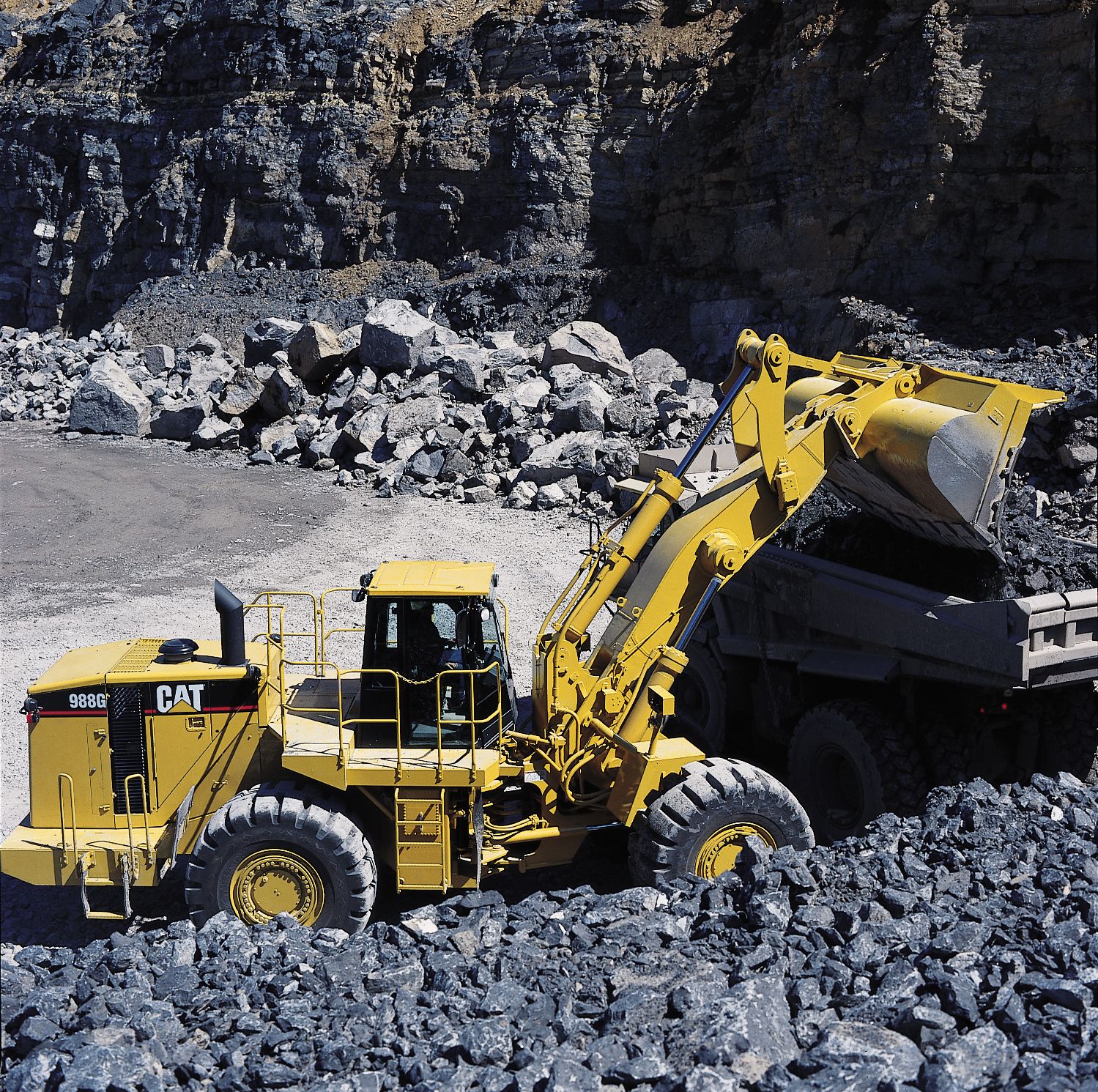 Matched payloads and matched buckets ensure optimum performance.
Complete Customer Support
Cat Dealer service help you operate longer with lower costs.
Selection
Make detailed comparisons of the machines you are considering before you buy.
Operation
Improving operating techniques can boost your profits. Your Cat Dealer has training videotapes, literature and other ideas to help you increase productivity.
Maintenance
More and more equipment buyers are planning for effective maintenance before buying equipment.
Product Support
You will find nearly all parts at our dealer parts counter.
Replacement
Repair, rebuild or replace? Your Cat Dealer can help you evaluate the cost involved so you can make the right choice.
Maintenance and Serviceability
Easier maintenance and enhanced serviceability give you more time in the pile.
Maintenance Checks
Most daily maintenance checks can be performed from the left side of the machine, making it part of an easy pre-start routine.
Enhanced Serviceability
The Advanced Modular Cooling System allows service technicians to replace individual cores for enhanced serviceability.
U-Joints
U-joints are lifetime lubricated leaving the slip joint as the only drive line component needing grease.
Lube Points
Lube points are centralized in accessible locations.
Swing-Out Doors
Swing-out doors on both sides of the engine compartment provide easy access to the engine oil dipstick and filler spout, S.O.S port, fuel filters, air conditioner compressor, engine oil filters, alternator, starting receptacle, air filter service indicator, coolant fill, and ether starting aid.
Hinged Doors
Hinged doors in platform provide access to the hydraulic tank fill implement and steering filters.
Batteries
Batteries sit in a built-in battery box and are accessible though tread plates on the right platform.
Lights
Shock resistant lights are replaceable by hand, not requiring the use of any tools.
Cab Support Bracket
Cab support bracket provided with every machine improves access under the cab. The bracket is conveniently stored behind the cab.
Electronic Monitoring System II (EMSII)
Electronic Monitoring System II (EMSII) provides operators and service technicians with diagnostic information on the machine's major components and systems.
Diagnostic Connector
Diagnostic connector enables quick evaluation of eleven starting and charging functions.