The Cat 980K Block Handler Arrangement is designed to withstand the demanding and harsh environment of block handling applications. Various work tools are available to assist operators in all block handling applications. The features of the 980K Block Handler Arrangement work together to provide a durable and reliable machine to meet your block handling needs.
Durability
Built Strong and Tough.
Counterweight
The 980K Block Handler offers operators and customers stability and durability with a greater counterweight at the bottom of the machine. The K Series Block Handler Arrangement adds 2860 kg (6,305 lb) of counterweight and the rear counterweight is protected by a rear guard.
Heavy Duty Transmission
The Heavy Duty Planetary Transmission, from the Block Handler Arrangement, provides a special design of larger discs in order to increase heat dissipation generated during block load and carry cycles. This Heavy Duty transmission utilizes 432 mm (17") planetary drives for all gears, and includes slightly larger gears and bearings than the standard transmission that uses 330 mm (13") planetary gear sets.
Quick Coupler Activation
The Block Handler Arrangement includes an additional hydraulic valve with the Quick Coupler, allowing the operator to switch work tools and immediately lock the work tool during load and carry applications.
Larger Tilt Cylinders
The 980H Block Handler comes equipped with larger tilt cylinders on the linkage that help improve load control and ensure safe and long lasting operation.
Productivity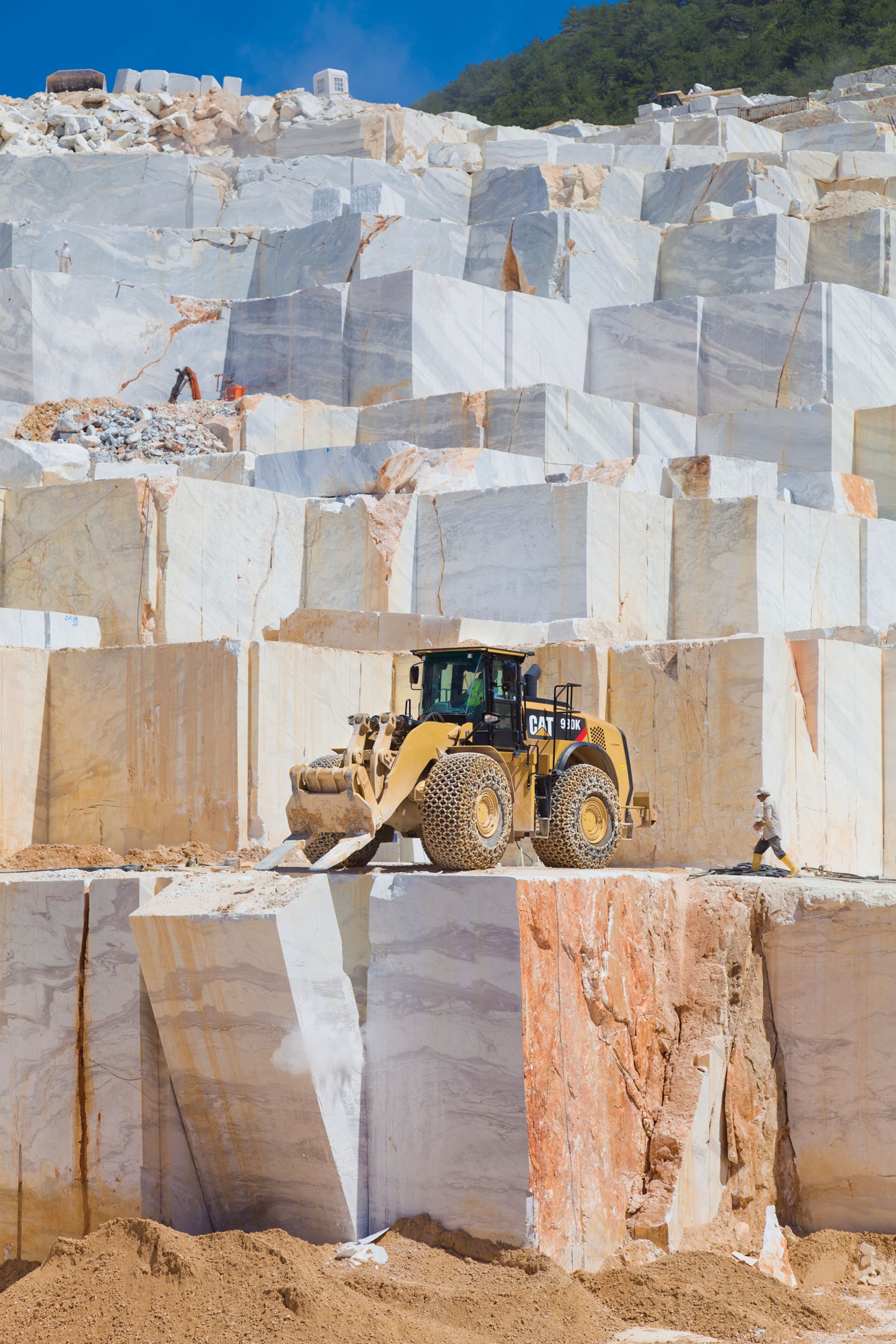 Move More. All Day. Every Day.
Load-Sensing Hydraulics
New load sensing hydraulics produce flow and pressure for the implement system upon demand and only in amounts necessary to perform the needed work functions, enhancing machine productivity and fuel efficiency. Implement controllability is improved through simultaneous implement operation and repeatable fine modulation, enabling greater operator comfort through ease of operation.
Ride Control
Ride control works by using an accumulator to dampen the linkage motion, acting as a shock absorber. It provides the operator with a smoother ride over rough terrain, enabling a more comfortable ride at higher speeds.
Lock-up Clutch Torque Converter
The optional lockup torque converter significantly enhances productivity and fuel efficiency while performing load and carry applications, especially on grades. The lockup clutch eliminates torque converter losses, ultimately resulting in lower fuel consumption while achieving higher travel speeds up a grade.
Transmission Shift Strategy
The new shifting strategy that delivers smoother shifts, faster acceleration, and better performance climbing a grade. When placing the transmission into forward gear, the machine will automatically start in second gear. With the further enhancement of a torque based 2 to 1 downshift, the downshift will only occur based on machine load. Owners and operators will fully benefit from utilizing the automatic 1-4 transmission mode, which results in lower fuel consumption and optimal machine performance.
Versatility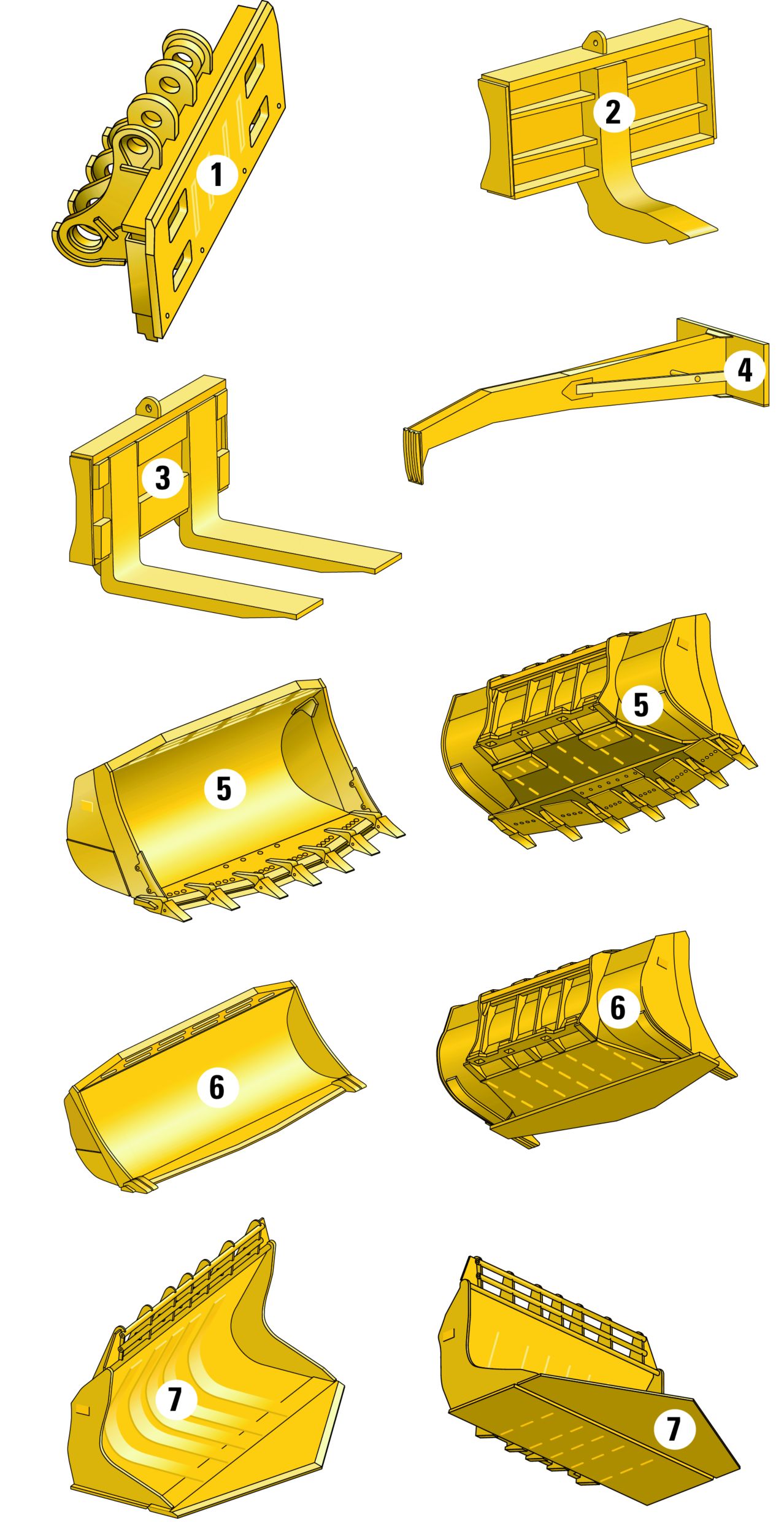 Work Tool Options to Meet Your Needs.
(1) Quick Coupler
The quick coupler is designed for optimal utilization of lifting and break-out forces with Cat cylinder, safety valves, pressure and isolating valves, safety covers and lock indicators. It has enhanced visibility and has been optimized for handling large rocks and blocks.
(2) Breaker Tine
Center-mounted, heavy-duty single-piece forged fork tine is used for prying loose large stone blocks. It is built with an extra thick tine to handle a variety of materials in this demanding application.
(3) Forks
Heavy-duty pallet forks are engineered to handle weight and load stress when maneuvering and placing blocks in quarry operations. Dual tine forks are designed to allow blocks to be placed close to the machine for greater balance and safe handling.
(4) Clearing Rake
Used primarily for clearing and controlling loose objects at the quarry face and working levels, the block handling rake is designed with a curved boom for enhanced operator visibility and object placement.
(5) Rock Bucket
Heavy-duty bucket offers superior durability, protection and performance in rock and overburden operations in block quarries. It includes large size teeth and segments. Its HD400 (high wear resistant) metal shell and bottom offer maximum strength, durability and wear life.
(6) Marble Bucket
Special bucket construction including the HD400-metal shell and bottom help the bucket effectively load large blocks and boulders while maintaining durability. The corner teeth ease block tilting and handling. The heavy-duty V-edge is particularly suited for handling high-value breakable marbles before cutting operations.
(7) Block Bucket Heavy-Duty
Special bucket construction loads very large squared blocks and boulders. The deep carved sides and extra long heavy-duty bottom allow the special V-edge to penetrate under large blocks. The interior bucket profile allows blocks to further fit back in the bucket for increased load and lift capabilities and better balance and rack-back. Its HD400-metal shell and bottom offers maximum strength, durability and wear life.
Operator Environment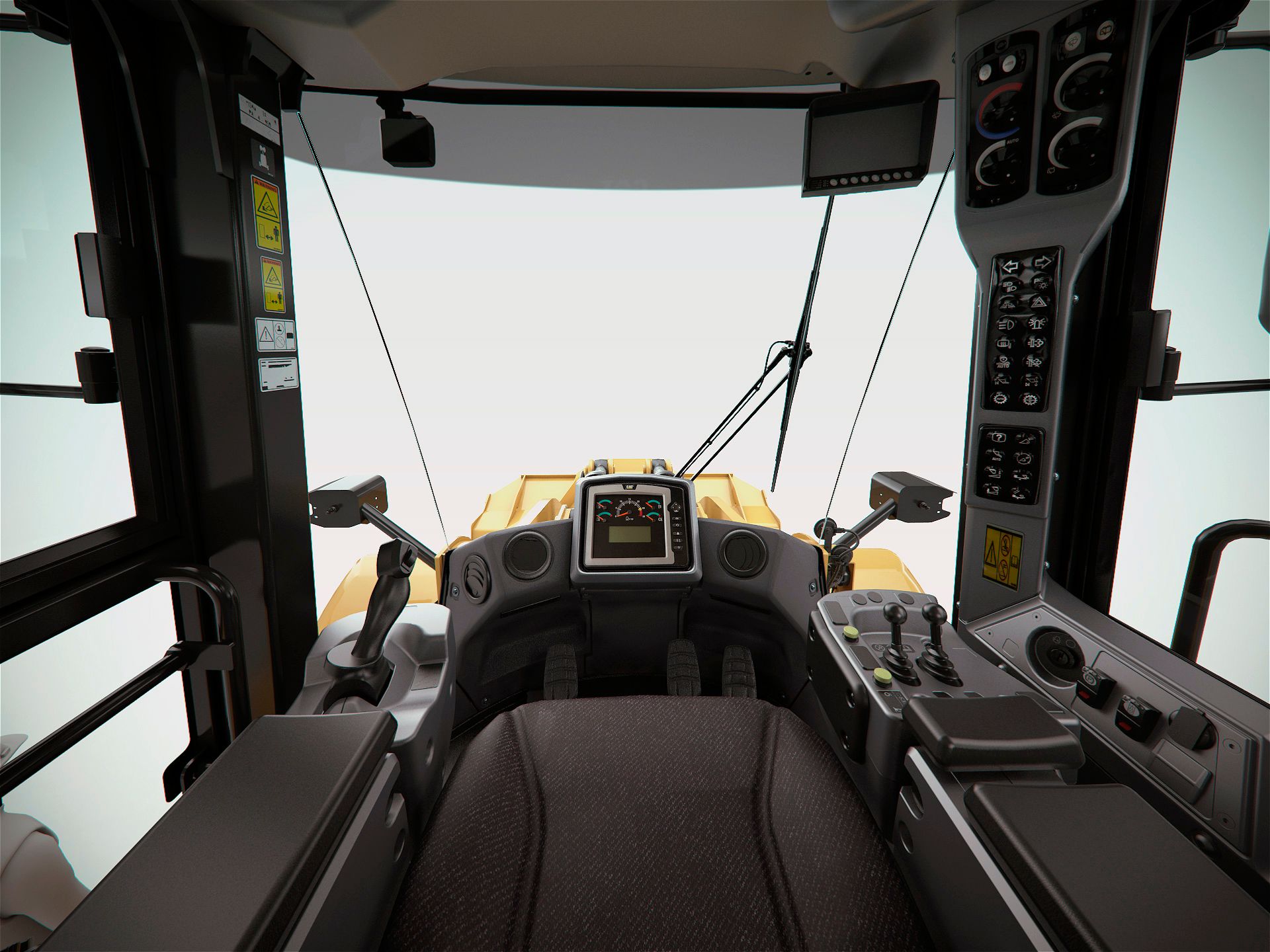 Safe. Comfortable. Efficient.
Electro-Hydraulic (EH) Joystick Steering with Force Feedback (Speed Sensitive)
The industry leading EH joystick steering system combines operator comfort and precision control to provide a sustainable work environment for the operator. The system incorporates a force feedback motor that automatically adjusts the effort needed to tilt the ergonomic joystick based on ground speed, resulting in superior control in all applications and climates.
Implement Controls (EH)
Seat mounted single axis implement control levers provide the operator with precise control of the work tool, all while moving with the seat for maximum comfort. In cab programmable kick-outs and automatic cylinder snubbing maximize operator comfort and productivity throughout their shift.
Information Display
The central display panel has a large text box, five analog like gauges, and LED warning indicators. The large text box provides in-language information about machine operation, feature activation and system troubleshooting and calibration. With the five large analog-type gauges the operator can easily identify if key systems are within normal operating range. A resettable trip totals function has been incorporated to display information for average fuel consumed, total fuel consumed, idle fuel, idle time, operating hours, odometer, etc.
Safety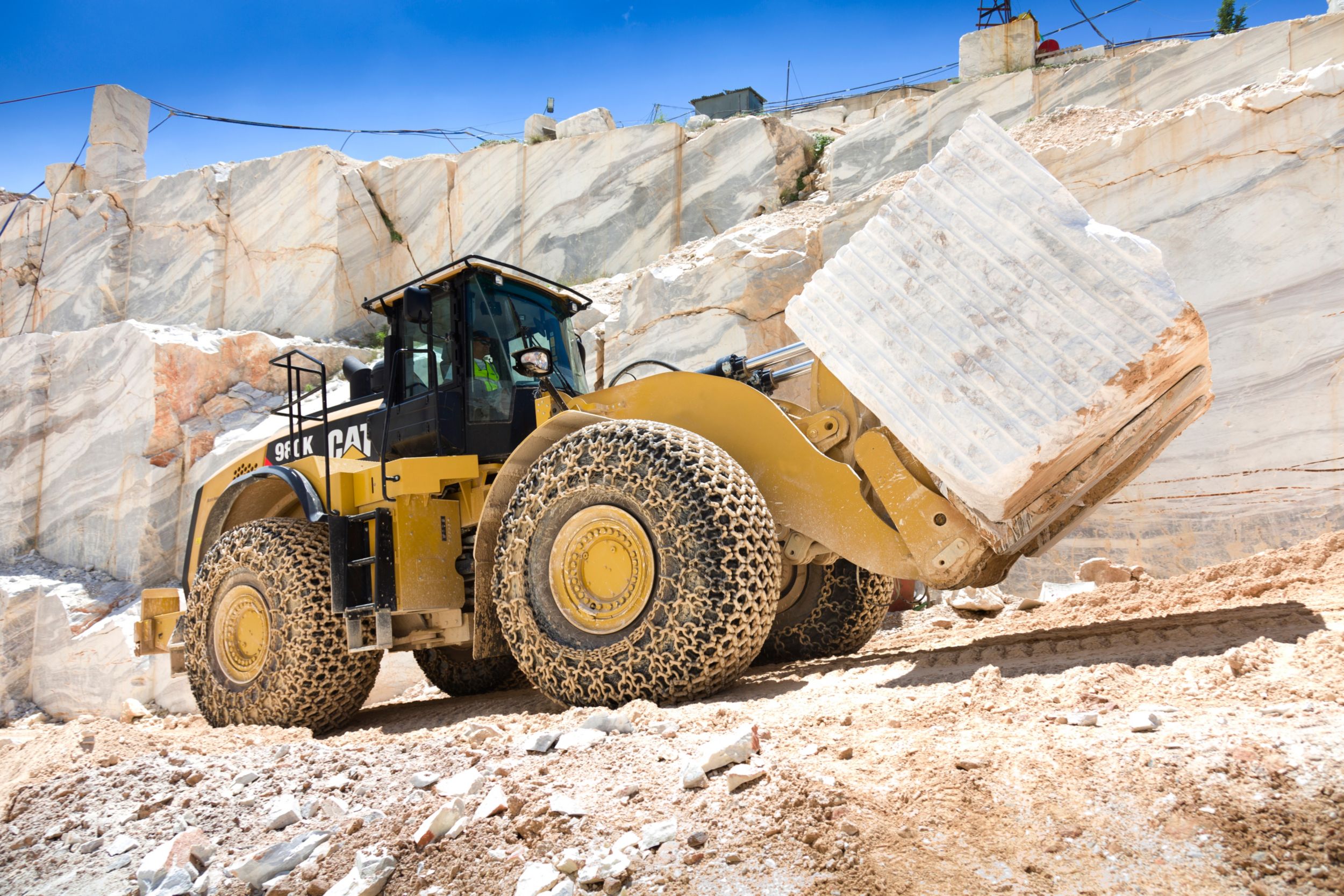 Built to Protect You.
Entry and Exit
Well-placed grab bars and a ladder inclination angle of 10-degrees forward makes the walk into the cab feel more like a staircase than a ladder. The new wider front hinged door can be opened and closed while seated, greatly improving ingress and egress. Two new left-hand and right-hand sliding windows can also be opened while seated for comfortable communication to personnel on the ground.
Visibility
The cab has a clean and clear panoramic view for safe operation of the machine. External rearview mirrors are mounted on the cab to provide all around visibility. Optional heated and powered mirrors are available to further improve visibility in cold climates.
Lights
The K Series standard lighting package includes roading lights (with high and low beam as well as turn signals), four work lights located at the four corners of the cab. Optional lights include the HID lighting package or Halogen work light package, that includes four high intensity discharge or halogen lights and a strobe beacon.
Rearview Camera
With the new standard rearview camera, visibility is greatly enhanced. The camera is located in a pocket on the grill to protect it from damage and the elements. The camera can be set to activate only when the transmission is in reverse to help eliminate distractions in the cab, especially when in dark environments.
Serviceability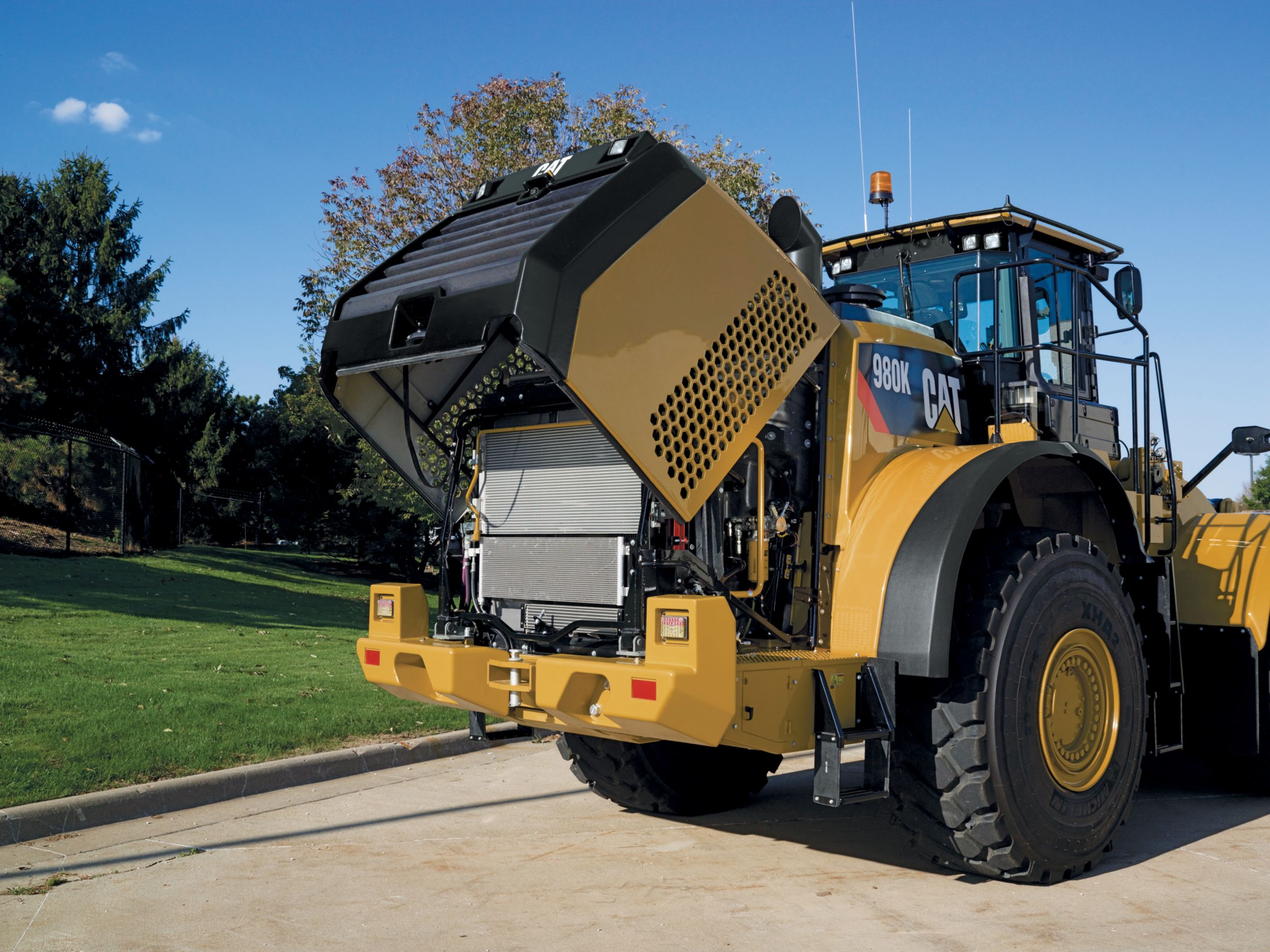 Easy to Maintain. Easy to Service.
Cooling System
The cooling system is readily accessible for clean out and maintenance. With six cooling fins per inch and a perforated grill, most airborne debris entering the system passes through the cooler cores. The cooler cores swing out providing easy access for cleaning; an option variable pitch fan is available to automatically purge the cooler cores by periodically reversing the airflow.
Hydraulic Service Center
The hydraulic components are all conveniently located behind the hinged right side access ladder at a new single ground level service center improving safety and reducing service time.
Engine Access
The Cat sloped "one-piece" tilting hood, provides industry-leading access to the engine, Cat Clean Emissions Module (CEM) and other components. A new rear clamshell hood design allows quick access to the engine oil dipstick and fill, fuel fill port, and cooler cores.
Electrical Service Center
The electrical service center provides grouped ground level access to numerous electrical features, enhancing safety and convenience for operators and service technicians. The ground level engine shutdown switch is located near the cab access ladder.
Customer Support
Ready to Help. Anytime. Anywhere.
Machine Selection
Cat dealers are ready to help evaluate machine options; from new or used machine sales, to rental or rebuild options, Cat dealers can provide an optimal solution to meet customer business needs.
Product Support
Cat dealers are with customers every step of the way to maximize machine uptime by providing unsurpassed worldwide parts support, trained technicians and customer support agreements.
Operation
To help maximize the return on your investment, Cat dealers offer various training resources to improve operating techniques.
Financing
Cat dealers offer financing options to meet a variety of customer needs.
Sustainability
Conserving Resources.The 980K is designed to compliment your business plan, reduce emissions and minimize the consumption of natural resources.
Improved fuel efficiency - less fuel consumed results in lower emissions.
Engine air filter life doubled to reduce cost and waste.
Machine is built with a 96% recyclability rate (ISO 16714) to conserve valuable natural resources and further enhance machine end of life value.
Improved operator efficiency through enhanced visibility and reduced noise/vibration levels.
Product Link™ family of products and solutions that collect, communicate, store and deliver product and job-site information to maximize productivity and reduce costs.
Major components are rebuildable, eliminating waste and saving money by giving the machine and/or major components a second - and even third - life.
Owning Costs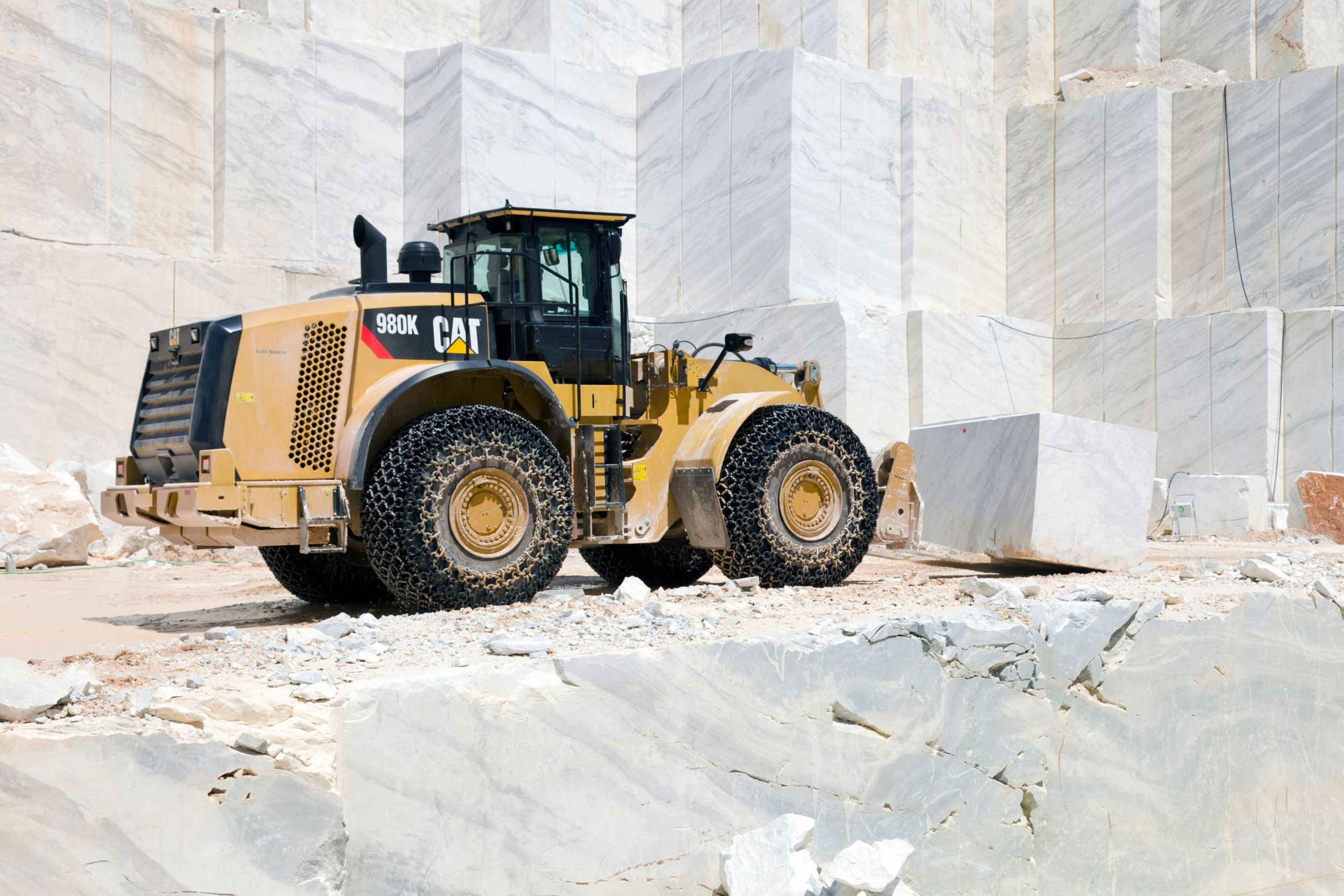 Proven Best Investment.
Monitoring Systems
Monitoring product health is key to optimizing the life of an investment into a Cat wheel loader.
Cat Product Link - Cat Product Link allows remote monitoring of equipment to improve overall fleet management effectiveness. Product Link is deeply integrated into machine systems. Events and diagnostic codes, as well as hours, fuel, idle time and other detailed information are transmitted to a secure web based application, VisionLink®. VisionLink includes powerful tools to convey information to users and dealers, including mapping, working and idle time, fuel level and more.
S·O·SSM Services - Helps manage component life and decrease machine downtime, increasing productivity and efficiency. Regular fluid sampling can help track what is going on inside your machine. Wear related problems are predictable and easily repairable. Maintenance can be done to accommodate your schedule, resulting in increased uptime and flexibility in maintenance repairs before failure.
Parts Availability
Caterpillar provides an unsurpassed level of personalized service to help you work more cost effective and efficient. By utilizing a worldwide parts network Cat dealers help minimize machine downtime and save money by delivering replacement parts within 24 hours.
Resale Value
Owning quality equipment is an important factor in maintaining resale value. Caterpillar is not only known for machines that are better built, but provides product and dealer support to maintain the reliability and durability of your machine.
Customer Support Agreements
A Customer Support Agreement (CSA) is an arrangement between you and your Cat dealer that helps you lower your total cost per ton. CSAs are flexible, allowing them to be tailored to your business needs. They can range from simple Preventive Maintenance Kits to elaborate Total Cost Performance Guarantees. Having a CSA with your Cat dealer enables more time for you to do what you do best - run your business.
Operating Costs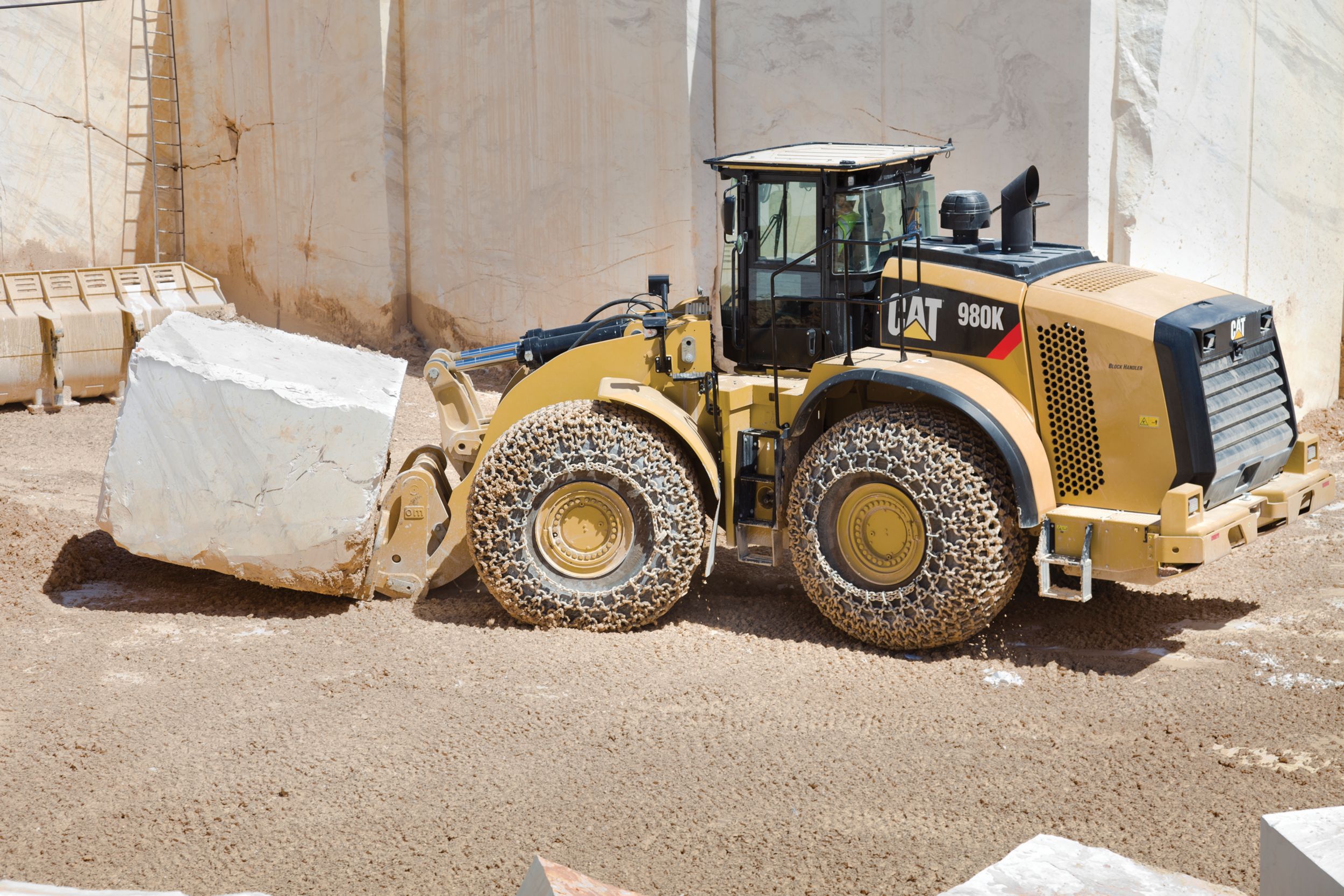 Save Time and Money by Working Smart.Data from customer machines show Cat wheel loaders are among the most fuel efficient machines in the industry. Several features contribute to this excellent fuel efficiency:
Load-Sensing Hydraulics - Provides only the hydraulic flow required by the implement and steering systems for improved fuel efficiency and greater rimpull.
ACERT Engine - Power dense engine enables a more fuel-efficient method to meet emissions regulations.
Fuel Management System (FMS) - Optimizes power for maximum fuel savings with minimal impact on production.
Engine Idle Shutdown - Automatic engine and electrical system shutdown conserves fuel.
Lockup Torque Converter - Transfers more power to the ground and optimizes fuel efficiency in all applications.
Shift Strategy - Reduced torque interruption increases driveline efficiency, conserving fuel. Auto 1-4 transmission mode keeps engine rpm low, reducing fuel consumption while delivering optimal machine performance. Machine configuration, operator technique, and job site layout can impact fuel consumption by as much as 30 percent.
Machine Configuration - Select the correct work tool and tire type based on machine application. Radial tires are preferred; ensure proper inflation pressures. Heavier tires burn more fuel. Keep engine rpm low by using auto 1-4 transmission mode.
Job Site Layout - Spot loading targets in the right position. Avoid traveling more than twice the machine length during short cycle loading. Reduce transport distance for load and carry cycles by optimizing job site layout.
Loading Truck - Do not raise the work tool any higher than necessary. Keep engine rpm low and unload in controlled manner.
Idle - Set the parking brake to engage Engine Idle Management System which lowers engine rpm while idling thereby saving fuel.
POWER TRAIN
Brakes, full hydraulic enclosed wet-disc with Integrated Braking System (IBS)
Brake wear indicators
Diesel Particulate Filter (DPF)
Engine, Cat C13 that meets Tier 4 Interim/Stage IIIB emission standards
Fast fuel system ready
Fan, radiator, electronically controlled, hydraulically driven, temperature sensing, on demand
Fuel Management System (FMS)
Fuel priming pump (electric)
Fuel/water separator
Guard, vandalism
Power train guard
Precleaner, engine air intake
Radiator, unit core (6 fpi) with ATAAC
Secondary Steering
Switch, transmission neutralizer lockout
Torque converter (free wheel stator)
Transmission, automatic planetary power shift (4F/4R)
Variable Shift Control (VSC)
Extreme service heavy duty planetary powershift transmission
ELECTRICAL
Alarm, back-up
Alternator, 150-amp brushless
Batteries, (4) maintenance free 1,000 CCA
Ignition key; start/stop switch
Lighting system: - Four halogen work lights - Two halogen roading lights (with signals) - Two halogen rear vision lights (hood mounted)
Lights, signal LED Rear
Main disconnect switch
Receptacle start (cables not included)
Starter, electric, heavy duty
Starting and charging system (24-volt)
Alarm, back-up
Alternator, 150-amp brushless
Batteries, (4) maintenance free 1,000 CCA
Ignition key; start/stop switch
Lighting system: - Four halogen work lights - Two halogen roading lights (with signals) - Two halogen rear vision lights (hood mounted)
Lights, signal LED Rear
Main disconnect switch
Receptacle start (cables not included)
Starter, electric, heavy duty
Starting and charging system (24-volt)
OPERATOR ENVIRONMENT
Air conditioner, heater, and defroster (auto temp and fan)
Beverage holders (2) with storage compartment for cell phone/MP3 player
Bucket/Work tool function lockout
Cab, pressurized and sound suppressed, (ROPS/FOPS) radio ready (entertainment) includes antenna, speakers and converter (12-volt 10-amp)
Camera, rearview
Coat hook (2)
EH controls, lift and tilt function
EH parking brake
Computerized Monitoring System
Instrumentation, gauges: - Digital gear range indicator - DPF soot loading percent - Engine coolant temperature - Fuel level - Hydraulic oil temperature - Speedometer/tachometer - Transmission oil temperature
Instrumentation, warning indicators: - Axle oil temperature - Battery voltage hi/low - Engine air filter restriction - Engine intake manifold temperature - Engine oil pressure - Fuel level and pressure hi/low - Hydraulic oil filter restriction - Hydraulic
Horn, electric
Light, two dome (cab)
Mirrors, rearview external (includes spot mirrors)
Post mounted membrane switch keypads
Receptacle, 12-Volt (3)
Seat, Cat Comfort (cloth) air suspension
Seat belt, retractable, 51 mm (2") wide
Steering, EH joystick, speed sensing with force feedback
Sun visor, front
Wet-arm wipers/washers (front and rear): - Intermittent front wiper
Window, sliding (left and right side)
Viscous cab mounts
TIRES
A tire must be selected from the mandatory attachments section. Base machine price includes a tire allowance
A tire must be selected from the mandatory attachments section. Base machine price includes a tire allowance
FLUIDS
Premixed 50% concentration of Extended Life Coolant with freeze protection to -34° C (-29° F)
Premixed 50% concentration of Extended Life Coolant with freeze protection to -34° C (-29° F)
OTHER STANDARD EQUIPMENT
Auto idle shutdown
Couplings, Cat O-ring face seals
Engine Idle Management system
Ecology drains for engine, transmission, axles, and hydraulics
Ether aid
Fenders, steel front with mud-flap/rear with extension
Filters: - Fuel, primary/secondary - Engine air, primary/secondary - Engine oil - Hydraulic oil - Transmission
Fuel cooler
Grease zerks
Grill, airborne debris
Guard, crankcase
Hitch, drawbar with pin
Hood, non-metallic power tilting with rear clamshell
Hoses, Cat XT™
Hydraulic oil cooler (swing out)
Hydraulic system, load sensing
Kickout, lift and tilt, automatic (adjustable in cab)
Linkage, Z-bar, cast crosstube/tilt lever
Oil sampling valves
Platform, window washing
Product Link
Remote diagnostic pressure taps
Ride control, 2V
Service center (electrical and hydraulic)
Sight gauges: engine coolant, hydraulic oil, and transmission oil level
Steering, load sensing
Toolbox
Trap seals
Vandalism protection caplocks
Power Train
Differentials
Open, front or rear
Limited slip, front or rear
Extreme temperature seals
Seal guards
Axle oil cooler
Axle oil cooler ready
Differentials
Open, front or rear
Limited slip, front or rear
Extreme temperature seals
Seal guards
Axle oil cooler
Axle oil cooler ready
Cold start/high altitude package (240V)
Comfort package
Work lighting package, halogen
Work lighting package, HID
Cab protection package
Quick coupler (contact Cat Work Tools)
Lockup clutch torque converter
Bucket and work tool options (contact Cat Work Tools)
Lights, Signal LED Front
Product Link, satellite
Control, aggregate autodig
Payload control system
Radio, AM/FM CD/MP3 player
Radio, AM/FM CD/MP3 player (Bluetooth)
Filter, carbon fresh air
RESPA air filtration
Sun visor, rear
Security system, machine
Cooling, high ambient
Guard, front window
Guard, complete cab
Guard, front window (Logger)
Autolube
Fenders, roading with fender extensions front/rear
Precleaner, HVAC
Precleaner, turbine
Precleaner, turbine/trash
Oil change system, high speed
Fan, variable pitch
Antifreeze, -50° C (-58° F)
EH steering wheel
Retractable, 18-degree inclined ladder