The 980H Block Handler Arrangement includes a greater counterweight at the bottom of the machine, an extreme service transmission, high pressure hydraulics to better manage heavy loads, larger tilt cylinders on the linkage for better load control, and third valve hydraulics for quick coupler operation. Various work tools are also available to assist operators in all block handling applications. The features of the 980H Block Handler Arrangement helps provide an all around durable and effective machine.
Durability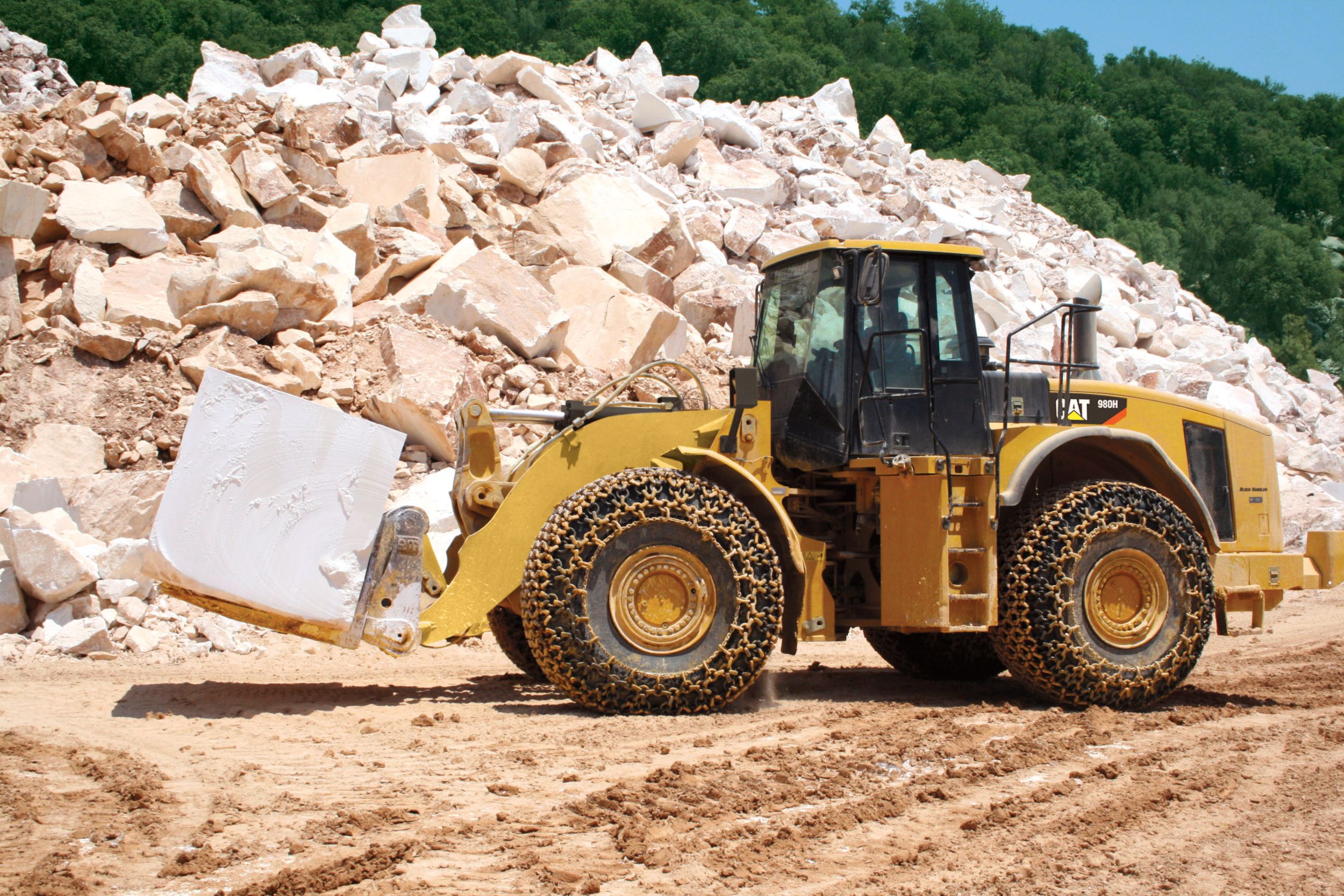 Built Strong and Tough
Counterweight
The 980H Block Handler offers customers stability and durability with a greater counterweight. The counterweight is greater in weight by 3150 kg (6,945 lb) at the bottom of the machine.
Heavy Duty Planetary Transmission
The Cat Heavy Duty Planetary Transmission is designed with larger discs to increase heat dissipation generated during block load and carry cycles thus ensuring the durability customers expect from a Cat machine. The HD transmission utilizes 432 mm (17") planetary drives for all gears. The heavy duty transmission has slightly larger gears and bearings than the standard transmission that uses 345 mm (13.6") planetary gear sets.
Heavy Duty Hydraulics
The standard 980H Block Handler comes equipped with high pressure hydraulics and larger tilt cylinders. The more robust tilt cylinders on the linkage help improve load control and are required to ensure safe and long lasting operation. A higher operating pressure of 224 compared to 207 bars on a standard loader helps to increase lift and tilt capacity of the block handler to better manage heavy loads.
Third Valve
The standard Block Handler includes a third valve for use with the quick coupler. It has a special design using two levers and security switch to prevent quick coupler from accidental opening.
Block Handling Work Tools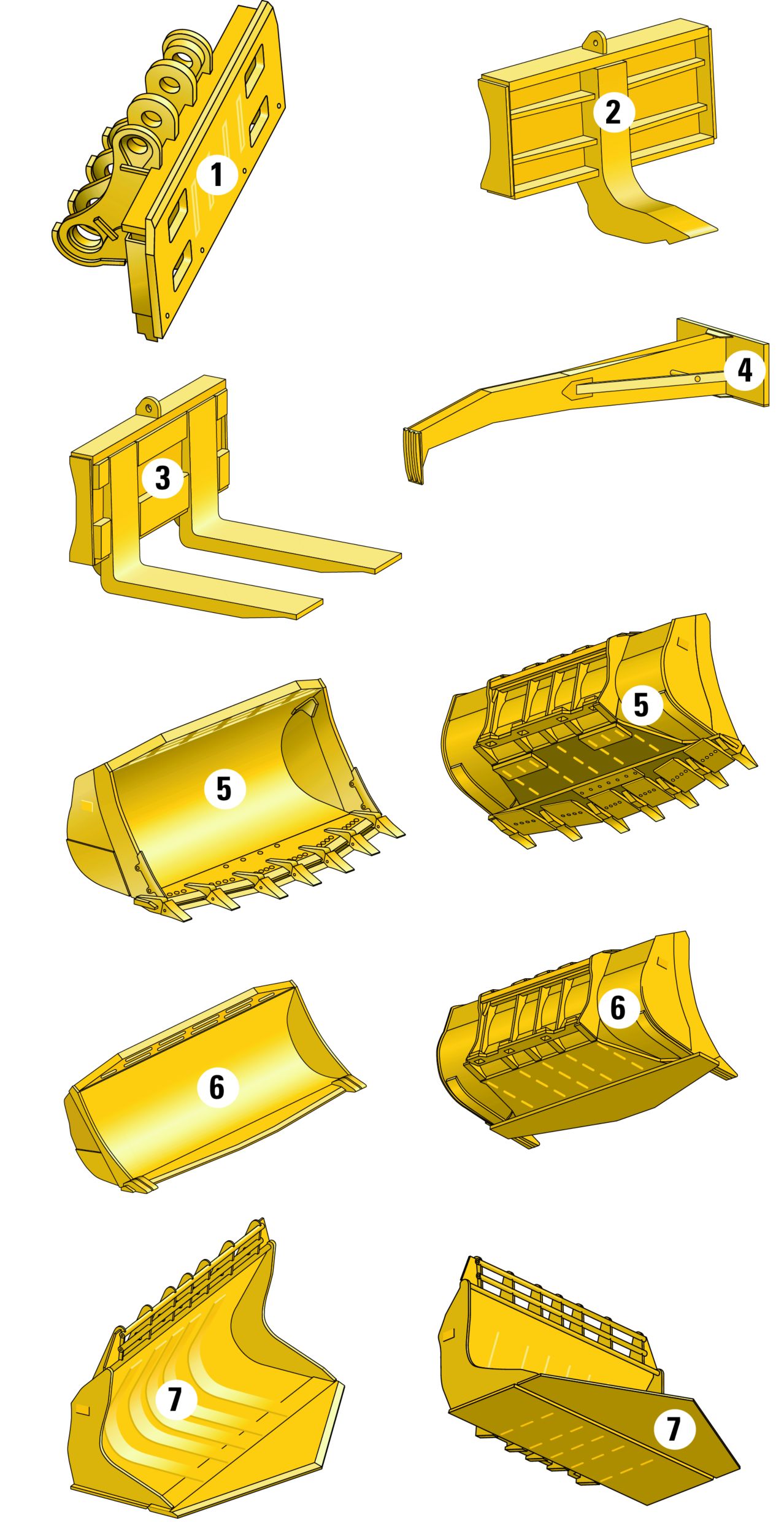 Arrangements Built for Your Operation
1 Quick Coupler.
Can be used on block handling arrangements that have a hydraulic system equipped with a third valve. This quick coupler is designed for optimal utilization of lifting and break-out forces with Cat cylinder, safety valves, pressure and isolating valves, safety covers and lock indicators. It has enhanced visibility and has been optimized for handling large rocks and blocks.
2 Breaker Tine.
Center-mounted, heavy-duty single-piece forged fork tine is used for prying loose large stone blocks. It is built with an extra thick tine to handle a variety of materials in this demanding application.
3 Forks.
Heavy-duty pallet forks are engineered to handle weight and load stress when maneuvering and placing blocks in quarry operations. Dual tine forks are designed to allow blocks to be placed close to the machine for greater balance and safe handling.
4 Clearing Rake.
Used primarily for clearing and controlling loose objects at the quarry face and working levels, the block handling rake is designed with a curved boom for enhanced operator visibility and object placement.
5 Rock Bucket.
Heavy-duty bucket which offers superior durability, protection and performance in rock and overburden operations in block quarries. It includes large size teeth and segments. Its HD400 (high wear resistant) metal shell and bottom offer maximum strength, durability and wear life.
6 Marble Bucket.
Special bucket construction including the HD400-metal shell and bottom help the bucket effectively load large blocks and boulders while maintaining durability. The corner teeth ease block tilting and handling. The heavy-duty V-edge is particularly suited for handling high-value breakable marbles before cutting operations.
7 Block Bucket Heavy-Duty.
Special bucket construction to effectively load very large squared blocks and boulders. The deep carved sides and extra long heavy-duty bottom allow the special V-edge to penetrate under large blocks. The interior bucket profile allows blocks to further fit back in the bucket for increased load and lift capabilities and better balance and rack-back. Its HD400-metal shell and bottom offers maximum strength, durability and wear life.