The Cat® 950K was designed to improve operator comfort, performance, and productivity, all while meeting Tier 4 Interim/Stage IIIB emission standards. The Performance Series Buckets provide enhanced visibility and decreased cycle times. The unmatched, revolutionary world-class cab creates a comfortable, efficient, safe, and productive operator environment. The innovative Cat C7.1 ACERT™ engine is optimized for maximum fuel efficiency and increased power density while meeting Tier 4 Interim/Stage IIIB emission standards. The reliability, durability, and versatility of the 950K result in a machine that is better built to meet your needs. All day. Every day.
Reliability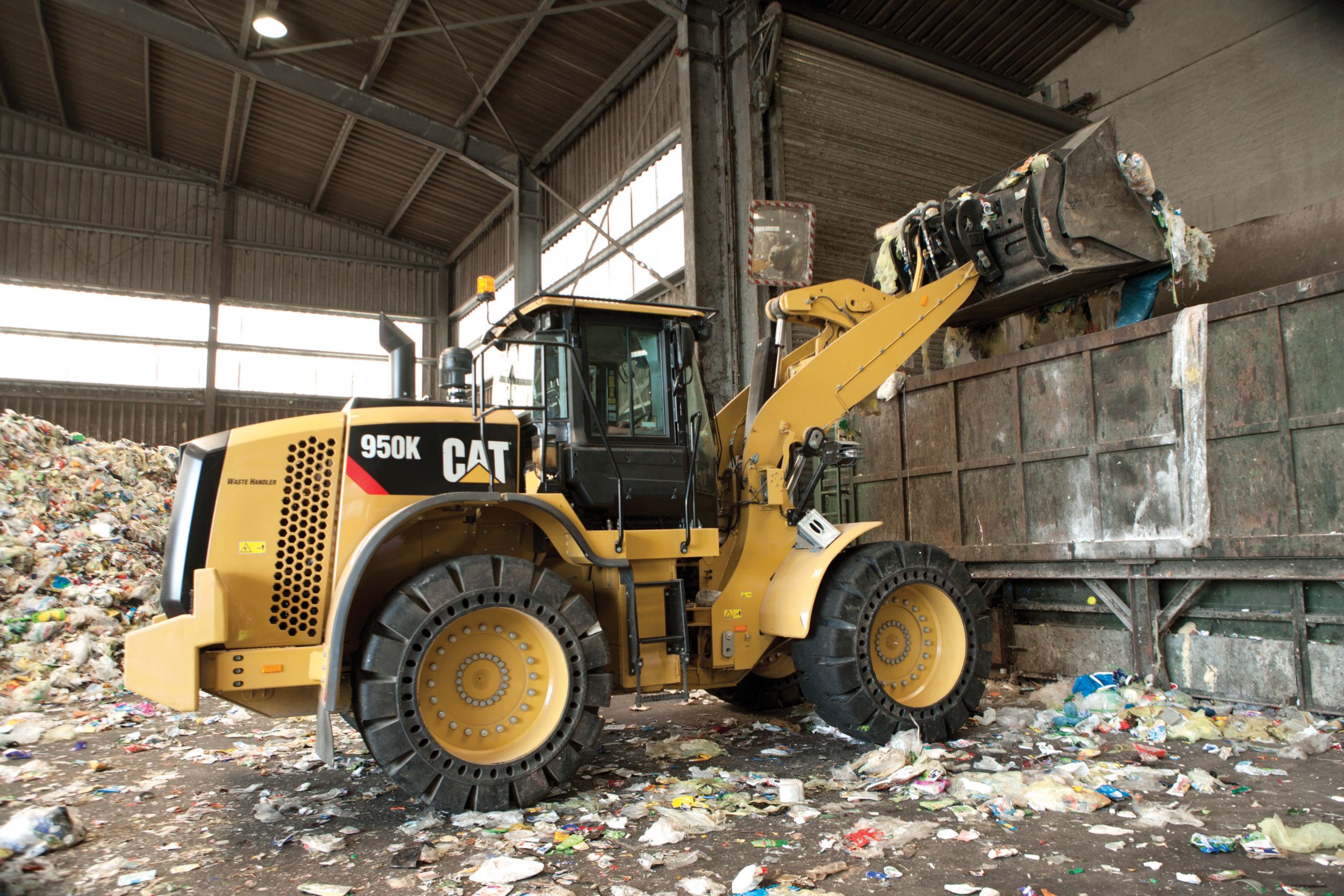 Tested and Proven. Ready to Work.
Structures
The K Series features many components which leverage product designs that have delivered a reliable and durable machine for generations.
Strata Precleaner
The system removes 93% of the dust particles before the air has reached the primary engine air filter. As air enters the precleaner, stationary vanes cause the incoming air to spin. The resulting centrifugal force spins dust and dirt to the outer walls where they are ejected out into the exhaust stream, while the clean air flows down the center of the tube and continues into the primary air filter. The primary benefit is extended filter life.
Cold Start/High Altitude Package
A new optional cold start package includes a fan pump bypass, transmission pump bypass, ether aid, and an engine heater plug/cord. The bypass systems reduce the parasitic load on the engine. With the new optional cold start package available on K Series, starting capability has been dramatically improved in cold weather conditions. The system also improves starting capability at high altitudes.
Monitoring Programs
Monitoring product health is key to maintaining reliability of any equipment. Many programs offered by Caterpillar make the tracking of the customer's machine health quick and easy. These programs include Product Link, VisionLink™, and S·O·SSM Services.
Renowned Cat Dealer Support
From helping you choose the right machine to knowledgeable support, Cat dealers provide the best when it comes to sales and service. Manage costs with preventive maintenance programs like Scheduled Oil Sampling (S·O·SSM) analysis or elaborate Customer Support Agreements. Stay productive with best-in-class parts availability. Cat dealers can even help you with operator training to help boost your profits. And when it's time for machine rebuild, your Cat dealer can help you save even more with Genuine Cat Reman parts. Receive the same warranty and reliability as new products at cost savings of 40 to 70 percent for power train and hydraulic components.
Durability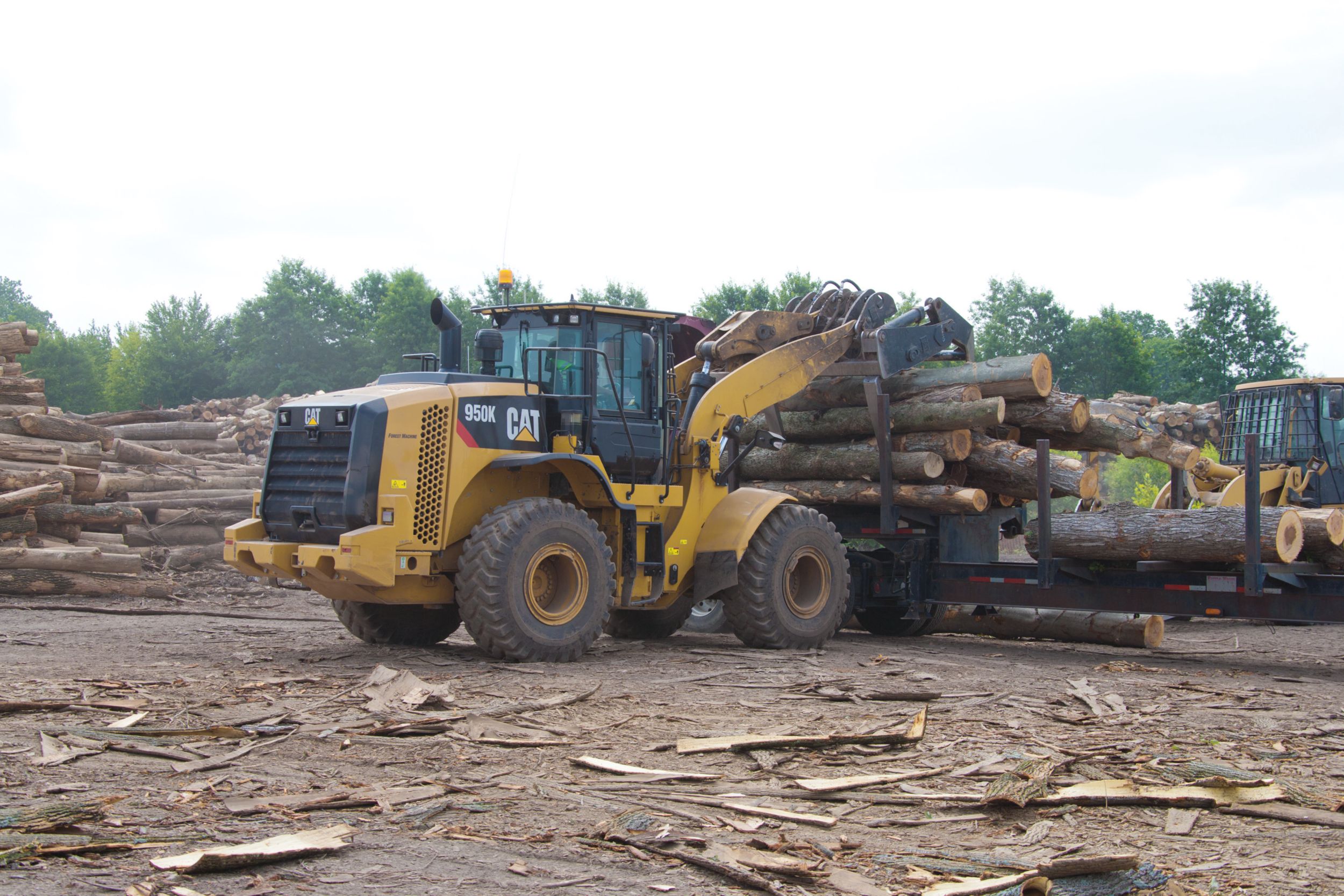 Better Built to Meet Your Needs
Frames
The robotically welded two-piece structural frame design provides a rugged and reliable foundation for the machine that improves stability, performance, and serviceability. A robust articulating hitch system joins the front and rear frames improving durability. Enhanced line routings across the hitch joint streamline the manufacturing process and improve reliability and durability.
Engine
The new Cat C7.1 ACERT™ engine was designed to optimize power density. It uses a combination of technologies to reduce regulated emissions while ensuring high performance and excellent fuel efficiency. An upgraded ADEM™ 4 electronic control module manages the combustion process and a new high-pressure common rail fuel system allows precise injection timing for a clean, efficient fuel burn. The rugged Cat Clean Emissions Module is securely rubber mounted on its own platform above the engine and contains a Diesel Oxidation Catalyst, Diesel Particulate Filter and Cat Regeneration System. Regeneration, the process by which soot is removed from the Diesel Particulate Filter, is completely automatic and does not interrupt the machine's work cycle.
Emissions
The 950K features a Cat C7.1 ACERT™ engine and a Cat Clean Emissions Module to deliver the performance and efficiency that customers demand, while meeting Tier 4 Interim/Stage IIIB emission standards. The six-cylinder electronic engine is turbocharged and aftercooled. ACERT™ Technology is a combination of building blocks that includes electronics, fuel systems, air management systems and aftertreatment components. The system is optimized based on engine size, the type of application and the geographic location in which it will work. The technologies are applied systematically and strategically to meet high customer expectations for productivity, fuel efficiency, reliability and service life.
Axles
The axles are designed to handle extreme applications resulting in reliable performance and extended life. The front axle is rigidly mounted to the frame in order to withstand internal torque loads and still maintain support for the wheel loader. The rear axle can oscillate to ±13 degrees helping to ensure all four wheels stay on the ground providing stability even in the roughest terrain.
Productivity
Move More. All Day. Every Day.
Z-bar Linkage
Caterpillar engineers used an innovative systems integration approach to completely redesign the linkage system to meet customer needs in many applications. Development of the new optimized Z-bar linkage was done in conjunction with the Performance Series Buckets, Fusion™ coupler and Fusion family of work tools to ensure that all components function together to optimize visibility, performance and fuel efficiency. Visibility has been optimized by placing line routings and structural components out of the operator's sight lines. New parallel lift capabilities and a 30 to 60 percent increase in tilt force at maximum lift enhance performance and versatility.
Load Sensing Hydraulics
Load sensing hydraulics produce flow and pressure for the implement system upon demand and only in amounts necessary to perform the needed work functions, enhancing machine productivity and fuel efficiency. Implement controllability is improved through simultaneous implement operation and repeatable fine modulation, enabling greater operator comfort through ease of operation.
Ride Control
Ride control provides the operator with a smoother ride over rough terrain, enabling a more comfortable ride at higher speeds. The benefit is reduced cycle times higher productivity and better fuel efficiency while performing load and carry applications. The system works by using an accumulator to dampen the linkage motion, acting as a shock absorber.
Torque Converter
The 950K torque converter has been optimized to improve fuel efficiency and deliver more power to the ground.
Transmission
The K Series transmissions incorporate a new shifting strategy that delivers smoother shifts, faster acceleration, and better performance climbing a grade. When placing the transmission into forward gear, the machine will automatically start in second gear. With the further enhancement of a torque based 2 to 1 downshift, the downshift will only occur based on machine load. Owners and operators will fully benefit from utilizing the automatic 1-4 transmission mode, which results in lower fuel consumption and optimal machine performance.
Versatility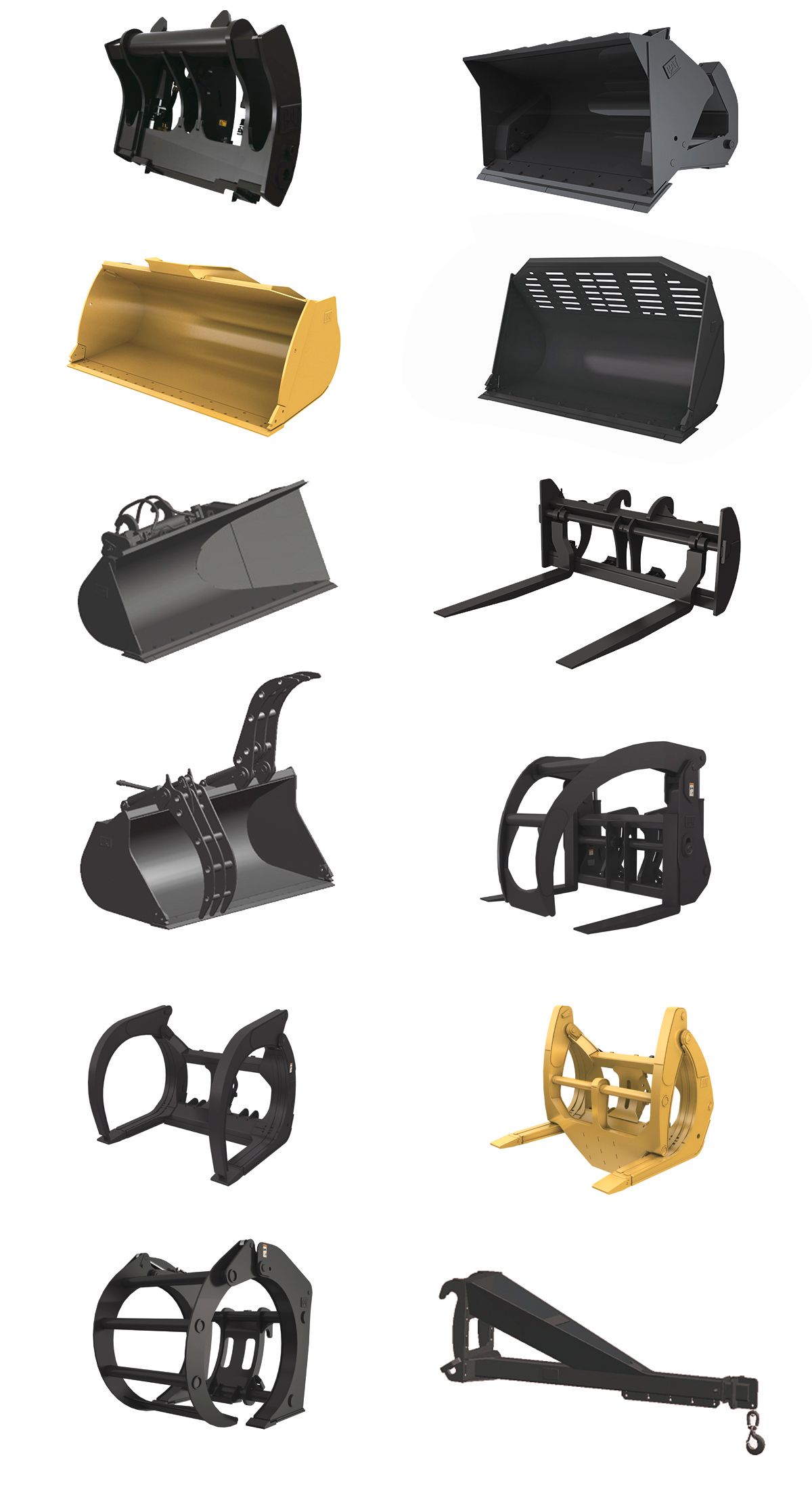 Work Tool Options to Meet Your Needs
Work Tools for Many Job Site Requirements
An extensive range of work tools and bucket styles are available for the 950K to customize these machines for your operation. The list includes: Performance Series Buckets (General Purpose, Material Handling, Rock); Specialty Buckets (Multi-Purpose, Side Dump, High Dump, Top Clamp, Waste Handling, Woodchip); and Pallet Forks, Forestry Forks (Log and Lumber, Logging, Millyard, Unloading Grapple).
Performance Series Buckets: Load Easy, Fuel Efficient, Carry More
Performance Series Buckets utilize a system-based approach to balance bucket shape with the machine's linkage, weight, lift and tilt capacities. Operators benefit from reduced dig times and better material retention; ultimately translating into significant productivity and fuel efficiency improvements.
Lower Operating Costs
Performance Series Buckets feature a longer floor that easily digs through the pile and provides excellent visibility for the operators to see when the bucket is full. Less time digging in the pile results in lower fuel consumption and improved tire life. A unique spill guard protects the cab and linkage components from material overflow.
Higher Productivity
Performance Series Buckets achieve higher fill factors - ranging from 100% to 115% depending on the machine application and material type. The buckets feature optimized geometry with a bucket opening matched to the machine's linkage and incorporate a curved side profile to maximize material retention. The optimized design results in unsurpassed production capabilities.
Unloading Grapple Fork
The new Unloading Grapple Fork is ideal for unloading and stacking timber. A rounded top clamp and frame open the interior profile of the fork, enabling larger capacity loads to be moved. Easy and gentle loading out of stacks is permitted by the short tines, while a large, broad clamp holds tight to short or long timber. Forks are available with a kick-out that unloads the fork even at full lift, enabling higher lumber stacking.
Versatility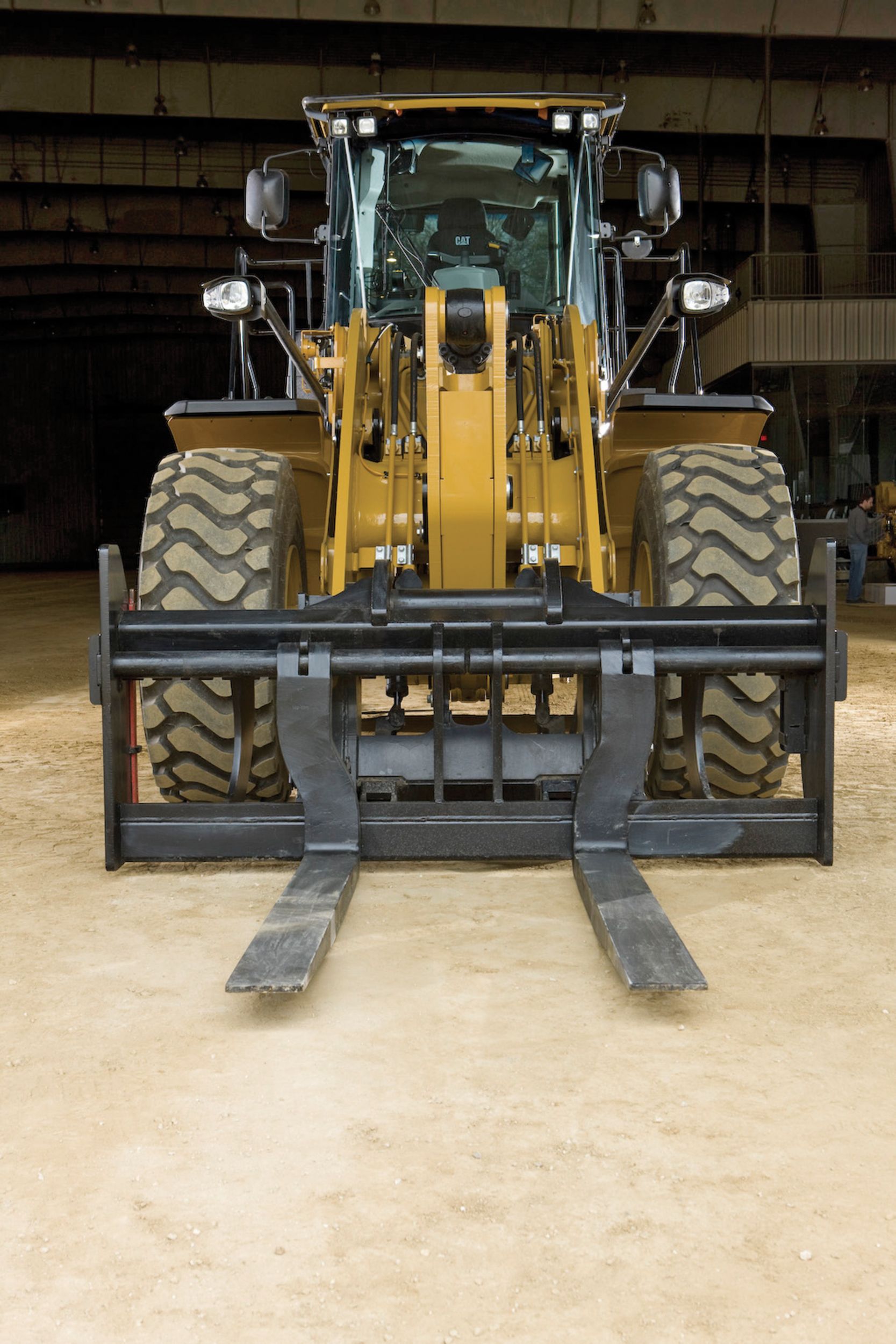 Fusion™ Quick Coupler
Improved Machine Performance
Fusion is the patented wheel loader coupler system from Caterpillar. The Fusion Coupler System provides performance virtually identical to pin on - with all the flexibility of a quick coupler system. The Fusion Coupler sits back, close-in to the loader arms - minimizing offset and increasing the machine's performance.
No Loss of Performance
Imagine lifting a hundred pound box with your arms fully extended. Now imagine lifting that same load close to your body. That's the genius of Fusion: designed to integrate the work tool and the machine by pulling the coupler and tool closer in to the loader. As a result, the center of gravity is moved inward, towards the machine. This translates to increased lifting ability when compared to machines equipped with other coupler systems.
Unsurpassed Durability
An advanced wedging mechanism creates a tight, rattle-free fit. This patented lock up system eliminates play and wear - resulting in a long service life. Wedges pull the attachment tight to the machine in two directions - in and down. Constant hydraulic pressure on the coupler wedges compensate for wear, assuring a tight fit through the life of the coupler. Tight fit gives better tool control and increased productivity. Coupler durability is substantially increased over traditional couplers.
Enhanced Visibility
An open coupler frame design clears sight lines from the operator's seat, making it easier than ever before to engage and disengage attachments with certainty. Offset tines and other design changes to Fusion Pallet Forks, working in conjunction with the Fusion Coupler, enhancing visibility substantially at ground level and truck bed height when compared to traditional coupler and fork combinations.
Common Interface Compatibility
The Fusion Coupler System gives Caterpillar customers one common interface - eliminating the need for many different couplers across the entire range of small and medium wheel loaders. This expanded machine compatibility not only allows one machine to use a range of work tools, but also allows one work tool to be picked up by machines of many different sizes. The Fusion coupler interface is designed to work on 924 through 972 machines. Each machine will have its own optimal bucket and fork recommendations. However, cross-machine compatibility gives you additional flexibility and fleet options not found with any other wheel loader coupler.
Versatility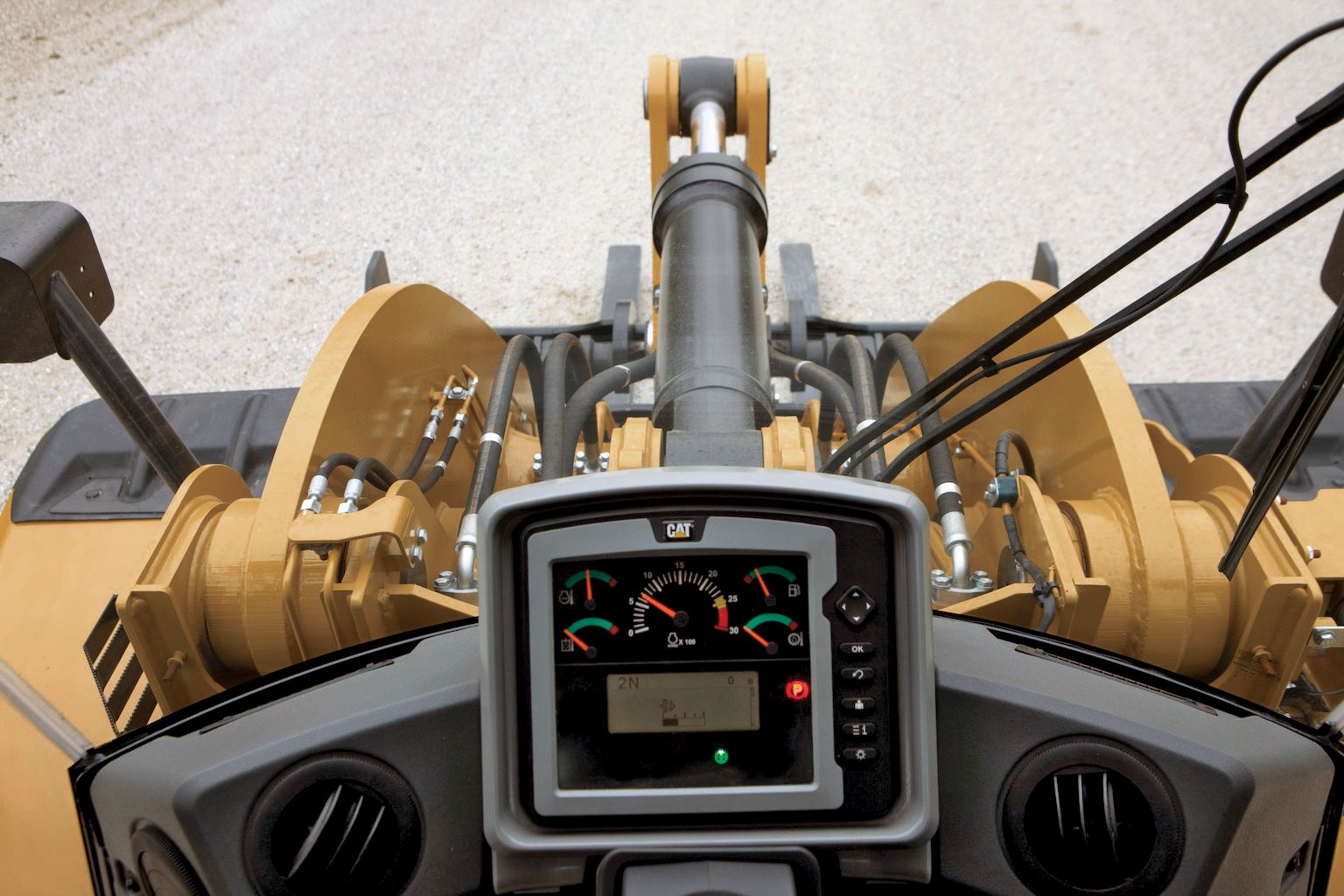 Z-Bar Linkage
Built for Any Application
The new optimized Z-bar linkage design on the 950K was done in conjunction with the Performance Series Buckets, Fusion™ coupler and Fusion family of work tools to ensure that all components function together to optimize visibility, performance and fuel efficiency. From truck loading and work site clearing to logging and waste handling, the 950K is designed for a large number of applications. The optimized Z-bar linkage enhancements enable the 950K to combine the traditional benefits of a Z-bar linkage in bucket loading with the strengths of an integrated toolcarrier, providing a machine that meets all customer application needs.
Enhanced Visibility
By lowering the structural torque tube and optimizing the hydraulic lines routings, the 950K Medium Wheel Loader offers best in class visibility. The Fusion Coupler wedge cylinders are offset to enhance line of sight to fork tips at ground level, truck bed height, and most of the lift range.
Greater Tilt Capacity
The new linkage provides greater tilt capacity throughout the entire lifting range, enhancing versatility in all material handling applications. The benefit is increased rated load capacity in non-bucket applications.
Parallel Lift Capabilities
The new linkage incorporates mechanical parallelism into the design, enabling intuitive operation in pallet fork and logging applications. To further enhance parallelism, an electro hydraulic parallelism function is standard on the 950K and achieves parallelism of -0 degrees/+5 degrees, meaning the forks will never dump while using just the lift implement lever. The electro hydraulic parallelism function is intuitive and transparent to the operator and can be enabled or disabled for specific work tools. This feature also enables a unique "return to level" functionality that will re-level the tool automatically at any lift height, which is extremely useful with pallet forks.
Work Tool Control System
Combined with the Work Tool Control System, which enables the operator to browse through up to 5 different programmable work tools, the new optimized Z-bar linkage simplifies the operation of the machine allowing switching between applications to be seamless.
Serviceability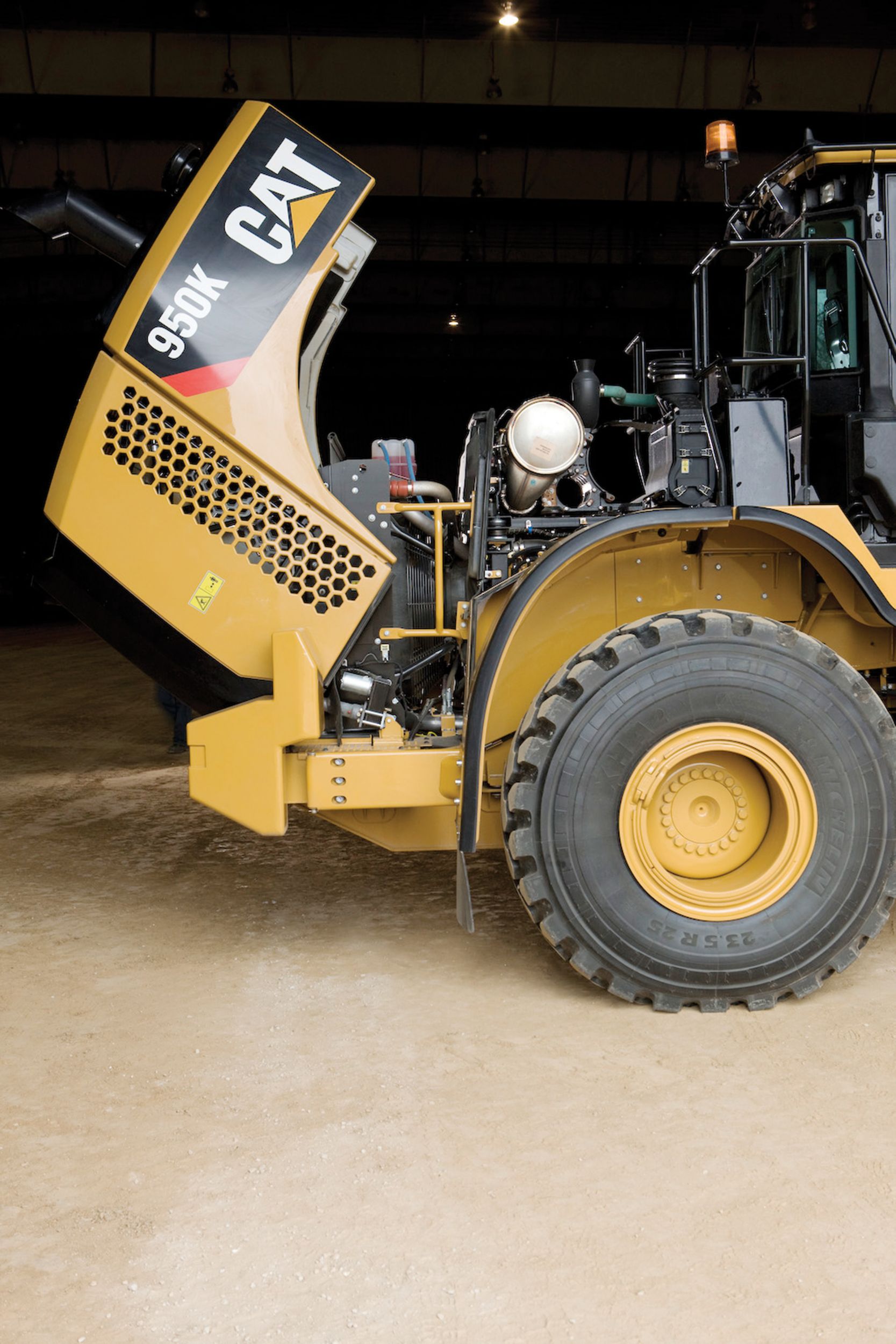 Easy to Maintain. Easy to Service.
Electrical Service Center
The electrical service center provides grouped ground level access to numerous electrical features, enhancing safety and convenience for operators and service technicians. It is conveniently located beneath the left platform for access before entering the cab and contains the maintenance free batteries, a fuse relay panel, main disconnect switch, ground level engine shutdown switch, hood tilt switch, and the jump start receptacle.
Engine Access
The K Series retains the Cat sloped "one-piece" tilting hood, which has become one of our brand's hallmarks and provides industry-leading access to the engine, Cat Clean Emissions Module (CEM) and other components but with fresh new styling clearly distinct from the H Series. New to the loaders is a rear clamshell hood design that allows quick access to the engine oil dipstick and fill, fuel fill port, and cooler cores.
Cooling System
The cooling system is readily accessible for clean out and maintenance. With six cooling fins per inch and a perforated grill, most airborne debris entering the system passes through the cooler cores. The cooler cores swing out providing easy access for cleaning; an option variable pitch fan is available to automatically purge the cooler cores by periodically reversing the airflow.
Hydraulic Service Center
The hydraulic components are all conveniently located behind the hinged right side access ladder at a new single ground level service center enhancing safety and reducing service time. Accessible from the service center are the transmission and hydraulic oil filters, brake accumulators, pressure test ports, etc.
Operator Environment
Safe. Comfortable. Efficient.
Conventional Steering
The conventional steering configuration offers a low-effort hand metering unit hydraulic steering system. Load sensing steering directs power through the steering system only when needed. The optional Command Control Steering is still offered on the 950K and is a load sensing system that links the steering wheel and frame angle positions to provide the proper amount of steering control. Full machine articulation is accomplished with a ± 70 degrees turn of the wheel versus two or three 360 degree turns on a conventional steering wheel.
Implement Controls (EH)
Seat mounted single axis implement control levers provide the operator with precise control of the work tool, all while moving with the seat for maximum comfort. In cab programmable kick-outs and automatic cylinder snubbing maximize operator comfort and productivity throughout their shift. Optional implement joysticks are available for 2V, 3V, and 4V hydraulics.
Seat
The Cat Optimized Seating System is 6-way adjustable to accommodate operators of all sizes. The seat has a one piece high back that supports the lumbar area of the back up through the shoulders. Both armrests are large and can be adjusted up, down, fore, and aft to enhance comfort and convenience. An optional feature for the cab seat is a heated backrest and cushion.
Automatic Climate Control and Air Quality
The new climate control system automatically adjusts the air temperature and fan speed to maintain the operator's preferred climate setting. The cab air filtration system recirculates 90% of the cab air and is now serviced from outside the cab, enabling maximum air quality and cab cleanliness. The new air conditioning sealing system keeps refrigerant contained preventing system shutdown. Combined together, these systems help the operator to remain efficient and productive all shift long.
Information Display
The central display panel has a large text box, five analog like gauges, and LED warning indicators. The large text box provides in-language information about machine operation, feature activation and system troubleshooting and calibration. With the 5 large analog-type gauges the operator can easily identify if key systems are within normal operating range. A resettable trip totals function has been incorporated to display information for average fuel consumed, total fuel consumed, idle fuel, idle time, operating hours, odometer, etc.
Entry and Exit
Well-placed grab bars and a ladder inclination angle of 10-degrees forward makes the walk into the cab feel more like a staircase than a ladder. When further comfort is needed, an optional retractable ladder provides an inclination of 18-degrees. The new wider front hinged door can be opened and closed while seated, greatly improving ingress and egress. Two new left-hand and right-hand sliding windows can also be opened and closed with one hand while seated for comfortable communication to personnel on the ground.
Visibility
Visibility has been enhanced by adding a convex windshield and eliminating two cab posts. The cab has a clean and clear panoramic view to enhance safe operation of the machine. External rearview mirrors are mounted on the cab to provide all around visibility. The external mirrors fold horizontally to provide fast, safe access to clean the window from the front platform. Optional heated and powered mirrors are available to further improve visibility in cold climates.
Rearview Camera
With the new standard rearview camera, visibility is greatly enhanced. The camera is located in a pocket on the grill to protect it from damage and the elements. The camera can be set to activate only when the transmission is in reverse to help eliminate distractions in the cab, especially when in dark environments. Two rear work lights are located in the rear grill and can be activated to illuminate the area behind the machine in low light conditions.
Control Panels and Park Brake Switch
Two control panels located on the front right ROPS post consist of large membrane switches making them easy to activate while wearing gloves. The membrane switches contain LED's to denote activation/mode and have a positive feel and "click" to signal activation. The ISO symbols located on each membrane switch are molded all the way through to ensure the image will not wear off over time. A new "help" feature explains the function of each membrane switch. A two position rocker switch activates the electro-hydraulic park brake and is automatically applied upon machine shutdown.
Sound and Vibration
New viscous cab mounts connect the cab to the frame of the machine, decreasing noise and vibration the operator is subjected to. This contributes to a well-rested operator who remains efficient and productive. All Day. Every Day.
Sustainability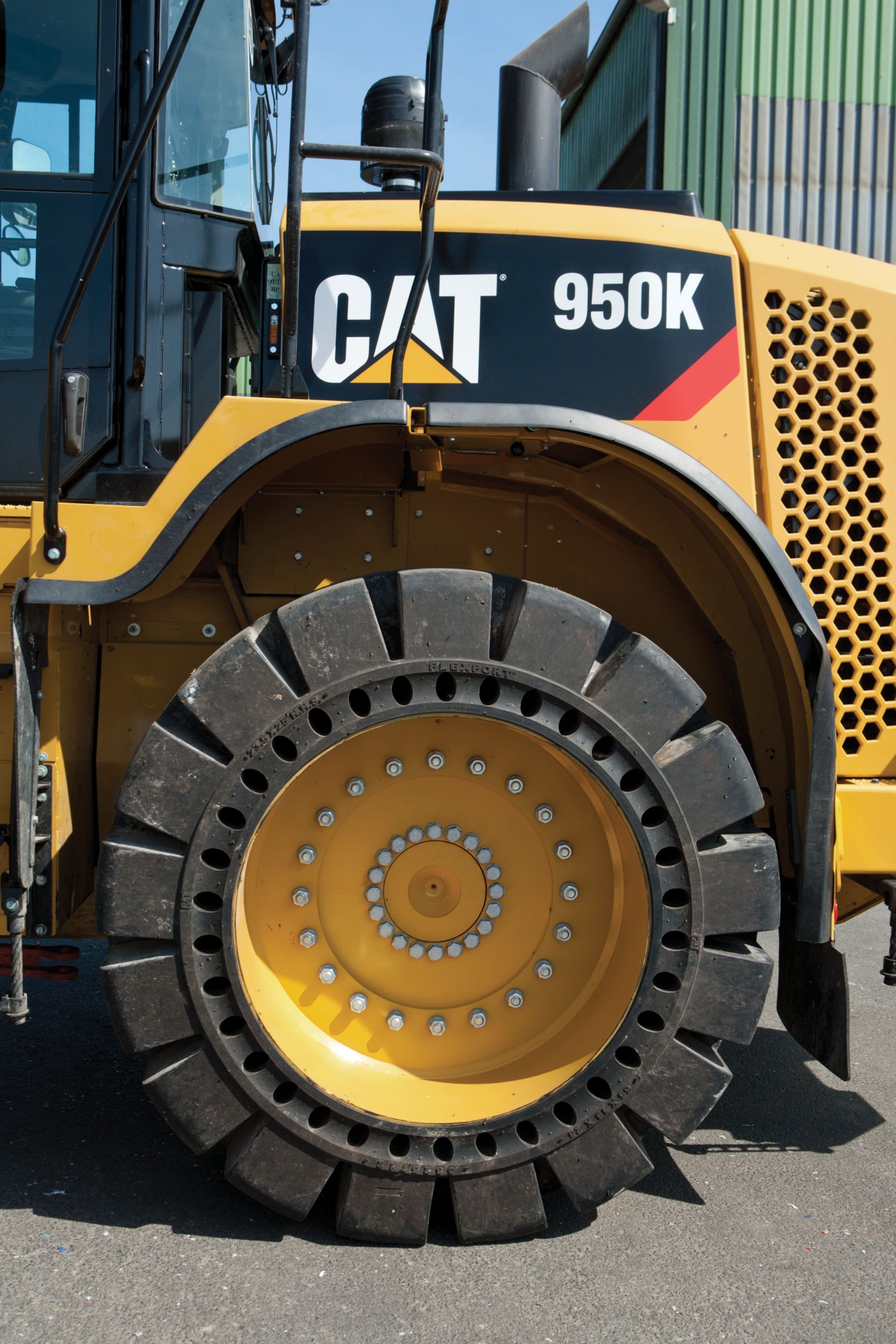 Conserving ResourcesThe 950K is designed to complement your business plan, reduce emissions and minimize the consumption of natural resources.
Improved fuel efficiency - less fuel consumed results in lower emissions.
Engine air filter life doubled to reduce cost and waste.
Machine is built with a 95% recyclability rate (ISO 16714) to conserve valuable natural resources and further enhance machine end of life value.
Improved operator efficiency through enhanced visibility and reduced noise/vibration levels.
Product Link family of products and solutions that collect, communicate, store and deliver product and job-site information to maximize productivity and reduce costs.
Major components are rebuildable, eliminating waste and saving money by giving the machine and/or major components a second - and even third - life.
Customer Support
Ready to Help. Anytime. Anywhere.
Machine Selection
Cat dealers are ready to help evaluate machine options; from new or used machine sales, to rental or rebuild options, Cat dealers can provide an optimal solution to meet customer business needs.
Product Support
Cat dealers are with customers every step of the way to maximize machine uptime by providing unsurpassed worldwide parts support, trained technicians and customer support agreements.
Operation
To help maximize the return on your investment, Cat dealers offer various training resources to improve operating techniques.
Financing
Cat dealers offer financing options to meet a variety of customer needs.
Owning Costs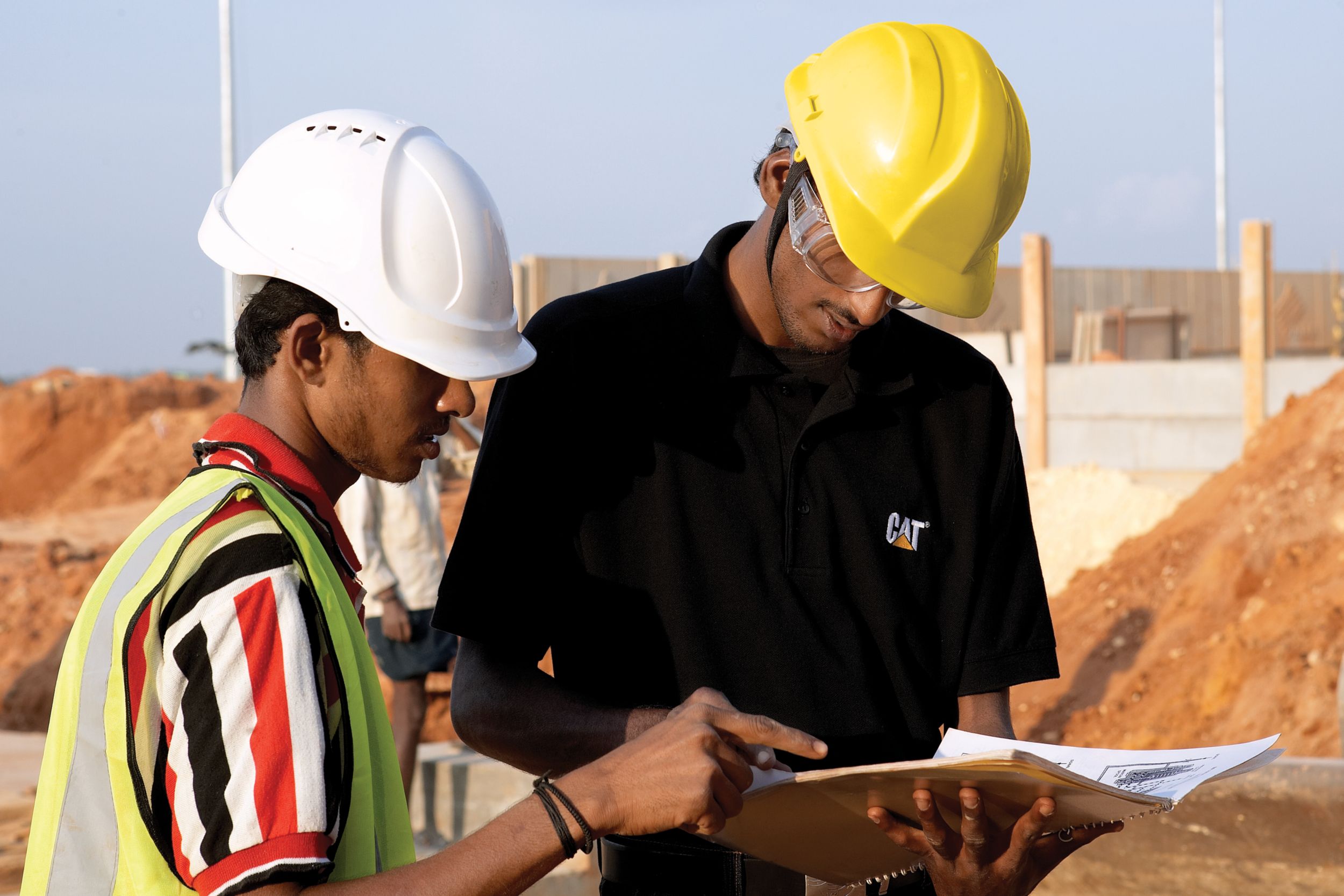 Proven Best Investment
Customer Support Agreements
A Customer Support Agreement (CSA) is an arrangement between you and your Cat dealer that helps you lower your total cost per ton. CSAs are flexible, allowing them to be tailored to your business needs. They can range from simple Preventive Maintenance Kits to elaborate Total Cost Performance Guarantees. Having a CSA with your Cat dealer enables more time for you to do what you do best - run your business.
Monitoring Systems
Monitoring product health is key to optimizing the life of an investment into a Cat Wheel Loader.
Cat Product Link - Cat Product Link allows remote monitoring of equipment to improve overall fleet management effectiveness. Product Link is deeply integrated into machine systems. Events and diagnostic codes, as well as hours, fuel, idle time and other detailed information are transmitted to a secure web based application, VisionLink™. VisionLink includes powerful tools to convey information to users and dealers, including mapping, working and idle time, fuel level and more.
S·O·SSM Services - Helps manage component life and decrease machine downtime, increasing productivity and efficiency. Regular fluid sampling can help track what is going on inside your machine. Wear related problems are predictable and easily repairable. Maintenance can be done to accommodate your schedule, resulting in increased uptime and flexibility in maintenance repairs before failure.
Parts Availability
Caterpillar provides an unsurpassed level of personalized service to help you work more cost effective and efficient. By utilizing a worldwide parts network Cat dealers help minimize machine downtime and save money by delivering replacement parts within 24 hours.
Resale Value
Owning quality equipment is an important factor in maintaining resale value. Caterpillar is not only known for machines that are better built, but provides product and dealer support to maintain the reliability and durability of your machine.
Operating Costs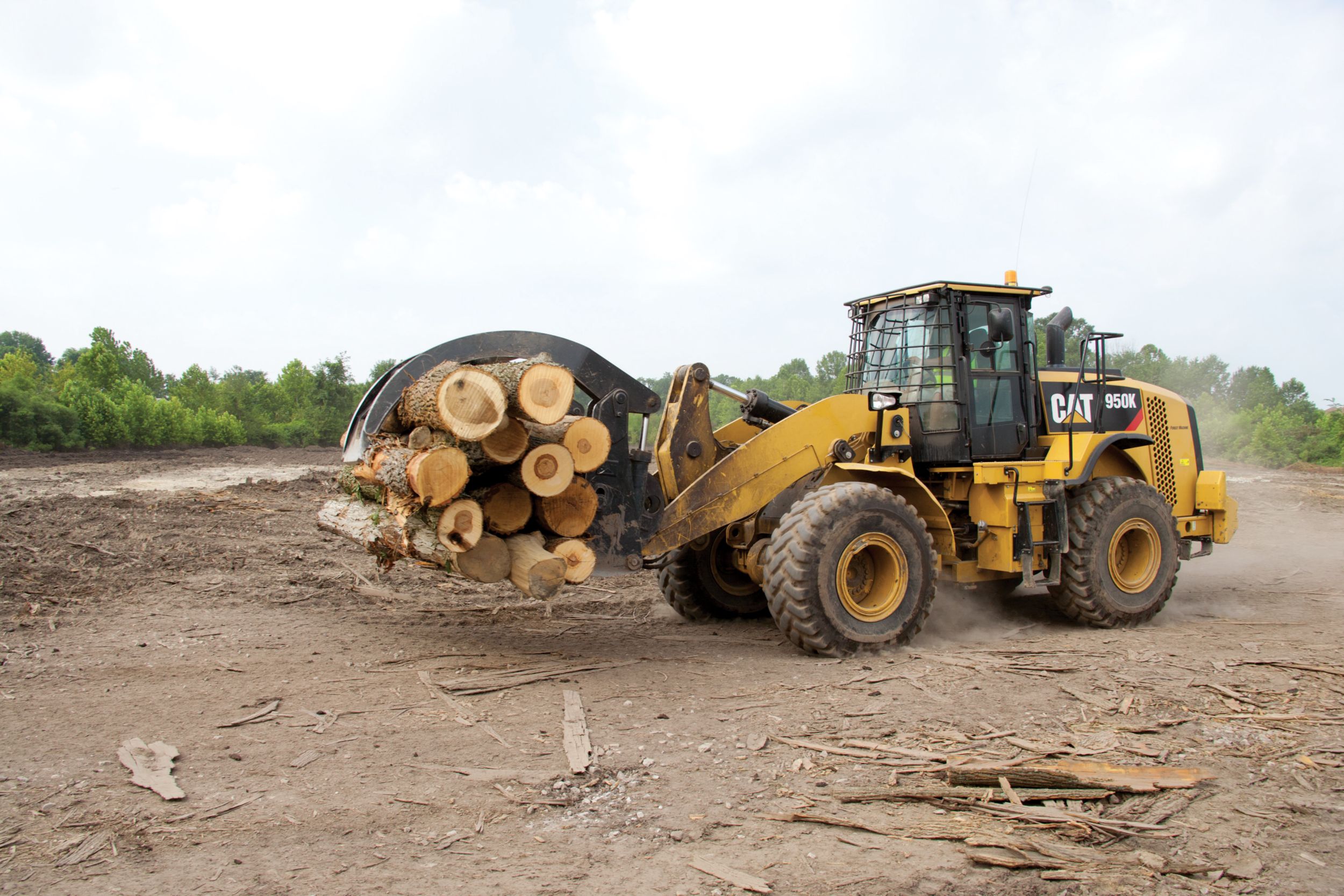 Save Time and Money by Working SmartData from customer machines show Cat wheel loaders are among the most fuel efficient machines in the industry. Several features contribute to this excellent fuel efficiency:
Performance Series Buckets - Deliver faster fill times and better material retention, ultimately reducing cycle times while improving productivity and fuel efficiency.
Load-Sensing Hydraulics - Provides only the hydraulic flow required by the implement and steering systems for improved fuel efficiency and greater rimpull.
C7.1 ACERT™ Engine - Power dense engine enables a more fuel-efficient method to meet emission standards.
Fuel Management System (FMS) - Optimizes power for maximum fuel savings with minimal impact on production.
Engine Idle Shutdown - Automatic engine and electrical system shutdown conserves fuel.
Torque Converter - Transfers more power to the ground and optimizes fuel efficiency in all applications.
Shift Strategy - Reduced torque interruption increases driveline efficiency, conserving fuel. Auto 1-4 transmission mode keeps engine rpm low, reducing fuel consumption while delivering optimal machine performance. Machine configuration, operator technique, and job site layout can impact fuel consumption by as much as 30 percent.
Machine Configuration - Select the correct work tool and tire type based on machine application. Radial tires are preferred; ensure proper inflation pressures. Heavier tires burn more fuel. Keep engine rpm low by using auto 1-4 transmission mode.
Job Site Layout - Spot loading targets in the right position. Avoid traveling more than twice the machine length during short cycle loading. Reduce transport distance for load and carry cycles by optimizing job site layout.
Loading Bucket - Load in first gear and keep engine rpm low. Raise and tilt bucket smoothly and do not use a "pumping" motion. Avoid lift lever detent and use transmission neutralizer.
Loading Truck or Hopper - Do not raise the work tool any higher than necessary. Keep engine rpm low and unload in controlled manner.
Idle - Set the parking brake to engage Engine Idle Management System.
POWER TRAIN
Brakes, full hydraulic enclosed wet-disc with Integrated Braking System (IBS)
Brake wear indicators
Diesel Particulate Filter (DPF)
Engine, Cat® C7.1 with Tier 4 Interim rating
Fan, radiator, electronically controlled, hydraulically driven, temperature sensing, on demand
Fuel Management System (FMS)
Fuel priming pump, (electric)
Fuel/water separator
Glow plugs
Guard, vandalism
Precleaner, engine air intake
Radiator, unit core (6 fpi) with ATAAC
Switch, transmission neutralizer lockout
Torque converter (free wheel stator)
Transmission, automatic planetary power shift (4F/4R)
Variable Shift Control (VSC)
Brakes, full hydraulic enclosed wet-disc with Integrated Braking System (IBS)
Brake wear indicators
Diesel Particulate Filter (DPF)
Engine, Cat® C7.1 with Tier 4 Interim rating
Fan, radiator, electronically controlled, hydraulically driven, temperature sensing, on demand
Fuel Management System (FMS)
Fuel priming pump, (electric)
Fuel/water separator
Glow plugs
Guard, vandalism
Precleaner, engine air intake
Radiator, unit core (6 fpi) with ATAAC
Switch, transmission neutralizer lockout
Torque converter (free wheel stator)
Transmission, automatic planetary power shift (4F/4R)
Variable Shift Control (VSC)
ELECTRICAL
Alarm, back-up
Alternator, 115-amp brushed
Batteries, (2) maintenance free 1,400 CCA
Ignition key; start/stop switch
Lighting system: - Four halogen work lights - Two halogen roading lights (with signals) - Two halogen rear vision lights (hood mounted)
Main disconnect switch
Receptacle start (cables not included)
Starter, electric, heavy duty
Starting and charging system (24-volt)
Alarm, back-up
Alternator, 115-amp brushed
Batteries, (2) maintenance free 1,400 CCA
Ignition key; start/stop switch
Lighting system: - Four halogen work lights - Two halogen roading lights (with signals) - Two halogen rear vision lights (hood mounted)
Main disconnect switch
Receptacle start (cables not included)
Starter, electric, heavy duty
Starting and charging system (24-volt)
OPERATOR ENVIRONMENT
Air conditioner, heater, and defroster (auto temp and fan)
Beverage holders (2) with storage compartment for cell phone/MP3 player
Bucket/work tool function lockout
Cab, pressurized and sound suppressed, (ROPS/FOPS) radio ready (entertainment) includes antenna, speakers, and converter (12-volt 10-amp)
Camera, rearview
Coat hook (2)
EH controls, lift and tilt function
EH parking brake
Computerized Monitoring System: Instrumentation, gauges: - Digital gear range indicator - DPF soot loading percent - Engine coolant temperature - Fuel level - Hydraulic oil temperature - Speedometer/tachometer - Transmission oil temperature I
Horn, electric
Light, two dome (cab)
Mirrors, rearview external (includes spot mirrors)
Post mounted membrane switch keypads
Receptacle, 12-volt
Seat, Cat Comfort (cloth) air suspension
Seat belt, retractable, 51 mm (2") wide
Steering, HMU wheel
Sun visor, front
Wet-arm wipers/washers front and rear: - Intermittent front wiper
Window, sliding (left and right side)
Viscous mounts
TIRES
A tire must be selected from the mandatory attachments section. Base machine price includes a tire allowance.
A tire must be selected from the mandatory attachments section. Base machine price includes a tire allowance.
FLUIDS
Premixed 50% concentration of Extended Life Coolant with freeze protection to -34° C (-29° F)
OTHER STANDARD EQUIPMENT
Auto idle shutdown
Couplings, Cat O-ring face seal
Ecology drains for engine, transmission, and hydraulics
Ether aid
Fenders, steel front with mud-flap/rear with extension
Filters: - Fuel, primary/secondary - Engine air, primary/secondary - Engine oil - Hydraulic oil - Transmission
Fuel cooler
Grease zerks
Grill, airborne debris
Hitch, drawbar with pin
Hood, non-metallic power tilting with rear clamshell
Hoses, Cat XT
Hydraulic oil cooler (swing out)
Hydraulic system, load sensing
Kickout, lift and tilt, automatic (adjustable in cab)
Linkage, optimized Z-bar
Oil sampling valves
Platform, window washing
Product Link
Remote, diagnostic pressure taps
Service center (electrical and hydraulic)
Sight gauges: engine coolant, hydraulic oil and transmission oil level
Steering secondary
Toolbox
Vandalism protection caplocks