The Cat 938K Small Wheel Loader sets the standard for productivity, fuel efficiency and operator comfort. The improved optimized Z-bar loader linkage delivers the quick loading performance of a traditional Z-bar with the parallelism and load handling capability of a tool carrier. A high torque, low speed C7.1 ACERT engine works in concert with an intelligent hystat power train to deliver fuel efficiency as standard.
K Series – Making Your Choice Easy: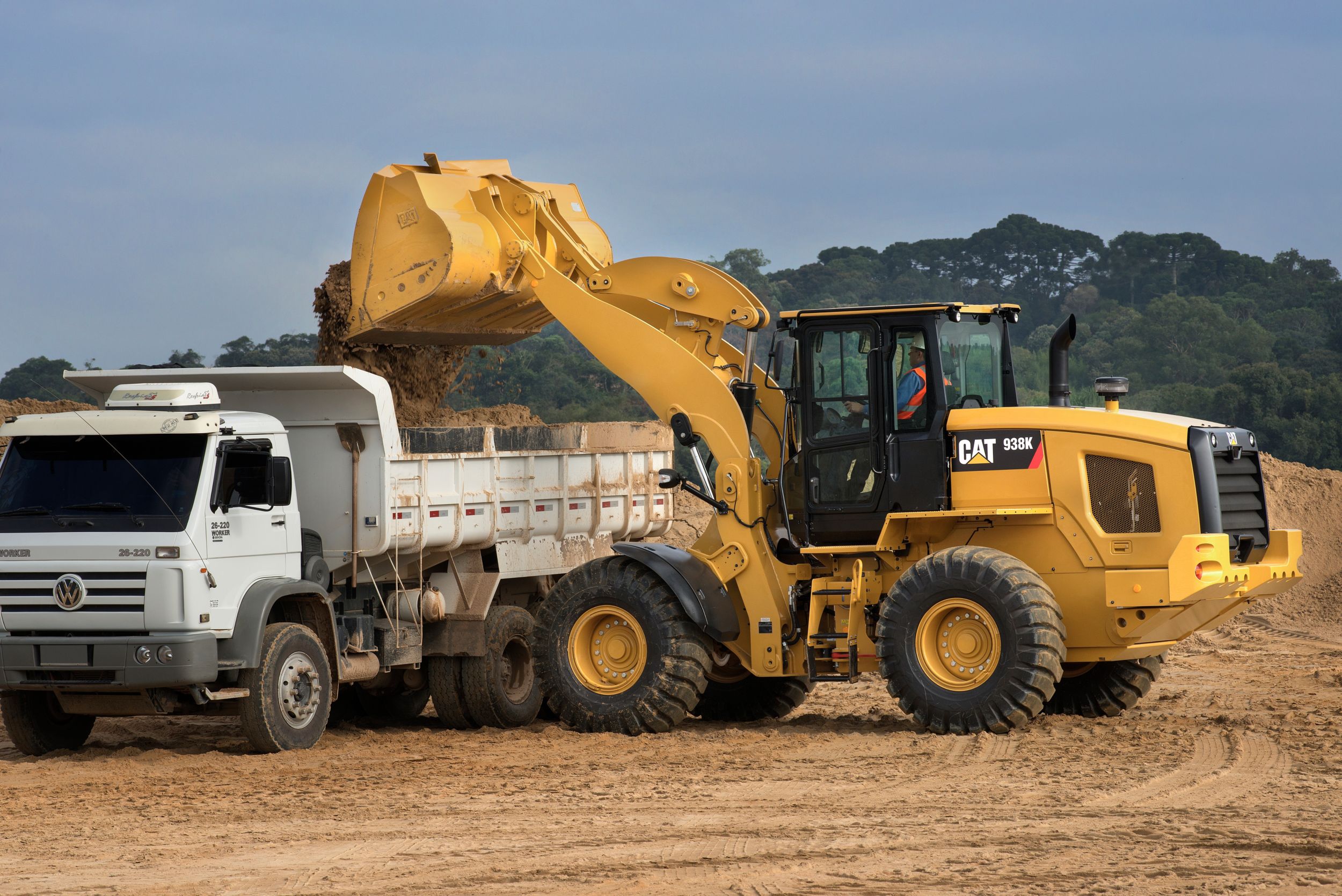 Enjoy All Day Comfort
Have a seat in the updated K Series Small Wheel Loader and enjoy excellent all around visibility and low-effort joystick controls that move with you on a fully adjustable seat suspension. A large spacious operator environment combined with Caterpillar's exclusive hydraulic cylinder damping and smooth predictable controls make this the most comfortable seat on your job site.
Work Made Easy
Move more with Caterpillar's patented quick loading Performance Series buckets and optimized Z-bar linkage that combines the digging efficiency of a traditional Z-bar with tool carrier capabilities. The parallel lift and high tilt forces throughout the working range allow you to safely and confidently handle loads with precise control. Multi-function work has never been easier with dedicated pumps for each system and a flow sharing implement valve governed by an intelligent power management system. Simultaneously lift, steer and drive without compromise. The K Series Small Wheel Loader simply does what you ask it to do.
Efficiently Powerful
Experience hybrid like fuel efficiency with an intelligent hydrostatic power train and industry leading fuel savings through a lower maximum engine speed of just 1,600 rpm in Standard Mode. Power when you need it with Caterpillar's exclusive Power-by-Range technology that increases power in Range 4 for improved speed on grade. For your toughest and most demanding applications a new Performance Mode will allow you to boost the power and hydraulic speed in all Ranges to get the job done even quicker. Meets U.S. EPA Tier 3/EU Stage IIIA equivalent emission standards with a Cat® C7.1 ACERT™ engine that is designed to manage itself so you can concentrate on your work.
Customize Your Experience
Meet your application requirements and individual preferences with Caterpillar's industry first Hystat™ Operator Modes featuring four unique power train settings. Select classic Torque Converter for smooth rollout, conventional Hystat for aggressive engine braking, an Ice Mode that maximizes your control on slippery underfoot, or default mode which blends the best of Hystat and Torque Converter characteristics. Fine tune machine performance with adjustments at your fingertips through the soft touch buttons and optional secondary display. Quickly set hydraulic response along with linkage kick-out positions, maximum wheel torque, and peak ground speed to efficiently perform a multitude of tasks.
POWER TRAIN
Auto idle shut down feature
Cat C7.1 ACERT engine<ul><li>Power modes (Standard and Performance)</li><li>Power by range (High Power in Range 4)</li><li>Turbocharged and aftercooled</li><li>Filtered crankcase breather</li></ul&gt
Coded start (requires secondary display)
Coolant protection to –34° C (–29° F)
Enclosed wet disc full hydraulic brakes
Fuel priming pump, automatic
Hydraulically driven demand cooling fan
Hydrostatic transmission with electronic control<ul><li>Operator modes (Default, TC, Hystat, and Ice)</li><li>Directional Shift Aggressiveness (fast, medium, slow)</li><li>Rimpull control, adjust wheel torque</li>&
Parking brake, electric
Single plane cooling package wide six fins per inch density
Throttle lock and max speed limiter
Auto idle shut down feature
Cat C7.1 ACERT enginePower modes (Standard and Performance)Power by range (High Power in Range 4)Turbocharged and aftercooledFiltered crankcase breather
Coded start (requires secondary display)
Coolant protection to –34° C (–29° F)
Enclosed wet disc full hydraulic brakes
Fuel priming pump, automatic
Hydraulically driven demand cooling fan
Hydrostatic transmission with electronic controlOperator modes (Default, TC, Hystat, and Ice)Directional Shift Aggressiveness (fast, medium, slow)Rimpull control, adjust wheel torque&
Parking brake, electric
Single plane cooling package wide six fins per inch density
Throttle lock and max speed limiter
HYDRAULICS
Automatic lift and bucket kickouts, adjustable in-cab
Bucket and fork modes, adjustable in-cab
Cylinder damping at kickout and mechanical end stops
Fine mode control (fast, medium, slow) in fork mode
Hydraulic response setting (fast, medium, slow)
Hydraulic diagnostic connectors and S·O·SSM ports
Load sensing hydraulics and steering
ELECTRICAL
Alternator, 115 amp, heavy duty
12V power supply in cab (2)
Batteries, 1,000 CCA (2) 24V system, disconnect switch
Back-up alarm
Emergency shutdown switch
Halogen work and roading lights, LED rear tail lights
Remote jump start post
Resettable main and critical function breakers
OPERATOR ENVIRONMENT
75 mm (3 in) retractable seat belt, with audible alarm and indicator
Automatic temperature control
External heated mirrors with lower parabolic
Hydraulic control lockout
Interior cab lighting, door and dome
Interior rearview mirrors (2)
Lunch box storage
Radio ready speakers
Rear window defrost, electric
Seat-mounted electronic implement controls, adjustable
Column mounted multi function control – lights, wipers, turn signal
Tilt and telescopic steering wheel
Tinted front glass
Wet arm wiper/washer, 2-speed and intermittent, front
75 mm (3 in) retractable seat belt, with audible alarm and indicator
Automatic temperature control
External heated mirrors with lower parabolic
Hydraulic control lockout
Interior cab lighting, door and dome
Interior rearview mirrors (2)
Lunch box storage
Radio ready speakers
Rear window defrost, electric
Seat-mounted electronic implement controls, adjustable
Column mounted multi function control – lights, wipers, turn signal
Tilt and telescopic steering wheel
Tinted front glass
Wet arm wiper/washer, 2-speed and intermittent, front
OTHER STANDARD EQUIPMENT
Large-access enclosure doors with adjustable close/open force
Parallel lift loader linkage
Large-access enclosure doors with adjustable close/open force
Parallel lift loader linkage