938H Wheel Loader
Performance you can feel, with powerful breakout force, fast cycle times and smoother shifts for optimal productivity and operator comfort.
Product Details
Engine
| | |
| --- | --- |
| Rated Net Power | 128 kW |
| Model | Cat® 6.6 ACERT™ |
| SAE J1349 | 128 kW |
| ISO 9249 (1997) | 134 kW |
| EEC 80/1269 | 134 kW |
| Bore | 105 mm |
| Stroke | 127 mm |
| Displacement | 6.6 l |
Buckets
| | |
| --- | --- |
| Bucket Capacities | 2.3 m3 - 3.0 m3 3.0 yd3 - 4.0 yd3 |
Weights
| | |
| --- | --- |
| Operating Weight | 15059 kg |
Loader Hydraulic System
| | |
| --- | --- |
| Hydraulic Cycle Time | 9.5 |
| Raise | 5.4 s |
| Dump | 1.4 s |
| Lower, Empty, Float Down | 2.7 s |
| Total | 9.5 s |
Service Refill Capacities
| | |
| --- | --- |
| Fuel Tank | 247 l |
| Cooling System | 36 l |
| Crankcase | 17.4 l |
| Transmission | 43 l |
| Hydraulic Tank | 89 l |
Transmission
| | |
| --- | --- |
| Forward - 1 | 8.1 km/h |
| 2 | 14.6 km/h |
| 3 | 25.5 km/h |
| 4 | 43.2 km/h |
| Reverse - 1 | 8.1 km/h |
Tires
Cab
| | |
| --- | --- |
| ROPS | SAE J1040 APR88, ISO 3471:1994 |
| FOPS | SAE J231 Jan81, ISO 3449:1992 Level II |
Dimensions
| | |
| --- | --- |
| Wheel Base | 3020 mm |
| Height - Top of ROPS/FOPS | 3356 mm |
| Ground Clearance | 397 mm |
| Overall Length | 7193 mm |
| Dump Clearance at Maximum Lift - 45° | 2890 mm |
| Bucket Pin Height - Maximum Lift | 3843 mm |
| Reach at Maximum Lift and 45° Dump | 993 mm |
| Rack Back Angle - Maximum Lift | 65 ° |
| Dump Angle at Maximum Lift | 50 ° |
| Rack Back Angle - Carry | 50 ° |
| Digging Depth | 50 mm |
Operating Specifications
| | |
| --- | --- |
| Breakout Force | 123 kN |
| Static Tipping Load - Full Turn | 10076 kg |
| Dump Clearance at Full Lift and 45° Dump Angle | 2890 mm |
RELIABILITY
The Cat 938H - Tested And Proven - Ready To Work
Validated components and technology
Electronic systems monitor vital machine components
Excellent uptime from the best dealer support network in the industry
Unmatched genuine Cat parts availability
PROVEN RELIABILITY
The 938H features many of the components designed and proven in various Caterpillar products - all contribute to the reliability of the 938H:
Frames
Axles
Countershaft powershift transmission
Individual component cooling system
Cab
ACERT™ TECHNOLOGY
Since March 2003, ACERT Technology has been proving itself in on-highway trucks. More recently it has proven itself again in field tests of off-highway equipment. This technology allows Cat engines to meet durability and reliability expectations without sacrificing performance.
CATERPILLAR DESIGNED COMPONENTS
Components used to build Cat Wheel Loaders are designed and manufactured to Caterpillar quality standards to ensure maximum performance even in extreme operating conditions. Engine electronic control modules and sensors are completely sealed against moisture and dust. Deutsche connectors and electrical wire braiding ensure that electrical connections resist corrosion and premature wear. Hoses are engineered and manufactured for high resistance to abrasion, excellent flexibility and easy installation and replacement. Caterpillar® couplings use o-ring face seals to provide positive sealing for durable leak-free connections. Heavy duty components reduce the risk of leaks, corrosion and premature wear, increasing uptime and helping to protect the environment.
MONITORING PROGRAMS
Monitoring product health is key to maintaining reliability of any equipment. Many programs are available on the 938H to help you track machine health.
Caterpillar Messenger Display
The 938H is equipped with the Caterpillar Messenger Display that keeps watch over the health of your loader while providing real-time diagnostic feedback. In the event of a system malfunction, Messenger will provide the operator with a description of the occurrence, and if serious enough, sound an audible alarm in addition to a flashing indicator light.
Product Link
Standard equipment on the 938H, this state-of-the art satellite technology enables Caterpillar dealers and customers to keep in touch with their machines. The system provides a two-way information flow between machine on-board systems and Caterpillar dealers/customers via the Cat Dealer Website and EquipmentManager.
EquipmentManager
EquipmentManager is a web-based application that uses key indicators from your equipment such as hours, location and diagnostic codes and combines it with powerful tools like mapping, maintenance and repair scheduling, and troubleshooting instructions. This application enables quick identification of actions required to maximize your equipment uptime and control owning and operating costs.
S•O•SSM Services
Keep minor repairs from becoming major ones and avoid complete failures. By regularly taking samples from the ports provided, your Cat dealer tracks wear of components and parts, oil performance, and oil condition and uses that data to predict wear-related problems before they happen. Often a simple adjustment or replacement of a part, based on S•O•S reports, can keep a small problem from turning into a major repair - allowing your machine to be running when you need it, not waiting in the shop for service.
DEALER SUPPORT
The Caterpillar global network of independently-owned dealers is the best in the world at providing support to keep your loader up and running. Known for parts availability and technical expertise, Cat dealers are partners in your business.
Service Capabilities
Cat field service technicians have the experience and tools necessary to service your loader on site. Field service trucks are fully loaded with state-of-the-art tools and diagnostic equipment as well as specifications and schematics for every Cat machine. Technical experts at the dealership and Caterpillar are available to provide assistance to field service technicians when needed. When on-site repair isn't enough, Cat dealerships are fully-equipped to service your loader quickly.
Parts Availability
Caterpillar provides an unsurpassed level of personalized service for your wheel loader. With parts distribution centers throughout the world, most parts can be delivered in 24 hours.
Remanufactured Parts
Cat engines and major components are designed to be remanufactured and provide multiple life cycles. The Cat Reman program is more extensive than most rebuild programs. Components are actually remanufactured in the factory to original specifications with necessary product updates. Strict reuse guidelines and unparalleled quality control ensure that reman products provide the reliability and durability that you expect from Caterpillar. Reman products are stocked in distribution centers around the world and are ready to install to minimize downtime, maintain productivity and profitability.
DURABILITY
Built Strong And Tough
ACERT™ Technology maintains engine performance, efficiency and durability while reducing emissions
Heavy duty components withstand all operating conditions
Strong, solid structures are built to last
Cat C6.6 ACERT
The Cat C6.6 is a 6.6 liter (403 in3) displacement, in-line six cylinder engine. The C6.6 utilizes ACERT Technology, a series of Caterpillar engineered innovations that provides advanced electronic control, precise fuel delivery and refined air management, resulting in outstanding performance and lower emissions. The C6.6 with ACERT Technology offers a compact design with big, heavy duty engine features for outstanding durability, reliability and performance. The C6.6 incorporates a new cross flow cylinder head design, 4 valve head and an ADEM A4 electronic controller. The C6.6 also features a proven cylinder block, pistons and crankshaft.
Electronic Control ADEM A4
The Advanced Diesel Engine Management - Electronic Control Module consistently monitors important engine conditions and functions. It uses sensors throughout the engine to regulate fuel delivery and all other engine systems that require input to manage load and performance. The ADEM A4 controller is the brain behind engine responsiveness, self-diagnosis, controlling emissions and fuel economy.
Air Management
Air management is a key concept in optimizing engine performance and controlling emissions. Engines must breathe clean cool air in order to perform. To aid this, the C6.6 uses a turbocharger fitted with a smart waste gate to give precise and reliable control of the boost pressure. A new cross-flow design in the cylinder head facilitates air movement, while tighter tolerances between the piston and cylinder wall reduce blow by gases.
Fuel System
Through multiple injection fuel delivery, fuel is introduced in the combustion chamber in a number of precisely controlled microbursts. Injecting fuel in this way allows for precise shaping of the combustion cycle while reducing engine sound levels
Fuel Pump
The C6.6 uses an oil-lubricated high-pressure fuel pump to feed a common fuel rail. By using an oil-lubricated fuel pump, the C6.6 has been designed to be more tolerant of alternative fuels.
Fuel Priming Pump
An electrical fuel priming pump is located between the fuel tank and the combined water separator/primary fuel filter. The electric priming pump eliminates the need to pre-fill or manually prime filters after a change, thus reducing contamination and improving injector life.
Engine Idle Management
The Engine Idle Management System (EIMS) maximizes fuel efficiency and provides flexibility in managing idle speeds for specific application requirements. Four idle control speeds are available.
POWERSHIFT TRANSMISSION
The 938H continues to use powershift transmission technology proven on previous series. The countershaft powershift transmission features heavy-duty components to handle the toughest applications. Built-in electronic controls enhance productivity and durability.
Control Throttle Shifting
Control Throttle Shifting regulates engine speed during high-energy directional and gear changes for smoother shifting and longer component life.
Electronic Clutch Pressure Control
Electronic Clutch Pressure Control (ECPC) system modulates clutches individually to improve shift quality, component life and operator comfort. Adjustment is simplified with all solenoid valves externally mounted on top of the transmission housing.
AXLES
The 938H axles are designed by Caterpillar for durability in all operating conditions. The front axle is rigidly mounted to the frame to support the weight of the wheel loader and withstand internal torque loads as well as external forces encountered throughout operation. The rear axle is designed to allow ± 12° oscillation. All four wheels remain on the ground over uneven terrain providing excellent stability and traction.
Integrated Braking System
The Cat exclusive Integrated Braking System reduces axle oil temperatures and improves transmission neutralizer smoothness. IBS has a direct impact on durability of the axles and brakes especially in applications involving long distances and/or heavy braking.
RADIATOR
Brazed aluminum construction provides a stronger joint for maximum durability and resistance to leaks. The 6-fins-per-inch design decreases the chance of blockage and plugging.
STRUCTURES
The articulated frame design of the 938H features a durable plate engine frame and two plate loader tower that is robotically welded. Robotic welding creates frame joints with deep plate penetration welds and excellent fusion for maximum strength and durability.
Hitch
The distance between the upper and lower hitch plates is an important contributor to machine performance and component life. The Caterpillar hitch design provides excellent load distribution and bearing life. Both the upper and lower hitch pins pivot on double tapered roller bearings - improving durability by distributing both vertical and horizontal loads over a larger surface area. The wide opening also provides excellent service access.
Engine End Frame (EEF)
The 938H uses a proven solid plate engine end frame which provides a strong, rigid structure that resists twisting and evenly distributes impact loads. The result is an extremely solid mounting platform for the engine, transmission, axle, ROPS and other accessories.
Non-Engine End Frame (NEEF)
The non-engine end frame provides a solid mounting base for the front axle, lift arms, lift cylinders and tilt cylinder. The fabricated, two-plate loader tower design reduces material packing under the lift cylinders while absorbing the forces associated with loading, twisting and material handling.
Counterweight
The two-piece counterweight is integrated into the 938H design and provides added protection for the lights by incorporating them into the top of the structure.
Linkage
The 938H linkage is a single-tilt Z-bar design. Z-bar linkage generates excellent breakout force and good rack back angle for better bucket loading and load retention. Lift arms are solid steel, providing superior strength with an excellent front end viewing area. The proven design offers excellent dump clearance and reach.
PRODUCTIVITY
Work Smart And Move More
Hydraulics are easy to control with low effort
Differential locks provide maximum traction in varying underfoot conditions
Constant net horsepower across various applications
Standard and optional features that maximize productivity
LOAD SENSING HYDRAULICS
The 938H features a load sensing hydraulic system that supplies flow and pressure for the implements only upon demand, and only in the amounts necessary to perform the needed work thus providing a more efficient loader. With the new S3PC Priority Proportional Pressure Compensation Valve, implement control is improved over the previous system - raise/lower and rack back/dump can be operated simultaneously. Operators will notice enhanced ease of operation, more rimpull into the pile and a 16% increase in lift force.
NEW! DIFFERENTIAL LOCK
Maximize productivity with the new clutch type hydraulic locking front differential. This standard feature provides operators with the confidence to maneuver through poor underfoot conditions with 'on the fly' engagement. A Caterpillar exclusive, the optional automatic front/rear locking differential collects input from sensors throughout the loader and adapts tractive effort to meet operating requirements.
CONSTANT NET HORSEPOWER
On many competitive machines, gross horsepower is constant, meaning that net engine power available for actual work will vary based on demands made from parasitic sources, such as air conditioning or cooling fans. The Cat C6.6 engine is electronically configured to provide constant net horsepower at full parasitic load enhancing productivity and improving fuel efficiency.
On-Demand Fan
With electronic control of the variable speed on-demand fan, temperature levels of the engine coolant, transmission oil, hydraulic oil and air inlet manifold are constantly monitored. This data is used to control and maintain fan speed at the level necessary to maintain normal system temperatures. Controlled fan speed improves fuel efficiency, lowers noise levels and reduces radiator plugging.
Isolated Cooling System
The 938H cooling system is isolated from the engine compartment by a non-metallic shield. The hydraulically driven, variable speed fan draws in clean air from the rear of the machine and exhausts it out the sides and top of the hood. The end results are optimal cooling efficiency, increased fuel efficiency, less radiator plugging and reduced operator sound levels.
COUNTERSHAFT POWERSHIFT TRANSMISSION
The electronic countershaft powershift transmission with automatic shift capability is designed and built by Caterpillar. The very responsive, full-power speed and directional changes provide excellent cycle times and productivity.
Fuel Economy Mode
Match transmission shifting patterns to machine application requirements. The Fuel Economy Mode (within Messenger) provides operators with the ability to choose between three different shift modes in order to maximize shift quality and fuel efficiency.
RIDE CONTROL
The optional Ride Control System improves ride, performance and load retention when traveling over rough terrain. Operators gain confidence moving at higher speeds in load and carry operations decreasing cycle times and increasing productivity.
AUTOLUBE
The optional Caterpillar Autolube System provides precise, automatic lubrication of pins and bushings - during loader operation. Automatic lubrication reduces time spent on daily maintenance and downtime for unplanned repairs due to inadequate greasing - improving productivity.
VERSATILITY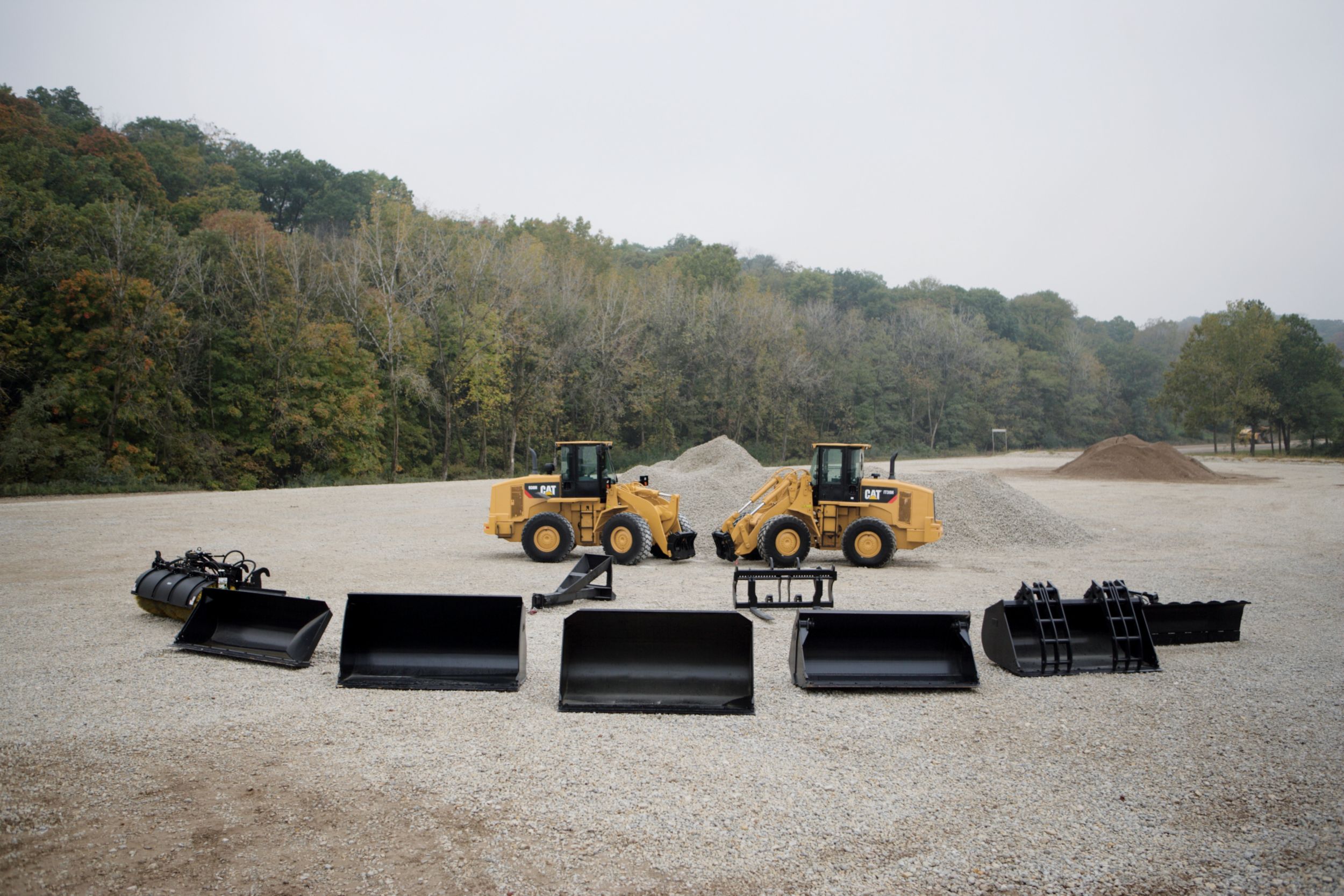 Built For Your Operation
The Cat Fusion interface provides coupler flexibility with performance virtually identical to pin-on.
A variety of Cat Fusion buckets and work tools are available for many applications.
Cat Fusion™ Coupler System
The Fusion Coupler System provides unmatched versatility for Cat Wheel Loaders.

The Fusion System offers exclusive benefits that no other coupler can provide, including:
Performance
Fusion couplers and tools eliminate performance-robbing offset, thus providing coupler flexibility with performance virtually identical to pin-on.
Durability
The patented locking system of Fusion pulls the tool tight, for a rock-solid fit over the life of your machine. No rattle, no wear, no problem.
Visibility
The open design of Fusion maximizes visibility to the end of the fork tines and gives clear indication of the engaged status of the coupler.
Flexibility
Only Caterpillar offers a coupler system, Cat Fusion, with complete interchangeability across machines from 924-972. Maximize your attachment investment, simplify your job site.
WORK TOOLS AND QUICK COUPLERS
A variety of buckets and work tools are available as pin on or for use with the Fusion Coupler - straight from the factory or installed at the dealership - customizing the 938H for your applications.
General Purpose Buckets
General purpose buckets provide good all-around performance for stockpiling, rehandling, excavating and bank loading. A heavy duty general purpose bucket can be used for more aggressive applications.
Material Handling Buckets
The material handling bucket is a flat-floor bucket used for handling stockpiled materials such as aggregates or other easy-to-load materials requiring moderate breakout force.
Rock Buckets
Rock buckets are designed for face or bank loading in mining or quarry applications. The straight-edge rock bucket provides higher breakout force and increased dump clearance. The spade-edge rock bucket offers increased penetration in certain applications.
Coal Buckets
Coal buckets maximize productivity in loading and stockpiling coal and other materials of similar density.
Waste Buckets
Waste buckets are designed for long life in the harsh world of refuse applications. This high-capacity bucket is well-suited for loading, sorting and other transfer station work.
Woodchip and Clean-Up Buckets
Woodchip and clean-up buckets are available for forestry and milliard applications.
Multi-Purpose Buckets
Multi-Purpose Buckets have a unique four-way action that can load, strip topsoil, bulldoze, clamp pipe or large chunks of concrete, clean up debris, and many other tasks.
Side Dump Buckets
Side Dump Buckets dump both to the front and to the side of the machine, an advantage when working in tight quarters, such as street work, tunnel construction and building levees.
Forks
Logging, millyard and pallet forks are available for forestry and material handling applications.
Loader Rakes
Loader Rakes are durable, high-capacity tools for land clearing and site clean up. Rakes are available with or without top clamps and in quick coupler and pin-on models.
Material Handling Arms
Material Handling Arms move pipe, concrete blocks, highway dividers and other construction materials quickly and precisely.
Brooms
Brooms equip Cat Wheel Loaders for clean up on a wide range of job sites and specialty cleaning tasks. Cat Angling brooms cast dirt and debris forward or to either side for efficient clean up. Pickup brooms feature an integral hopper to capture debris swept up by the rotating broom for later dumping.
Plows
Angle plows cast snow to whichever side needed, angling can be controlled hydraulically or manually. V-plows optimize snow removal operations with a heavy duty steel nose piece and divider to cut aggressively into heavy drifts and break up compacted snow. This plow is the perfect choice for road clearing and heavy snow removal.
OWNING AND OPERATING COSTS
The 938H - Best Value For Your Operation
Sight gauges, grouped maintenance points, easy engine access, ecology drains, maintenance-free batteries - all simplify daily maintenance
Electronic monitoring systems track product health to avoid unscheduled costly repairs
Unsurpassed parts availability reduces downtime
Excellent resale value provided by genuine Cat quality, outstanding dealer service and unmatched dealer support programs
Caterpillar Financial Services and Cat dealers understand your business
ENGINE IDLE MANAGEMENT SYSTEM
The Engine Idle Management System (EIMS) maximizes fuel efficiency and provides flexibility in managing idle speeds for specific application requirements. Four idle control speeds are available.
MAINTENANCE
Proper maintenance of your wheel loader can help control expenses and lower your owning and operating costs. The 938H provides unmatched serviceability by offering:
Hydraulic service center
Electric service center
Airborne debris-resistant, swing-out grill provides more efficient airflow
Well-protected, easily visible sight gauges
Ground level maintenance points
Easy access to engine compartment
Ecology drains for simple and clean fluid drainage
Brake wear indicators for ease of inspection
Maintenance-free batteries
Extended oil and filter change intervals
MONITORING SYSTEMS
Monitoring product health simplifies maintenance planning and reduces costs.
Messenger
Messenger offers the comfort of providing real-time, visual feedback on engine and machine operating conditions. It displays information on diagnostic codes, maintenance and system parameters.
Product Link
With Product Link customers and dealers can remotely obtain machine diagnostics. The system provides updates on service meter hours, machine health and equipment location.
EquipmentManager
EquipmentManager uses key indicators from equipment such as hours, location and diagnostic codes and combines them with powerful tools like mapping, maintenance and repair scheduling as well as troubleshooting instructions. This application enables quick identification of actions required to maximize equipment uptime and control owning and operation costs.
Machine Security System
Stolen equipment equates to lost production and increased costs. Eliminate machine theft and unauthorized usage with the Cat Machine Security System (MSS). MSS is integrated into the machine's electronic system and can protect most brands of equipment by requiring a uniquely coded key to start the machine.
S•O•S Services
Managing component life and machine availability decreases downtime while improving your productivity and efficiency. S•O•S Services can help you do that. Regular fluid sampling is used to track what is going on inside the equipment. Wear-related problems are predictable and easily and quickly repairable. Maintenance can be done according to your schedule, resulting in increased uptime and flexibility in maintenance and repair before failure.
PARTS AVAILABILITY
Caterpillar provides an unsurpassed level of personalized service for your wheel loader. With parts distribution centers worldwide, most parts can be delivered in 24 hours. Easy access to parts reduces downtime.
RESALE VALUE
Owning quality equipment is a very important factor in maintaining resale value. Cat not only supplies quality equipment but also provides product and dealer support to maintain the reliability and durability of your machine.
SERVICEABILITY
Easy To Maintain - Easy To Service
Grouped service points and sight gauges for easy daily maintenance
Convenient access to engine compartment for excellent serviceability
Swing-out grill and cooling cores for easy cleaning
Electronic systems to monitor product health
HYDRAULIC SERVICE CENTER
Transmission and hydraulic oil filters are located in the Hydraulic Service Center, behind the hinged, right-side access ladder. The hydraulic oil tank can be drained from this location using the access port.
ELECTRIC SERVICE CENTER
A lockable compartment located just below the left side access platform contains key electrical components such as the remote jump-start receptacle, battery disconnect switch, circuit breakers and hood actuation switch. The maintenance free batteries are conveniently located under the electric service center.
NEW! MULTI-PIECE AXLE
With the introduction of Caterpillar's new multi-piece axles, service brakes and final drives are located outboard and provide easy access when service is required.
GROUND LEVEL GREASE POINTS
Grease fittings are grouped on the right side of the machine in two convenient locations thus facilitating easy lubrication of vital components throughout the machine.
AUTOLUBE
Reduce time spent on daily maintenance and downtime for unplanned repairs due to inadequate greasing with the optional Caterpillar Automatic Lubrication System. Precise lubrication of pins and bushings at specific intervals improves component wear and reduces ground contamination from excessive greasing.
S•O•S SERVICES
Sampling valves on the 938H allow quick access to engine, transmission and hydraulic oils for S•O•S analysis. Oil change intervals and other services can be optimized according to your work schedule, reducing downtime and managing expenses.
REMOTE PRESSURE TAPS
Pressure taps for key systems are grouped and centrally located throughout the machine and help facilitate quick diagnostics.
BRAKE WEAR INDICATORS
Axles are equipped with standard brake wear indicators, allowing a technician to easily determine when it is necessary to service the brakes.
SIGHT GAUGES
Well-protected, yet easily visible sight gauges for the transmission, hydraulic oil and radiator coolant allow easy daily checks while reducing the risk of contaminants entering the systems.
ENGINE COMPARTMENT ACCESS
A single mechanical lift cylinder with manual back-up opens the hood. The tilting hood provides excellent access to the engine and cooling compartments and if necessary, the entire hood can be removed with the built-in lift points.
With the hood closed, quick checks of the engine oil level, coolant site gauge and air inlet indicator can be completed through the side service door.
ECOLOGY DRAINS
Engine, transmission and hydraulic oils can be easily drained with standard-equipment ecology drains. An axle oil ecology drain is optional.
ELECTRIC PRIMING PUMP
An electric fuel priming pump located on the primary fuel filter base eliminates the need to pre-fill or manually prime filters after a change, eliminating engine contamination.
COOLING SYSTEM
Cooling system access for clean-out and maintenance is outstanding. The perforated and corrugated grill minimizes debris build-up and swings out for easy cleaning and access to the cooling cores. The full-width air conditioning condenser and oil cooler cores swing out 45° to allow easy cleaning of the rear radiator face. An access panel located on the right side of the radiator support structure provides access to the front face of the radiator and ATAAC cores for easy cleaning.
COMPLETE CUSTOMER SUPPORT
Cat field service technicians have the experience and tools necessary to service your loader on site. Technical experts at the dealership and Caterpillar can provide additional assistance to field service technicians as needed. When on-site repair isn't enough, Cat dealerships are fully equipped to service your loader quickly.
OPERATOR COMFORT
Work Comfortably And Efficiently
Comfortable operation
Excellent visibility
Easy entry and exit
Low effort steering
OPERATING ENVIRONMENT
The 938H provides operators with a comfortable operating environment with generous storage space and excellent visibility.
Seat
The durable seat adjusts 6-ways to accommodate all sized operators. The seat features an automotive style lumbar support for maximum comfort. The Cat C-500 Series Comfort air-suspension seat is optional as is a heated backrest and seat cushion.
Implement Pod
The newly restyled implement pod provides superior comfort through the full length adjustable armrest. Standard transmission F-N-R switch allows operators to keep their hand on the implement control levers while making directional shifts. An optional joystick with integrated F-N-R switch is available and replaces the lift and tilt levers.
VISIBILITY
The 938H offers excellent visibility to the front and rear of the machine. Distortion-free flat glass stretches to the floor of the cab for excellent visibility to the bucket. Wet-arm wipers on both front and back keep the windows clean in any condition.
Rear Vision Camera
An optional rear vision camera is available to clearly monitor movement behind the wheel loader.
Lighting Packages
In addition to the standard roading lights, optional lighting packages are available for low-light applications. Optional auxiliary halogen or High Intensity Discharge (HID) cab lights provide exceptional lighting for night work. A rotating beacon is available as a safety feature.
ENTRY AND EXIT
A ladder with aggressive tread pattern keeps debris build-up to a minimum. The ladder is at a 5° forward incline for easy entry and exit. The main cab door opens a full 180° and latches in place to allow safe navigation to the rear of the machine. The right side door opens 10°, or completely for secondary exit simply by pulling a pin. A full-length ladder on the right side facilitates safe exit if needed.
Steering
Caterpillar's low effort load sensing steering directs power through the steering system only when needed. The new hand metering unit and priority valve provide operators with full steering and multi-function capability a low engine rpm's. The combined steering column and instrument panel tilt for maximum operator comfort.
Controls
Key machine controls are conveniently located within arms reach and allow better efficiency while minimizing operator fatigue. A variety of machine controls are also contained within the Messenger display. By accessing various menus, an operator can tailor the machine to fit operating style and application. For multi-shift operations, personalized settings for each operator can be established and stored for maximum uptime and comfort.
ELECTRICAL

Alarm, back-up, adjustable
Alternator, 24V/65A
Battery disconnect switch with removeable key
Lighting:
Jumpstart receptacle

OPERATOR ENVIRONMENT

Air Conditioning
Bucket/Work tool lever lockout feature
Cab, ROPS/FOPS, pressurized and sound suppressed
Coat hook
Controls, lift and tilt functions
Radio ready including antenna, speakers, two 12V/5A power outlets, includes cigar lighter
Electric horn, dual actuation (steering wheel, implement pod)
Sun Visor, Front
Cab heating with fresh air inlet and defrosting function
Messenger System
Product Link Ready (optional in some regions)
Operator display, Gauges:
Operator display, Warning Indicators:
Dual interior rearview mirrors
Dual exterior rearview mirrors
Interior operator lighting
Storage compartments
Lunchbox compartments
Beverage holder
Seat, KAB, cloth, adjustable
Seat belt, retractable, 51mm/2" wide
Adjustable steering column/wheel
Forward/Neutral/Reverse switch by implement controls
LH door with sliding window
RH sliding window and emergency exit
Windshield wipers, front and rear
Interval function for front and rear wipers
Windshield washers, front and rear

POWERTRAIN

Brakes, full hydraulic enclosed wet-disc
Brake wear indicators with Integrated Braking System (IBS)
Front axle with locking differential
Drive line, extreme service
Engine, Cat C6.6 ACERT and ATAAC technology, electronically controlled.
Fan, radiator, electronically controlled, hydraulically driven, temperature sensing, on demand.
Filters, fuel, primary/secondary
Fuel priming pump (Electric)
Fuel/Water separator
Monitoring System, Axle Oil Temp.
Muffler, sound suppressed
Radiator, unit core (6fpi) with ATAAC
Starting aid (Glow Plugs)
Trans, neutralizer lockout in messenger
Torque converter
Transmission, countershaft, automatic power shift (4F/3R)
Variable Shift Control (VSC), messenger

OTHER STANDARD EQUIPMENT

Automatic bucket positioner
Counterweight
Couplings, Caterpillar O-ring face seal
Fenders, Extension, Platform, Rear
Guards, (bottom crankcase and fuel tank)
Hitch, drawbar with pin
Hood, non-metallic power tilting
Hoses, Caterpillar XT
Hydraulics, Load Sensing
Kickout, lift, automatic
Kickout, tilt, adjustable
Linkage, Z-bar, cast crosstube/tilt lever
Oil sampling valves
Remote Diagnostic Pressure Taps.
Sight Gauges: Engine coolant, hydraulic oil and transmission oil level.
Steering, load sensing
Vandalism protection caplocks

Automatic bucket positioner
Counterweight
Couplings, Caterpillar O-ring face seal
Fenders, Extension, Platform, Rear
Guards, (bottom crankcase and fuel tank)
Hitch, drawbar with pin
Hood, non-metallic power tilting
Hoses, Caterpillar XT
Hydraulics, Load Sensing
Kickout, lift, automatic
Kickout, tilt, adjustable
Linkage, Z-bar, cast crosstube/tilt lever
Oil sampling valves
Remote Diagnostic Pressure Taps.
Sight Gauges: Engine coolant, hydraulic oil and transmission oil level.
Steering, load sensing
Vandalism protection caplocks
HYDRAULICS

Load sensing implement system, pressure sensing
Load sensing steering system
Two function hydraulic valve (lift and tilt)
Two lever operator implement controls

TIRES, RIMS, & WHEELS

A tire must be selected from the mandatory attachments section. Base machine price includes an allowance based on a premium radial tire.

ANTIFREEZE

Premixed 50% concentration of Extended Life Coolant with freeze protection to -34° C (-29° F).

Premixed 50% concentration of Extended Life Coolant with freeze protection to -34° C (-29° F).
Alternator, heavy-duty
Antifreeze, -50C
Autolube
Buckets and work tools
Bucket Ground Engaging Tools (GET) - see Cat dealer for details
Camera, rear view
Coolant, extended life
Cooler, axle oil
Differnetial Lock, automatic front and rear
Drain, axle ecology
Ether Starting Aid
Fenders/Platforms, narrow
Fenders, roading
Guards, axle seal
Guard, front window, wide mesh
Guard, power train bolt-on
Guard, power train hinged
Guard, hitch area
Guard, front driveshaft
Guard, roading light, front and rear
Guard, tilt cylinder
Guard, transmission oil fill
Heater, engine coolant, 120- or 240-volt
High Lift, three-valve
High Lift, three-valve with hydraulic horizontal pin quick coupler
Hydraulics, three or four-valve
Joystick control, two, three or four valve
Ladder, cable
Lights, auxiliary cab lights
Lights, high intensity discharge (HID)
Lights, warning beacon
Machine Security System
Mirrors, heated external
Open canopy
Precleaner , turbine
Precleaner , turbine/trash
Quick Coupler, hydraulic horizontal pin
Quick Coupler ready lines
Radio, AM/FM CD player
Ride Control
Seat, air suspension
Seat, heated air suspension
Seatbelt, 76 mm (3") wide
Seatbelt, 76 mm (3") wide (KAB)
Steering, secondary
Sunscreen, rear
Toolbox
"Call Back Option available only for UAE, Bahrain, Kuwait, Oman and Qatar."