930H Wheel Loader
The Cat 930H Wheel Loader leads the industry in operator comfort, performance and versatility. Size, power, performance and work tool interchangeability make this machine ideal for a wide range of jobs. Fast cycle times help you move more material. Large spacious cab with joystick control keeps you comfortable throughout the work day, allowing you to get more done. Loader design delivers strength and durability with superior control and unmatched versatility. Discover how much more you can get done with the 930H.
Product Details
Engine
| | |
| --- | --- |
| Rated Net Power | 111 kW |
| Model | Cat® C6.6 |
| SAE J1349 (1) | 111 kW |
| ISO 9249 (1997) (1) | 112 kW |
| EEC 80/1269 (1) | 112 kW |
| Maximum Net Power - 2000 rpm | 119 kW |
| SAE J1349 (2) | 119 kW |
| ISO 9249 (1997) (2) | 120 kW |
| EEC 80/1269 (2) | 120 kW |
| Bore | 105 mm |
| Stroke | 127 mm |
| Displacement | 6.6 l |
| Net Torque | 727 N·m |
| Peak Torque | 742 N·m |
Buckets
| | |
| --- | --- |
| Bucket Capacities | 2.1 m3 - 5.0 m3 2.6 yd3 - 6.5 yd3 |
Weights
| | |
| --- | --- |
| Operating Weight | 13029 kg |
Steering
| | |
| --- | --- |
| Steering Articulation | 40 ° |
| Minimum Turning Radius - Over Tires | 5257 mm |
| Steering Angle - Each Direction | 40 ° |
| Steering Cylinder, Two, Bore | 70 mm |
| Hydraulic output at 2300 engine rpm and 6900 kPa (1000 psi) | 70 l/min |
| Maximum Working Pressure | 24130 kPa |
Loader Hydraulic System
| | |
| --- | --- |
| Output at 2,300 Engine rpm and 6900 kPa (1000 psi) with SAE 10W Oil at 65°C (150°F) | 220 l/min |
| Hydraulic Cycle Time | 9.5 sec |
| Pump Flow - Implement Pump | 220 l/min |
| Relief Pressure - Implement pump | 258.9 bar |
| Maximum Working Pressure | 25900 kPa |
| Raise | 5 s |
| Dump | 1.7 s |
| Lower, Empty, Float Down | 2.8 s |
| Total | 9.5 s |
| Bore (1) | 114.3 mm |
| Stroke (1) | 777 mm |
| Bore (2) | 152.4 mm |
| Stroke (2) | 939 mm |
Service Refill Capacities
| | |
| --- | --- |
| Fuel Tank | 225 l |
| Cooling System | 40 l |
| Crankcase | 15 l |
| Transmission | 34.5 l |
| Front | 26 l |
| Rear | 25 l |
| Hydraulic System - Including Tank | 148 l |
| Hydraulic Tank | 70 l |
Transmission
| | |
| --- | --- |
| Standard Transmission Maximum Travel Speeds | 38.3 km/h |
| Forward - 1 | 7.3 km/h |
| 2 | 12.3 km/h |
| 3 | 24.1 km/h |
| 4 | 38.3 km/h |
| Reverse - 1 | 7.3 km/h |
Tires
| | |
| --- | --- |
| Size | 20.5 R25 L3 XHA |
| Tread Width | 2570 mm |
Cab
| | |
| --- | --- |
| ROPS | SAE J1040 MAY94, ISO 3471-1994 |
| FOPS | SAE J/ISO 3449 APR98 Level II, ISO 3449 1992 Level II |
Dimensions
| | |
| --- | --- |
| Wheel Base | 2900 mm |
| Width - Over Tires | 2570 mm |
| Height - Top of ROPS/FOPS | 3278 mm |
| Height - Top of Exhaust Stack | 3205 mm |
| Height - Top of Hood | 2234 mm |
| Height - Center of Axle | 685 mm |
| Ground Clearance | 411 mm |
| Overall Length | 7601 mm |
| Length - Rear Axle to Bumper | 1988 mm |
| Centerline of Front Axle to Hitch | 1450 mm |
| Dump Clearance at Maximum Lift - 45° | 2833 mm |
| Bucket Clearance-Maximum Lift/Carry | 3667 mm |
| Bucket Pin Height - Maximum Lift | 4049 mm |
| Overall Height - Bucket Raised | 5303 mm |
| Reach at Maximum Lift and 45° Dump | 934 mm |
| Rack Back Angle - Maximum Lift | 60 ° |
| Dump Angle at Maximum Lift | 45 ° |
| Rack Back Angle - Ground | 51 ° |
| Rack Back Angle - Carry | 53 ° |
| Carry Height | 428 mm |
| Digging Depth | 201 mm |
Operating Specifications
| | |
| --- | --- |
| Static Tipping Load - Full Turn | 8310 kg |
| Reach - Full Lift and 45° Dump | 1070 mm |
| Dump Clearance at Full Lift and 45° Dump Angle | 2927 mm |
| Articulation Angle | 40 ° |
VersaLink™ Loader Linkage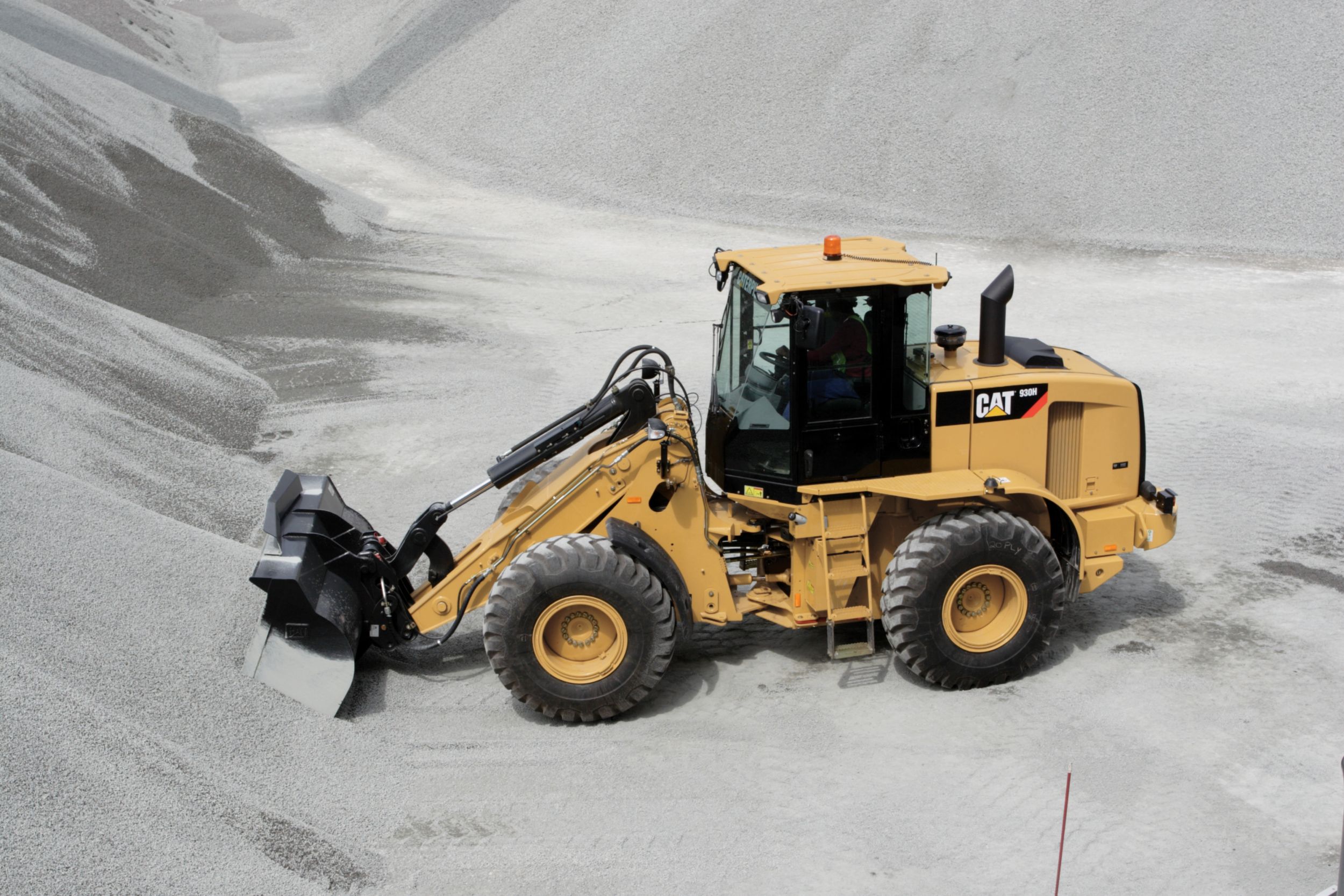 Loader design delivers unmatched versatility.
Linkage Design
The Cat exclusive VersaLink design provides toolcarrier controllability, versatility and parallel lift with the strength, durability and speed of Z-Bar linkage. The 930H can be configured in several ways:
Equipped with a Quick Coupler for quick and easy work tool changes for optimum utility and versatility.
Equipped with pin-on work tools, such as a bucket, for a dedicated wheel loader application with exceptional breakout force, tipping load and dump height.
Equipped with the High Lift VersaLink loader linkage option for special applications that require more reach and lift height.
Loader Performance
The VersaLink Loader linkage is designed for exceptional loader performance in a wide range of applications, offering:
Simultaneous tilt, lift and auxiliary hydraulics function for precise control of the work tool.
Increased breakout force to shorten cycle times and increase bucket fill factors.
Higher dump clearance for working in "high target" situations that ordinary loaders cannot.
More dig depth for better excavation performance, even when equipped with larger tires.
Greater rackback angle for improved material retention, resulting in higher productivity.
Greater dozing angle for improved control of material when fine grading.
Parallel Lift
Parallel lift simplifies working with palletized or stacked material. Operators can concentrate on material placement while the load automatically remains parallel throughout the lift range. And, like an integrated toolcarrier, the 930H can easily manipulate loads at all heights.
High Lift Version
Special applications call for special equipment. The optional High Lift VersaLink loader linkage provides an additional clearance of 483 mm (19 in) and is ideal for jobs that require high lift of lighter materials. The high lift VersaLink is available in both pin-on and quick coupler versions.
Power Train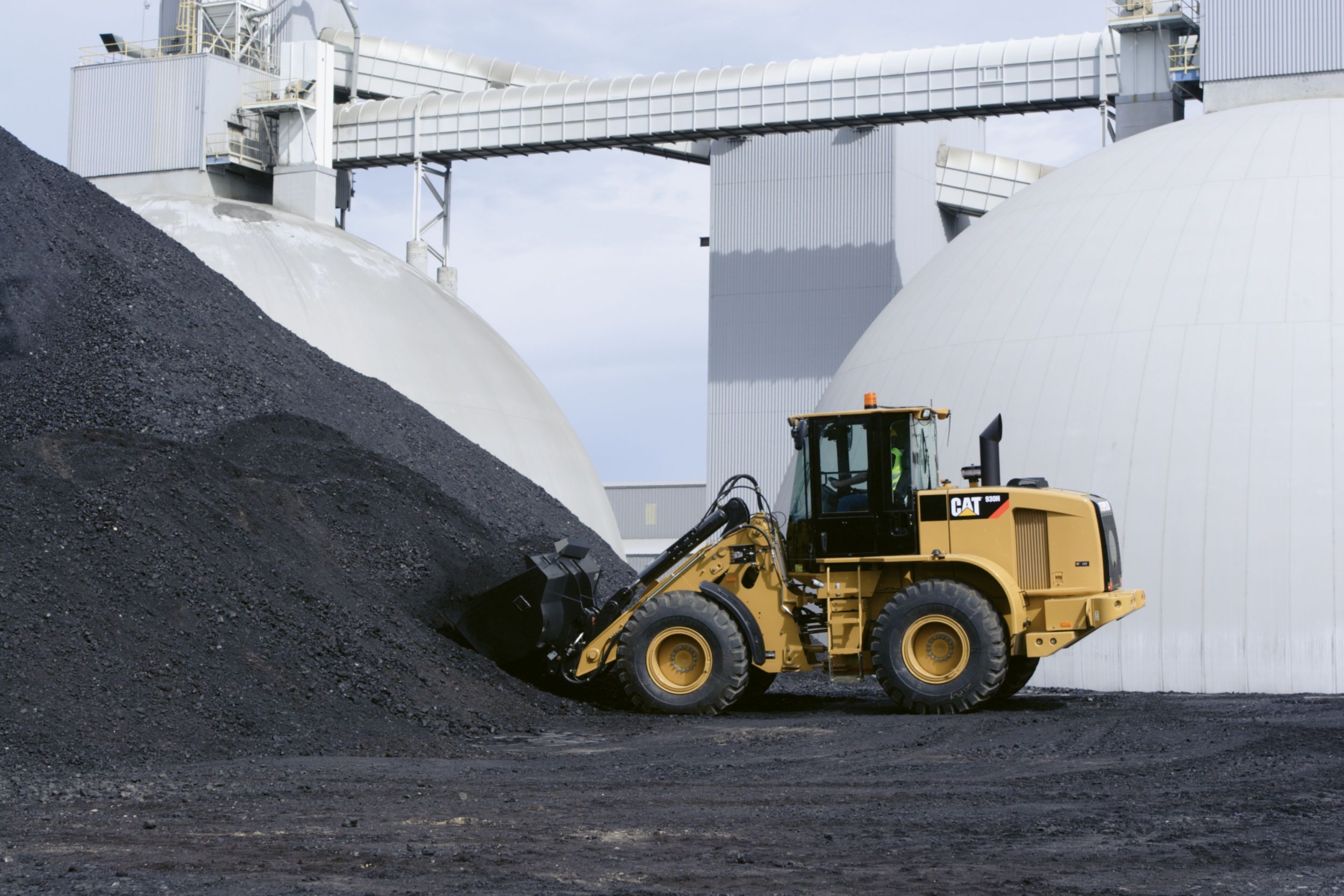 Delivers maximum rimpull to the ground and full power to loader hydraulics.
Cat Engine
The Cat C6.6 engine provides cleaner, quieter operation while delivering superior performance and durability. The 111 kW (149 hp) rated net power engine meets all worldwide emissions standards and features: flatter power curve for outstanding response in the working RPM range (1,900 to 2,300), noise reduction technologies for up to 5 dB reduction, and patented ACERT™ Technology combined with common rail fuel system, smart waste gate turbocharger and crossflow head design for reduced emissions.
Cat Axles
Heavy-duty axles feature hardened gears and bearings for durable performance. Rear axle oscillates up to 12 degrees to help assure four-wheel ground contact for optimum traction and stability. Optional front and rear Limited Slip Differentials enable outstanding traction in poor underfoot conditions.
Cat Transmission
Rugged Cat transmission uses heavy-duty components for durable and reliable operation. The operator can choose between manual shift and two autoshift modes, Performance or Economy. Performance mode provides maximum acceleration while the economy mode increases fuel economy and improves operator comfort.
Hydraulics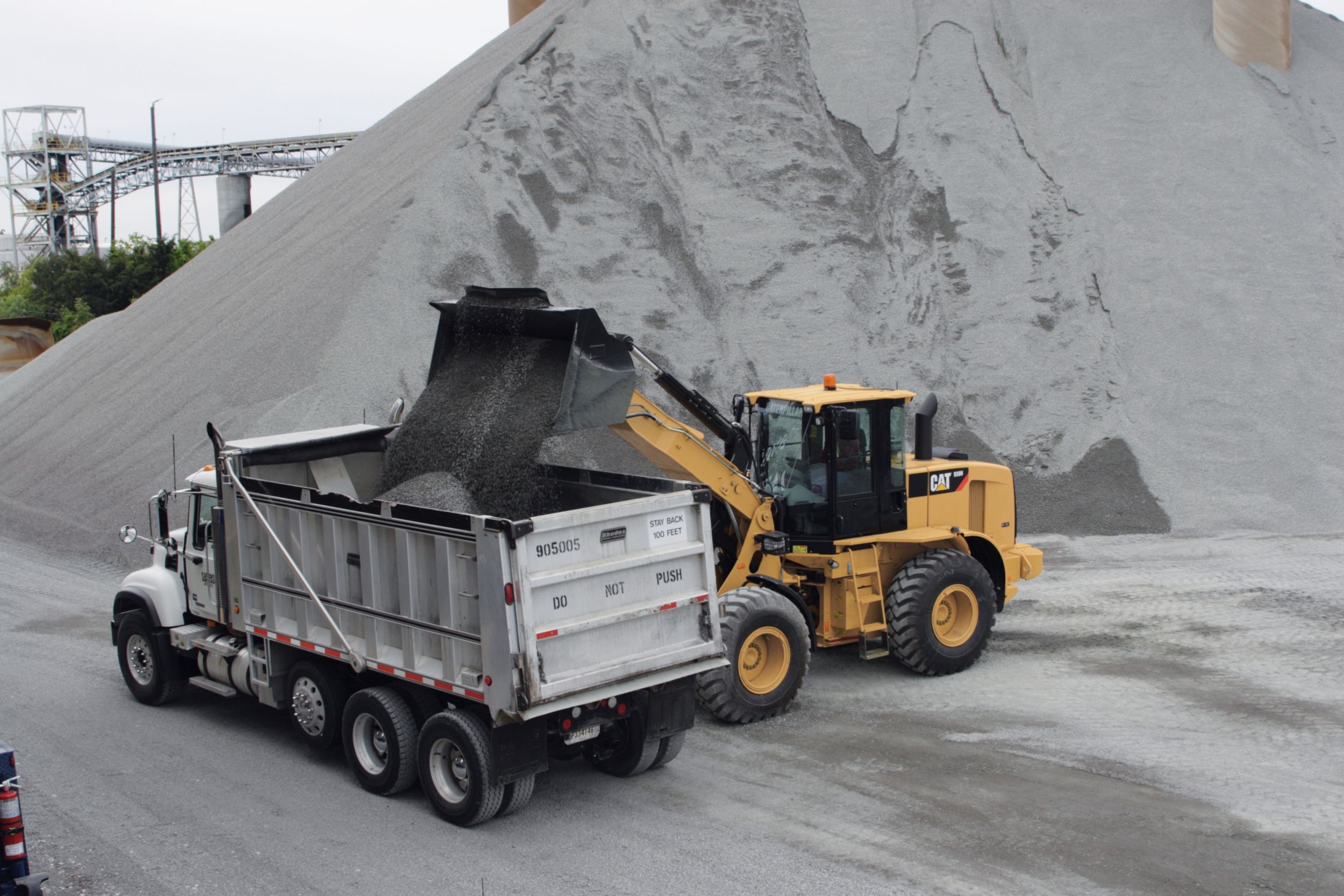 Modular system provides high efficiency with low effort and precise control.
Load-Sensing Hydraulics
Modular hydraulic system delivers precise control with low effort operation. This load-sensing, variable flow system senses work demand and adjusts flow and pressure to match. This allows full hydraulic forces at any engine speed for delicate jobs in tight areas. Combined with the VersaLink linkage, the hydraulic system allows simultaneous lift, tilt and auxiliary hydraulic function.
Auxiliary Hydraulics
Auxiliary hydraulics provide unparalleled versatility allowing you to select the configuration that best suits your application. Third function only or packaged with fourth enables the use of almost all work tools. Fifth and sixth function hydraulics are also available for responsive independent positioning of work tools with multiple hydraulic cylinders such as snow plows with hydraulically movable snow wings.
Optional Joystick with Integrated Third Function Controls
An optional joystick combines lift and tilt functions with transmission controls and third function auxiliary hydraulic controls in one ergonomic joystick. This allows the operator to maintain control of the load linkage while operating hydromechanical tools. The system can operate in two modes: the Work Tool and Continuous Flow mode, which allows bi-directional flow to be controlled with a thumbwheel, and the Continuous Flow mode, which provides infinitely variable flow to tools with hydraulic motors.
Ride Control System
The optional Ride Control System provides a comfortable ride and excellent material retention. Four nitrogen charged accumulators set to different pressures enable optimum cushioning over uneven terrain for all loads and speeds. The system operates in Automatic; as the loader ground speed exceeds 5 kph (3 mph) the system will activate, below 5 kph (3 mph) the system is off, providing maximum lift power.
Operator Station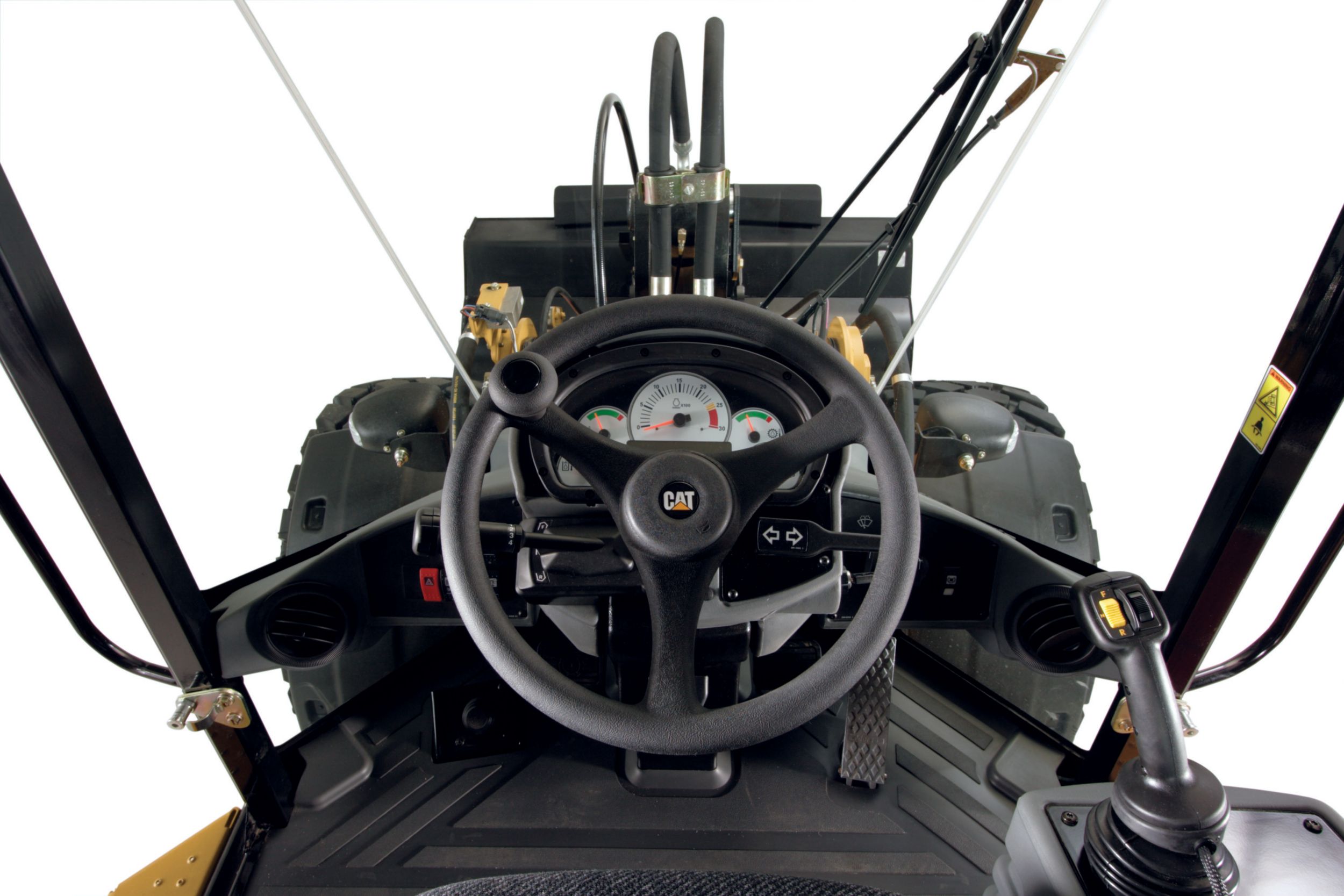 Superior comfort keeps you productive, all day long.
Cab
Experience comfort and convenience in the H-Series cab. The spacious interior and ergonomic controls keep you comfortable throughout the work day. Choose the seat that meets your needs - the standard, fully adjustable seat or the optional Cat Contour seat for added adjustment and air suspension. The two-door design lets you enter and exit from either side of the machine and wide, serrated steps provide stable footing. Both doors lock open 180 degrees and feature sliding glass windows for better communication with workers on the ground. Large flat glass windows provide excellent visibility all around the machine. The rear window features a standard electric defroster.
Controls
Low effort, ergonomic joystick controls provide easy operation of lift and tilt functions. The standard joystick features an integrated directional control switch for added convenience. The operator programmable transmission neutralizer can be set in seconds optimizing brake effort for all applications.
Instrument Panel
The sealed instrument panel with easy to read white faced gauges and indicators keeps the operator informed of system conditions. The large LED readout provides ground speed and other critical information.
Optional Rear View Camera
This work area visual enhancement system uses a closed circuit video monitoring system. Up to three cameras can be mounted on the machine frame. Objects can be viewed on a color LCD monitor in the cab.
Optional Dual Mode Steering
The operator can select traditional steering or QuickSteer mode for faster, low effort truck loading. QuickSteer requires only 50 degrees steering wheel deflection for full articulation drastically reducing operator effort.
Work Tools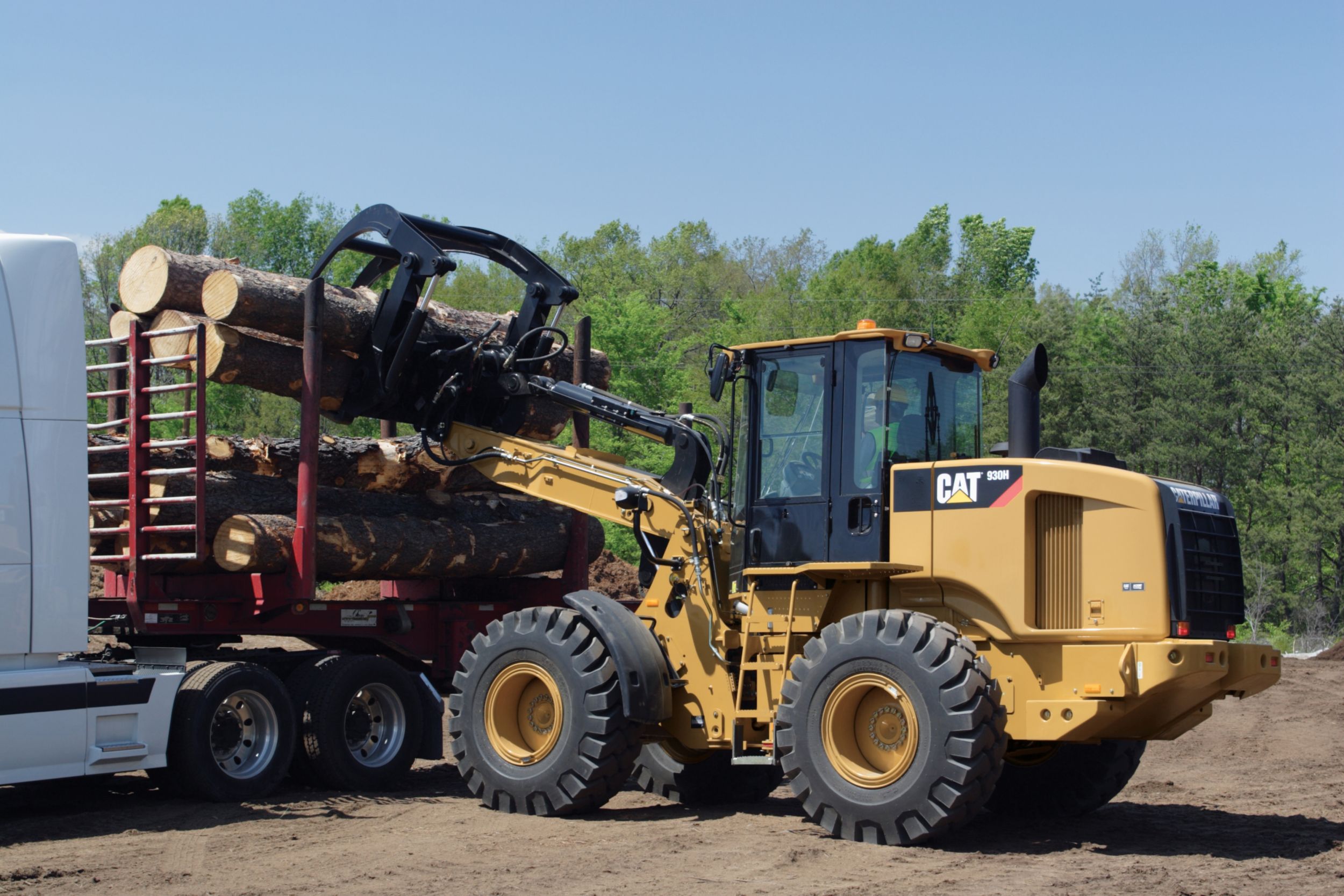 Do more jobs with one machine with Cat Work Tools.
The Right Tool for the Job
The wide variety of work tools offered by Caterpillar makes the 930H one of the most versatile machines on the jobsite. Work tools can be changed quickly and easily with the machine's quick coupler system. A switch in the cab activates a hydraulic cylinder for positive tool engagement and disengagement.
Bucket Work
With exceptional rimpull and high breakout and lift forces, the 930H delivers strong performance as a bucket loading machine. A wide range of Cat buckets are available including: ? General purpose - 2.1 m3 (2.75 yd3), 2.3 m3 (3.0 yd3) and 2.5 m3 (3.25 yd3) ? Penetration ? Light Material ? Multi purpose ? Side dump ? High dump ? Wood chip ? Top clamp
Material Handling
The exceptional visibility and heavy-lift capabilities of the 930H let you work quickly and efficiently in material handling applications. A wide range of tools are available: ? Standard width carriage with pallet forks--1220 mm (48 in), 1370 mm (53 in) and 1524 mm (60 in) ? 2440 mm (96 in) wide carriage with 1830 mm (72 in) or 1524 mm (60 in) tines ? Offset forks for improved tip visibility ? Material handling arm ? Log and lumber forks with a variety of top clamp choices
Special Applications
Caterpillar also offers other work tools designed to meet specific job requirements: ? Dozer blades ? Snow plows ? Hydraulic brooms ? Asphalt cutter ? Loader rakes (Work tool availability varies by region.)
Serviceability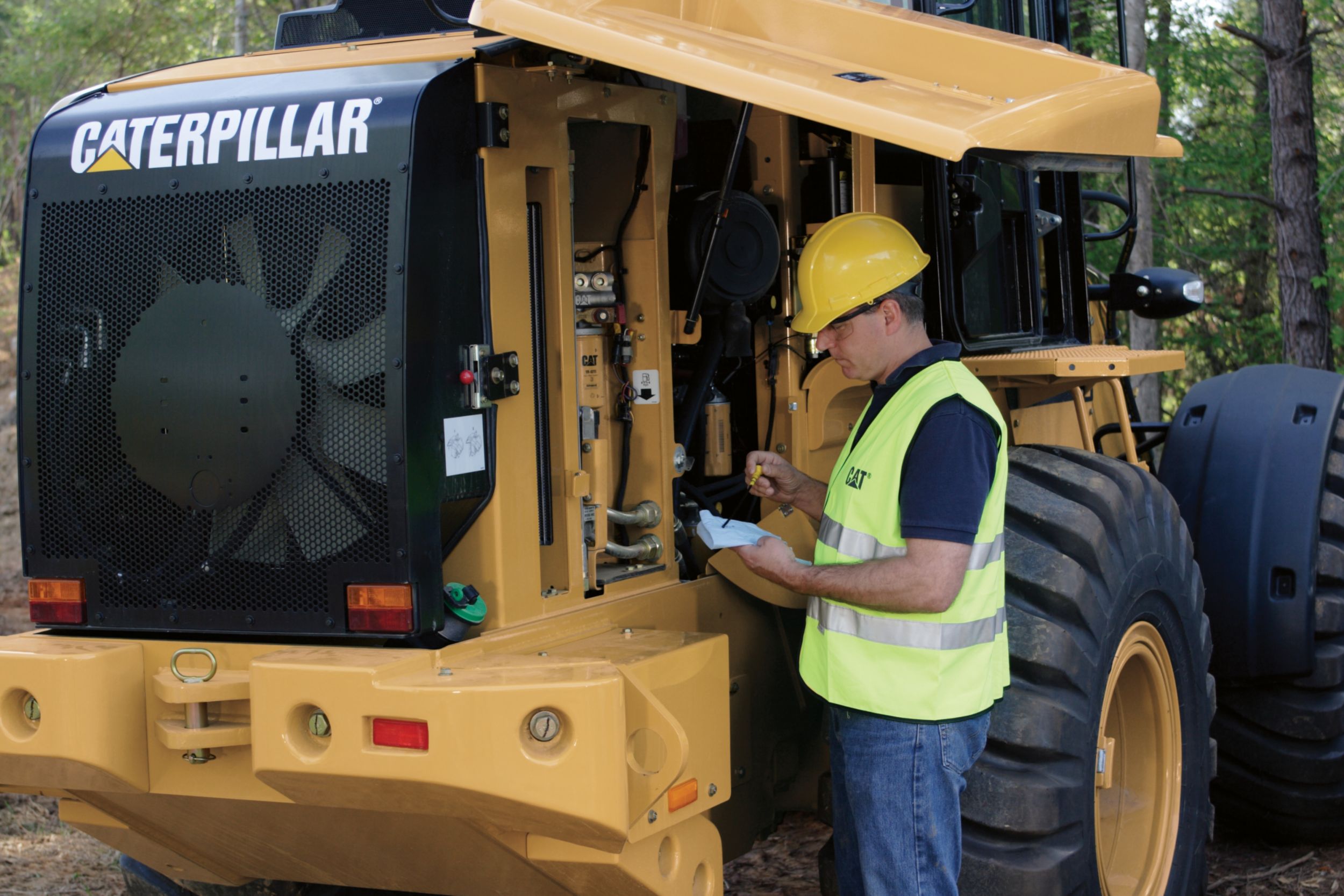 Easy access and minimal maintenance requirements keep your machine on the job.
Convenient Service Features
All service points are accessible from ground level on the right side of the engine. Gull-wing doors with gas struts lift for exceptional access to filters and service points. Extended service intervals reduce service time and increase machine availability.
Sight gauges let you easily check radiator coolant, hydraulic oil and transmission oil levels as well as engine air filter restriction without opening the air cleaner.
Standard pressure taps allow quick diagnosis of the entire hydraulic system.
SOSSM ports make oil sampling quicker, cleaner and provide the best oil sample for analysis.
Spin-on filters for engine oil, transmission oil and hydraulic oil are vertically mounted for easier servicing.
930H features a standard electronic fuel prime pump.
Sequentially placed radiator and oil coolers are easy to access.
Swing-out cooling fan allows quick and easy cleaning and servicing of the radiator. The fan is hydraulically driven and separate from the engine compartment for low noise operation.
Optional reversing fan cleans screens without interrupting machine operation.
Customer Support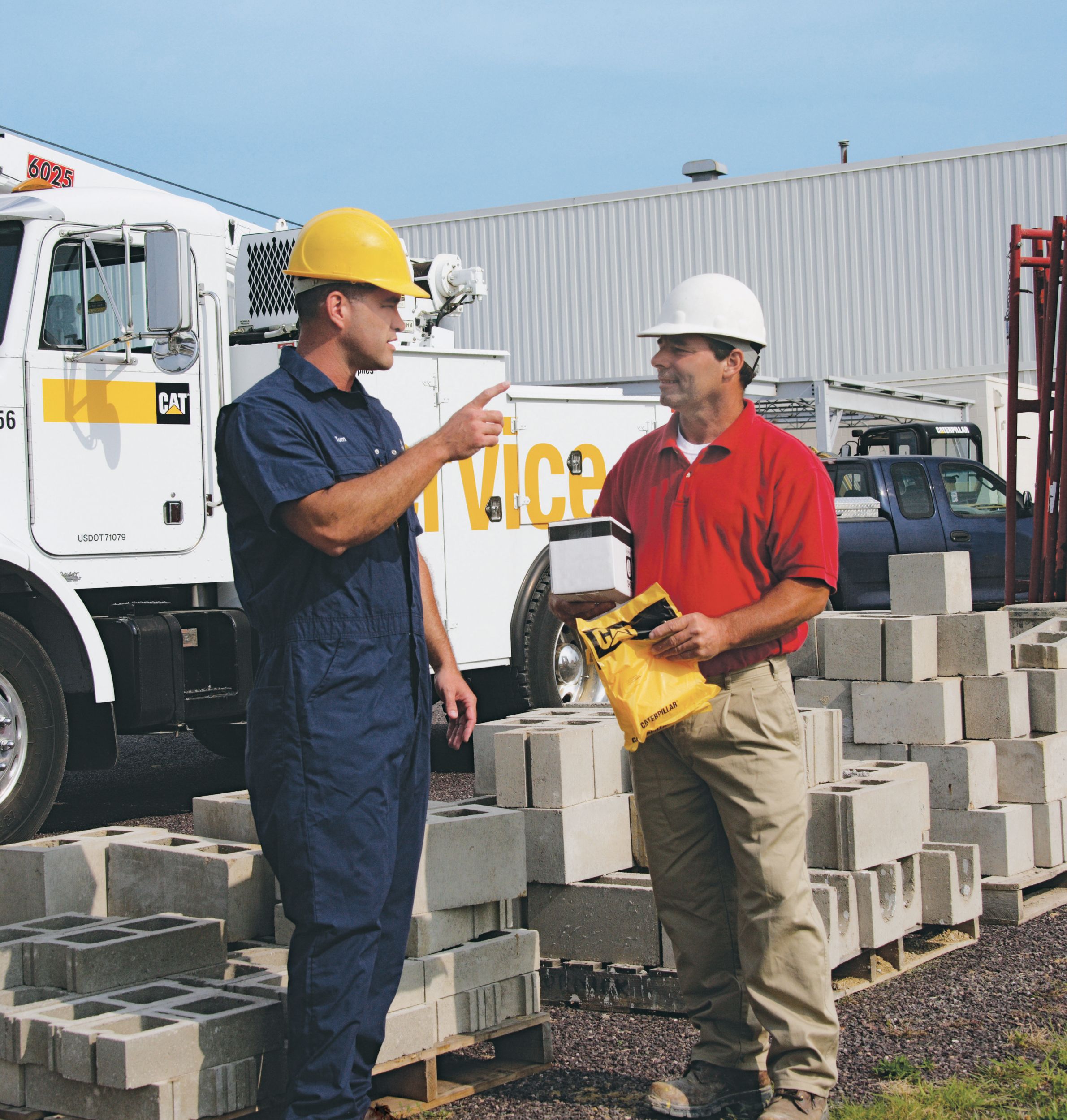 Unmatched support makes the difference.
Your Cat dealer is ready to assist you with your purchase decision and everything after.
Make comparisons of machines, with estimates of component life, preventative maintenance and cost of production.
Financing packages are flexible to meet your needs.
Your Cat dealer can evaluate the cost to repair, rebuild and replace your machine, so you can make the right choice.
For more information on Cat products, dealer services and industry solutions, visit us at www.cat.com.
ELECTRICAL

Alternator, 95-amp brushless
Alarm, back-up
Batteries, maintenance-free, 950 CCA, (2)
Directional signals (front & rear)
Starting and charging system, 24V
Halogen work lights (front & rear)
Ignition key start/stop switch
Roading lights
Starting aid, thermal
Switch, battery disconnect

Alternator, 95-amp brushless
Alarm, back-up
Batteries, maintenance-free, 950 CCA, (2)
Directional signals (front & rear)
Starting and charging system, 24V
Halogen work lights (front & rear)
Ignition key start/stop switch
Roading lights
Starting aid, thermal
Switch, battery disconnect
OPERATOR ENVIRONMENT

Standard two door cab includes all of the following items:
Air conditioner, heater/defroster
Sliding glass door windows
Radio ready
12 volt electrical accessory outlet
Sealed Instrument Gauge: - Engine RPM - Hydraulic oil temperature - Engine coolant temperature - Torque converter oil temperature - Fuel level - Digital LED speedometer, hour meter/odometer
Indicator Lights: - Turn signal - Primary steering malfunction - Hydraulic oil bypass - Parking brake applied - Brake charge pressure low - Transmission oil temperature - General warning - Electrical system voltage low - Fuel water separa
Adjustable tilt steering column
Coat hook
Ground level door release
Horn, steering wheel mounted (electric)
Hydraulic control lever lockout
Interior light
Lighter
Lunch box storage with cup holder
Pilot hydraulic implement controls
Rear window defroster, electric
Rear view mirrors (2 inside)
Seat, adjustable suspension, armrest (fabric or vinyl)
Seat belt, 75 mm (3 in), retractable
Tinted safety glass, front
Wet arm wiper/washer (front & rear), front intermittent

POWER TRAIN

Engine, Cat C6.6 ACERT - Low emission diesel engine - Noise reduction technology - Smart waste gate turbocharged - Aftercooled - Closed Circuit Breather - Electronically controlled
Air cleaner, dry type
Axle seal guards, integrated
Brakes, enclosed wet-disc full hydraulic
Differentials, conventional (front/rear)
Driveshaft, lubed for life
Electric fuel prime pump
Engine speed control
Fuel/water separator
Muffler
Radiator, unit serviceable
SOS oil sampling port, engine oil
SOS oil sampling port, transmission oil
Torque converter
Transmission, 4F/3R, autoshift, single lever control with F/N/R and kickdown button
Transmission neutralizer; operator programmable

HYDRAULICS

Hydraulic diagnostic connectors
Heavy duty hydraulic oil cooler
Hydraulic control, 3-valve, 2-lever with F/N/R
Hydraulics, third function
Load-sensing hydraulic system
Load-sensing steering system
SOSsm oil sampling port, hydraulic oil

Hydraulic diagnostic connectors
Heavy duty hydraulic oil cooler
Hydraulic control, 3-valve, 2-lever with F/N/R
Hydraulics, third function
Load-sensing hydraulic system
Load-sensing steering system
SOSsm oil sampling port, hydraulic oil
OTHER STANDARD EQUIPMENT

Antifreeze/coolant, extended-life protects to -36°C (-33°F)
Automatic bucket positioner/fork positioner
Brakes, secondary and parking
Counterweight
Coupler controls and lines
Engine enclosure, lockable
Fenders, front
Hitch, recovery
Loader linkage, VersaLink
Lift kickout, automatic
Machine Security System ready
Product Link ready
Remote grease lines
Steering stops, cushioned
Swing-out, hydraulically driven demand fan
Vandalism protection, lockable service points
Visual indicators: - air cleaner service - coolant level - hydraulic oil - transmission oil
Antifreeze/coolant, extended-life, protects to -50°C (-58°F)
Axle, Front Limited Slip Differential
Axle, Rear Limited Slip Differential
Axle, Rear Limited Slip Differential, with heavy duty brakes (axle oil cooler included)
Beacon light, strobe, magnetic-mount
Buckets/ground engaging tools
Canopy, ROPS
Counterweight, additional, optional
Deluxe Cab arrangement includes: - External heated mirrors - Sunscreen - Sun shade - Flood lights, auxiliary, cab mounted
Fan, reversing
Fenders, roading, rear
Fenders, steel
Guards: - Crankcase - Driveshaft, front - Power train - Lights - Windshield - Radiator
Hydraulic control auxiliary; third, fourth, fifth and sixth valve
Integrated third function hydraulic joystick control
Linkage, high lift
Load check valves (dealer installed)
Machine Security System
Material handling arm
Pallet forks, carriage
Pallet forks, carriage, wide version
Product Link
Quick Coupler, IT style
Radiator, wide fin spacing, 5.5 fpi
Radio packages:

Radio, AM/FM
Radio, AM/FM with CD player

Rear-view camera system
Ride Control System
Seats: - Cat Contour Seat, fabric, with adjustable backrest and lumbar support - Cat Contour Seat, fabric, electrically adjustable with air suspension
Sound suppression package, available in select markets
Starting aid, engine coolant heater, 120V
Steering: - Secondary - Dual Mode
Tires: - Bias ply, 17.5 - 25 and 20.5 - 25 - Radial, 17.5 - R25, 20.5 - R25 and 600/65 R25 - Skidder, 23.1-26 14 ply LS-2
360° Exterior View
360° Interior View
"Call Back Option available only for UAE, Bahrain, Kuwait, Oman and Qatar."