The Caterpillar 902 Compact Wheel Loader is built to the same high standards as larger Caterpillar wheel loaders. This machine delivers Cat reliability, durability and efficient operation, even in the toughest working conditions.
Operator Station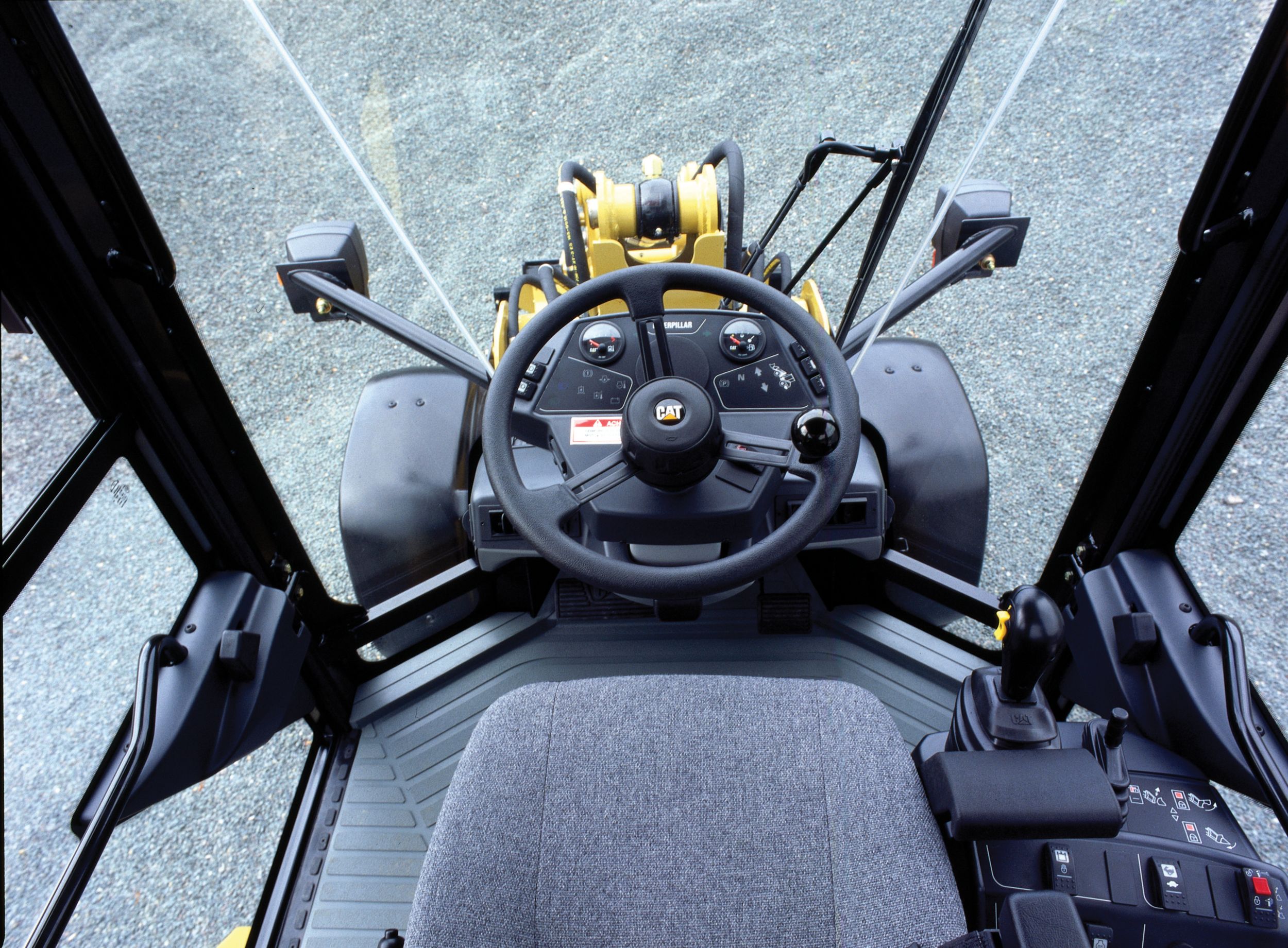 Ergonomically designed, world class cab offers unmatched comfort and ease of operation.
Excellent viewing
in all directions is made possible with large floor length windows, a compact dash, a contoured hood and the narrow VersaLink loader linkage.
Low effort
pilot hydraulics and an ergonomically designed joystick with adjustable wrist rest maximizes operator comfort and minimizes fatigue. The molded-in Forward/Neutral/Reverse switch is simple to use.
Spacious cab
offers plenty of storage space and is equipped with many convenient features:
Fully adjustable suspension seat.
Suspended pedals and flat floor.
Ground level door releases.
Three-speed fan with eleven vents.
Front and rear wet wipers.
Cup holder and coat hook.
Auxiliary power sockets.
Lockable tool box.
Easy to read dash
features backlit LED display with gauges within close view, including fuel level and hydraulic oil temperature. Sealed switches provide year of dependable service.
Power Train
Caterpillar hystat power train delivers aggressive performance and easy operation.
Two-speed
closed-loop hydrostatic transmission delivers smooth shifting transition from full rimpull to runout. Precise inching control and smooth acceleration and deceleration minimize operator fatigue.
Rear axle
oscillates ±11 degrees, giving the machine superior control, stability and traction in all applications, especially grading work.
Limited slip
front differential provides excellent traction in a wide variety of working conditions.
Unique brake reservoir
is self-replenishing for maintenance free service.
VersaLink Loader Linkage and QuickLock Hydraulic Coupler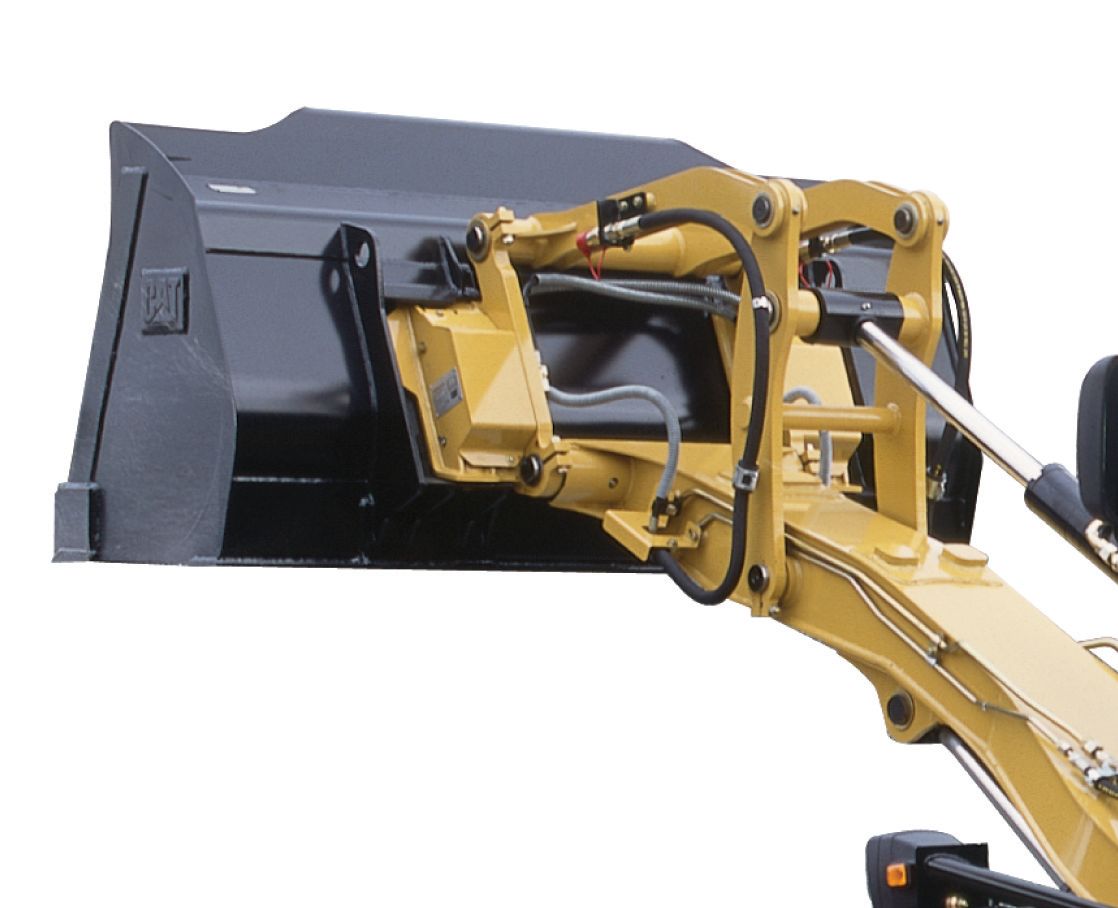 Linkage design offers unparalleled versatility and superior performance.
Narrow design
of the VersaLink loader linkage offers optimum visibility to each side of the QuickLock Hydraulic Coupler and Work Tool. This provides operators with an excellent view of the work area, including loading and dumping targets.
Parallel lift
capability allows precise pallet handling, eliminating the need to adjust level while raising the forks. Operators can concentrate on load placement rather than load leveling.
Long reach
lets the operator place loads more easily, while protecting the tires and front frame.
Optimized linkage
design and powerful hydraulics result in excellent breakout force for buckets and high lift force with forks. Fast, controllable hydraulics provide short cycle times.
Large contact area
of the QuickLock hydraulic coupler absorbs impact loads. Wedges with check valves keep work tools secure and rattle free.
Serviceability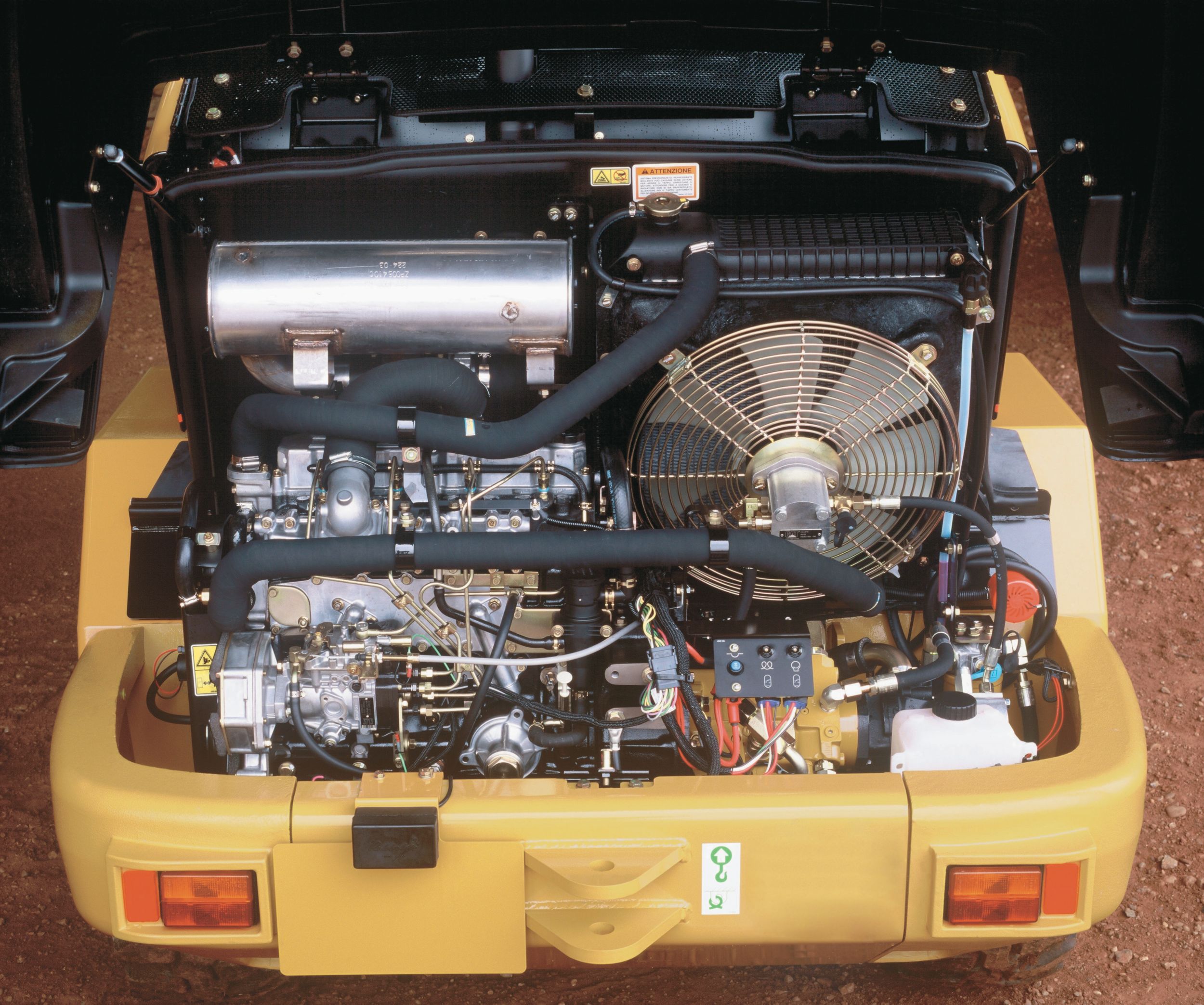 Quick access and superior design features make the 902 Compact Wheel Loader easy to service.
Ground level
access is unmatched due to the high opening tilt-up engine enclosure and side service doors. All major components and service points can be easily accessed from the ground.
Vertically mounted, spin-on hydraulic oil filter, fuel filter, fuel/water separator and engine oil filter.
Heavy duty braided wiring harness protects electrical system.
Radiator fin design is less susceptible to plugging.
Hinged hydraulic oil cooler for ease of cleaning.
Hydraulic oil sight gauge and vented hydraulic system.
Air cleaner service indicator is easy to use and reliable.
S-O-S valves
are standard for easy oil sampling to help protect the engine and power train.
Caterpillar extended life coolant
is standard, offering lower service intervals and reduced maintenance costs.
Centralized lube points
for major components.
2000-hour
hydraulic oil service interval under normal working conditions.
Work Tools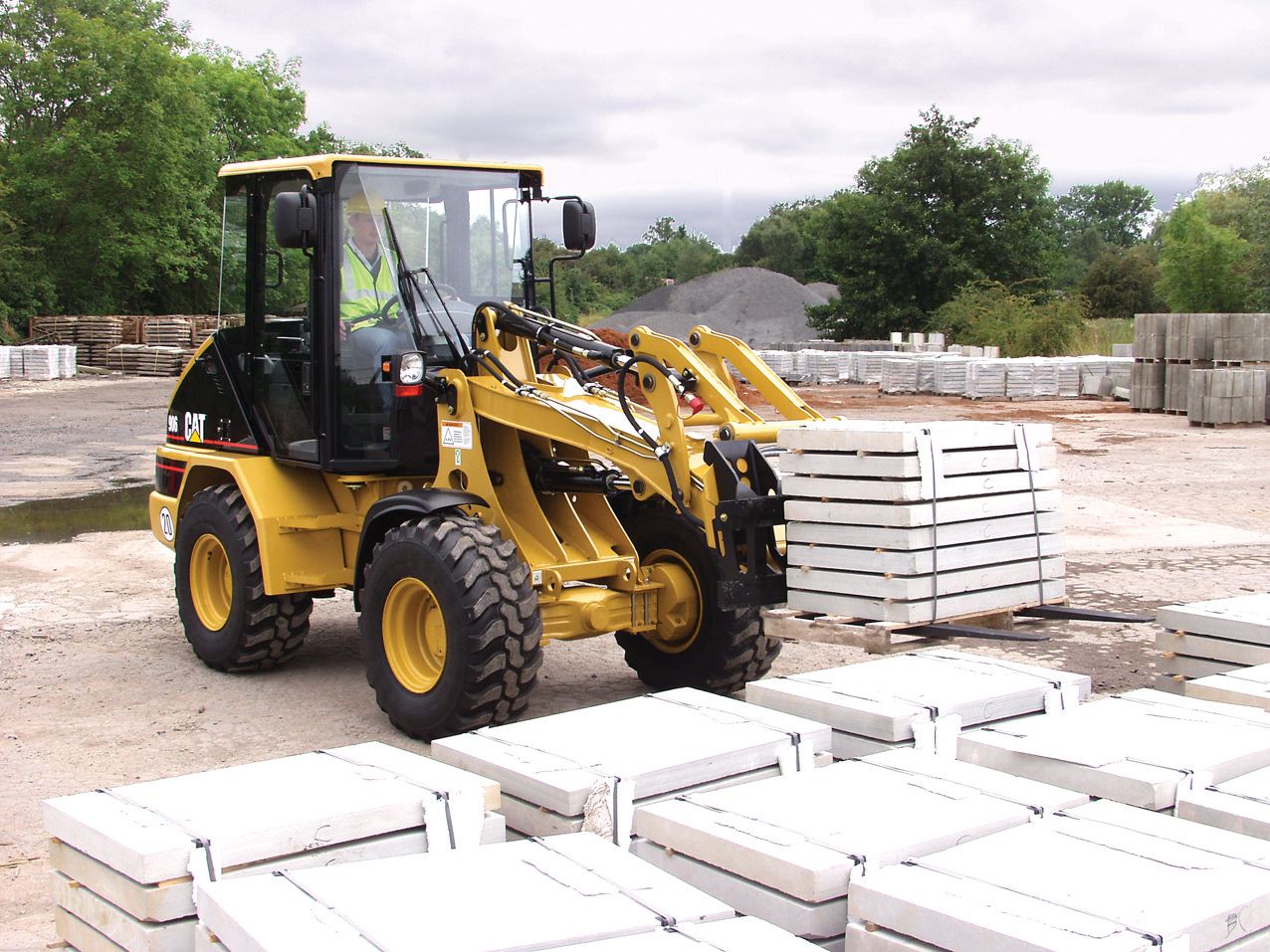 Increase your productivity by performing a variety of jobs with one machine.
Work Tools
Caterpillar designed work tools extend the versatility of the Cat Compact Wheel Loaders. Built for performance and durability, a full range of work tools deliver high productivity, long service life and excellent return on investment.
General Purpose Bucket
Multi Purpose Bucket
Light Material Bucket
Stone Sieve Bucket
High Dump Bucket
Material Handling Grapple Bucket
Pallet Forks
Angle Broom
Pick up sweeper
QuickLock Hydraulic Coupler
The operator can make fast, easy work tool changes from inside the cab. Solid connections are assured every time with the QuickLock hydraulic coupler.
Opposing wedge design.
Constant hydraulic pressure compensates for wear.
Check valves maintain tight engagement.
Rugged design has large contact area to absorb loads and minimize stress.
General Purpose Bucket
Caterpillar General Purpose Buckets have been designed to optimize performance of the Caterpillar Compact Wheel Loader in loading, carrying, leveling, grading and dumping in a wide variety of applications and materials.
Light Material Bucket
Caterpillar Light Material Buckets leverage many of the same features found in the General Purpose Bucket but with higher volume capacities to handle less dense materials such as top soil, fertilizer, feed, wood chips and many more.
Stone Sieve Bucket
Caterpillar Stone Sieve Buckets are designed for excavation, hauling and removal of paving and masonry stones. The square ribbed design allows for easy sifting of fine materials. The 70 mm spacing between ribs is ideal for the majority of applications. Each rib is reinforced along the back to provide superior durability.
Multi Purpose Bucket
Caterpillar Multi Purpose Buckets bring the same excellent loading, reliability and durability characteristics as other Caterpillar Compact Wheel Loader Work Tools, with the added versatility for digging, dozing, clamping, grading and leveling in a broad range of applications.
High Dump Bucket
Caterpillar High Dump Buckets give the extra dump height needed to clear truck side walls and hoppers. The high dump bucket maximizes the performance needed for loading a wide variety of materials such as paper and pulp.
Pallet Forks
Caterpillar Pallet Forks meet a variety of material handling needs. These Class II (for the 902 and 906) and Class III (for the 908) rated forks have been designed to provide optimal performance when coupled with the Caterpillar 902, 906 and 908 Compact Wheel Loaders.
Hydraulic Angle Broom and Pick-Up Sweeper
Coupled with a Caterpillar Angle Broom or Pick-up Sweeper, a Caterpillar Compact Wheel Loader provides an effective solution for clean up operations.
Durability and reliability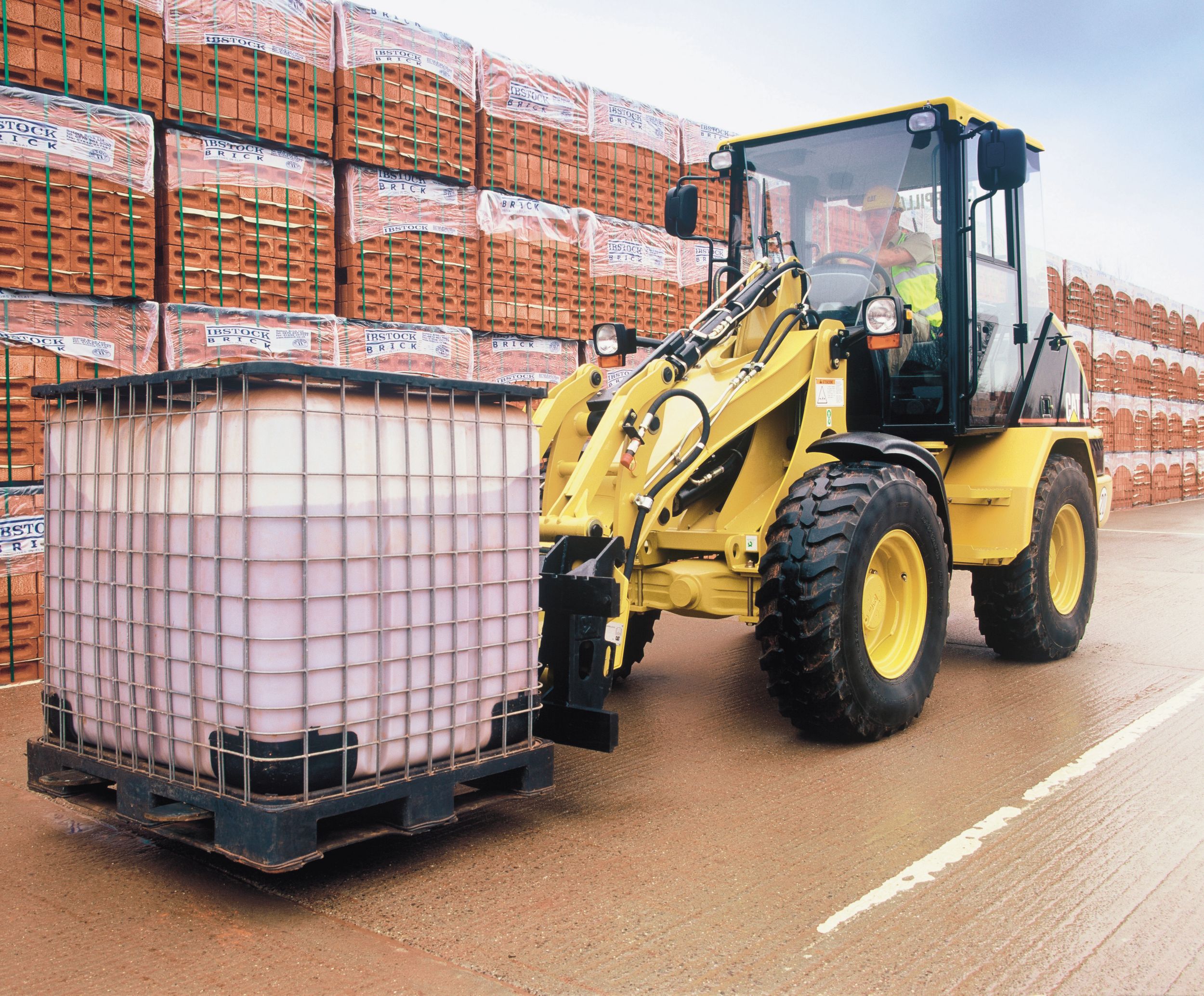 High quality components and assembly techniques ensure optimum protection and productivity.
Paint Finish
Cat Compact Wheel Loaders undergo an extensive 24-stage 'E-coat' painting process. Zinc based electroplated undercoat and polyurethane topcoat provides unmatched corrosion resistant properties. Paint color can be customized to meet customer requirements.
Wiring
Electrical connectors are sealed to lock out dust and moisture. Harnesses are braided for protection. Wires are colour coded for easy diagnosis and repair.
Cat Hoses
Cat XT3 high-pressure hydraulic hose is exceptionally strong and flexible for system reliability and long life in the most demanding conditions.
Customer Support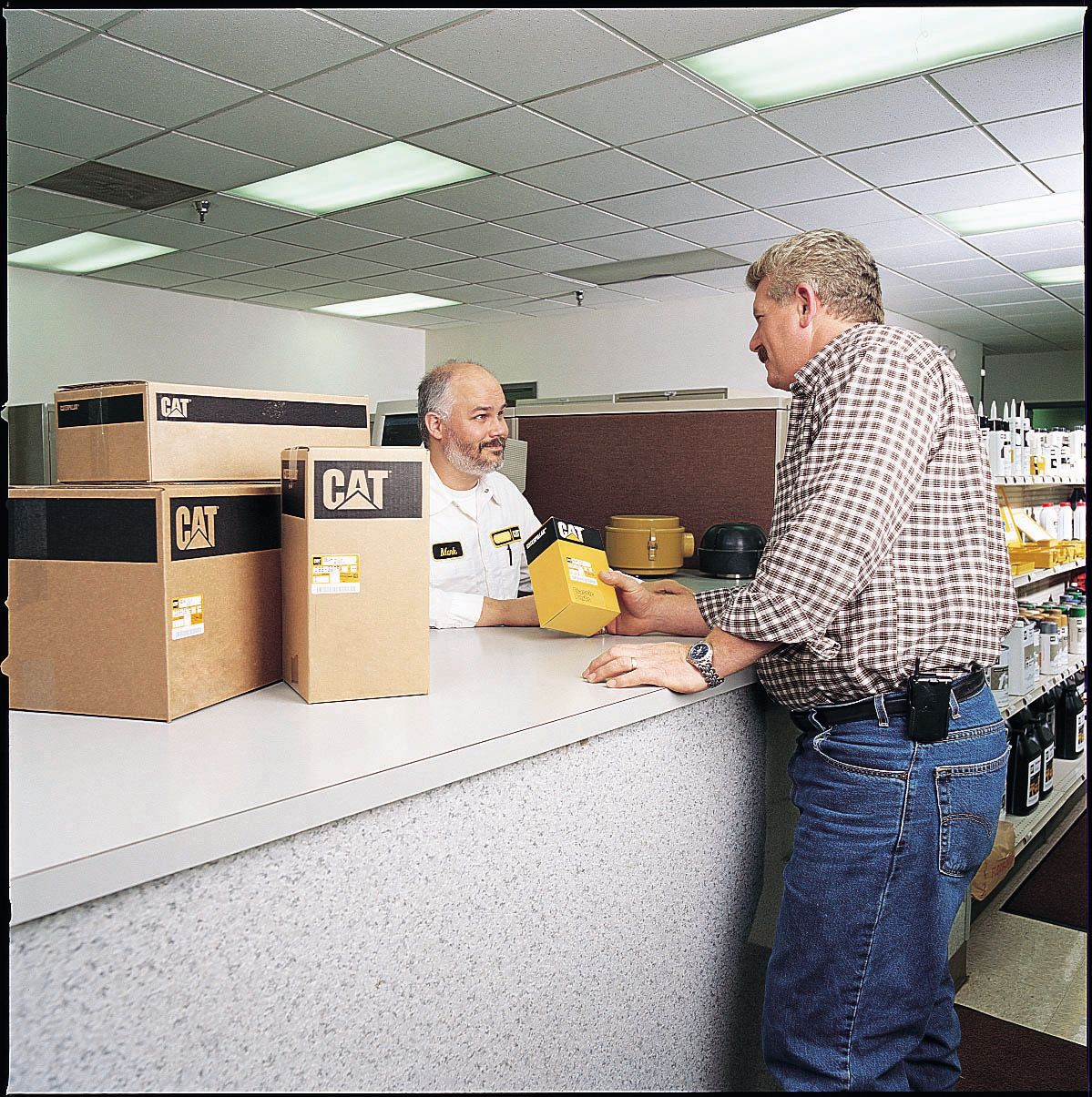 Complete services provided by the worlds largest dealer network.
Selection
Make detailed comparisons of the machines under consideration, before purchasing. Cat Dealers can estimate component life, preventive maintenance costs, and the true cost of lost production.
Maintenance
Choose from a wide range of maintenance services at the time of machine purchase. Repair option programs guarantee the cost of repairs up front and help avoid unscheduled repairs that can cost unnecessary time and money.
Replacement
Repair, Rebuild or Replace? Your Cat Dealer can help you evaluate the cost involved so you can make the right choice.
Product Support
You will find nearly all parts at our dealer parts counter. Cat dealers use a worldwide computer network to find in-stock parts to minimize machine downtime. Caterpillar offers a line of genuine remanufactured components to help lower repair costs.