Responsible Design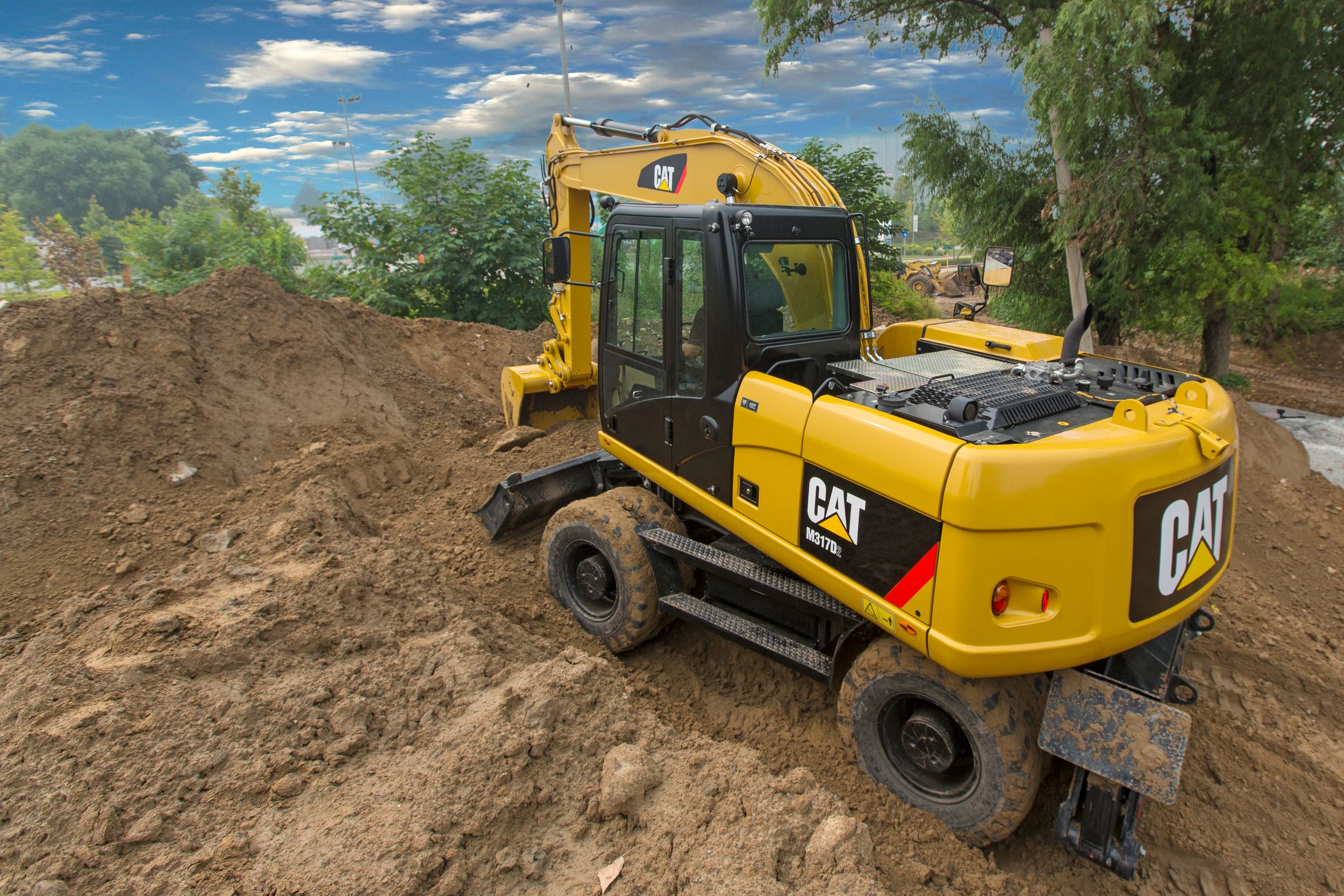 Thinking Generations Ahead
Fuel Efficiency and Low Exhaust Emissions
The Cat C4.4 engine achieves emission levels equivalent to U.S. Environmental Protection Agency (EPA) Tier 3, EU Stage IIIA, Korean Tier 3 and China Stage 2 emission standards, while offering increased performance, high fuel efficiency and reliability. This means more work done in a day, low operating cost and minimal impact on our environment.
Quiet Operation
Low sound levels, as a result of the variable fan speed and remote cooling system.
Technologies and Longer Service Intervals
Product Link allows remote monitoring of the machine and helps improve your fleet efficiency as well as reduce your costs. Your Cat dealer can help extend service intervals, meaning fewer required fluids and disposals, all adding up to lower operating costs.
Fewer Leaks and Spills
Lubricant filters and various drains are designed to minimize spills. Cat O-Ring Face Seals, XT™ Hoses and cylinders help prevent leaks that can reduce performance and cause harm to the environment.
Cat Certified Used
This program is a key element in the range of solutions offered by Caterpillar and Cat dealers throughout the world to help customers achieve growth at the lowest cost while eliminating waste. Used equipment is inspected, guaranteed and ready for work and customers will benefit from a Caterpillar warranty.
Engine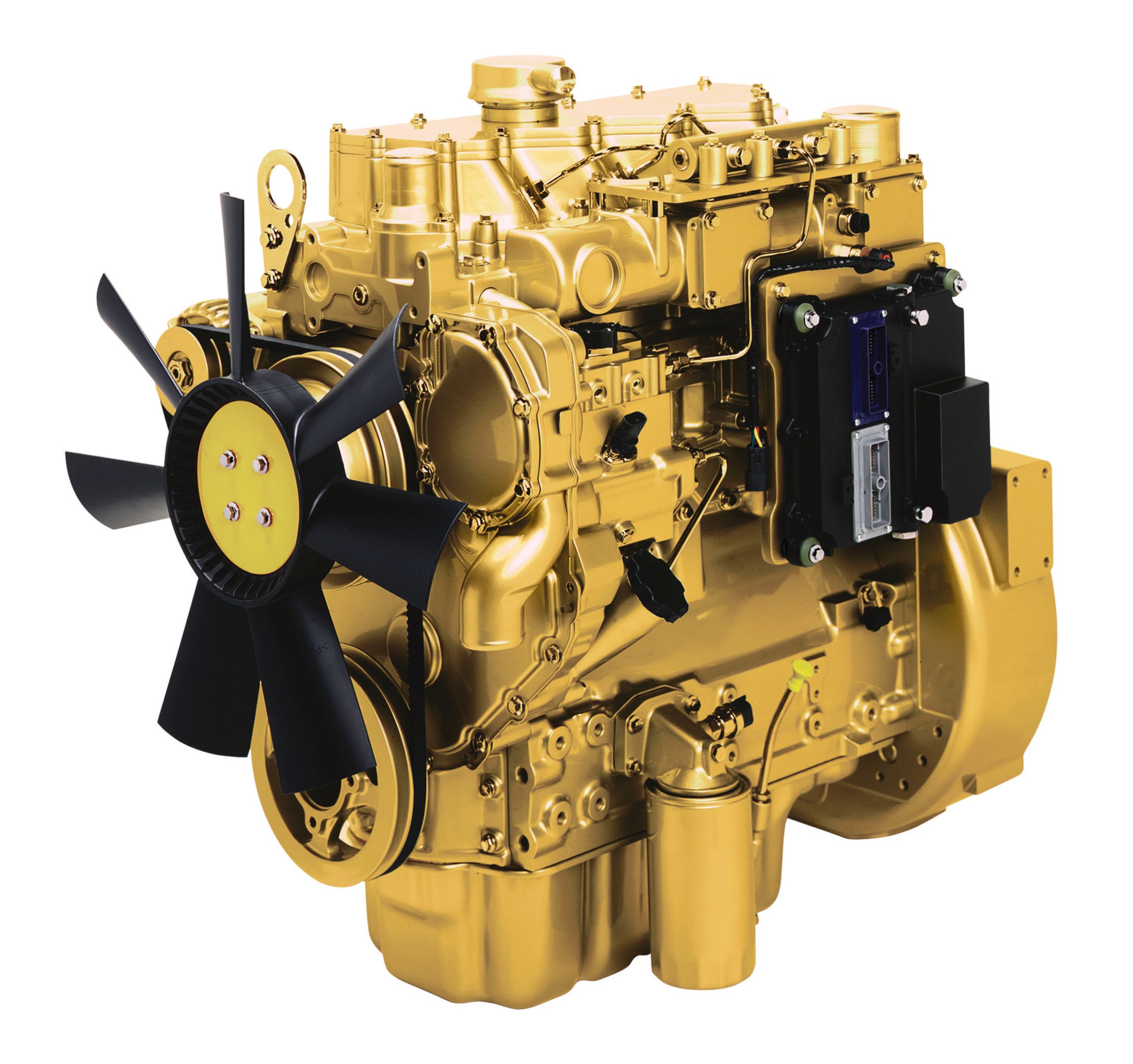 Power, Reliability, and Fuel Economy
The Power and Performance You Need - Constant Power Strategy
Responding quickly to changing loads, the constant power strategy delivers the same amount of power regardless of operating conditions. The Cat engine achieves emission levels equivalent to U.S. Environmental Protection Agency (EPA) Tier 3, EU Stage IIIA, Korean Tier 3 and China Stage 2 emission standards, delivers a maximum net power (Acc. ISO 14396) of 108 kW at a rated speed of 2,000 rpm.
Fuel Efficiency - Common Rail Fuel System and Fuel Pump
This combination provides outstandingly low fuel consumption during both working and traveling applications.
Fuel Efficiency - Demand Fan Cooling System
The electronically controlled hydraulic motor drives a variable speed on-demand fan, resulting in optimized fuel consumption.
Fuel Efficiency - One-Touch Low Idle Control
The Automatic Engine Speed Control reduces engine speed if no operation is performed, reducing fuel consumption and sound levels.
Fuel Efficiency - Eco and Work Modes
The Eco Mode can reduce significantly your fuel consumption
The Travel Mode optimizes driveline performance while preserving fuel
The Power Mode is the best compromise between productivity and fuel efficiency
Premium Comfort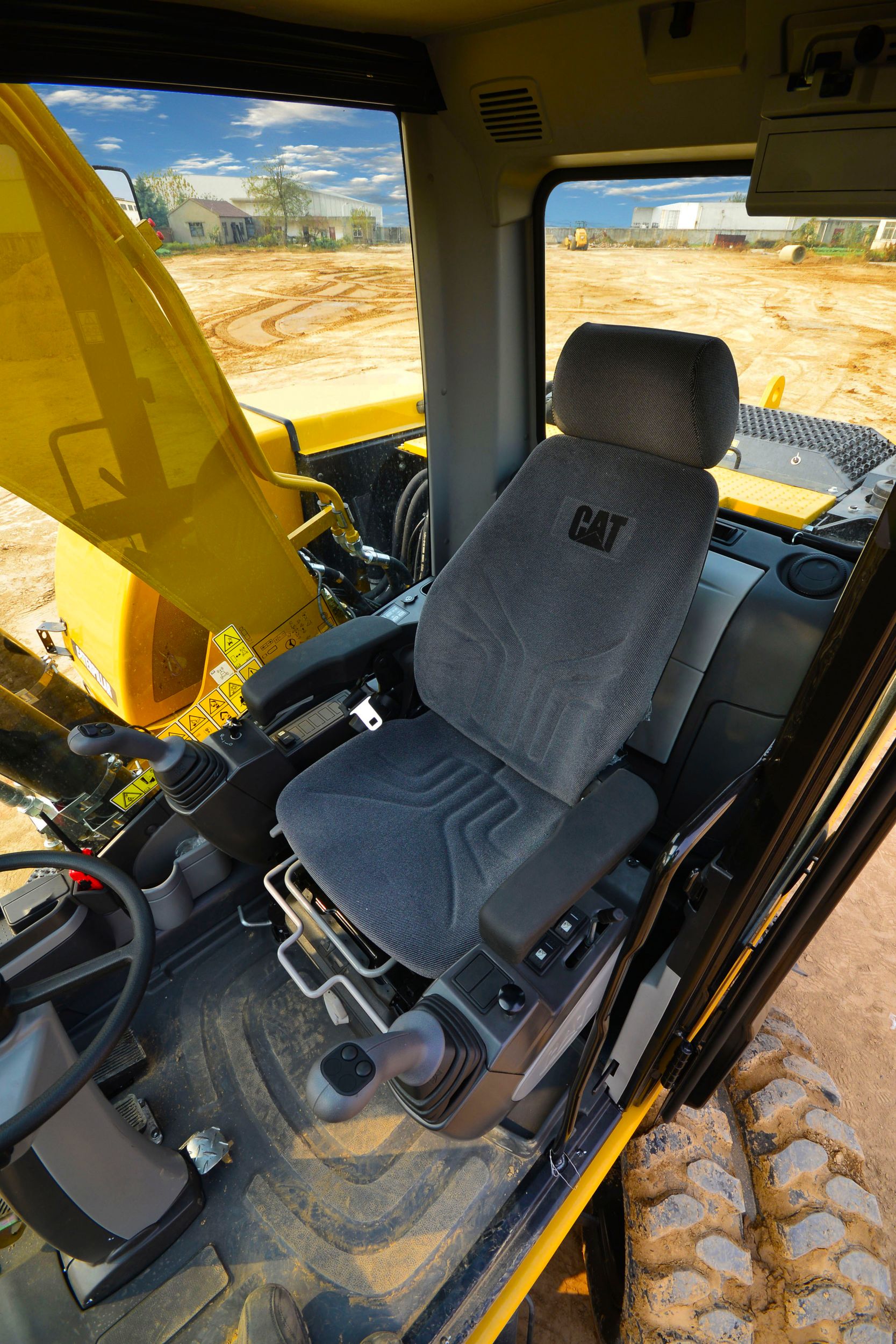 Keeps Operators Productive All Shift Long
Comfortable Seat Options
Both standard and comfort seat options give your operators all the comfort they need for a long day of work. The comfort seat is equipped with a passive seat climate control and air suspension which can be adjusted to the operator's weight, allowing relaxed, ergonomic sitting.
Low Vibration/Sound Levels
The rubber-mounted cab includes thick steel tubing. Associated with the comfortable air-suspended seat, it helps reduce vibrations and sound levels.
Comfortable Operation
Two-way pedals for travel and auxiliary circuits provide increased floor space, reducing the need to change positions. The auxiliary high-pressure pedal can be locked in the off position and used as a footrest. The steering column is easily tiltable thanks to a large pedal at its base.
Automatic Climate Control
Easy adjustment of the cab temperature with filtered ventilation to make your operators comfortable in all climates.
Storage Compartments
A large compartment behind the seat provides sufficient room to store a large lunch box or a hard hat. A cover secures the contents during machine operation. Several other dedicated spaces can hold large mugs, MP3 players or a cell phone.
Power Supply and MP3 Radio
The cab includes a 12V-7A power supply socket for charging electronic devices such as MP3 players, laptops and cell phones. A CD/MP3 radio is available.
Simplicity and Functionality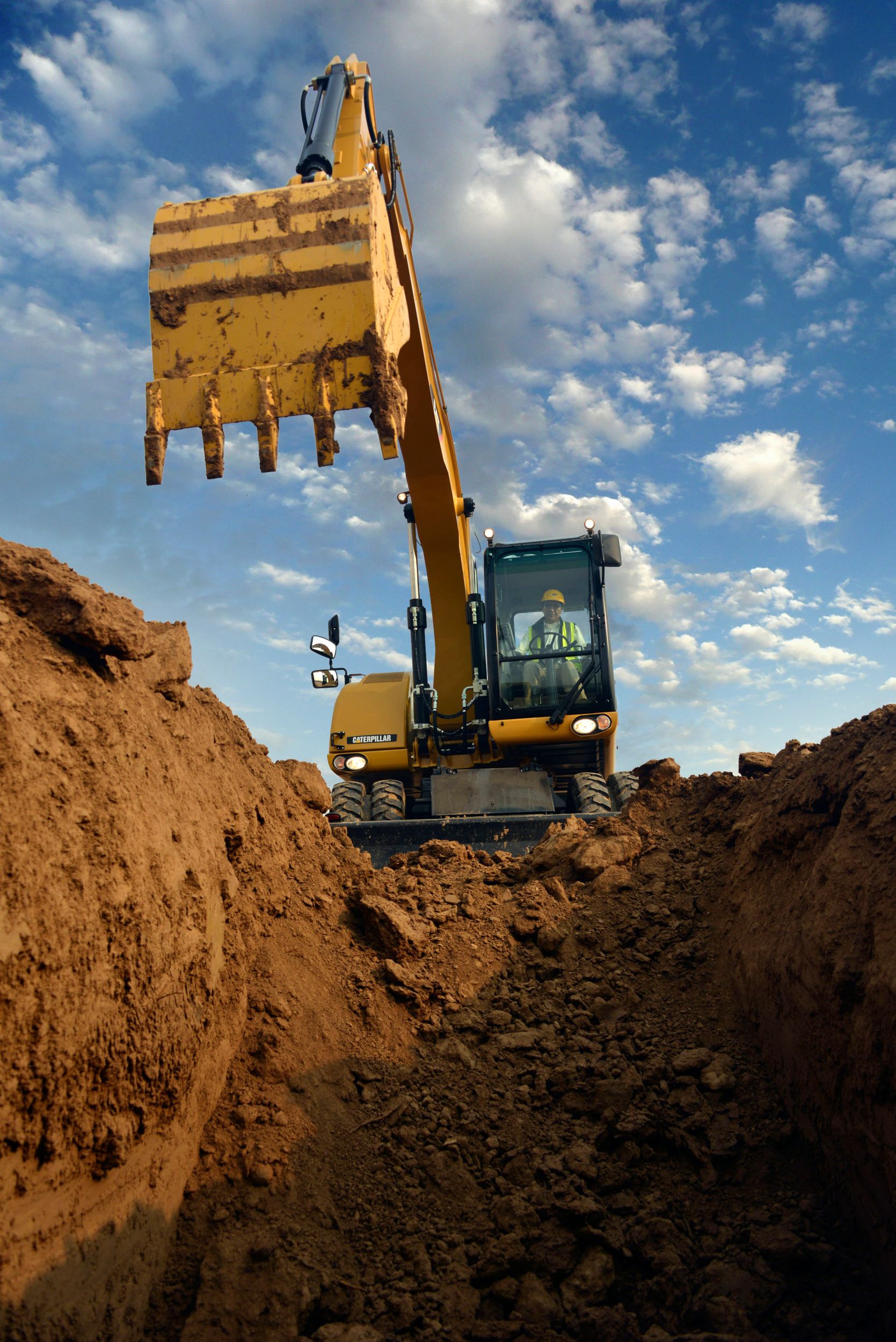 For Ease of Operation
Ergonomic Layout and Smart Controls
The operator station is designed for simplicity, functionality and ease of operation. Frequently used switches are centralized on the right-hand switch console. Features like the heavy lift mode, ride control or SmartBoom will not only increase your productivity but also help reduce fatigue for your operators.
Large Color Monitor
Easy to read and in local language, you can rely on the high-resolution LCD monitor, which will keep you aware of any important information. "Quick Access" buttons allow a quick selection of favorite functions. The tool select function lets you preset up to ten different hydraulic attachments for quick tool changes.
Optimized Visibility
All glass is affixed directly to the cab, eliminating the use of window frames. The 70/30 split front windshield stores the upper portion above the operator and is easy to release. A large skylight provides upward visibility and includes a retractable sunscreen. The parallel wiper system covers the entire front windshield.
Standard Rearview Camera
Together with the best in class visibility to all sides, the rear view displayed on the monitor helps ensure a safe operation.
Undercarriage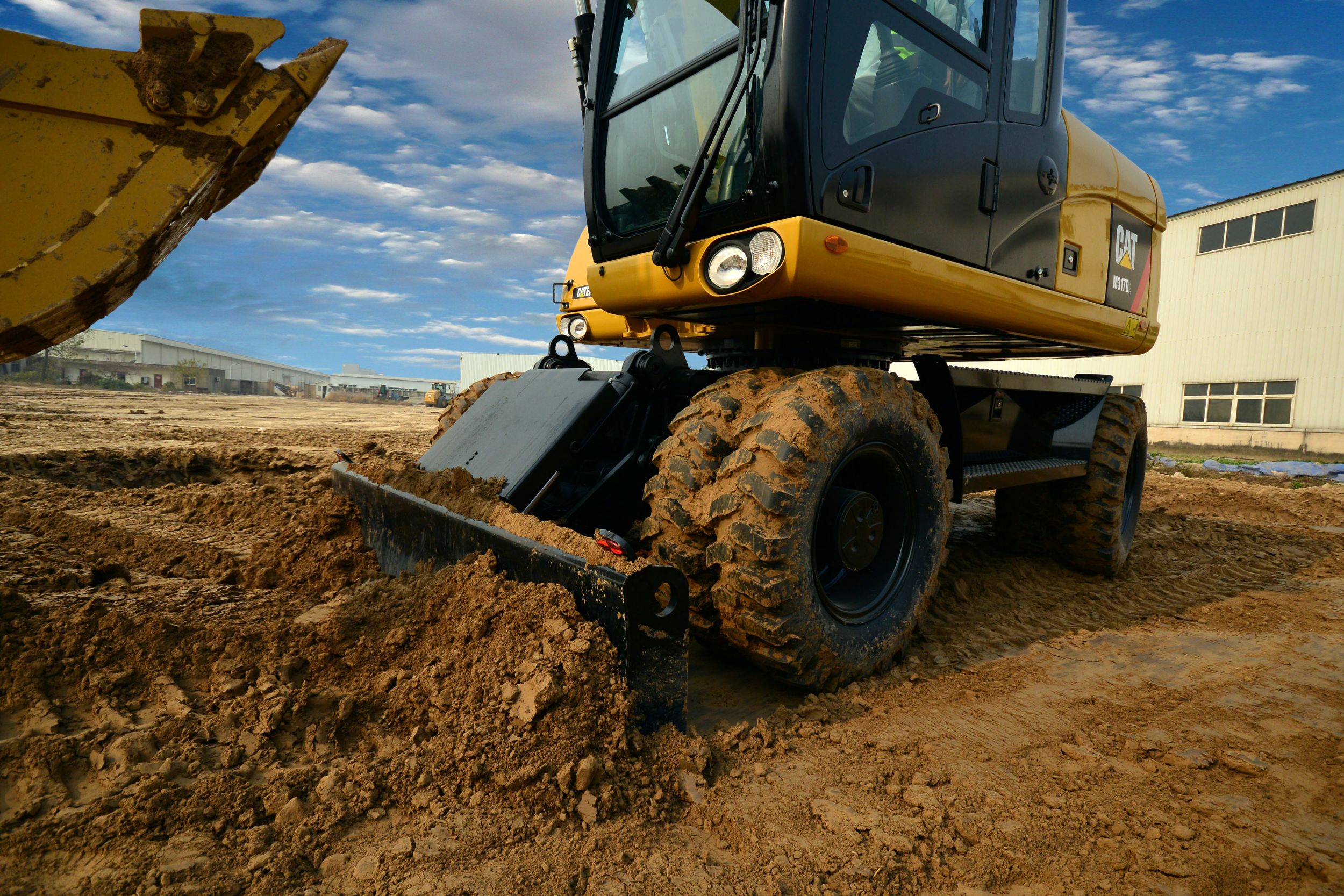 Strength and Versatility on Wheels
High Travel Speed (Maximum 34 km/h)
Reduces travel time between sites.
Heavy Duty Axles
Rigidity and long life with effective transmission protection and heavy-duty axles. The transmission is mounted directly on the rear axle for protection and optimum ground clearance. The front axle offers wide oscillating and steering angles.
Smart Travel Alarm (Adjustable)
The alarm sounds when the machine starts moving. The Auto Mode stops the alarm when it has been sounding for an uninterrupted 10-second interval. It can also be disabled (optional).
Stabilizers and Dozer Blade - Versatile Solutions to Do It All.
Various undercarriage configurations are available to provide the best solution for your work environment including dozer blades and/or outriggers. Outriggers can be individually controlled to horizontally stabilize the machine even on slight slopes.
Advanced Disc Brake System
Minimizes the rocking effect when working free on wheels. The disc brake system acts directly on the hub instead of the drive shaft to avoid planetary gear backlash. The axle design lowers life costs. Oil change intervals are at 2,000 working hours.
Hydraulics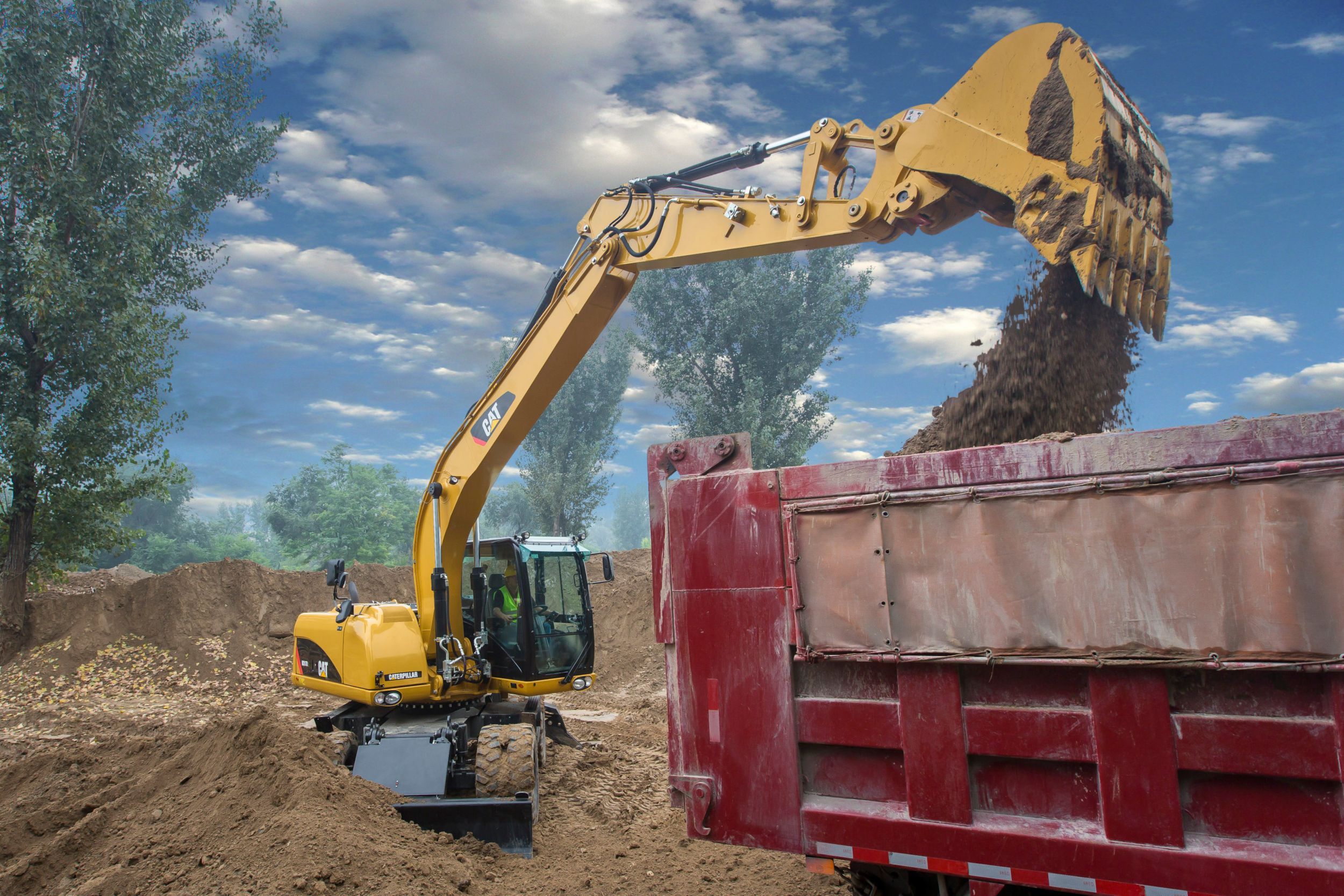 Fast Cycle Times, Heavy Lift Capacity
Dedicated Swing Pump
This closed hydraulic circuit maximizes swing performance without reducing power to the other hydraulic functions, resulting in smoother combined movements.
Proportional Auxiliary Hydraulics, Tremendous Versatility
The versatility of the hydraulic system can be expanded to utilize a wide variety of hydraulic work tools using multiple valve options. Basic controls include (optional):
The Multi-Combined Valve allows the operator to select up to ten preset work tools from the monitor.
A medium pressure function providing proportional flow, ideal for tilting buckets or rotating tools
A hammer line (one-way high pressure)
A dedicated circuit to operate hydraulic quick couplers.
Heavy Lift Mode
Maximizes your lifting performance by boosting the lifting capacity of the machine up to 7%.
Adjustable Swing Aggressiveness
Allows you to adjust the aggressiveness of the machine swing to match the operator's preferences.
Stick Regeneration Circuit
Increases efficiency and helps enhance controllability for higher productivity.
Booms and Sticks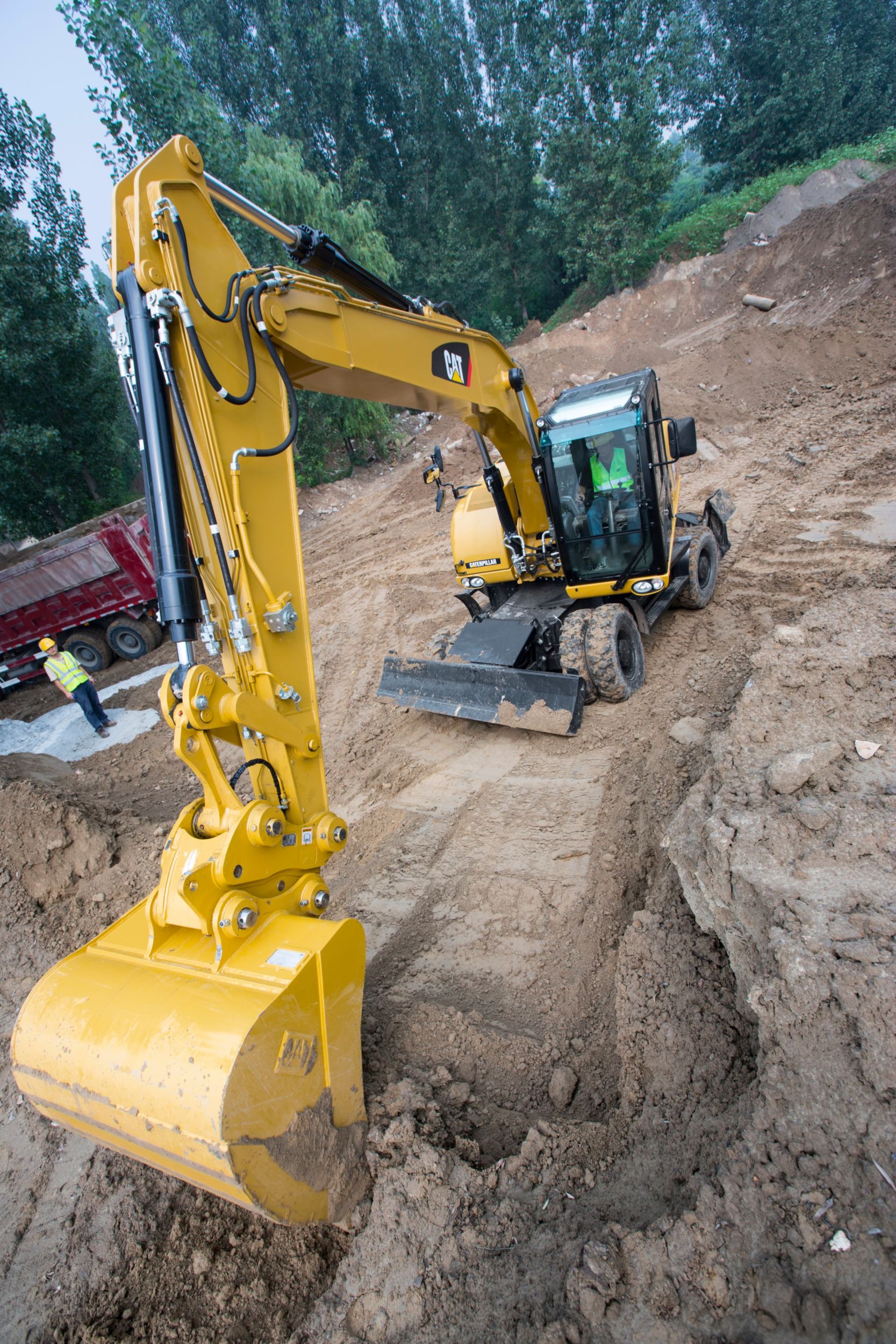 Maximum Flexibility - High Productivity
Rugged Performance
Booms and sticks are welded, box section structures with thick, multiplate fabrications in high stress areas for the tough work you do.
Flexibility
The choice of various booms and sticks provides the right balance of reach and digging forces for all applications.
Sticks
Medium stick (2400 mm) for greater crowd force and lift capacity
Long stick (2600 mm) for greater depth and reach
Booms
Variable Adjustable (VA) - improved right side visibility and roading balance. When working in tight quarters or lifting heavy loads, the VA boom offers the best flexibility.
One-Piece Boom - Fits best for all standard applications such as truck loading and digging. A unique straight section in the curve of the side plate reduces stress flow and helps increase boom life.
SmartBoom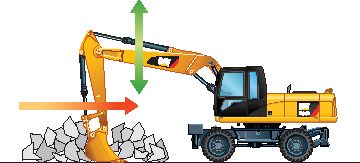 Reduces Stress and Vibration
Rock Scraping
Scraping rock and finishing work is easy and fast. SmartBoom simplifies the task and allows more focus on stick and bucket, while the boom freely goes up and down without using pump flow.
Hammer Work
The front parts automatically follow the hammer while penetrating the rock. Blank shots or excessive force on the hammer are avoided resulting in longer life for the hammer and the machine. Similar advantages with vibratory plate compactors.
Truck Loading
Loading trucks from a bench is more productive and fuel efficient as the return cycle is reduced while the boom down function does not require pump flow.
Ride Control
Fast Travel Speed with More ComfortThe ride control system lets you travel faster over rough terrain with improved ride quality for the operator. Accumulators are acting as shock absorbers to dampen the front part motion. It can be activated through a button located on the soft switch panel in the cab.
Work Tools
Optimizes Your PerformanceCat Work Tools are designed to function as an integral part of your excavator and are performance-matched to Cat machines.
Quick Couplers
Hydraulic quick couplers enable to simply release one attachment and connect to another without the need to leave the cab, making your excavator highly versatile and productive. Spindle quick couplers are also available.
Buckets
A wide range of specialized buckets including the Cat K Series™ or J type (depending on the region) Ground Engaging Tools is available to match all application requirements.
Hammers
Cat hammer series deliver very high blow rates, increasing the productivity of your tool carriers in demolition and construction applications.
Multi-Grapples
The Multi-Grapple with unlimited left and right rotation is the ideal tool for stripping, sorting, handling and loading. The powerful closing force of the grab shells combined with fast opening/closing time ensures rapid cycle time, which translates to more tons per hour.
Vibratory Plate Compactors
Cat compactors integrate perfectly with the Cat hammer line - brackets and hydraulic kits are fully interchangeable between hammers and compactors.
Save Time with Every Tool Change
Perform tool changes in seconds … Combine a quick coupler with common work tools that can be shared between the same size machines and you'll get flexibility on every job. The hydraulic quick coupler automates tool exchange, so operators can change work tools quickly, from the safety and comfort of their cabs. Make your operators more efficient and productive.
Complete Customer Support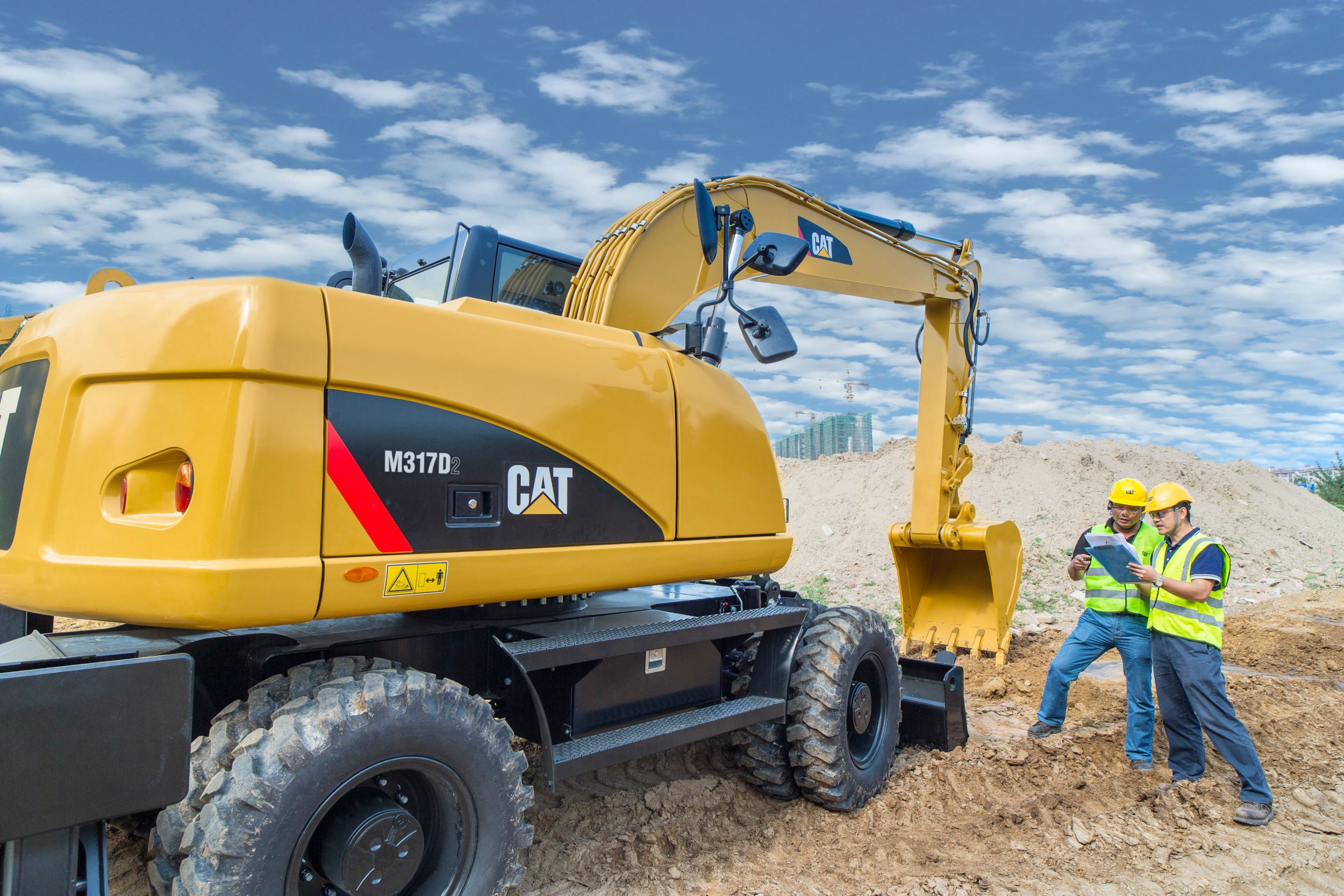 Your Cat Dealer Will Support You Like No OtherFrom helping you to choose the right machine to knowledgeable on-going support, Cat dealers provide the best-in-sales and services.
<
Productive operation with training programs
Preventive Maintenance and guaranteed maintenance contracts
Uptime, with best-in-class parts availability
Repair, rebuild, or replace? Your dealer can help evaluate the best option.
Cat Product Link
It Pays to Know
Product Link helps you take the guesswork out of equipment management.
With timely, useful information, you can better manage your assets and costs. Just a few clicks give you access to comprehensive remote monitoring, asset tracking and maintenance management. The powerful, web-based VisionLink® application allows you to see information from all your assets - working time vs. idle time, fuel usage, diagnostic fault codes, security alerts and more. When you know where your equipment is, what it's doing and how it's performing, you can maximize your efficiency and lower your operating costs. It pays to know Cat Product Link. VisionLink is a trademark of Trimble Navigation Limited, registered in the United States and in other countries.
Serviceability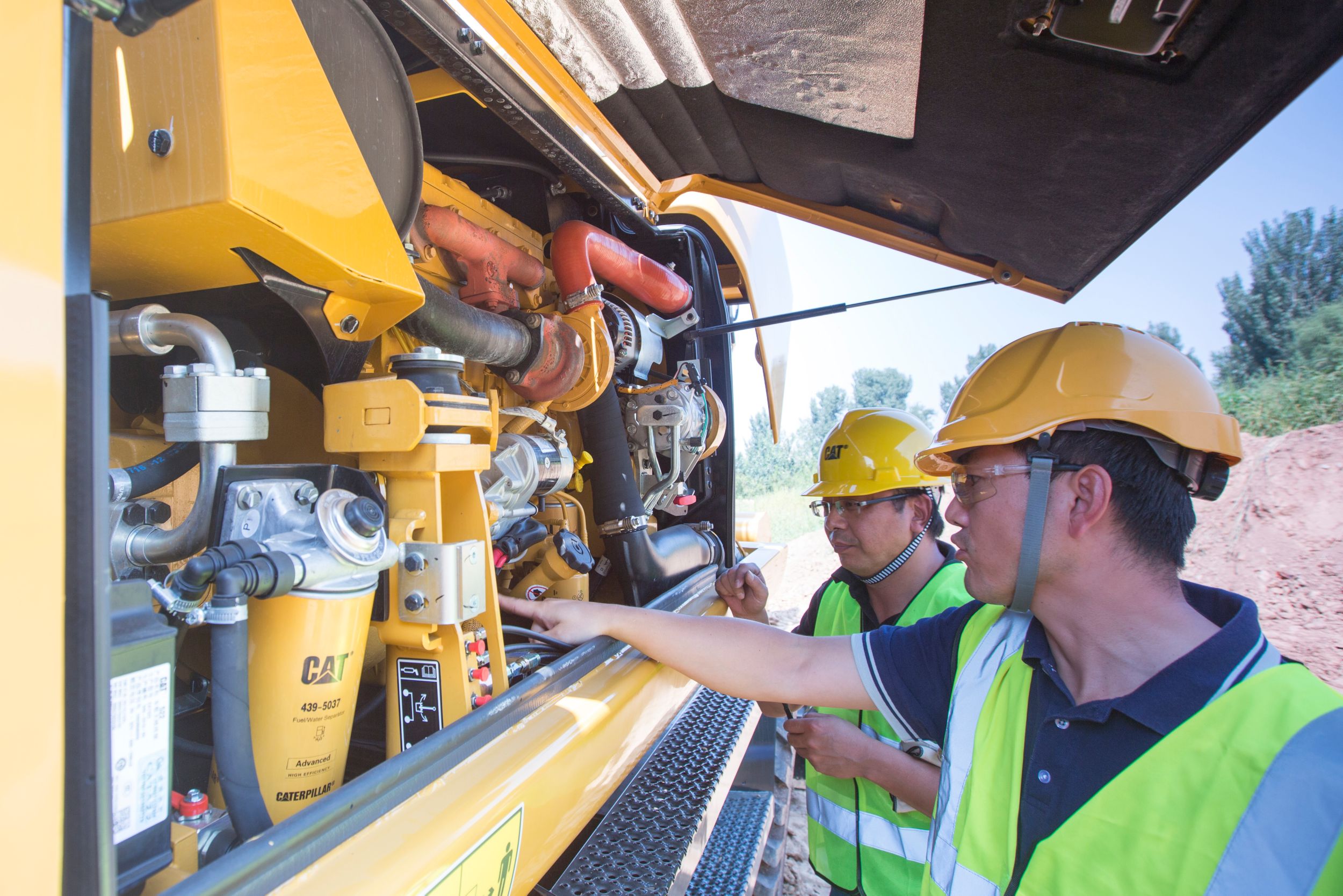 When Uptime Counts
Extended Service Intervals to Reduce Costs
S·O·SSM Oil Sampling Analysis - Enhances performance and durability. This system can predict potential failures and can extend hydraulic oil change intervals up to 6,000 hours.
Engine Oil (low ash oil) - Cat engine oil is more cost effective and provides industry-leading performance. Engine oil change interval can be extended up to 500 hours.
Capsule Filter - The hydraulic return filter prevents from contamination when the hydraulic oil is changed.
Fuel Filters and Water Separator - The new filtration system is suited for challenging work conditions, even when using poor fuel quality. The new primary filter offers increased filtration capabilities and works in conjunction with a water separator. Fuel filters are designed to last up to 500 hours (250 hours with very poor fuel quality). The primary fuel filter includes a fuel priming pump, a water level switch and a visual restriction indicator.
Remote Greasing - Centralized or grouped points for hard to reach locations.
Refueling Pump (optional).
Easy Ground Level Maintenance
Our excavators are designed with the operator and technician in mind. Door opening is assisted with gaz springs.
Front Compartment - Ground level access to the batteries, air-to-air aftercooler, air conditioner condenser and the air cleaner filter.
Swing-out Air Conditioner Condenser allows cleaning on both sides and access to the air-to-air aftercooler.
Engine Compartment - The longitudinal layout ensures accessibility from ground level.
Safety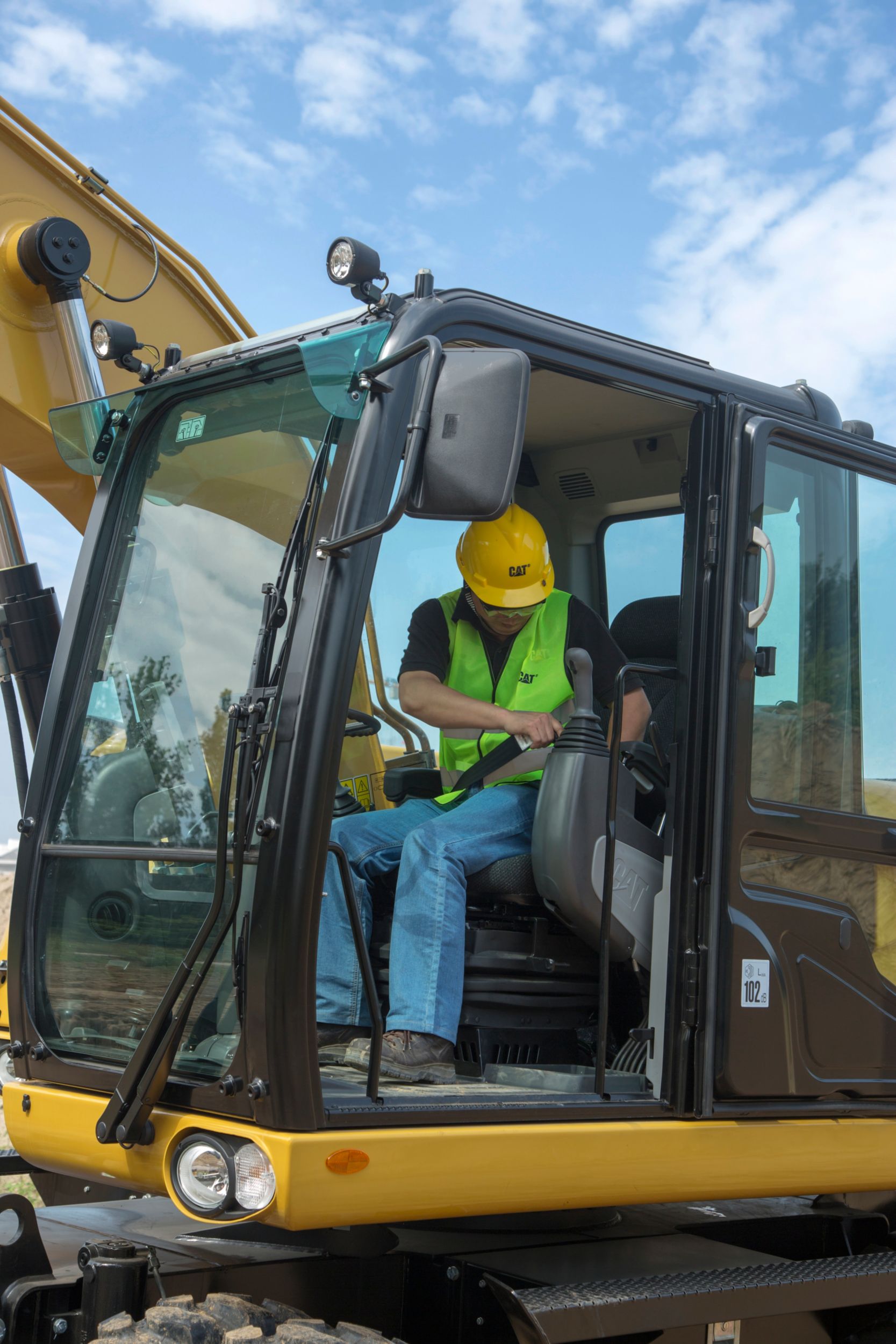 Make Sure You're Safe
FOPS Certified for added protection
Falling Objects Guards can be bolted directly on the cab (optional)
Anti-drift Valves for booms, sticks and buckets
Sound Proofing for a quiet operation
Ground Level Maintenance, reducing falling hazards
Anti-Skid Plates on top of the steps and upper structure to reduce slipping hazards
Handrails and Steps make climbing on and off the machine easy with three points of contact
Several Halogen Lights for proper visibility all shift long
Rotating Beacon (optional)
Excellent Visibility - overhead visibility is enhanced with a large skylight
Standard Rearview Camera - clear view behind the machine through the monitor
Implement Lock-out prevents from moving the machine unintentionally
Smart Travel Alarm to enhance safety on your job site (optional)
ELECTRICAL
Alternator, 75 A
Lights: - Boom working light - Cab interior light - Roading lights two front - Roading lights two rear - Working lights, cab mounted (front and rear)
Main shut-off switch
Maintenance free heavy-duty batteries
Signal/warning horn
ENGINE
Automatic engine speed control
Automatic starting aid
Cat C4.4 achieves emission levels equivalent to U.S. Environmental Protection Agency (EPA) Tier 3, EU Stage IIIA, Korean Tier 3 and China Stage 2 emission standards
Fuel/water separator with level indicator, fuel priming pump, water level switch and a visual restriction indicator
Automatic engine speed control
Automatic starting aid
Cat C4.4 achieves emission levels equivalent to U.S. Environmental Protection Agency (EPA) Tier 3, EU Stage IIIA, Korean Tier 3 and China Stage 2 emission standards
Fuel/water separator with level indicator, fuel priming pump, water level switch and a visual restriction indicator
HYDRAULICS
Heavy lift mode
Load-sensing Plus hydraulic system
Manual work modes (Eco, power modes)
Separate swing pump
Stick regeneration circuit
Anti drift valves for boom, stick and bucket
Heavy lift mode
Load-sensing Plus hydraulic system
Manual work modes (Eco, power modes)
Separate swing pump
Stick regeneration circuit
Anti drift valves for boom, stick and bucket
OPERATOR STATION
Adjustable armrests
Air conditioner, heater and defroster with automatic climate control
Ash tray with cigarette lighter (24 volt)
Beverage cup/can holder
Bolt-on FOGS capability
Bottle holder
Bottom mounted parallel wiping system that covers the upper and lower windshield glass
Camera mounted on counterweight displays through cab monitor
Coat hook
Floor mat, washable, with storage compartment
Fully adjustable suspension seat
Instrument panel and gauges: - Information and warning messages in local language - Gauges for fuel level, engine coolant and hydraulic oil temperature - Filters/fluids change interval - Indicators for headlights, turning signal, low fuel, engine dial sett
Laminated front windshield
Left side console, tiltable, with lock out for all controls
Literature compartment behind seat
Literature holder in right console
Mobile phone holder
Parking brake
Positive filtered ventilation
Power supply, 12V-7A
Rear window, emergency exit
Retractable seat belt
Skylight
Sliding door windows
Steering column, tiltable
Storage area suitable for a lunch box
Sunshade for windshield and skylight
Travel speed lock
Visor for rain protection
UNDERCARRIAGE
Heavy-duty axles, advanced travel motor, adjustable braking force
Oscillating front axle with remote greasing
Tires, 10.00-20 16 PR, dual
Two tool boxes in undercarriage
Two-piece drive shaft
OTHER EQUIPMENT
Automatic swing brake
Counterweight, 3500 kg
Mirrors, frame and cab
Cat Product Link