The 834B is designed and built for high production dozing applications such as stock pile facing and job site clean up. Rubber tires leave minimal impressions on the ground surface and allow the machine to travel with more mobility, maneuverability and greater speed.
Power Train
Cat power train components provide maximum productivity.
3408E Engine
Caterpillar 3408E Engine utilizes the Hydraullically actuated, Electronically controlled Unit Injector (HEUI) fuel system and Electronic Control Module (ECM) to deliver power and efficiency in the most demanding applications.
Decreased Smoke
High injection pressures, independent of engine speed, decrease smoke and emissions while improving response.
Injection timing
Injection timing and duration are variable to improve fuel efficiency, improve cold starting and decrease smoke and emissions.
Injection rate shaping
Injection rate shaping reduces emissions and reduces engine noise.
Mechanical parts
Reduction in mechanical parts, improves reliability.
Electronic control
Electronic control on the 3408E engines provides many benefits:
Aftercooler
Aftercooler cools inlet charge temperature to increase power while reducing thermal stresses that can cause premature wear of pistons, rings and liners.
Pistons
Oil-cooled pistons and full-length, water-cooled cylinder liners deliver maximum heat transfer for longer component life.
Engine oil cooler
Engine oil cooler maintains optimum oil temperature for proper cooling and longer lubricant life.
Transmission
Planetary Power Shift Transmission.
Torque Converter
Heavy duty torque converter is designed to transfer maximum available torque from the engine to the transmission, allowing the 834B to easily move through stockpiled floor material, mine face clean up, mine road maintenance and general earthmoving.
Brakes
New axle-shaft, oil-disc brakes are fully hydraulic, completely sealed and never need adjustment.
Axles
Axles are high capacity bevel gear sets and differentials use new gear cutting process for increased strength, providing long life in high duty cycle application. New cutting process also reduces gear noise.
Operator's Station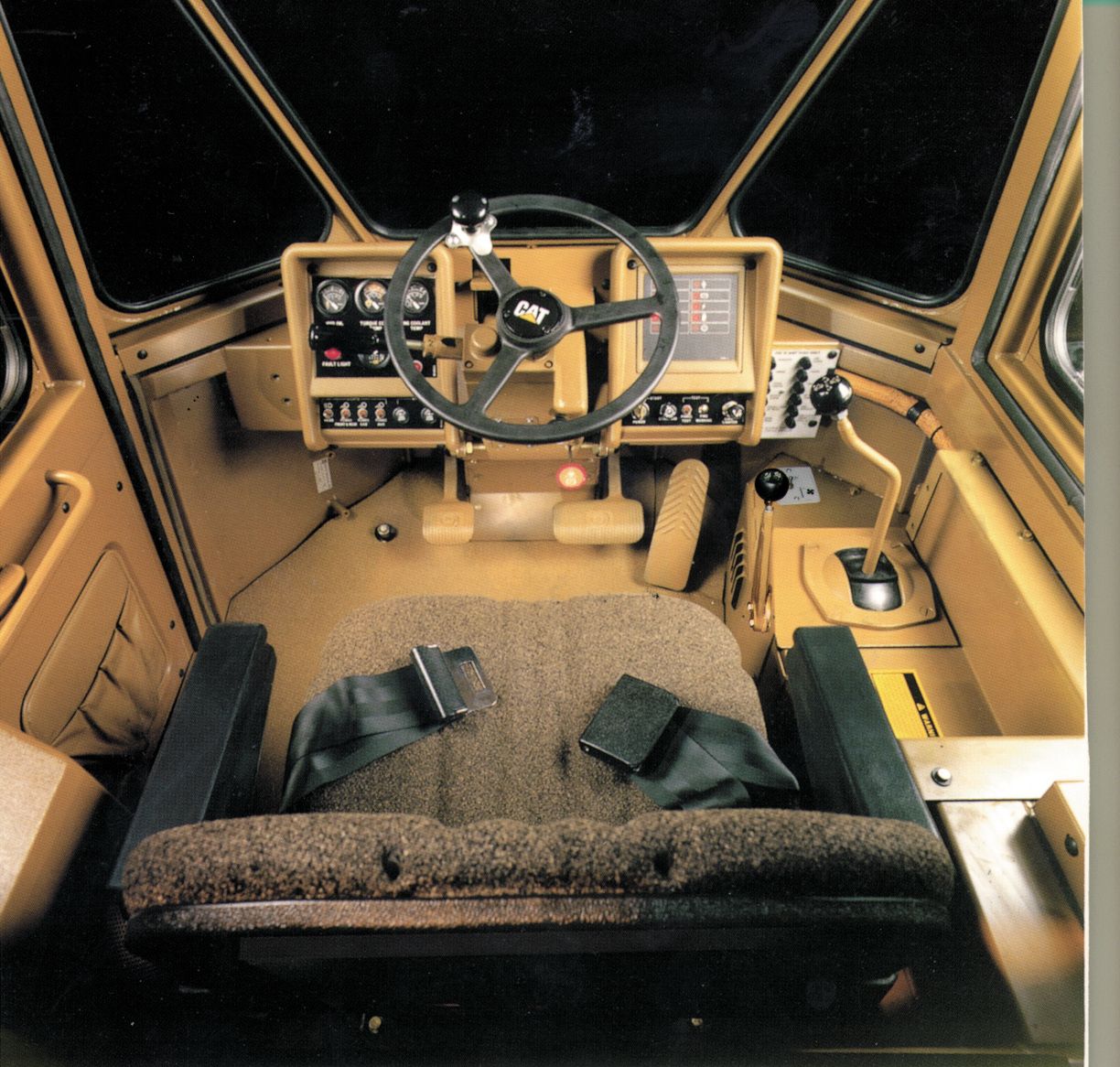 Comfort and convenience contribute to productivity.
Cab
Air conditioned, sound suppressed cab with Rollover Protective Structure is resiliently mounted to reduce sound and vibration.
Air filtration
Air pressurization and filtration provide fresh, clean air for the cab.
Visibility
Operator sits high in the cab for excellent visibility.
Radio
12-volt converter with power lines for radio.
Steering column
Multiple-position, adjustable steering column puts steering wheel and transmissionlever within easy reach.
Flow-amplified steering
Flow-amplified steering delivers responsive, precise control with automotive "feel."
Contour Series Seat
Caterpillar Contour Series Seat is ergonomically designed, variably adjustable, and provides greater operator comfort.
Blade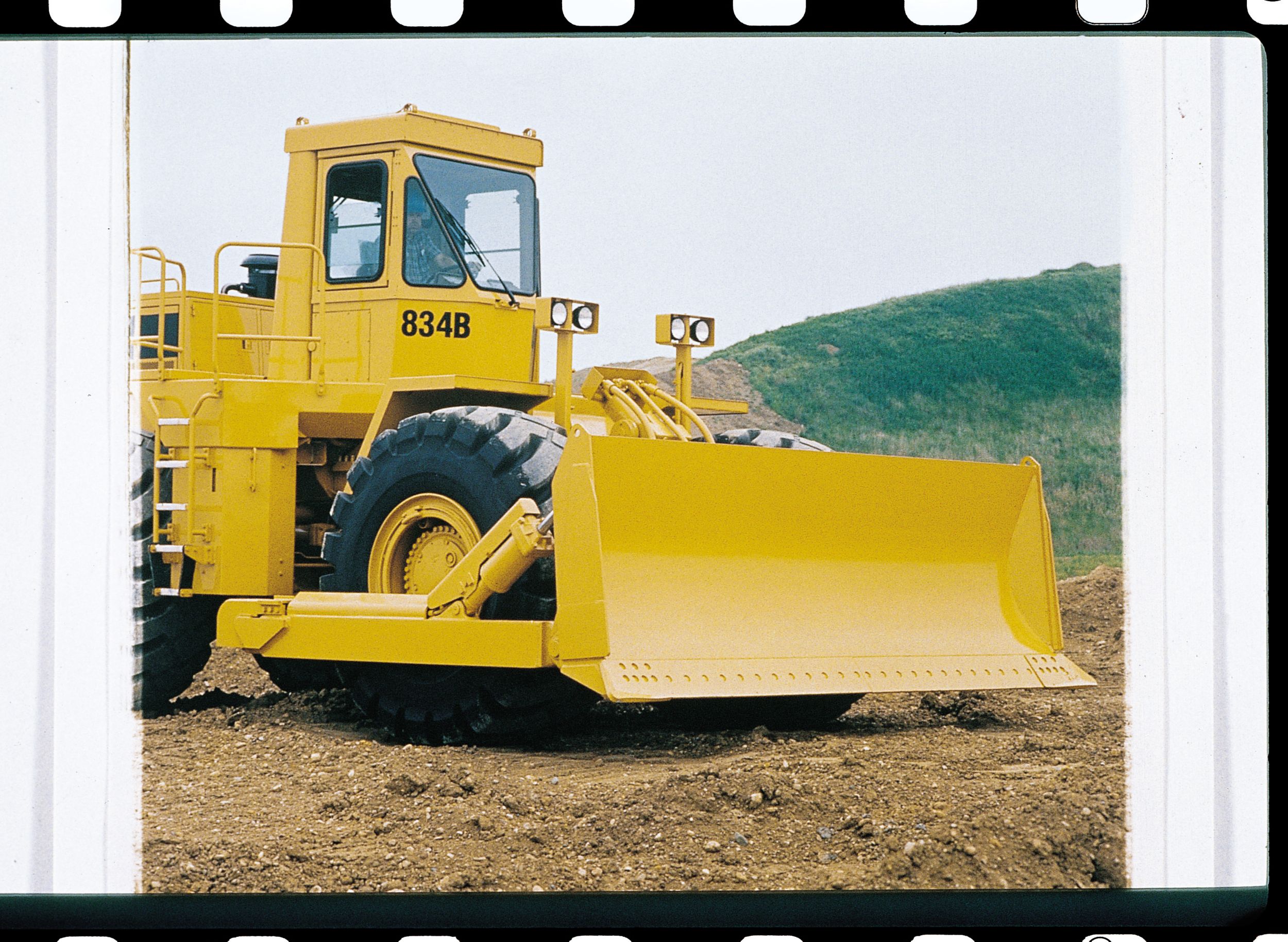 Multiple box-section construction with heat treated moldboard and DH-2 steel cutting edges and end bits to prolong blade life.
Fast production dozing
Fast production dozing in stockpiled material and general earthmoving.
Operator controls
Two levers at operator's right control dozer lift, tilt and tip.
Complete unit
Complete unit consists of blade, push arms, dozer-length skid plate with replaceable wear plates, reversible cutting edges, self-sharpening end bits, hydraulic lines guard and hydraulic lift, tip and tilt cylinders.
Serviceability
Simplified service means more productive time.
Service features
Many convenient service features keep the Cateprillar 834 Wheel Dozer on the job.
Complete Customer Support
When you buy a Cat machine, you also get Caterpillar's total commitment to customer support.
Selection.
Make detailed comparisons of the machines you are considering before you buy.
Purchase.
Look past initial price. Consider the financing options available as well as day-to-day operating costs.
Operation
Improving operating techniques can boost your profits.
Maaintenance
More and more equipment buyers are planning for effective maintenance before buying equipment.
Replacement.
Repair, rebuild or replace?
Product Support.
You will find nearly all parts at our dealer parts counter.