The 814F is specifically designed for mobility, maneuverability and good speed. Rugged construction and easy maintenance provide long life with low operating cost.
Power Train Components
The Cat power train makes dependable performance a standard feature.
Axles and Brakes
Heavy duty axles and brakes are designed to last in all kinds of operating conditions.
Differential
NoSPIN front differential is available to deliver maximum traction in low traction or inconsistent ground conditions.
Planetary Power Shift Transmission
Planetary power shift transmission's hydraulic modulation cushions the shift and reduces stress on components.
Engine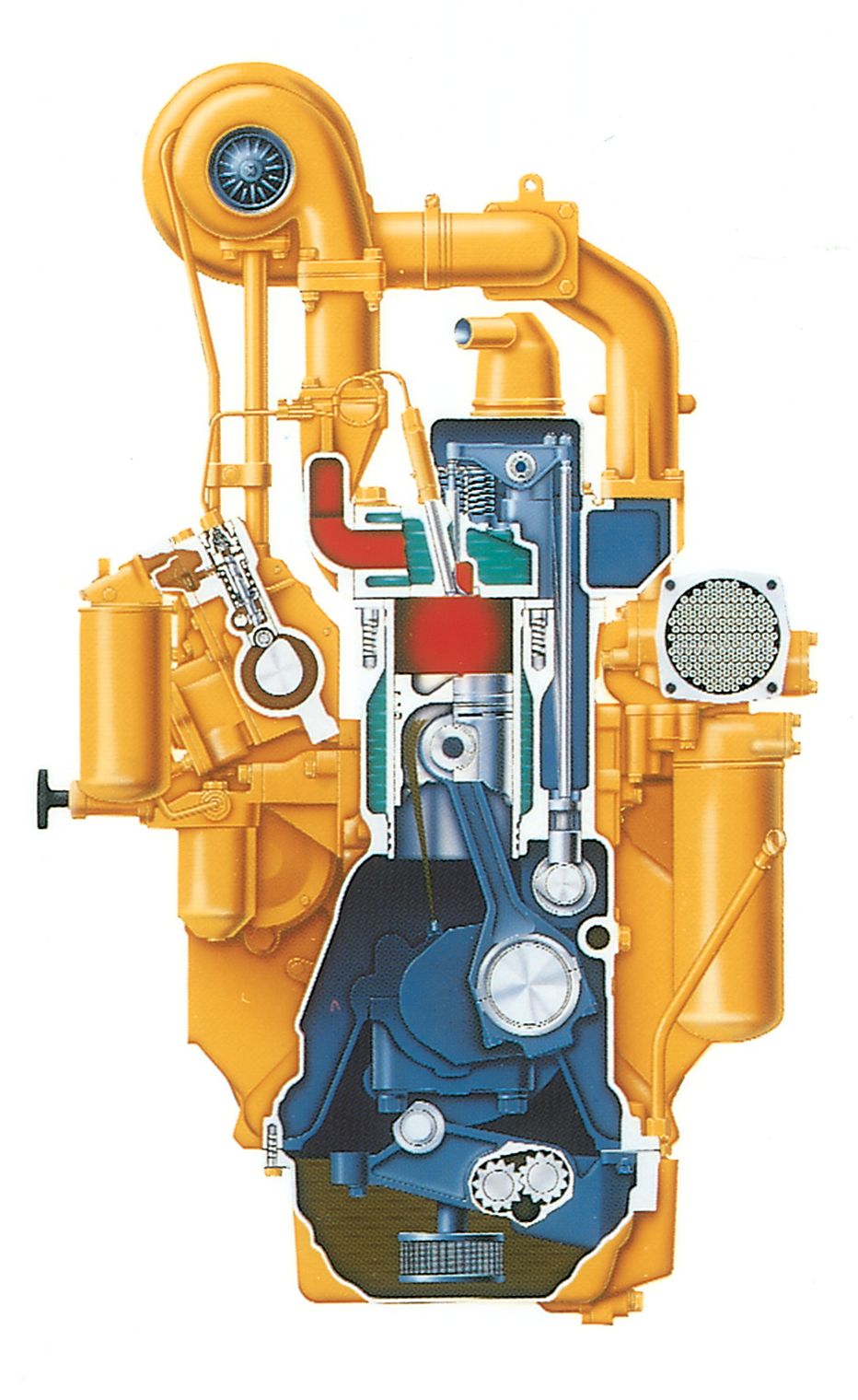 The six-cylinder, turbocharged aftercooled engine is built for power, reliability and economy.
Power performance
The four-stroke cycle design delivers long power strokes and efficient fuel combustion.
Turbocharger
Turbocharger enhances performance and engine efficiency, especially at high altitudes.
Crankshaft
Crankshaft is forge and induction hardened for long-term durability.
Fuel System
High-pressure direct injection fuel system provides excellent fuel atomization for unmatched fuel economy, reliability and durability.
Cylinder Liners
Full-length water cooled cylinder liners provide maximum heat transfer.
Pistons
Oil-cooled pistons increase heat dissipation and promote longer piston life.
Radiator
Modular radiator cools efficiently. Easy repair or installation of individual modules and sight gauge allows for quick check of coolant level.
Easy maintenance
The engine can be rebuilt for a second life. Caterpillar remanufactured parts are available to economically replace many components.
Operator's Station
Comfort and control - top-quality operator's station will help maximize productivity.
Viewing
Exceptional all-around viewing area reduces strain and fatigue, making operators more productive.
Computerized Caterpillar Monitoring System
Computerized Caterpillar Monitoring System with electronic analog gauges is a highly effective and reliable warning and diagnostic system.
Ignition Key
Ignition key start/stop switch positioned for easy machine starting and stopping.
Steering Column
Steering column adjust to multiple positions. The leather-like steering wheel and transmission control provide a sure grip and comfortable feel.
Blade Controls
Convenient pilot-operated blade controls allow for precise blade movement
Seat
New contour seat is designed for comfort and support. Seat cushions reduce pressure on the lower back and thighs while allowing unrestricted arm and leg movement.
Storage Space
Built-in storage space is designed to hold cups, lunch box, thermos and personal items.
Vents
Repositioned vents throughout the cab keep fresh air flowing while improving the cab's heating, cooling, defrost and defog capability.
Radio Ready
Radio ready means this cab includes 12-volt converter (2-amp), speakers, antenna, all wiring and brackets for entertainment or communications radio installation.
Windshield Washers/Wipers
Windshield washers/wipers with in-the-blade washer delivery system are standard features on front and rear window. Front wiper has intermittent speed capability.
S-Blade
Designed for light production cleanup work.
Production
Does light production including dozing and spreads fill, backfills, stockpiles, charges hoppers, and cleans up around shovels and trucks.
Controls
Two levers at operator's right control dozer lift/tilt and tip.
Complete Unit
Complete unit consists of blade, push arms, trunnion mounting, dozer-length skid plate with replaceable wear plates, reversible cutting edges, self-sharpening end bits, hydraulic lines guard and hydraulic blade cylinders.
Customer Support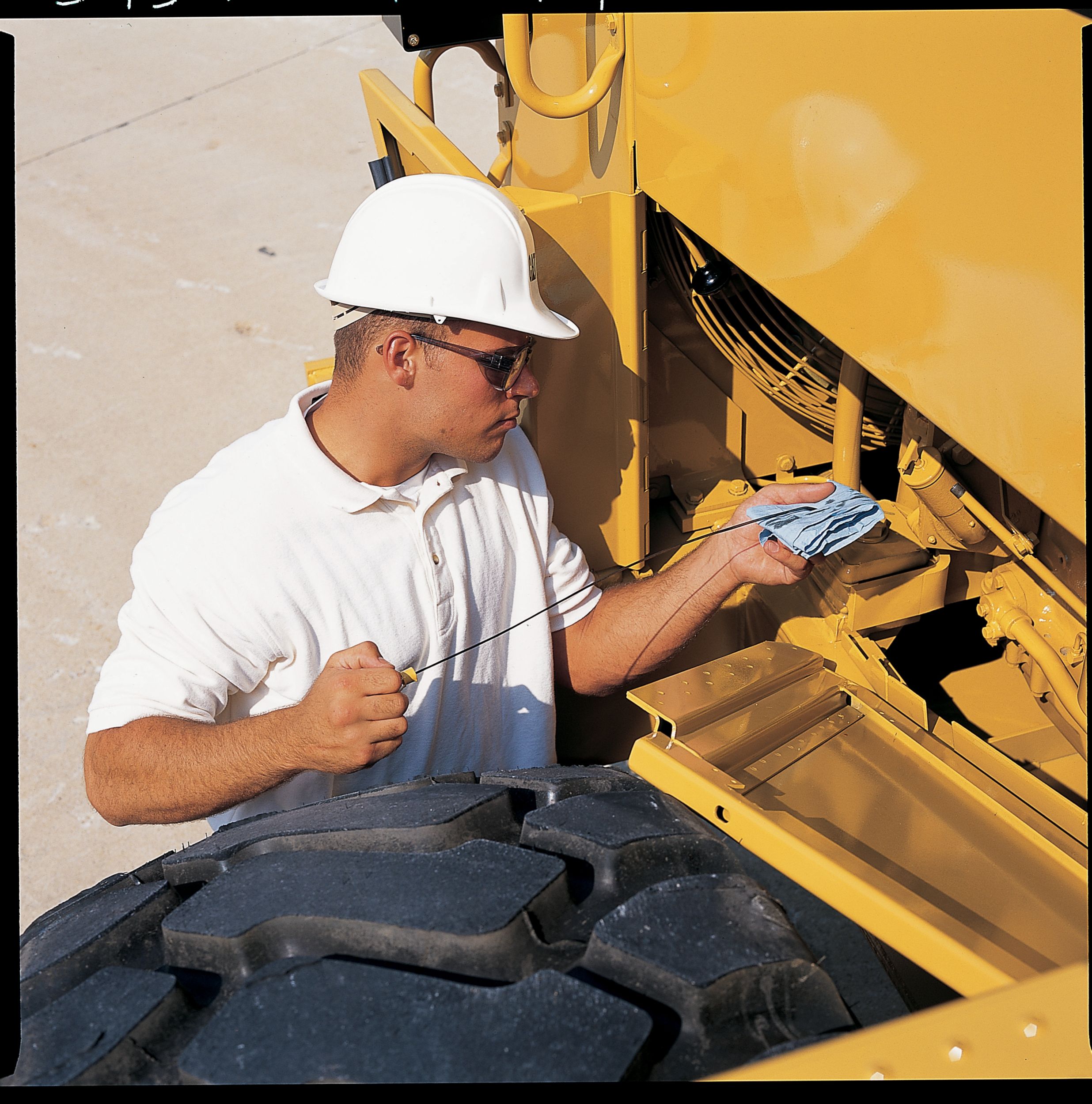 Cat dealer services help you operate longer with lower costs.
Services
Your Cat dealer offers a wide range of services that can be set up under a customer support agreement when you purchase your equipment.
Selection
Make detailed comparisons of the machines you are considering before you buy.
Operation
Improving operating techniques can boost your profits.
Maintenance
More and more equipment buyers are planning for effective maintenance before buying equipment.
Replacement
Repair, rebuild or replace? Your Cat dealer can help you evaluate the cost involved so you can make the right choice.
Product support
You will find nearly all parts at our dealer parts counter. Cat dealers utilize a worldwide computer network to find in-stock parts to minimize machine down time.