Cat® coal scoops have been proven in the field, helping customers achieve top efficiency and productivity while keeping costs down. With the 824H, you get a purpose built machine that provides industry leading uptime, safety, serviceability and operator comfort.
Engine
| | |
| --- | --- |
| Engine Model | Cat® C15 ACERT™ |
| Net Power | 264.0 kW |
| Net Power – EEC 80/1269 | 264.0 kW |
| Net Power – ISO 9249 | 264.0 kW |
| Bore | 137.0 mm |
| Stroke | 171.0 mm |
| Displacement | 15.2 L |
| Converter Drive – Flywheel Power | 264.0 kW |
| Converter Drive – Gross Power | 299.0 kW |
| Direct Drive – Flywheel Power | 264.0 kW |
| Direct Drive – Gross Power | 299.0 kW |
Weights
| | |
| --- | --- |
| Operating Weight | 30874.0 kg |
Transmission
| | |
| --- | --- |
| Converter Drive – Forward 1 | 6.1 km/h |
| Converter Drive – Forward 2 | 10.5 km/h |
| Converter Drive – Forward 3 | 18.3 km/h |
| Converter Drive – Forward 4 | 32.1 km/h |
| Converter Drive – Reverse 1 | 6.9 km/h |
| Converter Drive – Reverse 2 | 12.0 km/h |
| Converter Drive – Reverse 3 | 20.8 km/h |
| Converter Drive – Reverse 4 | 36.6 km/h |
Brakes
| | |
| --- | --- |
| Brakes | Meet SAE/ISO 3450 1996 |
Axles
| | |
| --- | --- |
| Front | Planetary-Fixed |
| Oscillating Rear | ±13 |
Cab
| | |
| --- | --- |
| Cab | ROPS/FOPS is standard |
| Sound Performance Levels | Meet ANSI/SAE, SAE and ISO standards |
| ROPS/FOPS | Meets SAE and ISO standards |
Service Refill Capacities
| | |
| --- | --- |
| Fuel Tank | 700.0 L |
| Cooling System | 83.0 L |
| Crankcase | 34.0 L |
| Transmission | 62.0 L |
| Hydraulic Tank | 88.0 L |
| Differentials and Final Drives – Front | 90.0 L |
| Differentials and Final Drives – Rear | 90.0 L |
Scoop Capacities
| | |
| --- | --- |
| Carry | 13.5 m3 |
| Doze | 27.0 m3 |
Productivity
Improving your bottom line
Purpose Built Front Linkage
Cat coal scoops have the unique capability of maximizing your production by both dozing and carrying a load with each pass. A purpose built hydraulic system is optimized for use with this work tool to maximize machine productivity and efficiency.
Impeller Clutch Torque Converter (ICTC) Left Pedal Control
The ICTC works with throttle lock to allow the operator to modulate rimpull to the wheels and slow the machine down without reducing engine speed. This allows the machine to maintain full hydraulic power for blade and steering control which gives the 824H a hydrostatic feel while keeping the benefits of the world's most efficient and powerful drive train and powershift transmission with lock-up control system.
Oscillating Rear Axle
The fixed front, oscillating rear axle ensures four-wheel ground contact for optimum traction and stability. The front axle is rigidly mounted to the front loader frame, while the rear axle is allowed to oscillate. This configuration allows the operator's view of the scoop to remain constant as the rear axle oscillates enabling the operator to maintain a smooth and properly graded work area in any underfoot conditions.
Load Sense Steering
The steering system utilizes a variable displacement pump for maximum machine performance by directing power through the steering system only when needed. This improves efficiency and reduces heat build up.
Reliability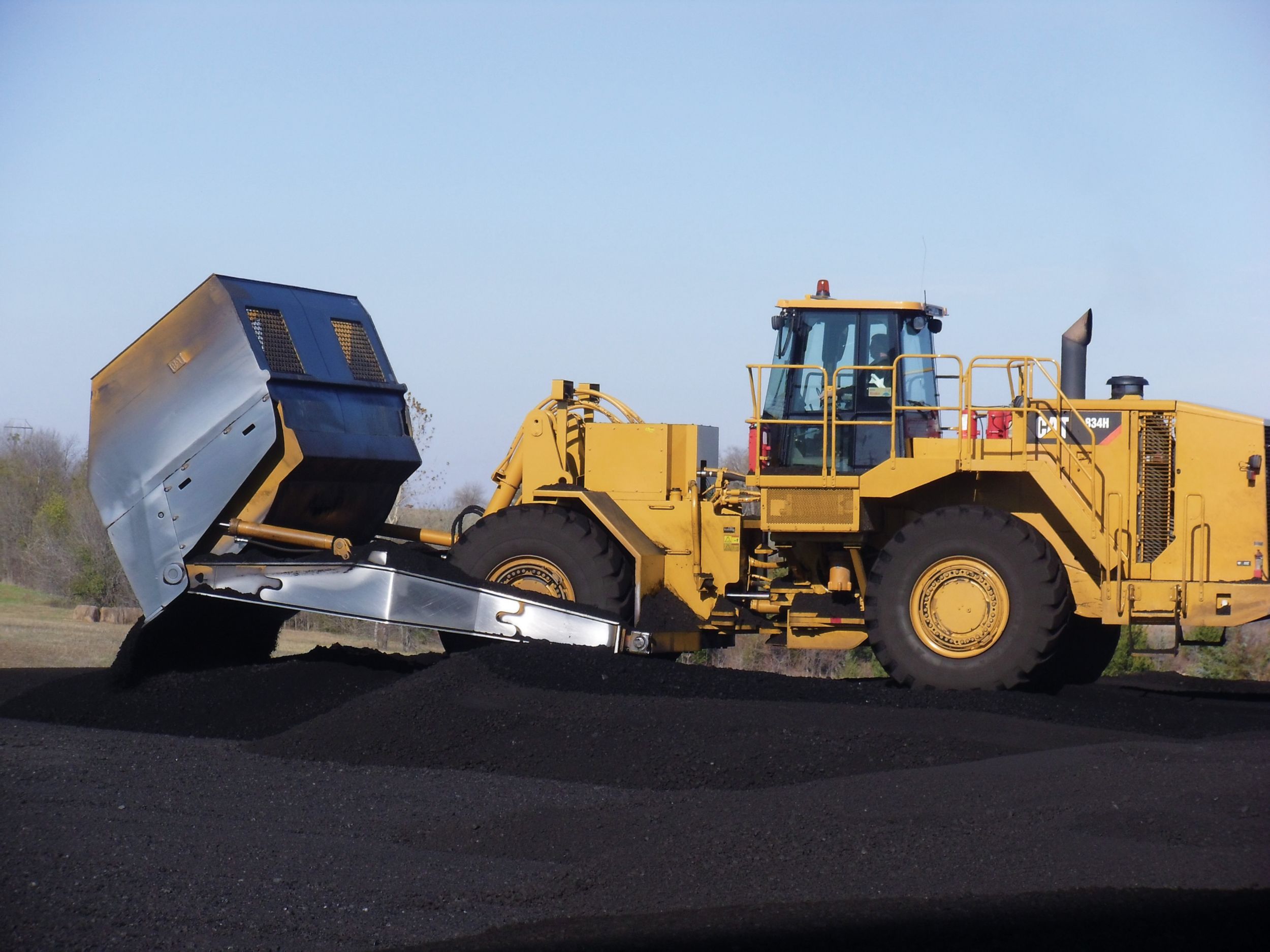 Maximizing uptime, long life - it's what you expect for your bottom line
Cat C15 Engine with ACERT™ Technology
The Cat C15 engine with ACERT technology is U.S. EPA Tier 3 and EU Stage III compliant. It features increased horsepower and efficient fuel management for quick response, high productivity and exceptional service life. A sculptured cylinder block provides greater strength and is lighter weight.
Cat Planetary, Power Shift Transmission
Electronic shifting provides smooth, consistent shifts. Large diameter clutches coupled with four planet gear trains provide added durability for extended, trouble free life.
Structures
Combining the use of robotic welding and castings in critical high stress areas, more than 80 percent of the machine structure is robotically welded to provide highly consistent welds and increased strength. Castings are also used in several areas to increase strength by helping spread the loads and reduce the number of parts.
Axle-Shaft, Oil Disc Brakes
These brakes are adjustment free, fully hydraulic and completely sealed. Disc face grooves provide cooling even when brakes are applied for a longer component life.
Location of brakes allow for improved serviceability. The axle shaft brake design allows for brake service while leaving the final drive intact.
Axle-shaft brakes require less force by operating on the low torque side of the axle. Combined with improved axle oil circulation for increased cooling, the oil-enclosed, multiple disc brake design improves durability.
Safety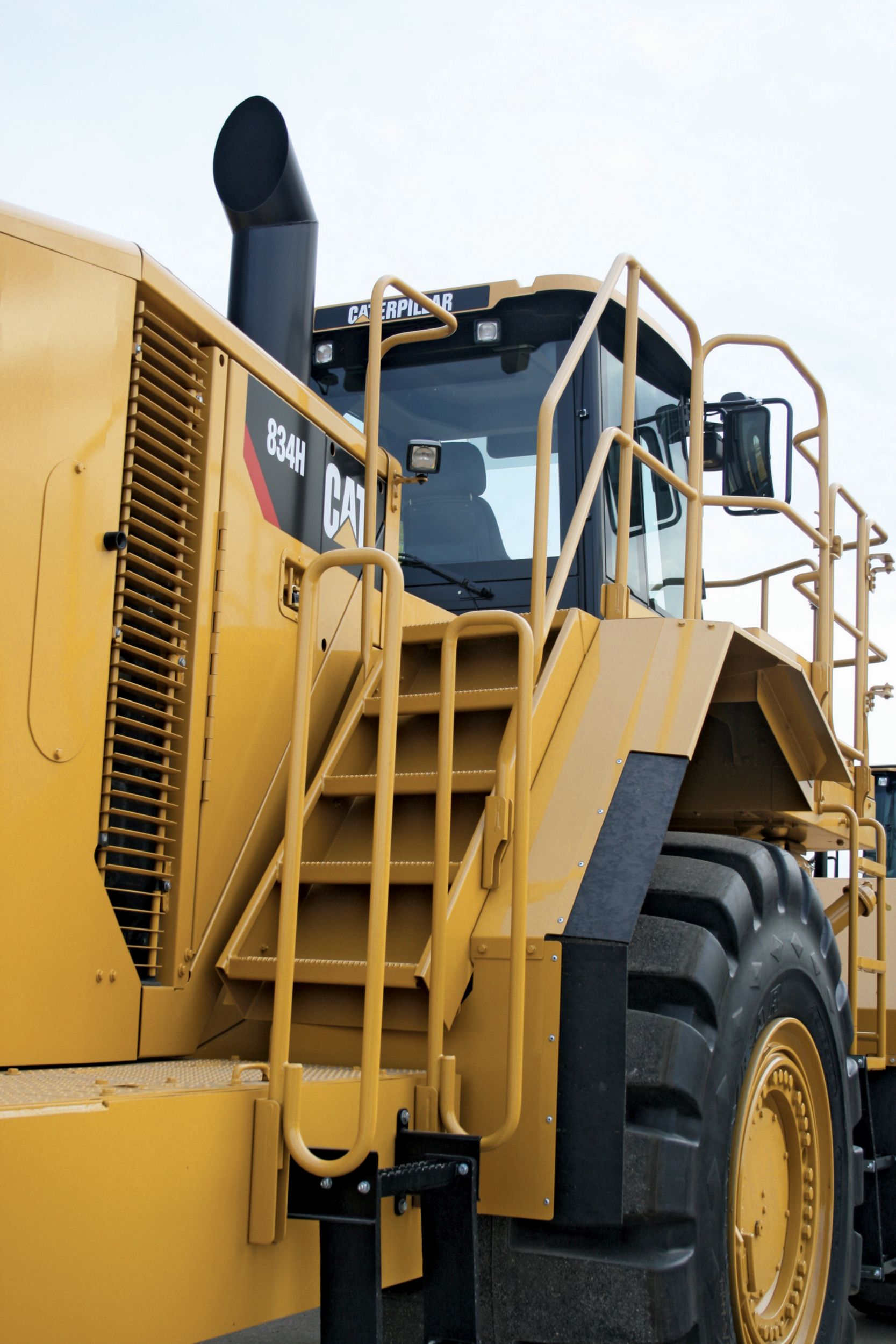 Built to protect you
Entry and Exit
Getting on and off the machine is one of the leading causes of injury on a job site. Cat coal scoops have a number of features to ensure your operator gets safely on and off the machine. They include primary and secondary stairwell exits, punch stamped tread plates, ground level nighttime stairwell light switch, full perimeter railings on upper platforms, side platform emergency egress and toe kicks and optional roading fenders.
Rearview Camera
With the new optional rearview camera, visibility is greatly enhanced. The camera is located in a pocket on the grill to protect it from damage and the elements. The camera can be set to activate only when the transmission is in reverse to help eliminate distractions in the cab, especially when in dark environments.
Visibility
Cat coal scoops offer a number of standard and optional features to enhance job site visibility. Standard and optional features include articulated wiper/washer system with intermittent features, optional rear vision camera, optional high intensity discharge lights, optional warning beacon and optional turn signals.
Serviceability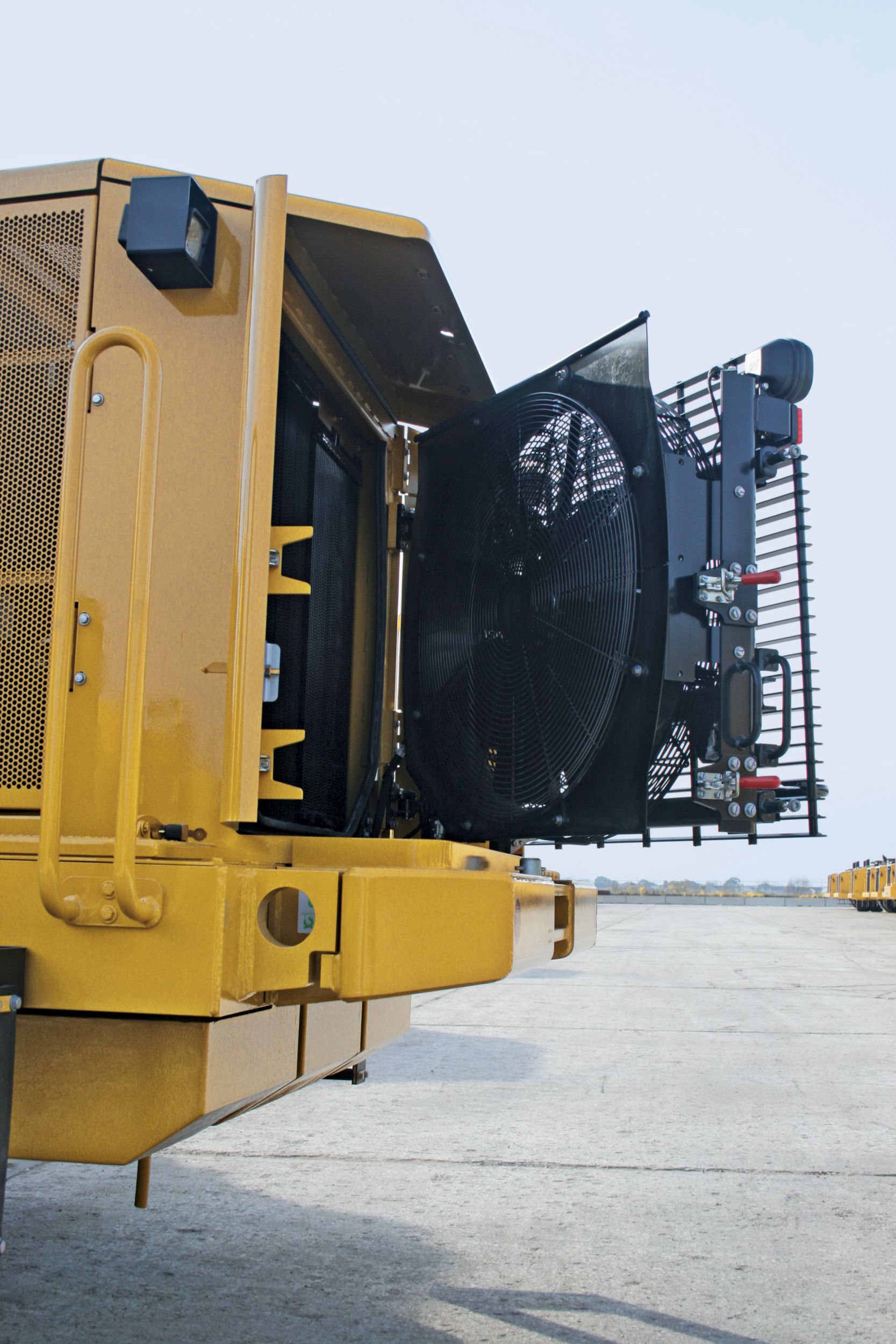 Easy to maintain. Easy to service.
Optional Swing Out Radiator Fan
The optional swing out radiator fan provides for easy access to the radiator cores for easy cleaning and inspection.
Optional Auto Reversing Fan
The fan reverses automatically at preset intervals to remove debris from the inlet screen. It can also be reversed manually from the cab.
Hydraulically Driven Demand Fan
The demand fan automatically adjusts fan speed for optimal cooling, resulting in reduced power draw on the engine, better fuel efficiency and more power for hydraulics and rimpull.
Component Access
Swing out doors on both sides of the engine compartment provide easy access to the engine oil dipstick and filler spout, S·O·SSM ports, fuel filters air conditioner compressor, engine oil filters, alternators, starting receptacle, air filter service indicator, cooler fill and ether starting aid. There are also ground level viewable sight gauges on all major systems and centralized remote pressure taps.
Shutdown and Lockout Features
An electrical disconnect switch and hydraulic lockout switch allow service technicians to perform maintenance while the machine stays static. Other shutdown or lockout devices include ground level engine shutdown and ground level steering hitch lock lever.
Operator Comfort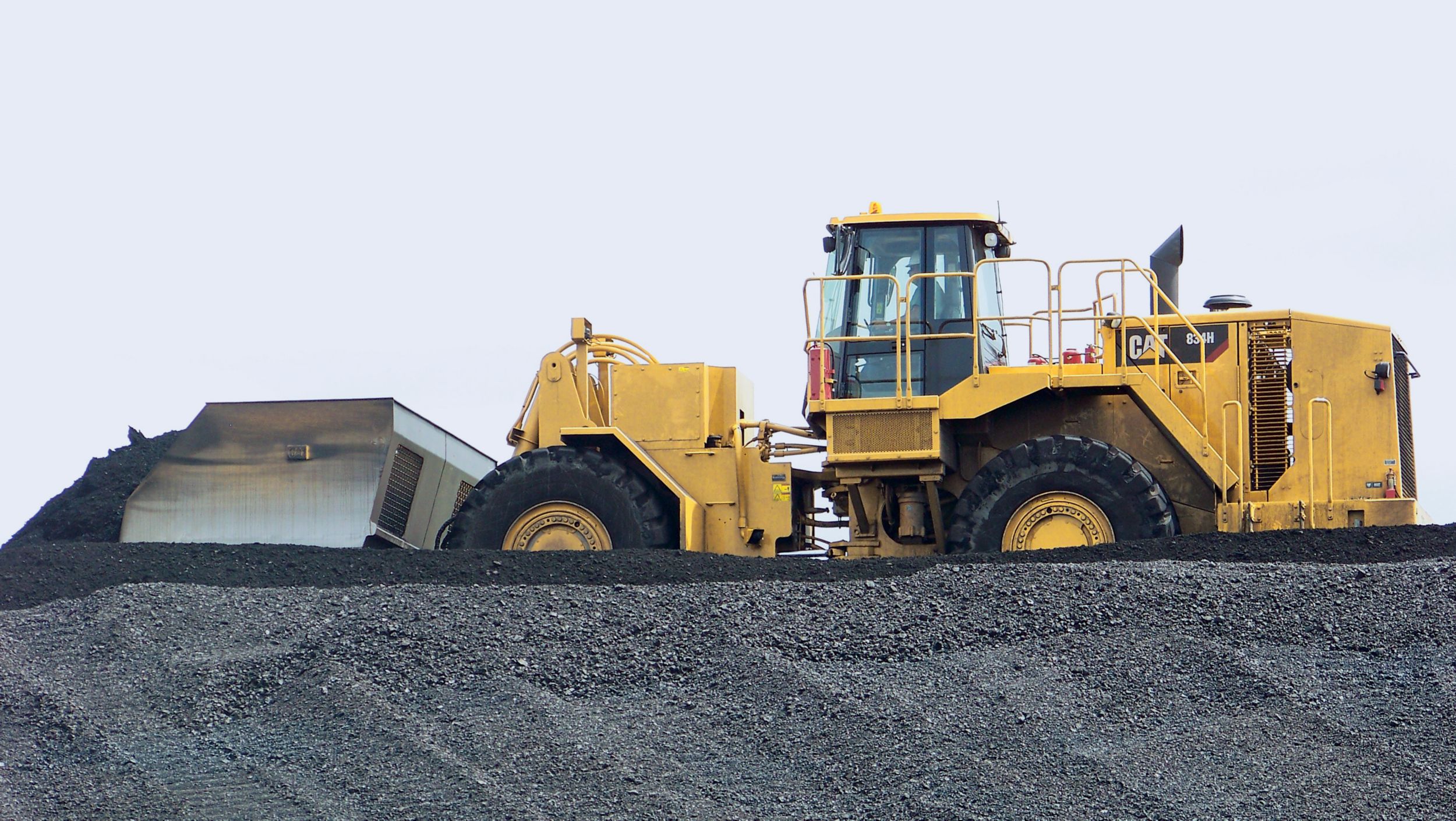 Best-in-class working environment
Best-in-Class Working Environment
A comfortable operator is a productive operator, which is why Caterpillar has designed the 824H with a best-in-class working environment for this size scoop. The world class cab incorporates features for operator comfort and ergonomics, visibility and ease of operation. An updated Implement Pod is fully adjustable and designed for low-effort comfort. Switches and controls are located within easy reach of the operator. Interior noise levels are reduced to a quiet 73 dB(A). Options include heated seat for cold weather operations and Bluetooth, MP3, or satellite radio options.
Customer Support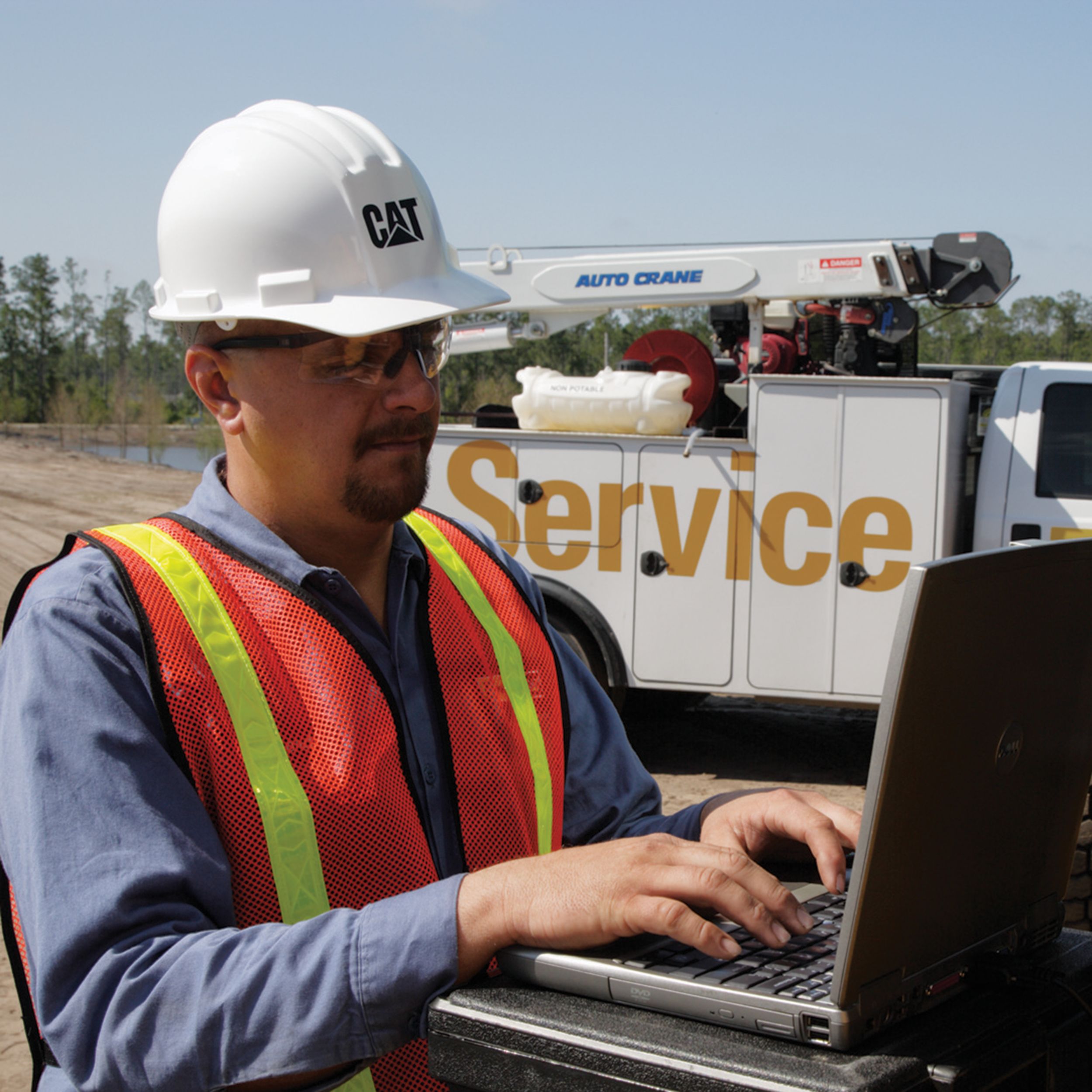 Count on Cat dealers for business solutions
Selection
Cat dealers can help customers compare and choose the right machine for their business.
Operation
Improve operating technique for better productivity and profit with the latest Cat dealer training resources.
Product Support
Cat dealers are with customers every step of the way with unsurpassed worldwide parts support, trained technicians and customer support agreements.
ELECTRICAL
Alarm, back-up
Alternator (100-amp)
Batteries, maintenance-free
Deutsch terminal connectors
Electrical system (24-volt)
Lighting system, halogen (front and rear), access stairway
Starter, electric (heavy-duty)
Starting receptacle for emergency starts
OPERATOR ENVIRONMENT
Air conditioner
Cab, sound suppressed and pressurized
Internal four-post rollover protective structure
(ROPS/FOPS), radio ready (entertainment) includes antenna, speakers and converter (12-volt, 15 amp), 12-volt power port, tinted glass
Cigar lighter (12-volt, 15-amp) and ashtray
Coat hook
Electro-hydraulic lift, tilt and dump
Heater and defroster
Horn, electric
Light, cab (dome)
Lock-up clutch disable switch
Lunch box and beverage holders
Monitoring system (EMS-III)
Action alert system, three category
Instrumentation, gauges: engine coolant temperature, fuel level, hydraulic oil temperature, speedometer/tachometer and transmission oil temperature
Instrumentation, warning indicators: axle/brake oil temperature (front/rear); brake oil pressure; electrical system, low voltage; engine intake/combustion air temperature; engine oil pressure; engine overspeed; fuel pressure; hydraulic oil filter status; p
Mirrors, rearview (externally mounted)
Rimpull select switch
Seat, Comfort Series (cloth), air suspension
Seat belt, retractable, 76 mm (3 in) wide
STIC control system with steering lock
Tilt and lift control system lock
Transmission gear indicator
Wet-arm wipers/washers (front and rear)
Intermittent front wiper
POWER TRAIN
Brakes, full hydraulic, enclosed, wet-disc
Multiple disc service brakes
Case drain filters
Demand fan
Fuel priming pump (electric)
Parking brake
Precleaner, engine air intake
Radiator, Next Generation Modular Radiator (NGMR)
Separated cooling system
Starting aid (ether) automatic
Throttle lock
Torque converter, impeller clutch with lockup control system and rimpull control system (switch and dial in cab)
Transmission, planetary, autoshift (4F/3R)
OTHER STANDARD EQUIPMENT
Doors, service access (locking)
Engine, crankcase, 500 hour interval with CH-4 oil
Grouped Electronic Clutch Pressure Control, remote mounted pressure taps
Hitch, drawbar with pin
Hood, metallic with lockable service doors
Hydraulic oil cooler
Muffler (under hood)
Oil sampling valves
Steering, load sensing
Vandalism protection caplocks
Venturi stack
Doors, service access (locking)
Engine, crankcase, 500 hour interval with CH-4 oil
Grouped Electronic Clutch Pressure Control, remote mounted pressure taps
Hitch, drawbar with pin
Hood, metallic with lockable service doors
Hydraulic oil cooler
Muffler (under hood)
Oil sampling valves
Steering, load sensing
Vandalism protection caplocks
Venturi stack
TIRES, RIMS AND WHEELS
A tire must be selected from the mandatory attachments section - base machine price includes a tire allowance
A tire must be selected from the mandatory attachments section - base machine price includes a tire allowance
ANTIFREEZE
Premixed 50 percent concentration of Extended Life Coolant with freeze protection to -34° C (-29° F)
Cab, guard front windows
Cab, rear fan and grill
Cab, rubber-mounted glass
Camera, rear vision
Computer Aided Earthmoving System (CAES) attachment ready option
Differentials, No-SPIN (rear)
Fast fill system
Heater, engine coolant
Heater, fuel
Lighting, HID
Light, warning flashing strobe
Light, warning rotating beacon
Mirror, inside (panoramic)
Oil Change System, high speed
Precleaners
Radio, AM/FM/CD/MP3
Radio, CB (ready)
Radio, Satellite, Bluetooth
Sound suppression
Switch, disconnect, remote mounted
Visor, front