The 824G brings new standards of productivity, performance, durability, serviceability and operator comfort to the 820 family of machines. The smooth, clean lines of the new cab and the stylish downsloped hood give the G-series machines a sleek, modern appearance.
Power Train Components
Cat power train delivers top performance and durability in tough applications.
Engine
The six-cylinder, turbocharged and aftercooled 3406C Engine is one of the most developed and proven engines offered by Caterpillar.
Transmission
The Caterpillar planetary, power shift transmission features heavy-duty components to handle the toughest jobs.
Axles
Heavy-duty axles feature stronger gears and bearing in both the differentials and final drives for increased durability.
Brakes
Oil-enclosed, multiple-disc brakes feature fewer parts, better heat rejection and improved serviceability.
Hydraulics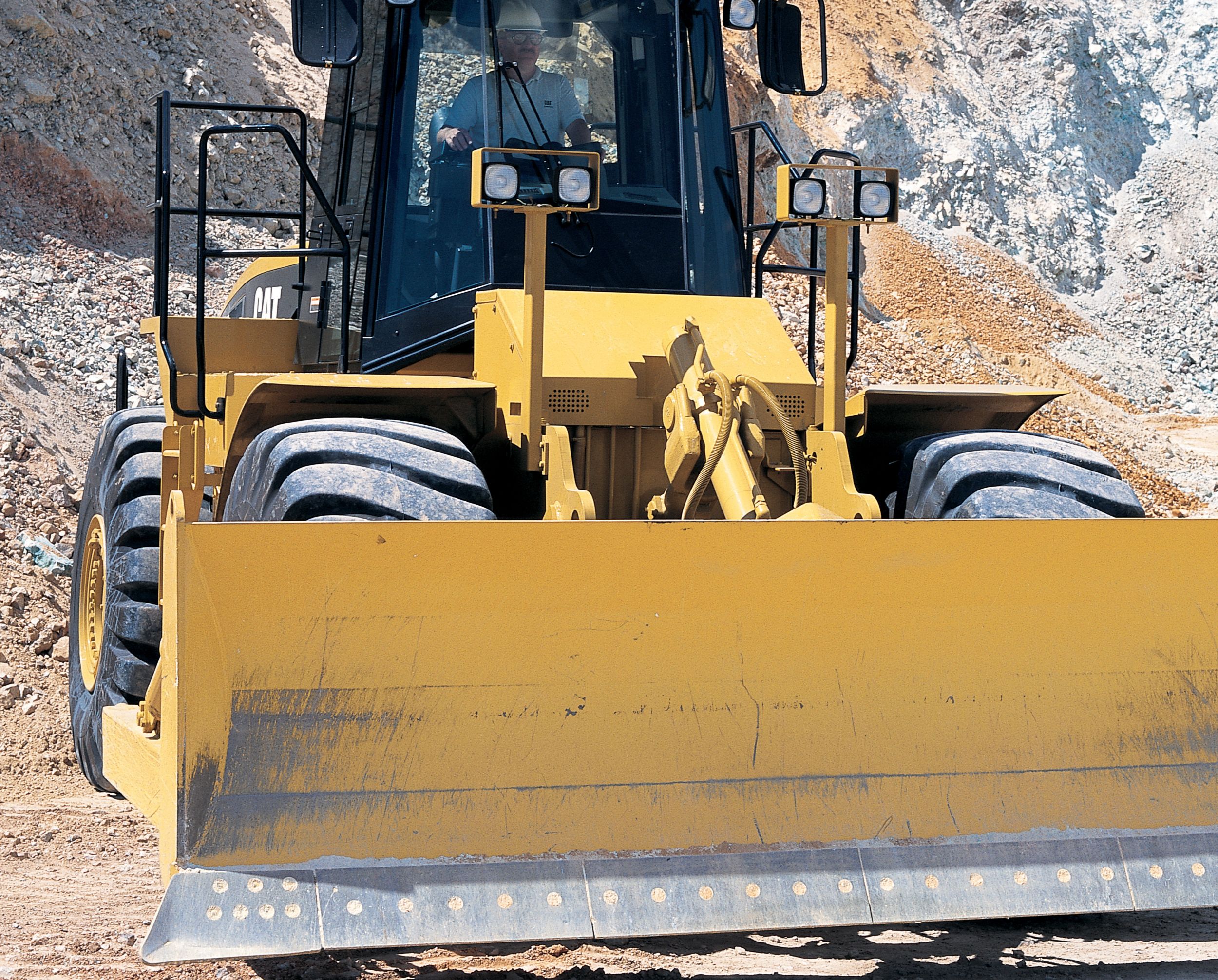 Well-balanced hydraulics deliver precise low-effort control and trouble-free operation.
Hydraulic System
A revolutionary hydraulic system provides low-effort implement control. Armrest-mounted levers send electrical signals to a pivot valve mounted on the front frame.
Command Control Steering
Low-effort, Command Control steering is another result of innovative design. A new mechanical feedback system and redesigned valve ratio provide quarter-turn side-to-side steering.
Hydraulic Pumps
Positive-displacement hydraulic pumps perform with high efficiency and great reliability. For improved serviceability, all hydraulic pumps are mounted on a single pump drive.
Caterpillar's XT-3 and XT-5 Hose
Caterpillar's XT-3 and XT-5 hose, O-ring face seals and large capacity lift cylinder top off the hydraulic system, delivering the performance and durability owners expect.
Operator Controls
Easy-to-use, low effort controls.
Operator Control Benefits
One of the most exciting benefits of the 824G is the dramatic reduction in operator motion effort provided by Command Control steering, integrated transmission controls and fully hydraulic brakes.
Command Control Steering
Command Control steering allows one hand operation of steering and transmission controls.
Implement Control Lever
Low-effort implement control lever requires very low operator effort and reduced travel.
Integrated Transmission Controls
Integrated transmission controls are part of the steering control design, providing one hand operation.
Dual-Pedal Braking
Dual-pedal braking lets the left pedal function as a brake. The right pedal functions as a regular brake.
Electronic Autoshift Control
Electronic Autoshift control lets the operator choose manual or automatic shifting.
Transmission Neutralizer Lockout
Transmission neutralizer lockout lets the operator shut the neutralizer off, allowing the left pedal to work as a brake only.
Operator Station
Comfort and control - top-quality operator station will help maximize productivity.
Internal ROPS
Internal ROPS improves visibility and styling, giving the 824G a sleek new look.
Windows
Larger windows improve visibility in all directions.
Downsloped Hood
Downsloped hood also contribute to improved rearward visibility by allowing the operator to see objects on the ground closer to the machine.
Radio Ready
Radio ready means this cab includes 12-volt converter, speakers, antenna, all wiring and brackets for entertainment or communications radio installation.
Right and Left Rear-Hinged Doors
Right and left rear-hinged doors provide a walk-through operator's station.
Non-Metallic Floor
Non-metallic floor is rustproof and slopes to assist water drainage and clean-out.
Sound Level
Reduced sound level is the result of several new designs.
Storage
Increased storage space provides room for a lunch cooler, a thermos, a cup, coat hook and other personal items.
Seat
Caterpillar Contour Series seat is 6-way adjustable, providing comfort and support.
Monitoring System
824G Monitoring System provides gauges, tachometer/speedometer and 3-level warning to provide full time monitoring of key functions.
Ventilation
Improved ventilation ducts and vents, in better locations, provide more air flow to the operator and the windows. Post-mounted vents provide air to the rear window.
Air-Conditioning
Optional air-conditioning uses blended air for immediate temperature changes, clears windows with ease and improves operator comfort.
S-Blade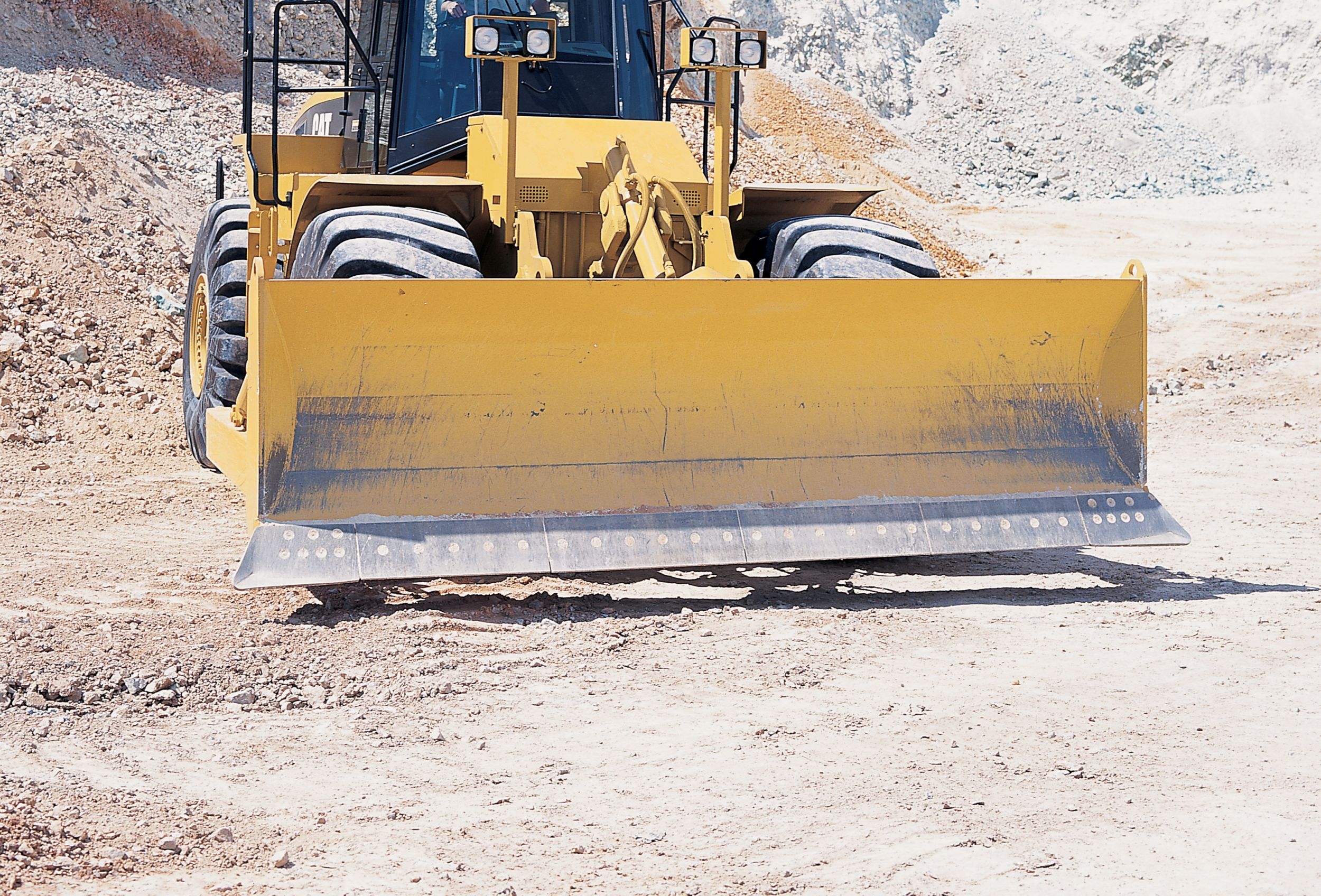 Multiple box-section construction with heat treated moldboard and DH-2 steel edges and end bits for long life.
Light Production
The S-Blade does light production including dozing and spreads fill, backfills, stockpiles, charges hoppers, and cleans up around shovels and trucks.
Controls
Lever at operator's right controls dozer lift and tip.
Complete Unit
Complete unit consists of blade, push arms, trunnion mounting, dozer-length skid plate with replaceable wear plates, end bits, hydraulic lines guard and hydraulic blade cylinders.
Customer Support
Cat Dealer services help you operate longer with lower costs.
Service
Your Cat dealer offers a wide range of services that can be set up under a customer support agreement when you purchase your equipment.
Selection
Make detailed comparisons of the machines you are considering before you buy.
Operation
Improving operating techniques can boost your profits.
Maintenance
More and more equipment buyers are planning for effective maintenance before buying equipment.
Replacement
Repair, rebuild or replace? Your Cat dealer can help you evaluate the cost involved so you can make the right choice.
Product Support
You will find nearly all parts at our dealer parts counter. Cat dealers utilize a worldwide computer network to find in-stock parts to minimize machine down time.
Serviceability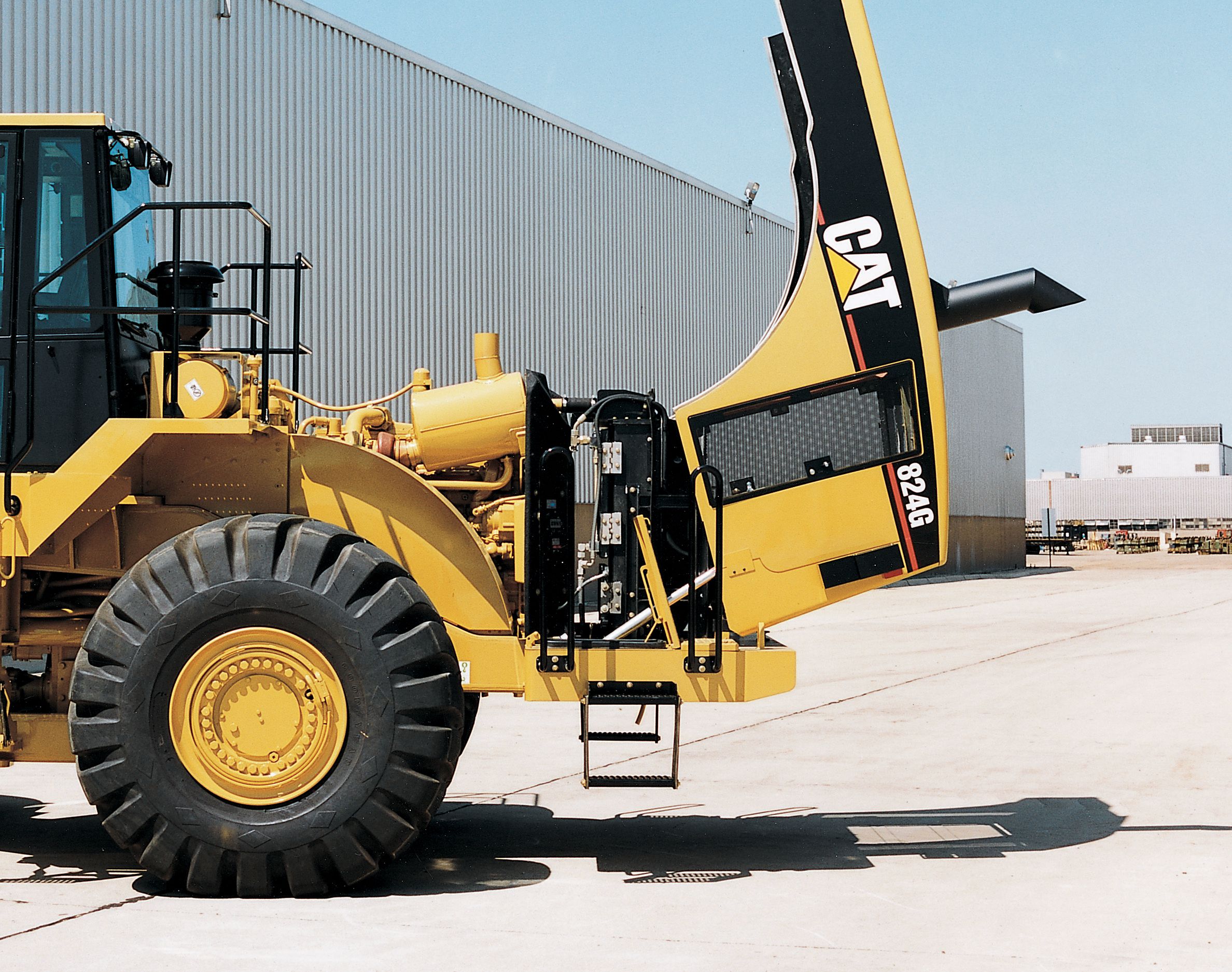 Keep your machine up and running with easy-to-perform daily maintenance.
Daily Maintenance
Daily maintenance has never been more accessible than on the 826G. Lockable, ground level service doors give quick access to engine oil fill an dipstick, coolant sight gauge, grease fittings for the rear frame, relay panel and electrical breakers.
Sloped Hood
Sloped hood tilts for complete access to the engine, cooling system and other major components. An electric screwjack tilt the hood up to 75 degrees.
Scheduled Maintenance Points
Scheduled maintenance points are well within reach. An air filter service indicator is visible from the cab or platform, with the air filter reachable from the left platform and the engine oil filter form the rear platform.
Separated Cooling System
Separated cooling system isolates the fan and radiator away from the engine for a quieter running machine.
Monitoring System
826G Monitoring System provides diagnostics, allowing technicians to review a machine's operation and quickly troubleshoot problems.
Operator Station
Operator's station may be removed or replaced in about 45 minutes without having to disconnect hydraulic lines.