The CM300 Series ranges from the mid-seam CM330 to the CM345 for narrow pathways and the CM845 miner bolter. These miners have maximum cutting heights ranging from 3.1 m (122 in) to 4.6 m (181 in).
Longer Overhaul Interval
In addition to offering features that deliver superior performance, Cat continuous miners offer a whole range of engineering features that contribute to long, reliable service between overhauls.This means greater productivity and higher tonnage between rebuilds.
Efficient Cuts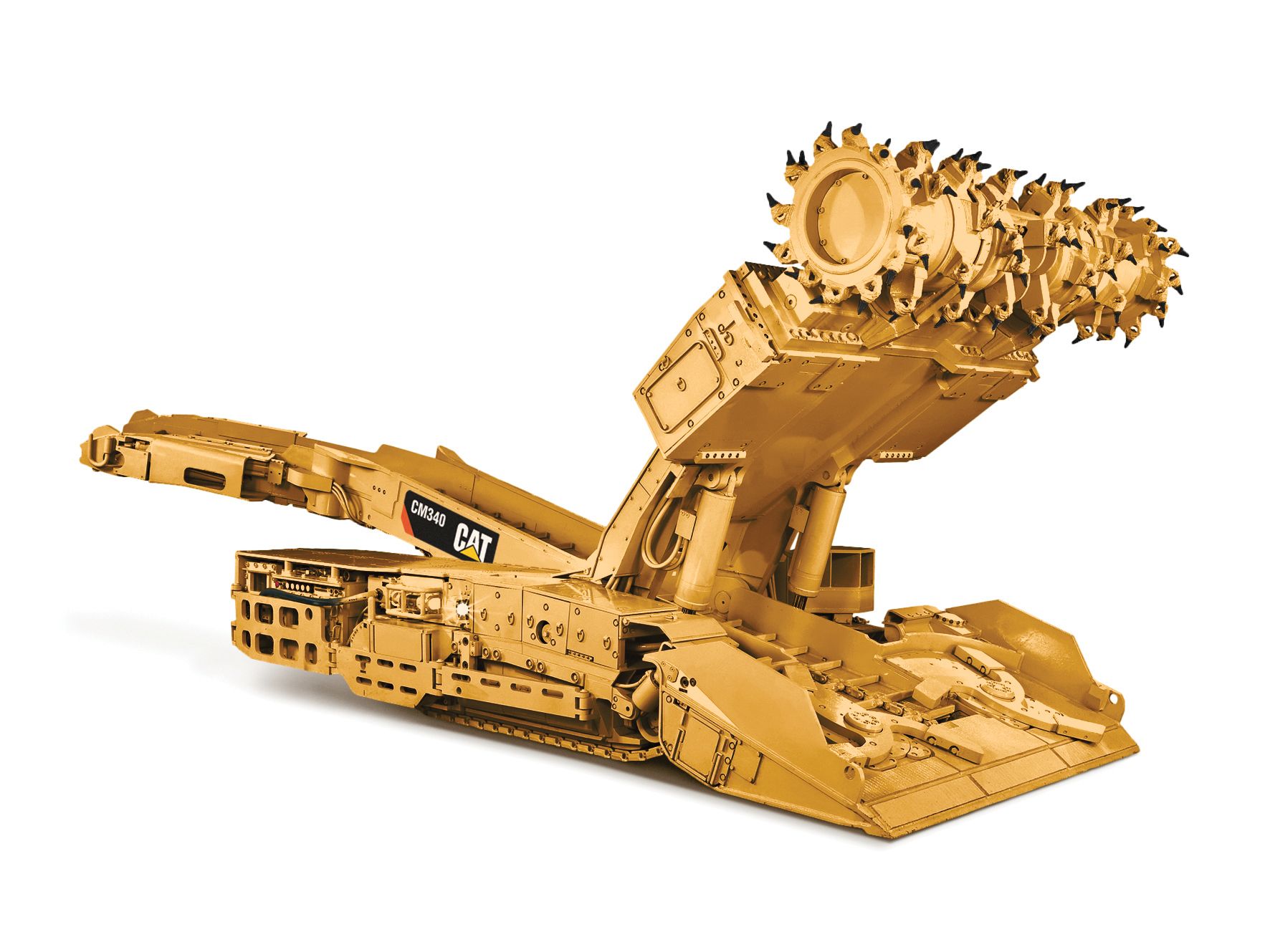 Infinitely variable tram control allows precise control of steering, speed and traction with independent control of the two sides. This high maneuverability allows faster positioning and optimum cutting, increasing productivity.Cat continuous miners also have a lift kit that allows cutting height changes to be made within 3 hours. This rapid change is made possible by pin-on wire runners. Our competitors' machines require welding and cannot compete with this speed.
Weight
Cat continuous miners use a 75 mm steel plate for the main frame - 50% thicker than competitors.The heavier, more rigid frame allows a better cutting rate when sumping at the top of the seam and ripping to the bottom.
Ease of Operation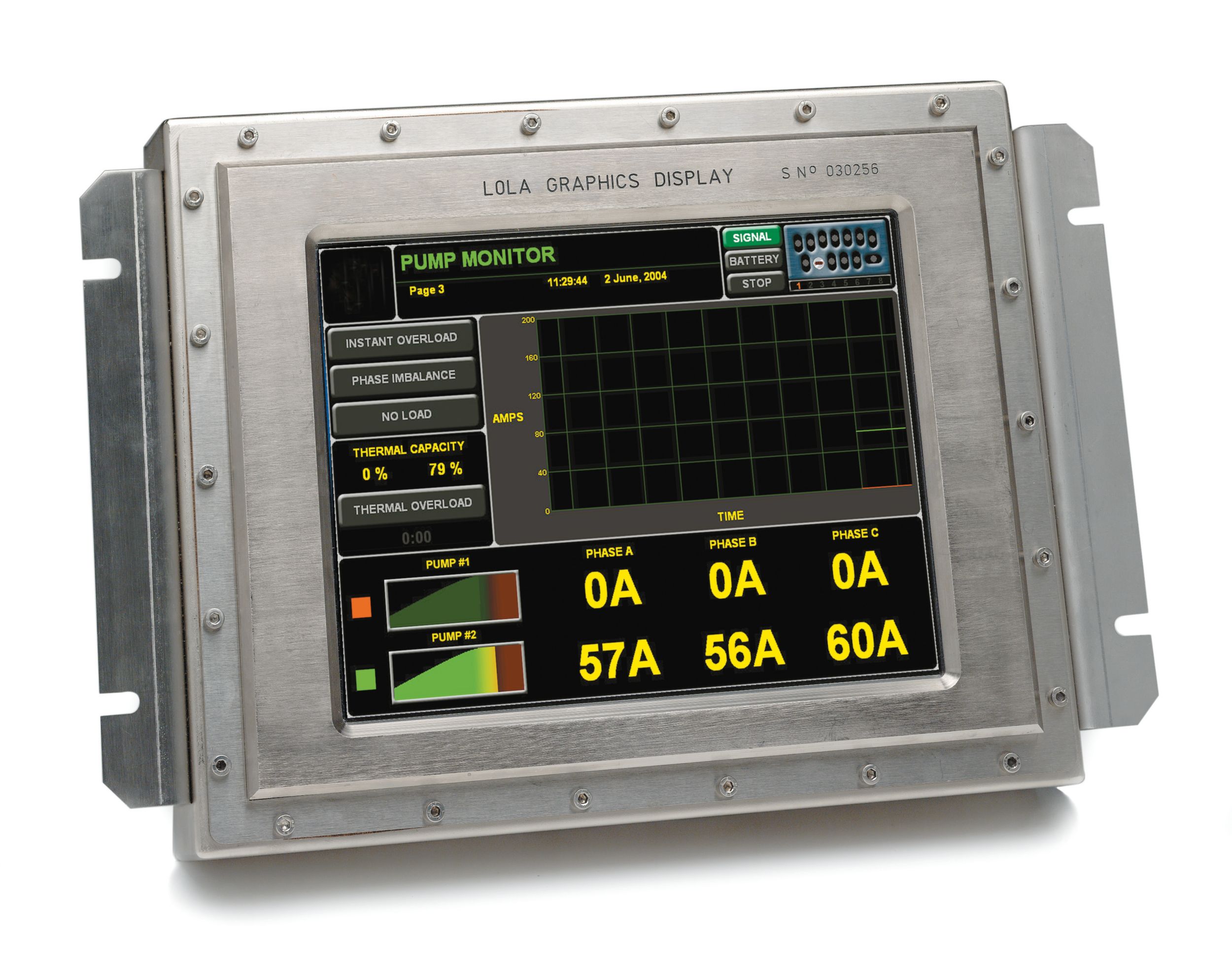 Caterpillar offers a Machine Control Unit designed to operate the entire Cat continuous miner. Based on a mine-duty PLC, this drive and control system combines maximized coal production and operator safety with minimum downtime.As traction motors are controlled by a microprocessor-based system, the design minimizes the connection points that are the major cause of downtime. It provides data logging, fast diagnostics and enhanced troubleshooting capability. The optional ergonomic graphics display provides easy access to visualization, parameters, logs and help. Screens can be accessed via the transmitter and parameter changes can be made. The unit allows three modes of control: wireless for normal operation, umbilical and a mode for troubleshooting.
New Generation Controls
Caterpillar has ongoing development aimed at providing mining operations with reliable controls to the level of complexity that fits their needs.The system can be tailored to meet the needs of an operation with a combination or total of:
AC VFD (Variable Frequency Drive) or DC Drive Options
Integrated electronic overloads
Color graphic diagnostic options
Data logging
Smart Hydraulic System
High Availability, Low Maintenance
The dimensioning of components and structural elements - such as motors, pumps, clevises and pivots - and their location and packaging ensure ease of maintenance, increase machine availability and reduce operating costs. Cat continuous miners are built to last.For example, the Cat clevis is 113 mm, compared to 100 mm for our major competitor, and pin diameter is 194 mm compared to 100 mm. The rugged design of Cat continuous miners ensures long maintenance intervals and higher tonnage between rebuilds.
Ease of Maintenance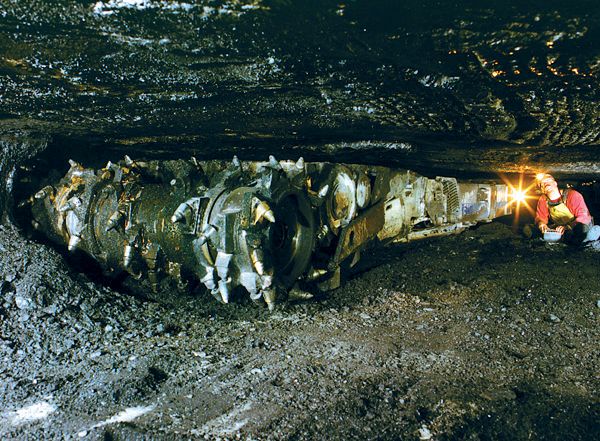 Cat continuous miners are designed to facilitate maintenance, which in turn cuts costs and increases availability and productivity. Unlike our major competitor, the cutter head gearcases on Cat machines are independent.So if there is a failure on one side, only one half of the cutter head has to be replaced as opposed to changing the whole head. Tram cases can be repaired on machine without having to pull the tram case off the miner, resulting in considerable time and cost savings. The Centrifugal Loading Arm (CLA) has abrasion-resistant replaceable tips, allowing quick and easy refurbishment.
Commonality of Parts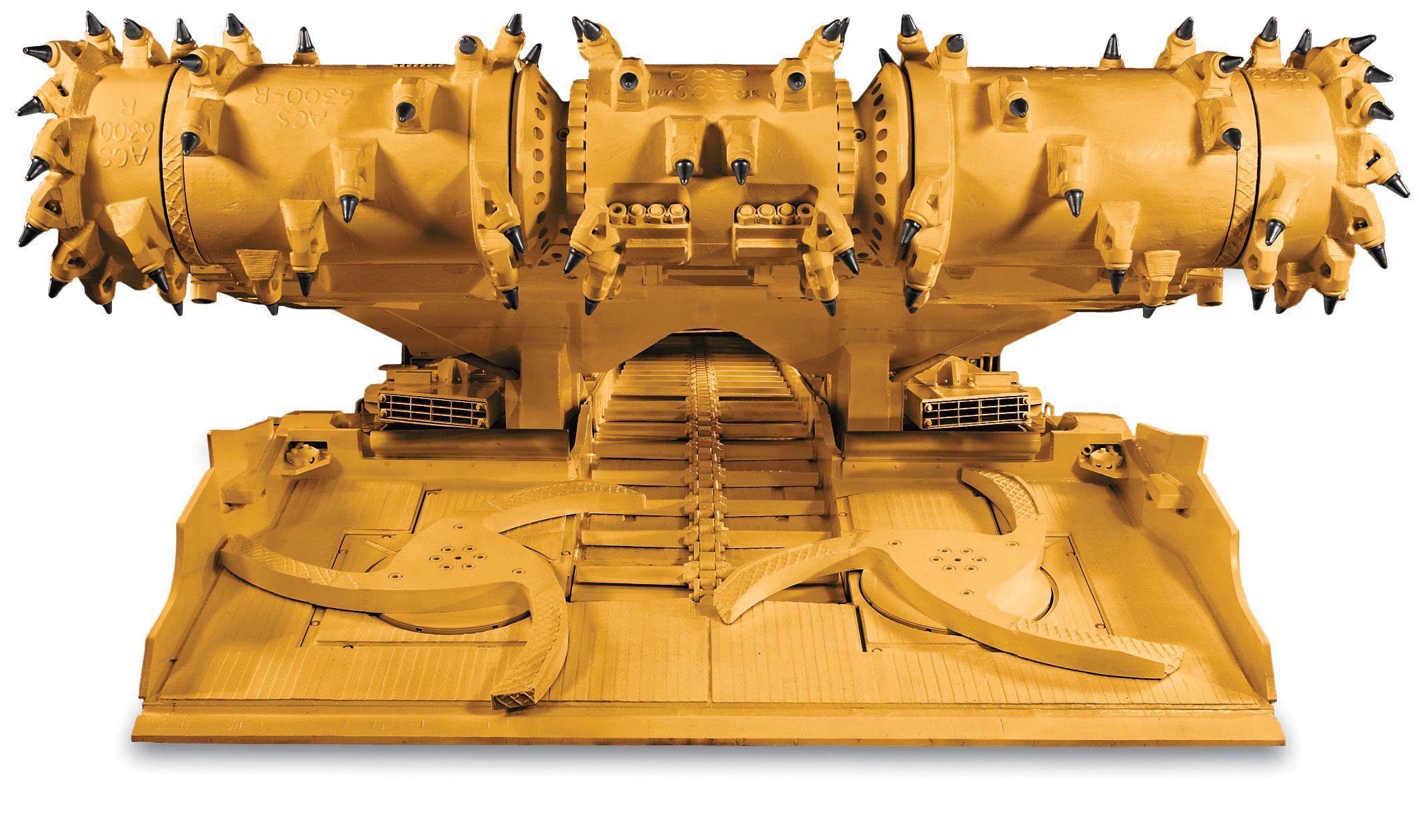 The CM220, CM230 and CM240 have common components such as gathering head gearboxes, conveyor motors, tram motors, tram gearboxes, electrical boxes, radio control system, hydraulic pump, pump motor and crawler chain assemblies. The major common components of the CM330, CM340, CM345 and CM430 are the gathering head gearboxes, conveyor motors, tram motors, tram gearboxes, radio control system, hydraulic pump, pump motor, cutting head gearbox and crawler chain assemblies.This commonality of parts has numerous advantages:
Lower cost of inventory and higher parts availability
Faster replacement
Trained technicians can fix any machine in series
Flexibility: for example, the CM230 can be converted into a CM220
Motors
Motors are designed for heavy-duty 50 Hz operation so as not to compromise power, speed or production. Overheating and failure of these powerful motors is prevented by electronic motor overload protection.Cutter motors are protected by a clutch and have no torque shafts, whereas gathering motors and dual-reduction gathering gear cases are protected by quill shafts which, like a torsional spring, twist along their length. Cooling system monitoring ensures that the proper flow and pressure are available to cool the motor and electrical system.
Robust Gear Cases
The robust gears are made from carburized high-alloy steel with ground teeth for accuracy and quiet operation. The replaceable cutter head input gear cases allow quick and economical replacement of the components most susceptible to failure due to inadequate lubrication.The long-life double planetary tram gear case has separately changeable planetaries and sprockets incorporating improved torric seal protection. The design of the high-speed gearing makes troublesome bevel gearing unnecessary. Helical input gears and spiral bevel gears maximize cutter gearbox life.
Low Overhaul Frequency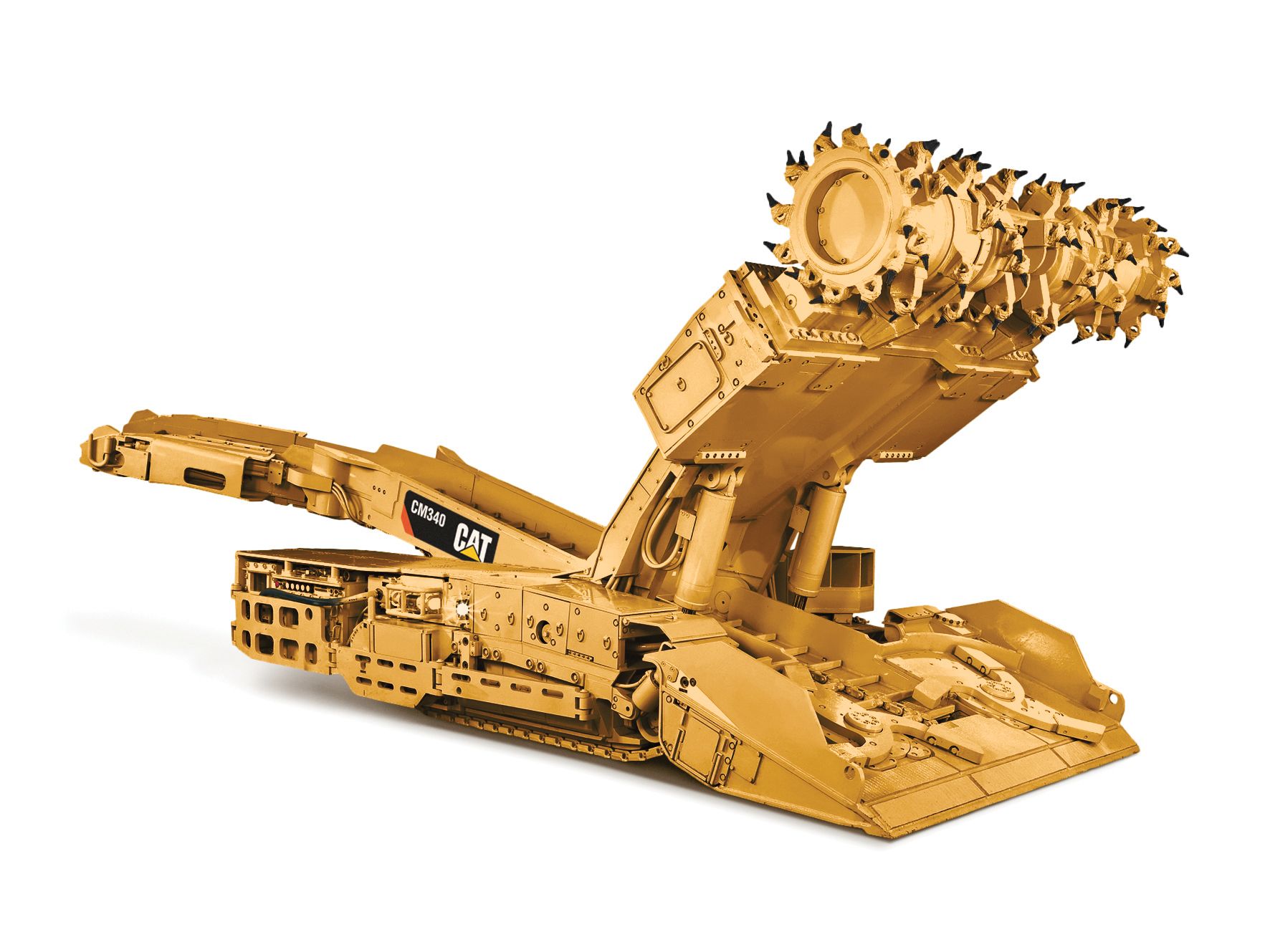 The overhaul interval is maximized by various measures to reduce wear and tear. All major wear areas - including spade, conveyor and cutter gear case webs - have long-life 13 mm Chrome Carbide Overlay (CCO) liners.Extra-large cutter boom pin and bush increase load and fatigue capacity, while traction liners are extra-thick for extended life. Cabling and hydraulic hosing are integrated for improved protection. Spigoted and/or keyed mounting of cutter motors, traction motors and traction gear cases isolate mounting bolts from the load.