The SH630 is a versatile and reliable solution for loads up to 33 tonnes (36 tons). It has been the market leader in capability for many years. The SH630 is in service in major mining operations in the United States and China.
The Clean Air Act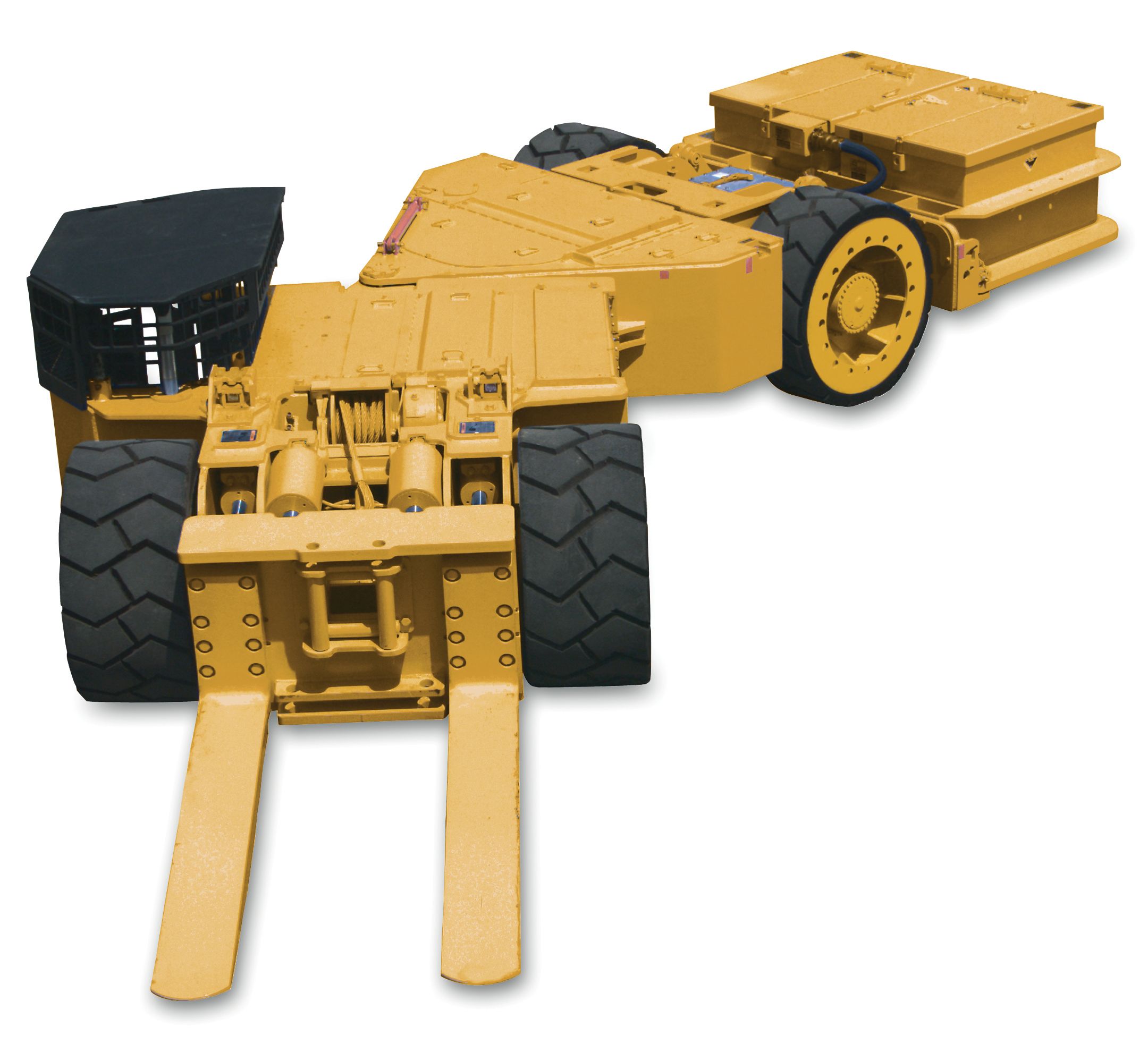 Cat battery-powered roof support carriers do not burden your mine's ventilation with emissions or heat. Due to infinitely variable power control, they are the ideal vehicle for the installation or removal of longwall roof supports where heat, emissions and noise would impact work and where a flexible vehicle is needed.As the world leader in battery-powered vehicles and longwall systems for the underground mining industry, we take pride in providing the world's most advanced battery-powered roof support carriers. Innovative solutions in power control and transmission contribute to utilizing battery power to the max.
The Power You Need
A combination of Cat battery- and diesel-powered vehicles can offer the ideal solution for longwall installations and moves. Battery-powered roof support carriers can position or remove roof supports from old and new faces.The operator benefits from their superior versatility, tight cornering, tractive effort control and maneuverability on uneven ground. Battery-powered vehicles do not negatively impact the working environment with emissions or noise.
Battery Power for Versatility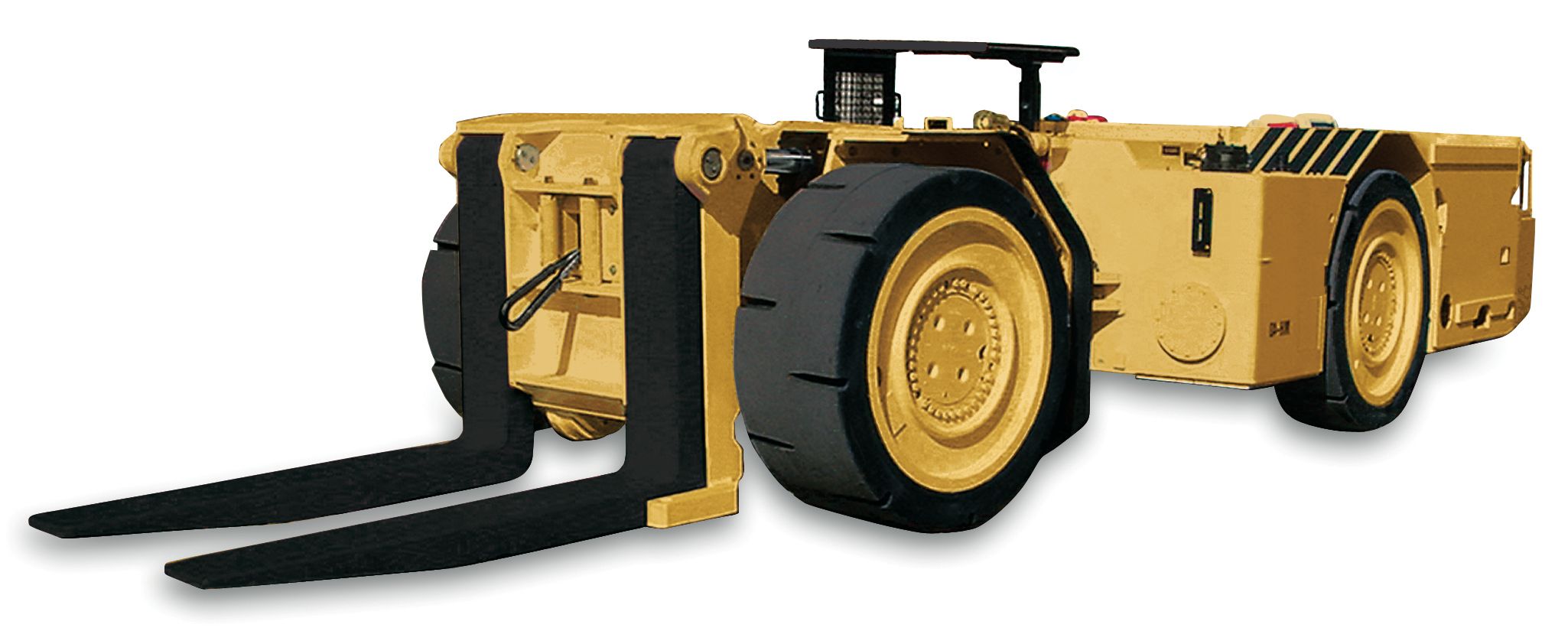 Cat battery-powered roof support carriers make longwall face moves simpler and less costly. The specially engineered ultra-heavy-duty vehicle range builds on the knowledge of many years of operational experience.The electric drive concept gives operators the best control of power and maximum torque capabilities at low speeds. Zero emission of noxious gases and low emissions of heat and noise make the carrier range operator-friendly and easy to work with. They are the ideal utility vehicle for longwall moves.
Stability and Traction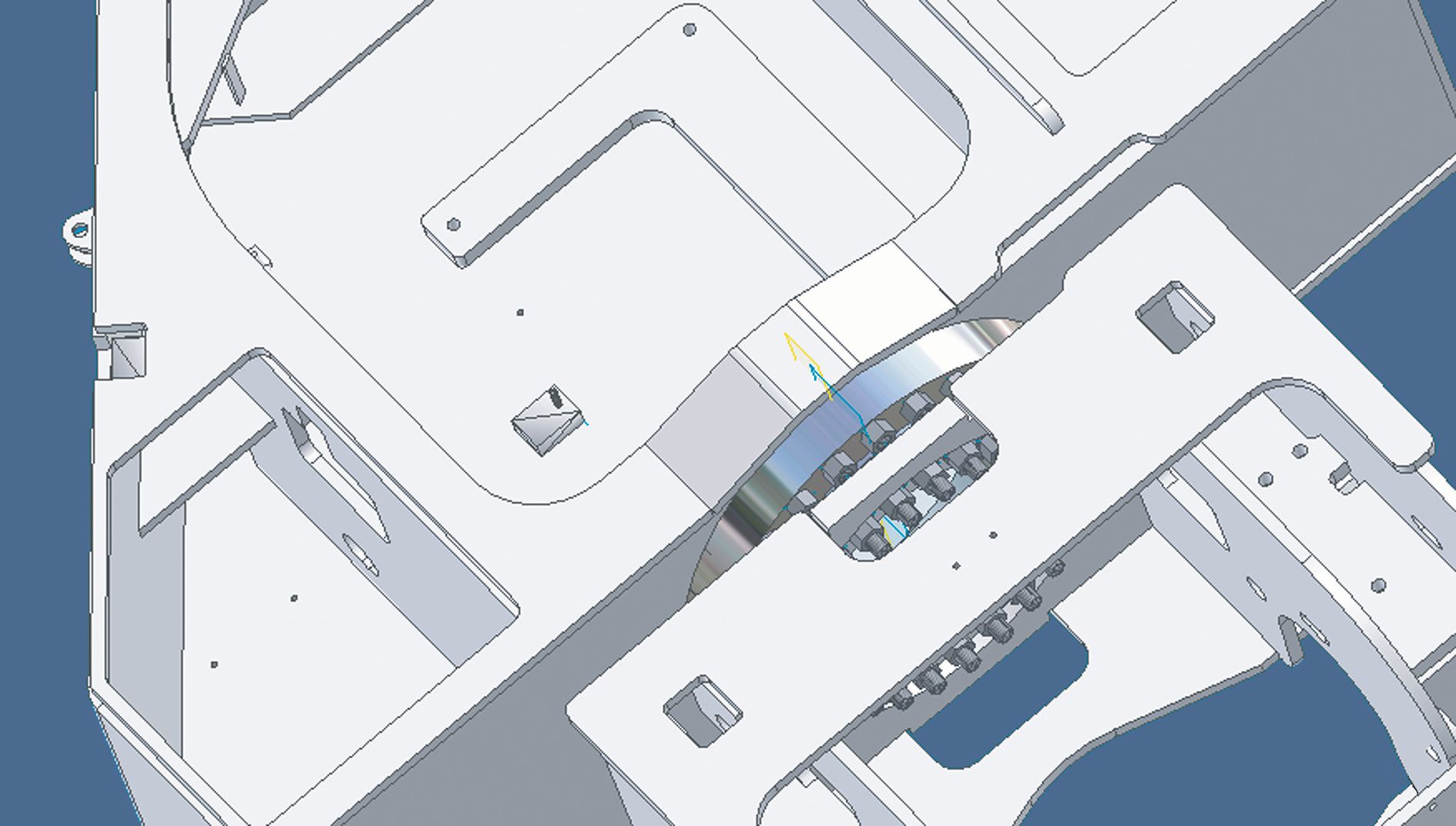 Cat roof support carriers have a tri-sectional chassis with dual motors located near the axles. The rear drive axle and the battery lift are incorporated into a single oscillating entity at the rear.This gives the carrier extra stability, even when handling loads equal to the empty vehicle weight. As load motion is independent of the rear frame, this design provides extra load handling stability, especially on uneven ground or while maneuvering and positioning roof supports. It also improves traction, as wheels remain in contact with the ground with the weight of the battery over them.
Battery Competence
Caterpillar has developed unparalleled experience and expertise in the design of batteries and battery changing systems. Current 2000 Ah batteries enable maximum performance at peak loads as well as lasting performance throughout the shift.Battery capacities and vehicle designs are field-proven and are adapted to actual work schedules and longwall move experience. The Cat East Penn battery is built for the long run, providing the lowest cost of ownership in the industry. Specially formulated premium-grade lead oxide is used in the flat plate design and each plate is individually formed prior to cell assembly. This ensures uniform performance and maximization of amp-hour capacity. State-of-the-art computerized equipment is utilized in every phase of the production process and stringent quality checks are made on each battery to ensure the highest level of performance.
Maximum Battery Efficiency
The Cat IGBT control makes the most of battery power.It translates to variable speed and tractive effort at the varying intervals. This allows battery power to be controlled with maximum precision and efficiency.
Optional VFD
The latest Caterpillar innovation is the HiPAC 10 VFD control system, which drives the motive traction and hydraulic systems and provides the operator with machine management information. The HiPAC 10 is a DC-to-AC variable frequency inverter control that drives high-performance AC electric motors, which have superior speed-torque characteristics.It is up to 14% more efficient than traditional DC motors. This means higher loaded tram speeds, more responsive hydraulic functions and more material hauled per battery charge. The HiPAC 10 machine management system speeds fault diagnosis, allowing rapid repairs and maximizing uptime. The new user interface can display information such as drive unit temperatures and distance traveled per battery charge. The optional Cat control stick gives the operator intuitive control over steering and other functions. It also gives quick access to monitoring and self-diagnosis of the vehicle's functions.
RAS - Rapid Attachment System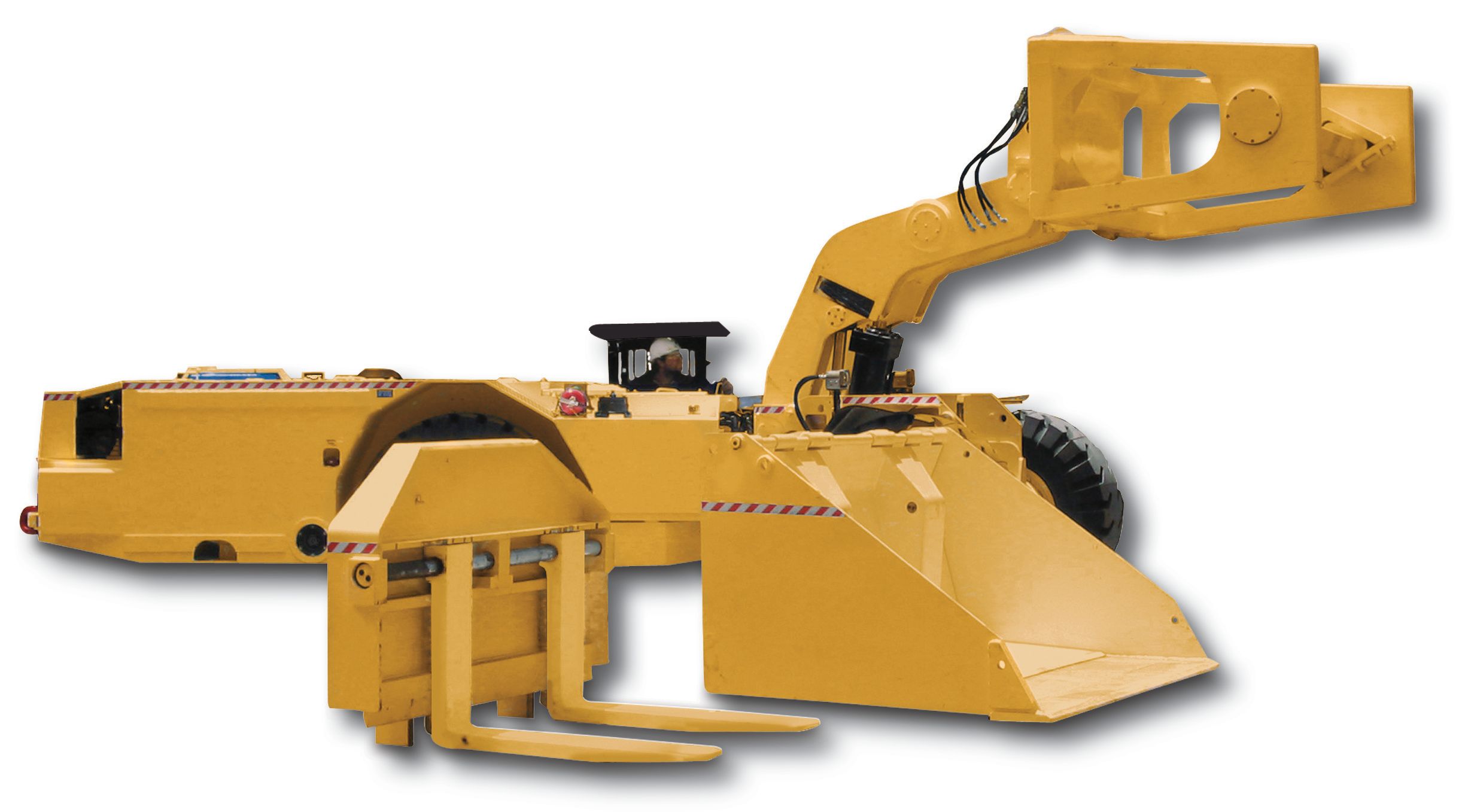 The Rapid Attachment System available for the CL10 and CL15 makes an accessory change a one-man operation, allowing a broad range of accessories to be fitted in moments without removing the backing plate. Utilizing the LHD with RAS attachments during longwall relocations can greatly reduce lost production time.Each attachment is tested and performance rated.
Ejector plate bucket
Side shift forks
AFC chain reeler
Belt reeler
Cable reeler
Jib crane [static and slewing]
Work baskets
Fuel and lubrication module
Materials pod system
Concrete hopper
Features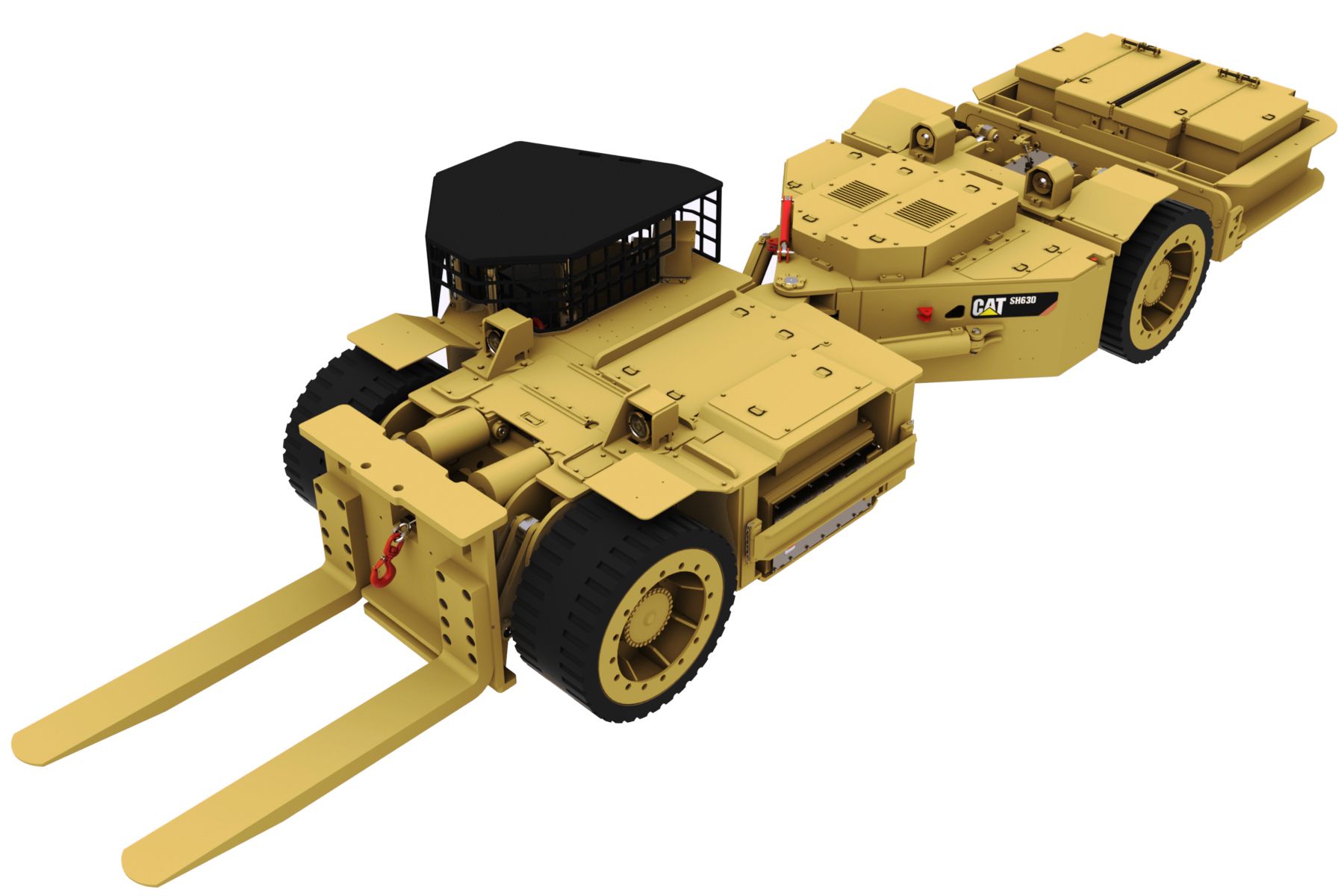 Capacity
• Lift and Carry Capacity*: - Without Ballast: 32.6 tonnes (36 tons) at 1574.8 mm (62 in). *Based on the use of 48×22 solid tires.
Drive Train
Tram Motor: - Two mine traction, direct current, dual field, laminated frame gear motors rated at 37.28 kW (50 hp) each (total of 74.56 kW [100 hp] per machine) at 1,500 rpm and 110V DC; foot mounted. Each 37.28 kW (50 hp) tram motor is coupled with a 5.77:1 ratio gearbox. - One motor is front frame mounted and drives the front axle and the rear axle tram motor is middle frame mounted. (Motor curves are furnished on request.)
Drive Lines: - 7C Series shafts with 127 mm (5 in) slip joints
Axles: - Front and rear rigid mounted outboard planetary axles with wet disc brakes.
Motor Overspeed Protection: - The motor overspeed system is designed to protect series wound DC tram motors from overspeed damage. Overspeed damage occurs only when the tram motor exceeds the nameplate speed rating (RPM) of the tram motor. Battery powered equipment is designed to operate within the speed rating of the tram motor, however, mine applications with severe downhill grades can lead to excessive motor speed and tram overspeed damage.
Brakes
• Service: - Left foot-pedal actuated, wet disc brakes at all four wheels. Hydraulic power is supplied through a 3.78 L (1 gal) accumulator which continues to provide stopping power in the event of a power loss and is monitored by a charging/unloading valve. - Accumulator is not permitted to fall below a certain residual pressure to assure this continued availability. A dash mounted monitoring gauge keeps the operator constantly informed of the accumulator's status.
Automatic Emergency/Park Brake Release Hand Pump
• Wall mounted hand pump located to the right of operator. Activating this pump enables the operator to release the brake without power on the unit for towing a disabled vehicle.
Hydraulics
Pump Motor: - Mine duty, laminated frame, direct current motor rated at 7.8 kW (16 hp) for 1 hour or 11.9 kW (10.5 hp) continuous; 110V DC; MSHA totally enclosed explosion proof; non-ventilated cooling; and foot mounted. - NOTE: Tests of comparable standard gear pumps in comparable machines in the exact same environment, demonstrated that the helical designed gear pump is approximately 10 dB quieter.
Filtration: - A high pressure 25 micron filter with dirt indicator located beside the pump motor is provided as standard equipment along with a 25 micron low pressure return line filter located in the reservoir.
Reservoir: - A 151.4 L (40 gal) capacity, bolt-in reservoir equipped with a spin-on filter/breather, an end mounted drain plug, and a clean out plate to permit draining and cleaning while still mounted on the machine. - An oil level sight gauge is located at the side of the tank and is easily visible.
Reservoir Fill System: - Refill pump system located on opposite side from operator on the middle frame that allows refilling of reservoir through the return line oil filter that is located in the top of the oil reservoir.
Valve Bank: - Seven section, parallel (flow through) type with internal relief and a dash mounted, glycerin filled pressure gauge.
Hydraulic PTO: - Two (2) quick coupler connections, 8273 kPa (1,200 psi) maximum recommended operating pressure.
Tilt Lift Cylinder: - Two (2) 215.9 mm (8.5 in) bore, double acting cylinders with load locking valves mounted on both the up and down function.
Bell-Crank Lift Cylinder: - Two (2) 152.4 mm (6 in) bore, double acting cylinders with load locking valves mounted on both the up and down function.
Steering Cylinder: - Two (2) 127 mm (5 in) bore; double acting cylinders with dual relief setting at 11 031 kPa (1,600 psi)
Battery Changer Cylinder: - Two (2) 127 mm (5 in) bore, double acting cylinders with load locking valves mounted on both the up and down function.
Dual Lift System
Standard Load Lift Face Plate: - A combination bell crank arm and bell crank lifting cylinder for vertical lifting and tilting cylinders for tilt lifting of a universal load lift frame that is provided as standard equipment. - This ultra-heavy duty welded and machined plate can accommodate many optional devices. Using crib blocks under optionally mounted forks allows the front axle to be lifted off the ground for tire and axle servicing if necessary.
Winch: - A fully hydraulically operated, two speed, load sensing 20 411.6 kg/f (45,000 lbf): bare drum pull winch is mounted on the front frame.
Winch Cable Assembly: - The standard winch cable is 25.4 mm (1 in) diameter, 6 × 37, IWRC, EIPS, class bright cable equipped with a swaged-on thimble, connecting link and swivel hook.
Tri-Section Frame: - The tri-section frame design featuring multiple plate, modular construction for maximum strength and structural integrity and the design produces a maximum of stability while maneuvering with a heavy load. All high stressed areas are manufactured with T1 steel.
Center Section: - Center section is designed with hardened 101.6 mm (4 in) diameter pivot pins and spherical bearings to provide maximum load transfer and long component life. Entire center section area manufactured with T1 steel.
Oscillation Section: - A 812.8 mm (32 in) diameter ball bearing provides ±20° oscillation while maintaining a maximum of load transfer.
Battery Change System: - Uniquely designed, hydraulically operated, bell-crank, forklift battery changer to pick up battery from grade. The battery/battery tray assembly can be further raised to increase the rear approach clearance up to 457.2 mm (18 in). - With the use of crib blocks, the rear axle can be raised off the ground for tire and/or axle maintenance.
Operator's Compartment
Side Egress Access
Off-Park-Forward-Reverse Master Switch
Front-Off-Rear Headlight Switch
Panic Strip Switch: de-energizes electrical system and applies the automatic park brake
Interlocked Push Button Pump Motor Start Switch
Left Hand Steering Control Lever
Dash Mounted Power Disconnect Switch
Dash Mounted Fire Suppression Actuator
Dash Mounted Glycerin Filled Hydraulic Gauges for accumulator, system pressure and emergency brake
Push Button Electric Park Brake Release
Winch Operations Control Valve
Warning Gong
Right Hand Tilt-Lift Control Lever
Right Hand Bell-Crank Lift Control Lever
Hydraulic Winch (In-Out) Control Lever
Hydraulic PTO Control Lever
Battery Changer Control Lever
Manual Circuit Breaker Reset Lever Control Handle
Emergency/Park Brake Release Hand Pump
Right Foot Accelerator Pedal
Left Foot Brake Pedal
Manuals
Two Parts Manuals
Two Operation and Preventive Maintenance Manuals
Two Electrical Troubleshooting Guides
Two Battery Maintenance Manuals
Two Battery Maintenance Charts
One LinkOne CD includes all above manuals in electronic format