The new 20 tonne (22 ton) SH620 is the smallest model. It provides customers with more options to ensure the right size vehicle for their operation.
The Clean Air Act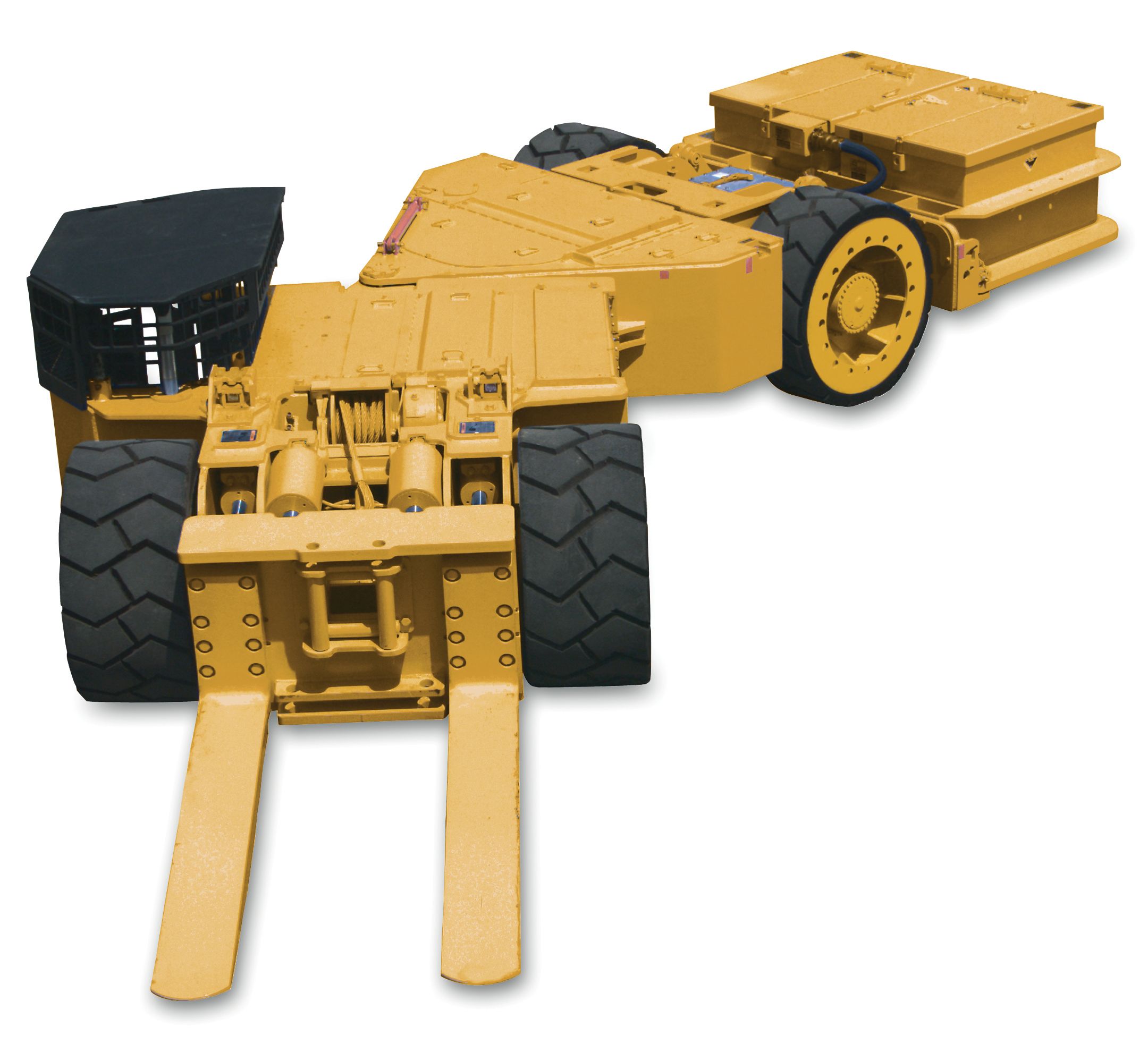 Cat battery-powered roof support carriers do not burden your mine's ventilation with emissions or heat. Due to infinitely variable power control, they are the ideal vehicle for the installation or removal of longwall roof supports where heat, emissions and noise would impact work and where a flexible vehicle is needed.As the world leader in battery-powered vehicles and longwall systems for the underground mining industry, we take pride in providing the world's most advanced battery-powered roof support carriers. Innovative solutions in power control and transmission contribute to utilizing battery power to the max.
The Power You Need
A combination of Cat battery- and diesel-powered vehicles can offer the ideal solution for longwall installations and moves. Battery-powered roof support carriers can position or remove roof supports from old and new faces.The operator benefits from their superior versatility, tight cornering, tractive effort control and maneuverability on uneven ground. Battery-powered vehicles do not negatively impact the working environment with emissions or noise.
Battery Power for Versatility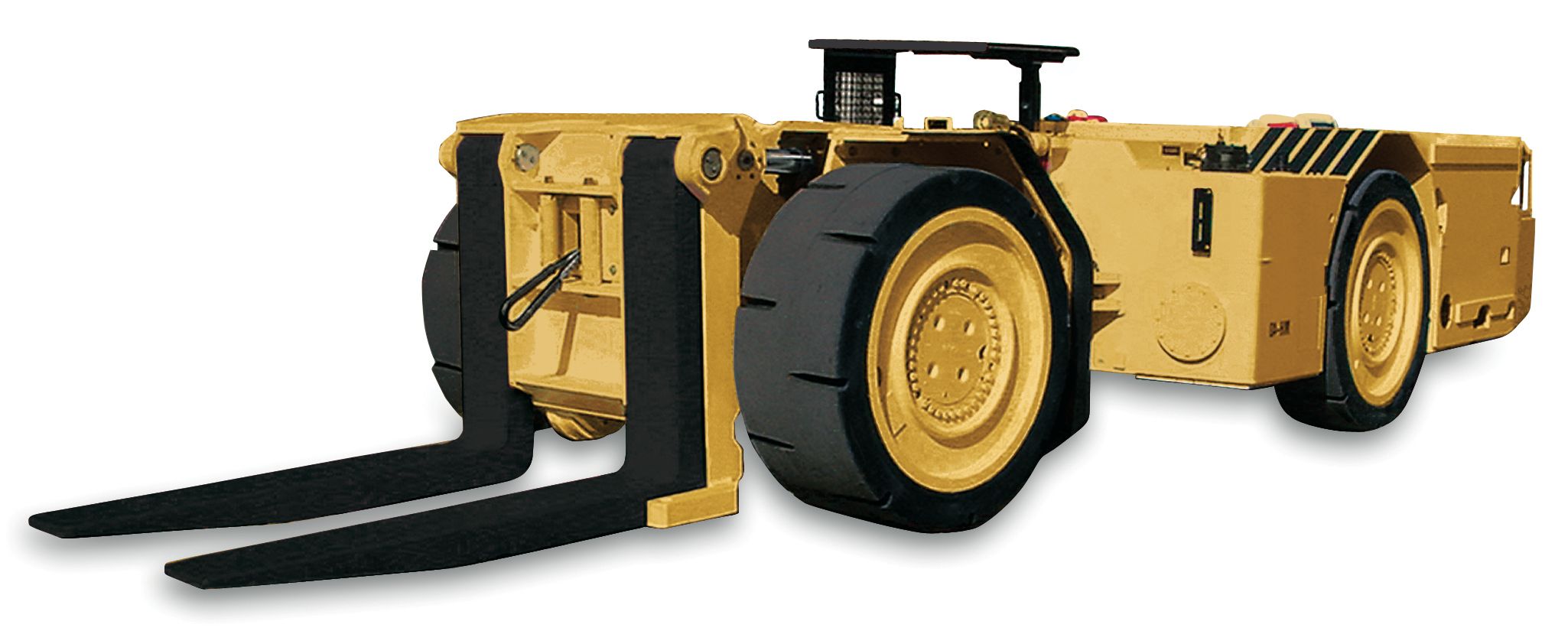 Cat battery-powered roof support carriers make longwall face moves simpler and less costly. The specially engineered ultra-heavy-duty vehicle range builds on the knowledge of many years of operational experience.The electric drive concept gives operators the best control of power and maximum torque capabilities at low speeds. Zero emission of noxious gases and low emissions of heat and noise make the carrier range operator-friendly and easy to work with. They are the ideal utility vehicle for longwall moves.
Stability and Traction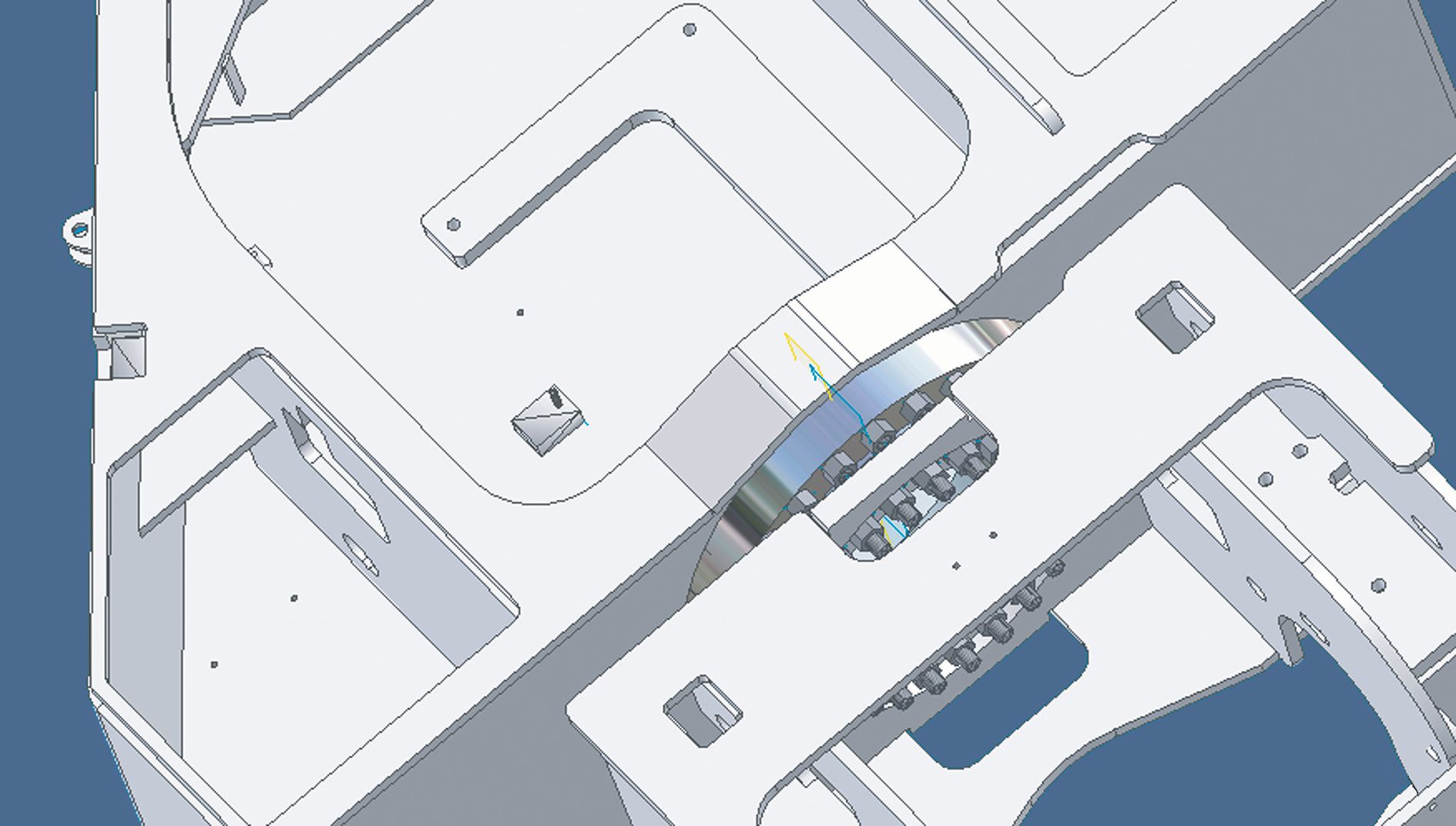 Cat roof support carriers have a tri-sectional chassis with dual motors located near the axles. The rear drive axle and the battery lift are incorporated into a single oscillating entity at the rear.This gives the carrier extra stability, even when handling loads equal to the empty vehicle weight. As load motion is independent of the rear frame, this design provides extra load handling stability, especially on uneven ground or while maneuvering and positioning roof supports. It also improves traction, as wheels remain in contact with the ground with the weight of the battery over them.
Battery Competence
Caterpillar has developed unparalleled experience and expertise in the design of batteries and battery changing systems. Current 2000 Ah batteries enable maximum performance at peak loads as well as lasting performance throughout the shift.Battery capacities and vehicle designs are field-proven and are adapted to actual work schedules and longwall move experience. The Cat East Penn battery is built for the long run, providing the lowest cost of ownership in the industry. Specially formulated premium-grade lead oxide is used in the flat plate design and each plate is individually formed prior to cell assembly. This ensures uniform performance and maximization of amp-hour capacity. State-of-the-art computerized equipment is utilized in every phase of the production process and stringent quality checks are made on each battery to ensure the highest level of performance.
Maximum Battery Efficiency
The Cat IGBT control makes the most of battery power.It translates to variable speed and tractive effort at the varying intervals. This allows battery power to be controlled with maximum precision and efficiency.
Optional VFD
The latest Caterpillar innovation is the HiPAC 10 VFD control system, which drives the motive traction and hydraulic systems and provides the operator with machine management information. The HiPAC 10 is a DC-to-AC variable frequency inverter control that drives high-performance AC electric motors, which have superior speed-torque characteristics.It is up to 14% more efficient than traditional DC motors. This means higher loaded tram speeds, more responsive hydraulic functions and more material hauled per battery charge. The HiPAC 10 machine management system speeds fault diagnosis, allowing rapid repairs and maximizing uptime. The new user interface can display information such as drive unit temperatures and distance traveled per battery charge. The optional Cat control stick gives the operator intuitive control over steering and other functions. It also gives quick access to monitoring and self-diagnosis of the vehicle's functions.
RAS - Rapid Attachment System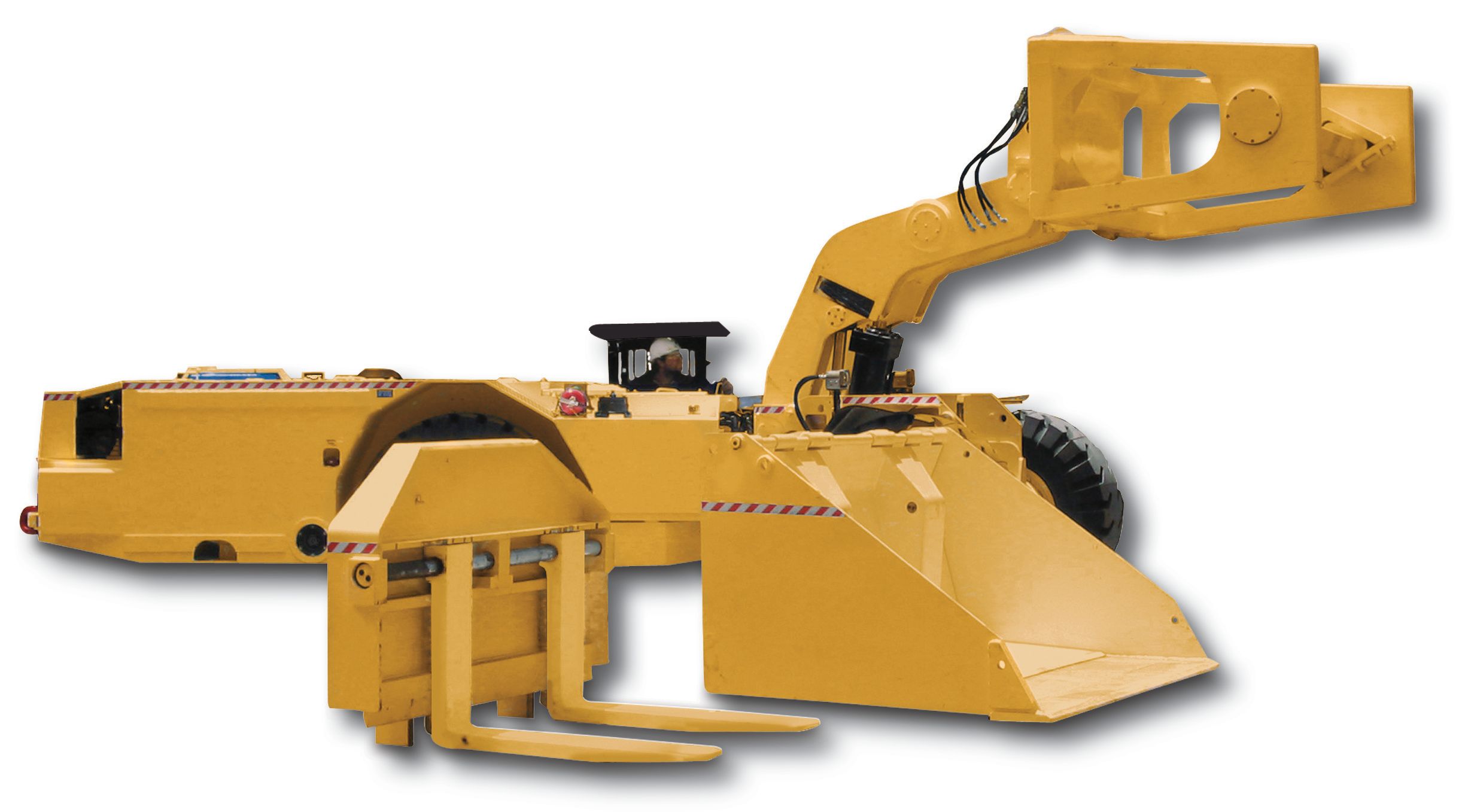 The Rapid Attachment System available for the CL10 and CL15 makes an accessory change a one-man operation, allowing a broad range of accessories to be fitted in moments without removing the backing plate. Utilizing the LHD with RAS attachments during longwall relocations can greatly reduce lost production time.Each attachment is tested and performance rated.
Ejector plate bucket
Side shift forks
AFC chain reeler
Belt reeler
Cable reeler
Jib crane [static and slewing]
Work baskets
Fuel and lubrication module
Materials pod system
Concrete hopper
Features
Capacity
• Lift and Carry Capacity*: 19.9 tonnes (22 tons) at 914.4 mm (36 in). *Capacities based on 1117.6 mm (44 in) tires.
Drive Train
Tram Motor: - Two proprietary design, mine traction, direct current, gear motors rated at 37.28 kW (50 hp) (74.56 kW [100 hp] total) at 1,540 rpm and 110V; MSHA totally enclosed explosion proof; non-ventilated cooling; foot mounted. (Motor curves are furnished on request.)
Drive Lines: - Heavy duty off-highway type drive shafts and slip joints.
Axles: - Front/rear rigid mounted outboard planetary axles with wet disc spring applied, hydraulically released brakes.
Motor Overspeed Protection: - Motor system is designed to prevent tram motor from overspeeding.
Brakes
• Service and Emergency/Park: - Spring applied hydraulic release SAHR - Four wheel wet disc - Left pedal activated - Controlled by reverse modulating valve
Hydraulics
Pump Motor: - Mine duty, laminated frame, direct current motor rated at 11.93 kW (16 hp) for one hour; 110V DC; MSHA totally enclosed explosion proof; non-ventilated cooling.
Pump: - The pump is a fixed displacement gear pump that is splined shaft fitted to the pump motor.
Filtration: - Standard: one 10 micron pressure filter and one 10 micron return filter.
Reservoir: - A 189.3 L (50 gal) capacity, integral reservoir.
Reservoir Fill System: - Fill cap assembly in top of reservoir tank.
Valve Bank: - Six section, parallel type with internal relief and a dash mounted glycerin filed pressure gauge.
Hydraulic PTO: - Two (2) quick coupler connections, 8273 kPa (1,200 psi) maximum recommended operating pressure.
Tilt/Lift Cylinders: - Two (2) 152.4 mm (6 in) bore, double acting cylinders with forged rods and self-aligning lift cylinders. - Two (2) 177.9 mm (7 in) bore, double acting cylinders with forged rods and self-aligning tilt cylinders.
Steering Cylinder: - Two (2) 127 mm (5 in) bore, double acting cylinders with forged rods and self-aligning bearings.
Standard Load Lift
A combination bell crank arm and bell crank lifting cylinder, for vertical lifting and tilting cylinders for tilt lifting of a universal load lift frame that is provided as standard equipment. Heavy duty, pin on, forged alloy steel forks 114.3 mm × 203.2 mm × 2082.8 mm (4.5 in × 8 in × 82 in), are standard for 19.9 tonne (22 ton) lift capability.
Winch: - 15.9 kg/f (35,000 lbf), 2 speed, hydraulic driven, worm-style winch attached to lifting frame with three quick detach pins in a zero line stretch configuration.
Winch Cable Assembly (Options): - 19 mm (3⁄4 in) diameter cable equipped with a swaged-on thimble, connecting link and swivel hook and a swaged stud quick attachment. - Optional twelve strand braided synthetic rope with swivel hook.
Frame
Tri-Section Frame: - The tri-section frame design featuring multiple plate, modular construction for maximum strength and structural integrity and the design produces a maximum of stability while maneuvering with a heavy load. All high stressed areas are manufactured with T1 steel.
Center Section: - Center section is designed with hardened 76.2 mm (3 in) diameter pivot pins and spherical bearings to provide maximum load transfer and long component life. All high stressed areas are manufactured with T1 steel.
Oscillation Section: - A 666.75 mm (26.25 in) diameter bearing with 33.34 mm (15⁄16 in) diameter rolling elements provides 20 degrees of oscillation.
Battery Change System: - Ground level battery change system (GLBC) with self-leveling gathering arms and two (2) 127 mm (5 in) bore, double acting cylinders.
Operator's Compartment
Equipped with control handle on the left hand steering lever. The functions on the control handle are: - Direction control - Pump start - Light direction selection - Park brake release - Traction assist - Stop
Right Foot Accelerator Pedal
Left Foot Brake Pedal
Panic Strip Switch: de-energizes the electrical system and applies the automatic park brake
Warning Gong
Manual Disconnect Switch
Manual Breaker Lever Re-Set Handle
Valve Bank Hydraulic Functions: - Steering - Bucket - Bucket eject - Winch/power take off - Battery changer - Optional hydraulic cab
System Pressure Gauge
Accumulator Pressure Gauge
Park Brake Release Pressure Gauge
Manuals
Two Parts Manuals
Two Operation and Preventive Maintenance Manuals
Two Electrical Troubleshooting Guides
Two Battery Maintenance Manuals
Two Battery Maintenance Charts
One LinkOne CD includes all above manuals in electronic format
Hydraulic Installation (Standard)
• JIC fittings with 373.8 kPa (5,000 psi) hosing; MSHA 2G flame resistant approved
Electrical Controller (Options)
Model BUC2000, microprocessor controlled, IGBT, contactorless, 128V DC, 1,200 amp traction motor controller (one per electric motor), with infinitely variable, step less, machine speed control, equipped with on-board dashboard display for machine information of battery capacity, battery voltage, motor currents, elapsed time hour meter, and troubleshooting diagnostics information.
Microprocessor controlled, IGBT, contactorless, 128V DC, 350 amp, pump motor controller, limits starting current, and provides LED based diagnostics.
Mine duty, 600 amp frame circuit breaker, with UVR (under voltage release) trip unit.
Circuit Breaker Options
Magnetic, UVR Trip: controller enclosure equipped with UVR trip circuit breaker rated mine duty 800 amp frame, 600V.
Standard Cab mounted breaker reset using a single high capacity, swivel end style push/pull cable.
Optional Cab mounted hydraulic breaker reset with single push breaker trip function. System equipped with a hand pump and reservoir for resetting the tripped breaker.
Cab Options
Manual Adjustable Cab Assembly: MSHA certified cab
Hydraulically Adjustable Cab Assembly: MSHA certified cab
Tire/Wheel Options
38 × 16-15 Filled Tires: 36 ply, maximum filled tires and wheels
44 × 18-20 Filled Tires: 36 ply, maximum filled tires and wheels
Lift Attachments
• Quick Attach Lift Plate, (fork assembly required): designed to lift and carry 19.9 tonnes (22 tons) at 914.4 mm (36 in) from the face of the load lift frame. The plate mounts directly to the forks through two parallel pockets and is held in place with two drop pins chained to the lift plate.
Lighting System Options
MCI 12V (Blue Lamp) Halogen 50 watt
Ocenco, Halogen, 12V DC, 50 watt
Standard two front headlights with protective guard, and two rear headlights with protective guard
Fire Suppression
• Automatic or Manual with NPT Fittings, Four Point (two on the front frame and two on the rear)
Machine Accessories (Optional)
Schroeder Testmate
PA Approval Plate
Park Brake Pressure Sensitive Switch: prevents operator from driving through park brake
Automatic Fire Suppression: automatically activated by heat sensors and including one manual
Venturi Jet Fill
BUC2000 Hand Held Calibrator
RPM Monitoring: protection tram motor over-speed
Extra Parts Manual
Extra Operations and Maintenance Manual
Bucket: 3.7 m3 (130 ft3)
Machine Battery
Battery Tray
Battery with Plastisol Coated Tray (Single Connector)
Battery Receptacle Kit
Battery Filling System
Battery Charger Options
Single Output for One Battery
Dual Output for Two Batteries