The 963C WH is the machine to perform many waste handling tasks. It can also be used to compact the top layer of material which minimizes the amount of daily cover needed.
Versatility
The excellent versatility of the 963C Waste Handler makes it well suited for many waste-handling applications. Ranging from the basic Waste Handler, for performing many waste handling tasks, to the Transfer Station/Demolition arrangement, which requires additional maneuverability in tight quarters. Other uses for the 963C WH vary from soil excavation, utility applications, and material handling.
Landfill Applications
The 963C Waste Handler performs many waste handling tasks, such as:
Feeding waste to landfill compactors
Spreading
Shredding
Compacting
Leveling waste before daily cover
Transfer Station
This application requires a machine with maneuverability in addition to versatility. The 963C Waste Handler makes the following transfer station tasks possible:
Sorting
Shredding
Crushing
Compacting
Loading
Waste Material Handling
Due to its superior flotation and visibility the 963C Waste Handler can handle smoothly and efficiently
Separating materials for recycling
Moving materials to compost areas
Charging shredder hoppers
Truck loading
Construction and Demolition Material Handling
Track loaders can be used for:
Sorting
Shredding
Crushing
Compacting
Stockpiling
Loading materials
Utility Applications
The 963C can work in virtually any underfoot condition (snow, mud, uncompacted fill materials, etc.). It can be used to:
Build and maintain service roads
Remove snow
Clear land
Rip compacted material for excavation
Retrieve mired vehicles on the work site
Soil Excavation/Handling
The versatility of its tools makes the 963C Track Loader excellent for:
Excavating
Carrying
Stockpiling
Spreading soil and cover material
Basic Guarding Package
Guarding helps protect critical machine components and body panels from being damaged by debris under harsh waste handling environments.
Seal Protection Guard Group
Helps protect the final drive, pivot shaft and idler seals. Minimizes costly downtime caused by wire, nylon strapping, etc., usually found in transfer stations and landfills.
Heavy-duty Final Drive Seal and FInal Drive Seal Guard
Heavy-duty Final Drive Seal Guard (A) and Final Drive Seal Guard(B) prevent wires from wrapping around the Final Drive Dou-cone Seals.
Front Idler Guard
Helps protect the yoke, link, recoil rod and idler by preventing material from entering the idler area.
Fender Reinforcement
Fenders help protect cab and sheet metal.
Reinforcements added to improve strength. Angled up and out to help deflect debris.
Tapered front deflector pushes debris out and away from the machine when backing up.
Easy access for servicing is maintained.
Screened Hood
Screened hood with smaller perforations sized to limit debris entry.
Precleaner with Prescreener
Prevents trash from entering air intake.
Turbine-type dust ejection system extends filter life.
Swing-out Radiator Grille
Allows easy access for cleaning radiator.
Helps cooling system work more efficiently.
Bars angeled at 45° to help protect cooling cores.
Lift Cylinder Line Guards
Helps protect lift cylinder hoses and tubes from debris damage.
Basic Waste Handler Arrangment
The basic Waste Handler Arrangement includes the Basic Guarding Package in addition to the following - Heavy-duty Bottom Guards, Guarded Lights, Debris Barrier Package, Trash Radiator, Heavy-duty Front Guards, and Idler Guards.
Heavy-duty Swing Open Bottom Guards
Help protect engine and drive train from damage.
Provide easy access for servicing and cleanout.
Heavy-duty Hydraulic Tank Guard
Helps prevent costly hydraulic tank damage from debris.
Twice as thick as standard guarding for excellent protection.
Guarded Lighting Group
Four(4) lamp lighting group with guards. (2 front, 2 rear)
Debris Barrier Package
Rubber baffle added to front and rubber seals to rear of cab. Reduces build-up of debris in engine and power train components. Results in longer operating time between cleanouts.
Seals added to engine side doors to prevent entry of radiator-plugging waste. Additional seals added at various locations to further improve resistance to debris entry.
Screen hood with smaller perforations sized to limit debris entry.
Perforated engine enclosures improve airflow and coolinf efficiency while limiting debris entry. (Not available in EU)
Trash Resistant Radiator and Coolers
6 fin per inch radiator and coolers provide improved debris resistance and easier cleaning - runs longer and cooler between cleanouts.
Transfer Station/Demolition Arrangement
In addtion to the Basic Guarding Package and the Basic Waste Handling Arrangement this package includes the following - Heavy-duty Fender and Battery Box, Lift Cylinder Guard, Lift Cylinder Lines Guard, Tilt Cylinder Guards, 2-piece Abrasion Guards, and Heavy-duty Bumper.
Heavy-duty Bumper
Provides more complete protection for the rear of the machine.
Includes heavy-duty hinged grille with latches that can be opened by hand for easy cleaning access.
Tilt Cylinder Guards with Side Mounted Bucket Positioner
Protects cylinder, cylinder rod and hydraulic lines from falling debris.
Helps extend cylinder seal life.
Recommended Options
Features for peak performance. Several additional options are recommended to assist matching your site requirements.
Third Valve Lines Guard
Protects steel hydraulic lines for Multi-Purpose Bucket from damage caused by material pushed upward between lift arms when back-dragging.
Heavy-duty Hinged Windshield Screen
Protects front cab glass from debris coming over bucket. Features quick release handle for easy cleaning access.
Final Drive Abrasion Guards
Fabricated from abrasion-resistant steel to protect final drive housings.
Helps prevent final drive failure due to wear-through in abrasive conditions.
Trash Rack
Increases bucket capacity in waste applications.
Helps prevent bucket spillage
Debris-Resistant Air Conditioner condenser
Air inlet is located on the bottom to avoid condenser plugging due to falling debris.
Improves operator viewing area to the rear.
Performance and serviceability are maintained.
Rear Striker Bar
Designed to prevent debris from riding up the track and damaging the sheet metal.
Track Shoe Options
There are several shoe options to choose from with the Caterpillar oscillating undercarriage. Consult your Caterpillar dealer for more information.
Serviceability
The 963C WH design offers reduced maintenance, convenient access to components, easy diagnostic capabilities, as well as easy and economical component replacement possibilities. Cat dealers also provide quick parts availability.
Reduced Maintenance
The 963C WH has many service features incorporated in the machine including:
Caterpillar Extended Life Coolant for extended change intervals.
Sealed electrical connectors lock out dust and moisture.
Caterpillar XT™ hydraulic hose, in medium and high-pressure circuits, provide high abrasion resistance and far exceed industry standards.
O-Ring Face Seals (ORFS) hydraulic couplings help eliminate fluid leaks, provide positive seals, and are reusable for lower operating costs.
Removable floor panels in the cab to access the engine, and hystat and implement pumps.
Extended change intervals for engine and hydraulic/hystat oil.
Scheduled Oil Sampling Fluids Analysis helps avoid unnecessary downtime. S•O•SSM fluid taps make oil sampling easier.
Easy Component Access
The rear engine design and large engine access doors make it easy to reach the engine, electrical components, hydrostatic system, and batteries. Hydraulic and fuel filters are located close to each other. Removable cab floor panels create easy access to internal components. The hydrostatic drive system features separate pumps and motors for low replacement or rebuild cost. All lubrication points are accessible from ground level. The swing-out grille, now standard, reduces downtime and the cost for cleaning, inspection, and repair of the cooling package.
Product Link
This option allows the customer or dealer to obtain machine diagnostics and location from their offices. Product Link provides updates on service meter hours, machine condition, machine location, and integrated mapping/route planning.
Easy Diagnosis
The Electronic Monitoring System (EMS III) and self-diagnosing Electronic Hydraulic Control (EHC) work together to warn against both occurring and impending faults to reduce downtime. The electrical wiring is color-coded and numbered for easy diagnosis and repair.
Total Customer Support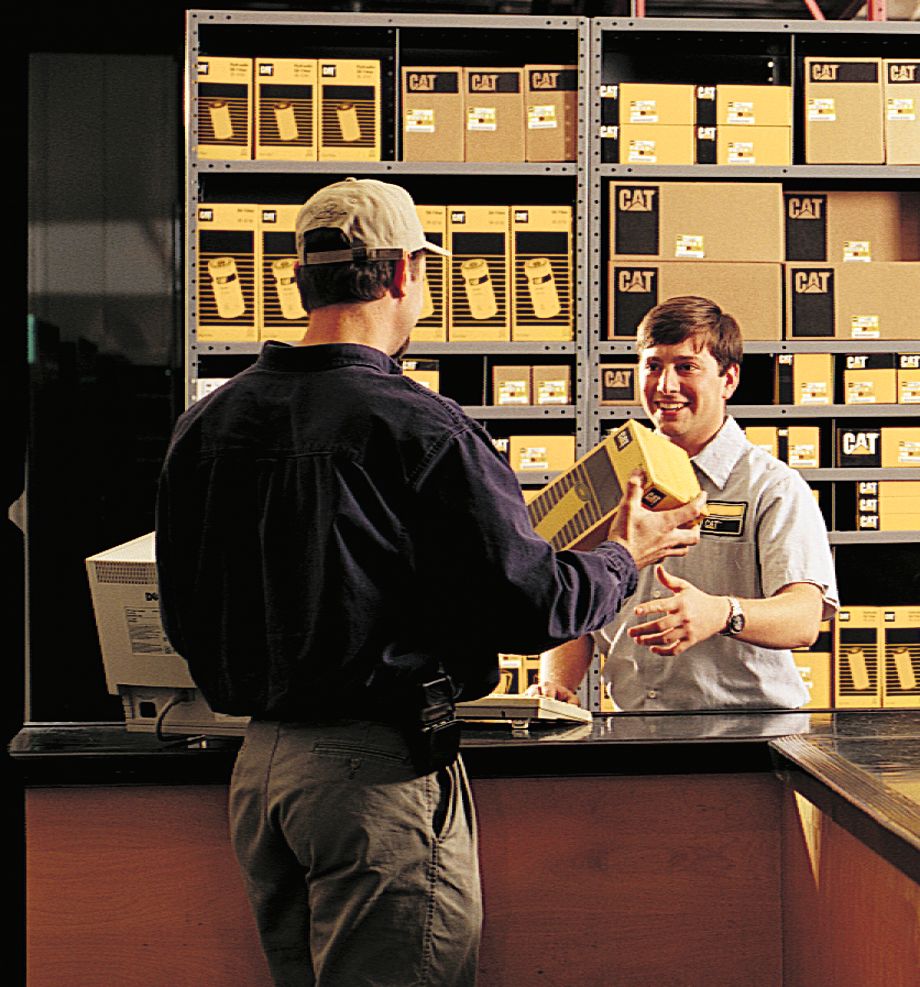 Your Cat Dealer offers a wide range of services whcih can be set up with a Customer Support Agreement. The dealer can customize a plan for you, from PM service to total machine maintenance, allowing you to optimize your return on investment.
Product Support
Your Cat Dealer offers a wide range of services that can be set up under a Customer Support Agreement (CSA) when you purchase your equipment. The dealer will help you choose a plan that can cover everything from the machine and attachment selection to replacement. This will help you get the best return on your investment.
Remanufactured Components
Save money with remanufactured parts. They offer the same warranty and reliability as new products at a cost savings of 40 to 70 percent.
Service Capability
Whether in the dealer's fully equipped shop or in the field, you will get trained service technicians using the latest technology and tools.
Selection
Make detailed comparisons of the machines you are considering before you buy. How long do components last? What is the cost of preventive maintenance? What is the true cost of lost production? Your Cat Dealer can give you answers to these questions.
Operation
Improving operating techniques can boost your profits. Your Cat Dealer has training videotapes, literature, and other ideas to help you increase productivity.
Replacement
Repair, rebuild, or replace? Your Cat Dealer can help evaluate the cost involved so you can make the right choice.
Maintenance
More and more equipment buyers are planning for effective maintenance before buying equipment. Choose from your dealer's wide range of maintenance services at the time of your purchase. Repair option programs guarantee the cost of repairs up front. Diagnostic programs such as Scheduled Oil Sampling and Technical Analysis help avoid unscheduled repairs.