953C Track Loader
Product Details
Engine
| | |
| --- | --- |
| Flywheel Power | 90 kW |
| Engine Model | Cat 3116T Engine |
| Gross Power | 99 kW |
| Net Power - Caterpillar | 90 kW |
| Net Power - ISO 9249 | 90 kW |
| Net Power - SAE J1349 | 90 kW |
| Net Power - EEC 80/1269 | 90 kW |
| Net Power - DIN 70020 | 126 PS |
| Bore | 105 mm |
| Stroke | 127 mm |
| Displacement | 6.6 L |
Weights
| | |
| --- | --- |
| Operating Weight | 14677 kg |
Buckets
| | |
| --- | --- |
| Capacity - General Purpose | 1.85 m3 |
| Capacity - Multi-Purpose | 1.6 m3 |
| Bucket Width - General Purpose | 2380 mm |
Undercarriage
| | |
| --- | --- |
| Track Shoe Type | Double grouser |
| Track Shoe Width - Standard | 380 mm |
| Track Shoe Width - Optional | 500 mm |
| Track Rollers - Each Side | 6 |
| Number of Shoes - Each Side | 40 |
| Track on Ground | 2295 mm |
| Ground Contact Area - Standard Shoe | 1.74 m2 |
| Ground Contact Area - Optional Shoe | 2.29 m2 |
| Ground Pressure - Standard Shoe | 79.6 kPa |
| Ground Pressure - Optional Shoe | 60.5 kPa |
| Grouser Height - Double Grouser | 37.5 mm |
| Track Gauge | 1800 mm |
Drive System
| | |
| --- | --- |
| Type | Hydrostatic drive with infinite machine speeds to 10 km/h (6.2 mph) |
| Drive Pump | Two variable-displacement, slipper-axial piston pumps |
| Track Motor | Two variable-displacement, bi-directional link-type piston motors |
| Relief Valve Setting | 42000 kPa |
Hydraulic System - Equipment
| | |
| --- | --- |
| Type | Open-centered series system |
| Output | 130 L/min |
| Main Relief Valve Setting | 21400 kPa |
| Lift Cylinders - Bore | 120.65 mm |
| Lift Cylinders - Stroke | 711 mm |
| Tilt Cylinders - Bore | 139.75 mm |
| Tilt Cylinders - Stroke | 478 mm |
Hydraulic System - Pilot
| | |
| --- | --- |
| Output - maximum | 110 L/min |
| Relief Valve Setting | 2400 kPa |
| Cycle Time - Raise | 6.7 Seconds |
| Cycle Time - Dump | 1.4 Seconds |
| Cycle Time - Lower, Empty, Float Down | 3 Seconds |
| Cycle Time - Raise and Dump | 9.7 Seconds |
Service Refill Capacities
| | |
| --- | --- |
| Fuel Tank | 234 L |
| Cooling System | 25 L |
| Crankcase (with Filter) | 21 L |
| Final Drives (each) | 15 L |
| Hydraulic system (Equipment, Power Train and Tank) | 104 L |
| Hydraulic Tank | 65 L |
| Pump Drive Box | 3.8 L |
Operating Specifications
| | |
| --- | --- |
| Max. Travel Speed | 10 km/h |
Ripper Specifications
| | |
| --- | --- |
| Type | Hinged-Type |
| Number of Pockets | 3 |
| Overall Width/Beam | 1951 mm |
| Ground Clearance | 523 mm |
| Penetration | 271 mm |
| Ripping Width | 1800 mm |
| Cylinders - Bore | 102 mm |
| Cylinders - Stroke | 270 mm |
| Addition to Machine Length due to Ripper (in Transportation Position) | 247 mm |
Standards
| | |
| --- | --- |
| Brakes | J1026 APR90 |
| Cab | SAE J1040 APR88, SAE J395, ISO 3471 1994, SAE J231 JAN81, ISO 3449-1994 |
Hydrostatic Drive, Electronically Controlled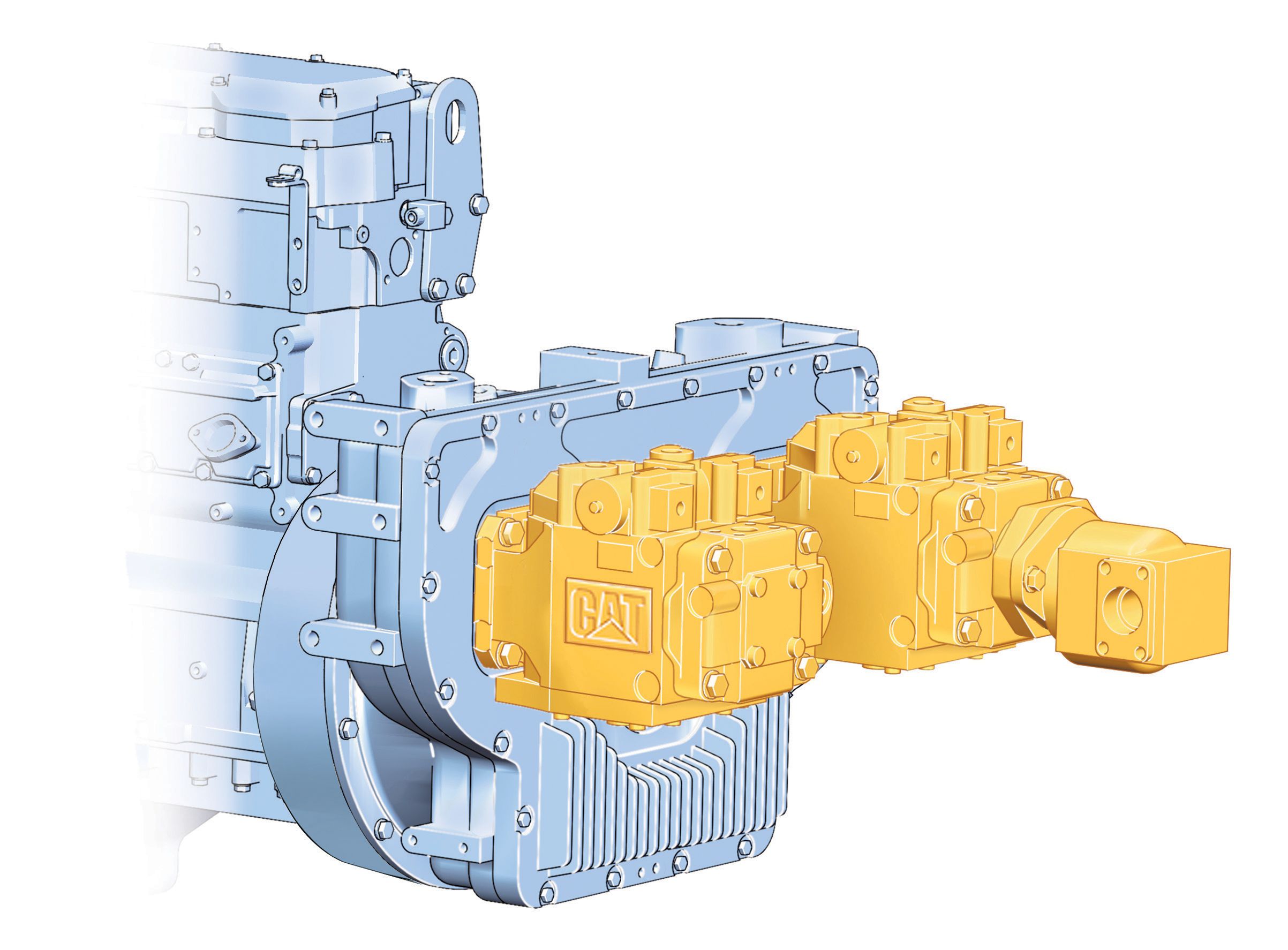 The electronically controlled hydrostatic drive helps provide quick response for shorter cycle times and increased productivity.
Transmission Shifting
The hydrostatic drive eliminates the need for transmission shifting.
Electronic Hydrostatic Control
The Electronic Hydrostatic Control (EHC) controls the hydrostatic drive system.
Variable Displacement Pumps and Drive Motors
Variable displacement pumps and variable displacement drive motors are electronically controlled by Electronic Hydrostatic Control.
Separate Hydraulic Pumps
Separate hydraulic pumps offer easy servicing.
Independent Power
Independent power to each track for speed, maneuverability, or sideslope operation.
Power Turns
Power turns for added control, speed and versatility.
Counter Rotation
Counter rotation allows spot turns in tight space conditions.
Travel Speeds
Travel speeds are infinitely variable between zero and top speed.
Engine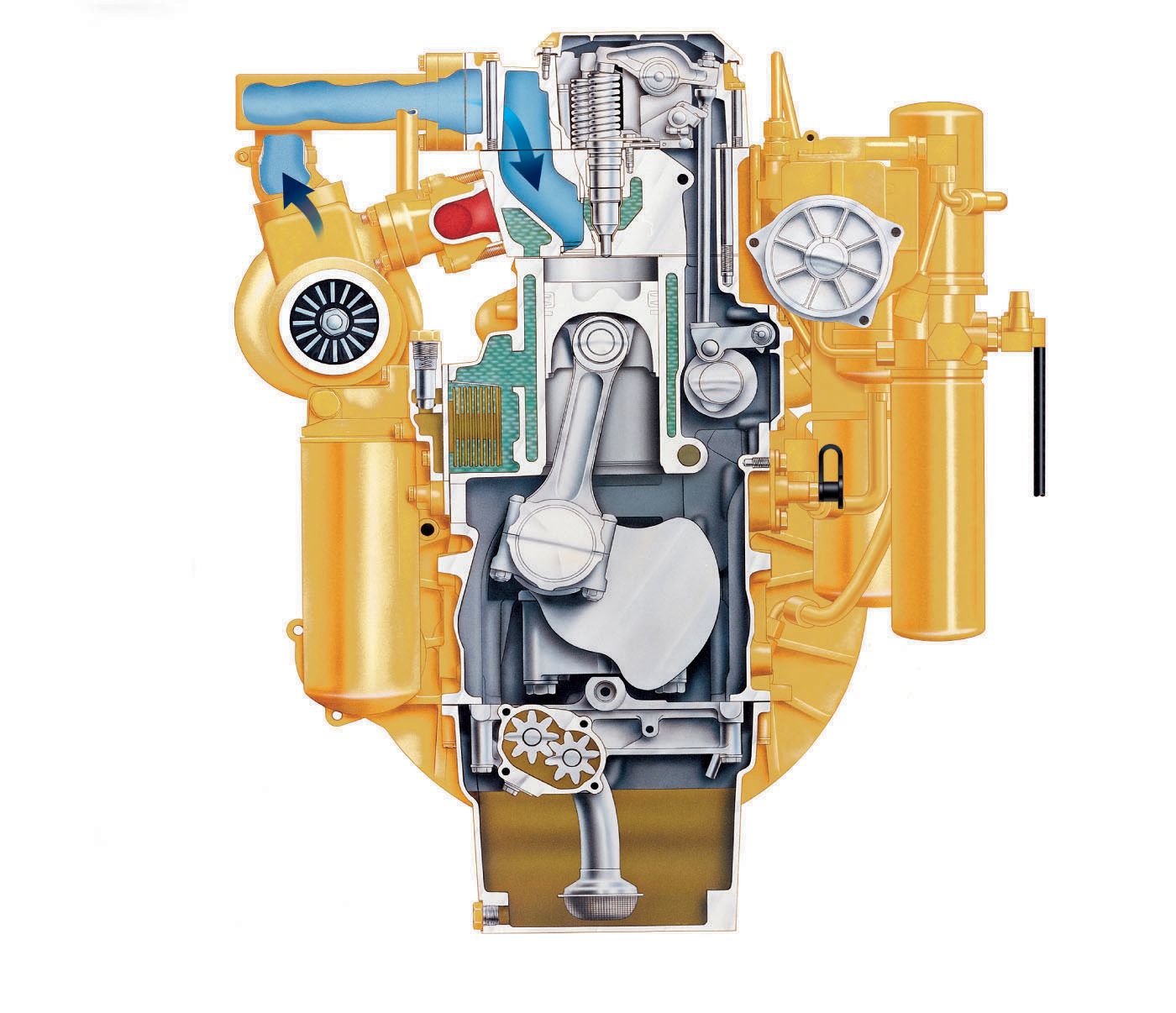 Provides power, reliability and acts as a working counterweight in the rear of the machine for optimum machine balance.
Cat Diesel Engine
The Cat 3116 Diesel Engine is a six cylinder, four-cycle design that provides long, effective power strokes for high torque and more complete fuel combustion.
Rear Engine Location
The rear engine location allows excellent forward viewing, while serving as a working counterweight.
Fuel System
Direct-injection fuel system with unit injectors provides efficient, precise fuel metering.
Turbocharger
Turbocharger packs more air in the cylinders for excellent combustion and increased engine efficiency.
Air Inlet Heater
Air inlet heater assists engine starting in low temperature conditions by warming the air supplied to the engine.
Extended Life Coolant
Extended life coolant, standard in the engine cooling system, reduces the need for maintenance.
Dual Fuel Filters
Dual fuel filters with water separator element are used in-line to help ensure clean fuel.
Displacement
High displacement-to-power ratio provides extended engine life and exceptional reliability.
Extended Life Design
The Cat 3116 DIT is designed for extended life.
Operator Station and Controls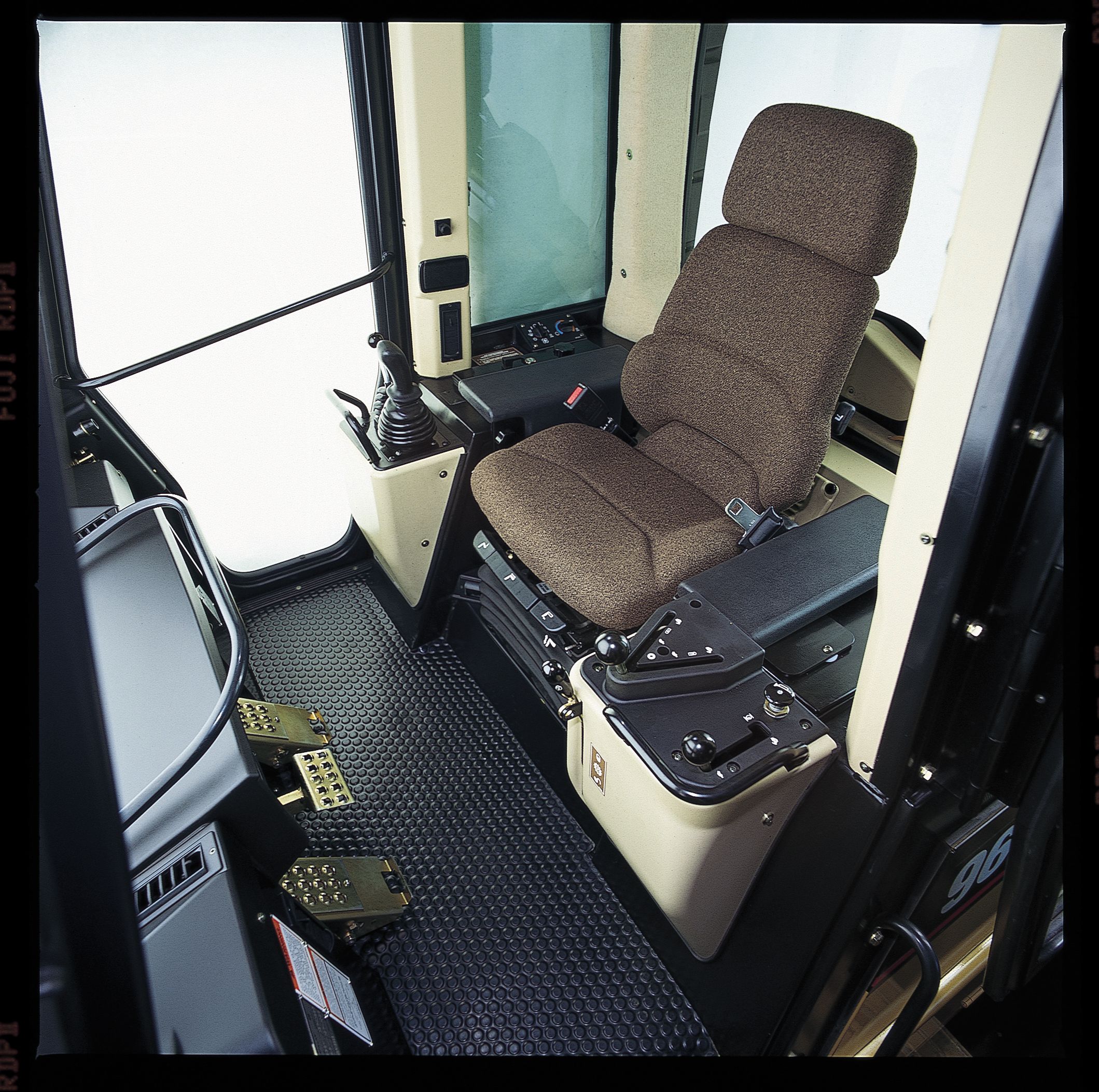 Designed for operator comfort and ease of operation.
Ergonomic Design
The Caterpillar Contour Series seat is ergonomically designed and fully adjustable for maximum operator comfort and control.
Adjustable Armrests
The adjustable armrests can be positioned up or down. The right armrest is adjustable forward and backward. Each armrest can be inclined to different angles for excellent operator comfort and control.
Air Circulation System
Air circulation system delivers filtered, pressurized and temperature-controlled air through 10 louvered vents.
Storage Spaces
Storage spaces include a lockable storage box, a lunch box compartment, beverage holder, and coat hook.
Sound-suppressed Cab
Sound-suppressed cab with integral Rollover Protective Structure (ROPS)/Falling Objects Protective Structure (FOPS) is resiliently mounted for a quiet and comfortable working environment.
Enhanced Viewing Area
Enhanced viewing area to the front, sides and rear of the machine.
Radio Arrangement
Radio installation arrangement, 24 to 12-volt converter, radio mounting space, and speakers are standard on cab-equipped machines.
Hydrostatic Drive Operation
Easy, precise operation of hydrostatic drive system for quick speed and direction changes and maximum maneuverability.
Speed Mode Switch
Speed mode switch allows operator to choose between "work mode" for fine control or tight truckloading, or "travel mode" for maximum drive speed.
Pilot Operated Controls
Pilot operated equipment controls are easy to operate for greater productivity.
Ripper/Bucket Control
Available on the 953C is an optional pilot-operated control for ripper or multi-purpose bucket.
Computerized Monitoring System (CMS)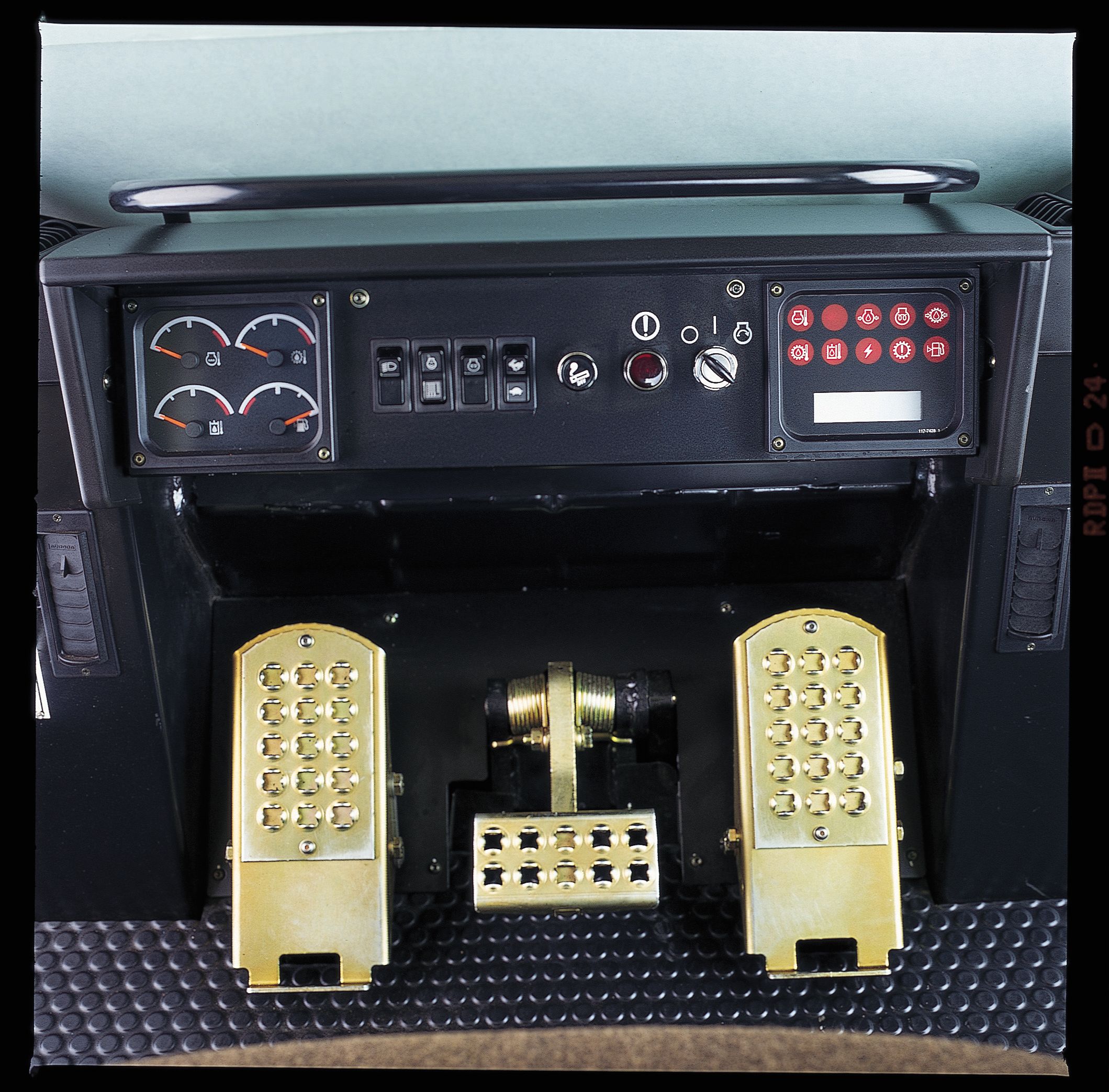 Quickly indicates servicing needs to reduce downtime and improve machine availability.
Computerized Monitoring System Functions
The Computerized Monitoring System offers three main functions: quick and simple calibration of the hydrostatic drive system, alerting the operator of situations to prevent damage, and monitoring of hydraulic and electrical systems to aid service personnel.
Computerized Monitoring System Warnings
The Computerized Monitoring System offers three levels of warning.
Additional Features
The 953C also features a key start/stop switch and a speed mode switch.
Structure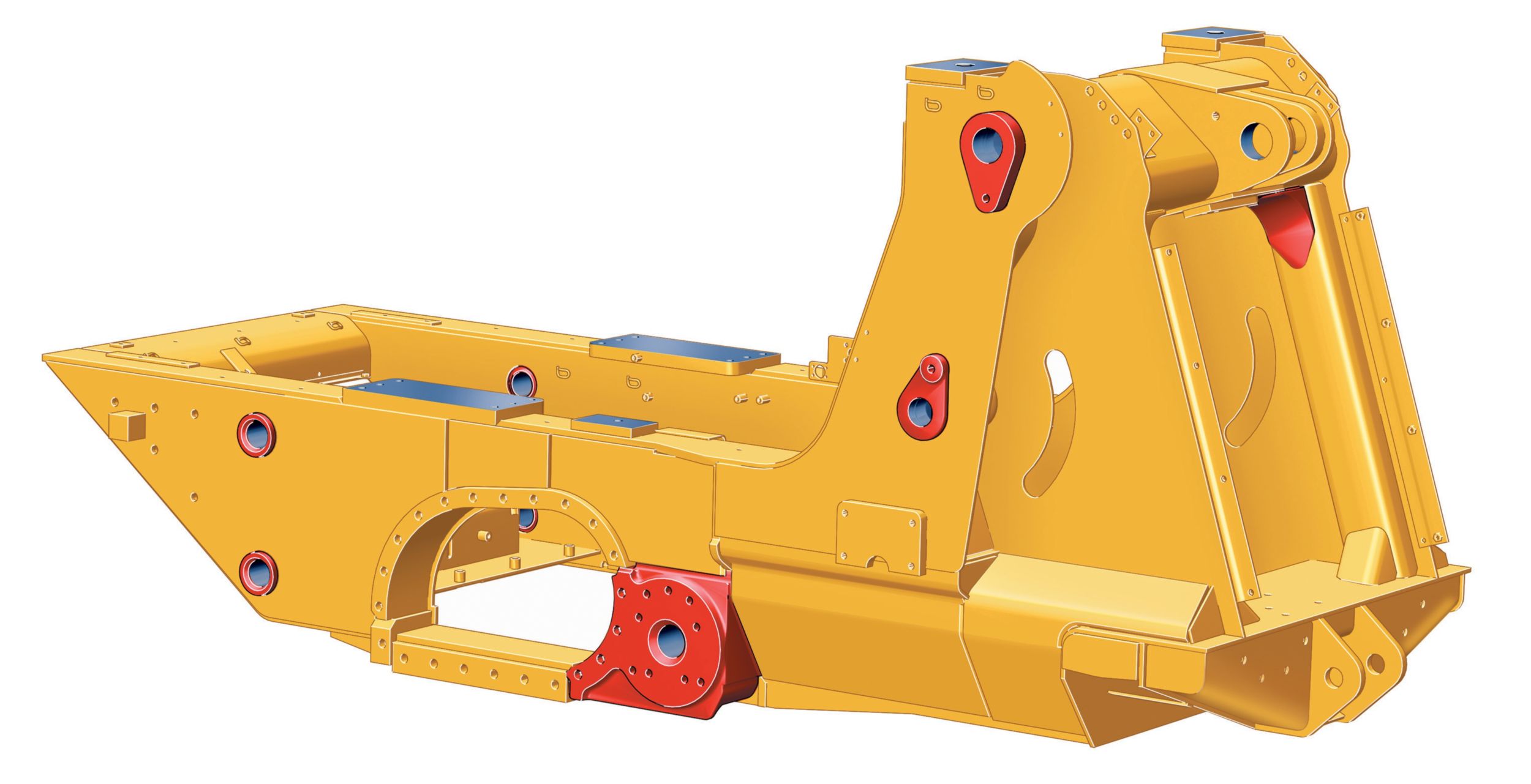 Box-section main frame is designed to handle heavy loads, while Z-Bar linkage maximizes breakout force.
Main Frame Design
Strong box-section main frame design, with continuous, deep-penetration welds resists twisting loads to protect components from excessive wear.
Z-bar Linkage
Breakout force is exceptionally high due to the mechanical advantage of Z-Bar linkage design.
Oscillating Undercarriage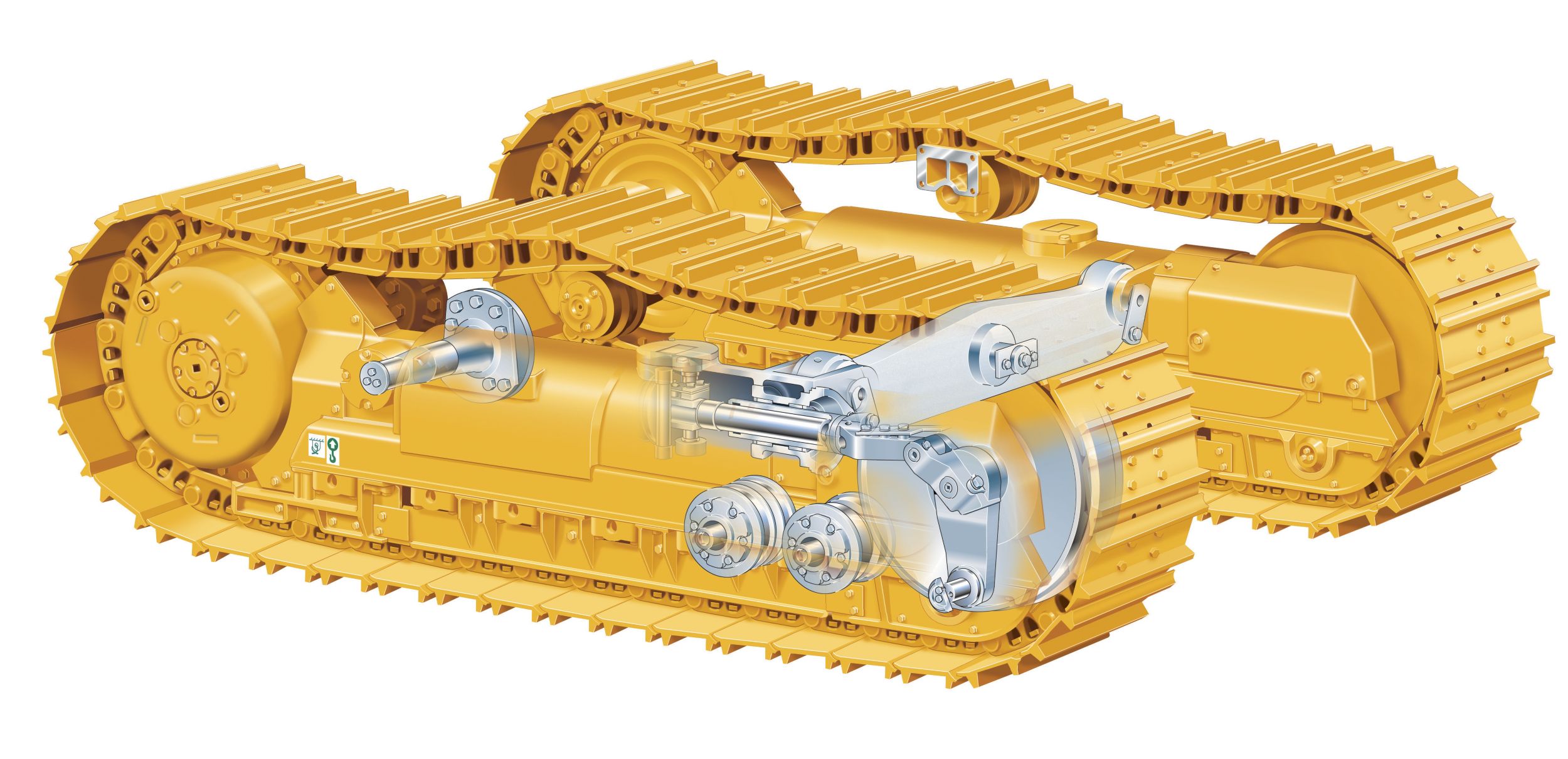 Keeps more track on the ground for maximum traction and stability. Several shoe options provide best match to job conditions.
Independent Movement
Oscillating undercarriage allows movement of each track independent of main frame.
Swing Link Idler
Swing link idler permits horizontal idler movement, absorbing shock loads and maintaining proper track tension, while eliminating the need for shims and wear strips.
Sealed Tracks
Tracks are sealed and lubricated to keep abrasives out and virtually eliminate pin and internal bushing wear to keep maintenance costs down.
Bolt-on Sprocket Rim Segments
Bolt-on sprocket rim segments allow replacement of worn sprocket teeth without opening the track chain.
Two-piece Link
Two-piece split master link allows easy track chain removal and installation.
Caterpillar Brand Undercarriage
Caterpillar brand undercarriage components are well-matched to each other and the machine for superior life and cost-effective operation.
Shoe Options
953C track shoe options include: double grouser, trapezoidal center hole, single grouser, rubber grouser and wider shoes.
Work Tools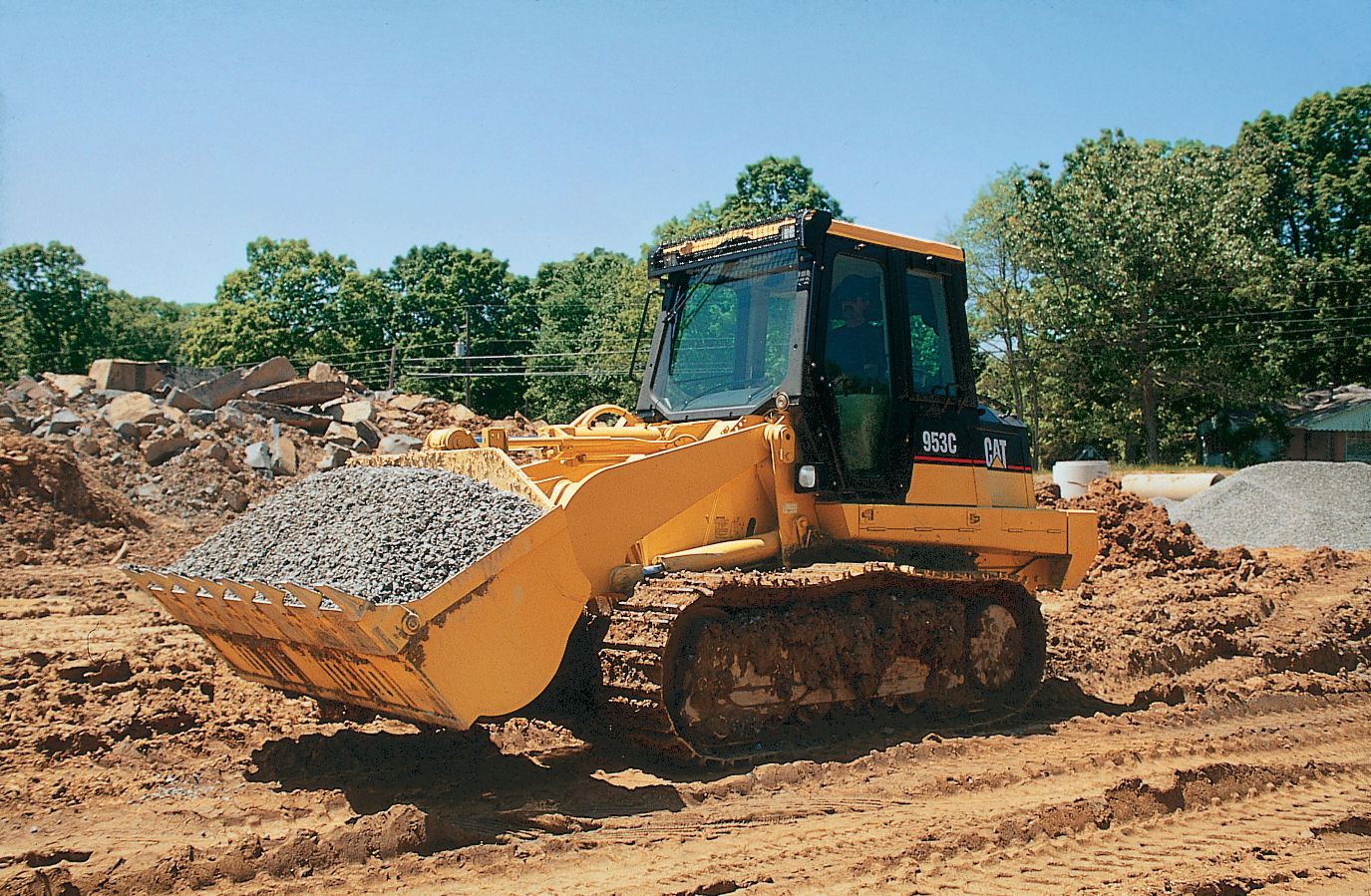 A variety of attachments and Ground Engaging Tools (G.E.T.) are available to maximize performance in any application.
General Purpose (GP) Bucket
General Purpose (GP) bucket is designed for excellent loadability and long life in applications such as hard bank excavating, stripping, and stock pile loading.
Multi-purpose (MP) Bucket
Multi-purpose (MP) buckets are designed for a broad range of applications such as: loading, stripping, clearing, bulldozing, picking up debris and fine grading.
Ripper-Scarifier
Ripper-scarifier adds extra versatility to expand the application of the machine.
Protection Options
Base edge protection options available for GP and MP buckets: Bolt-on cutting edges, reversible; bolt-on, 2-strap adapter and tips including corner guards; and bolt-on adapter, tips and bolt-on reversible edge segments.
Tip Options
Short; long; and heavy-duty long.
Special Application Attachments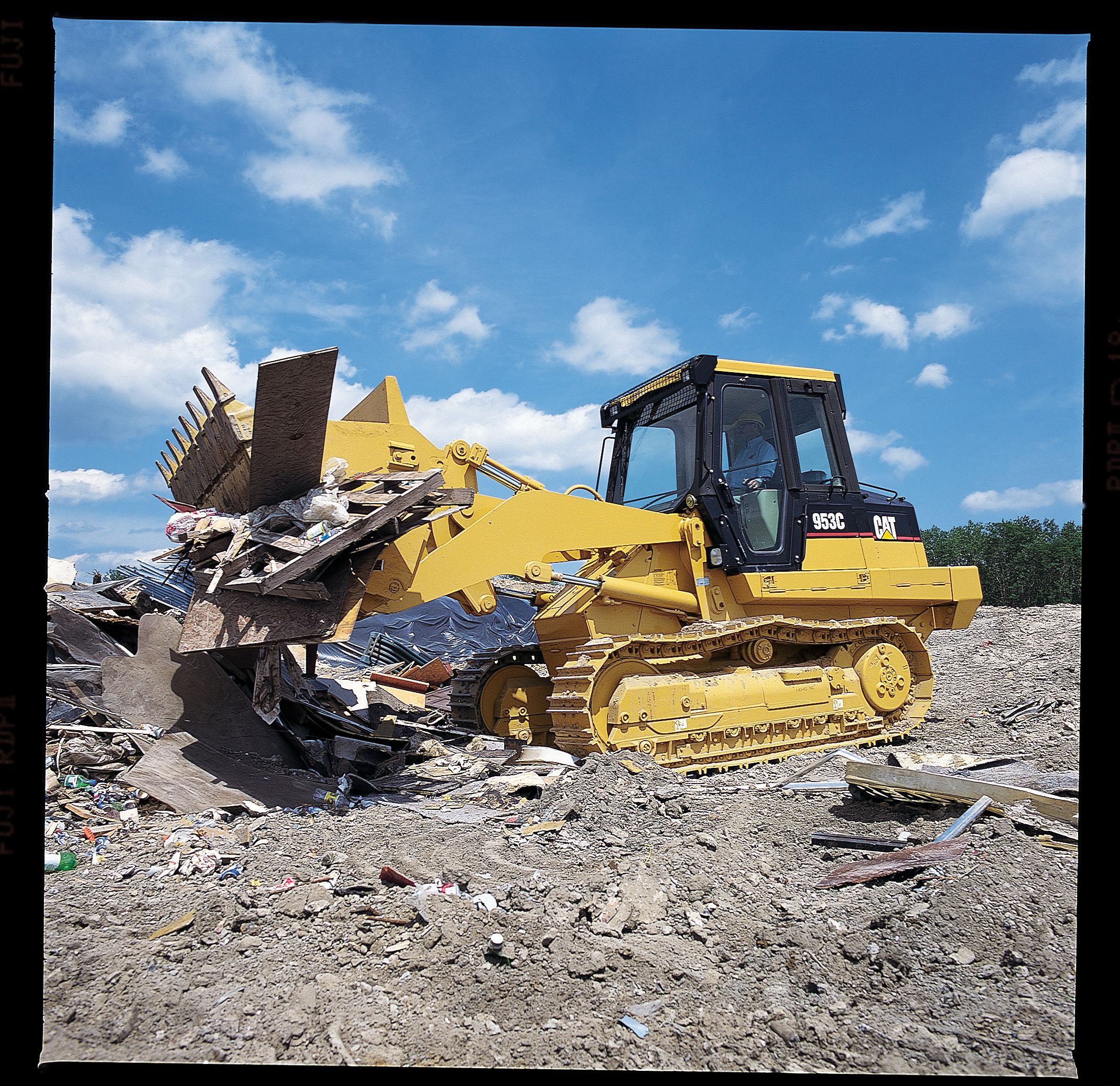 Special attachments are available or can be designed on request to allow the 953C to work in special applications.
Waste Handling
Waste handling attachments provide added versatility and are designed to make the 953C perform well in sanitary landfills, transfer stations and other waste handling applications.
Shiphold Attachments
Shiphold attachments allow the 953C to work in the confined and harsh shiphold environment.
Low Ground Pressure Arrangement
Super Low Ground Pressure arrangement is designed for work in extremely soft underfoot conditions.
Woods Guarding Arrangements
Woods Guarding attachments provide guarding for forestry or clearing applications.
Other Attachments Available
Many other attachments are available. For other custom-designed arrangements for specific applications, consult your Caterpillar dealer.
Complete Customer Support
Caterpillar's total commitment to customer support and simplified service is part of every Cat machine.
Reduced Maintenance
Batteries are maintenance-free. Caterpillar Extended Life Coolant allows extended change intervals (6,000 hours). Sealed electrical connectors lock out dust and moisture. Cat sealed and lubricated tracks minimize pin and internal bushing wear and reduce maintenance costs. Caterpillar XT hydraulic hose, in medium and high pressure circuits, offers high abrasion resistance and far exceeds industry standards. O-Ring Face Seal (ORFS) hydraulic couplings help eliminate fluid leaks, provide positive coupling head seals and are reusable for low operating costs. Lower bucket pins are low maintenance and oil-lubricated. S•O•Ssm Fluids Analysis helps avoid unnecessary downtime and maintains the machine value.
Easy Access
Hydraulic and fuel filters are located close to each other for easy maintenance. Rear engine location allows bucket-on-the ground service checks and maintenance. Ground-level access to lubrication points. Hinged doors allow quick access to the engine, hydrostatic system along with the battery and tool boxes.
Easy Diagnosis
The Computerized Monitoring System and self-diagnosing EHC work together to warn against both occurring and impending faults to reduce downtime. Rapid, easy calibration and troubleshooting of hydrostatic and electrical systems are performed through CMS and EHC systems. Electronic Technician (ET) software is fully compatible with the EHC and provides further diagnostic capabilities. Quick-disconnect hydraulic pressure taps allow quick diagnosis of the hydraulic system. More commonly used pressure taps are clustered inside the left engine door for easy access.
Component Servicing
Removable cab floor-panel for easy access to internal components. Hydrostatic drive system with separate pumps and motors for low replacement or rebuild cost. Color-coded and numbered electrical wiring for easy repair. Split master link to easily open the track chain. Segmented drive sprocket for easy repair without splitting the track, as well as reduced replacement costs and less downtime. Caterpillar XT hydraulic hoses offer excellent flexibility for easy installation. Bolted grab irons are easily replaceable.
Low Cost Components Replacement
Caterpillar Remanufactured parts are available for economical component replacement. Many Remanufactured parts are available for use in the 953C engine and hydraulic system.
Preventive Maintenance
Preventive maintenance programs. Ask your Cat dealer for help with managing machine service.
Parts Availability
Most Cat parts are immediately available from any dealer. Cat dealers rely on a worldwide computer network to find parts instantly, minimizing your machine downtime. More economical components are available through Caterpillar Remanufactured parts.
Flexible Financing
Cat dealers can arrange affordable financing for the entire Caterpillar line. Contact your dealer to learn how terms can be structured to match cash flow.
Air inlet heater
Alternator (24-volt, 70-amp)
Armrests, adjustable
Ashtray, cigarette lighter (24-volt)
Automatic bucket positioner
Automatic lift kickout
Back up alarm
Blower engine cooling fan
Bumper (rear)
Cab, sound suppressed with air pressurization, Rollover Protective Structure (ROPS) and Falling Objects Protective Structure (FOPS)
Coat hook
Control interlock
Controls (for equipment), single lever control, two-valve hydraulic, pilot operated
Crankcase guard
24-volt direct electric starting motor
Electronic Hydrostatic Control (EHC)
Engine - Caterpillar 3116T diesel engine, direct injection, turbocharged
Engine air filter, radial seal
Engine enclosure doors with locks
Extended Life Coolant
Floor mat
Front and rear retrieval hitches
Fuel priming pump
Gauge package

Fuel level
Engine coolant temperature
Hydraulic (equipment/power train) oil
Temperature
Pump drive box oil temperature

Fuel level
Engine coolant temperature
Hydraulic (equipment/power train) oil
Temperature
Pump drive box oil temperature
Heater/defroster with temperature control (also standard on canopy)
Horn
Hydraulic track adjuster
Lights (2), roof mounted, forward facing (halogen)
Literature compartment in seat back
Maintenance free batteries
Operator panel

Computerized Monitoring System, operator action system, start-stop key and hydrostatic information/hour meter display

Computerized Monitoring System, operator action system, start-stop key and hydrostatic information/hour meter display
Pre-cleaner, air intake
Rear view mirror, inside cab mounted
Radiator guard, heavy-duty, perforated
Radio installation arragement for 12-volt radio, with speakers, converter
Retractable seat belt, 76 mm (3 in)
Seat - fabric-covered Cat Contour Series, suspended and adjustable
Segmented sprocket rims
Single lever bucket control
Sprocket guards
Storage compartments under armrests
Tinted glass
Track gauge 1.8 m (71 in)
Track - sealed and lubricated, with 2-piece master link
Track shoes - 380 mm (15 in) double bar grouser
Track guiding guards, end sections
Two-valve equipment hydraulics
Windshield and back window washers and wipers (variable intermittent front wiper)
Vandalism protection (for use with cab)

Lockable fuel tank cap with padlock
Front service door locks
Radiator cap access door lock
Ball valve - control lever disconnect

Lockable fuel tank cap with padlock
Front service door locks
Radiator cap access door lock
Ball valve - control lever disconnect
Air conditioner - 108 kg (239 lb)
Air suspended seat - 10 kg (22 lb)
Antifreeze - for temperatures from -37°C (-34°F) to -50°C (-58°F)
Batteries, Cat Premium, high output
Buckets

General purpose 1.75 m3 (2.25 yd3) - 922kg (2033 lb)
Multi-purpose 1.5 m3 (2.0 yd3) - 1413 kg (3115 lb)
General purpose with flush-mounted adapters 1.75 m3 (2.25 yd3) - 1036 kg (2284 lb)

Bucket control, two lever
Bucket cutting edge, reversible, with end bits, sharpened, bolt-on for GP or MP buckets - 122 kg (269 lb)
Bucket bolt-on adapaters and tips (J300) for GP or MP bucket, set of 8, includes corner adapters

Long Adapters and Tips - 138 kg (304 lb)
Short Adapters and Tips - 137 kg (302 lb)

Bucket edge segments, bolt-on for GP or MP bucket - 82 kg (180 lb)
Bucket tips for use with flush adapters (on GP bucket), set of 8

Long Tips - 35 kg (77 lb)
Short Tips - 33 kg (73 lb)

Bucket bolt-on uniteeth, set of 8, includes 2 corner teeth - 119 kg (262 lb)
Bumper (removed) - -564 kg (-1243 lb)
Canopy, ROPS (cab removed) includes rearview mirror, 2 forward facing lights, heater, vinyl seat and vandalism protection consisting of cab vandalism package plus instrument panel guard group with padlock - -205 kg (-452 lb)
Drawbar hitch - 30 kg (66 lb)
Ether starting aid - 2 kg (4 lb)
Guards, track roller - 122 kg (270 lb)
Guards, idler - 75 kg (165 lb)
Hydraulic system

3rd valve with or without lines for front or rear attachments - 22 kg (49 lb)
Diverter valve for use when both front and rear lines are required - 10 kg (22 lb)

Lighting system (halogen)

4 lights, 2 forward with guards, 2 rear - 13 kg (28 lb)

Radiator

Hi-ambient cooling arrangement - 9 kg (20 lb)
Trash resistant - 9 kg (20 lb)

Hi-ambient cooling arrangement - 9 kg (20 lb)
Trash resistant - 9 kg (20 lb)
Ripper/scarifier - with three ripper shanks - 67 kg (148 lb)
Sound suppression attachment (spectator) - 10 kg (22 lb)
Track shoes

500 mm (20 in) double grouser - 291 kg (642 lb)
500 mm (20 in) double grouser with rubber pad bonded in between grousers - 615 kg (1356 lb)
"Call Back Option available only for UAE, Bahrain, Kuwait, Oman and Qatar."