Operating Specifications
| | |
| --- | --- |
| Rated Load Capacity | 3000 kg |
| Maximum Lift Height | 11000 mm |
| Load at Max Height - No Stabilizers | 2500 kg |
| Maximum Forward Reach | 7400 mm |
| Load at Max Reach - No Stabilizers | 795 kg |
| Top Travel Speed | 31.5 km/h |
| Load at Max Height | 2500 kg |
| Load at Max Reach | 750 kg |
Engine
| | |
| --- | --- |
| Engine Model | Cat 3054E |
| Gross Power | 74.5 kW |
| Net Power | 71.8 kW |
| Bore | 105 mm |
| Stroke | 127 mm |
| Displacement | 4.4 L |
Weights
Dimensions
| | |
| --- | --- |
| Height | 2410 mm |
| Width | 2440 mm |
| Wheelbase | 3050 mm |
| Length to Fork Face | 5300 mm |
| Ground Clearance | 510 mm |
| Turning Radius Over Tires | 3700 mm |
| Turning Radius Over Forks | 4850 mm |
Tires
| | |
| --- | --- |
| Standard | 13.0 x 24 12-PR |
| Optional Construction | 15.5 x 25 12-PR |
| Optional Agriculture | 17.5 R24 |
Hydraulic System
| | |
| --- | --- |
| Maximum System Pressure | 250 bar |
| Maximum Pump Flow | 113 L/min |
| Auxiliary Hydraulic Supply | 90 L/min |
| Pump Type | Variable Displacement Axial Piston Pump |
Service Refill Capacities
| | |
| --- | --- |
| Fuel Tank | 99 L |
| Hydraulic Tank | 64.5 L |
Transmission Speeds
| | |
| --- | --- |
| Forward - 1 | 6.3 km/h |
| Forward - 2 | 11.6 km/h |
| Forward - 3 | 20.2 km/h |
| Forward - 4 | 31.3 km/h |
| Reverse - 1 | 6.3 km/h |
| Reverse - 2 | 11.6 km/h |
| Reverse - 3 | 20.2 km/h |
Boom Performance
| | |
| --- | --- |
| Boom Up | 10 Seconds |
| Boom Down | 8 Seconds |
| Tele In | 12 Seconds |
| Tele Out | 14 Seconds |
| Crowd Forward (dump) | 3 Seconds |
| Crowd Backward | 3 Seconds |
| Combined - Up and Out | 25.4 Seconds |
| Combined - Down and In | 14.4 Seconds |
Brakes
| | |
| --- | --- |
| Foot Brake | Servo assisted |
| Parking Brake | Dry disc front axle |
Axles
| | |
| --- | --- |
| Ring and Pinion Ratio | 4.4 |
| Hub Reduction Ratio | 5.25 |
| Overall Reduction Ratio | 23.1 |
Operator Station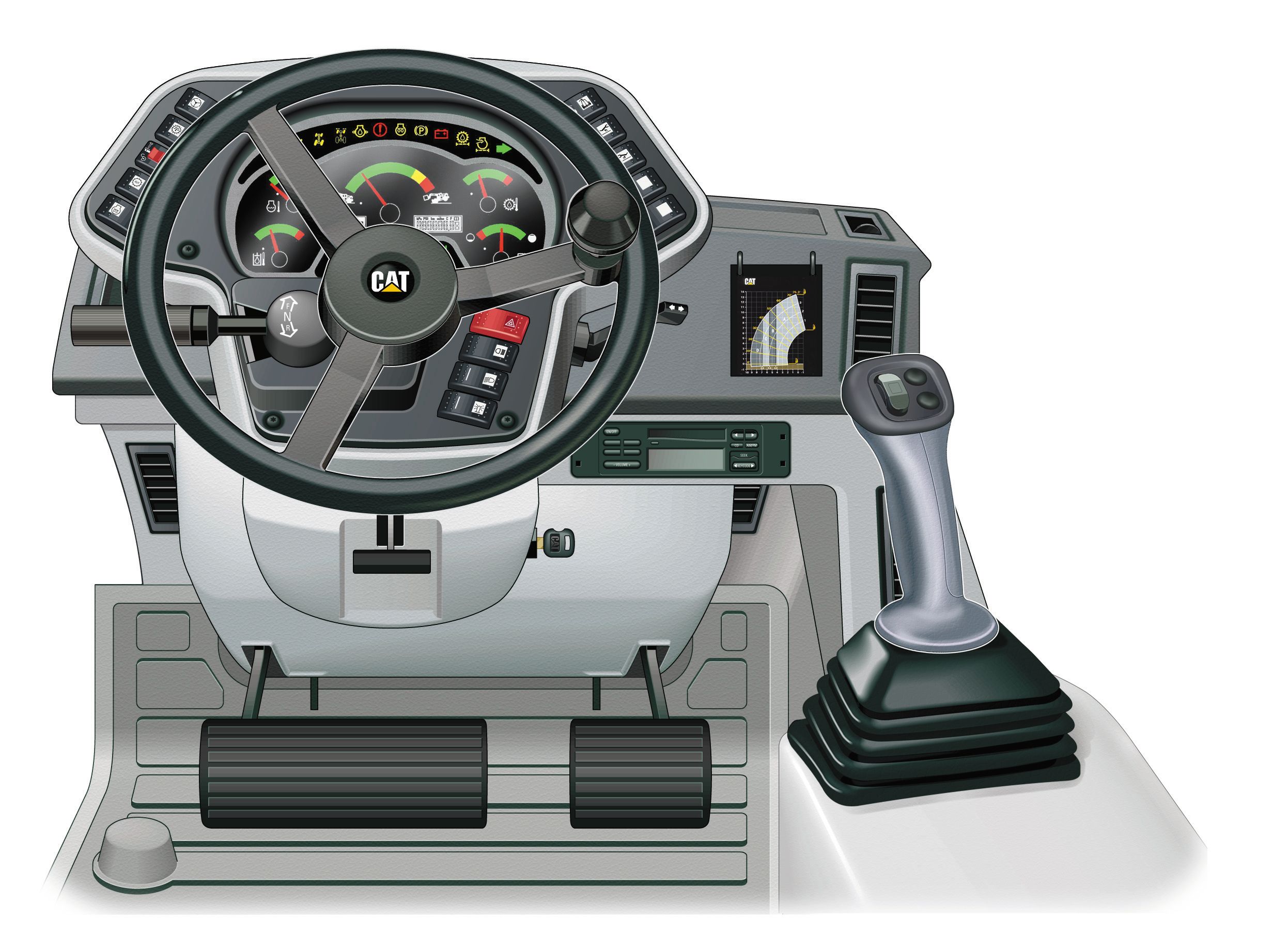 The operator station provides comfort and protection with excellent job site visibility and convenient, logical controls.
Intuitive Control layout
All day operator comfort and efficiency is ensured through our simple, logical control layout.
Electronic Machine Information Display
Communicates essential technical data to facilitate easier machine operation.
Joystick
The joystick is capable of three simultaneous boom functions making machine operation easy. All functions are fully modulated.
Easy access
Cab entry and exit is both easy and safe due to the well placed handholds and step.
Operator Protection
The machine provides full operator security with ROPS/FOPS protection.
Seat
A variety of seats are available, tailored to meet the requirements of the operator and applications.
Excellent visibility
The B Series cab has superb visibility due to the use of advanced virtual design techniques.
Longitudinal Stability Indicator
Ease of Operation
Ease of operation was paramount in the design of the new TH350B. The single joystick, with its intuitive, modulated, hydraulic functions and the new Cat electronic machine information display are designed to maximise operator efficiency.
Joystick Control
The joystick allows three simultaneous boom functions and incorporates a unique slider switch.Two joystick control patterns are available to meet application requirements.The joystick also operates the auxiliary hydraulic function and allows the option of a second auxiliary service for the use of work tools that require more than one hydraulic service.
Hydraulic System
The Cat Electro Hydraulic system allows all three boom functions to be operated simultaneously and proportionally. This enables precise placing of loads in challenging applications.Auxiliary hydraulic functions are available on the joystick to allow operators to utilize more complex work tools.A continuous flow auxiliary hydraulic supply is also available for operating tools such as pickup brooms.
Integrated System
Cat's exclusive integrated management system allows the engine, transmission and hydraulic systems to operate with maximum efficiency, control and productivity.
Flow Sharing
Three simultaneous hydraulic functions are achieved using a flow sharing hydraulic valve. A load sensing variable displacement pump allows full hydraulic power even at low revs.
Performance
The TH350B delivers high performance to meet your specific job site needs.
Lift Height
The TH350B can effectively and quickly place bricks, roofing materials and trusses to a maximum height of 11 meters.
Reach
Job site obstacles present challenges demanding a machine to place loads at greater distances - the TH350B delivers.
Maneuverability
The TH350B offers excellent maneuverability, due to its tight turning circle and its three different steering modes.The TH360B has 48 degree axle turning circle and no rear tail swing, allowing it to work productively and safely in confined areas.
Steering Modes
The TH350B offers three steering modes (two wheel, crab and circle steer) to allow an operator to easily position the machine. Steering modes are selected by a single 3-position rocker switch.
Frame Level
Powertrain
Caterpillar engines, axles and transmissions give you the quality powertrain that you expect.
High torque rise engine
The Cat 3054E Electronic engine is fully compliant with the latest round of worldwide emissions regulations. While continuing to deliver maximum performance, it features improved timing, reduced smoke and exceptional service improvements. for improved sound characteristics, a venturi tailpipe has been packaged inside the engine enclosure.Electronic engine deliver:
Improved low idle performance
Product Link capabilities
Improved fuel consumption
Improved cold start
Increased diagnostic and security capability
Cooling System
The cooling system has been designed to work in the most challenging conditions.
Transmission
The B-Series has a purpose designed Cat transmission. The TH350B is available with a power shuttle transmission. For improved operator efficiency, a Cat designed four speed forward/three speed reverse powersyncro transmission is available.
Axles
The TH350B is fitted with Caterpillar planetary reduction axles, with four wheel braking.For improved machine performance in difficult conditions, a differential lock is available (front axle).
Versatility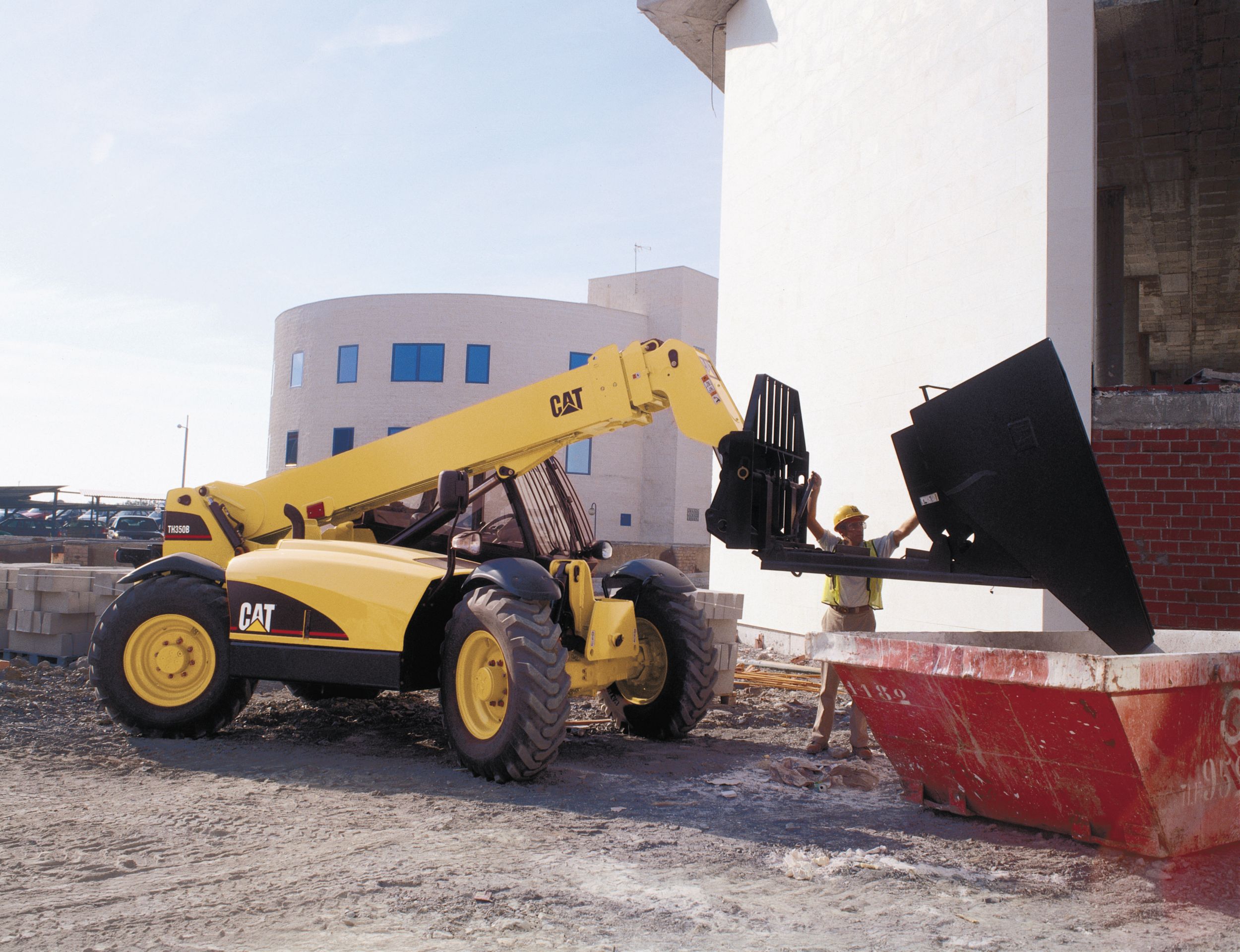 Re-define the traditional role of a Telehandler with the Cat TH350B.
Quick Coupler
An IT interface is standard on the B Series. It is available in both a manual and a hydraulic version.For optimum versatility, machines can be equipped with the hydraulic quick coupler, allowing the operator to quickly and easily change work tools without leaving the cab.
Hydraulic Services
Machines can be equipped with Auxiliary Hydraulic services, allowing the use of hydraulically operated work tools. 3 options are available:· One auxiliary hydraulic service at the boom head· Two auxiliary hydraulic services at the boom head· Continuous Hydraulic FlowThese auxiliary hydraulic services are available as an option on the B Series through the Merchandising Arrangement (MA) structure.
Work Tools
A wide range of work tools are available to meet most job site applications.Caterpillar Telehandler Work Tools extend the versatility of the machine. Built for performance and durability, these work tools deliver high productivity, long life and excellent value.General Purpose Bucket (1.0m3)Material Handling Bucket (1.5m3)Multi Purpose Bucket (1.0m3)Grapple Bucket (0.85m3)Fixed CarriageRotate CarriageSideshift CarriagePallet ForksBlock ForksLift HookTruss BoomSelf-tipping HopperMaterial Handling ArmPickup Broom
Tow Hitches
A range of Tow Hitches are available to meet local market regulations. All Cat Telehandler models come with an ISO10532 rated retrieval point as standard.
Machine Configurations
Tires
Cost of Ownership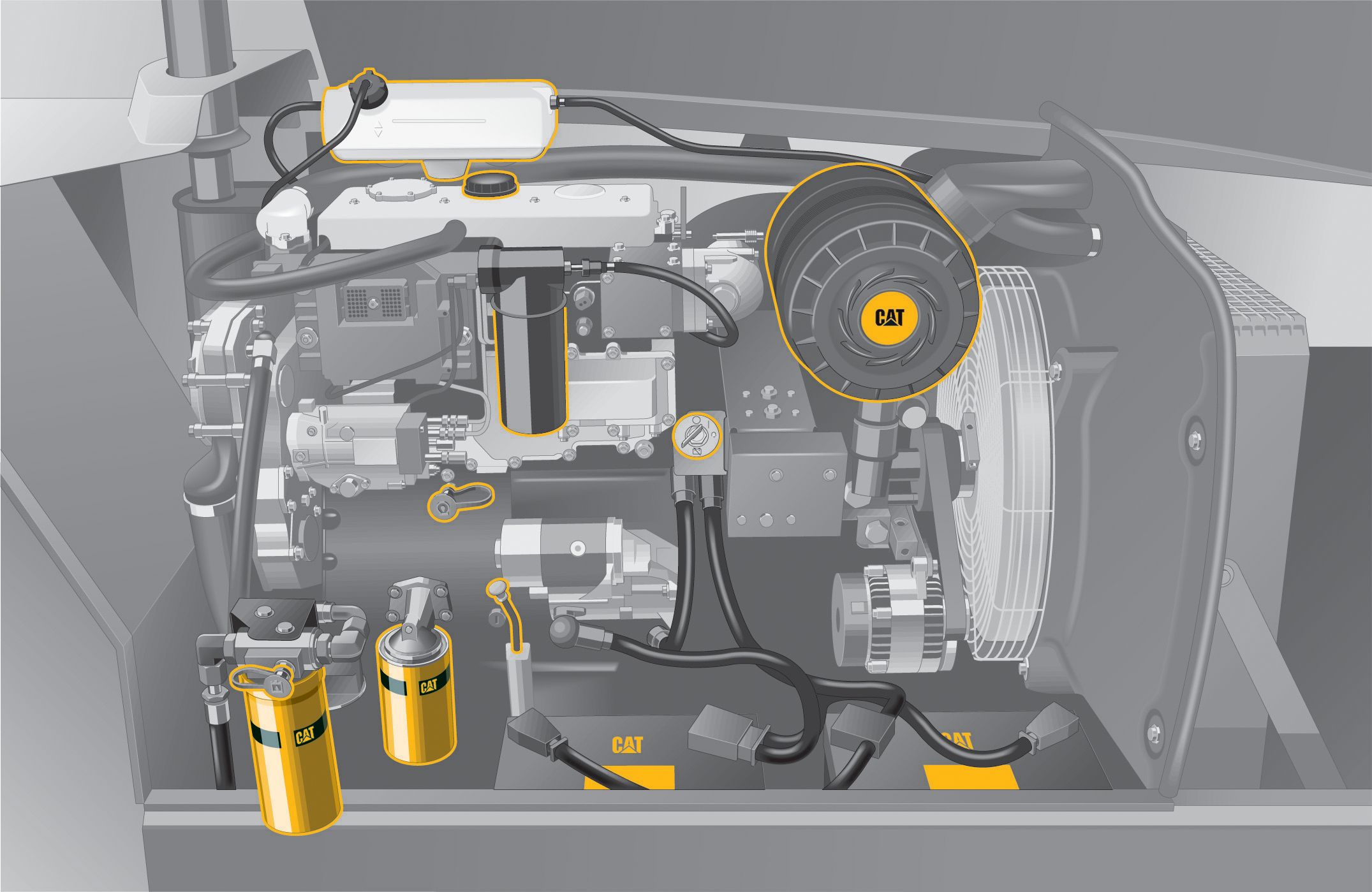 Specifically designed to lower your owning and operating costs.
Ease of Access
Cost of ownership starts with ease of service. All Cat Telehandler service points are readily accessible and major components are easy to reach at ground level due to overall machine design.
Daily Maintenance
Routine daily maintenance is now reduced to checking fluid levels and a walkaround inspection.
Service Intervals
Engine oil, filter changes and routine lubrication are now only required every 500 hours.
Reduced Componentry
The combined hydraulic/transmission oil filter requires changing at 1000 hours.With the reduction in the number of filters and extended service intervals, owning and operating costs are the lowest in the industry.
Machine Security System
Secure your investment with Caterpillar's Machine Security System (MSS), a programmable key system that provides maximum machine security for Cat Telehandler owners.· MSS disables machine by interacting with the machine's Electronic Control Modules (ECM)· Keys fit all existing Cat machines (including machines without MSS)· Each machine can store up to 50 key indentifications· Each key can be configured to operate a certain range of machines or enable operation for a certain period of time
Serviceability and Customer Support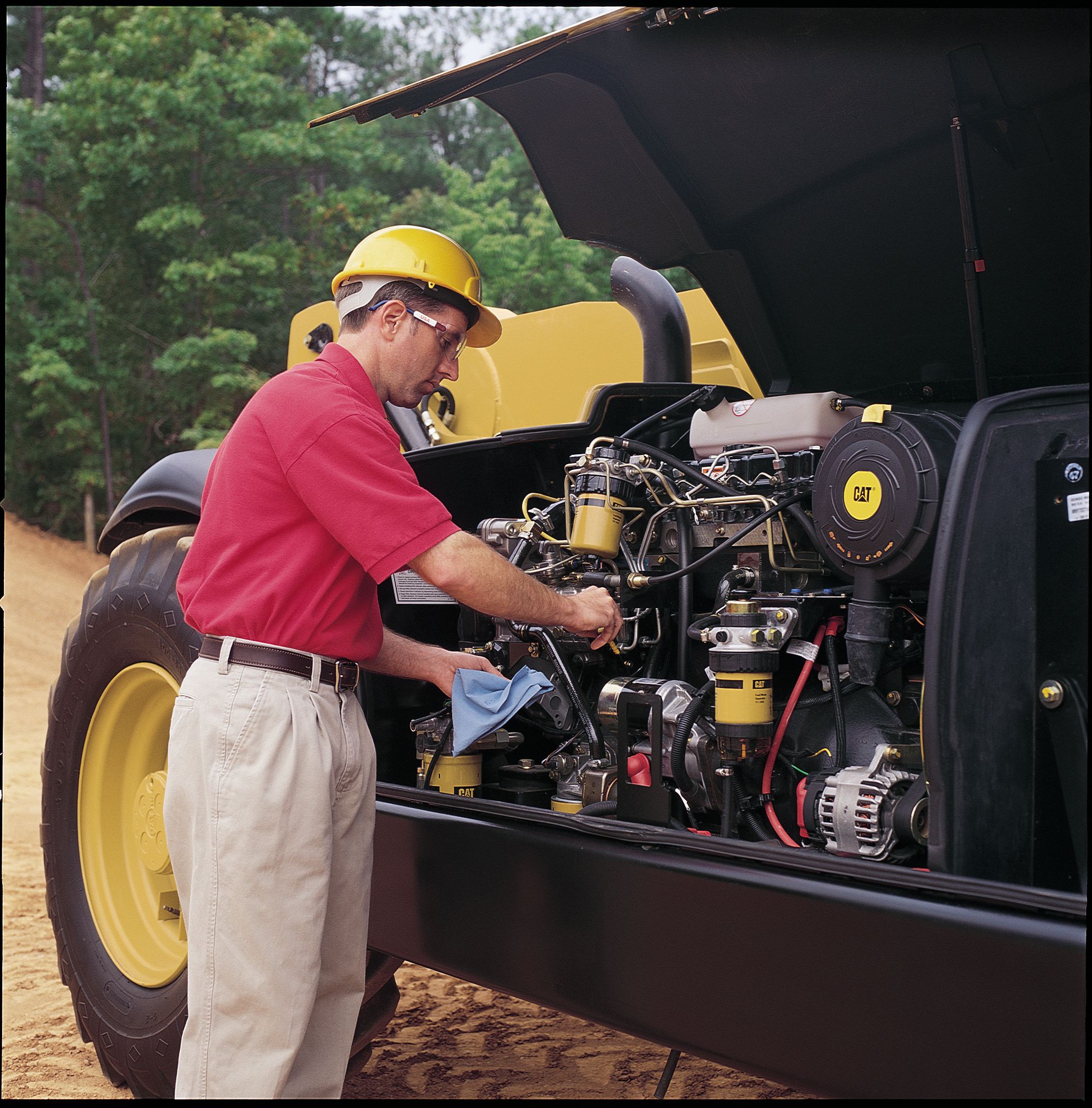 Caterpillar Dealer Services enables you to operate longer with lower costs, helped by significantly extended service intervals.
Access
All Cat Telehandler service points, including the combined transmission/hydraulic oil filter, are readily accessible and major components are easy to reach at ground level due to the overall machine design.A cab mounted service point allows access to the fuel fill, hydraulic oil fill, washer bottle, fuse box and cab air filter for routine checks.
Selection
Make detailed comparisons before you buy. Your Cat Dealer can give you precise answers to these questions.
Operation
Improving operating techniques can boost your profits. Your Cat Dealer has training literature and other ideas to help increase your productivity.
Maintenance
Repair options guarantee the cost of repairs up front. Diagnostic programs such as Scheduled Oil Sampling and Technical Analysis help you avoid unscheduled repairs.
Replacement
Repair, rebuild or replace? Your Cat Dealer can help you evaluate the cost involved so you can make the right choice.
Product Support
You will find high availability of parts at our Dealer parts counter. Cat Dealers utilize a worldwide computer network to find in-stock parts to minimize machine downtime.
Product Link
This established Caterpillar technology uses a Global Positioning System (GPS) to provide additional machine data to both Cat dealers and end users. Data can be received by either a web based application system or notifications by email or pager. Product Link can provide:· Machine hours· Location four times a day· Notifications via email or pager· Total fuel consumption· Events and diagnostics from data link
Electronic Technician
TELESCOPIC BOOM
Wear pads, non-metallic
Lock valve on hydraulic cylinders
Boom angle indicator
ELECTRICAL
Alternator, 90-amp
Anti-restart key switch
Battery, Maintenance-free, 12 volt, 750 CCA
Battery disconnect
Horn
Alarm, Back up
Electronic Control Module
Power Sockets, 12 volt internal and external
'Electronic Technician' diagnostic connection
OPERATOR STATION
Canopy, ROPS/FOPS
Joystick, Electronic
Adjustable joystick wrist rest
Low step, grab bars for easy entry
2 way adjustable seat, seat belt, document pouch
Steering wheel spinner knob
Floor mat
Right side rear view mirror
Service Door, Cab air intake filter, fuel fill, hydraulic fill, level indicator, fuse panel and washer fill
Instrument Cluster with; powertrain and system monitor, longitudinal stability indicator, steering alignment indicator, fuel gauge, engine oil temperature gauge, engine water temperatur gauge, hydraulic transmission temperature, SMU
2 piece entry door
Cup holder
Fixed Steering Column
Canopy, ROPS/FOPS
Joystick, Electronic
Adjustable joystick wrist rest
Low step, grab bars for easy entry
2 way adjustable seat, seat belt, document pouch
Steering wheel spinner knob
Floor mat
Right side rear view mirror
Service Door, Cab air intake filter, fuel fill, hydraulic fill, level indicator, fuse panel and washer fill
Instrument Cluster with; powertrain and system monitor, longitudinal stability indicator, steering alignment indicator, fuel gauge, engine oil temperature gauge, engine water temperatur gauge, hydraulic transmission temperature, SMU
2 piece entry door
Cup holder
Fixed Steering Column
POWERTRAIN
Engine, Caterpillar 3054T
Air cleaner; Dual element and filter condition indicator
Thermal starting aid
Water separator
Transmission, Caterpillar 4 forward/3 reverse Powersyncro
Direction change, single lever, column mounted
Spin-on filters; engine oil filter, hydraulic/transmission filter
Axles, Caterpillar; planetary drive, full time mechanical 4-wheel drive, Integrated steer cylinders protected above axles
Steering, power assisted, enclosed oil disc brakes, front axle
Parking brake, dry disc with transmission disconnect
Engine, Caterpillar 3054T
Air cleaner; Dual element and filter condition indicator
Thermal starting aid
Water separator
Transmission, Caterpillar 4 forward/3 reverse Powersyncro
Direction change, single lever, column mounted
Spin-on filters; engine oil filter, hydraulic/transmission filter
Axles, Caterpillar; planetary drive, full time mechanical 4-wheel drive, Integrated steer cylinders protected above axles
Steering, power assisted, enclosed oil disc brakes, front axle
Parking brake, dry disc with transmission disconnect
STRUCTURE
Chassis, frame level
Mechanical Quick Coupler
ANTIFREEZE
Antifreeze, extended life -34F/-37C
TIRES
CAT Brand 13.00-24
CAT Brand 13.00-24
OTHER EQUIPMENT
Integrated lift and tie down points
Padlock on power module
Retrieval Point
Standard Cat color paint
Integrated lift and tie down points
Padlock on power module
Retrieval Point
Standard Cat color paint
TELESCOPIC BOOM
Hydraulic quick coupler
Single auxiliary to the boom head
Dual auxiliary to the boom head
ELECTRICAL
Light packages; boom lights, roading lights, cab lights
Alternator, 105 amps
Product Link
Dual battery
Stabilizer interlock
7 pin trailer services socket
Engine heater block, 240V
OPERATOR STATION
Air conditioning
Seats; cloth suspension, cloth air-suspension
Headliner
Door pocket
Sun visor
Screen guard
Exterior cab lights
Additional left hand mirror
Rear wash/wipe
Machine Security System (MSS)
Beacon, magnetic mount
Adjustable steering column
Radio ready
Auxiliary hydraulic continuous flow switch
Adjustable joystick armrest
Air conditioning
Seats; cloth suspension, cloth air-suspension
Headliner
Door pocket
Sun visor
Screen guard
Exterior cab lights
Additional left hand mirror
Rear wash/wipe
Machine Security System (MSS)
Beacon, magnetic mount
Adjustable steering column
Radio ready
Auxiliary hydraulic continuous flow switch
Adjustable joystick armrest
POWERTRAIN
Transmission, Caterpillar 4 speed powersyncro
Diff lock
Auto steering align
Transmission, Caterpillar 4 speed powersyncro
Diff lock
Auto steering align
ANTI-FREEZE
Anti-freeze, extended life -58F/-50C
TIRES
15.5/80-24 12PR Goodyear
13.00-24 SGG Goodyear
15.5-25 CAT
15.5-25 SGL Goodyear
15.525 XTLA Michelin
15.5R25 XHA Michelin
OTHER EQUIPMENT
Fenders
Lockable storage drawer
Custom colour
Steering cylinder lock
Fenders
Lockable storage drawer
Custom colour
Steering cylinder lock
WORK TOOLS
Carriage; standard, rotate, wide frame, wide frame (rotate), side-shift
Forks:Pallet forks 50 x 100 x 1220 mmBlock forks 50 x 50 x 1220 mmPallet forks 50 x 100 x 1070 mmPallet forks 50 x 100 x 1520 mm
Buckets:General Purpose 1.0 m3Multi Purpose 1.0 m3, width 2450 mmMaterial Handling 1.5 m3, width 2450 mmMulti-grapple 0.85 m3, width 2350 mm
Material Handling Arm
Self-tipping Hopper, 1.2 m3
Lifting Hook
Truss Broom
Pick-up Broom
Access Platforms:· Small, 1 m wide platform· Swivel, 2.4 m wide platform· Wide expanding, 2.4 m to 4.8 m swivel platform
Carriage; standard, rotate, wide frame, wide frame (rotate), side-shift
Forks:Pallet forks 50 x 100 x 1220 mmBlock forks 50 x 50 x 1220 mmPallet forks 50 x 100 x 1070 mmPallet forks 50 x 100 x 1520 mm
Buckets:General Purpose 1.0 m3Multi Purpose 1.0 m3, width 2450 mmMaterial Handling 1.5 m3, width 2450 mmMulti-grapple 0.85 m3, width 2350 mm
Material Handling Arm
Self-tipping Hopper, 1.2 m3
Lifting Hook
Truss Broom
Pick-up Broom
Access Platforms:· Small, 1 m wide platform· Swivel, 2.4 m wide platform· Wide expanding, 2.4 m to 4.8 m swivel platform
OTHER ATTACHMENTS
Tow hitches; hitch, manual rear-tow
Hitches c/w adjustable frame height:Hitch, tow, category "C" clevisHitch, towing, manualHitch, towing, auto
Tow hitches; hitch, manual rear-tow
Hitches c/w adjustable frame height:Hitch, tow, category "C" clevisHitch, towing, manualHitch, towing, auto