The 561M Pipelayer is built using elevated sprocket design and is the standard of the pipeline industry.
Power Train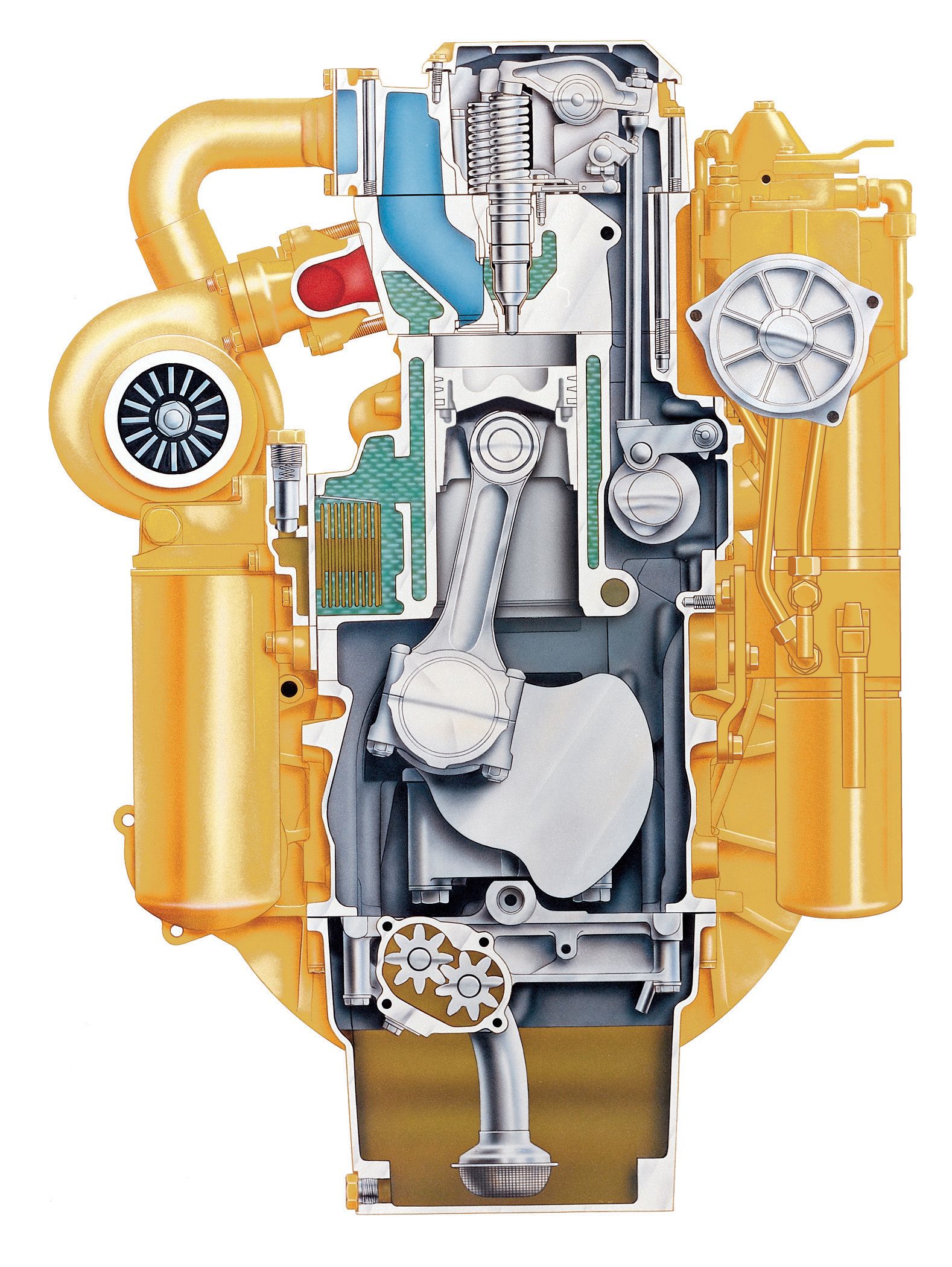 Perfectly matched power train. From the powerful and fuel-efficient 3116 DIT engine to the durable power shift transmission, all Caterpillar components work together to deliver responsive power when you need it.
Cat 3116 Engine
Caterpillar 3116 engine performs at full-rated net power of 82 kW (110 hp) at 2100 rpm with high torque rise of 36%. High horsepower, combined with high torque rise, give the 561M the durability needed on the challenging jobs. Moreover, this engine meets all the latest emission regulations around the world.
Turbocharged
Turbocharging improves response and performance at low to medium engine speeds.
Fuel System
Direct unit injection fuel system eliminates external high pressure fuel lines and provides excellent control of injection timing with individually metered, high-pressure, direct-injection of fuel. Result is improved engine response and reliability plus low fuel consumption and emissions.
Mounting
Resilient engine mounting for quieter operation and less vibration.
Design
Long-life design
One-piece, stress relieved, cast iron cylinder block for increased rigidity.

High-strength, one piece cylinder head with replaceable stainless steel intake valve seat and nickel alloy exhaust valve seat.

Optimized camshaft location, short pushrods and roller followers to reduce flexing.

Full-length, water-cooled cylinders for maximum heat transfer.

Large engine oil cooler to with forged steel crown for added durability.

Low-mounted oil pump maintain optimum engine oil temperature.

Main and rod bearing surfaces increased for better wear life.

Two-piece articulated piston for quick start-up lubrication.

Maintenance
Easy maintenance. The engine can be rebuilt for a second life. Caterpillar remanufactured parts are available to economically replace many components. Some innovative maintenance features of the 3116 engine:
Parent-metal cylinder block can be rebored twice and dry-sleeved.

Connecting rods can be removed through the tops of the cylinders.

Camshaft followers and pushrods can be easily replaced without removing the camshaft.

Water pump can be serviced as a unit or rebuilt.

Radiator (IMRM)
Improved multiple row modular radiator efficiently cools the engine for optimum engine performance in tough environments and applications.
Drivetrain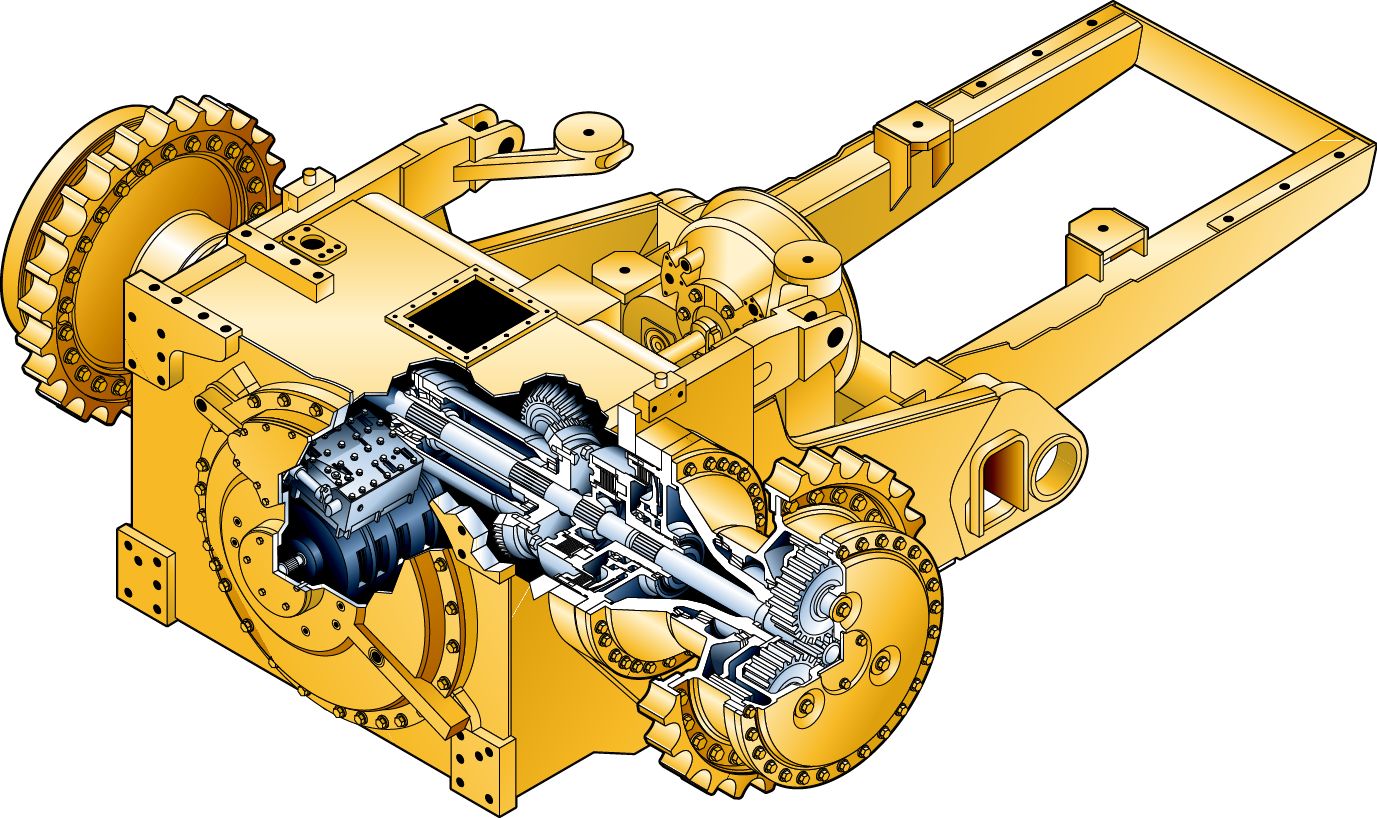 Drivetrain components are matched and balanced to deliver exceptional performance and durability.
Torque converter
Torque converter responds to changing load conditions by providing torque multiplication for increased drawbar pull while protecting the drive train from shock loads.
Transmission
Power shift transmission. Proven planetary design delivers fast, smooth speed changes while distributing loads over multiple gears for long life. Perimeter-mounted clutches provide superior heat dissipation and a large contact area for long service life.
Clutches and Brakes
Separated clutches and brakes. Oil-cooled, hydraulically actuated multiple-disc clutches and brakes for smooth, precise turns.
Final drives
Final drives. Precision, high load capacity gears and bearings give long-lasting performance and durability.
Structure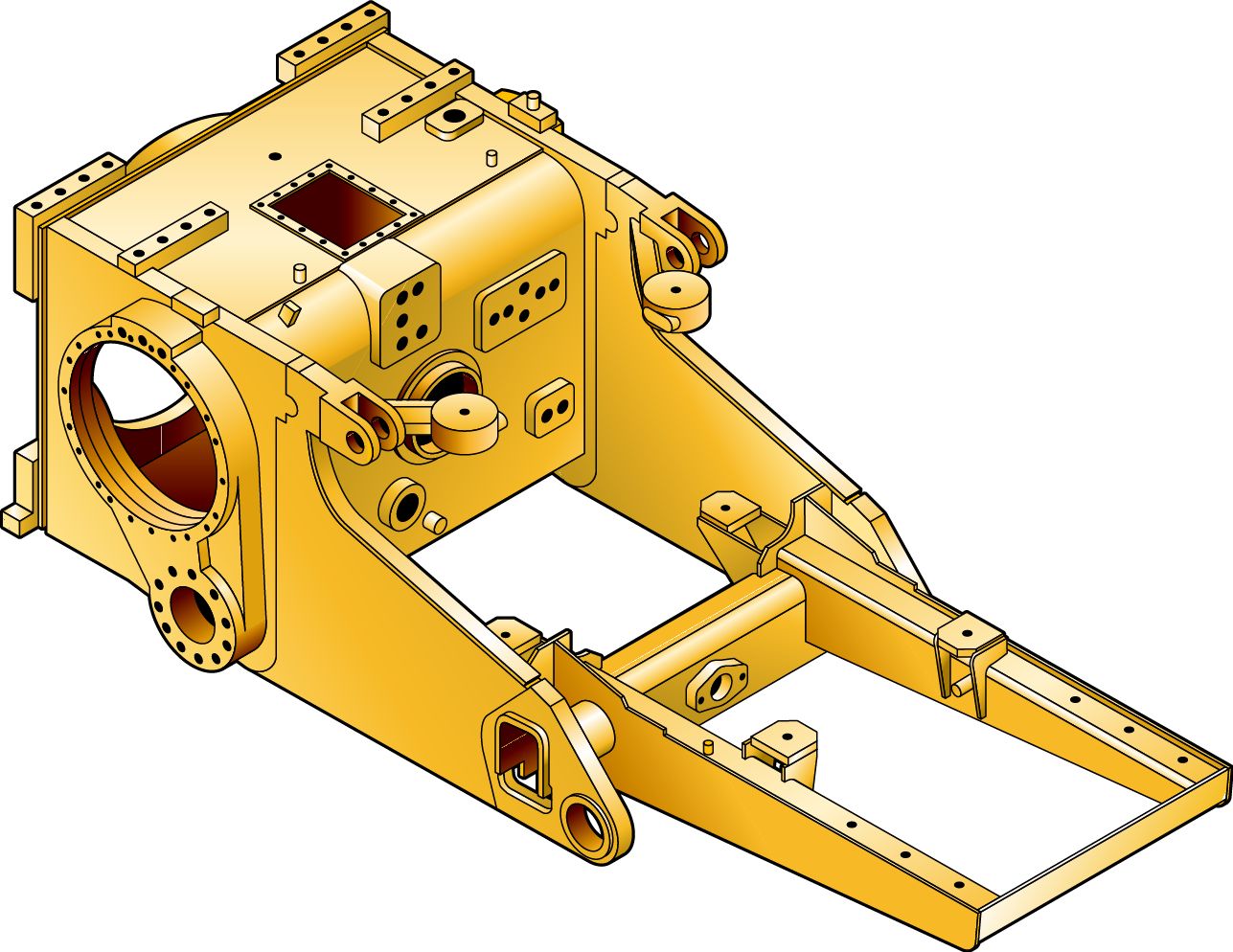 Mainframe is designed and built for durability using the latest technology in engineering and manufacturing. It provides solid support and perfect alignment for major components.
Mainframe
High strength steel mainframe. The 561M mainframe absorbs high impact shock loads and twisting forces.
Testing
Structural testing analysis is used to verify and ensure integrity of the mainframe.
Robotic welding
Robotic welding provides deep penetration and consistency for long life.
Precision
Precision top level machining for perfect alignment of bores and surfaces.
Roller Frames
Roller frames are tubular, to resist bending and twisting, with reinforcement where operating stresses are the highest.
Non-oscillating roller frames for greater stability in pipelaying applications.

The recoil system is sealed and lubricated.

Improved pipelayer structure mounting.

Undercarriage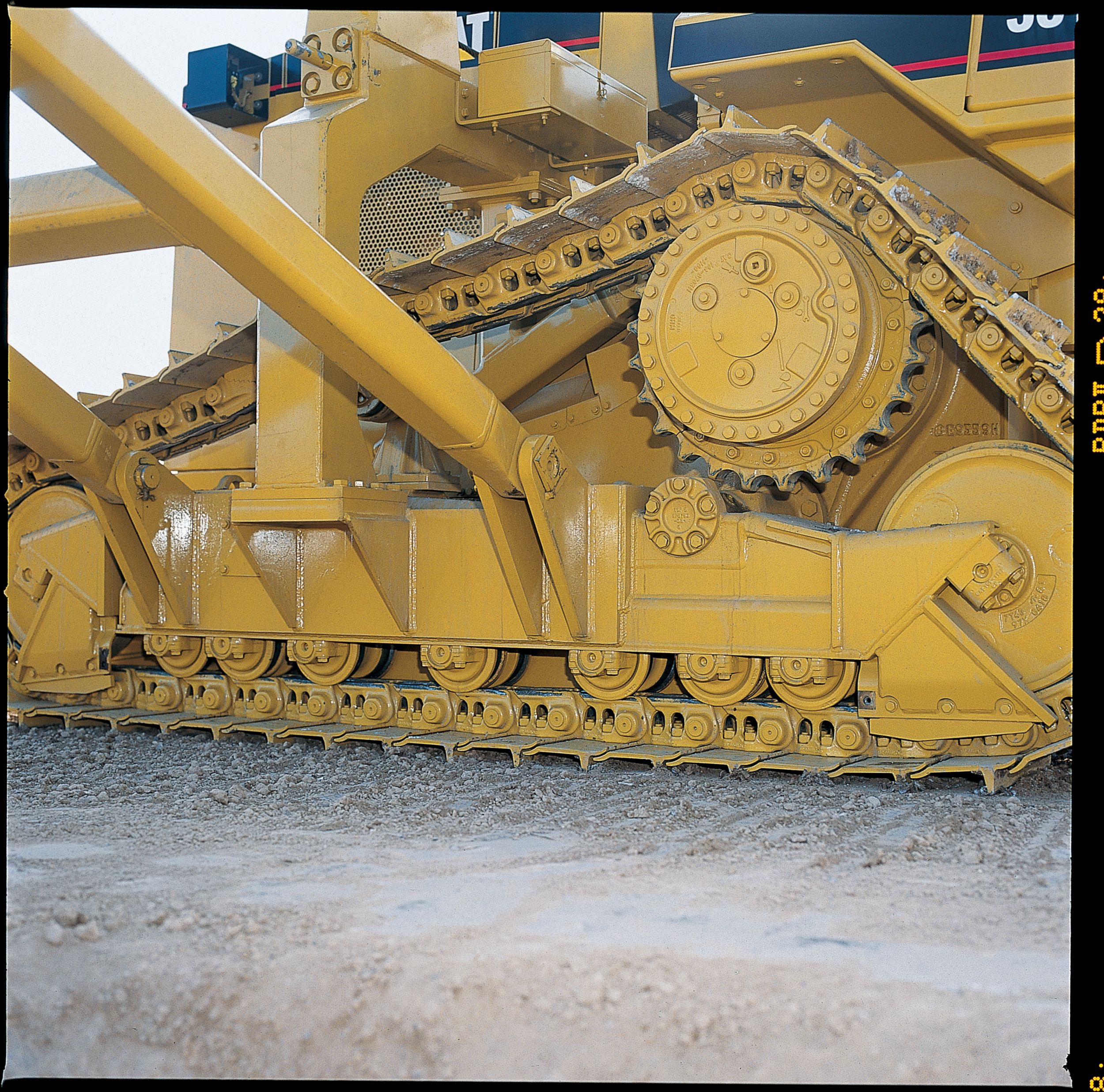 The elevated sprocket moves the final drives above the work area, isolating them from ground impact for long power train component life.
Final Drives
Final drives and associated power train components are raised above the work area, isolating them from the ground-induced impact loads, as well as pipelayer loads, extending power train component life.
Sprocket Position
Sprocket position keeps sprocket teeth, bushings and final drives away from the abrasive materials and moisture, resulting in longer final drive gear and seal life.
High Flange
High flange improved track rollers (optional) combined with center or full length roller guards attachments greatly improved track guiding for demanding side slope conditions.
Track Shoes
Track shoes are 510 mm (20") single grouser shoes made from heat-treated, rolled steel for added strength. Long track frame and wide gauge enhance track contact area, providing a very stable working base.
Heavy Duty Sealed and Lubricated
Permanently coats the track pin with a sealed-in lubricant, minimizing metal-to-metal contact.
Virtually eliminates internal pin and bushing wear.

Lubricant is held in a reservoir in the track pin.
Operator Station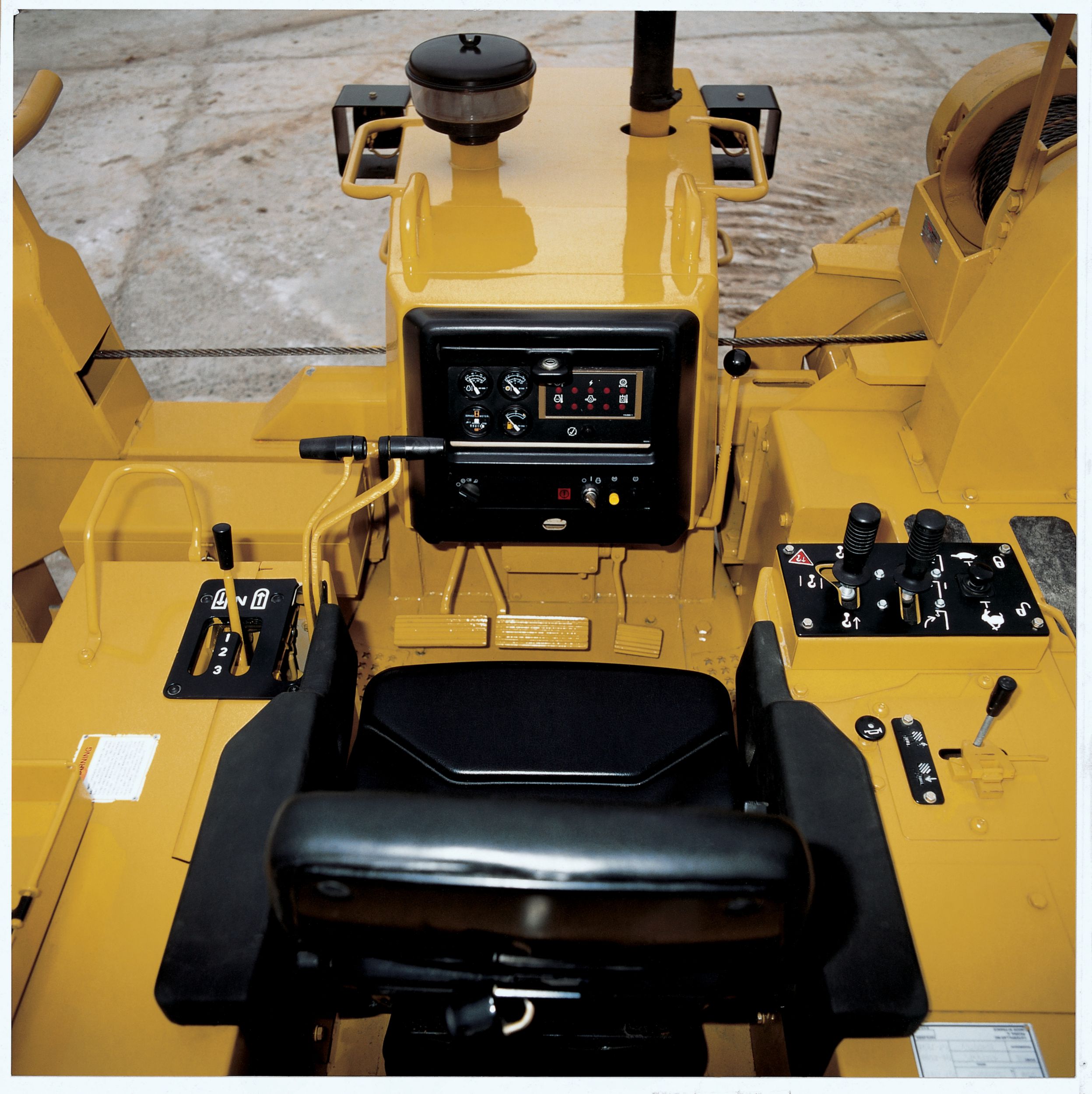 Ergonomically designed for maximum productivity and comfort. Controls are intuitive, low-effort and easy to reach, viewing area is excellent, instrument panel is easy to read and informative, and storage space has been increased.
Cab
Operator's station provides excellent comfort and convenience. The new counterweight design provides improved viewing area from the machine.
Steering
Pipelayer steering clutch levers are easy-to-reach, low-effort controls. They are independently actuated for sure, precise steering.
Seat
The seat is ergonomically designed and fully adjustable for maximum comfort. The seat cushion reduces the pressure on the lower back and thighs while allowing unrestricted arm and leg movement.
Instrument Panel
Instrument panel is the Electronic Monitoring System (EMS) for monitoring critical machine functions. There is also a gauge group displaying fuel level, coolant, and power train oil temperatures.
Brakes
Separated brakes are independent of the steering clutch function to give the machine precise steering control.
Controls
Pipelayer controls are low effort and allow simultaneous, precise positioning of the load line and boom.
Load Line Speed
Load line speed range is controlled by a push-pull knob that allows the operator to select high or low.
Counterweight
Counterweight control adjusts the position of the counterweight for added machine stability.
Access
Simplified entry by adding a ladder on the right rear side of the machine.
Pipelayer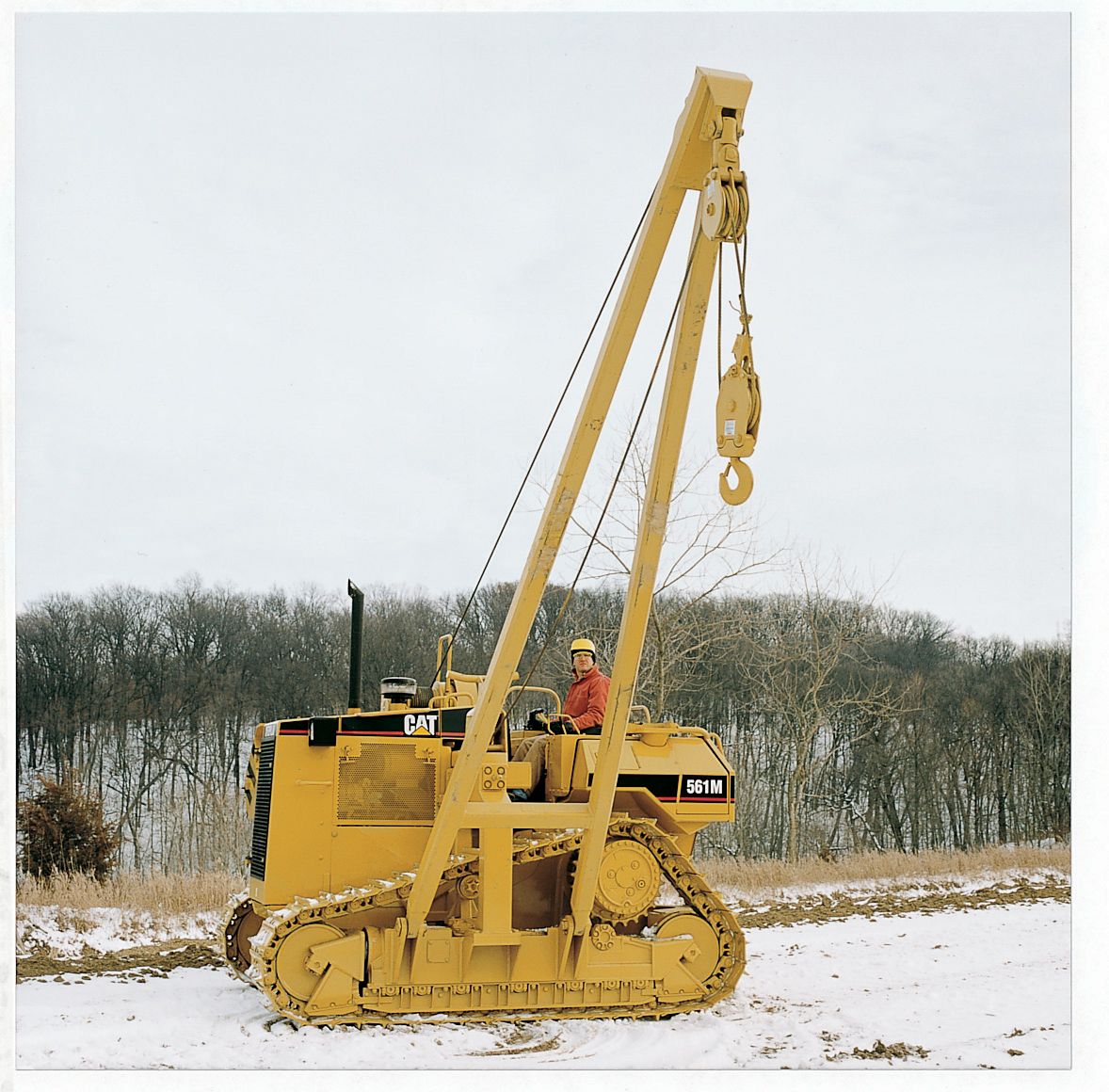 Hydraulic load line and boom winches provide excellent speed capability. Counterweight and frame design provides excellent stability while offering increased viewing area.
Winch and Boom
Winch and Boom
Independent hydraulic winches drive boom and hook drawworks.

Oil-disc brakes provide smooth operation, positive retention of boom and hook positions.

Modular design allows fast replacement, easy field service, and testing.

Infinitely variable speed controls for both boom and hook allow precise control.

Tubular, cast-steel boom is rugged, delivers better fatigue life.

Replaceable boom-mount bearings.

Symmetrical boom simplifies installation.

Emergency free-fall function on load line control allows the operator to drop the load quickly.

Counterweight and Frame
Counterweight and Frame
New counterweight design offers improved viewing area while traveling or working.

Main frame consists of box-section frame welded to cast bevel gear case.

Counterweight is extended hydraulically for improved load balance, visibility, and clearance.

Service latch mechanically locks counterweight in extended position.

Drawbar
Drawbar
Upsized.

Larger jaw opening and pin diameter.

Able to tow wider range of attachments.

Serviceability
Major modular components are designed for excellent serviceability and allow fast in-field component exchange.
Modular Design
Modular design of power train components permits fast removal and installation.
Modular Testing
Pre-testing modular components before installation or after repair assures high quality.
Service Points
Group service points and excellent access to service areas make routine checks fast and convenient.
Quick Service
Quick, easy service access and inspection of daily maintenance items.
Pressure Test Points
Pressure test points for powertrain and hydraulic systems are provided.
Electrical Diagnostic
Electrical system diagnostic connector enables fast troubleshooting of starting and charging problems.
Cooling System
Modular cooling system, with individual core assemblies, provides improved serviceability, reduced replacement costs, and improved durability.
Caterpillar Remanufactured
Caterpillar Remanufactured starters, alternators, cylinder heads, short blocks, engines, oil pumps, and final drive hubs are available for fast, economical repairs.
Ecology Drains
Ecology drains provide an environmentally safer method to drain fluids. They are included on the radiator, hydraulic tank, and major power train components.
Customer Support
Excellent parts availability and the best service capability help increase productivity.
Total Support
Your Cat dealer offers a wide range of services that can be set up under a customer support agreement when you purchase your equipment. The dealer will help you choose a plan that can cover everything from machine and attachment selection to replacement, to help you get the best return on your investment.
Selection
Selection. Make detailed comparisons of the machines you are considering before you buy. How long do components last? What is the true cost of lost production? Your Cat dealer can give you precise answers to these questions.
Operation
Operation. Improving operating techniques can boost your profits. Your Cat dealer has training videotapes, literature, and other ideas to help you increase productivity.
Machine Management Services
Machine management services -
Cat dealers help manage equipment investments with:
Custom Track Service.

Effective preventive maintenance programs.

Diagnostic programs like Scheduled Oil Sampling and Technical Analysis.

Information to make the most cost-effective repair option decisions.

Customer meetings, training for operators and mechanics.

Replacement
Replacement. Repair, rebuild, or replace? Your Cat dealer can help you evaluate the cost involved so you can make the right choice.
Product Support
Product support. You will find nearly all parts at our dealer parts counter. Cat dealers utilize a worldwide computer network to find in-stock parts to minimize machine down time. Save money with remanufactured parts. You receive the same warranty and reliability as new products at cost savings of 40 to 70 percent.