793F Mining Truck
Whether you're hauling copper, coal, gold, iron ore or overburden the 793F provides you with the best in class cost per unit of production. Including the improvements in safety, productivity, serviceability and comfort you will see why the 793F is the industry leader of its class. Combine these features with unmatched dealer support and you will see why more mine sites choose Cat Mining Trucks for their production needs.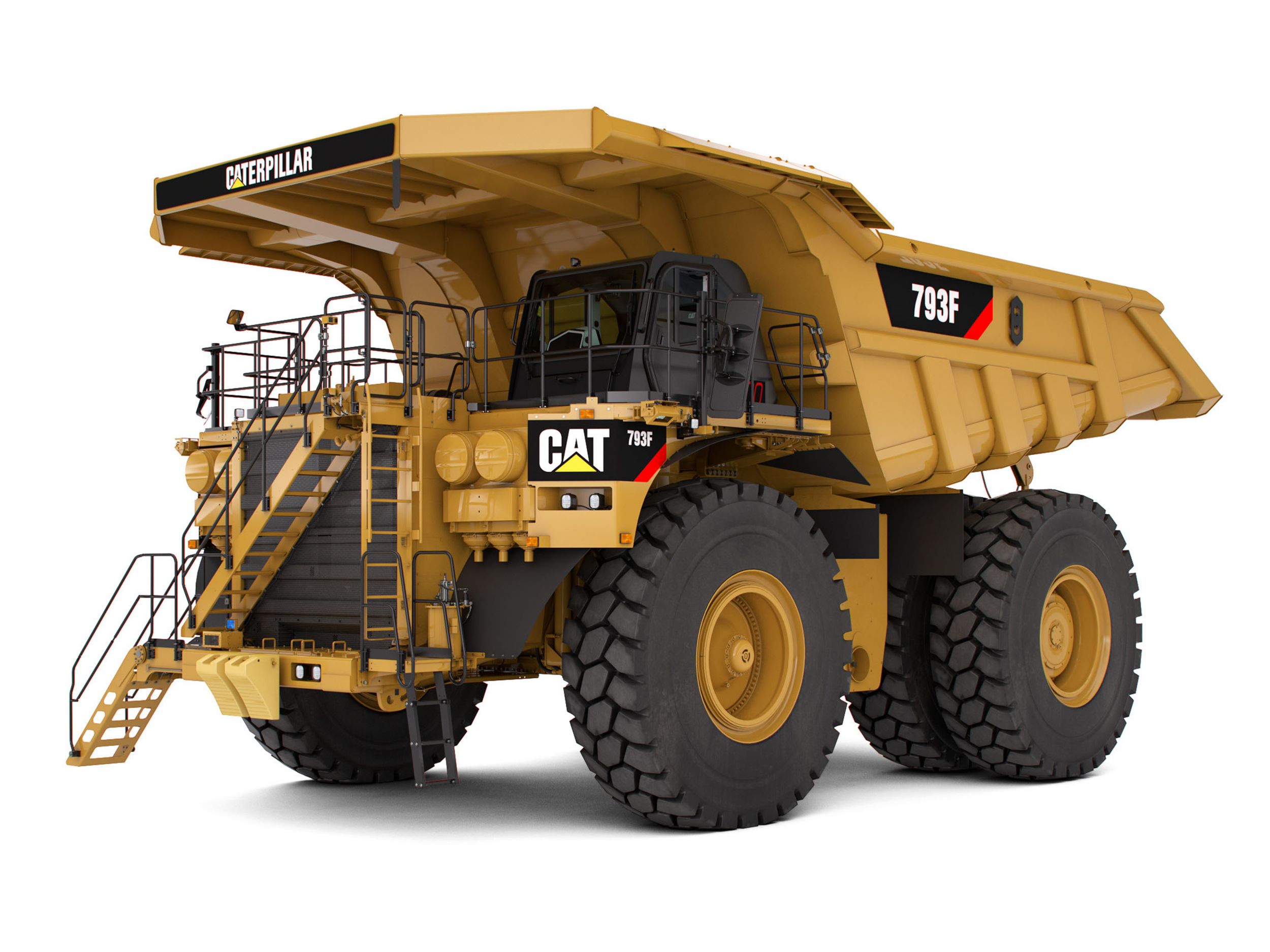 Product Details
Engine
| | |
| --- | --- |
| Engine Model | Cat C175-16 |
| Gross Power - SAE J1995 | 1976 kW |
| Net Power | 1848 kW |
| Net Power - SAE J1349 | 1848 kW |
| Torque Rise | 20 % |
| Bore | 175 mm |
| Stroke | 220 mm |
| Displacement | 85 l |
| Note (1) | Power ratings apply at 1,750 rpm when tested under the specified condition for the specified standard. |
| Note (2) | Ratings based on SAE J1995 standard air conditions of 25° C (77° F) and 99 kPa (29.61 Hg) dry barometer. Power based on fuel having API gravity of 35 at 16° C (60° F) and an LHV of 42.780 kJ/kg (18,390 Btu/lb) when engine used at 30° C (86° F). |
| Note (3) | No engine derating required up to 3810 m (12,500 ft) altitude. |
| Emissions | EPA Compliant. Where applicable, the Cat C175-16 engine is compliant with U.S. Environmental Protection Agency emission requirements. |
Weights - Approximate
| | |
| --- | --- |
| Chassis Weight | 122300 kg |
| Body Weight Range | 26 862-47 627 kg (59,220-105,000 lb) |
| Note (1) | Chassis weight with 100 percent fuel, hoist, body mounting group, rims and 40.00R57 tires. |
| Note (2) | Body weight varies depending on how body is equipped. |
Operating Specifications
| | |
| --- | --- |
| Nominal Payload Capacity | 231 t |
| Top Speed - Loaded | 60 km/h |
| Steer Angle | 36 ° |
| Turning Diameter - Front | 28 m |
| Turning Circle - Clearance Diameter | 33 m |
| Gross Machine Operating Weight | 386 007 or 390 089 kg (851,000 or 860,000 lb) |
| Note | Refer to the Cat Mining Truck 10/10/20 Overload Policy for maximum gross machine weight limitations. |
Final Drives
| | |
| --- | --- |
| Differential Ratio | 1.8:1 |
| Planetary Ratio | 16:1 |
| Total Reduction Ratio | 28.8:1 |
Transmission
| | |
| --- | --- |
| Forward - 1 | 12.9 km/h |
| Forward - 2 | 17.4 km/h |
| Forward - 3 | 23.8 km/h |
| Forward - 4 | 32.1 km/h |
| Forward - 5 | 43.6 km/h |
| Forward - 6 | 60 km/h |
| Reverse | 11.8 km/h |
Suspension
| | |
| --- | --- |
| Effective Cylinder Stroke - Front | 130.5 mm |
| Effective Cylinder Stroke - Rear | 105.5 mm |
| Rear axle - Oscillation | ±4.9 degrees |
Body Hoists
| | |
| --- | --- |
| Pump Flow - High Idle | 846 l/min |
| Relief Valve Setting - Raise | 20370 kPa |
| Body Raise Time - High Idle | 19 s |
| Body Lower Time - Float | 20 s |
| Body Power Down - High Idle | 17.5 s |
| Note (1) | Twin, two-stage hydraulic cylinders mounted outside main frame, double-acting cylinders in second stage. |
| Note (2) | Power raise in both stages, power down in second stage. |
| Note (3) | Automatic body lower modulation reduces impact on frame. |
Brakes
| | |
| --- | --- |
| Outside Diameter | 874.5 mm |
| Brake Surface - Front | 89817 cm² |
| Brake Surface - Rear | 34500 cm² |
| Standards | J-ISO 3450 JAN88, ISO 3450:1996 |
Weight Distributions - Approximate
| | |
| --- | --- |
| Front Axle - Empty | 48 % |
| Rear Axle - Empty | 52 % |
| Front Axle - Loaded | 33 % |
| Rear Axle - Loaded | 67 % |
Capacity - MSD II - 100% Fill Factor
| | |
| --- | --- |
| Struck | 112-142 m3 (146-186 yd3) |
| Heaped (SAE 2:1) | 159-190 m3 (209-250 yd3) |
| Note | Contact your local Cat dealer for body recommendation. |
Service Refill Capacities
| | |
| --- | --- |
| Fuel Tank | 2839 l |
| Fuel Tank - Optional | 4922 l |
| Cooling System | 1074 l |
| Crankcase | 312 l |
| Rear Axle - Housing | 984 l |
| Steering System - Including Tank | 290 l |
| Brake Hoist System - Includes Tank | 1315 l |
| Torque Converter - Transmission Sump | 102 l |
| Torque Converter/Transmission System - Including Sump | 209 l |
ROPS
| | |
| --- | --- |
| ROPS Standards | ROPS (Rollover Protective Structure) for cab offered by Caterpillar meets ISO 3471:1994 ROPS criteria. |
| FOPS Standards | FOPS (Falling Objects Protective Structure) meets ISO 3449:1992 Level II FOPS criteria. |
Sound
| | |
| --- | --- |
| Sound Standards | The operator sound pressure level measured according to work cycle procedures specified in ISO 6394 and 6396 is 76 dB(A) for cab offered by Caterpillar, when properly installed and maintained and tested with doors and windows closed. |
| Sound Standards (1) | Hearing protection may be needed when operating with an open operator station and cab (when not properly maintained or doors/windows open) for extended periods or in a noisy environment. |
Steering
| | |
| --- | --- |
| Steering Standards | SAE J15111 OCT90, ISO 5010:1992 |
Power Train - Engine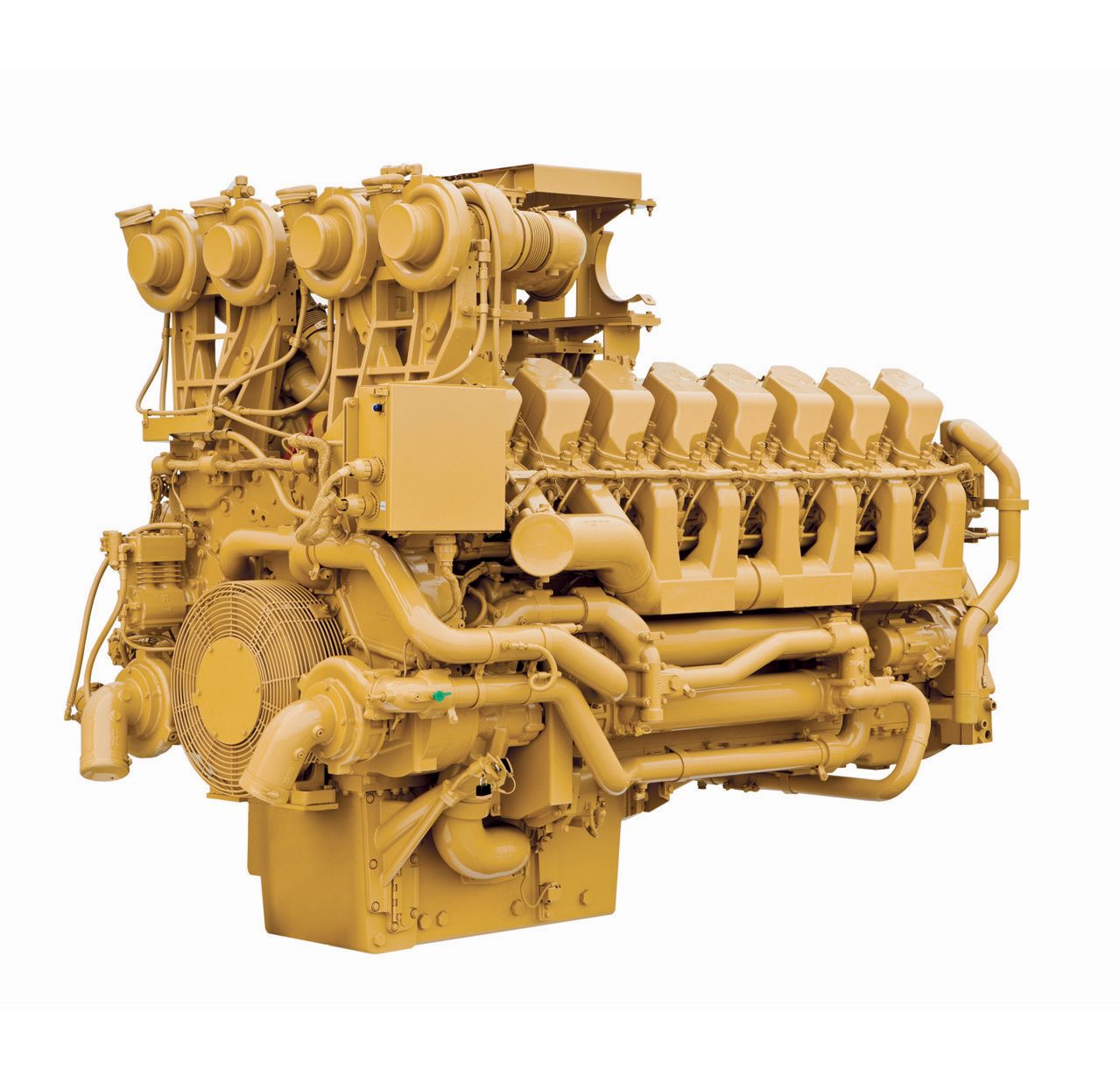 Power, reliability and efficiency for your most demanding mining applications.
Cat® C175-16 Engine
The 793F has a Cat C175-16 quad turbocharged air-to-air aftercooled diesel engine that has enhanced power management capability for maximum hauling performance in your most demanding mining applications.
The C175-16 is a 16-cylinder, four-stroke design that uses long, effective power strokes for optimum efficiency.
Is compliant with U.S. Environmental Protection Agency emission requirements.
The 20 percent net torque rise of the C175-16 provides unequalled lugging force during acceleration on steep grades and in rough underfoot conditions. Torque rise effectively matches transmission shift points for maximum efficiency and fast cycle times.
High displacement, low rpm rating and conservative horsepower ratings mean more time on the haul roads and less time in the shop.
The Cat Common Rail Fuel System is an electronically-controlled system senses operating conditions and regulates fuel delivery for optimum fuel efficiency. This precise and flexible fuel system gives the engine the ability to meet emission regulations without sacrificing performance, reliability or durability.
The flexible core design of the MESABI radiator means easier serviceability along with long life and high durability.
You have two starter options: The tank on the standard air start system is ground level serviceable, while the electric start option allows the air system to be totally removed from the truck.
Power Train - Transmission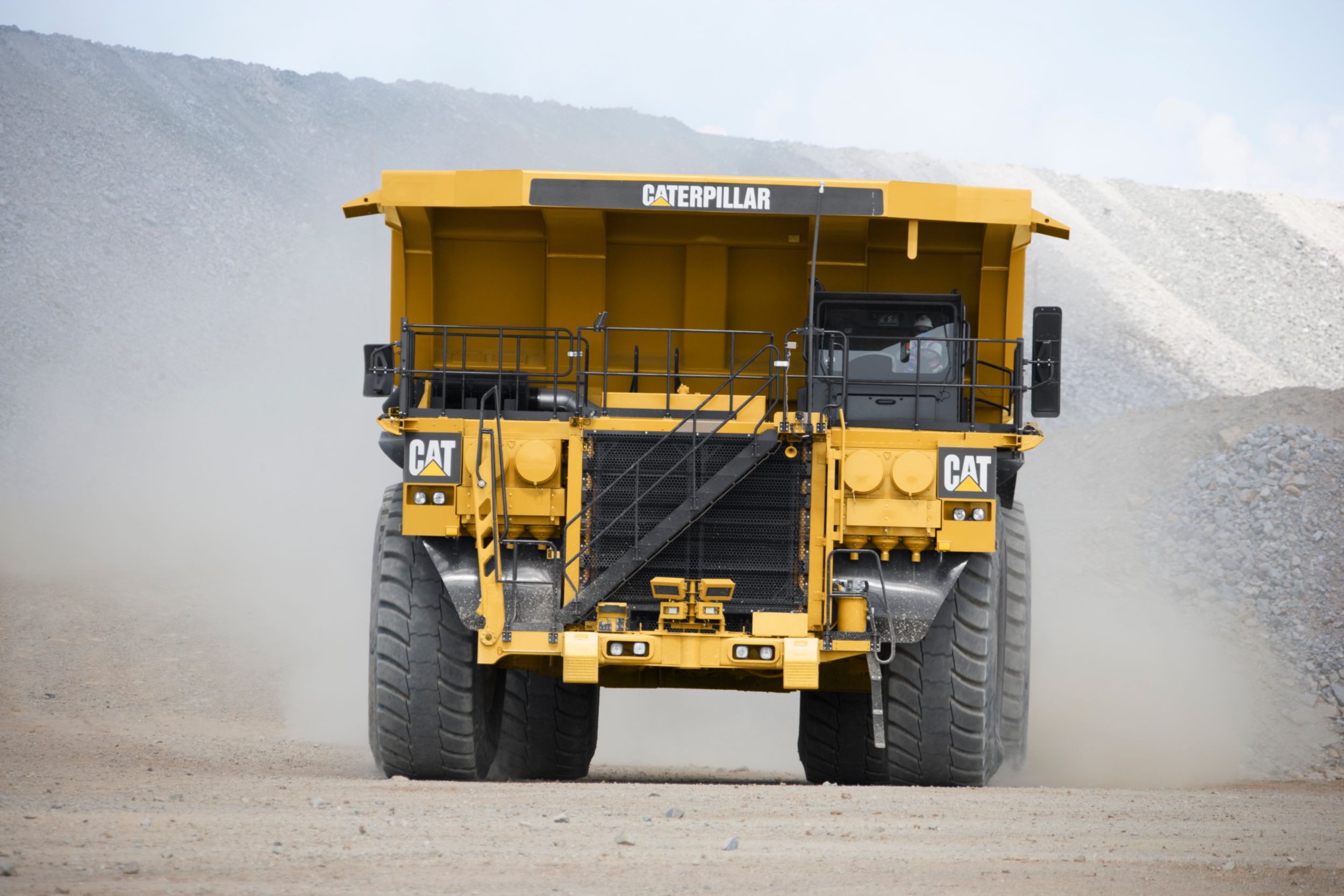 More power to the ground means greater productivity for you.
Mechanical Power Train
The 793F gives you the fastest truck on grade in its class. The Cat mechanical drive power train and power shift transmission provides you unmatched operating efficiency and control on steep grades, in poor underfoot conditions and on haul roads with high rolling resistance.
1 - Transmission with Electronic Clutch Pressure Control
The Cat six-speed planetary power shift transmission is matched with the direct-injection C175-16 diesel engine to deliver constant power over a wide range of operating speeds. The proven planetary power shift transmission is built tough and is designed for the higher power of the C175-16 engine. A dedicated oil tank and circuit provides cooler, cleaner oil for maximum performance and longer component life. Electronic Clutch Pressure Control (ECPC) provides maximum performance, smooth shifting, long clutch life and a more comfortable ride.
2 - Lock-Up Torque Converter
Combines maximum rimpull and cushioned shifting of torque converter drive with the efficiency and performance of direct drive. The lock-up torque converter engages at approximately 8 km/h (5 mph), delivering more power to the wheels.
3 - Final Drives
Cat final drives work as a system with the planetary power shift transmission to deliver maximum power to the ground. Built to withstand the forces of high torque and impact loads, double reduction final drives provide high torque multiplication to further reduce drive train stress.
Power Train Options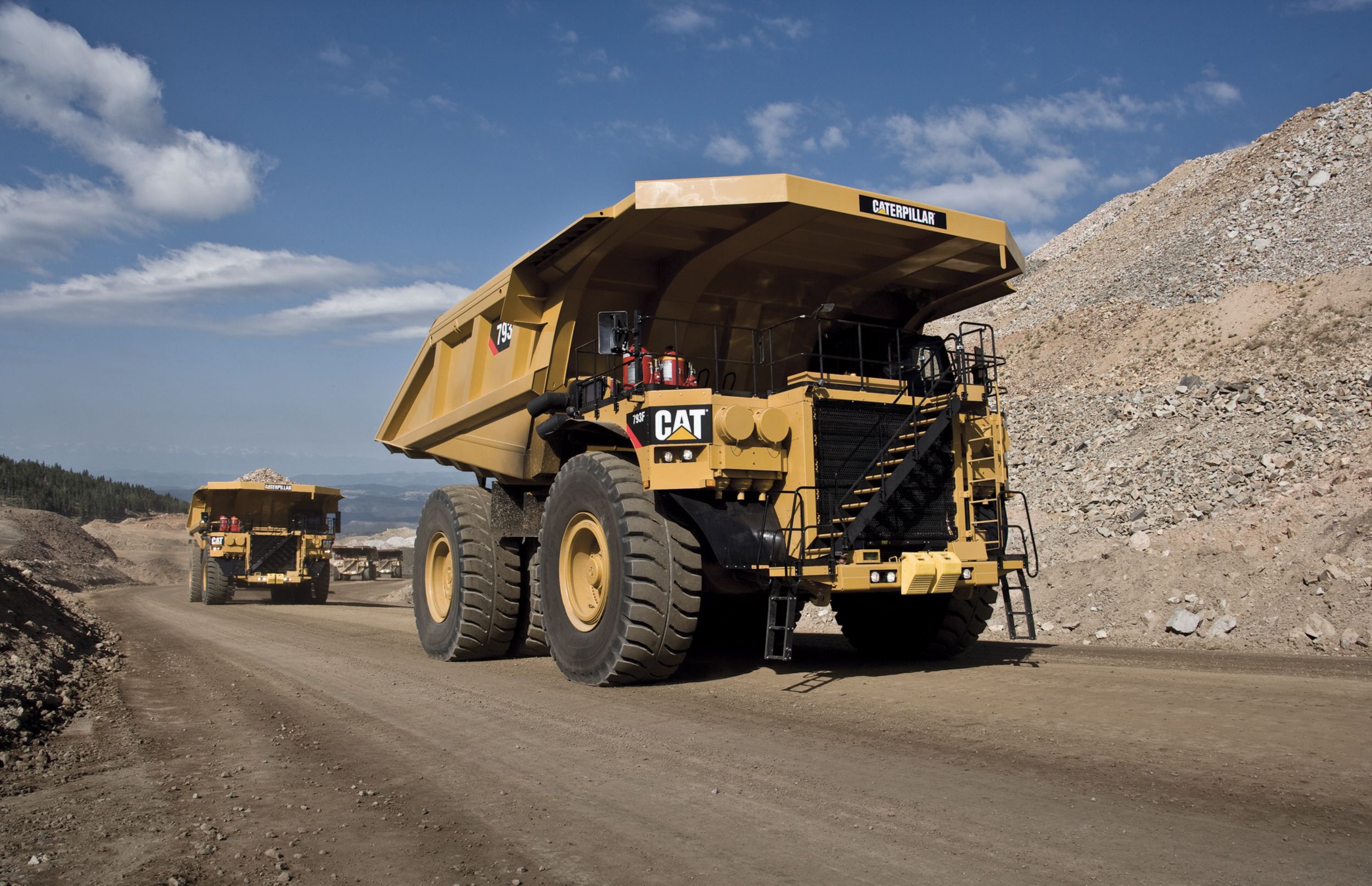 Two power train options to match your applications/conditions.
Extended Life Wheel Stations
Developed for uphill hauling applications, this arrangement is designed to extend wheel life and hauling performance on long, uphill hauls. Extended life wheel stations are built with larger, more durable components, including larger spindles, wider wheel bearing spacing, a larger braking surface and additional discs in the front for longer brake life and more time between overhauls.
Additional Retarding
Developed for downhill-loaded applications, this option typically delivers an extra gear of retarding capability or 25 percent more speed on downhill grades. Additional retarding is achieved by adding larger brakes and additional brake cooling capability. This option requires the use of Extended Life Wheel Stations.
Engine/Power Train Integration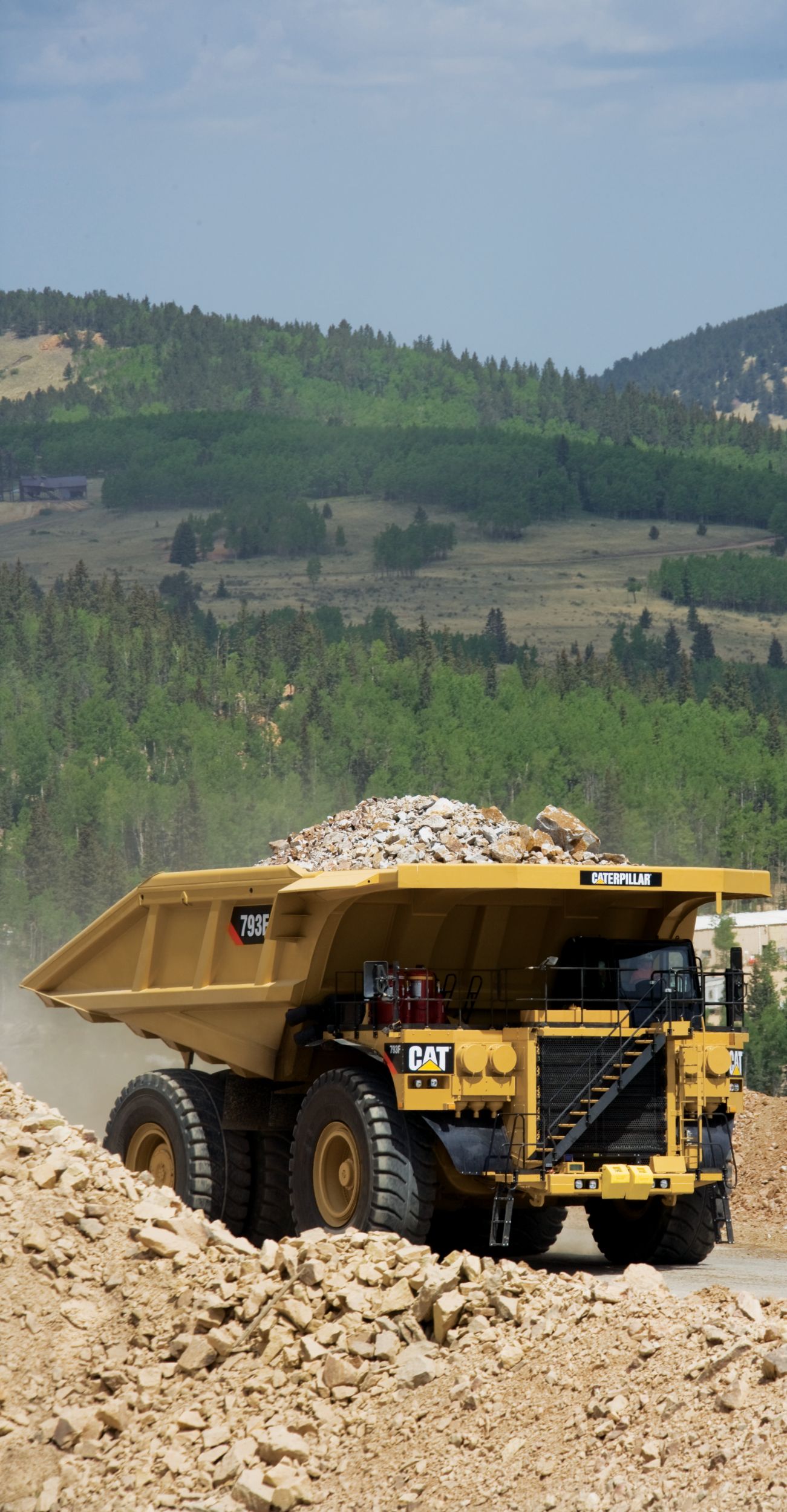 Reduced operating costs through electronically combined power train components.
Cat Data Link
Reduces operating costs through electronically integrating machine computer systems to optimize overall power train performance, increase reliability and component life.
Controlled Throttle Shifting
Regulates engine rpm during shifting to reduce power train stress and clutch wear by controlling engine speed, torque converter lock-up and transmission clutch engagement for smoother shifts and longer component life.
Directional Shift Management
Regulates engine speed during directional shifts to prevent damage caused by high speed, directional changes.
Body-Up Shift Inhibitor
Prevents the transmission from shifting above the pre-programmed gear without the body fully lowered.
Overspeed Protection
The transmission control electronically senses engine conditions and automatically up-shifts one gear to prevent overspeeding. If overspeeding occurs in top gear, the lock-up clutch is disengaged.
Programmable Top Gear
Transmission top gear maximum can be set using the Cat ET service tool to help the operator maintain speed limits.
Downshift Inhibitor
Prevents engine overspeeding by keeping the transmission from downshifting until engine speed reaches the downshift point.
Rapid Downshift Function
Does not allow a turnaround shift until approximately 2.3 seconds after a shift occurs.
Reverse Speed Inhibitor
Prevents shifts into reverse when forward ground speeds are in excess of 5 km/h (3 mph).
Cat Braking Systems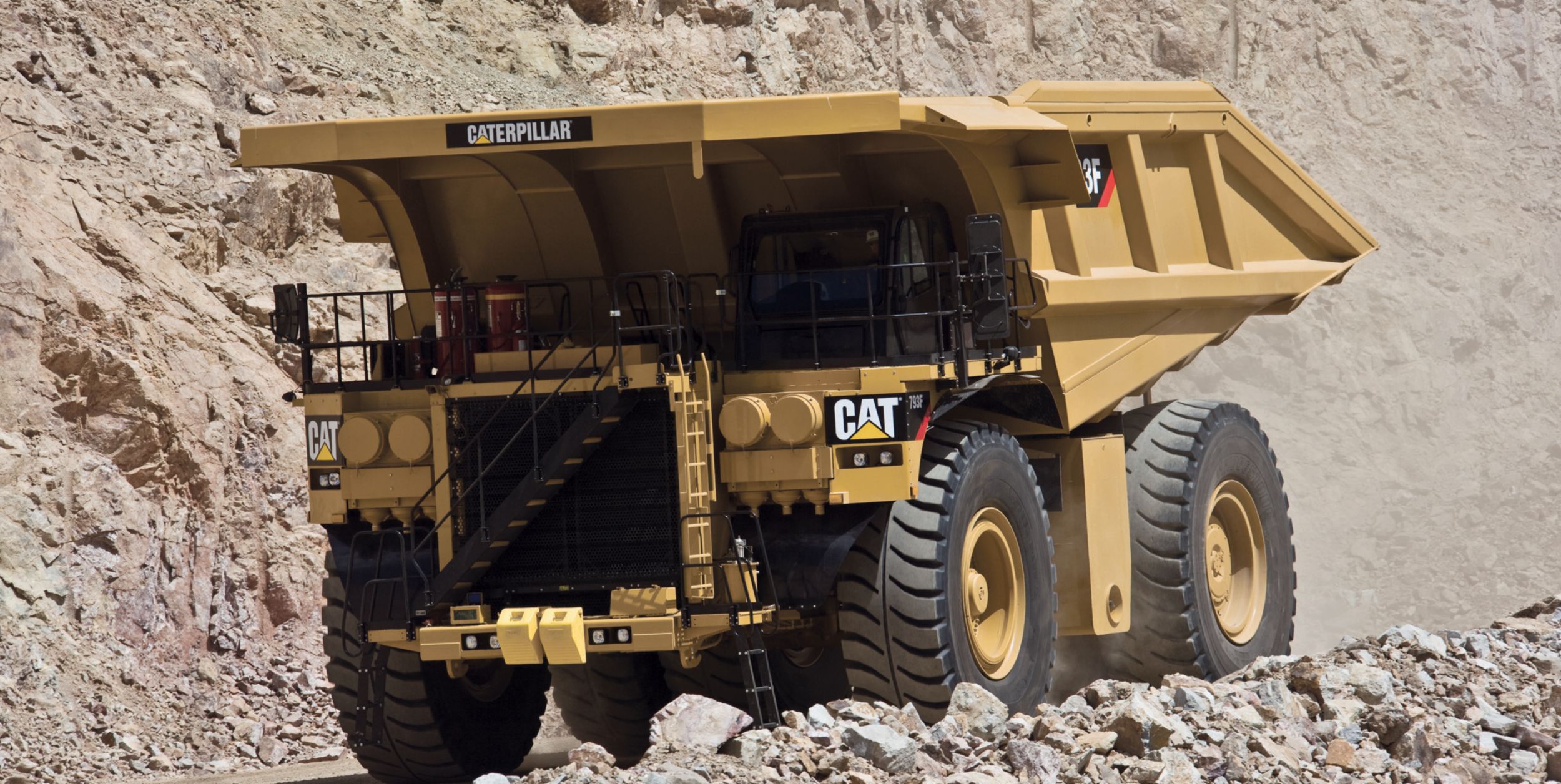 Superior braking control lets operators focus on productivity.
Integrated Braking System
Reliable performance and control in extreme haul road conditions is important for operator safety. The Cat oil-cooled braking system provides this. Integrated systems combine the service, secondary, parking brakes and retarding functions for optimum braking efficiency that does not burn fuel while retarding.
Oil-Cooled Multiple Disc Brakes
Cat four-wheel, forced oil-cooled, multiple disc service brakes are continuously cooled by water-to-oil heat exchangers for exceptional, non-fading braking and retarding performance.
Brake Design
Cat oil-cooled disc brakes are designed with large discs and plates for reliable, adjustment-free operation and performance. Brakes are completely enclosed and sealed to prevent contamination and reduce maintenance.
Long Life
An oil film prevents direct contact between the discs. This design absorbs the braking forces by shearing the oil molecules and carrying heat away to extend brake life.
Parking Brake
Oil-cooled, spring-applied, hydraulically released parking brake is applied to all four wheels for superior parking capability on all grades up to 15 percent.
Hydraulic Automatic Retarder Control (ARC)
Hydraulically activated, automatic retarder control system electronically controls retarding on grade to maintain optimum engine rpm and brake system performance. ARC is now adjustable in each gear.
Structures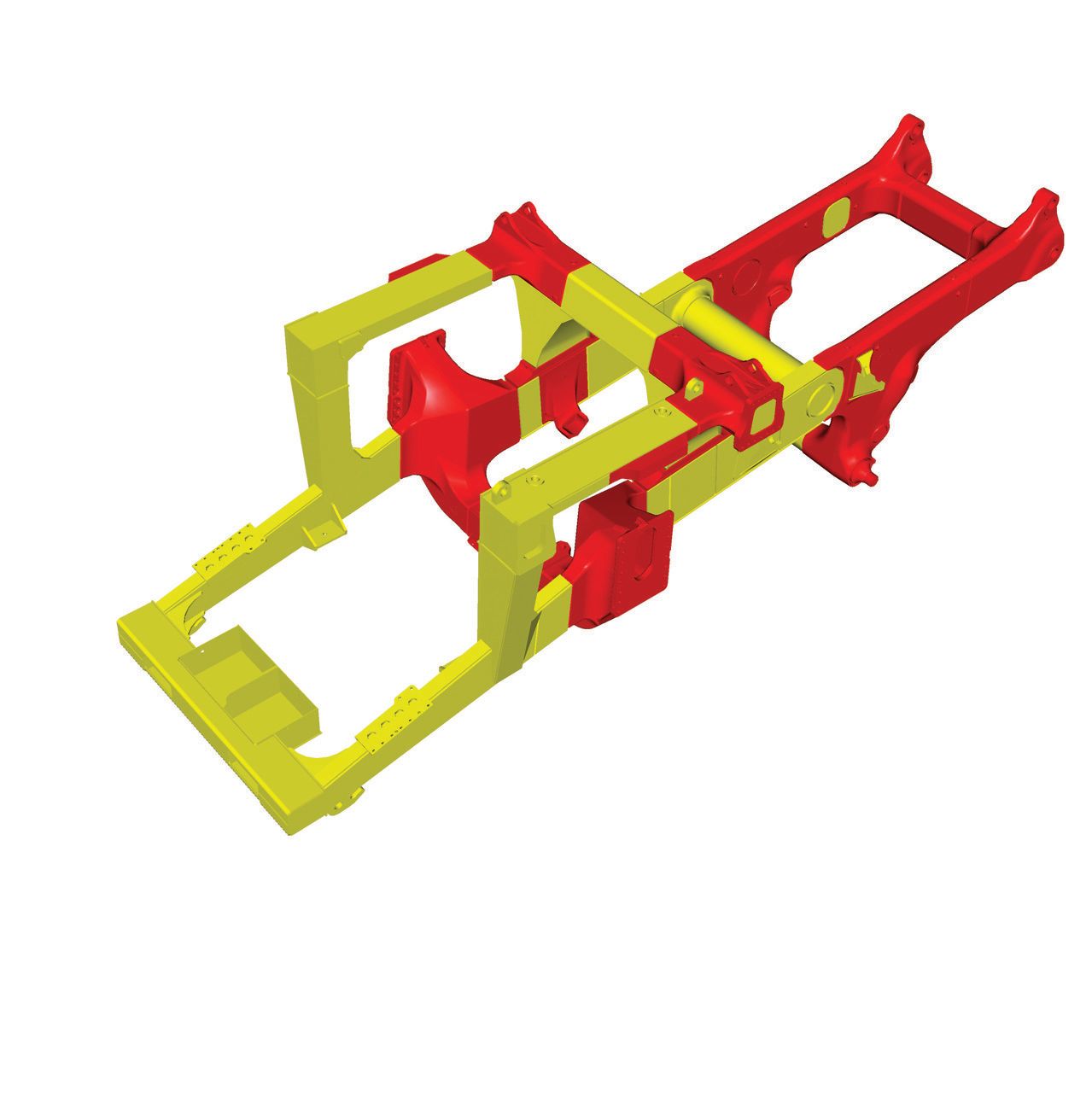 Superior Cat structures in the 793F give you durability and long life.
Box Section Design
The 793F frame uses a box-section design, incorporating two forgings and 14 castings in high stress areas with deep penetrating and continuous wrap-around welds to resist damage from twisting loads without adding extra weight.
Steel Structures - Mild steel used throughout frame provides flexibility, durability and resistance to impact loads, even in cold climates and allows for easy field repairs.
Castings - Castings have large radii with internal reinforcing ribs to dissipate stress in areas of high stress concentration. Castings move welds to lower stress areas for greater frame life.
Integral Four-Post ROPS Cab
Resiliently mounted to the main frame to reduce vibration and sound, the integral ROPS is designed as an extension of the truck frame.
Suspension System
Designed to dissipate haul road and loading impacts for longer frame life and a more comfortable ride.
Durable Design - Rugged cylinders utilize large diameter bore and low pressure nitrogen/oil design for long life with minimal maintenance.
Front - Front cylinders with preset caster and camber are mounted to the frame and serve as steering kingpins for a tight turning radius with excellent maneuverability and low maintenance.
Rear - Rear cylinders allow axle oscillation and absorb bending and twisting stresses caused by uneven and rough haul roads rather than transmitting them to the main frame.
Four-bar Link Rear Suspension
The Four-bar Link Suspension directs stress to be more evenly distributed than an A-frame design and allows more service area around the transmission.
Steering System
Hydraulic steering control system is designed for exceptional smoothness and precise control. A separate circuit prevents cross contamination for long life.
Truck Body Systems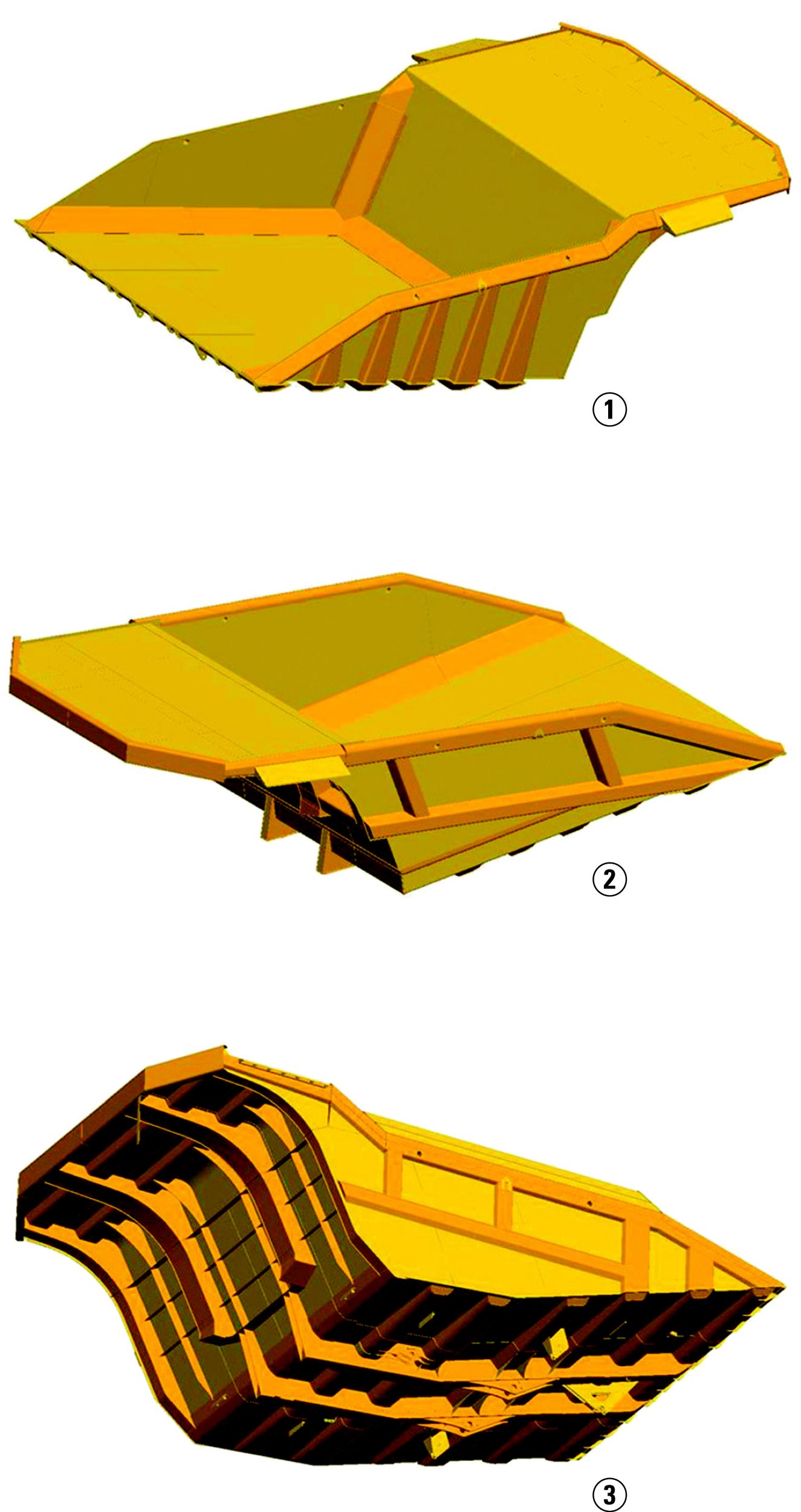 Designed and built for rugged performance and reliability.
Cat Truck Bodies
You have three body options with the 793F: X Body, MSD II (Mine Specific Design) and Gateless Coal Body. These bodies are specifically designed to work with the Cat frame for superior structural performance.
1 - X Body
If you have a new mine or are a contract miner the X Body is designed for you. It uses the Cat Mine Specific Design process to create a body that is properly sized and configured to meet the specific requirements of heavy-duty applications. The X Body design offers a larger volume with no weight penalty.
2 - MSD II
The MSD II bodies are intended for established mines and are customized to suit your specific mining applications based on a mine site evaluation. The MSD II is the best lightweight body ever built for mining applications and achieves excellent payload performance.
3 - Gateless Coal Body
The Gateless Coal Body is intended for dedicated coal haulage applications. It can be loaded to achieve target payload across the full range of coal densities. The body is designed and built using the MSD II Body concept, ensuring superior durability and reliability.
Monitoring System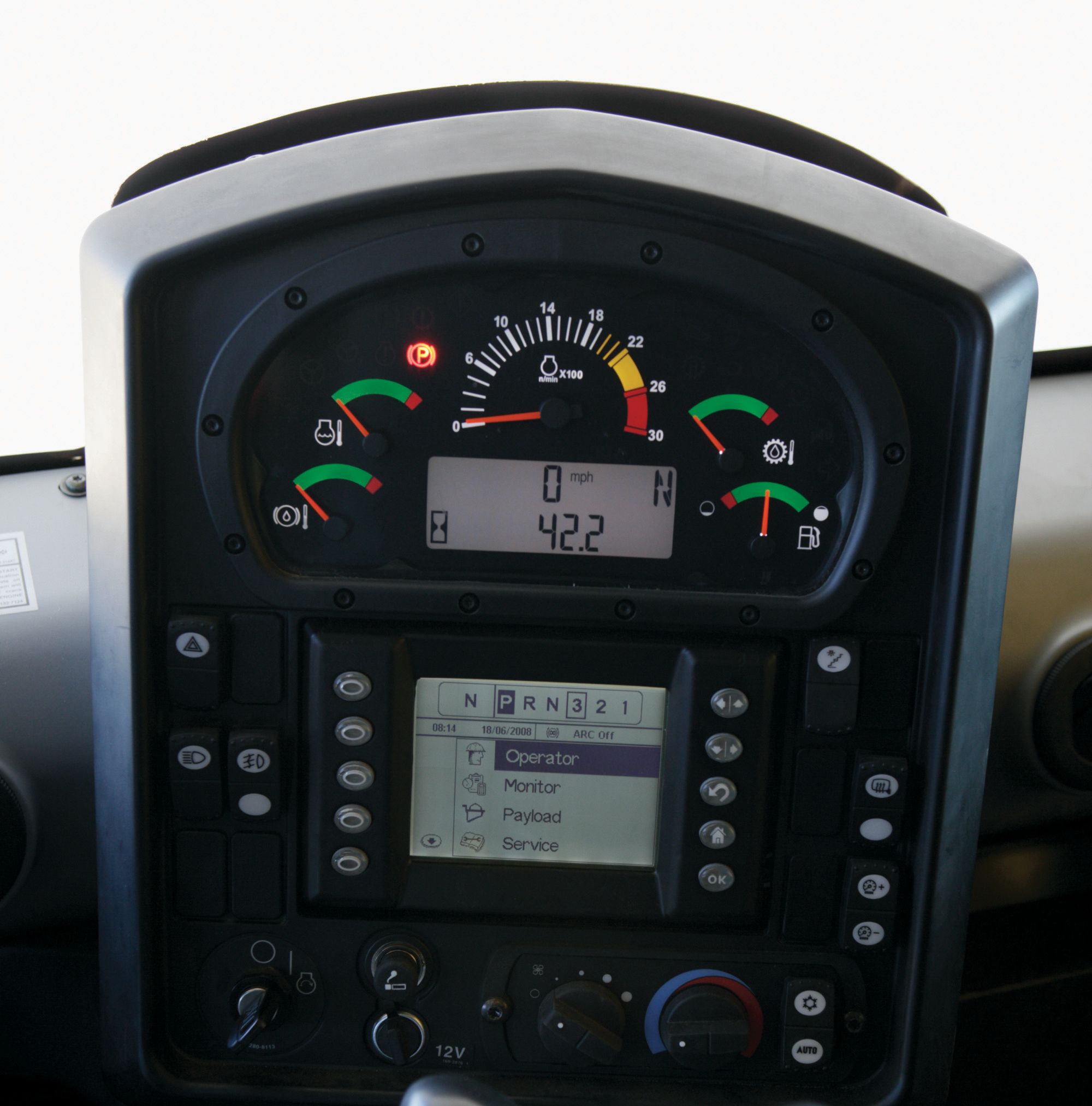 Keeping your production at peak levels.
VIMS™ 3G Monitoring System
The third generation VIMS monitoring system provides you with critical health and payload data in real-time to keep the 793F performing at top production levels. Data from VIMS can be used to lower your operating costs by improving the effectiveness of scheduled maintenance programs improve machine availability and improve the effectiveness of scheduled maintenance programs. Sensors throughout the machine enable VIMS to quickly exchange and monitor information from all systems. Users can view up to 10 different machine parameters at a time. Your service technicians can quickly download data by connecting directly to the system or through its own web address and generate reports in the office, shop or cab.
Production and Payload Management
Information is available to monitor and enhance truck/loading tool effectiveness, improve fleet productivity and help extend the life of truck frames, tires, rims and power train components, while lowering your operating and maintenance cost.
External Payload Indicators
External lights signal loading tool operators when to cease loading for optimum payloads without overloading. Optional payload displays with digital numeric monitor are available.
Road Analysis Control
Optional system monitor your haul road conditions by measuring frame rack, bias and pitch to improve cycle times, frame life, tire life and fuel efficiency.
VIMSpc
An Off-board software reporting program that allows your service personnel to download a complete record of machine health and productivity data. Health and payload reports can be generated for more effective machine management, which reduces downtime and lowers operating costs.
Advisor Display
The Advisor display provides real-time machine performance and basic trip, maintenance and diagnostic data. Various machine parameters can be viewed on the display including coolant temperature, oil pressure, current gear selection, current payload and more.
VIMS Supervisor
Optional software allows your mine personnel to easily manage and interpret VIMS data for optimum fleet management and productivity.
Operator's Station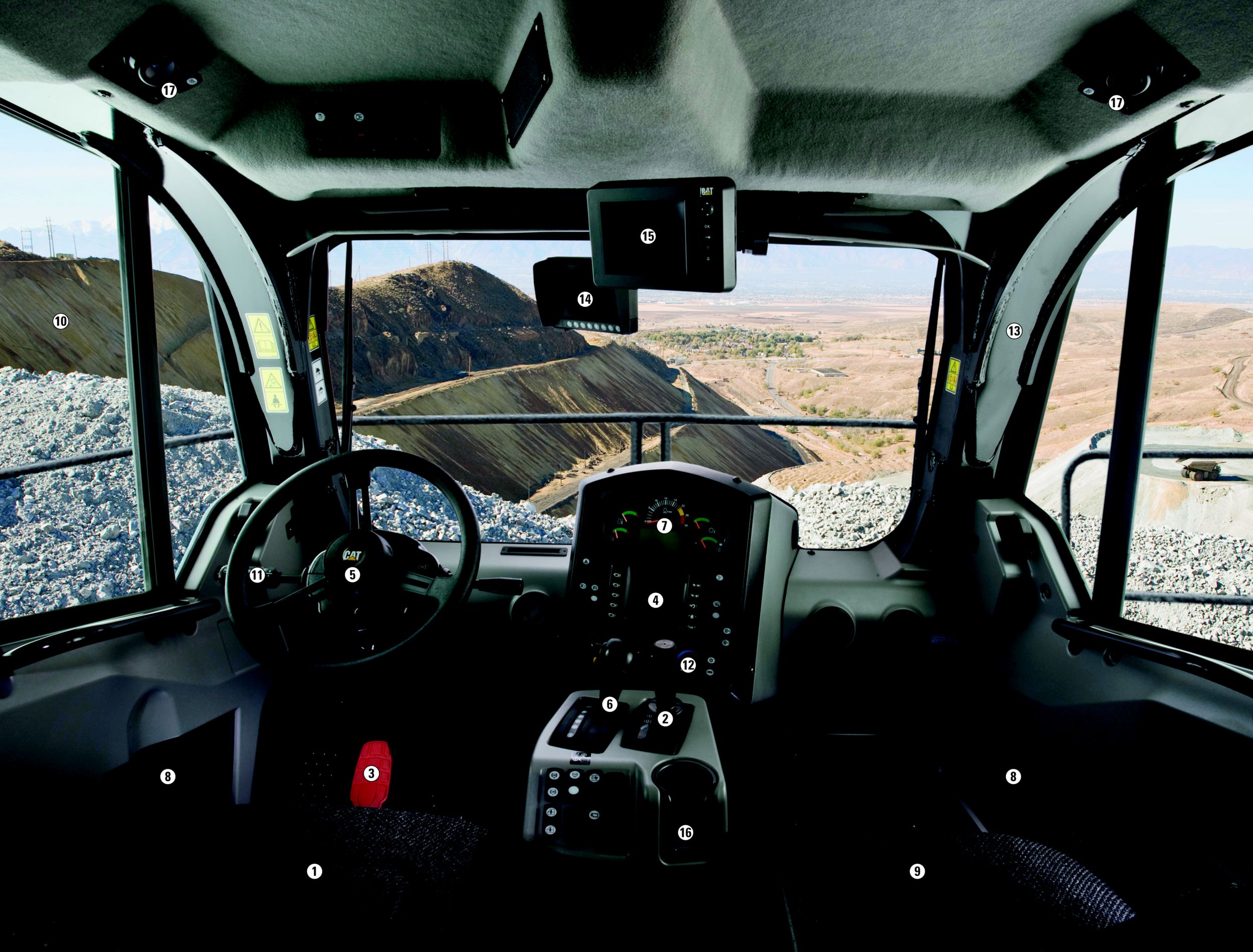 Ergonomically designed for all-day comfort, control and productivity.
Operator Environment
You now have the choice to select a cab with the features you desire. There are three choices based on popular arrangements. Available offerings include a Standard Cab, Deluxe Cab or Deluxe Cold Weather Cab.
Ergonomic Layout
To minimize operator fatigue and maximize productivity the all new F Series operator station is ergonomically designed for total machine control in a comfortable, productive and safe environment. Controls, levers, switches and gauges are positioned for ease of use.
Viewing Area
Designed for excellent all-around visibility and clear sight lines to the haul road, the large viewing area offers exceptional visibility, allowing the operator to maneuver with confidence for high productivity. The air cleaners have been relocated to the front of the truck, allowing the operator increased visibility.
Customer Support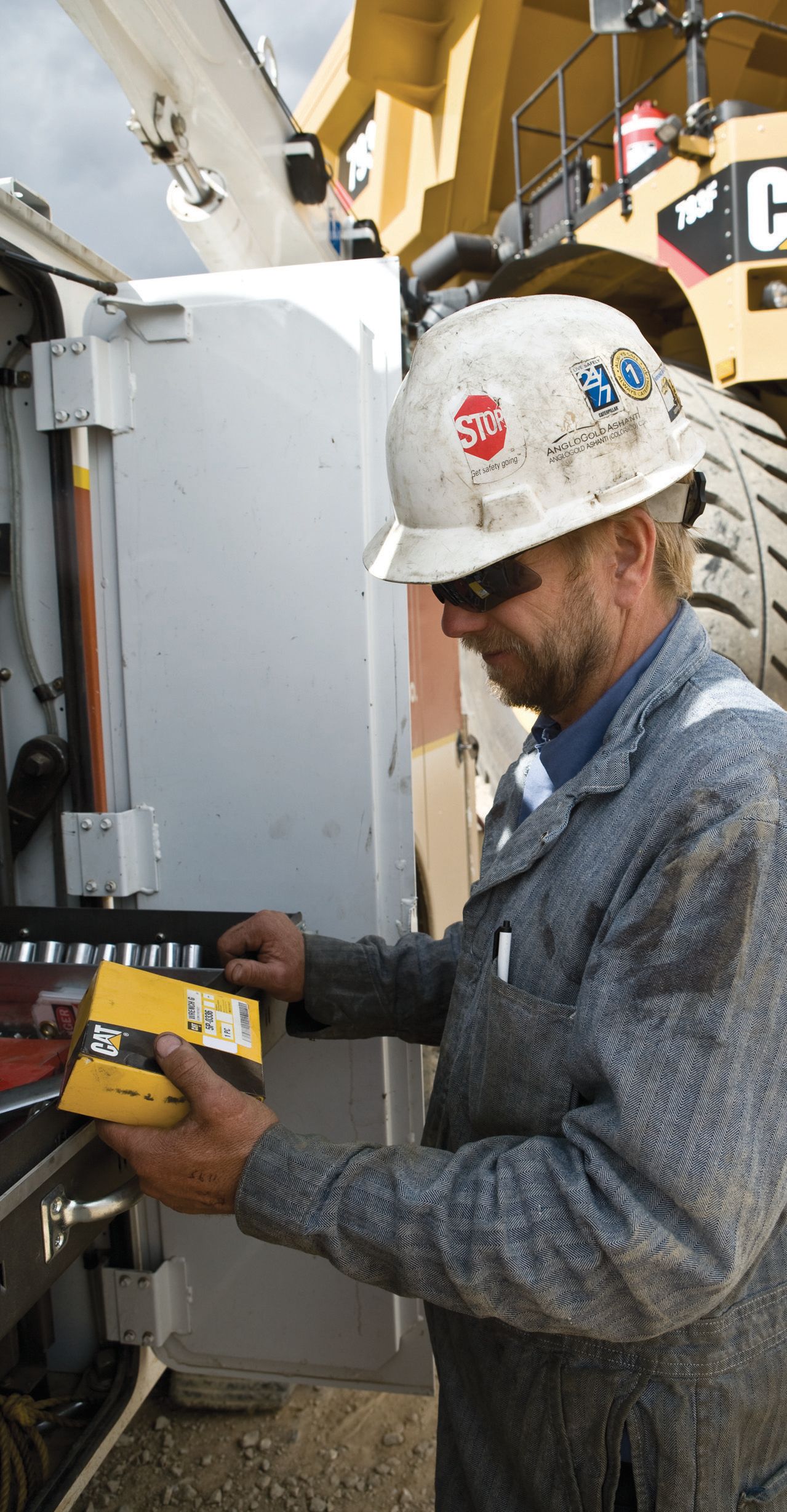 Keeping you running with the most experienced dealer network.
Commitment Makes the Difference
Cat dealers offer a wide range of solutions, services and products that help you lower costs, enhance productivity and manage your operation more efficiently. From the time you select a piece of Cat equipment until the day you trade or sell it, the support you get from your Cat dealer makes the difference.
Dealer Capability
Cat dealers provide the level of support you need, on a global scale. Dealer expert technicians have the knowledge, experience, training and tooling necessary to handle your repair and maintenance needs, when and where you need them.
Product Support
When Cat products reach the field, they are supported by a worldwide network of parts distribution facilities, dealer service centers and technical training facilities to keep your equipment up and running. Cat customers rely on prompt, dependable parts availability through our global dealer network, ready to meet your needs 24/7.
Service Support
Every piece of Cat equipment is designed and built to provide maximum productivity and operating economy throughout its working life. Cat dealers offer a wide range of service plans that will maximize uptime and return on your investment, including:
Preventive Maintenance Programs
Diagnostic Programs, such as Scheduled Oil Sampling and Technical Analysis
Rebuild and Reman Option
Customer Support Agreements
Operation
Your Cat dealer can arrange training programs to help operator's improve productivity, decrease downtime, reduce operating costs and enhance safety.
Application Awareness
Operating and maintenance costs are influenced by many application and site-specific factors, such as: material density, loading position, payload, grades, speeds, haul road design and maintenance. Your Cat dealer can provide you with an understanding of the effects application characteristics and operating techniques have on maintenance and operating costs.
Serviceability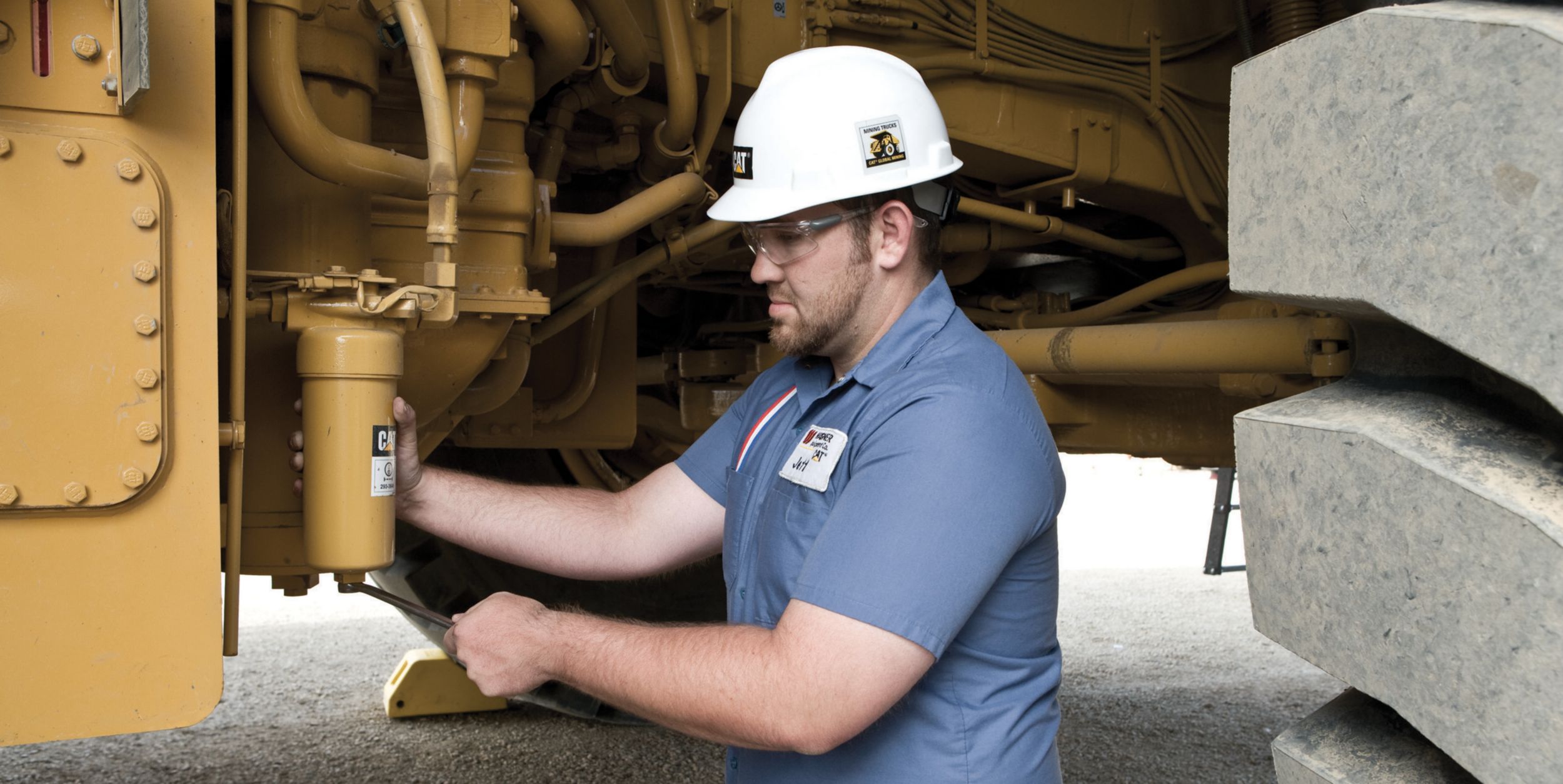 Reduced maintenance time results in more productivity.
Servicing Ease
Easy access to daily service points simplifies servicing and reduces your time spent on regular maintenance procedures. Enhanced serviceability and long service intervals are designed to increase machine availability and productivity.
In-Frame Access
Gives you easy access to major components for easy servicing and removal.
Ground Level Access
Grouped ground level points allow you convenient servicing of tanks, filters, drains, batteries, AutoLube system, pressure taps, screens, fluid sight gauges and engine shutdown. Ground level VIMS data port permits easier downloading of information.
AutoLube
Automatic lubrication system reduces your maintenance time by automatically lubricating necessary components on a regular basis.
Scheduled Oil Sampling
S·O·SSM sampling valves speed sampling and analysis reliability.
Pressure Test Points
Disconnect valves are conveniently located throughout the hydraulic systems for easy pressure testing.
Sealed Electrical Connectors
Electrical connectors are sealed to lock out dust and moisture. Harnesses are braided for protection. Wires are color-coded for easy diagnosis and repair.
Safety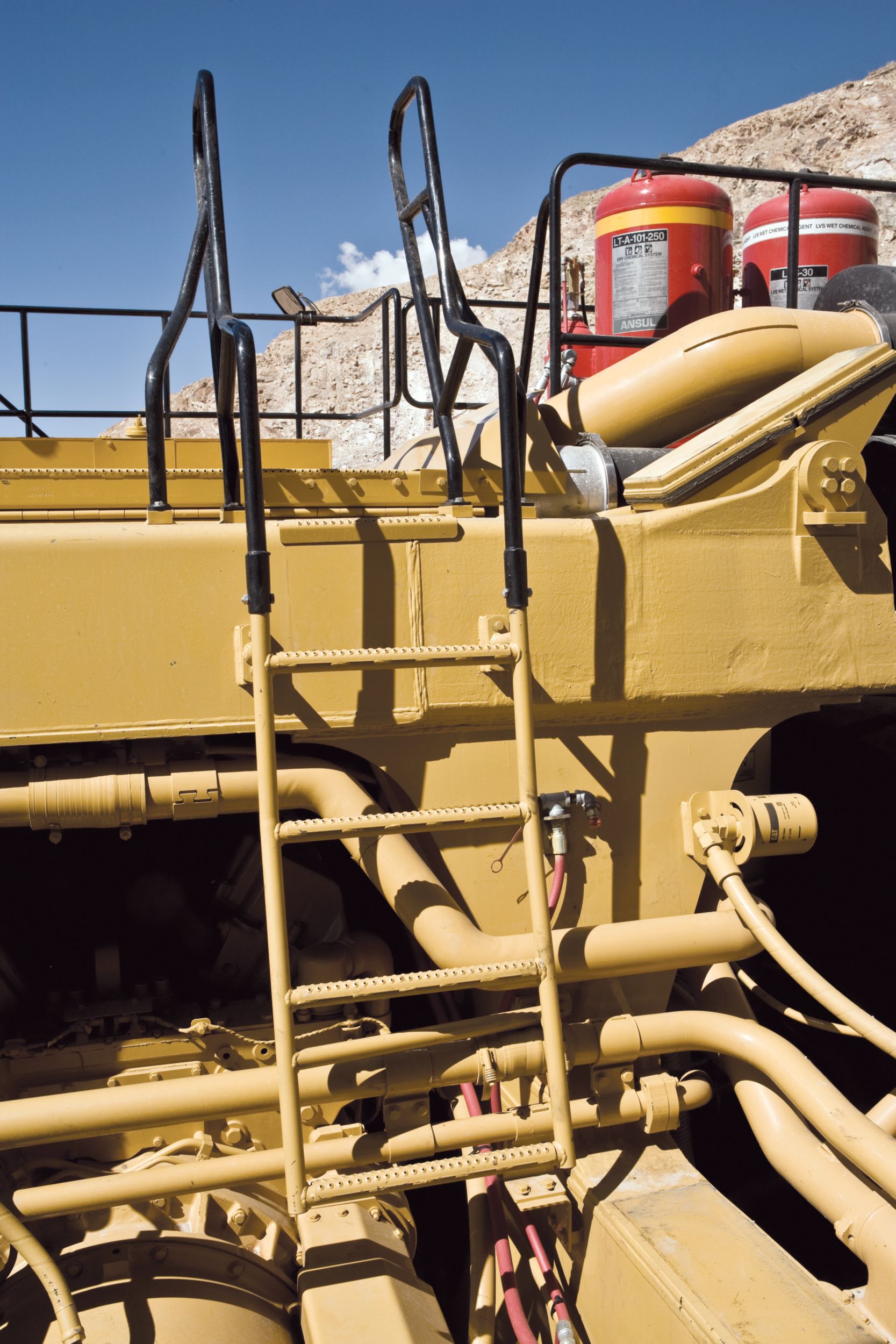 Designed with safety as the first priority.
Product Safety
Caterpillar is concerned about your safety and has been and continues to be proactive in developing mining machines that meet or exceed safety standards. Safety is an integral part of all machine and system designs.
Cat Detect System
Knowing what's around your 793F at all times is important. The Cat Detect system is factory installed as standard equipment on 793F Mining Trucks. The full Cat Detect system, RADAR AND CAMERA, provides both audible and visual indications of detected objects. This system uses a combination of short and medium range radars which surround the machine, along with cameras on each side to allow the operator to confirm the detected object. The cameras supplement the radar alerts and are selectable by touch screen menus through an intuitive interface.
Integral ROPS Cab
Resiliently mounted to the main frame to reduce vibration and sound, the integral ROPS structure is an extension of the truck frame and exceeds SAE requirements.
Access/Egress
Improvements for machine level access and egress include a standard 600 mm (24 in) diagonal stairway across the front of the machine. Improvements for ground level access include an optional powered access stairway.
Brake Systems
Four corner oil braking system provides excellent control in slippery conditions. The system assures braking in the event of complete hydraulic failure.
Overload Policy
Safety is integral to maintaining the highest productivity in mining operations. The Caterpillar 10/10/20 Overload Policy assures that steering and braking systems have sufficient capacity to perform, even at 20 percent overload.
Other Safety Features
Slip resistant surfaces
76 mm (3 in) wide orange three-point operator restraint
Wide angle mirrors
Body raised indicator
Double body retaining cables
Guard rails
Reverse neutralizer when dumping
Low interior sound level
Isolation Box
Lockout tagout box mounted on front bumper includes engine shutdown switch, battery lockout, starter lockout and transmission lockout.
SAFETY.CAT.COM™
Sustainability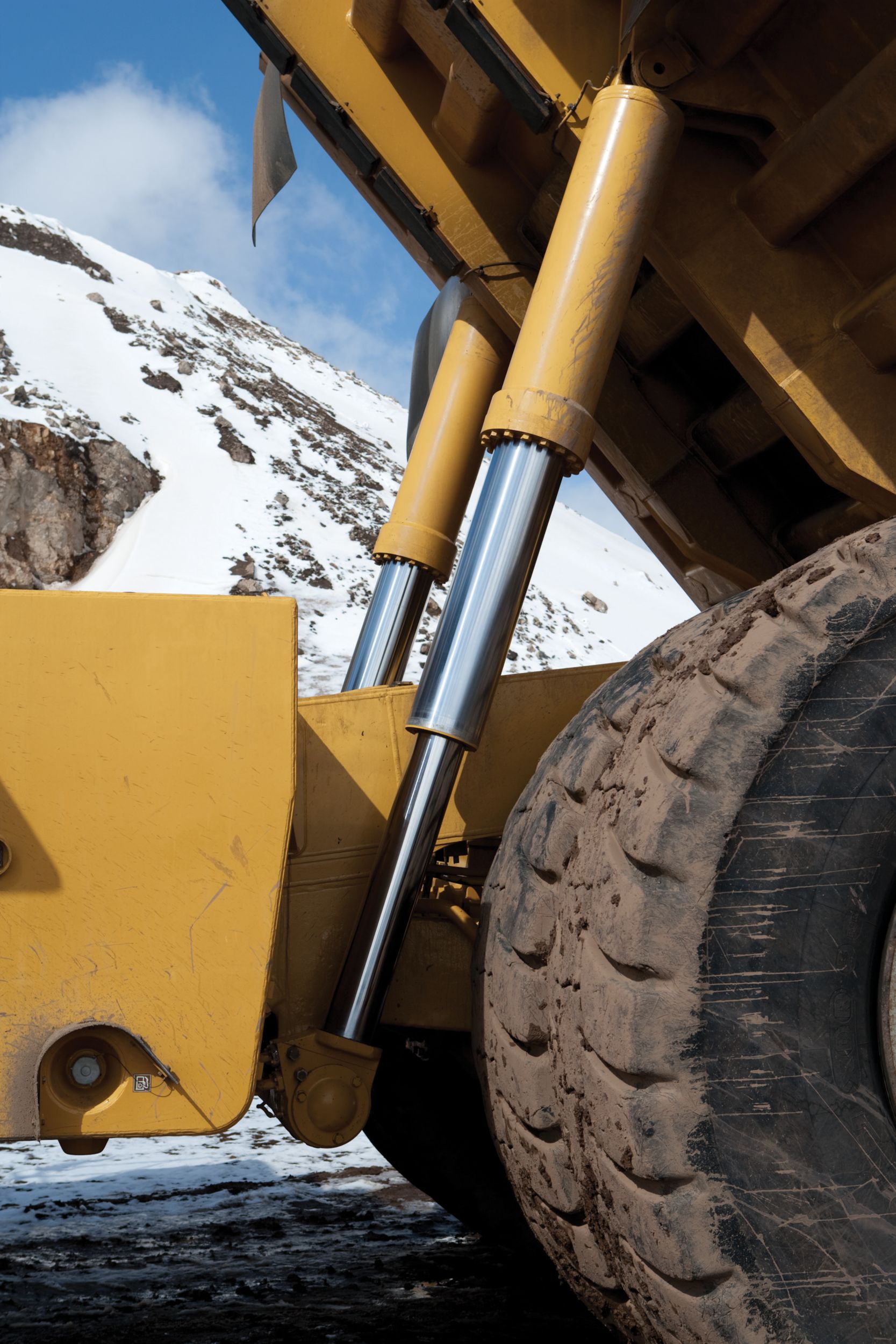 A variety of features improve sustainability in areas of decreasing waste, extending component life and lowering emissions levels.
Sustainability Features
The 793F Mining Truck offers continuous rear axle filtration, extended life filters and extended maintenance intervals, which aid in decreasing the amount of waste contributed to our environment.
Engines with Advanced Technology
Engines with advanced technology contribute fewer emissions to the environment while maintaining fuel efficiency.
Advanced Surface Technology (AST)
Advanced Surface Technology (AST) is a replacement for hard chrome coatings on some steel parts, including suspension and hoist cylinder rods. This technology improves wear resistance and reduces repair time. Chrome has been eliminated to reduce environmental impact.
Fuel Efficiency
The engine provides additional retarding by running against compression on downhill hauls. During retarding applications the engine ECM does not inject fuel into the cylinders for exceptional fuel economy.
ELECTRICAL

Alarm, Back-up
Brushless Alternator, 150 ampere
Batteries, 93-amp hour, low maintenance, 12-volt (2)
Converter, 12-volt electrical
Electrical System, 24-volt, 10, 15 and 20 amp
Battery Charge Receptacle
Lighting System: - Back-up and Hazard Lights - Directional Signals (front and rear LED) - Front Stair Access/Service Deck - Stop/Tail Lights (LED) - Engine Compartment - VIMS, Blue Light (LED) - Headlights, with Lo-Hi Beam Selector

OPERATOR ENVIRONMENT

Air Conditioner with Automatic Climate Control
12-volt DC Power Supply (3)
Coat Hook
Cup Holder
Diagnostic Connection Port
Dome Courtesy Light
Entertainment Radio Ready: - 5 amp Converter, Speakers and Wiring Harness
Gauge/Indicators: - Gauge Panel: Transmission Fluid Temperature Brake Oil Temperature Engine Coolant Temperature Fuel Level Torque Converter Oil Temperature - Electric Engine Control Fault Indicator - Electric Hour Meter
Heater/Defroster, 11 070 kCal (45,930 Btu)
Hoist, Body Control (electric)
Horn
Integrated Object Detection System
Mirrors, Right and Left
ROPS Cab, Insulated/Sound Suppressed
Seat, Operator, Air Suspension
Seatbelt, Operator, Three Points, Retractable
Seatbelt, Trainer, Two Points, Retractable
Stairway and Walkway Access, 600 mm (23.6 in)
Steering Wheel, Tilt, Padded, Telescopic
Storage Compartments
Tinted Glass
Transmission Gear Indicator
VIMS Message Center with Advisor
Window, Operator, Electric Powered
Windshield, Wiper Intermittent Control and Washer

POWER TRAIN

Cat C175-16 Tier 2 Emissions Compliant Engine: - Air Cleaner with Precleaner (4) - Air-to-Air Aftercooler (ATAAC) - Automatic Starter Protection - Ether Starting Aid (automatic) - Multi-Point Oil Pressure Sensing - Turbocharging (4)/Aftercooled
Braking System: - Automatic Retarder Control, Adjustable - Brake Release Motor (towing) - Engine Overspeed Protection - Extended Life Brake Disc Material - Oil-cooled, Multi-disc (front and rear): Service, Retarding, Parking, Secondary - Park Brake
Transmission: - 6-speed, Automatic Powershift with Electronic Control (ECPC) - Body-up Reverse Neutralizer - Body-up Shift Inhibitor - Controlled Throttle Shifting - Directional Shift Management - Downshift/Reverse Shift Inhibitor - Individual Clutch Modul
Pre-lubrication/Engine
Rear Axle Continuous Lubrication/Filtration

OTHER STANDARD EQUIPMENT

Automatic Lubrication System
Aux "Buddy" Dumping Quick Connect
Aux Steering Quick Connect (towing)
Driveline Guard
Fast Fill Fuel System
Fuel Filter with Water Separator
Ground Level Battery Lockout
Ground Level Engine Shut-down
Ground Level Engine Start Lockout
Ground Level Transmission Lockout
Ground Level VIMS Data Port
Hi-speed Crankcase Oil Change
Hydraulic Filters, 1,000 hour
Reservoirs (3 separate): - Brake/Hoist, Steering/Fan, Transmission/Converter
Rock Ejectors
Service Points, Ground Level
Sight Level Gauges for Hydraulic/Engine Oil
S·O·S Sample Ports
Supplemental Steering (automatic)
Tie Down Eyes
Tow Hooks (front)/Tow Pin (rear)
Traction Control System
Vandalism Protection Locks
Vital Information Management System (VIMS): - Includes VIMS Payload Monitor with MAX Payload and Speed Manager: Recommend using download cable 127-9797 and PC based software JERD2175. Supplemental software "VIMS Supervisor" YERA1403. Ord

ANTIFREEZE

Extended Life Coolant to -35° C (-30° F)

Extended Life Coolant to -35° C (-30° F)
Additional Lighting
Additional Retarding for Downhill Hauls
Body Heat
Cat Comfort Air Suspension Trainer Seat
Antifreeze/Coolant Protects to -50° C (-58° F)
Brake Wear Indicator Gauge
Cabin Air Precleaner
Center Tow Bumper Attachment
Electric Powered Window, Right Side
Electric Starting System
Engine Coolant and Oil Heater for Cold Weather Starts
Engine Delay Shutdown Timer
Extended Life Wheel Stations
External Digital Payload Display
External Heated Mirrors
Fast Fill Service Center
Fuel Tank (4920 L/1,300 gal)
Cat Comfort Heated Operator Seat
High Intensity Discharge (HID) Lighting (front and rear)
Hub Odometer (km and miles)
Portable Fire Extinguisher
Rear Axle Lubrication Cooler
Retractable Front Sun Visor
Rim Guard
Rims (813 mm/32 in)
Road Analysis Control (RAC)
SL-V Grease Injectors
Throttle Lock
Walkway and Handrail for Rear Cab Access
Wheel Chocks
Work Area Vision System (WAVS)
360° Exterior View
360° Interior View
"Call Back Option available only for UAE, Bahrain, Kuwait, Oman and Qatar."