The 777D Off-highway Truck is engineered for performance, designed for comfort and built to last. The 777D is a truck for high production and low cost-per-ton hauling in off-highway applications. It has a reliable and durable operation and the rugged construction and easy maintenance guarantee long life with low operating costs.
Engine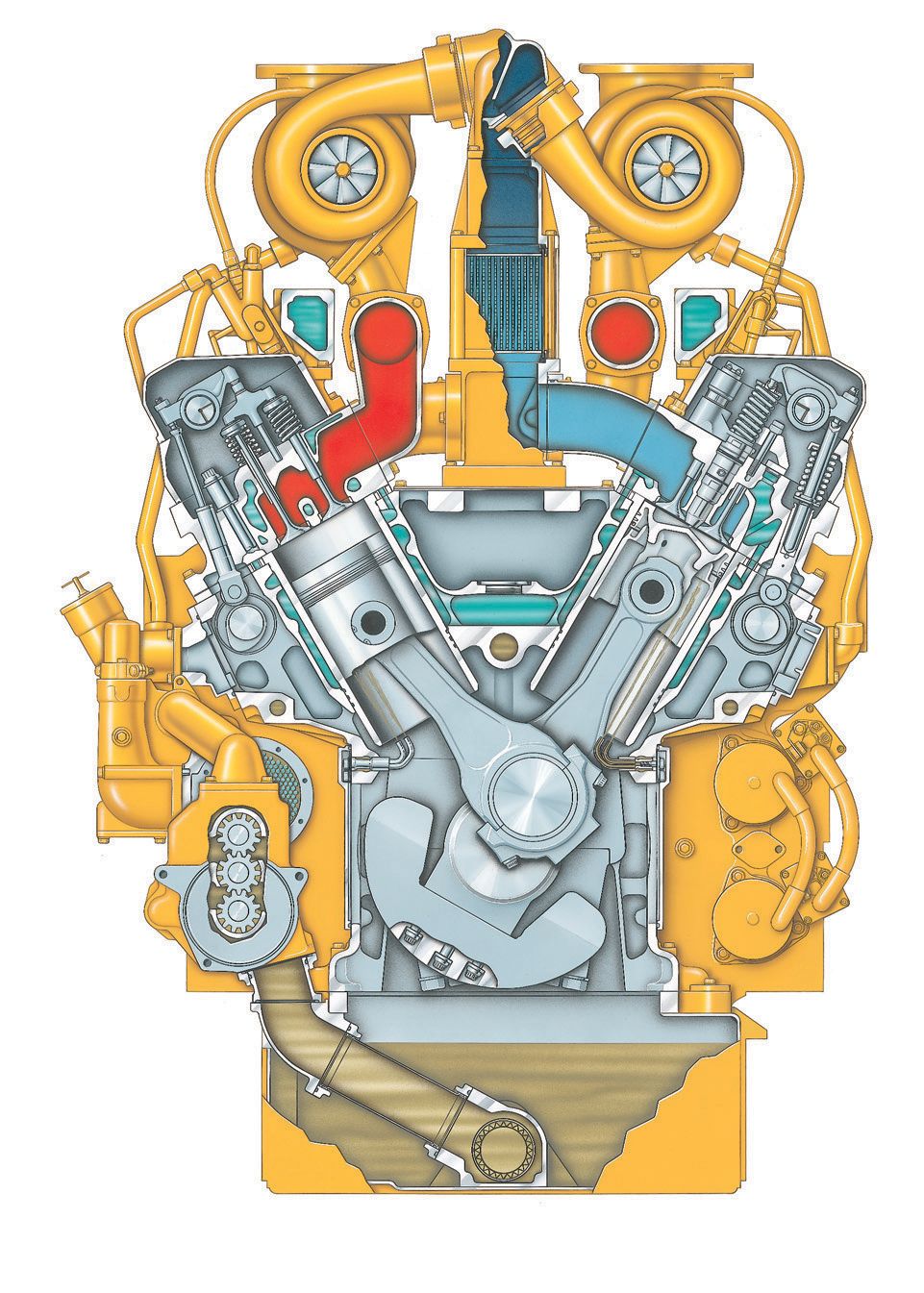 The eight-cylinder, turbocharged and aftercooled 3508B engine with EUI fuel system is built for power, reliability and economy, and meets all worldwide emissions standards.
Engine
The Cat 3508B Diesel Engine is a four-stroke design that uses long, effective power strokes for more complete fuel combustion and optimum efficiency.
Torque Rise
The 23% torque rise provides high lugging force during acceleration and less down-shifting on grade or in high rimpull conditions.
Electronic Unit Injector (EUI)
The Electronic Unit Injector (EUI) is a proven high-pressure, direct injection fuel system. This system electronically monitors operator and sensor inputs to optimize engine performance.
Deep Crater Piston And Low Crevice Volume
Deep crater piston and low crevice volume provide a more efficient combustion.
Separate Circuit Aftercooling (SCAC)
Separate Circuit Aftercooling (SCAC) allows the aftercooler circuit to operate cooler than the jacket water temperature for denser air charge and improved combustion.
Proven Reliability and Durability
Proven reliability and durability by electronically protecting the engine during cold starts, high altitude operation, and operation with plugged air filters.
Easier Maintenance and Repair
Easier maintenance and repair through monitoring key functions and logging critical indicators. Electronic diagnostic access is possible with a single tool, the Electronic Technician (ET).
Power Train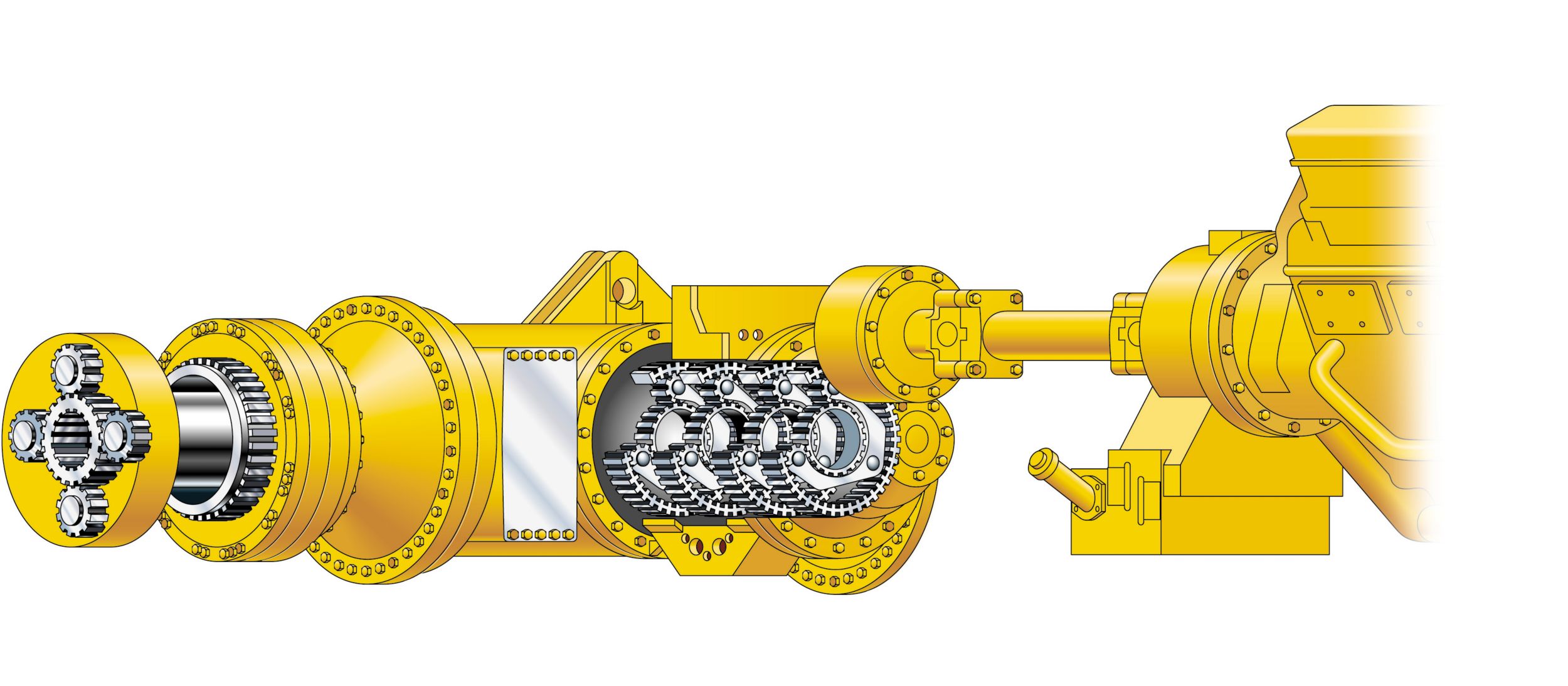 Completely designed and manufactured by Caterpillar to assure maximum efficiency, high quality, long service life and low operating costs.
Powershift Transmission
The Cat seven-speed powershift transmission, matched with the direct-injection Cat 3508B diesel engine, provides constant power over a wide operating speed range for maximum efficiency.
Lock-Up Torque Converter
The lock-up torque converter combines the maximum rimpull and cushioned shifting of torque converter drive with the efficiency and performance of direct drive.
Planetary Powershift Transmission
The seven-speed, planetary powershift transmission utilizes a pressure valve to regulate clutch pressure rise and fall to ease clutch engagement. This reduces shock loads on power train components.
Final Drive
Final drives and differential torque multiplication of 19.16:1 further reduces stress on the drive train.
Drive Shaft
The transmission is mounted directly to the rear axle housing, so the 777D requires only one drive shaft and one set of U-joints.
Full Floating Axles
Full floating axles are shot peened to relieve internal stresses and increase durability. Rolled splines also provide increased service life.
Removable Final Drives
Removable final drives and wheel groups improve serviceability for decreased downtime.
Cast Rear Wheels and Cat Center-Mount Rims
Cast rear wheels and Cat center-mount rims are mounted using studs and nuts (not wedge-mounts) to minimize maintenance and provide outstanding durability.
Engine/Power Train Integration
Combining the ElectronicControl Module (ECM) with the Caterpillar Transmission Chassis Controller (TCC) allows critical power train components to work more intelligently.
Caterpillar Exclusive Electronic Integration
The Caterpillar exclusive electronic intergration optimizes overall power train performance, reliability and component life for reduced power train operating costs.
Cat Data Link
The CAT Data Link electronically integrates the machine's computer systems, which allows communications.
Improved Diagnostics/ Serviceability
The electronic engine and transmission controls provide enhanced diagnostic capability. The ability to store both active and intermittent indicators will simplify problem diagnosis and total repair time, resulting in improved Mechanical availability and lower operating cost.
Electronic Monitoring System (EMS II)
The Electronic Monitoring System (EMS II) allows the operator to view requested information and utilizes a three-category warning system to alert the operator to abnormal machine conditions.
Automatic Retarder Control (ARC)
Automatic Retarder Control (ARC) works with the other electronic components to automatically control retarding on grade while maintaining safe engine rpm.
Traction Control System
Traction control system (TCS) improves performance in poor underfoot conditions by electronically monitoring and controlling wheel slippage.
Integrated Brake Controller (IBC)
The Integrated Brake Controller (IBC) combines ARC and TCS, reducing the number of electronic components and electrical lines.
Oil-cooled Rear Disc Brakes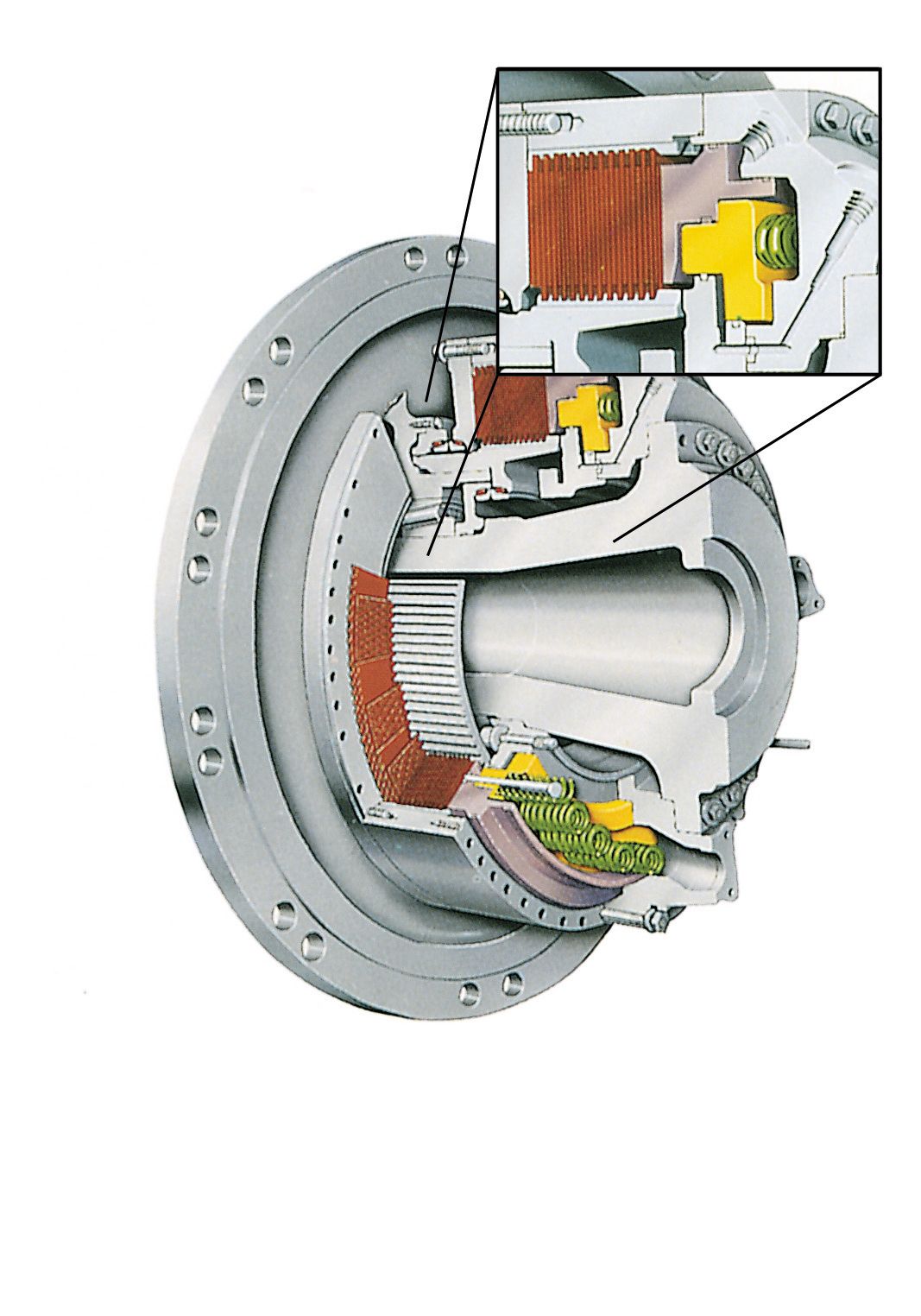 Reliable braking lets the operator concentrate on the work.
Oil-cooled Rear Disc Brakes
Caterpillar forced oil-cooled, multiple disc brakes are continuously cooled for exceptional, non-fade braking and retarding.
Oil-cooled Disc Brakes
Oil-cooled disc brakes are designed and built for reliable, adjustment-free operation providing superior performance and service life in comparison to shoe-type and dry-disc systems.
Oil Film
An oil film prevents direct contact between the discs. This absorbs the braking forces by shearing oil and carrying heat away, extending brake life.
Caterpillar Patented, Two-Piston Design
A Caterpillar patented, two-piston design combines the service, secondary, parking brake and retarding functions.
Front Oil Cooled Brakes (option)
Front oil cooled brakes are optional. Provides superior braking and handling in slippery underfoot conditions. Splits braking requirements between two axles to improve traction. Longer downhill hauls benefit from reduced rebuild frequency.
Cat Retarding System
The Retarding System has an intermittent rating of 1864 kW (2500 hp) and a continuous rating of 895 kW (1200 hp).
Automatic Retarder Control/ARC (Optional)
Electronically controls braking on grade for improved engine and brake component life.
Engine Overspeed Protection
ARC will automatically activate when engine speed exceeds factory preset levels, regardless of other operator inputs, including when the system is turned "off", to help protect the engine from overspeed damage.
Increased Operating Efficiency
ARC results in increased operating efficiency with faster downhill speeds. By maintaining consistently higher engine speeds, average truck speed will be higher than a manually controlled truck.
Excellent Controllability and Reduced Operator Effort
ARC results in excellent controllability and reduced operator effort. Automatic brake modulation provides a smoother ride, better control in slippery conditions and allows the operator to focus more on truck operation.
Improved Component Life
ARC results in improved component life from reduced torque and temperature fluctuations in the brake system.
Faster Troubleshooting and Diagnosis
ARC results in faster troubleshooting and diagnosis with self-diagnostic capability and the ability to communicate with ET through the CAT Data Link System.
Traction Control System
Traction Control System (TCS) (Optional) Electronically controls wheel slippage for improved performance.
Monitors Wheel Slip
If wheel slip exceeds the set limit, the oil-cooled disc brakes are automatically applied to slow the spinning wheel.
Provides Operator Awareness
Provides operator awareness through an in-dash indicator, signifying TCS is engaged.
Utilizes Normal Differential Action
Utilizes normal differential action to provide superior maneuvering in poor underfoot conditions. Reduces tire scuffing when compared to positive lock differentials used on other systems.
Divides Torque Equally
Divides torque equally to reduce stress created on final drives and axles when torque is transferred to one side.
Back-Up Design
Back-up design should the sensors fail, normal differential actions still available to maintain control and steering.
Structures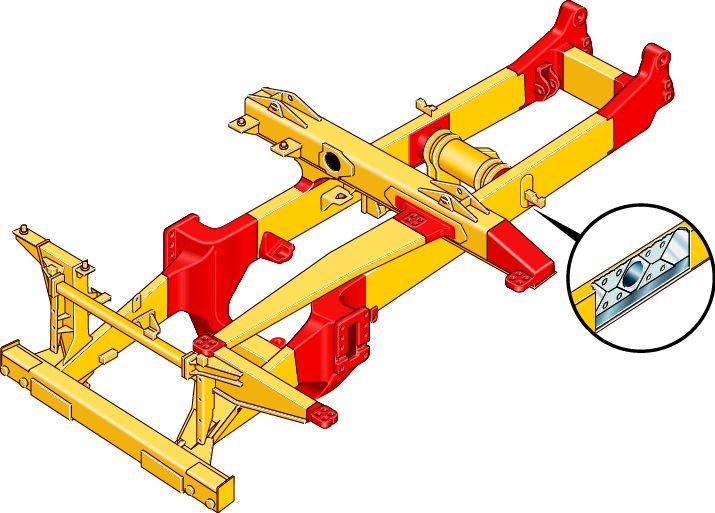 The backbone of the Cat truck.
Box-Section Frame
The 777D frame uses a box-section design, incorporating 22 castings in high-stress areas, with deep-penetrating and continuous wrap-around welding. Mild steel is used throughout.
Castings Have Large Radii
Castings have large radii with internal reinforcing ribs to dissipate stress. Castings move welds to lower stress areas and provide two to three times the strength of equivalent-sized fabricated structures.
Frame
The 777D frame provides for ease of serviceability.
Suspension System
The suspension system is designed to dissipate haul road and loading impacts for extended frame life.
Truck Body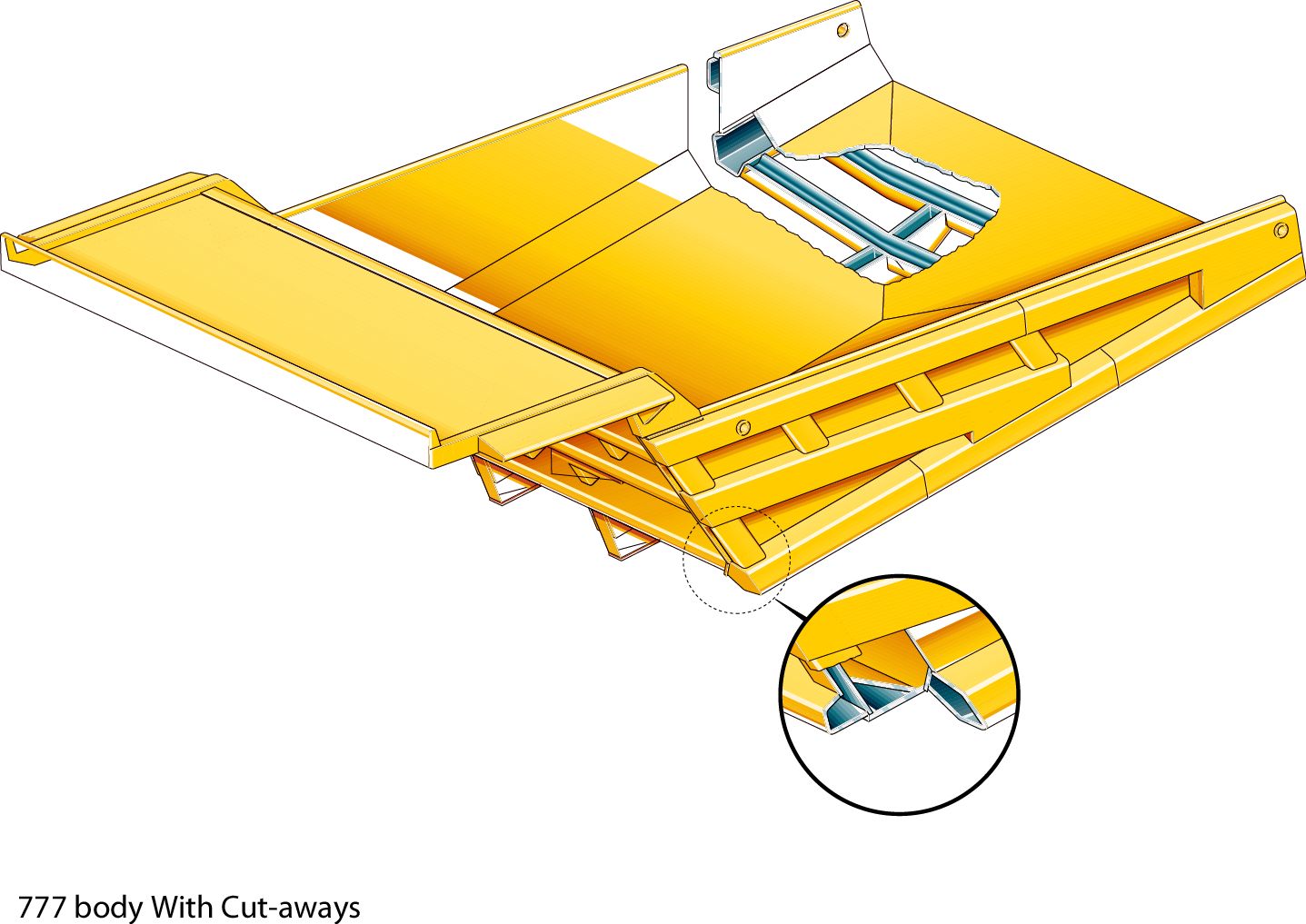 Rugged, durable body is built to perform well in the toughest mining applications.
Canopy
The 777D canopy extends to the front of the truck for excellent radiator and cowl protection.
Body Capacity
The 777D 78.6yd3 (60.1m3) body provides the capacity to achieve rated payload in 2,900lb/BCY material and maintain excellent load retention.
Body Design
Body design maintains a low load height [4288 mm (14'1")] to allow faster, more confident wheel loader operation.
Dual-Slope Floor Design
Dual-slope floor design has excellent loading and hauling characteristics.
Body Width
Body width provides complete coverage of the tires without the need for rock deflectors.
Liner (Option) Material
Liner (option) material is 400Bhn, through-hardened, 130,000 psi minimum yield strength steel.
Operator Station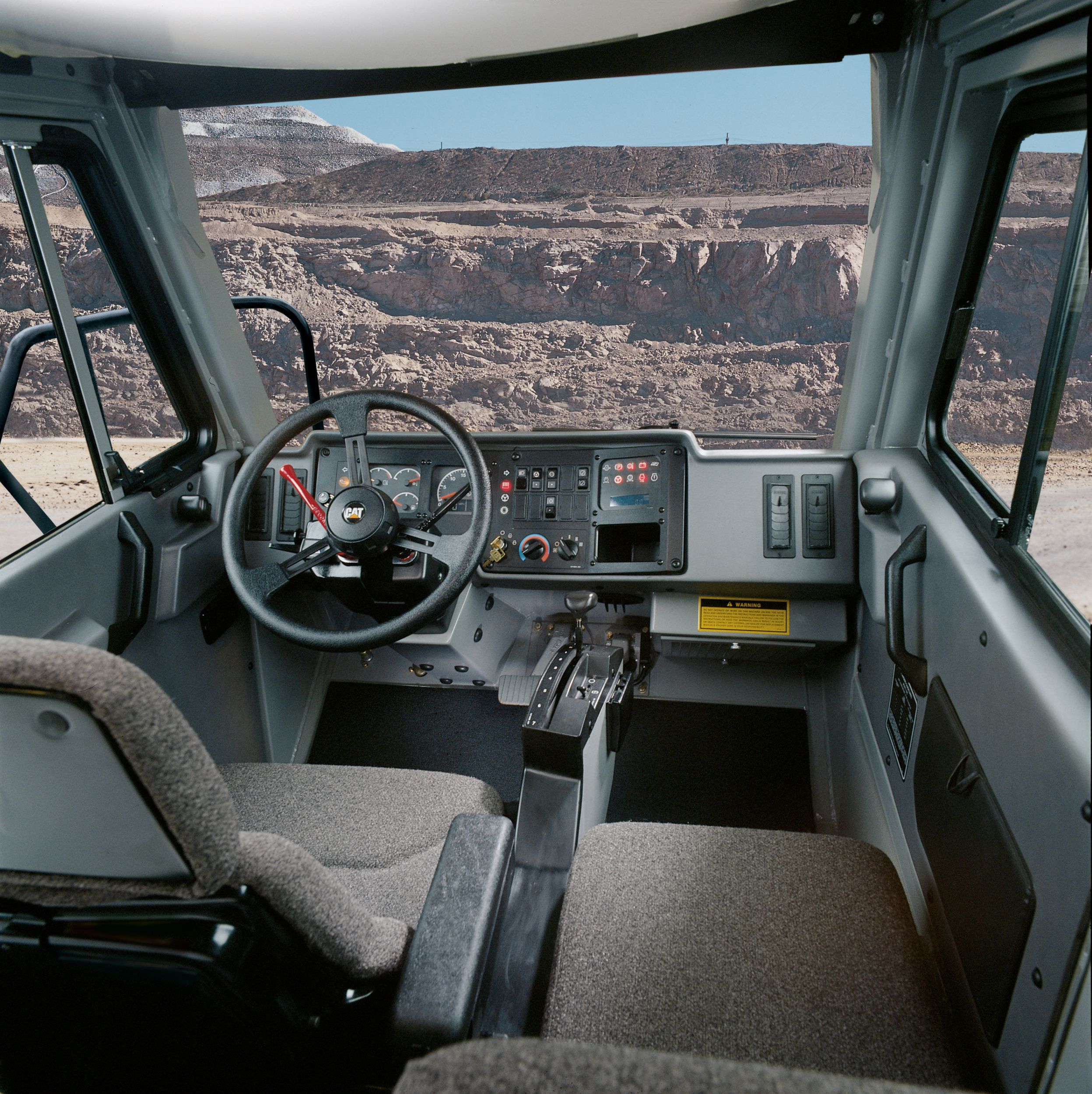 Control ease and comfort maximizes productivity.
Wraparound Dash Panel
The wraparound dash panel is provided in an easy line-of-sight arrangement, using LED backlit rocker switches.
Seat
The Caterpillar Comfort Air Suspension seat is standard. The seat is fully adjustable and includes an adjustable right-hand armrest.
Tilt/Telescoping Steering Wheel
Tilt/telescoping steering wheel with ergonomic grip improves comfort and control.
Transmission Console
Transmission console has LED backlit gear numbers and ergonomic shift knob.
Visibility
Exceptional all-around visibility reduces fatigue and improves productivity.
Cab
Integral, sound-suppressed ROPS/FOPS Cab is resiliently mounted providing a quiet, protected work environment.
Front Brake Cut-out Switch
Front brake cut-out switch increases front brake component life.
Storage
Large storage compartment 0.10m3 (3.5 ft3) is located under the trainer's seat.
Trainer's Seat
Trainer's seat with increased hip/shoulder room, backrest, and retractable seat belt.
Electronic Monitoring System (EMS-II)
Electronic Monitoring System (EMS-II) provides critical data. The system features three separate displays.
Heating and Air Conditioning
A standard heater and optional air conditioner with four-speed fan and nine vents.
Foot Pedals
Ergonomically designed foot pedals for increased operator comfort.
Truck Production Management System (TPMS)
An optional Truck Production Management System (TPMS) provides payload and cycle time data.
Accurate Payload
Delivers consistent accurate payloads and improves efficiency by minimizing overloading and underloading.
Attachment Options
Allow you to customize the 777D for your specific application.
Truck Production Management System (TPMS)
Truck Production Management System (TPMS) enhances truck and loader effectiveness for improved fleet productivity and reduced operating and maintenance costs.
Cat Developed Technology
Cat developed technology utilizes strut pressure sensors and an on-board microprocessor to determine payload weight accurately.
Maximizes Truck Production
Maximizes truck production while avoiding future costs and downtime related to overloading.
Accuracy
Accurate under normal loading conditions to within plus/minus 5 percent over a normal operating shift.
TPMS
Truck Production Management System gets consistent, accurate payloads by minimizing overloading and underloading. It maximizes long term production and machine life resulting in lower cost per ton.
Engine Prelube
Engine prelube reduces engine wear by automatically building oil pressure before cranking over the engine.
Exhaust Diverter
Exhaust diverter provides an exhaust muffler and diverter valve arrangement.
Steering and Suspension
Rugged suspension and steering systems perform on rough haul roads and uneven terrain, shift-after-shift, day-after-day.
Variable Flow
Variable flow hydraulic steering system is completely separate from main hydraulics.
Suspension Cylinders
Four independent, variable-rebound suspension cylinders provide excellent ride characteristics.
Axle Oscillation
Rear cylinders allow axle oscillation. Bending and twisting stresses are absorbed rather than transmitted to the main frame.
Supplemental Steering
Supplemental steering. Battery powered system automatically engages when needed.
Durable, Simple Design
Durable, simple design utlizing large diameter bore and low pressure nitrogen/oil. This design provides long life and low operating and rebuild cost.
Front Cylinders
Front cylinders mount to frame. Serve as steering kingpins for tight turning radius, good maneuverability and reduced operating cost.
Front Spindles And Wheeels
Front spindles and wheels are rigidly mounted to the cylinder rods.
Serviceability/Total Customer Support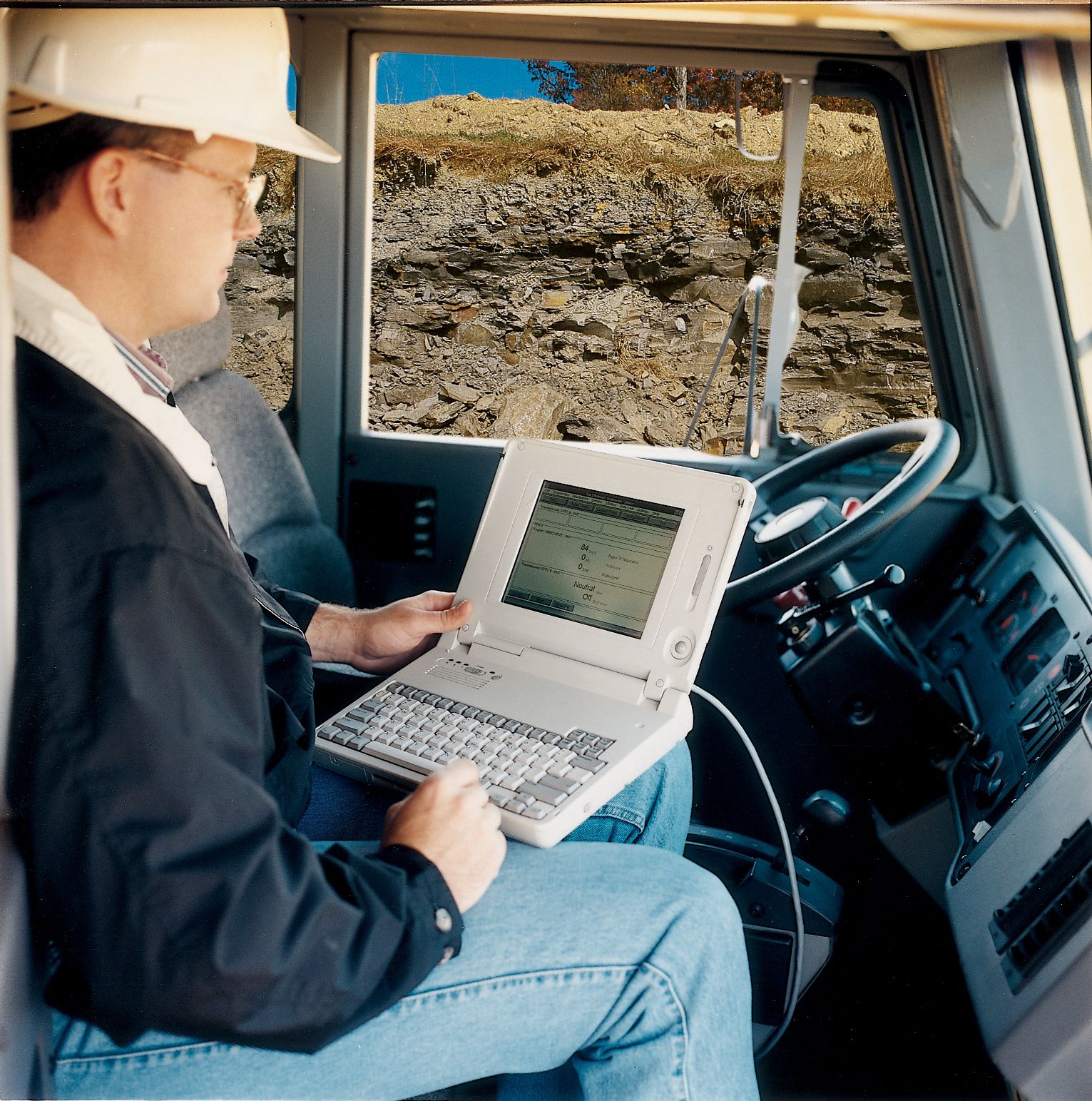 When you buy a Caterpillar machine, you also get Caterpillar's total commitment to customer service.
Maintenance Platform
The maintenance platform provides access to engine oil level, air filters, steering hydraulic tank and battery compartment.
On-board Diagnostics
On-board diagnostics with EMS-II provides the machine operator with a three-category warning system and quick access to stored diagnostic data.
Off-board Diagnostics
Off-board diagnostics with ET allows service technicians access to stored diagnostics data, reducing downtime and lowering operating costs. ET stores engine parameter information such as timing, throttle postition and fuel flow. Tranmission data is available through ET via access to the CAT Data Link System.
Battery Disconnect Switch
A ground-level battery disconnect switch facilitates safe, convenient servicing and maintenance.
Radial Seal Air Filters
Radial seal air filters are easy to change, reducing air filter maintenance times.
Quick Coupler Pressure Tabs
Quick coupler pressure taps, located in all hydraulic systems, provide clear, quick pressure checks. SOSSM oil analysis points make oil sampling quick, clean, and easy.
Sealed Electrical Connectors
Sealed electrical connectors lock out dust and moisture. The color-coding for wires is standard for the entire Cat product line.
Machine Management Service
Cat dealers help manage equipment investments.
Part Availability
The Caterpillar worldwide computer network locates parts instantly to minimize machine downtime.
Literature Support
Caterpillar manuals are easy to use and help provide the full value of an equipment investment.