The 140H Standard blends productivity and durabiliy to give you the best return on your investment. The Cat 3306 engine, direct-drive power shift transmission and load-sensing hydraulics are designed to work together to deliver top productivity in all applications.
Power Train
Matched Caterpillar components deliver smooth, responsive performance and reliability.
Cat 3306 Engine
The Cat 3306 continues its tradition of powerful, efficient performance and unmatched reliability and durability. The six-cylinder engine is naturally aspirated with a high displacement-to-power ratio.
Performance
High torque output and high torque rise make the 3116 engine very responsive.
Fuel Efficiency
High fuel injection pressures ensure proper mixing of fuel and air.
Extended Engine Life
The large bore-stroke design and conservative power rating help minimize internal stresses and increase component life.
Electronic Overspeed Protection
Electronic overspeed protection helps prevent engine and transmission damage from premature downshifting and grade-induced overspeeding.
Power Shift Transmission
Caterpillar designs and builds transmissions specifically for Cat motor graders.
Direct Drive
Direct drive delivers superior fuel efficiency and better "feel" of blade loads, material hardness and ground speed.
Gear Selections
Eight forward speeds and six reverse speeds give the operator a wide operating range.
Electronic Transmissions Control
Electronic transmissions control produces easy, smooth shifts, which enable the operator to maintain uniform surfaces if shifting is required.
Inching Capability
Low pedal effort and excellent modulation provide precise control of machine movements when using the inching pedal.
Dual Air System
The dual air system supplies braking capacity to each side of the machine.
Oil Disk Brakes
Caterpillar designs and builds multi-disc brakes that are completely sealed and adjustment-free.
Engine Power Management
Engine power management delivers full-rated net power.
Hydraulics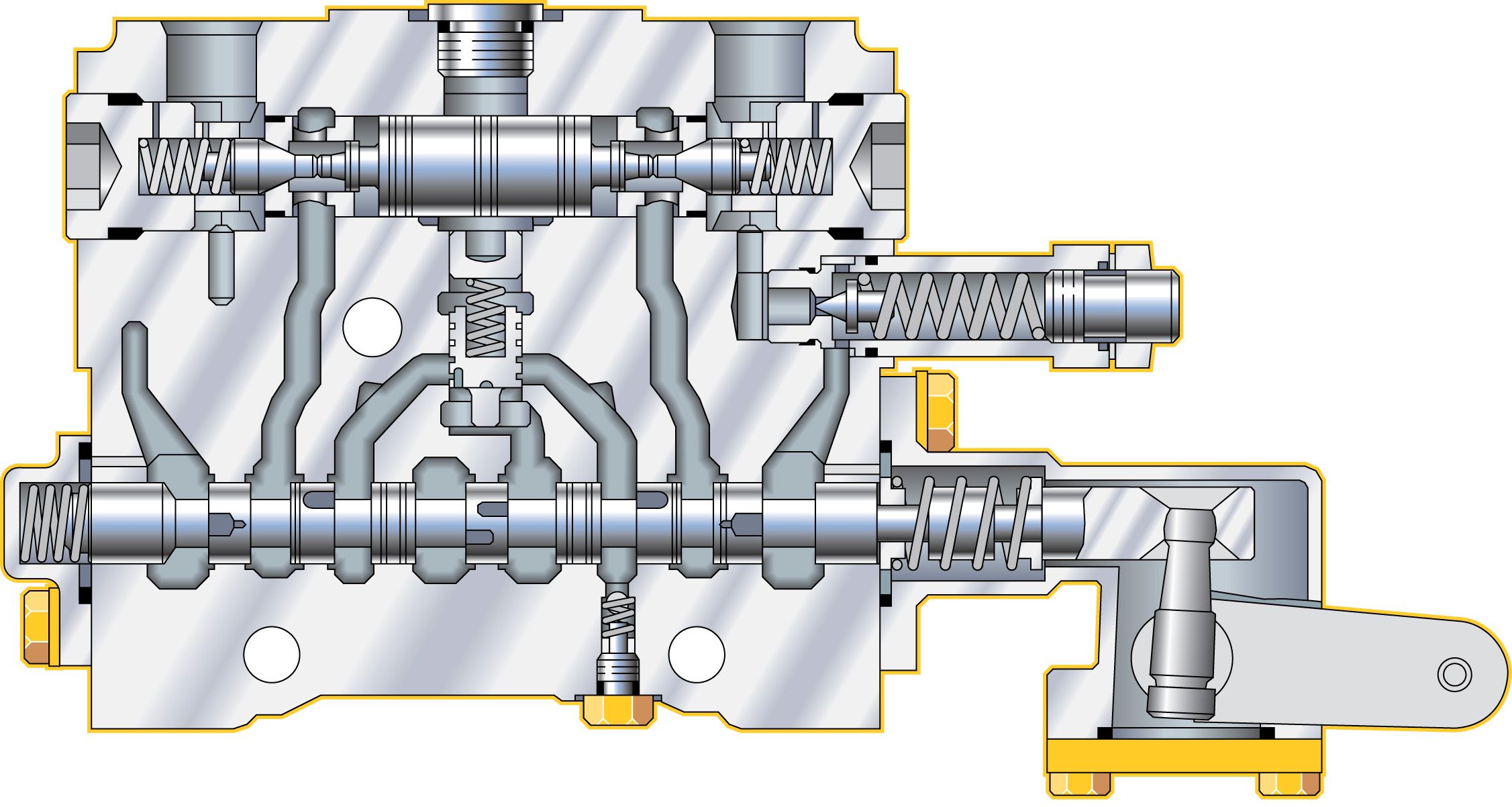 Balanced hydraulics deliver consistent, precise and responsive control.
Power On Demand
Normally, the variable displacement pump idles at near-zero output.
Implement Control Valves
Implement control valves are designed and built by Caterpillar specifically for motor graders.
Low Operator Effort
Implement controls are designed to reduce operator fatigue.
Balanced Flow
When the operator uses several controls at one time, flow is proportioned to ensure all implements can operate simultaneously. If hydraulic demand exceeds pump capacity, cylinder velocities will be reduced by the same ratio.
Independent Oil Supply
Large independent oil supply prevents cross-contamination and provides proper oil cooling, which means less heat build-up and extended component life.
Drawbar, Circle & Moldboard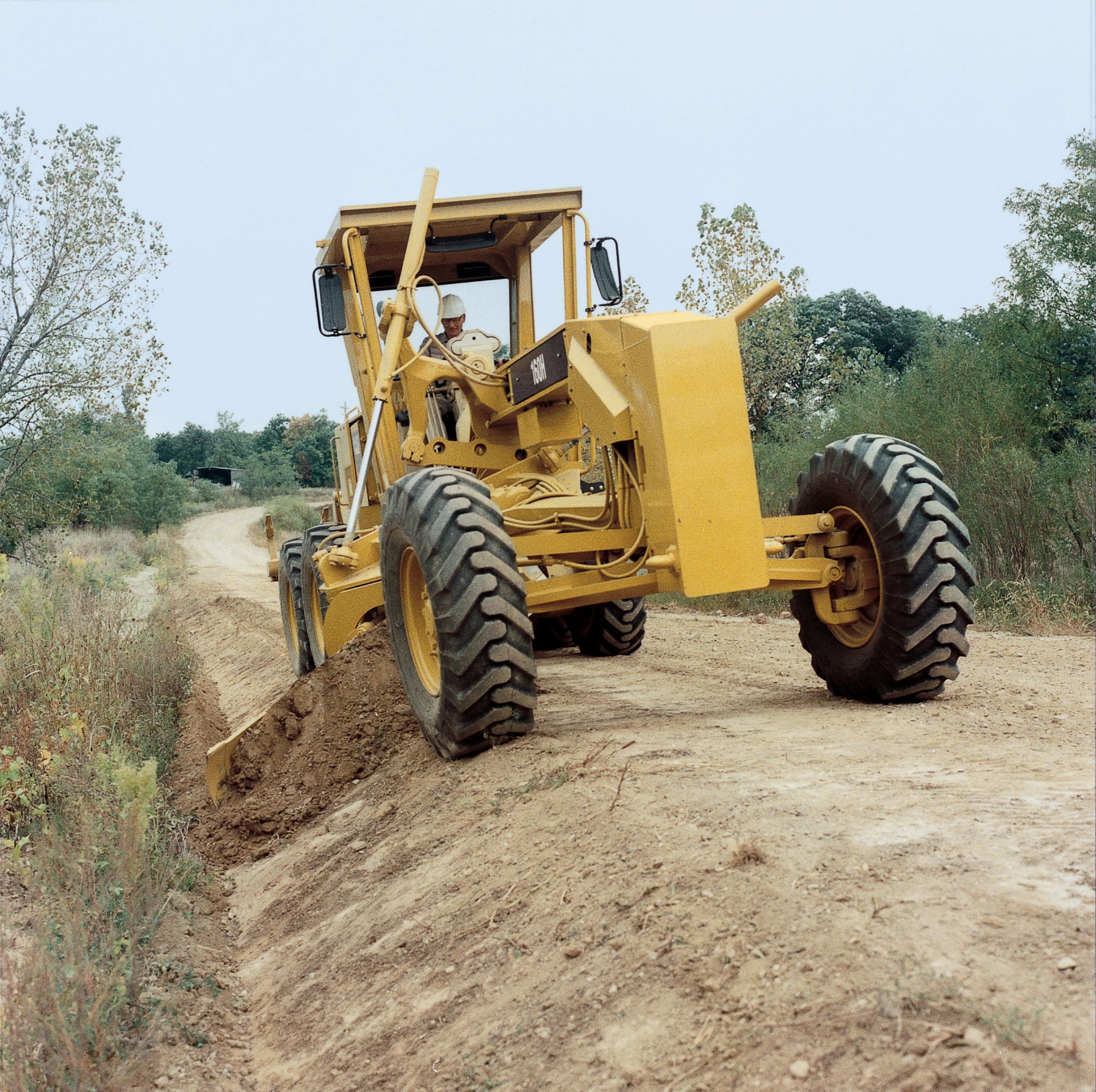 Every component is designed for maximum productivity and durability. The blade linkage design maximizes moldboard positioning.
Blade Positioning
The blade linkage design enhances moldboard positioning.
Blade Angle
A long wheel base allows the operator to obtain an aggressive moldboard angle.
Rugged Construction
The Y-frame drawbar is constructed of two solid beams.
Replaceable Wear Items
Tough, durable nylon composite wear inserts are located between the drawbar and circle, and between the support shoes and circle.
Circle Drive Slip Clutch
The circle drive slip clutch protects the drawbar, circle and moldboard from shock when the end of the blade encounters hidden objects.
Operator's Station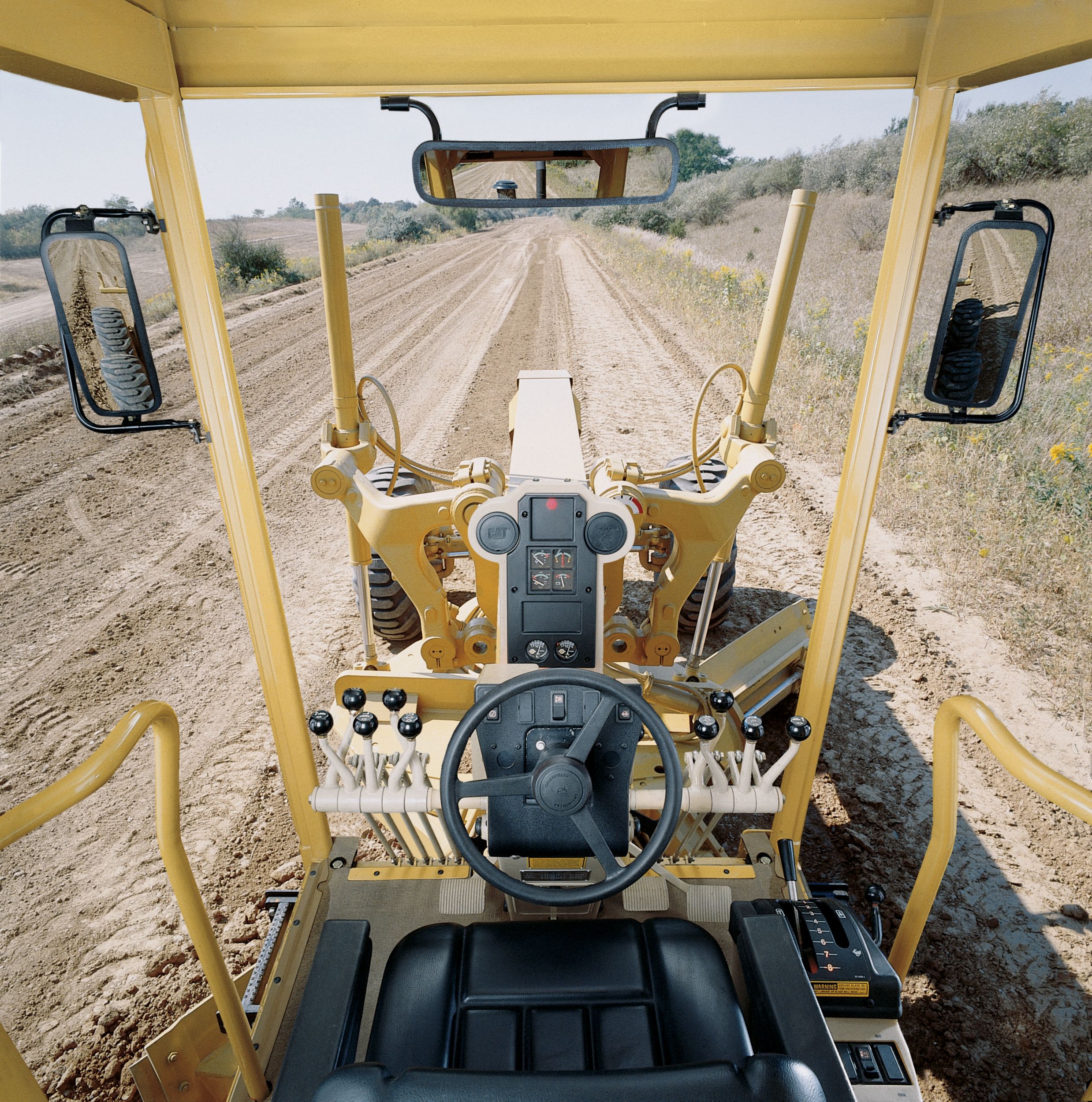 Caterpillar sets the standard for comfort, convenience and visibility.
Visibility
Exceptional visibility helps improve operator confidence and productivity in all grader applications.
Quiet Cab
With the doors closed, interior sound level stays low. The quiet environment keeps the operator alert and focused.
Reduced Strain and Fatigue
Low efforts on all pedals, hydraulic controls and the transmission shifter reduce operator strain and fatigue.
Roomy Interior
Extra leg and foot room create a spacious, open cab.
Contour Series Suspension Seat
The optional contour series suspension seat features fold-up armrests and a retractable seat belt.
Comfort
The optional heater arrangement creates a comfortable work environment for the operator.
Electronic Monitoring System
The electronic monitoring system checks important machine systems and provides the operator with three levels of warning.
Features of Comfort
Comfort and convenience are designed into every feature.
Serviceability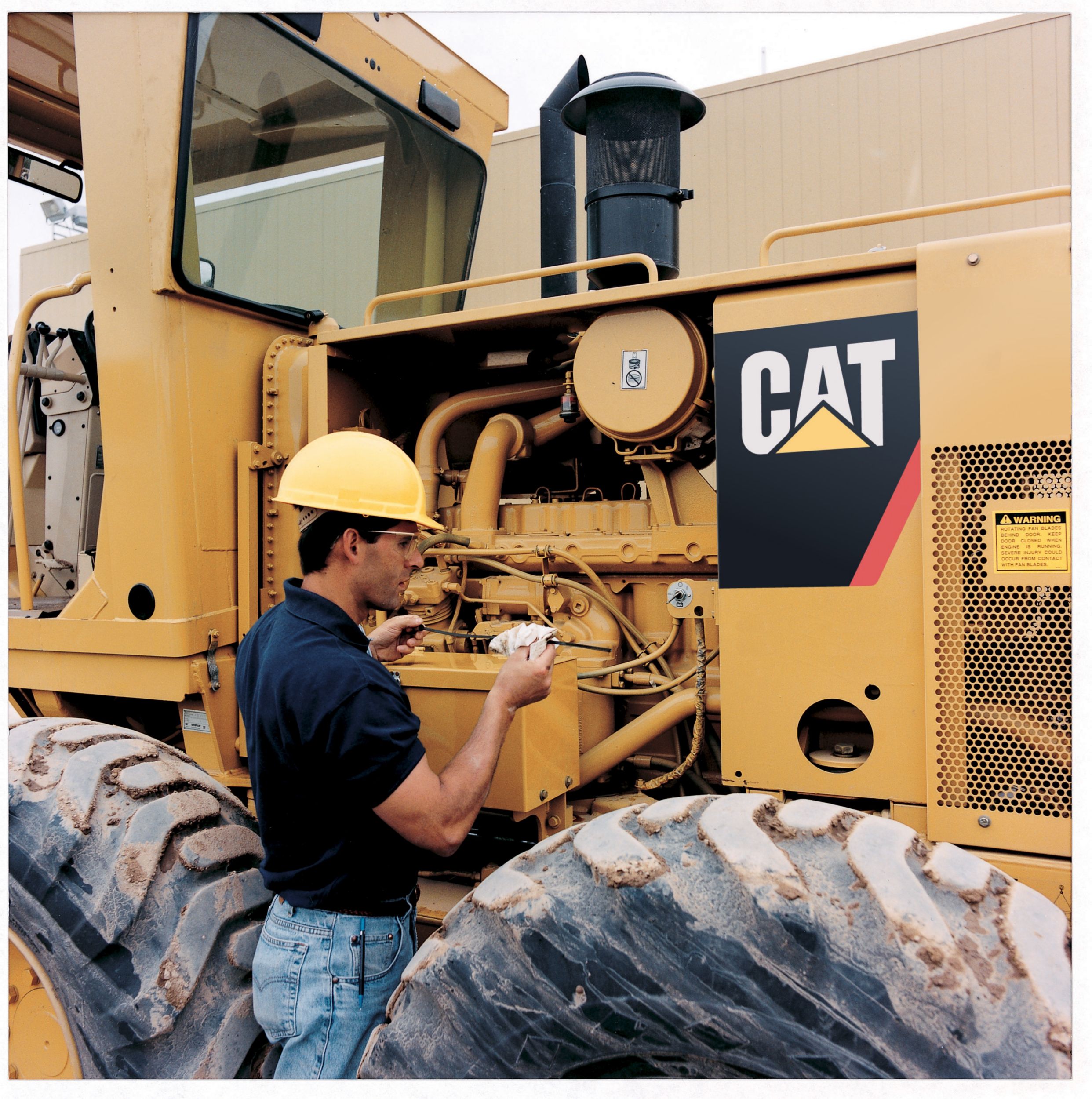 Conveniently placed service points make routine maintenance quick and easy.
Maintenance
Easy access to service areas speeds up maintenance and ensures that routine service is performed on time.
Power Train Components
Power train components feature a modular design so you can remove the engine, transmission or final drives independently for quick servicing.
Diagnostic Capability
Diagnostic capability offers fast servicing of the transmission.
XT Hose
Caterpillar designs and manufactures its own heavy-duty XT hose and installs it in all high-pressure circuits. It's resistance to abrasion, coupled with its exceptional strength and flexibility, help minimize maintenance and extend life.
O-Ring Face Seals
O-ring face seals create a reliable seal and are used in all hydraulic circuits to minimize the possibility of oil leaks.
Radiator Cleanout Access
Removable covers on each side of the radiator guard provide access to the front of the radiator for cleanout with compressed air or pressure washer.
Extended Life Coolant (ELC)
Extended Life Coolant (ELC) extends coolant life. A single addition of ELC Extender is the only maintenance required.
Separate Wiring Harnesses
Separate wiring harnesses connect all electrical components.
Environmentally Responsible Design
Caterpillar builds machines that help you create a better world.
Quiet Cab
The cab is sound suppressed. The resiliently mounted engine and transmission result in less engine noise and vibration to the operator.
Dry Machine
Lubricant fill points and filters are designed to minimize spillage. O-ring face seals, XT hose and Cat hydraulic cylinders protect against leaks.
Complete Customer Support
Caterpillar dealer services help you operate longer with lower costs.
Selection
Make detailed comparisons of the machines you are considering before you buy.
Purchase
Look past the initial price. Consider the financing options available as well as day-to-day operating costs and dealer services.
Operation
Improving operating techniques can boost your profits.
Maintenance
More and more equipment buyers are planning for effective maintenance before buying equipment.
Product Support
You will find nearly all parts at our dealer parts counter.
Replacement
Repair, rebuild or replace? Your Cat dealer can help you evaluate the costs involved so you can make the right choice.