The 163H blends productivity and durability to give you the best return on your investment.
Engine
Caterpillar engines deliver increased performance and lower operating costs.
Cat 3176C ATAAC Engine
The innovative Cat 3176C diesel engine delivers large-engine performance from a compact engine design. The six-cylinder engine is turbocharged and air-to-air aftercooled. With high displacement and low rated speed, this engine provides excellent fuel economy and durability that can significantly reduce operating costs.
Power Train
Matched Caterpillar components deliver smooth, responsive performance and reliability.
Power Shift Transmission
Designed and built specifically for Cat motor graders, the rugged transmission provides on-the-go, full-power shifting, as well as inching capability.
Brakes
Caterpillar multi-disc brakes offer a large surface area for dependable, extended-life braking. The air-actuated service brakes, located in each of the four wheel spindle housings, are sealed, adjustment free, and lubricated and cooled by tandem housing oil. The parking/emergency brakes, located in the transmission on the output shaft, are spring actuated and air pressure released. When engaged, they neutralize the transmission and lock the wheels on any surface.
Hydraulics
Balanced hydraulics deliver consistent, precise, and responsive control.
Load Sensing Hydraulics
A load sensing variable displacement pump and the advanced proportional priority pressure-compensating (PPPC, or "triple-PC") hydraulic valves provide superior implement control and enhanced machine performance and efficiency. Continuously matching hydraulic flow and pressure to power demands creates less heat and reduces power consumption.
Implement Control Valves
PPPC valves have different flow rates for the head and rod ends of the cylinder. This ensures consistent extension and retraction properties for each cylinder and improves operator "feel" and system response, ultimately reducing operator fatigue. All control valves use lock valves to maintain blade settings. Line relief valves protect cylinders from excessive pressure.
Balanced Flow
Hydraulic flow is proportioned to ensure all implements operate simultaneously. If demand exceeds pump capacity, all cylinders are reduced by the same ratio. The result is improved productivity in virtually any application.
Blade Float
Blade float, incorporated into the blade lift control valves, allows the blade to move freely under its own weight. By floating both cylinders, the blade can follow the contours of the road when removing snow. Floating only one cylinder permits the toe of the blade to follow a hard surface while the operator controls the slope with the other lift cylinder.
Independent Oil Supply
Large separate hydraulic oil supply prevents cross-contamination and provides proper oil cooling, which reduces heat build-up and extends component life.
Heavy Duty XT™ Hose
Caterpillar hose technology allows high pressures for maximum power and reduced downtime, and intelligent routing minimizes exposure to damage.
Optional Hydraulic Lockout
Mechanically locks all moldboard, machine, and attachment control levers during machine roading. This prevents implements from being accidentally engaged when the motor grader is travelling down the road.
Drawbar, Circle, Moldboard
Every component is designed for maximum productivity and durability.
Blade
Heat treated moldboard rails, through-hardened, curved DH-2 steel cutting edge and end bits, and replaceable metallic wear inserts assure a long, reliable service life. Three sideshift mounting locations for the optional moldboard add flexibility.
Blade Positioning
The blade linkage design provides extensive moldboard positioning, most beneficial in mid-range bank sloping and in ditch cutting and cleaning.
Circle Construction
One-piece forged circle with hydraulically driven motor stands up to high stress loads. Raised wear surfaces prevent circle teeth wear against the drawbar. Sixty-four uniformly spaced teeth on the front 240° of the circle are flame cut and heat induction hardened to resist wear. And the circle, with 360° rotation, is secured to the drawbar by six vertically and horizontally adjustable shoes for maximum support.
Drawbar Construction
The Y-frame drawbar is constructed of two solid beams for high strength and optimum durability, as well as precise blading control. And the yoke plate completely covers the top of the circle.
Blade Lift Accumulators
These optional blade lift accumulators absorb vertical shocks encountered when the moldboard contacts immovable objects. This option is especially useful in rough grading and rocky areas.
Structures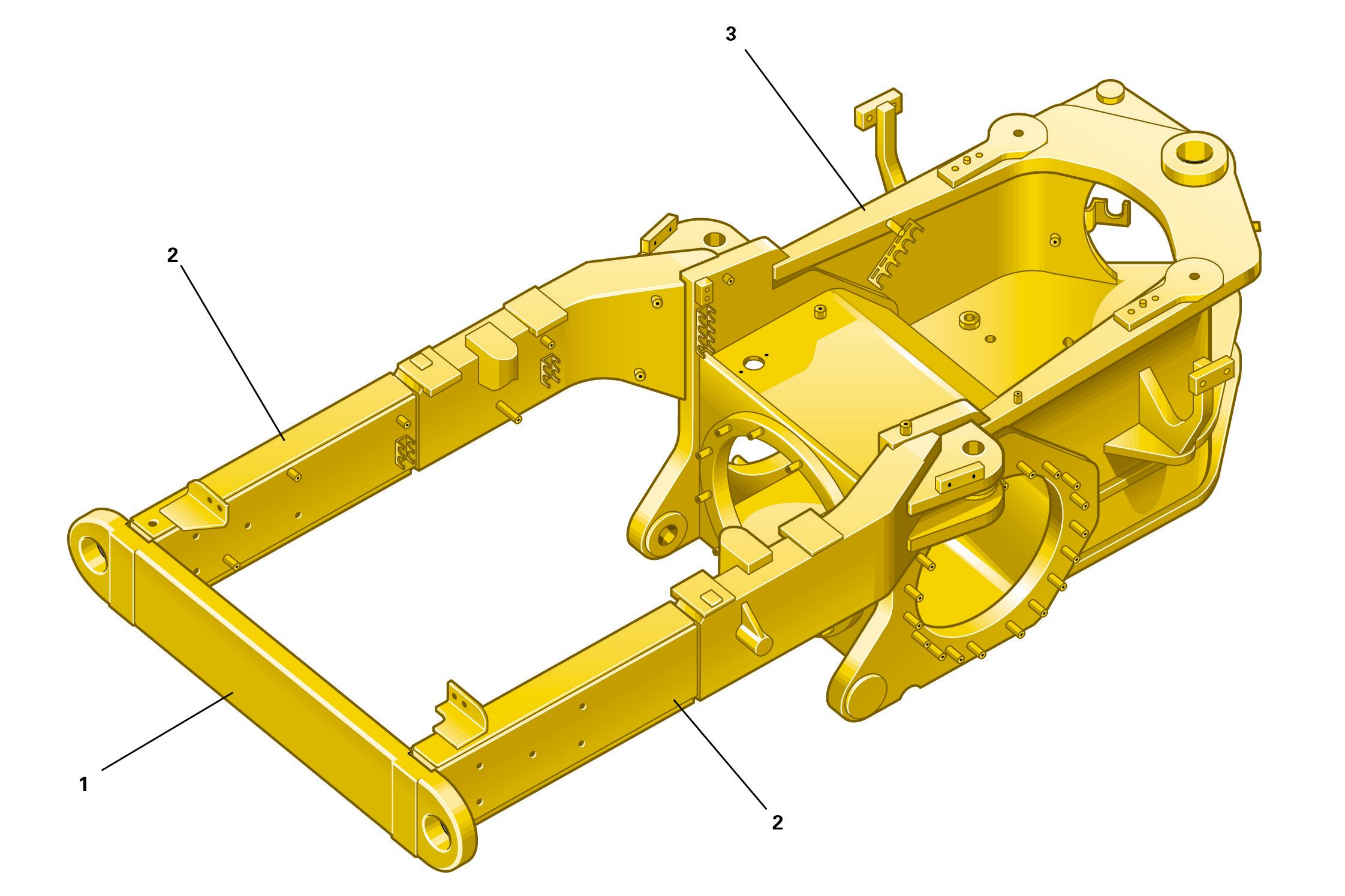 The 163H frame is designed and built to exceed the expectations of the customer.
Integrated Bumper
The integrated bumper ties the rear frame together into a cohesive unit to provide a solid platform for the new 3176C power train. This is especially important in ripping or snow removal applications where graders are equipped with snow wing attachments.
Rear Frame
Rear frame has two box-sectioned channels integral with a fully welded differential case for a solid working platform.
Front Frame
Continuous top and bottom plate construction provides consistency and strength. The flanged box section design removes welds from high stress areas, improving reliability and durability, and increasing resale values for the customer.
Serviceability
Re-engineered inspection and service points save time and expense.
Service Center
A "Service Center" on the left-hand side provides easy, centralized access to most check and maintenance points. Routine inspection and service are faster and easier, providing better machine availability and lower operating costs.
Large hinged doors provide easy access to the adjacent engine and maintenance service compartments.
Engine and hydraulic oil checkpoints, coolant gauges, and air filters
Spin-on filters for oils, fuel, and coolant
Remote lubrication points, purge valves, and ecology drain lines
Fuse panel with new automotive style fuses located inside cab
Tandem oil checkpoint is conveniently located between the wheels in the center of the tandem.
Sample ports for engine, hydraulic and transmission fluids, coolant, and fuel encourage preventive maintenance and diagnostics like the S•O•S program.
Fuel Tank
The 397 L (105-gallon) ground-level fuel tank allows longer work shifts and reduces refueling frequency. An easily accessible fuel tank sediment drain enables the operator to remove sediment accumulation, reducing the risk of fuel system damage.
Extended Oil Change Interval
Operate a full 500 hours between engine oil and filter changes, 4000 hours between hydraulic oil changes, and 6000 hours between engine coolant changes. This reduces downtime and operating expense.
Cat XT Hose
Caterpillar XT hose technology allows high pressures for maximum power and reduced downtime. Hoses are securely routed to minimize exposure to damage.
O-Ring Face Seals
Cat O-ring face seals assure rock-solid connections that maintain pressure and reduce oil leaks. Intelligent hose routing minimizes exposure to damage, increasing hose life and enhancing reliability.
Radiator Cleanout Access
Radiator clean-out access gives the operator the ability to clear away debris and other materials that build up around the radiator. This ensures that the radiator functions properly, keeping the engine cool and increasing component life.
Operator's Station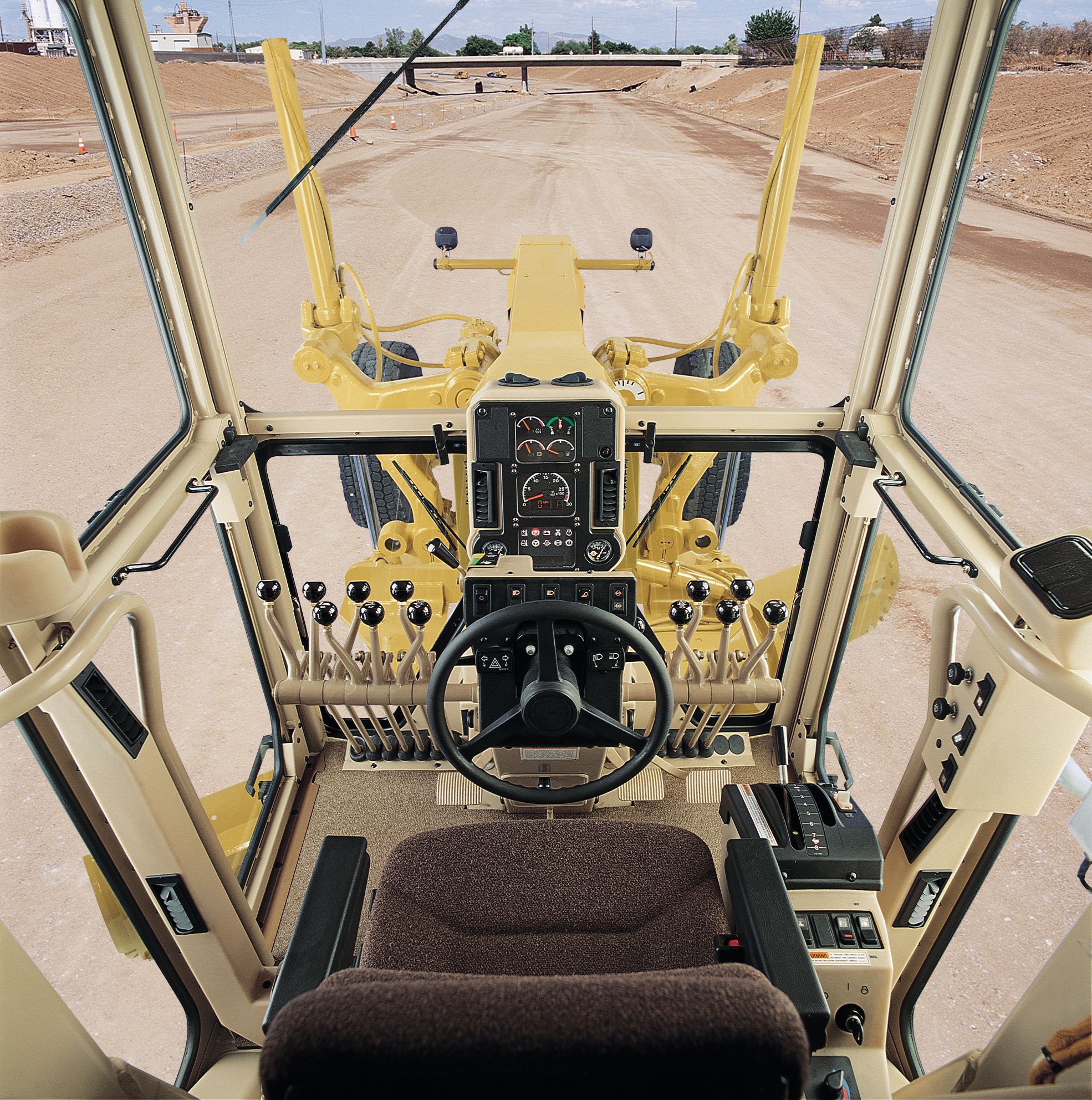 The 163H includes innovative changes to improve operator efficiency and, in turn, provide greater machine productivity.
Comfort and Convenience
Comfort and convenience are designed into every feature of the operator's station.
Exceptional Visibility
A redesigned operator's console improves forward visibility. Large side windows allow a clear view of the moldboard heel and tandem tires. A wide rear window and tapered engine hood provide a good view to the rear of the machine. Moving the air dryer and air cleaner, and aligning the precleaner and muffler, improves visibility to the rear of the machine. Operators can work more confidently and efficiently.
All-Wheel Drive System
All-wheel drive keeps productivity high, even in poor underfoot conditions.
Constant Net Horsepower
This exclusive system increases horsepower in all gears when all-wheel drive is engaged. The additional horsepower compensates for power redirected to hydraulic pumps and front motors. The system delivers a smooth constant net horsepower in all gears, delivering more power to the ground.
Superior Traction
All-wheel drive improves tractive performance in poor underfoot conditions such as snow, mud, and sand. This feature also provides excellent steering and sidedraft control.
More Power
The Variable Horsepower feature is standard on the 163H. When all-wheel drive is engaged, Variable Horsepower kicks in and delivers maximum power in all gears via an electronically controlled variable displacement piston pump driven directly from the transmission.
Wide Working Range
All-wheel drive is available in gears 1-7 forward and 1-5 reverse, making it effective in both low-speed and high-speed applications — from ditch cutting to snow winging. Electronically controlled dual displacement wheel motors deliver high displacement in gears 1-4 forward and 1-3 reverse, and low displacement in gears 5-7 forward and 4-5 reverse. Front wheels freewheel in 8 forward and 6 reverse.
Three Operating Modes
Three operating modes are available —automatic, manual, or off. The operator selects the operating mode using a rocker switch on the transmission console.
Automatic mode makes the all-wheel drive feature easy to use. It automatically increases torque to the front wheels as rear wheel slip increases. The operator controls the responsiveness of the front wheel by adjusting the torque control lever. The farther forward the lever, the more rapidly front wheel torque will increase as slip increases. This mode provides power to the front wheels only when needed, which reduces hydraulic system heat and lowers power consumption. It also allows the operator to focus all his attention on his work.
Manual mode gives the operator 100 percent control. He adjusts the torque control lever to set a constant torque level to the front wheels. He can make torque setting adjustments as operating conditions change. There are many situations where an operator may want to control the front wheels independent of rear wheel slip such as when trying to remove a machine from a snow drift; when making a tight turn on snow, mud, or sand; or when working on a side slope.
Environmentally Responsible Design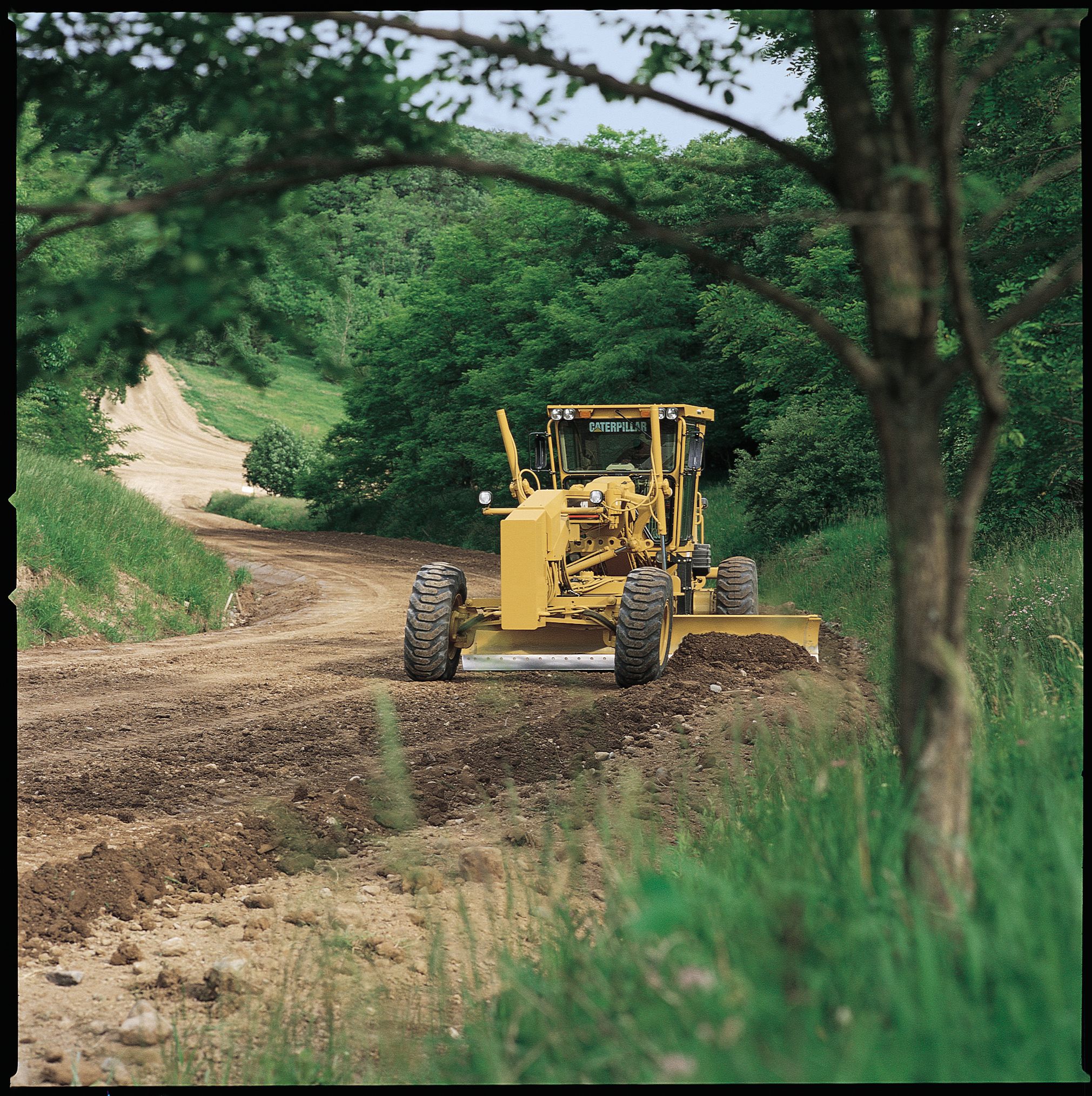 Caterpillar builds machines that help you create a better world.
Quiet Cab
The resiliently mounted engine and transmission reduce interior engine noise and vibration to less than 81 dB(A), measured according to ISO 6394. With the sound suppression group, interior sound levels do not exceed 72 dB(A), measured according to ISO 6394. Lower interior noise levels improve operator working conditions.
Quiet Machine
Exterior sound levels are under 110 dB(A), measured according to ISO 6395. The sound suppression group lowers exterior sound levels below 107 dB(A), complying with the EU 2000/14/EC. This quiet operation lets the 163H work with minimal disturbance to the surroundings.
Low Emissions
The 163H Motor Grader is even more environmentally friendly than its predecessors with reductions in NOx, hydrocarbon, and particulate emissions. It complies with all U.S. EPA Tier 2 and EU Stage II emissions control standards worldwide.
Dry Machine
Lubricant fill points and filters are designed to minimize spillage. O-ring face seals, Cat XT hose, and Cat hydraulic cylinders protect against leaks.
Ozone Protection
To help protect the earth's ozone layer, air-conditioning units use a refrigerant free of chlorofluorocarbons (CFCs).
Customer Support
Cat dealer services help you operate longer with lower costs.
Product Support
You will find nearly all parts at our dealer parts counter. Cat dealers use a worldwide computer network to find in-stock parts to minimize machine downtime. Save money with genuine Cat Reman parts. You receive the same warranty and reliability as new products at substantial cost savings.
Machine Selection
Make detailed comparisons of the machines under consideration before purchase. Cat dealers can estimate component life, preventive maintenance cost, and the true cost of lost production.
Purchase
Look past initial price. Consider the financing options available, as well as day-to-day operating costs. Look at dealer services that can be included in the cost of the machine to yield lower equipment owning and operating costs over the long run.
Customer Support Agreements
Cat dealers offer a variety of product support agreements and work with customers to develop a plan that best meets specific needs. These plans can cover the entire machine, including attachments, to help protect the customer's investment.
Operation
Improving operating techniques can boost your profits. Your Cat dealer has videotapes, literature, and other ideas to help you increase productivity, and Caterpillar offers certified operator training classes to help maximize the return on your machine investment.
Maintenance Services
Talk to your dealer about the range of available maintenance services. Repair option programs guarantee the cost of repairs up front. Diagnostic programs such as S•O•S and Coolant Sampling and Technical Analysis help avoid unscheduled repairs.
Replacement
Repair, rebuild, or replace? Your Cat dealer can help you evaluate the cost involved so you can make the right choice.
OPERATOR ENVIRONMENT
Accelerator
Ashtray and lighter
Coat hook
Control console, adjustable
Cup holder
EMS III operator warning system
Panel gauges inside the cab
Hydraulic controls, load sensing
Meter, hour, digital
Mirror, inside rearview, wide angle
Mounting bracket, general purpose
Power steering, hydraulic
ROPS cab, sound suppressed, low profile
Seat, cloth, contour suspension
Seat belt, retractable 76 mm (3 in)
Steering wheel, tilt, adjustable
Storage area for cooler/lunchbox
Sunscreen, front windshield
Throttle control, electronic
Washer/wipers, (3) front windshields
Windows, fixed lower front
ELECTRICAL
Alarm, back-up
Alternator, 75 ampere, sealed
Batteries, maintenance free, 1100 CCA
Electrical system, 24 volt
Lights, stop and tail
Motor, starting
Product link connection
POWER TRAIN
Air cleaner with dry-type radial seal,
Air-to-Air Aftercooler (ATAAC)
Brakes — oil disc, four-wheel air actuated
Demand fan
Differential, lock-unlock
Engine, 3176C DITA ATAAC diesel with VHP,
Fuel tank, sediment drain
Fuel-water separator
Lube for life pump drive shaft
Muffler, under hood
Parking brake — multi-disc, sealed and oil cooled
Pre-screener
Priming pump, fuel
Serpentine belt, automatic tensioner
Tandem drive
Transmission
Air cleaner with dry-type radial seal,
Air-to-Air Aftercooler (ATAAC)
Brakes — oil disc, four-wheel air actuated
Demand fan
Differential, lock-unlock
Engine, 3176C DITA ATAAC diesel with VHP,
Fuel tank, sediment drain
Fuel-water separator
Lube for life pump drive shaft
Muffler, under hood
Parking brake — multi-disc, sealed and oil cooled
Pre-screener
Priming pump, fuel
Serpentine belt, automatic tensioner
Tandem drive
Transmission
OTHER STANDARD EQUIPMENT
Antifreeze -35°C (-30°F)
Bumper, rear, integrated, with hitch
Clutch, circle drive slip
Cutting edges
Doors, engine compartment, locking
Drawbar — 6 shoe, replaceable wear strips
End bits — 16 mm (5/8") DH-2 steel, 16 mm (5/8")
Engine shutdown, ground level
Frame, articulated with safety lock
Fuel tank, 397 L (105 gallon)
Fueling, ground level
Horn, air
Moldboard
Radiator cleanout access
SOS ports: engine, hydraulic, transmission, coolant, fuel
Tool box
TIRES, RIMS, & WHEELS
Partial allowance: 14.00-24 12PR on 9" single piece rims