Front Linkage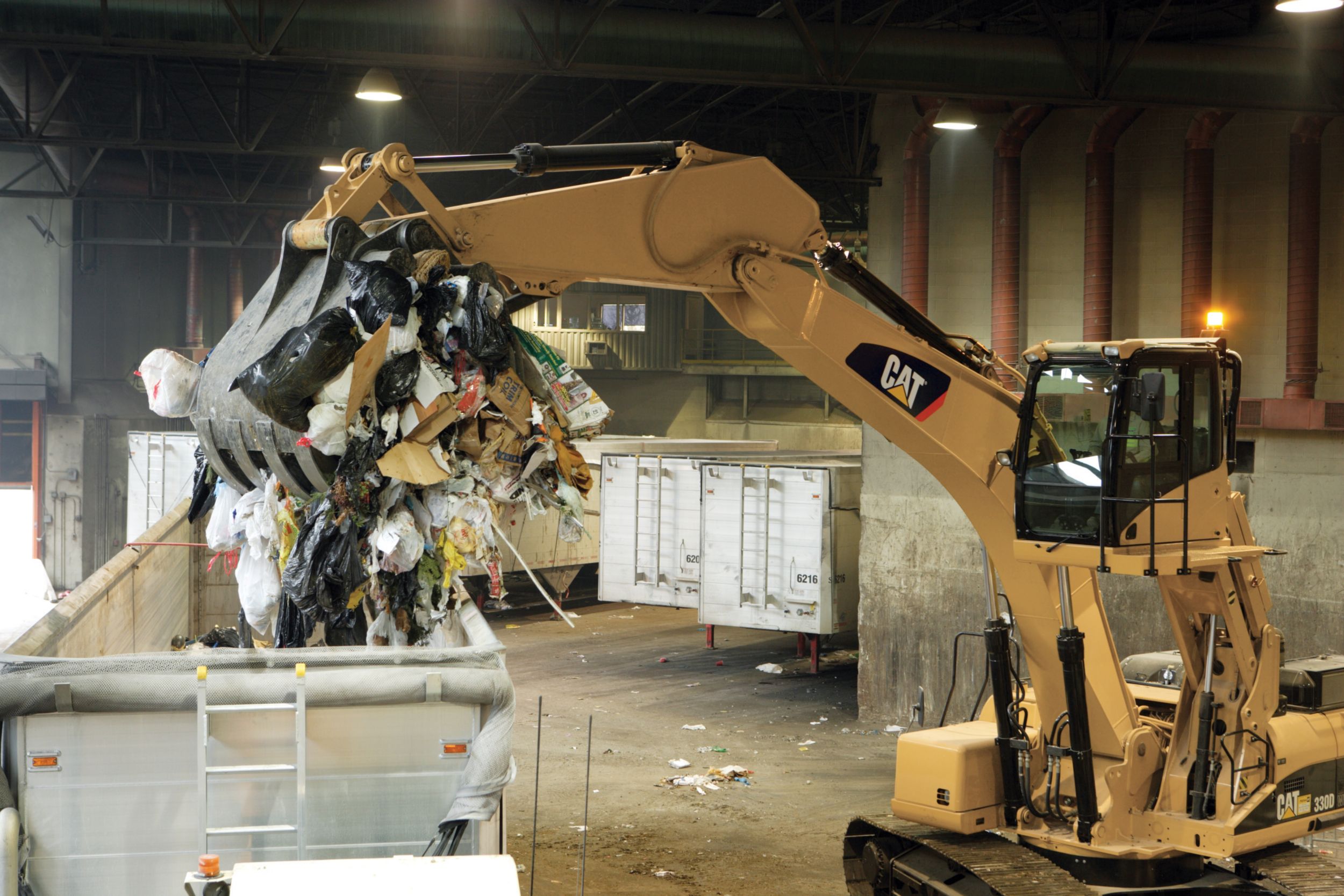 The 330D MH Waste Handler front linkage is designed to provide the excellent reach and durability necessary to meet the requirements of transfer station and demolition applications.
Heavy-Duty Boom and Stick
The heavy duty reach boom and heavy duty 10.5 ft stick are more robust than the standard reach boom and stick. The "heavy-duty" features include thicker plates throughout the design to handle the increased loading experienced in transfer station applications.The front linkage has a maximum horizontal reach of 9.4 m (31 ft) and maximum vertical pin height of 8.8 m (29 ft). Thus, the working range of the machine provides an excellent match for loading hauling units from a platform or from level ground.
Welded Box-Section Structures
The boom and stick are designed and built for maximum durability and performance. Efficient design of welded box-section structures with thick, multi-plate fabrications and internal baffle plates in high stress areas maximizes strength and durability required for the loading conditions of transfer stations and demolition applications.
Stress Relieved Boom and Stick
The boom and stick are stress relieved to maximize the strength of the weld joints. The process of stress relieving also allows for the structure weight to be minimized, allowing heavier payload capacity.
Waste Handler Structures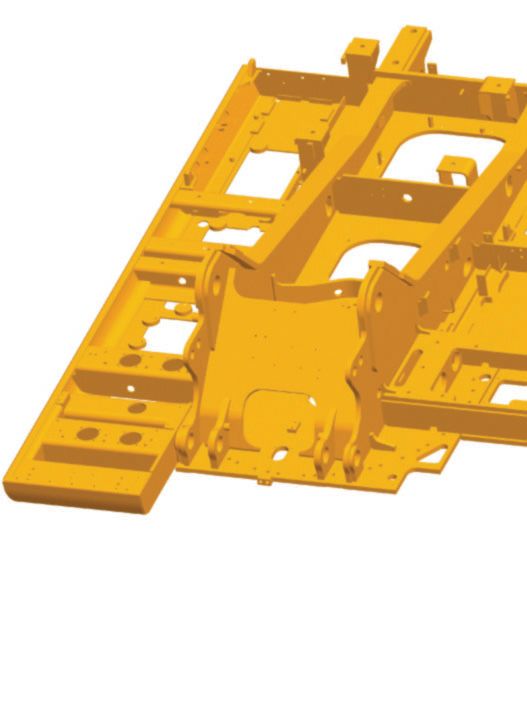 The 330D MH Waste Handler has many structural components that add strength to the machine to improve it's durability.
Heavy-Duty Upper Frame
Upper box-section reinforcement on the upeer frame provide additional strength for improved durability.Horizontal mounting plate provides more surface area for swing drive and swing bearing mounting bolts to handle increased loading.The heavy-duty upper frame has many specifically designed features for added strength and improved durability in waste handling applications. It is composed of higher strength material and thicker steel sections to handle the increased loading activity seen in waste transfer stations and demolition applications.Boom tower double plates add thick steel reinforcements to handle the greater stresses caused by increased loading.Box-section cylinder mounts allow for improved resistance against increased torsional loads and payloads.
Waste Handler Guarding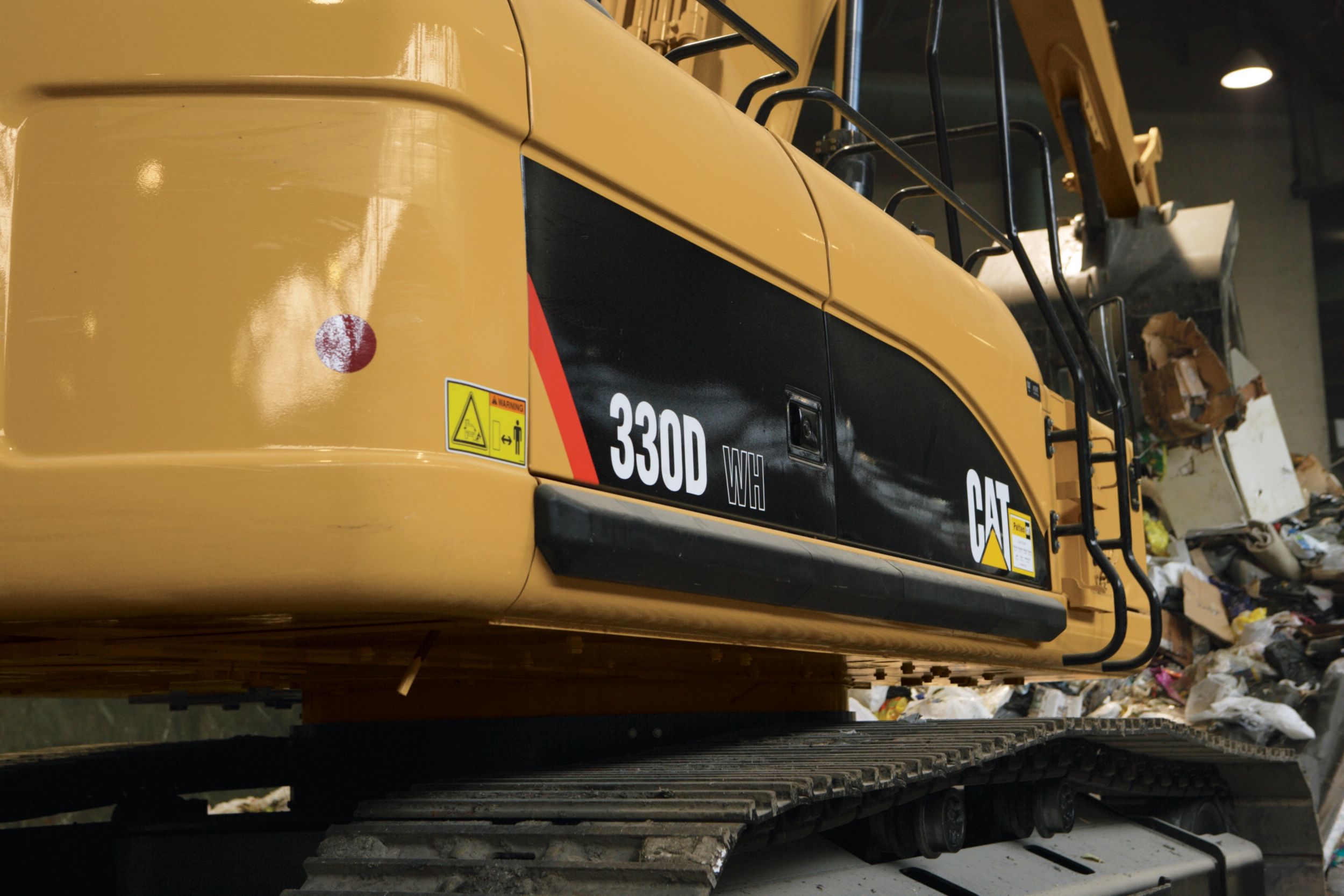 The 330D MH Waste Handler is equipped with special guarding, designed specifically for the challenges faced in waste handling and demolition applications.
Rubber Bumpers
The rubber bumpers provide much needed guarding to protect the sheet metal of the machine from being damaged while maneuvering in tight areas.
Swivel Guard
The swivel guard, designed specifically for waste applications, protects the swivel from the wrapping of debris. This will allow more uptime through the decrease in maintenance associated with removing video tape and wire from the swivel.
Swing Bearing Guard
The swing bearing guard is a bolt on guard that protects the swing bearing from any damage by shielding it from any potential sources of wrapping such as video tapes and wire. It also prevents packing of debris around the swing bearing.
Falling Object Guards
The optional falling object guard protects the cab and front windshield from debris in transfer stations.
Waste Handling Features
The waste handler has been designed with many benefit adding features to enhance its performance in waste applications.
Trash Resistant Cooling System
A Trash Resistant Cooling arrangement reduces cooling system maintenance and downtime when operating in environments with large amounts of airborne debris such as feeding shredders in scrap applications, waste transfer stations, demolition and forestry applications. This package will also help avoid costly engine and hydraulic repairs and downtime resulting from overheating caused by a plugged cooling system. This arrangement is standard on the 330D MH Waste Handler.
Trash Resistant Cooling Features
Debris Filters - These stainless steel mesh filters trap debris before it enters the house, keeping it out of the radiator and oil cooler. These filters can be easily removed and cleaned. A second set of filters minimizes downtime, allowing the operator to keep working while the first set is cleaned.
Hydraulic Automatic Reversing Fan on the oil cooler.
Cooling System
The cooling fan is hydraulically driven and controlled by the ECM. The optimum fan speed is calculated based on the ambient temperature, coolant temperature and hydraulic oil temperature. This unique feature assists in the management of engine power and improves noise efficiency. The C9 delivered a completely new layout that separates the cooling system from the compartment. The auto reversing fan is controlled by the ECM and is adjustable.
Heavier Counterweight
The 330D MH Waste Handler has been outfitted with a counterweight that is 25% heavier than a standard 330D L counterweight for better stability while handling waste or demolition debris.
Cab Riser
The standard 2.6 m (8.5 ft) cab riser provides for elevated operating height to improve visibility while loading waste into a hauling unit and allows the operator to see over obstructions in the transfer station.
Turbine Precleaner
The standard turbine precleaner helps keep debris away from the cooling system by removing debris from the air intake. The 330C MH Waste Handler is also equipped with the SyKlone Optimax dual stage engine precleaner which purges remaining debris from intake air, providing longer air filter and engine life.
SyKlone Gideon Cab Air Precleaner
This cab air precleaner extends cab air filter life, increases operator comfort by effectively eliminating dust and odor, and keeps evaporator and heater coils clean.
Cab Mounted Beacon
The cab mounted beacon flashes whenever the master disconnect is on.
In-cab Master Disconnect
An additional master disconnect switch is provided in the cab for easier operator access.
Engine and Hydraulics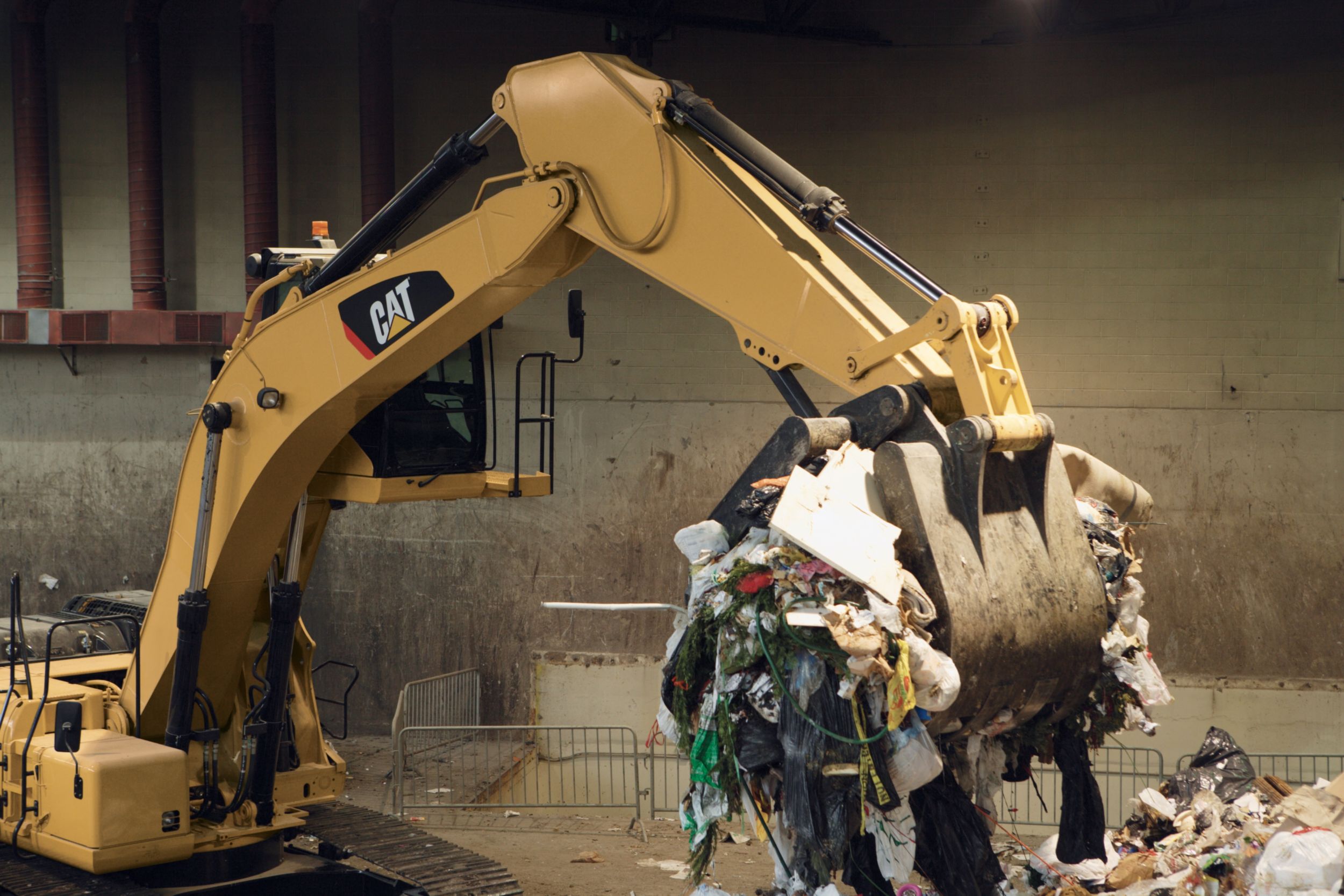 Caterpillar designed engine and hydraulics work together to give the 330D MH Waste Handler an exceptional combination of speed and power required in waste and demolition applications.
Engine
Six-cylinder, turbocharged engine built for power, reliability, and economy will allow the machine to consistently perform at high levels. The CAT® C9 engine is designed for low emissions and will meet EPA Tier 3 emissions requirements.
Performance
The 330D MH, equipped with the C9 engine with ACERT™ Technology, provides 9% more horsepower as compared to the C9 in the 330C MH.
Electronic Control Module
The Electronic Control Module (ECM) works as the 'brain' of the engine's control system, responding quickly to operating variables to maximize engine efficiency. Fully integrated with sensors in the engine's fuel, air, coolant and exhaust systems, the ECM stores and relays information on conditions such as RPM, fuel consumption and diagnostic information.
Automatic Engine Speed Control
The two-stage, one-touch control maximizes fuel efficiency and reduces sound levels.
ADEM™ A4 Engine Controller
The ADEM™ A4 electronic control module manages fuel delivery to get the best performance per liter of fuel used. The engine management system provides flexible fuel mapping, allowing the engine to respond quickly to varying application needs. It tracks engine and machine conditions while keeping the engine operating at peak efficiency.
Hydraulic Cross Sensing System
Improves productivity with faster implement speed and quick, strong pivot turns.
Fine Swing Control
Fine swing control cushions swing start and stop for better implement control.
Hydraulic Cylinder Snubbers
The hydraulic cylinder snubbers at the rod-end of the boom cylinders and both ends of the stick cylinders cushion shock to improve cylinder life.
Controllability
The hydraulic system offers very precise operator control to reduce fatigue and improve operator efficiency translating into enhanced machine performance and productivity.
Boom and Stick Regeneration Circuit
Boom and stick regeneration circuit increases efficiency and reduces cycle time for higher productivity and lower operating costs.
Work Tools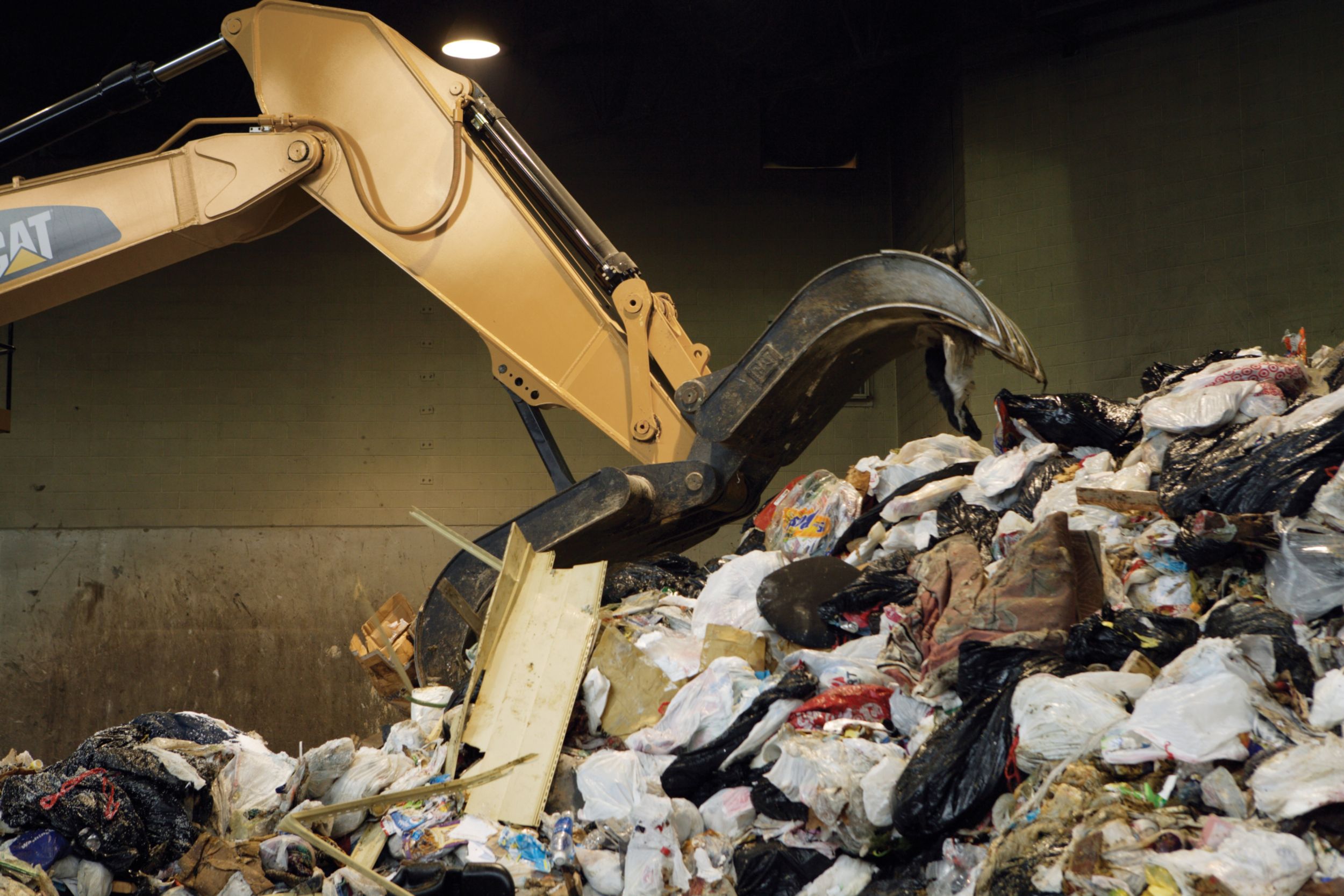 Mechanical and hydraulic work tools are offered by Caterpillar to maximize machine performance in waste and demolition applications.
Trash Grapple
The Cat Work Tools trash grapple has been designed to meet the requirements of waste handling. Powered by the bucket cylinder, the trash grapple mechanically works to compact trash while placing it into the bed of the hauling unit. This helps to maximize the amount of waste that can be placed into one unit, maximizing efficiency.
Complete Customer Support
Cat® Dealer services help you operate longer with lower costs.
Product Support
You will find nearly all parts at our dealer parts counter. Cat® dealers utilize a worldwide computer network to find in-stock parts to minimize machine down time. Save money with remanufactured components.
Machine Selection
Make detailed comparisons of the machines you are considering before you buy. What are the job requirements, machine attachments and operating hours? What production is needed? Your Cat dealer can provide recommendations.
Customer Support Agreements
Cat dealers offer a variety of product support agreements, and work with customers to develop a plan the best meets specific needs. These plans can cover the entire machine, including attachments, to help protect the customer's investment.
Operation
Improving operating techniques can boost your profits. Your Cat dealer has videotapes, literature and other ideas to help you increase productivity, and Caterpillar offers certified operator training classes to help maximize the return on your investment.
Maintenance Services
Repair option programs guarantee the cost of repairs up front. Diagnostic programs such as Scheduled Oil Sampling, Coolant Sampling and Technical Analysis help you avoid unscheduled repairs.
Replacement
Repair, rebuild, or replace? Your Cat Dealer can help you evaluate the costs involved so you can make the right choice.
Electrical
65 ampere alternator
Base machine light (frame)
Lights, cab mounted (Two)
Horn
Pre-Start monitoring system - checks for low fluids
65 ampere alternator
Base machine light (frame)
Lights, cab mounted (Two)
Horn
Pre-Start monitoring system - checks for low fluids
Operator Environment
Air conditioner, heater, defroster with automatic climate control
AM/FM radio with antenna and 2 speakers
Ashtray with 24 volt lighter
Beverage/cup holder
Bolt-on Falling Object Guarding System (FOGS) capability
Cab Glass
Coat hook
Floor mat
Instrument panel and gauges
Joysticks, console mounted, pilot operated
Light - interior
Literature compartment
Monitor, full graphic color display
Neutral lever (lock out) for all controls
Polycarbonate side windows
Positive filtered ventilation
Pressurized cab
Seat, suspension, with high back and head rest
Seat belt, retractable (76 mm [3 in])
Storage compartment suitable for lunch box cooler
Sun shade (for skylight)
Travel control pedals with removable hand levers
Windshield wiper and washer (upper and lower)
Hydraulic Cab Riser
Engine/Power Train
C9 with ACERT Technology
Cooling Package
Radial seal air filter
Auto reversing fan
Automatic engine speed control with one-touch low idle
Two speed auto-shift travel
Filters on rear door for cooling
C9 with ACERT Technology
Cooling Package
Radial seal air filter
Auto reversing fan
Automatic engine speed control with one-touch low idle
Two speed auto-shift travel
Filters on rear door for cooling
Undercarriage
Grease lubricated track
Hydraulic track adjusters
Idler and center section track guards
Track shoes - 800 mm (32 in) triple grouser
Heavy-duty track rollers
Swing bearing guard
Grease lubricated track
Hydraulic track adjusters
Idler and center section track guards
Track shoes - 800 mm (32 in) triple grouser
Heavy-duty track rollers
Swing bearing guard
Other Standard Equipment
Automatic swing parking brake
Auxiliary hydraulic valve
Counterweight with lifting eyes
Door locks, cap locks, and Caterpillar® one key security system
Fine swing control
Fully pressurized hydraulic system
Heavy lift
Mirrors (frame-right, cab-left)
SOSSM quick sampling valves for engine and hydraulic oil
Travel alarm
Wiring provision for Product Link
Heavy duty upper frame
Heavy counterweight (25% over standard)
Heavy duty swing bearing
Rubber bumpers
Swivel guard