Cat® trailer-mount knuckleboom loaders feature hydraulic systems that provides smooth performance and fuel efficiency. High swing torque, swing speed and lift capacity reduce cycle times and lower cost per ton. The heavy-duty booms and structures provide reliable operation and reduce service costs. Spacious work stations, excellent visibility, and ergonomic controls reduce operator fatigue, resulting in a more productive shift. A wide range of machine sizes with optional factory installed hydraulic packages are available to increase loader utilization. Options include bar slasher, circle saw slasher, delimber, carrier and grapple saw.
Engine
| | |
| --- | --- |
| Gross Power | 116.3 kW |
| Cat® Diesel Engines | C6.6 Tier 3 |
| Engine RPM (Rated) | 2200.0 RPM |
Operating Specifications
| | |
| --- | --- |
| Knuckleboom Length | 8.8 m |
| Stabilizers (4) - Pad Size | 55.8 cm × 55 cm (22 in × 23 in) |
| Swing Bearing - Diameter - OD | 109.2 cm |
Weights
| | |
| --- | --- |
| Operating Weight | 12655.0 kg |
| Counterweight | 1496.8 kg |
| Operating Weight* | 12655.0 kg |
Hydraulic System
| | |
| --- | --- |
| Flows @ Rated Speed | 193, 158, 124 L/min (51, 42, 33 gal/min) |
| Swing Speed | 8.0 RPM |
| System Pressure | 18960.0 kPa |
Service Refill Capacities
| | |
| --- | --- |
| Fuel | 276.3 L |
| Hydraulic | 295.3 L |
Operator Station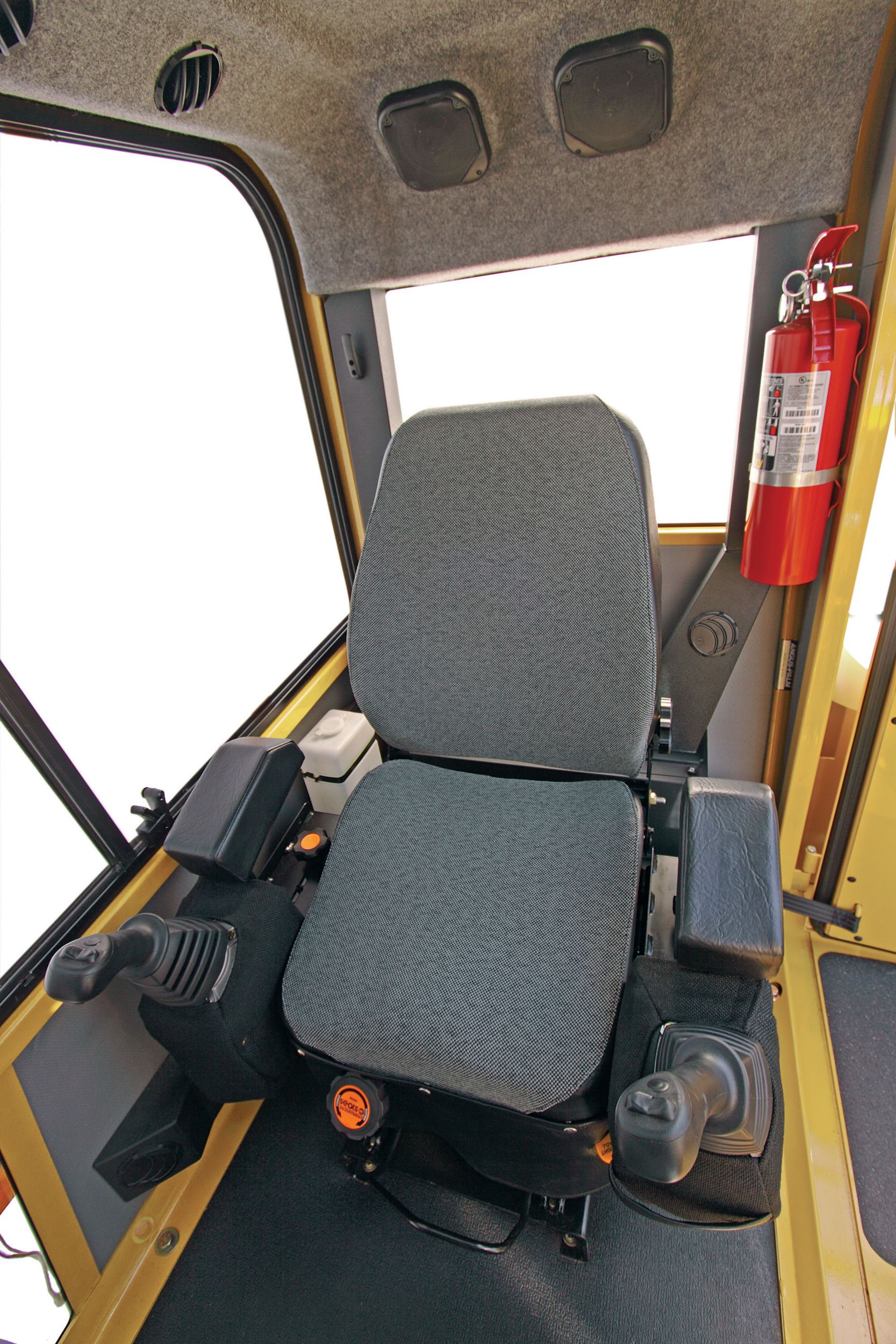 Unprecedented visibility and comfortThe operator station is designed with comfort in mind. The spacious cab features a large, fully adjustable suspension seat with lumbar support. Fold-up armrests are fully adjustable to allow adjustment of the joystick controls to match the operator for ease of operation and increased performance. Excellent visibility of the work area is provided through large tinted cab windows. Overhead visibility is maximized through the large, tinted Lexan skylight. Operator protection is afforded through the front guard. This swing-out guard is designed for quick and simple access to allow cleaning of the front window.
Hydraulic Packages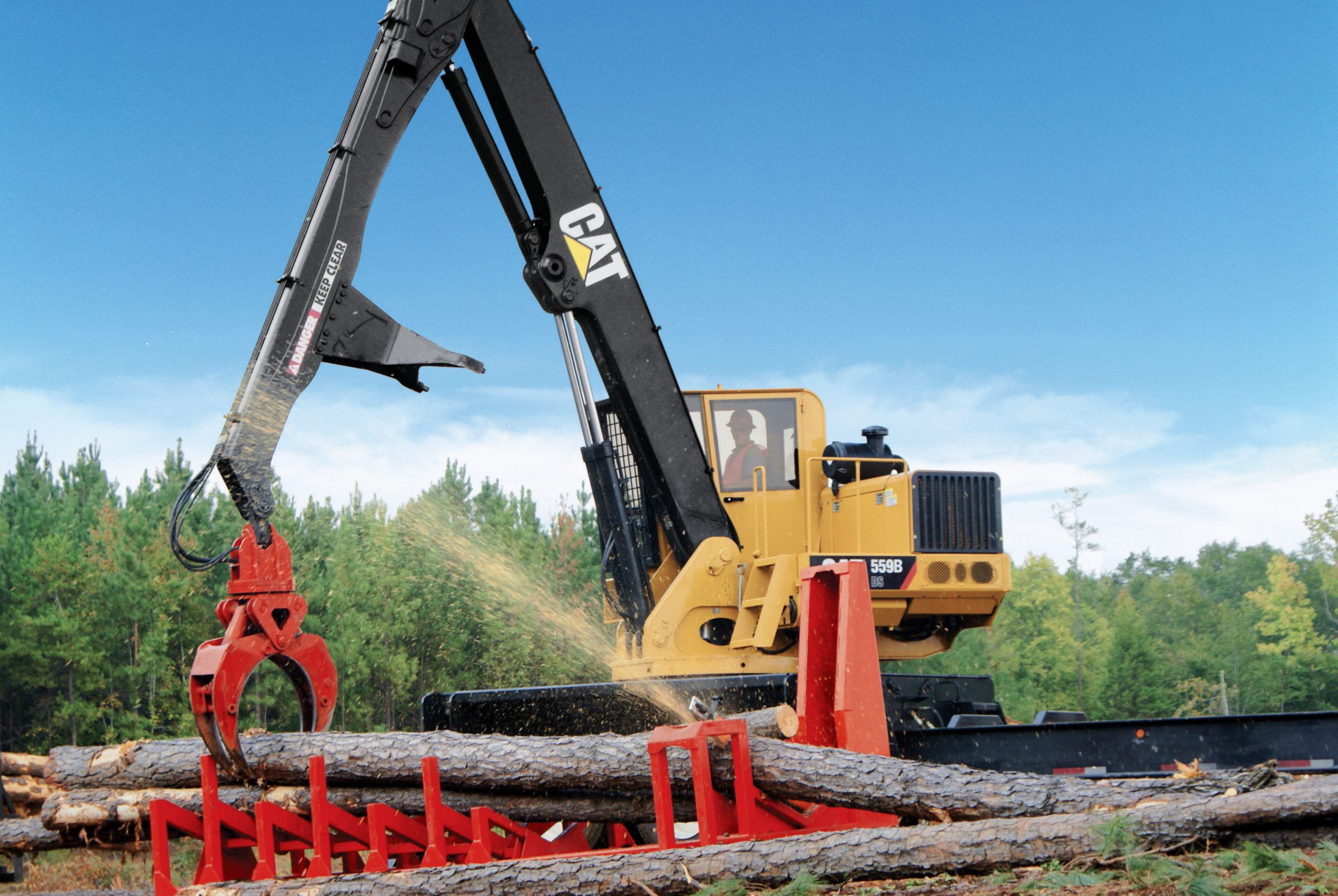 Factory installed hydraulic packages increase job site performance and versatilityCat knuckleboom loader hydraulic systems are designed to satisfy the productivity demands of loggers. The 529 is equipped with a simple open-center hydraulic system with a triple section gear pump supplying the flow. This system is time tested and provides good performance and provides many different types of option packages, such as carrier hydraulics for millyard mobility. The 529 features a unique "flow-on-demand" hydraulic system for the subframe hydraulic components like the stabilizers, slasher or delimber. This system directs flow and pressure to the subframe systems only when required for activating a function. This results in improved hydraulic efficiency, reduced heat and lower overall system horsepower demand when compared to a standard open-center system.
Delimber-Slasher Package
A complete factory installed timber merchandising systemThe Delimber/Slasher (DS) package is a complete factory installed timber merchandising system consisting of a knuckleboom loader and grapple, trailer with trailer-mounted delimber and an optional ground saw slasher and is available with all delimbing capable loaders - the 529, 559B, 569 and 579. The structural design on these loaders is proven to provide long life in punishing, pull-through delimbing applications. A three-knife CTR 320 is standard on the package, or a four-knife CTR 426 pull-through delimber is available as an option. These delimbers are designed to allow quick, easy loading of trees and produce clean, delimbed stems in a flash. These delimbers also have central lubrication banks and ground-level oil fill for quick, easy service. An automatic chain tensioner simplifies maintenance and extends bar and chain life. The standard delimbing trailer is built with structural reinforcing in critical areas for durability. This trailer features a roll-up gear for transport and a swing down delimbing foot for operation. The optional delimbing trailer features a hydraulically adjustable landing gear that is adjustable from in cab controls. This feature allows the operator to quickly position the loader in a proper operating position, providing more production capability. Knuckleboom Loader grapples are available in a wide variety of rotator types, jaw sizes and jaw configurations to suit a variety of material handling applications. The CTR 107 Slasher is optional for the DS package. A load-sensing saw feed system delivers smooth, fast cutting cycles. This slasher is available in multiple bunk styles and can be customized for specific log-lengths.
Complete Customer Care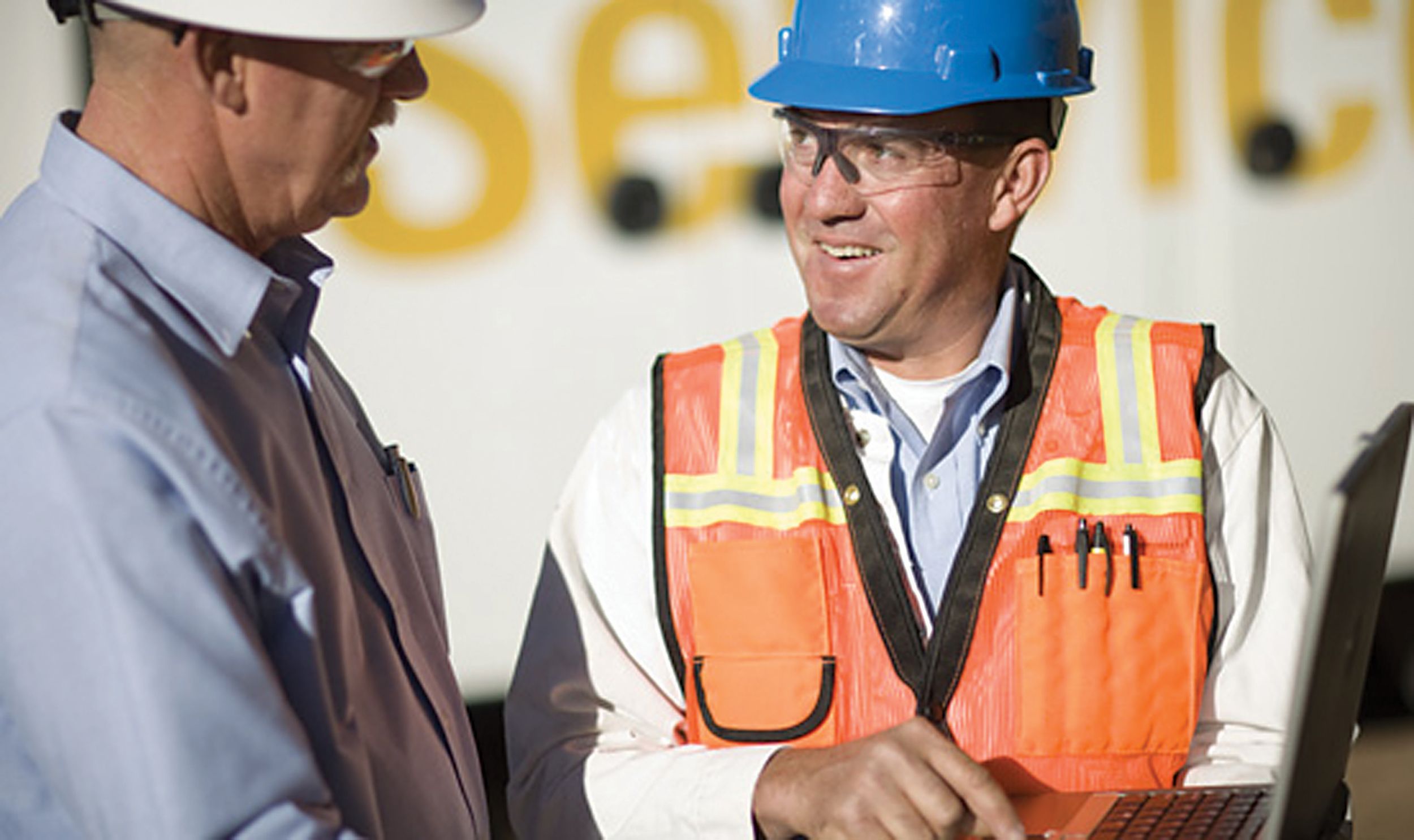 Service you can count on
Product Support
Cat dealers utilize a worldwide parts network to minimize machine downtime. Plus you can save money with Cat remanufactured components.
Machine Selection
Make detailed comparisons of machines you are considering. What are the job requirements and machine attachments? What production is needed? Your Cat dealer can provide recommendations.
Customer Support Agreements
Cat dealers offer a variety of customer support agreements and work with you to develop a plan to meet specific needs. These plans can cover the entire machine, including attachments, to help protect your investment.
Operation
Improving operating techniques can boost your profits. Your Cat dealer has videos, literature, and other ideas to help you increase productivity. Caterpillar also offers simulators and certified operator training to help maximize the return on your investment.
Replacement
Repair, rebuild, or replace? Your Cat dealer can help you evaluate the cost involved so you can make the right choice.
ENGINES AND DRIVE LINE
Cat® C6.6 116.3 kW (156 hp) Tier 3 Compliant
Electrical
Pump Drive
Cat® C6.6 116.3 kW (156 hp) Tier 3 Compliant
Electrical
Pump Drive
OPERATORS STATION
97.8 cm × 142.2 cm (38.5 in × 56 in) Right Side Mounted with Isolation Pads
Tinted Safety Glass Windows, Lexan Skylight, Sun Visor
Fully Adjustable Seat with Fold-up Armrest
Operator Protection Guard
Pressurized Cab with Heat/Air Conditioning
Integral Heat/AC Ductwork
Analog Gauges
Windshield Wiper/Washer
Horn
Defroster Fan
12V Power Point
Dome Light
Fire Extinguisher
Sliding Cab Window
Radio Ready (Speakers, AM/FM Antenna)
97.8 cm × 142.2 cm (38.5 in × 56 in) Right Side Mounted with Isolation Pads
Tinted Safety Glass Windows, Lexan Skylight, Sun Visor
Fully Adjustable Seat with Fold-up Armrest
Operator Protection Guard
Pressurized Cab with Heat/Air Conditioning
Integral Heat/AC Ductwork
Analog Gauges
Windshield Wiper/Washer
Horn
Defroster Fan
12V Power Point
Dome Light
Fire Extinguisher
Sliding Cab Window
Radio Ready (Speakers, AM/FM Antenna)
HYDRAULIC SYSTEM
3 In-line Gear Pumps, Pilot Pump
Swing Motor
Controls
Filtration
Swivel
Serviceability
Auxiliary Hydraulics
3 In-line Gear Pumps, Pilot Pump
Swing Motor
Controls
Filtration
Swivel
Serviceability
Auxiliary Hydraulics
STRUCTURAL
Boom
Grapple Mounting Knuckle
Lower Frame
Turntable Mounting
ENGINES AND DRIVE LINE
Electrical
OPERATORS STATION
AM/FM/CD Radio/Satellite Radio
STRUCTURAL
Heels
DS Package with Standard Trailer