580 Harvester
The ruggedly designed 580 Harvester incorporates six-wheel stability to tackle the heaviest of stands. The Caterpillar 3126 engine generates extremely high levels of horsepower to ensure maximum tractive ability in unfavorable conditions. In addition, ample hydraulic flow is provided to each pump for the highest level of productivity and efficiency.
Product Details
Engine
| | |
| --- | --- |
| Gross Power | 165 kW |
| Engine Model | Cat 3126 DITA |
| Power, net | 157 kW |
Weights
| | |
| --- | --- |
| Est Operating Weight | 17500 kg |
Boom and Stick
Dimensions
| | |
| --- | --- |
| Length | 9 mm |
| Width | 220 mm |
| Height | 150 mm |
| Height - lowered light bracket | 400 mm |
Harvesters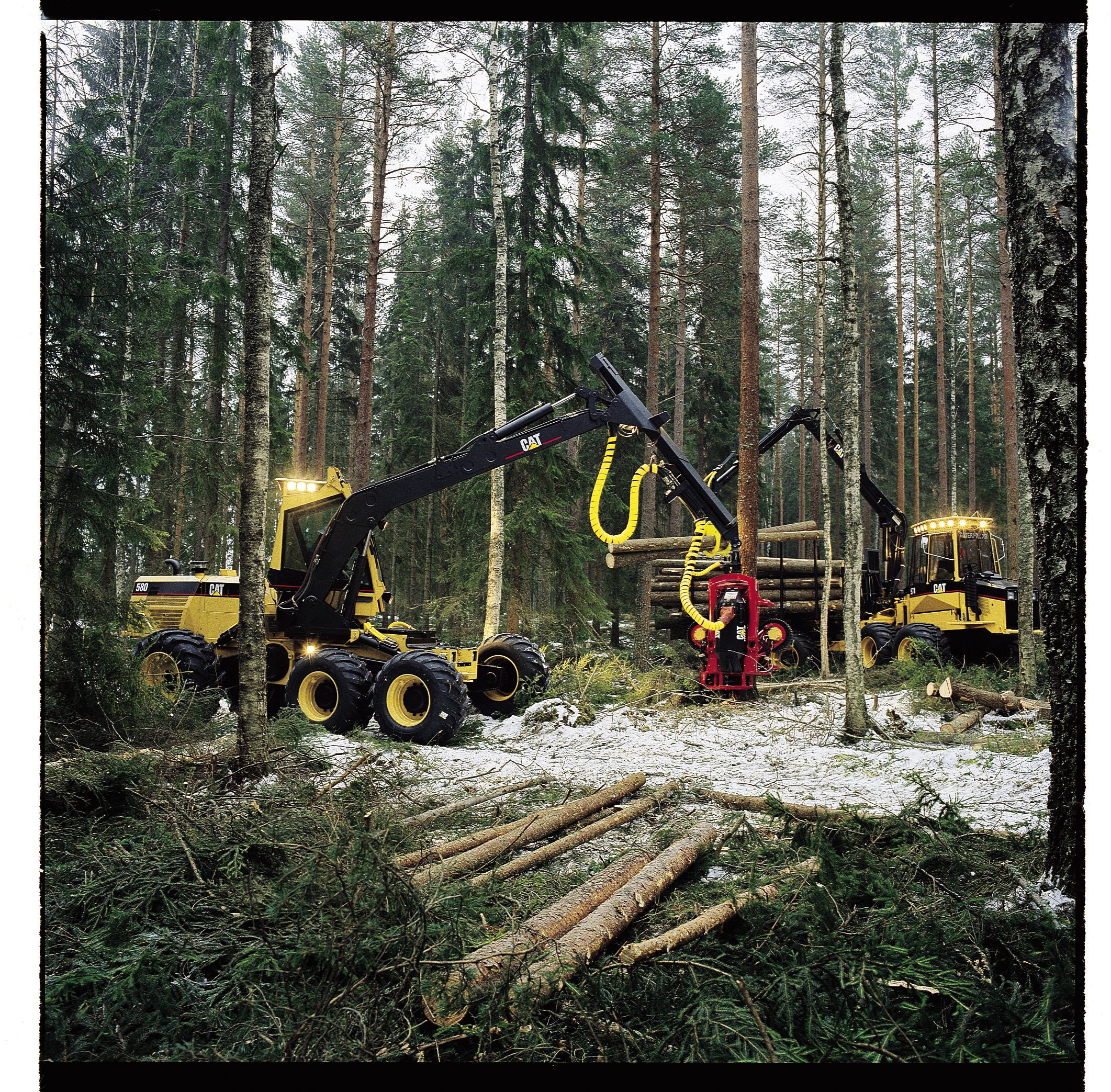 Caterpillar cut-to-length forestry products provide contractors the results they have come to expect from Cat machines.
Durability
Caterpillar has set the trend for durability over the last 75 years and has a reputation for manufacturing products that withstand the test of time.
Reliability
Caterpillar has been in the forestry business for generations and has a full understanding of forestry applications.
Criteria
Today's logger must consider many different criteria before investing in a harvester.
Models
The harvester line is one of the most recent introductions to the Caterpillar Forest Products Group and includes three models: 550, 570, 580.
Field-Tested
The 580 Harvester is built with proven components and have been field-tested to ensure the highest level of reliability over the life of the machine.
Power
The 580 Harvester is powered by the Caterpillar 3126 engine.
Variety
Caterpillar Harvesters can be used in a wide variety of applications, from first thinning to final felling, and are able to handle a wide range of tree diameters.
Pendulum Arm Suspension
With the pendulum arm suspension technology, the operator can maneuver the machine in the tightest of thinning areas.
Caterpillar 3126 DITA Engine & Transmission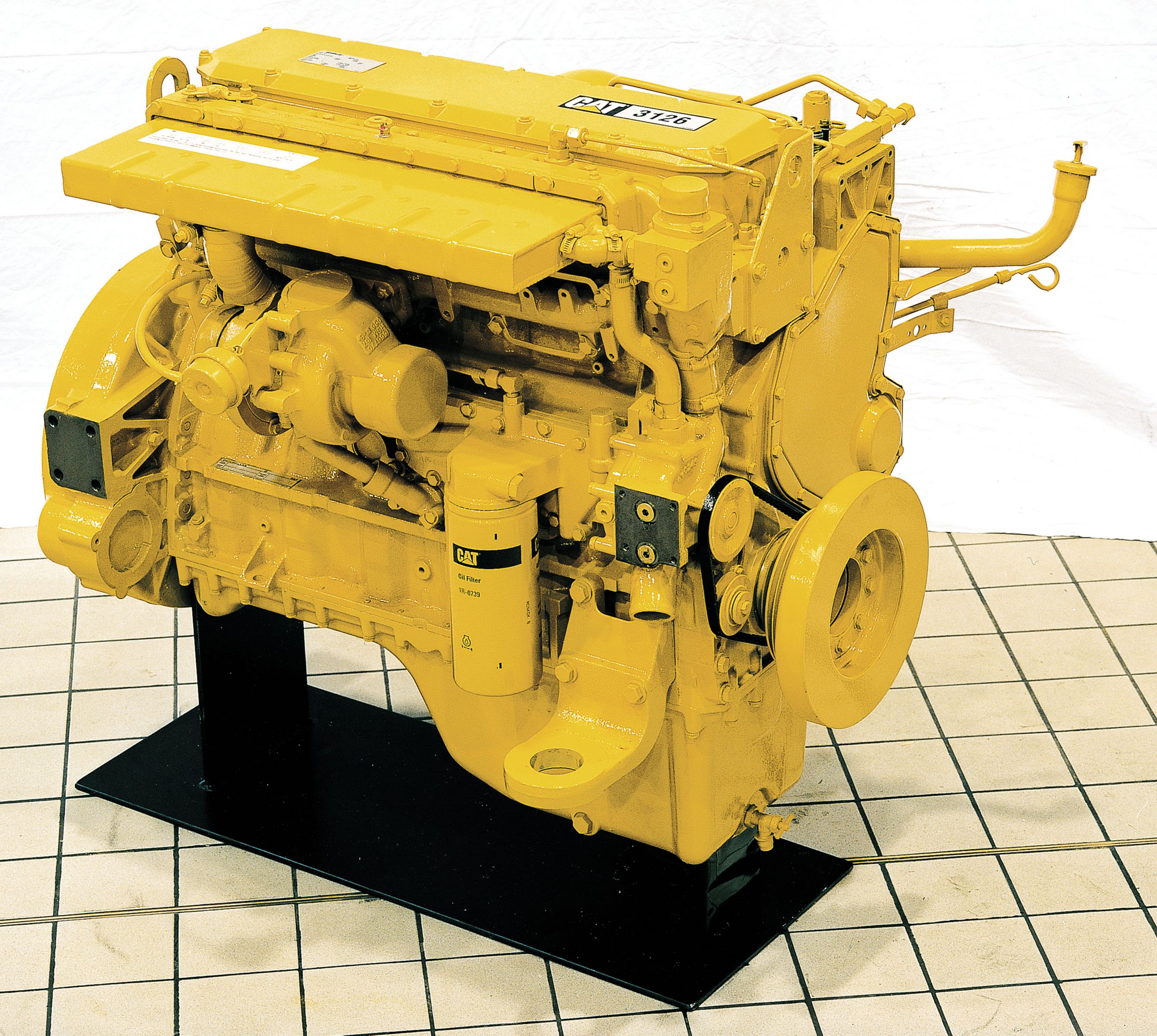 Caterpillar offers a line of some of the most powerful Harvesters for worldwide use.
Transmission
Each Cat Harvester features an all-wheel drive fully hydrostatic transmission.
Standards
The Caterpillar 3126 DITA Engine performs at the full-rated flywheel power, meets all current and proposed worldwide emissions standards up to the year 2002 and is approved for worldwide use.
Torque Rise
The unit-injected fuel system provides a controlled fuel delivery increase as the engine lugs back from rated speed.
Turbocharger
The turbocharger enhances performance and engine efficiency, especially at high altitudes by packing more air in the cylinders for excellent combustion.
Jacket Water Aftercooler
Jacket Water Aftercooler reduces smoke and emissions by providing a cooler, more efficient combustion.
Unit Injectors
Individual, high-pressure unit injectors atomize fuel efficiently for fast response and increased fuel economy with low emissions.
Fuel Cleanliness
The fuel pre-filter and water separator element combined with two, high-efficiency fuel filters, in series, ensure excellent fuel cleanliness, for extended injector and fuel system life.
Camshaft Roller Followers
Camshaft roller followers reduce wear and frictional power losses for excellent fuel economy.
Pistons
Two-piece articulated pistons with forged steel crown and forged aluminum skirt provide durability, low engine sound levels, enhanced fuel efficiency and improved thermal and structural capability.
Chrome Ceramic Surface
The new Chrome Ceramic Surface (CCS) ring package, specifically developed for high load/high temperature applications, significantly improves engine block life.
Crankshaft
The crankshaft is forged and induction hardened for long-term durability and is completely regrindable.
Block Design
Deep skirt engine block design ensures rigidity and reduces vibration.
Operator Station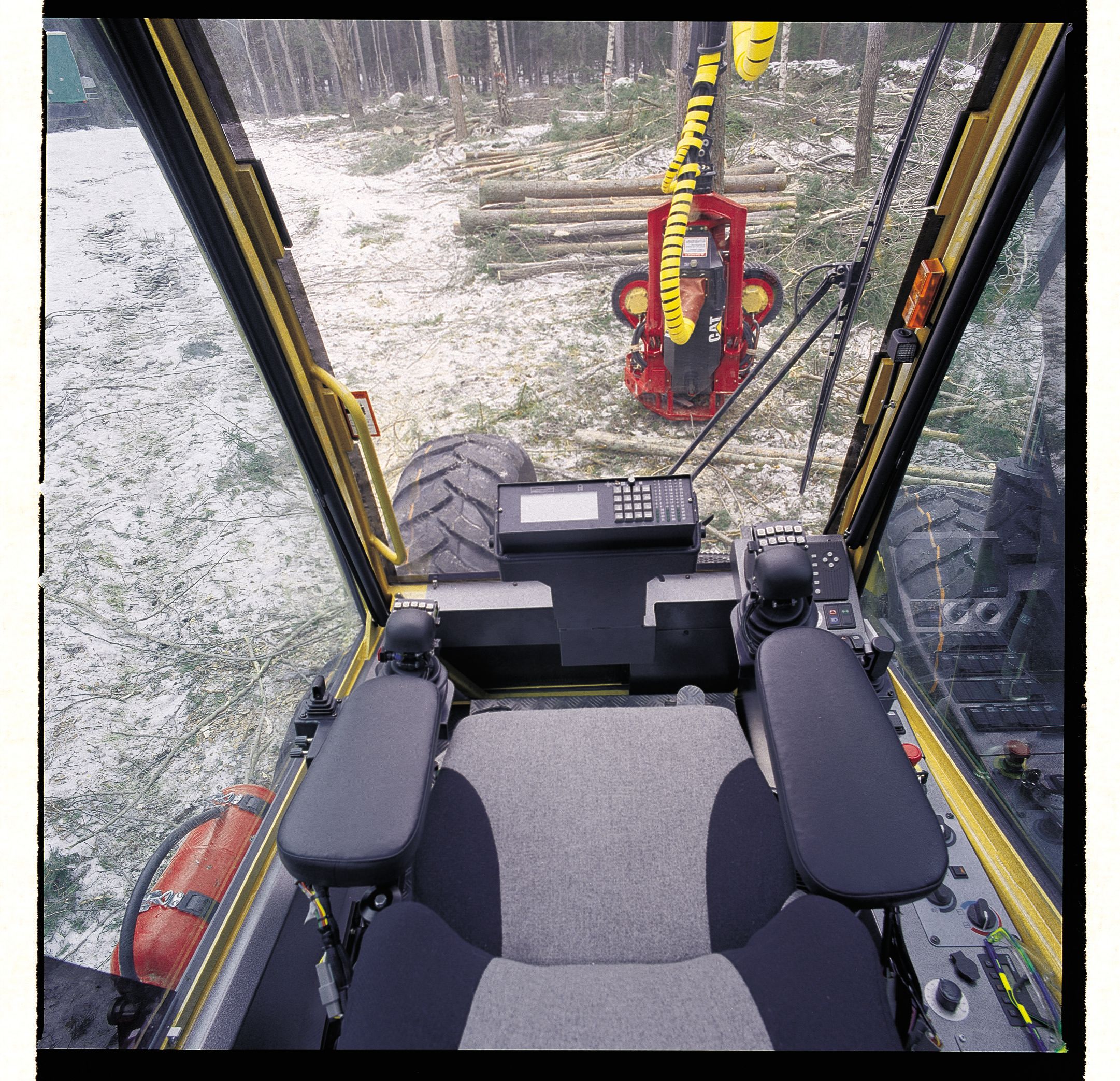 The Caterpillar line of harvesters is designed for operator comfort, excellent viewing, and ease of operation.
Work Environment
The operator work environment has a suspended design to help ensure a smooth ride and comfort.
Bucking and Measuring System
The computer aided bucking and measuring system is located in direct line-of-sight for easy viewing.
Monitoring System
A digital monitoring system displays all vital machine information and alerts operator of potential hazards that could damage the harvester.
Monitoring System
A digital monitoring system displays all vital machine information and alerts operator of potential hazards that could easily damage the harvester.
Controls
Easy-to-reach controls give the operator full finger tip command.
Ergonomics
Operator ergonomics are improved through an eight-way adjustable seat with seven-way adjustable armrests.
Machine Movement
Machine movement is controlled by floor pedals to free up the operator's hands to maneuver the harvesting head with the boom and stick.
Viewing Area
Excellent viewing area allows the operator a direct view of the harvesting head and the tree.
Directional Traveling
Directional traveling is controlled by a floor pedal for easy changing of forward and reverse.
Harvester Applications
The Caterpillar 580 Harvester is a versatile machine utilizing excessive strength to tackle heavy jobs.
Design
The Caterpillar Harvester line has been engineered specifically to address operator comfort.
Performance
The ruggedly designed 580 Harvester incorporates six-wheel stability to tackle the heaviest of stands.
Suspension System, Boom and Stick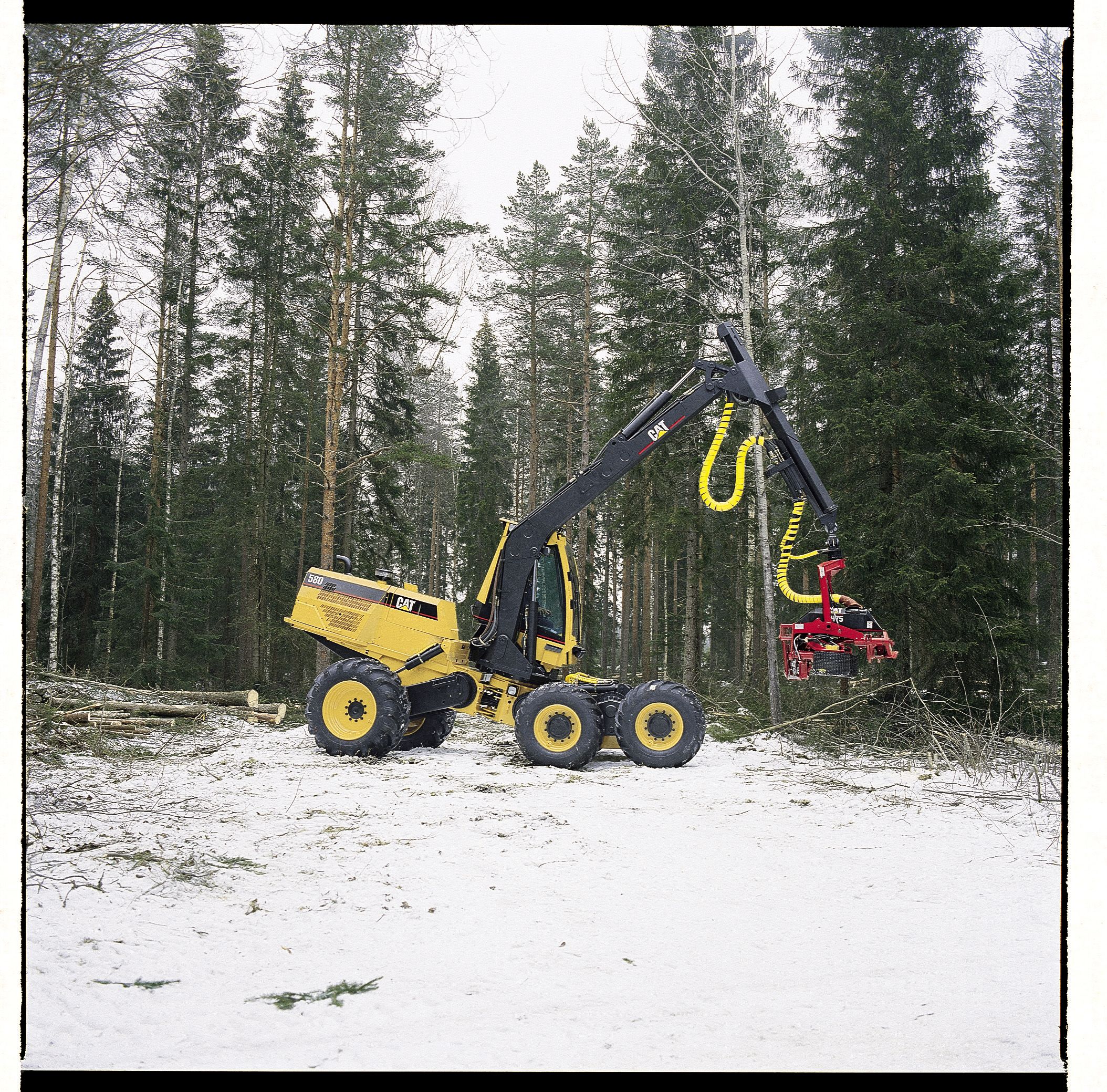 Caterpillar Harvesters deliver the versatility and tractive ability needed for demanding forestry applications.
Pendulum Arm
The uniquely designed pendulum arm suspension system allows the operator to harvest in the tightest of thinning and toughest of final felling conditions with unlimited access to those hard-to-reach areas.
Suspension Technology
The pendulum arm suspension technology has revolutionized the industry.
Solutions
Caterpillar Harvesters provide customers the solutions needed to operate at the highest levels of production possible.
Boom and Stick
Stick consists of a two-section stick with a box construction design that extends.
Serviceability & Customer Support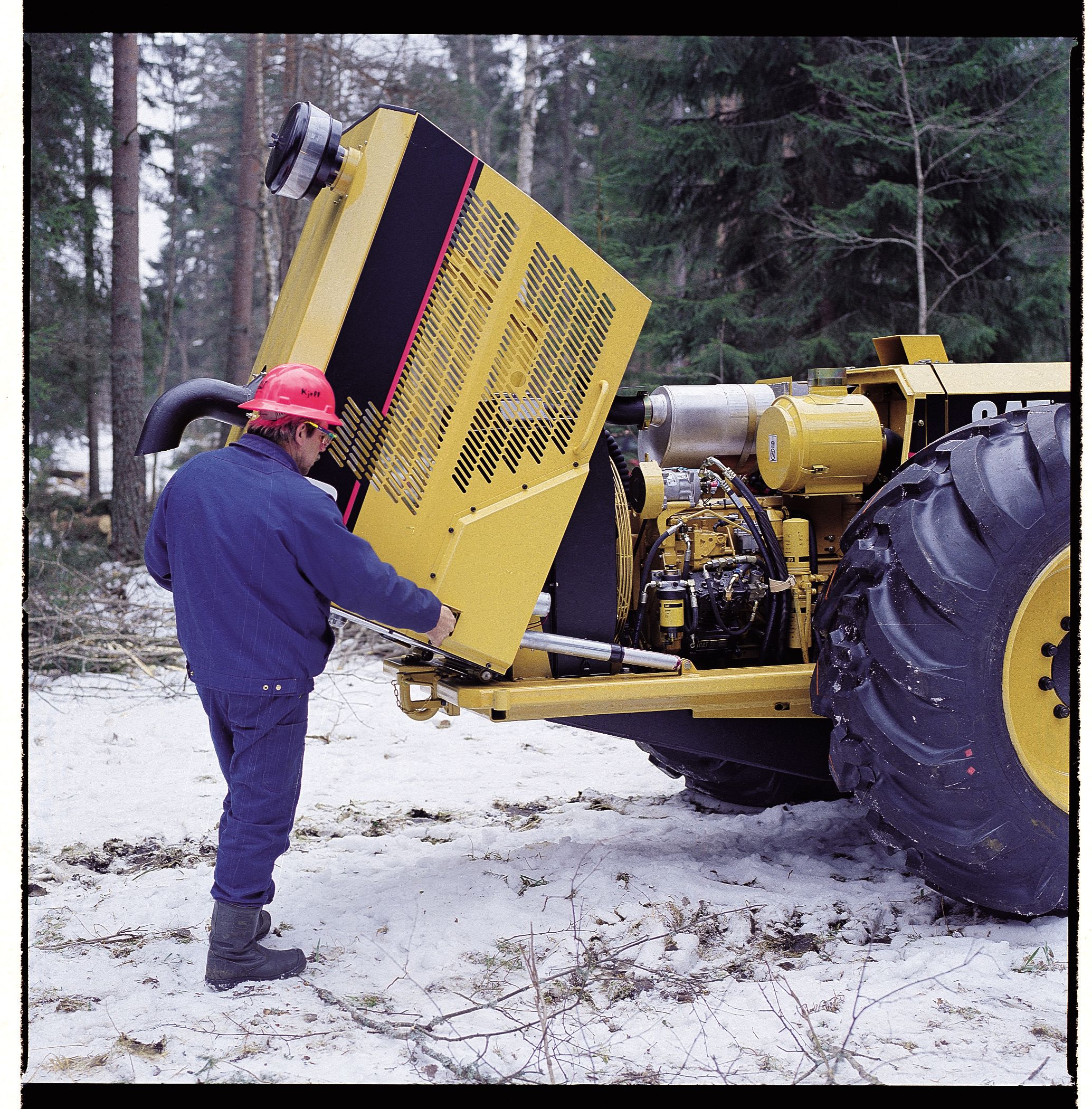 Ease of serviceability means less downtime, which translates to more working time.
Servicing Ease
Major components are made as modules.
Ground Level Access
Ground level access provides convenient servicing to most filters and lube points.
Power Hood
Power hood improves the ergonomic conditions for the operator when servicing.
Centrifugal Pre-Cleaner
Centrifugal pre-cleaner removes large debris before it reaches the internal air cleaner to provide significant engine protection.
Filters
Spin-on fuel and engine oil filters provide simplified service.
Pressure Taps
Pressure taps are conveniently located to provide easy access to hydraulic system pressures.
Electrical System
24-volt electrical system delivers increased electrical power for lights, engine cranking, and engine diagnostics.
Support
Cat Dealers offer a wide range of services that can be set up under a customer support agreement when purchasing equipment.
Selection
Make detailed comparisons of the machines being considered before buying.
Purchase
Look past the initial price. Consider the financing options available as well as day-to-day operating costs.
Operation
Improving operating techniques can boost profits.
Maintenance
What is the cost of preventative maintenance? More and more equipment buyers are planning for effective maintenance before buying equipment.
Diagnostic Programs
Diagnostic programs and technical analysis help avoid unscheduled repairs.
Replacement
Repair, rebuild or replace? Cat Dealers can help evaluate the cost involved so the right choice will be made.
Products Support
Nearly all Cat parts can be located at the dealer parts counter.
Remanufactured Parts
A large choice of factory remanufactured parts and dealer proposed repair options increase machine availability and reduce total repair costs.
Harvesting Heads
Whether the need is light weight for thinning or heavy-duty for larger clear cuts, Caterpillar offers a variety of heads for the best application match.
HH45 Harvesting Head
HH45 Harvesting Head is the ultimate lightweight thinning solution.
Design
The frame of the HH45 Harvesting Head is constructed of high-strength, heat-treated steel, to provide high-strength-to-weight ratio, making it one of the most durable, light weight heads on the market.
HH55 Harvesting Head
The HH55 Harvesting Head delivers the power and capacity for an effective final cut, while utilizing low weight and flexibility for all types of thinning.
HH65 Harvesting Head
The HH65 Harvesting Head has capacity for an effective final fell, low weight and flexibility for thinning.
HH75 Harvesting Head
HH75 Harvesting Head is massive for massive timber.