The Cat 5080 Front Shovel was developed in cooperation with owners and operators of Caterpillar front shovels with face equipment applications around the world.
Electronic Power Control System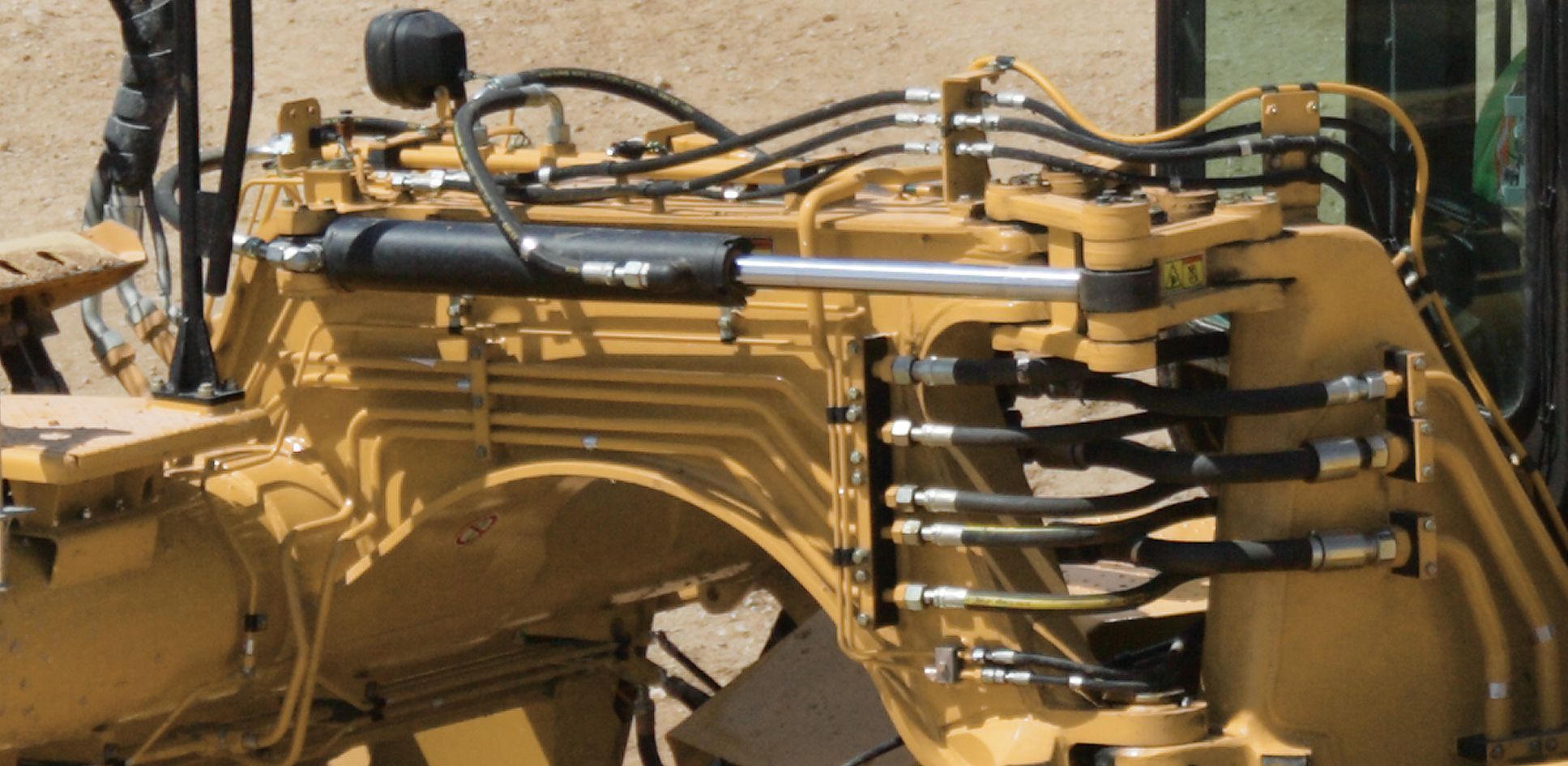 The 5080's powerful engine and state-of-the-art hydraulics are managed by the Caterpillar Electronic Power Control System.
Meets Hydraulic Demands
The Caterpillar Power Control System meets all hydraulic demands quickly and smoothly, allowing the 5080 to convert up to 100% of the available engine and hydraulic output to maximize productivity and front shovel performance.
Productivity
When coupled with a Caterpillar direct-injection, 3406C (ATAAC) Engine the Electronic Power Control system makes the 5080 a truly productive and fuel-efficient front shovel.
Electronic Control and Monitor Panel
Electronic Control and Monitor Panel is easy to use and located at the operator's fingertips for push-button control.
Diagnostic and Alert Functions
Primarily intended for service technicians it provides a swift electronic scan of the Electronic Power Control System form trouble-shooting to testing.
Back-up Systems
Two switches in the cab can be easily activated in the unlikely event of an electronic malfunction.
Power Mode Selector
Power Mode Selector gives the operator a choice of three Power Modes at the touch of a button, for optimum engine and hydraulic power.
Automatic Engine Control
The Electronic Power Control System incorporates an AEC (Automatic Engine Control) with convenient one-touch command.
Hydraulics
Advanced hydraulic system proportions oil flow to joystick movement, for smooth, predictable implement control and high productivity.
Unique Hydraulic System
The 5080 features the new Caterpillar Proportional Priority Pressure Compensated (PPPC) hydraulic system. It offers three distinct benefits.
Hydraulic Cylinder Snubbers
Hydraulic cylinder snubbers cushion shocks at the ends of cylinder stokes, reduce sound, and increase cylinder life.
Cat XT-5 Hose
Cat's XT-5 hose and O-ring face seal couplings provide the 5080 with positive sealing for reliable, leak-free connections. That meets the critical flexibility and strength demands of today's hardworking hydraulic system.
Front Shovel
Caterpillar Front Shovels are designed for fast cycle times and excellent productivity in rock loading and quarry type applications.
Parallelogram-type Front Linkage
The Cat 5080 Front Shovel features parallelogram-type front linkage with a master cylinder.
Boom and Stick
Caterpillar boom and stick are built for performance and ling service life.
Operator Station
Operator comfort significantly contributes to higher productivity. The Cat 5080 Front Shovel's cab has been carefully designed to enable operators to work productivity day after day.
Ergonomic Control Placement
This operator's raised workstation is quiet with ergonomic control placement, low lever and pedal effort, anatomic seat design, all-around visibility, and highly efficient air-conditioning.
Greater Control Convenience
Each of the controls is positioned within easy reach of the operator.
Electronic Control System Panel
In clear view is the Caterpillar Electronic Control System panel.
Joysticks Control Implements
Joysticks control implements and swing functions with minimal effort. The sliding joystick consoles adjust to each operator's preference.
Electronic Dial Throttle
Further ease for the operator, there is a new electronic dial throttle with 10 settings for simple precise engine speed adjustment.
Hand/Foot Actuated Controls
Hand or foot actuated travel controls so you can move the excavator while working.
Hydraulic Activation Control Lever
Hydraulic activation control lever deactivates hydraulic functions and prevents start-up.
Visibility
Whatever the task the operator will benefit from all-around visibility through non-reflecting windscreens and large wide window.
Door and Side/Rear Panels
Door and side/rear panels are all insulated for sound suppression, keeping sound to a minimum.
Seat
The deluxe fully adjustable Cat suspension seat includes an impressive range of comfort features.
Ventilation System
Whatever the weather, the operator is able to enjoy the benefits of a first class ventilation system.
Comfort
The operator's compartment is always quiet and comfortable and combines to help make the operator feel as fresh and productive at the end of a shift as at the beginning.
Durable Components and Structures
Cat 5080 Front Shovel structures are built rugged to withstand the toughest working conditions.
Design
The 5080 carbody is a heavy-duty "H" shaped design. Cat undercarriage components are purposely oversized to offer true heavy-duty performance and durability, even in the hardest working conditions.
Twin Swing Motors
Twin swing motors provide excellent swing acceleration and long life. The use of two motors allows a smooth transition of force to the swing gear and enhances swing gear life.
Undercarriage
Caterpillar's worldwide reputation is built on the solid construction of its chassis and undercarriages. The 5080 is no exception.
Mobile, Stable Undercarriage
Highly mobile, stable undercarriage.Unique design specifically for high impact Front Shovel and Excavator applications.
Turning Capability
Undercarriage offers maximum turning capability when equipped with narrow shoes.
Caterpillar Sealed Track
Caterpillar Sealed Track has the choice of two shoe sizes, for maximum versatility.
Final Drives
Triple-reduction, planetary final drives distribute loads over multiple teeth for excellent durability.
Axial-Piston Track Motors
Independent, two-speed, axial-piston track motors deliver smooth power to tracks, yet allow counter-rotation for spot turns and maneuvering in tight quarters.
Travel Motors, Brakes and Final Drives
Travel motors, brakes and final drives are integrated within the track roller frames for protection against contact damage from rock.
Brakes
Oil-disc brakes on final drive input shafts hold machine steady during the work cycle.
Track Roller Frames
Thick steel plate and robotic welding provide exceptional strength and service life.
Cat 3406C ATAAC Engine
The power you need with excellent response and efficiency.
Power Plant
Like all Cat engines, the 3406C ATAAC Engine is designed for reliability, durability, extended life. Easy maintenance helps ensure maximum uptime.
Efficiency
The 3406C incorporates our latest advances in engine technology such as air-to-air aftercooling for improved performance and efficiency, leading to longer life. A direct-injection fuel system delivers excellent response and maximum fuel efficiency.
Automatic Engine Control
Automatic Engine Control (AEC) regulates engine speed when implement and travel controls are not activated, or when the one touch command button is used. AEC conserves fuel and also reduces noise.