The new Cat 554 Forwarder is uniquely designed to provide increased productivity in a variety of tough forestry applications, from first thinning to final felling.
Caterpillar 554 Forwarders
Caterpillar has set the trend for durability over the last 75 years and has a reputation for manufacturing products that withstand the test of time.
Reliability
Caterpillar has been in the forestry business for generations and has a full understanding of forestry applications.
Investment
Today's logger must consider many different criteria before investing in a forwarder.
Flexible
Caterpillar offers two models of forwarders which are designed and built to handle a wide variety of forestry applications.
Proven Components
The 554 Forwarders are built with proven components and are field-tested to ensure the highest level of reliability over the life of the machine.
Front Powered Bogie Lift
By utilizing the front powered bogie lift and eight-wheel drive transmission, the operator can maneuver the machine in the tightest of thinning areas.
Hydraulic Flow
The 554 Forwarders provide the necessary hydraulic flow, tractive mobility and power to load logs on steep slopes and unfavorable terrain, giving the customer the ability to drive an efficient and productive loading operation.
Variety of Application Use
Caterpillar Forwarders can be used in a wide variety of applications, from first thinning to final felling. These forwarders provide the versatility, durability and reliability today's logger needs to effectively manage their cut-to-length operation.
Power Train
Caterpillar 554 Forwarders deliver cost effective power for hauling wood to the roadside.
Flywheel Power
The Caterpillar 554 is powered by the 91 kW (122 hp) Caterpillar 3054 DITA Engine.
Pistons
Three-ring pistons are made of lightweight, silicon/aluminum alloy for strength and maximum thermal conductivity.
Crankshaft
Crankshaft is chrome/molybdenum-steel forged with tuffride hardened journals for long-term durability.
Cylinder Block
Cylinder block is high-strength cast iron alloy of deep-skirt, monobloc design for increased strength and extended life.
Fuel System
Direct-injection fuel system provides accurate fuel deliver.
Air Cleaner
Two-stage air cleaner improves viewing by eliminating hood-mounted precleaner.
Thermal Starting Aid System
Thermal staring aid system for efficient cold weather starting is standard.
Exhaust Valves
Exhaust valves are heat-resistant, silicone-chrome steel intake and stellite-faced to help extend engine life.
Environmental Safety Standards
Caterpillar understands the importance of environmental safety standards.
Operator Station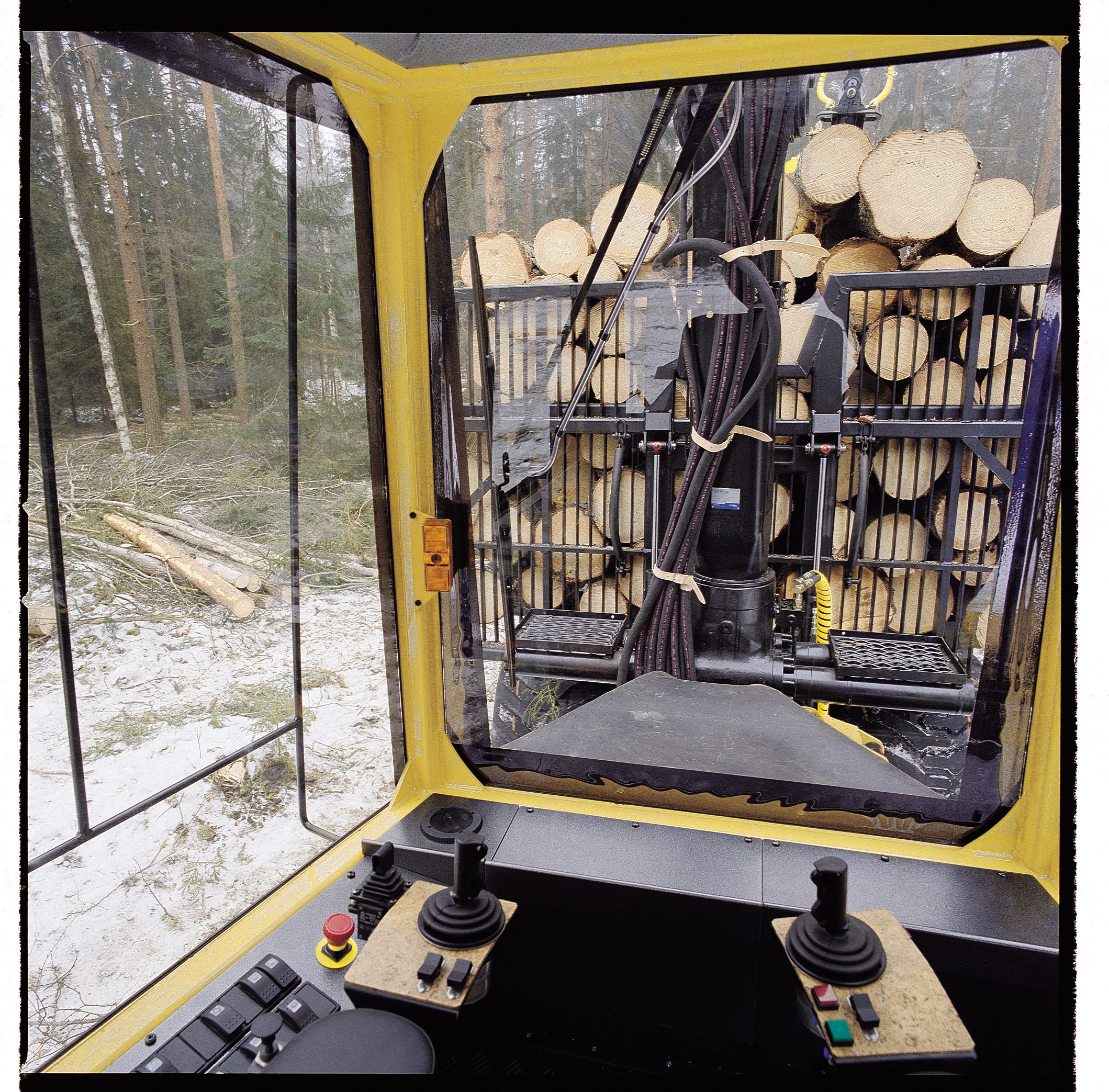 Designed for comfort and ease of operation while working in demanding forestry conditions.
Operator Environment
Operator environment is designed for safety, comfort, and ease of operation and control.
Mini Control Levers
Mini Control Levers are used to operate the knuckleboom loader and are engineered to give the operator finger tip control.
Viewing Area
Excellent viewing area allows the operator maximum vision to site out the most productive path possible and gives the operator a full peripheral view of the forest area, thus improving loading times and increasing productivity.
Controls
Easy-to-reach controls reduce unnecessary movement by the operator during driving and loading functions.
Digital Monitoring System
A digital monitoring system monitors critical machine systems and alerts the operator to systems status that could harm the machine.
Window Wipers
Front/rear and optional side window wipers help maintain clear viewing in adverse weather conditions, eliminating potential safety risks and improving overall cycle times.
Operator Ergonomics
Operator ergonomics are improved through an eight-way adjustable armrests.
Cab
Cab is ROPS/FOPS/OPS certified.
Transmission and Suspension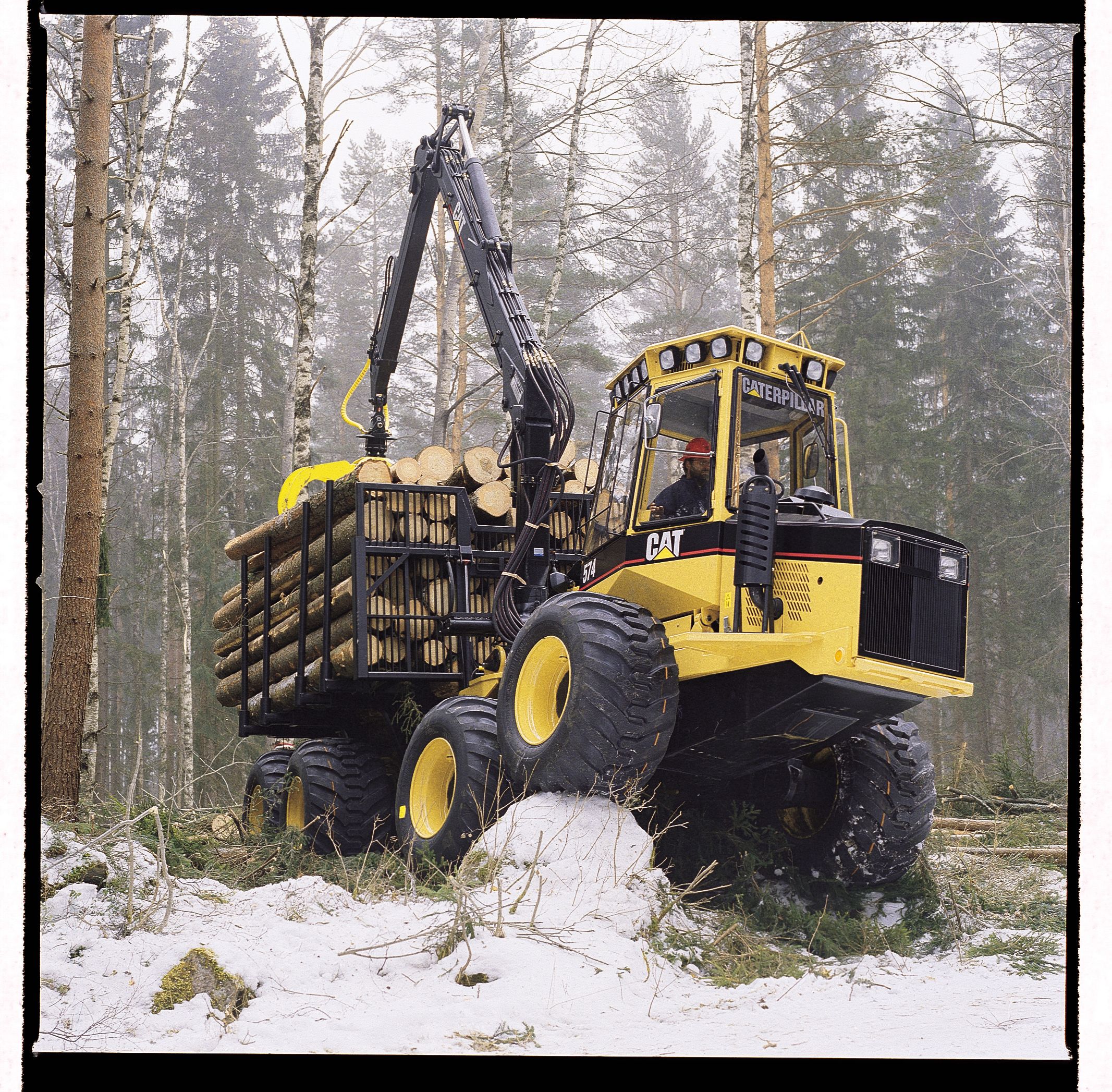 Caterpillar Forwarders deliver the versatility and tractive ability needed for demanding forestry applications.
Hydrostatic Circuit
The 554 Forwarder features a hydrostatic circuit and a 2-speed power shift transmission that provides power to all eight wheels.
Front Bogie Lift
A powered front bogie lift is optional on the 554. This feature on Caterpillar Forwarders enables the machine to achieve maximum tractive ability in poor underfoot conditions.
Hydraulic Cylinder
Each bogie is controlled by a separate hydraulic cylinder for individual movement on each side of the forwarder. The operator has the ability to climb over high stumps or rocks, as well as traveling through deep snow or extremely wet conditions.
Forwarder Applications
Caterpillar Forwarders decrease overall cycle times while providing low fuel consumption levels and minimal ground disturbance.
Tractive Force
Caterpillar Forwarders utilize a hydrostatic/mechanical transmission to achieve high tractive force in tough underfoot conditions.
Payload
The 554 Forwarder incorporates a 10 metric ton payload.
Serviceability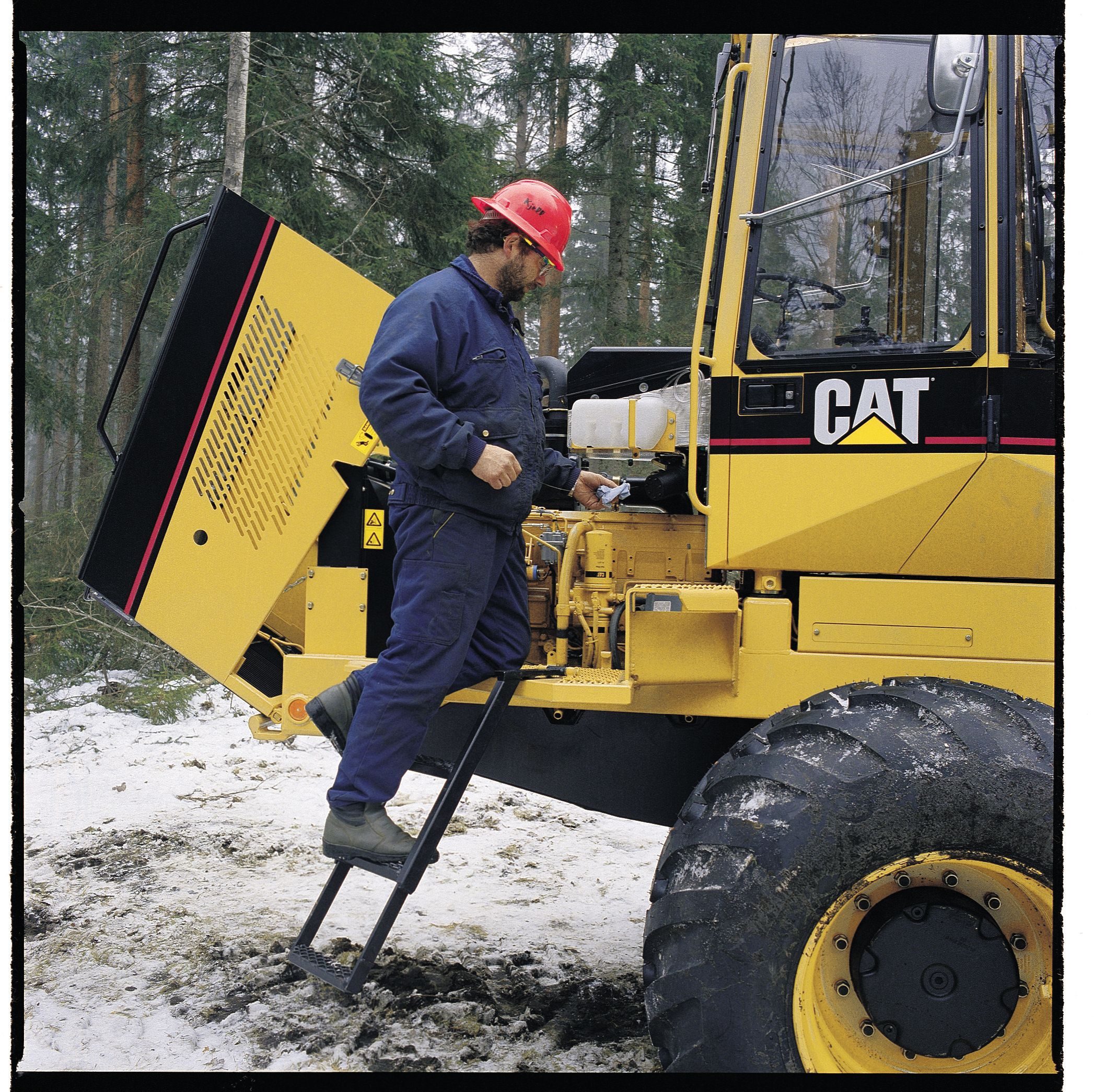 Ease of serviceability means less downtime, which translates to more working time.
Built-in Service Ease
Major components are made as modules. Most components can be removed without disturbing or removing others.
Ground-Level Access
Ground-level access provides convenient servicing to most filters and lube points.
Pre-Cleaner
Centrifugal pre-cleaner removes large debris before it reaches the internal air cleaner to provide significant engine protection.
Oil Filters
Spin-on fuel and engine oil filters provide simplified service.
Pressure Taps
Pressure taps are conveniently located to provide easy access to hydraulic system pressures.
Electrical System
24-volt electrical system delivers increased electrical power for lights, engine cranking and engine diagnostics.
Customer Support
Cat Dealers offer a wide range of services that can be set up under a customer support agreement when purchasing equipment.
Selection
Make detailed comparisons of the machines being considered before you buy. What are the job requirements? What production is needed? What is the truce cost of lost production? Cat Dealers can provide precise answers to these questions.
Operation
Improving operating techniques can boost profits.
Maintenance
What is the cost of preventative maintenance? More and more equipment buyers are planning for effective maintenance before buying equipment.
Diagnostic Programs
Diagnostic programs and technical analysis help avoid unscheduled repairs.
Replacement
Repair, rebuild or replace? Cat Dealers can help evaluate the cost involved so the right choice will be made.
Products Support
Nearly all Cat parts can be located at the dealer parts counter.
Factory Remanufactured Parts
A large choice of factory remanufactured parts and dealer proposed repair options increase machine availability and reduce total repair costs.