5230B Front Shovel/Mass Excavator
Developed specifically for high production mining applications, the 5230B Front Shovel/Mass Excavator is designed to maximize your productivity. It's a perfect match for the 785B, but also works productively with the 789B and 793C. Designed and built to meet the durability and reliability expectations of Cat customers, this machine delivers dependability. Designed and built to meet the performance and reliability expectations of Caterpillar customers, the 5230B Front Shovel/Mass Excavator delivers the dependability you need to maximize your productivity. Engineered for high bucket fill factors and fast cycle times, this high performance loading tool is built to dig. Engineered from a tradition of strength and reliability, the rugged 5230B is built to last.
Product Details
Engine
| | |
| --- | --- |
| Engine Model | Cat 3516B EUI |
| Gross Power | 1232 kW |
| Net Power | 1156 kW |
| Net Power-Caterpillar | 1156 kW |
| Net Power-ISO 9249 | 1156 kW |
| Net Power-SAE J1349 | 1144 kW |
| Net Power-EEC 80/1269 | 1156 kW |
| Bore | 170 mm |
| Stroke | 190 mm |
| Displacement | 69 L |
Operating Specifications
| | |
| --- | --- |
| Operating Weight - Std. | 328100 kg |
| Bucket Capacity - Heavy Duty Rock | 16 m3 |
| Cat Truck Match | 785C, 789C, 793C |
| Maximum Digging Depth | 9.5 m |
| Maximum Reach at Ground Level | 17.2 m |
| Maximum Dump Height | 9.8 m |
| Bucket Breakout Force (SAE) | 855 kN |
| Stick Breakout Force (SAE) | 885 kN |
| Max Loading Height | 9.8 m |
Drive System
| | |
| --- | --- |
| Maximum Travel Speed - High | 2.5 km/h |
| Maximum Drawbar Pull | 1545 kN |
Service Refill Capacities
| | |
| --- | --- |
| Fuel Tank | 5330 L |
| Cooling System | 455 L |
| Engine Oil | 292 L |
| Swing Drive | 14 L |
| Final Drive (each) | 94 L |
| Hydraulic System (incl. tank) | 2200 L |
| Hydraulic Tank | 1574 L |
Hydraulic System - Implement/Travel
| | |
| --- | --- |
| Main Implement - Circuit | Closed center load sensing |
| Main Implement - Pump | Piston, Variable |
| Max Flow at 1915 rpm (1x) | 412 L/min |
| Relief Valve Setting - Implement - Std. | 31000 kPa |
| Relief Valve Setting - Travel | 35000 kPa |
| Number of Implement/Travel Pumps | 6 |
Hydraulic System - Swing
| | |
| --- | --- |
| Swing System - Circuit | Open center load sensing |
| Swing System - Pump | Piston, variable |
| Max Pump Flow at 1915 rpm | 464 L/min |
| Relief Valve Setting - Accelerating | 35000 kPa |
| Relief Valve Setting - Decelerating | 28000 kPa |
| Number of Swing Pumps | 2 |
Hydraulic System - Pilot
| | |
| --- | --- |
| Pilot System - Circuit | Open center |
| Pilot System - Pump | Gear |
| Max Pump Flow at 1915 rpm | 59 L/min |
| Relief Valve Setting - Controls | 4000 kPa |
| Relief Valve Setting - Track Tension | 7000 kPa |
| Number of Pilot Pumps | 1 |
Swing Mechanism
| | |
| --- | --- |
| Swing Torque | 1151 kN·m |
| Number of Swing Drives/Motors | 3 |
Undercarriage
| | |
| --- | --- |
| Track Width - Rock | 1100 mm |
| Track Width - General Purpose | 1300 mm |
| Track Width - Soft Underfoot | 1500 mm |
| Ground Pressure - Rock | 207 kPa |
| Ground Pressure - General Purpose | 176 kPa |
| Ground Pressure - Soft Underfoot | 153 kPa |
| Track Tensioning | Automatic |
Dimensions
| | |
| --- | --- |
| Overall Height | 7455 mm |
| Overall Width | 7510 mm |
| Overall Length - Std. | 10325 mm |
| Tail Swing Radius | 6450 mm |
| Upper Structure Width | 6960 mm |
| Cab Width | 1790 mm |
| Height to Top of Cab | 7620 mm |
| Height to Top of Counterweight | 5465 mm |
| Counterweight Height | 2850 mm |
| Counterweight Clearance | 2616 mm |
| Ground Clearance | 1108 mm |
| Track Length - Std. | 8174 mm |
| Track Length on Ground - Std. | 6260 mm |
| Track Gauge Width | 5196 mm |
| Width to Outside of Tracks | 6296 mm |
| Height to Top of Tracks | 2425 mm |
| Pivot to Counterweight | 6280 mm |
| Operator Sight Line Height | 6750 mm |
Standards
| | |
| --- | --- |
| Brakes - Swing | ISO/DIS 13677 |
| Brakes - Travel | ISO 10265 |
| Cab Vibration | EC 89/392EEC |
Operating Specifications - FS
| | |
| --- | --- |
| Operating Weight | 327000 kg |
| Bucket Capacity - Rock | 17 m3 |
| Cat Truck Match | 785C, 789C, 793C |
| Maximum Digging Depth | 3.8 m |
| Maximum Reach at Ground Level | 14.1 m |
| Maximum Loading Height | 5.5 m |
| Bucket Breakout Force | 10.4 kN |
| Stick Breakout Force | 1162 kN |
| Max Level Crowd Distance | 1145 m |
Hydraulics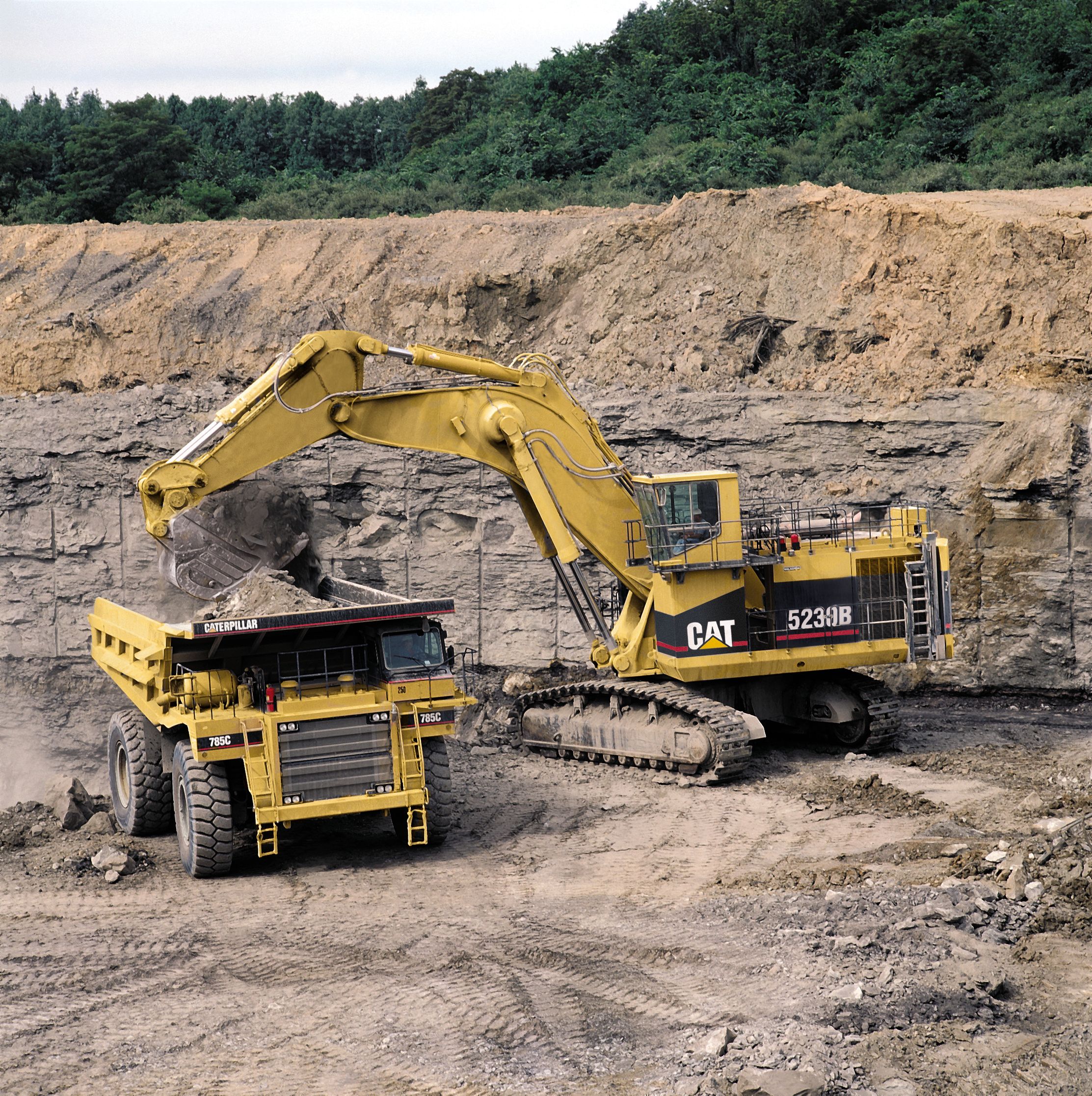 Fast and responsive Cat hydraulics deliver the power and control needed to keep material moving at high volume.
Caterpillar Hydraulics
Technologically advanced hydraulic system enables the 5230B to respond to operator controls with fast, predictable, smooth operation. Cat integrated hydraulic system draws maximum engine power for precise, full-powered hydraulic response and top productivity.
System Optimization
Fast Cycle Times
Efficient closed-center hydraulic system delivers quick lift and swing performance and control regardless of boom, stick or travel demand.
Cat PPPC System
The exclusive Cat Proportional Priority Pressure Compensating (PPPC) hydraulic system responds to multiple circuit demands for smooth, efficient operation and controllability. Automatic flow proportioning divides required flow to each function according to demand for precise, multitasking operation. Implements (boom, stick and bucket) work at a constant speed regardless of load and engine speed. When flow is required by more than one function at a time, PPPC valves deliver required flow to each function to maximize hydraulic efficiency.
Electronically Controlled Pumps
Cat designed electronic pump controller utilizes a microprocessor to regulate and match hydraulic output to engine power for maximum power efficiency. Pump controls prevent excessive engine lugging for optimum fuel efficiency.
Swing System
Two dedicated variable-displacement piston pumps power the swing function for quick, full-powered swing performance regardless of load. Intelligent, independent, open-center load sensing system delivers needed swing flow separate of boom, bucket or travel demand for high speed cycling performance while minimizing flow and power requirements.
Hydraulic System Protection
Advanced filtration system uses 10-micron reverse-flow hydraulic fluid filters in return and case drain lines, and 200-micron high-pressure screens in pump discharge lines for clean hydraulic operation and longer component life. Diagnostic system continually monitors screens and filters for restrictions.
Integrated Power Management
Caterpillar's exclusive power management system maintains optimum engine and pump performance while maximizing available swing power.
Power Train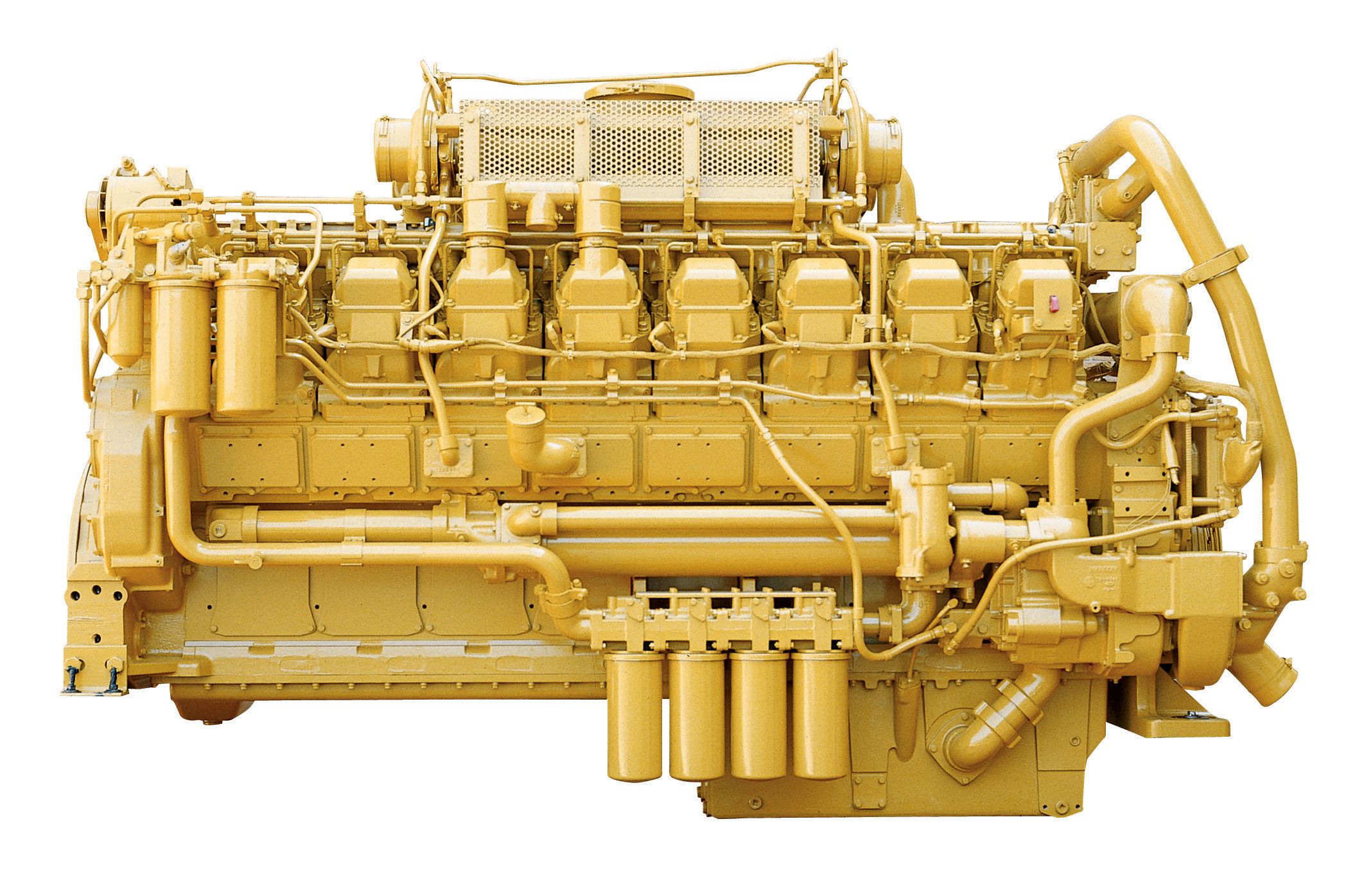 The 5230B single Cat engine provides an edge in fuel efficiency and operating costs.
Engine
Field proven Cat 3516B EUI engine delivers high power and reliability for peak performance in the world's most demanding mining applications.
Integrated Power System
Caterpillar electronic control system provides superior integration of engine and other machine systems for peak efficiency.
Electronic Unit Injection (EUI)
The electronically controlled, computer-actuated unit injection fuel system senses operating conditions and regulates fuel delivery for optimum fuel efficiency.
Starting System
Prelube
Engine Cooling
Dedicated engine cooling system has its own radiator and variable-speed fan for maximum cooling efficiency and lower fuel consumption.
Fuel System
Power Train Components
Advanced Engine Management
Advanced engine management software monitors, controls and protects the engine using self-diagnosing electronic sensors. System senses operating conditions and power requirements and adjusts engine to match.
Cold Weather Start Mode
Automatically retards timing until engine is warmed for reliable start-up and protection in extreme cold conditions.
Structures
Structural components are the backbone of the 5230B's durability.
Robust Design
The 5230B is designed with robust structural components for heavy-duty mining applications. Structures are designed and built to absorb high impact shock loads and twisting forces for superior durability, reliability and long life.
Heavy Duty Castings
Castings used extensively in high-load and transition areas ensure long-term structural durability.
Front end of swing frame
Counterweight mounts
Boom and stick pin mounts
Carbody
Final drive mounts
Box Section Construction
Rugged box-section design in key structures provide unsurpassed strength without the excess weight.
Booms
Sticks
Carbody
Track roller frames
Structural Durability
Front Structures
Thermally stress-relieved front structure components reduce residual stresses from the weld process for long structural life in the toughest loading conditions.
Swing Frame
Immense I-beam rails provide outstanding resistance to bending loads. Massive single boom foot castings transition swing frame loads. Transition plates reinforce side module mounting blocks to insure all swing frame structures have matched durability.
Carbody
Fabricated carbody with robust single-piece top and bottom plate construction adds strength and eliminates weld joints for maximum structural integrity and reliability. Internal baffles and large ring stiffen and support the swing bearing for unmatched durability. Inclined top plates reduce material build-up.
Swing Bearing
Large capacity triple roller swing bearing is mounted to machined surface on carbody to eliminate collar welds for exceptional structural strength and durability.
Track Roller Frames
Assembly
Multiple large dowels in track roller frame mounting surface allows easy field alignment of carbody to track roller frame and proven life.
Undercarriage
Durable, maintenance-free undercarriage absorbs stresses and provides excellent stability.
Stable Design
Proven Cat shovel-type undercarriage design and rugged structures ensure outstanding durability in extreme mining conditions.
Track Roller Frames
Durable Cat frames hold moving undercarriage components rigidly in place and absorb high force travel loads transmitted from carbody. Rugged design offers high resistance to shock and vibration. Castings in crucial areas provide superior structural strength. Box beam design with internal stiffening plates provide increased durability.
Track
Shoe, link and guides are a single-piece casting for longer life. Unique track design allows for a four sided guide system.
Automatic Track Tensioning
Hydraulically controlled track tensioning maintains constant tension for optimum traction and adjustment-free duty. Shock loads on the cylinders are absorbed by an accumulator for protection in extreme conditions.
Track Shoes
Multiple shoe widths allow shoes to be matched to the application and underfoot conditions.
Rock
General Purpose
Soft Underfoot
Guarded Components
Three-stage planetary final drives are mounted in a steel casting and recessed within the track width to reduce exposure to damage. Hydraulic lines are routed through carbody and guarded passages for protection and long service life.
Single-Piece Casting
Shoe, link and guides are a single-piece casting for longer life. Unique track design allows for a four sided guide system.
Track Pins and Bushings
Free-floating track pins with bushings are positively retained and designed for rebuild options through life of the link.
Operator's Station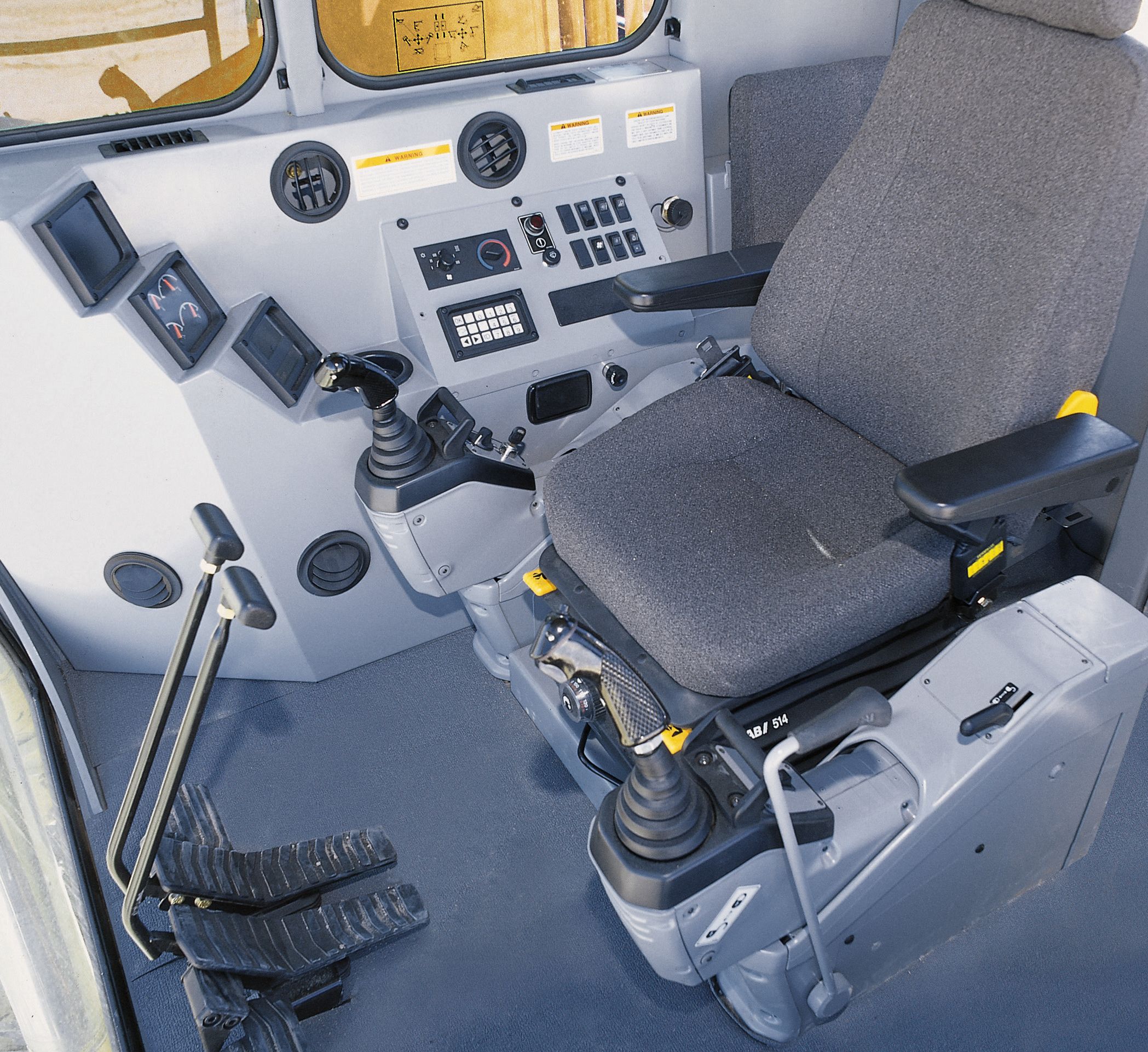 Designed for comfort, visibility and ease of operation for maximum productivity.
Spacious Cab
Roomy cab with ample leg room and convenience features keep the operator working at peak efficiency all shift long.
Visibility
Elevated cab with large, wide windows offers an exceptional, unobstructed view of the bucket and loading area for greater operator efficiency. Raised cab enhances operators line of sight into load target area for superior visibility and control.
Suspension Seat
Fully adjustable seat provides height and weight adjustments, lumbar support, wide arm/wrist rests and wide retractable seatbelt for operator comfort and security.
Joystick Controls
Easily accessible, low-effort pilot operated hydraulic controls provide sure, precise maneuvering for high productivity and fast cycle times. Joystick console is adjustable independently of seat for full operator comfort.
Hydraulic Actuation Lever
Manually applied actuation lever cuts off pilot pressure to controls and electrical power to prevent accidental operation when exiting the cab.
Trainer Seat
Full-size trainer seat located behind operator seat features a seatbelt for secure observation, and a cooler-size storage compartment below seat cushion for additional operator storage.
Cab Mounts
Cab and nearby components are isolation mounted to dampen sound and vibration. Enclosed cab has interior sound levels of 72 db(A) to reduce operator fatigue.
Climate Control
Air pressurized cab with positive filtered ventilation keeps operator environment clean and comfortable in all weather conditions. Adjustable heating/cooling vents throughout the cab provide total operator comfort.
Cab Controls
Travel and Joystick Controls
Automatic Engine Control
Monitoring System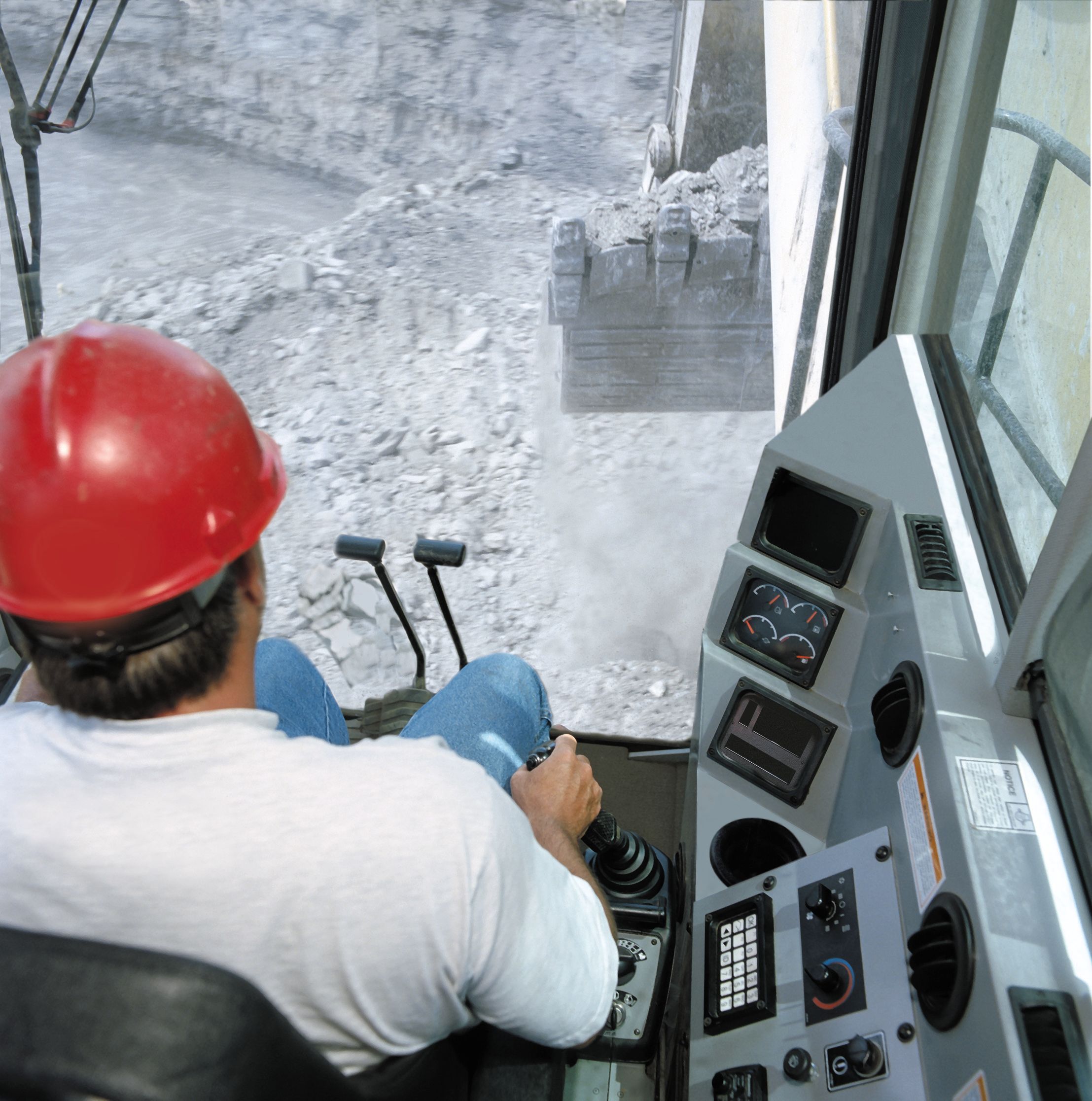 Vital machine health data keeps the 5230B performing at high production levels.
Vital Information Management System (VIMS)
Intelligent Caterpillar designed machine monitoring system provides critical machine health data in real-time to keep the 5230B performing at top production levels.
Gauge Cluster
Conveniently located gauge cluster maintains a constant display of vital machine functions, including:
engine coolant temperature
hydraulic oil temperature
system air pressure
fuel level
Message Center
Displays messages requested by operator and advises operator of abnormal machine conditions.
VIMS Keypad
Provides operator or service technician immediate access to current machine information, gauge values and stored data through message center display.
Alert System
Three-category warning system alerts operator of abnormal machine health conditions.
Advanced Diagnostics
VIMS simplifies troubleshooting, reduces downtime and lowers operating costs by identifying problems before they cause extensive damage.
Download and Report
Monitoring and diagnostic information is stored on-board until it can be downloaded onto a computer. VIMS software allows service technician or mine management to generate reports for better machine management, which can be used to improve effectiveness of scheduled maintenance programs, maximize component life, improve machine availability, and lower costs.
FS Cycle Time Tracking
Buckets and Ground Engaging Tools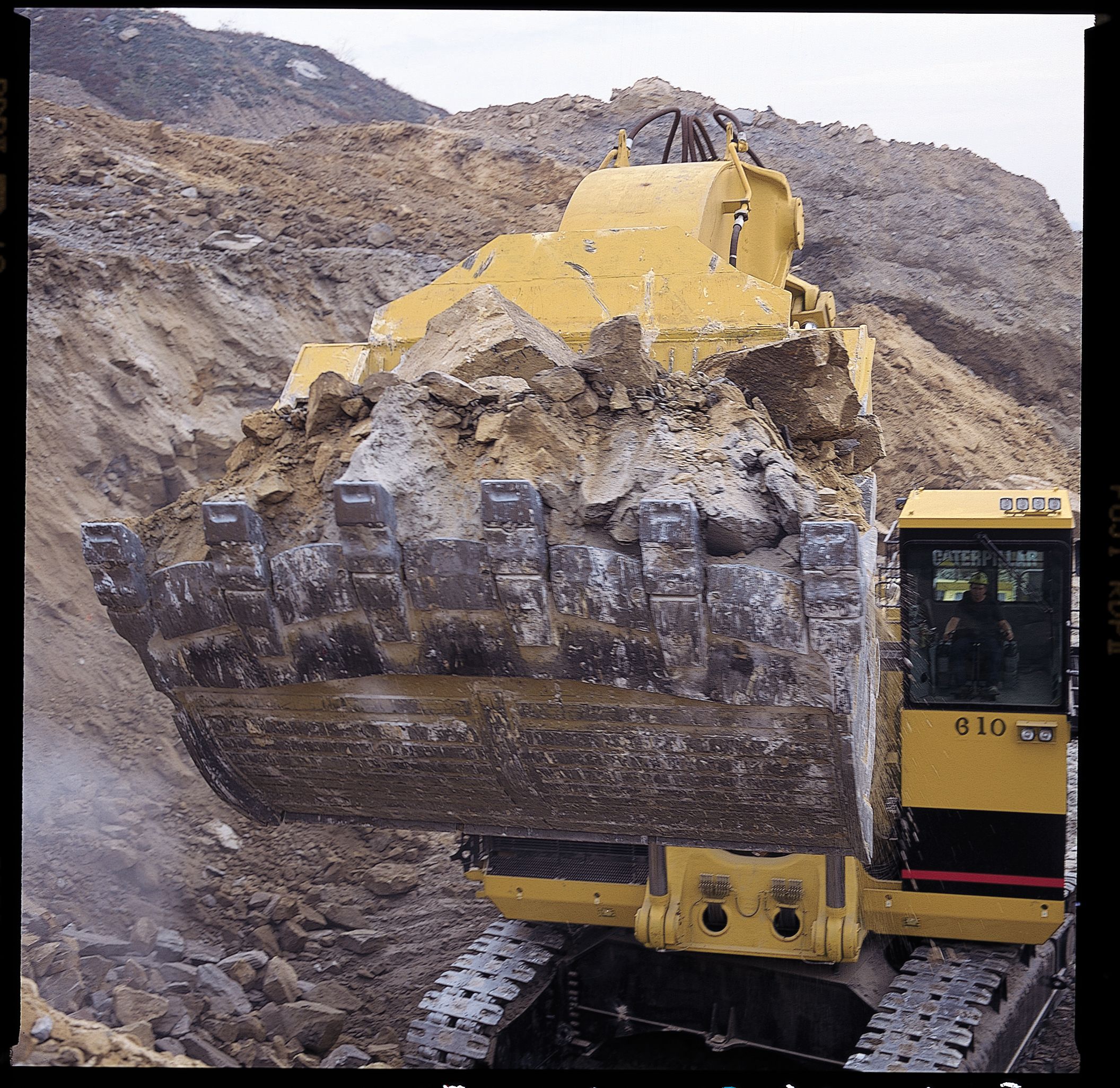 Aggressive bucket designs and efficient linkage geometry deliver superior bucket fill factors.
Rugged Design
Durable Cat buckets are designed for maximum operating efficiency, aggressive digging performance, and long service life.
High Productivity
High bucket fill factors set the 5230B Front Shovel and Mass Excavator apart from the competition. Aggressive Cat bucket design delivers unmatched productivity in demanding mining applications and extreme digging conditions.
Box Section Construction
Box-section construction in dozer portion of front shovel bucket provides added torsional strength in tough digging conditions.
Buckets and G.E.T Selection
A variety of front shovel and mass excavator buckets are available, ranging from rock/high density buckets to coal and light material buckets. Contact your Cat dealer for a precise match to your application.
High Density Buckets
Rock Buckets
Coal Buckets
Wear Protection
Corner and center adapters, cutting edges and sidebar protectors made of heat-treated steel deliver long life in high wear applications. Standard wear plates on back, sides and bottom reinforce front shovel bucket structures and reduce wear on back of bucket. Abrasion Resistant Material (ARM) extends life in high abrasion applications.
Serviceability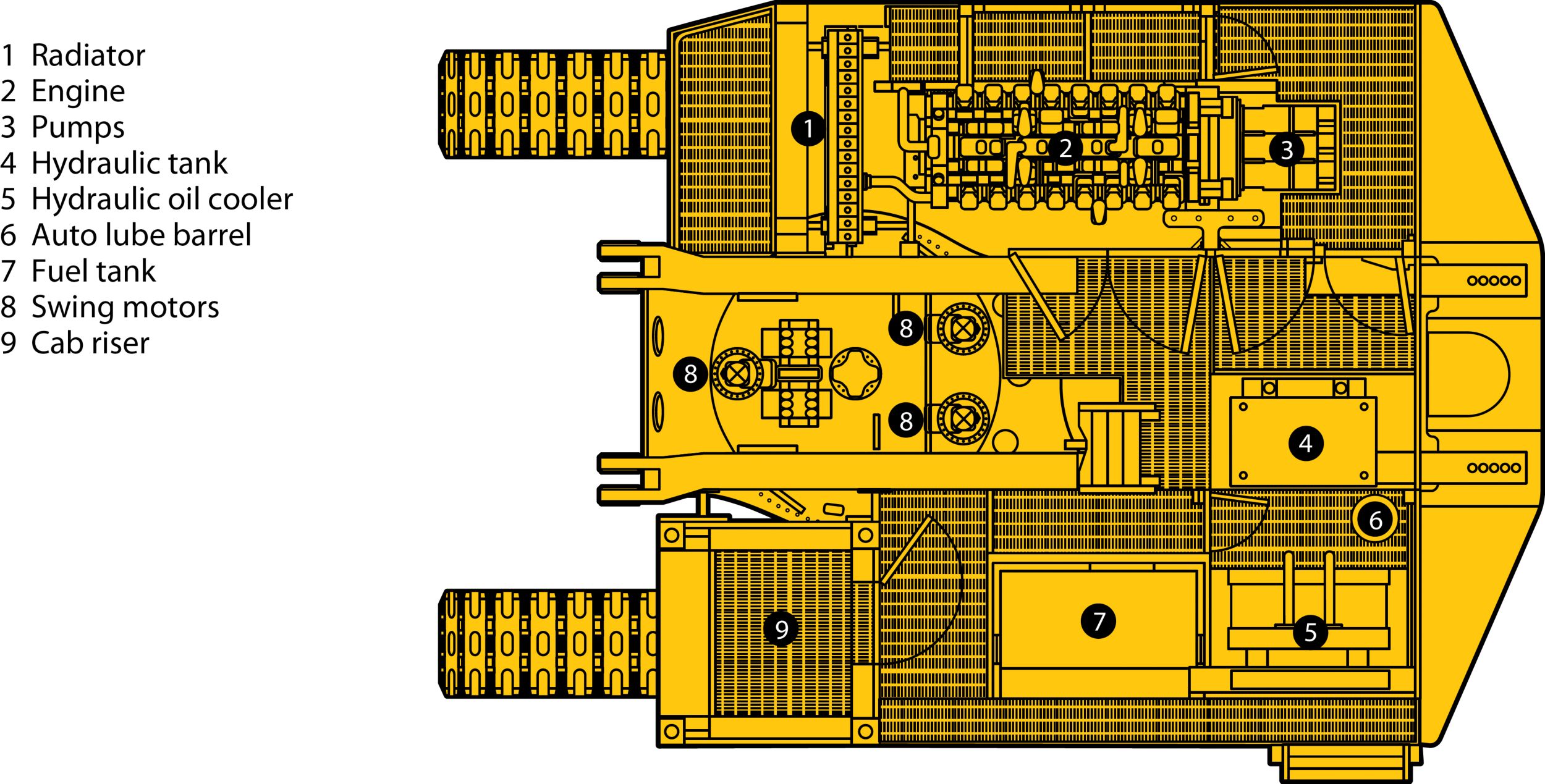 Simplified service and maintenance features minimize downtime for greater productivity.
Servicing Ease
The 5230B layout was designed with the service technician in mind. Simplified design makes regular maintenance procedures as quick and easy as possible. Easy access to daily service points ensures maintenance will be done, increasing machine availability and service life.
Service Platforms
Right and left-hand service platforms provide walkaround access to engine/hydraulic pump room, hydraulic tank/autolube reservoir room, battery compartment, and maintenance checkpoints for safe, easy servicing. Tread plates with anti-skid material and heavy-duty railings around platforms provide secure service access.
Cab Riser
Allows lighted, stand-up access to cab air filters, air conditioner, central electrical box, and hydraulic pilot lines for quick, easy servicing.
Cooler/Fluids Module
Lighted, stand-up service access and storage compartments are designed into the left side cooler/fluids module for easy access to daily fluid checkpoints. Two stacked hydraulic coolers are located away from the engine to maximize cooling capability.
Engine and Pump Room
Lighted, stand-up engine compartment and hydraulic pump room provide easy service access to engine and pumps. Large service doors provide ample room for inspection and servicing. A bulkhead with door separates engine room from hydraulic pumps for safer containment of hydraulic oils.
Hydraulic Tank and Auto Lube Reservoir Room
Lighted, stand-up compartment allows access to hydraulic tank fill, filters, and drain. Centralized hydraulic filters in sheltered, indoor location reduces exposure to contaminants.
Automatic Lubrication System
Pressure Test Points
Quick disconnect valves are conveniently located throughout the hydraulic system for easy pressure testing.
S•O•SSM Sampling Valves
Scheduled Oil Sampling valves for engine hydraulic and pump drive oil provide a fast, convenient means of obtaining uncontaminated fluid samples for improved analysis and reliability.
On-Board Diagnostic Systems
VIMS continuously checks all critical machine functions and components, and helps located faults quickly for faster repair. Electronic control system enables quick diagnosis of engine conditions and effective maintenance and repairs utilizing the Electronic Technician (ET) service tool.
Fuel Tank
Large fuel capacity allows operators to work approximately two 10-hour shifts without refueling.
Electrical System
Wiring
Lights
Lighted Access
Exterior service lighting for cab riser and upper side decks provide excellent visibility and lighted service access at night.
Modular Design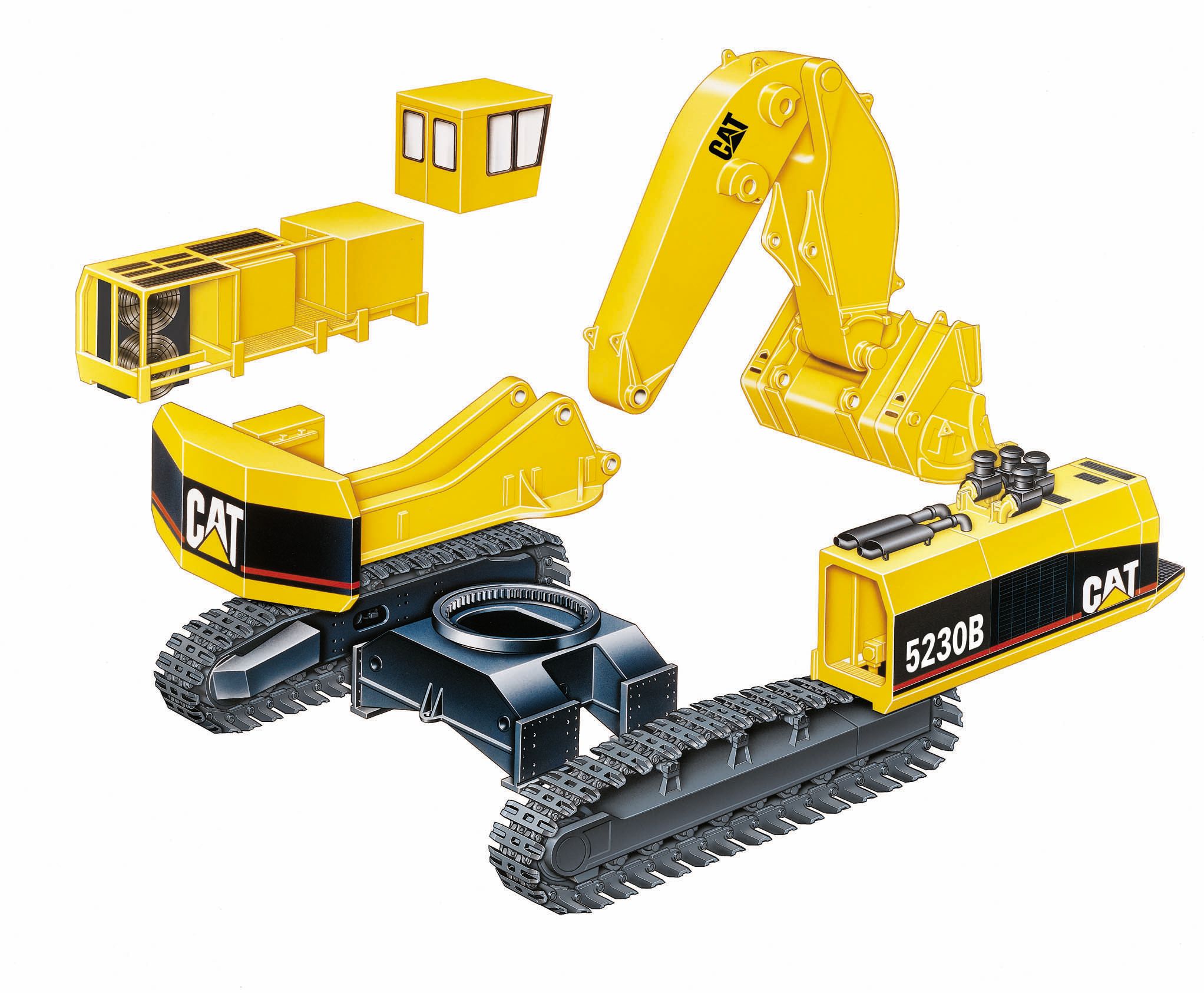 Unique modular design simplifies shipping, assembly and service access.
Stability
Superior machine stability through a lowered center of gravity is a direct result of the unique modular design. Left and right side modules are positioned low in relation to swing frame module. Longitudinal mounting of engine in right side module makes this stable, low positioning possible.
Shipping
Caterpillar modular design simplifies transportability of a machine this size. The 5230B breaks down into eleven modules for easy shipping from the factory to the mine site.
Service Access
Left and right side power and cooler/fluids modules provide roomy compartments with all-weather, lighted stand-up and walkaround service access, storage compartments and ample working space.
Durability
Unique modular construction creates a stronger, more durable machine through use of castings, shear ledges, dowels, and unique swing bearing design. Extended mounting pads on the swing frame provides a more secure connection of the counterweight to the upper structure for maximum structural strength and durability.
Competitive Advantage
Customer Support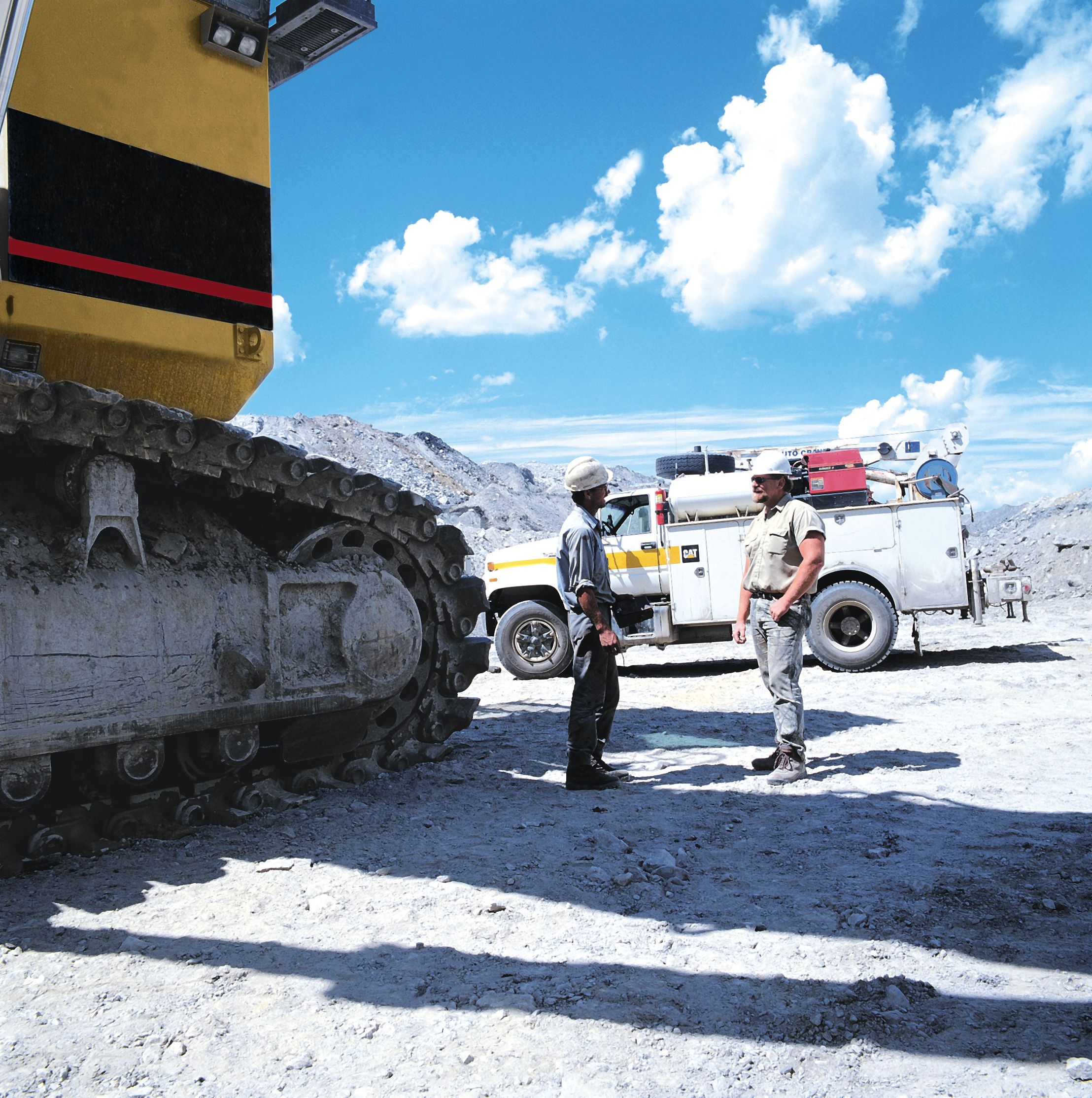 Caterpillar dealers have what it takes to keep mining machines productive.
Machine Selection
Make detailed comparisons of the machines under consideration before purchase. Cat dealers can estimate component life, preventive maintenance cost, and the true cost of lost production.
Purchase
Look past initial price. Consider the financing options available, as well as day-to-day operating costs. This is also the time to look at dealer services that can be included in the cost of the machine to lower equipment owning and operating costs over the long run.
Financing
Your dealer is expert at arranging affordable financing options for all Caterpillar products.
Customer Support Agreements
Cat dealers offer a variety of product support agreements, and work with customers to develop a plan that meets specific needs. Plans can cover the entire machine, including attachments, to help protect your investments.
Product Support
You will find nearly all parts at your dealer parts counter. Cat dealers use a worldwide computer network to locate in-stock parts to minimize machine downtime. Save money with Cat Reman parts. Receive the same warranty and reliability as new products at a savings of 40 to 70 percent.
Operation
Improving operating techniques can boost your profits. Your Cat dealer has training videotapes, literature and other ideas to help you increase productivity.
Replacement
Repair, rebuild or replace? Your Cat dealer can help you evaluate the cost involved so you can make the right choice.
Technology Products
Cat dealers offer a range of advanced mining technology products for customers, dealers and operators designed to improve efficiency, increase productivity and lower costs.
www.CAT.com
For more complete information on Cat products, dealer services, and industry solutions, visit us on the web at www.CAT.com.
Safety
CE Compliant
SAE / ISO Standards
Lighted Access
Exterior service lighting for cab riser and upper side decks provide excellent visibility and lighted service access at night.
Walkways
Ladder
Secondary Egress
Engine Shut Off Switches
Hydraulic Activation Control Lever
Cab
Alert System
Electrical System Disconnect
Bulk Head
Non-Pressurized Hydraulic Tank
Travel Alarm
Swing and Travel Brakes
Action Alarm
Air conditioner/heater/defroster system
Air cleaner, dry type, with precleaner
Alarm, travel
Alternator, 105 amp
Automatic Engine Speed Control
Automatic lubrication system

Air powered, Lincoln, 379 L (100 gal) capacity

Air powered, Lincoln, 379 L (100 gal) capacity
Cab, resiliently mounted, sound suppressed and pressurized
Cat Underspeed Control
Engine, Cat 3516B EUI Diesel
Engine oil quick change system
Fuel tank, fast refill system
Lights, halogen, ladder (4)

FS working (15)
ME working (17)

FS working (15)
ME working (17)
Locks, door and cap, one key system
Manual lube reel (ME only)
Mirrors, rearview, left on cab
Refillable lube barrel
Seat belt, retractable
Starting, Ingersoll air
Vital Information Management System (VIMS)
Window screens, front, rear, and side
Buckets - Front Shovel

Rock - 17.0 m3 (22.2 yd3)
Rock w/ A.R.M. - 17.0 m3 (22.2 yd3)
High Density Rock w/ A.R.M. - 15.0 m3 (19.6 yd3)

Rock - 17.0 m3 (22.2 yd3)
Rock w/ A.R.M. - 17.0 m3 (22.2 yd3)
High Density Rock w/ A.R.M. - 15.0 m3 (19.6 yd3)
Buckets - Mass Excavator

Rock - 16.0 m3 (21.0 yd3)
Light Material - 18.0 m3 (23.5 yd3)
Coal - 27.6 m3 (36.0 yd3)

Central service center, Wiggins
Cold weather starting options
Engine prelube
Generator, hydraulically driven 12.5 kVA (240V)
Ground Engaging Tools

General purpose rock tips with coupler
Short rock tips with coupler
One-piece penetration tips
Edge protectors
Sidebar protectors

General purpose rock tips with coupler
Short rock tips with coupler
One-piece penetration tips
Edge protectors
Sidebar protectors
Machine Configurations

Front Shovel arrangement
Mass Excavator arrangement

Front Shovel arrangement
Mass Excavator arrangement
Seat, KAB, operator
TDI Air start Turbine
Track shoes

Rock - 1100 mm (43 in)
General Purpose - 1300 mm (52 in)
Soft Underfoot - 1500 mm (60 in)

Windshield guard, front