5130B ME Mass Excavator
The 5130B Mass Excavator is a high production loading tool for use in mining and large project excavation work. Its sophisticated electronics, stress resistance modular components and powerful hydraulic systems makes it a very quick, responsive excavating tool.
Product Details
Engine
| | |
| --- | --- |
| Engine Model | 3508B EUI |
| Gross Power | 641 kW |
| Net Power | 597 kW |
| Bore | 170 mm |
| Stroke | 190 mm |
| Displacement | 34.5 L |
Operating Specifications
| | |
| --- | --- |
| Operating Weight - Std. | 182000 kg |
| Bucket Capacity - Heavy Duty Rock | 10.5 m3 |
| Maximum Digging Depth | 8.4 m |
| Maximum Reach at Ground Level | 14.9 m |
| Maximum Dump Height | 9.1 m |
Drive System
| | |
| --- | --- |
| Maximum Travel Speed - High | 3.3 km/h |
| Maximum Drawbar Pull | 872 kN |
Service Refill Capacities
| | |
| --- | --- |
| Fuel Tank | 2600 L |
| Cooling System | 300 L |
| Engine Oil | 125 L |
| Swing Drive | 14 L |
| Final Drive (each) | 31 L |
| Hydraulic System (incl. tank) | 1800 L |
| Hydraulic Tank | 1225 L |
Hydraulic System - Implement/Travel
| | |
| --- | --- |
| Main Implement - Circuit | Closed Center |
| Main Implement - Pump | Piston |
| Max Flow at 1915 rpm (1x) | 375 L/min |
| Relief Valve Setting - Implement - Std. | 31000 kPa |
| Relief Valve Setting - Travel | 35000 kPa |
Hydraulic System - Swing
| | |
| --- | --- |
| Swing System - Circuit | Open Center |
| Swing System - Pump | Piston |
| Max Pump Flow at 1915 rpm | 450 L/min |
| Relief Valve Setting - Accelerating | 35000 kPa |
| Relief Valve Setting - Decelerating | 25000 kPa |
Hydraulic System - Pilot
| | |
| --- | --- |
| Pilot System - Circuit | Open Center |
| Pilot System - Pump | Gear |
| Max Pump Flow at 1915 rpm | 56 L/min |
| Relief Valve Setting - Controls | 4000 kPa |
| Relief Valve Setting - Track Tension | 7000 kPa |
Swing Mechanism
Undercarriage
| | |
| --- | --- |
| Track Width - Rock | 650 mm |
| Track Width - General Purpose | 800 mm |
| Track Width - Soft Underfoot | 1000 mm |
| Ground Pressure - Soft Underfoot | 145 kPa |
| Shoes Per Side - Std. | 48 |
| Rollers Per Side - Std. | 8 |
| Carrier Idlers | 2 |
Dimensions
| | |
| --- | --- |
| Overall Width | 6620 mm |
| Tail Swing Radius | 5250 mm |
| Upper Structure Width | 5000 mm |
| Height to Top of Cab | 6550 mm |
| Height to Top of Counterweight | 4395 mm |
| Ground Clearance | 960 mm |
| Track Length - Std. | 7270 mm |
Standards
| | |
| --- | --- |
| Brakes - Swing | Wet, multiple disc |
Hydraulics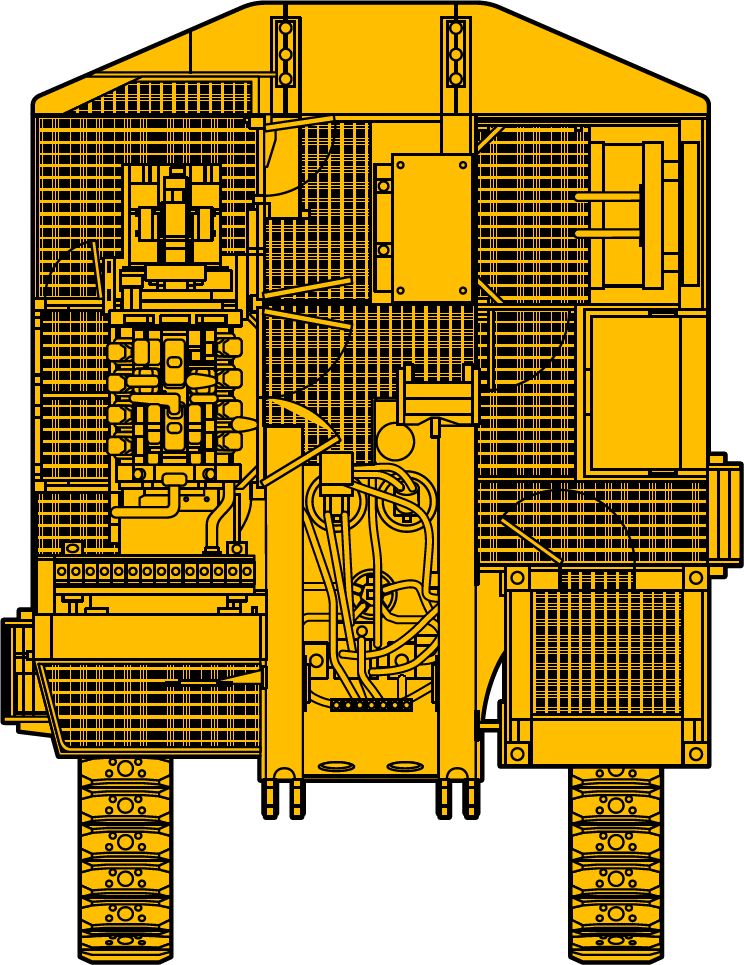 Caterpillar hydraulics deliver the power and control needed to keep material moving at high volume.
Breakout and Crowd Forces
The 5130B Mass Excavator provides maximum forces at the bucket cutting edge for improved material penetration and bucket fill factors.
Piston Pumps
Four variable-displacement piston pumps act together to power the front structure and travel systems.
Design
The modular design of the 5130B ME provides unique advantages in hydraulic system design and serviceability.
Hydraulic System Filtration
Hydraulic system filtration is provided by 200 micron screens in the pump discharge lines and 10 micron filters in the return lines and case drain line.
Valves
Exclusive Caterpillar Proportional Priority Pressure Compensating (PPPC) valves are used in both the front structure and travel systems.
Swing Circuit
The swing circuit is controlled by an open-center valve to assure quick, full-powered response.
Electronically Controlled Pumps
A Caterpillar designed microprocessor regulates hydraulic pump output.
Hydraulic System Cooling
Hydraulic system cooling is provided by a single, conventional core radiator dedicated to the hydraulic circuit.
Large-Bore Cylinders
Large-bore cylinders ensure efficient load handling.
Cat XT Hydraulic Hose
Cat's XT hydraulic hose is exceptionally strong and flexible. Reusable couplings prolong hose assembly life.
SOS Sampling
S.O.S sampling valves are conveniently located on the return rail on the right side of the hydraulic tank.
Power Train
The single engine of the 5130B ME provides an edge in operating costs and fuel efficiency.
Electronic Control System
The Caterpillar electronic control system provides superior integration of the engine and other machine systems.
Electronic Unit Injector
The 3508B Electronic Unit Injection (EUI) engine has many outstanding features.
Automatic Engine Speed Control (AESC)
Automatic Engine Speed Control (AESC) reduces fuel consumption and noise by reducing the engine speed from 1750 to 1350 rpm if the hydraulic controls are not actuated for four seconds.
Engine Cooling System
Engine cooling system reduces fuel consumption using a hydraulic driven variable-speed fan.
Increased Time Between Oil Changes
Increased time between oil changes, up 100 percent, from 250 hours to 500 hours between changes.
Cold Weather Starting
Cold weather starting can be improved with Elelctronic Unit Injector's cold weather starting mode.
Displacement
High displacement, low rpm rating and conservative hp ratings mean longer service hours with less downtime for maintenance and repair.
Piston Design
Two-piece piston design with aluminum skirt and steel crown pivot at the wrist pin provides added flexibility for reduced piston scuffing.
SOS Sampling Valve
S.O.S sampling valve located near oil filter base speeds sampling.
Structures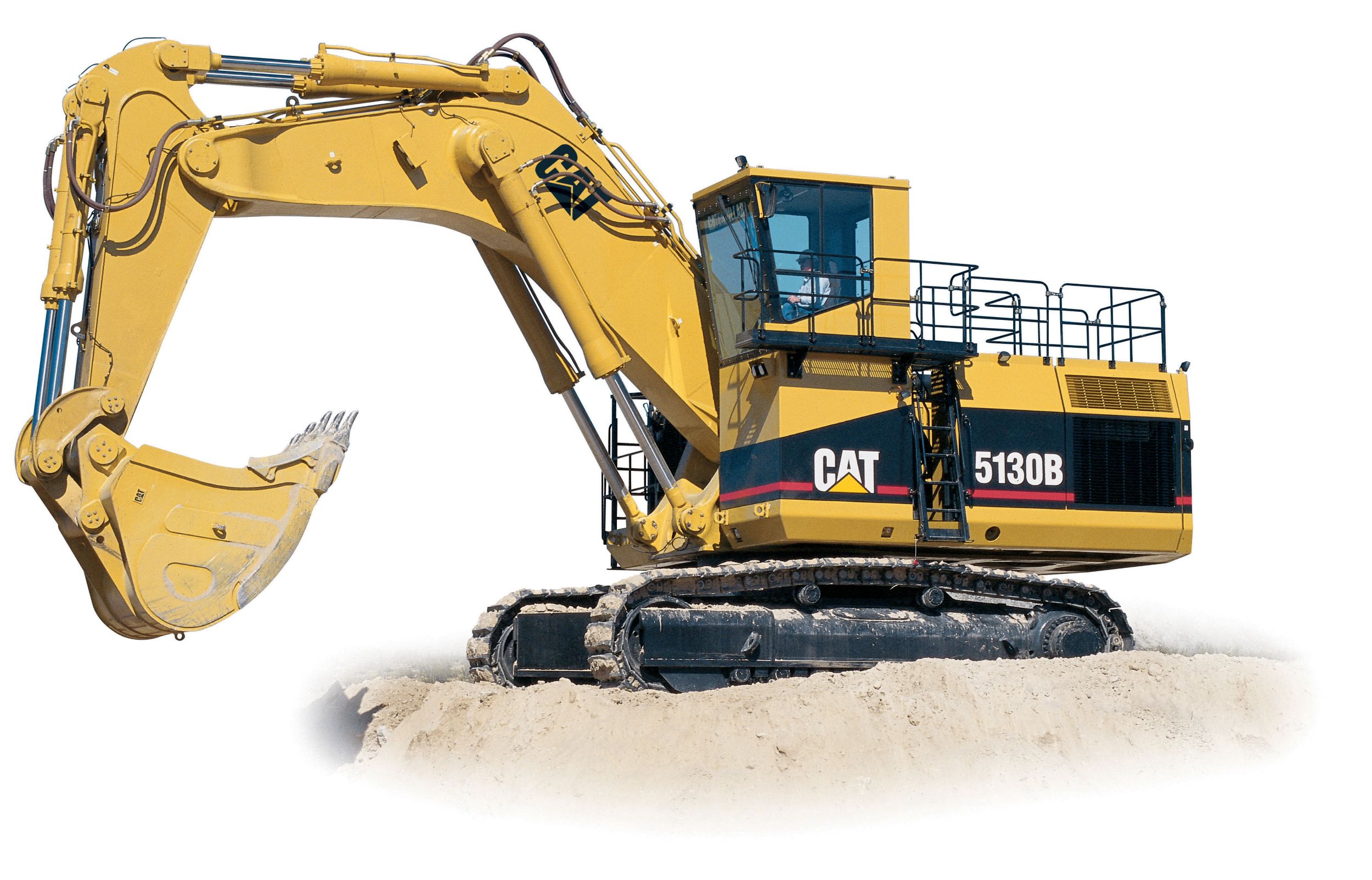 The 5130B ME structural components are the backbone of the machines durability.
Castings
Heavy-duty castings are used extensively in high-stress areas for excellent, long-term structural durability.
Casting Uses
Castings are used in the front end of the swing frame (a single, massive casting), counterweight mounts, all boom and stick pin mounts, carbody mounts and final drive mounts.
Box Section Construction
Rugged box section construction is used in key structures to provide unsurpassed strength while eliminating excess width. Box section construction is used in the booms, sticks, carbody and roller frames.
Digging Forces
High digging forces are a result of the efficient front linkage. Rod-ported bucket tilt cylinders eliminate external return lines, improving seal and rod life.
Floating Pins
One piece floating pins are used at swing frame to boom, boom to stick and stick to bucket joints for extra strength and life.
Front Structure Components
Front structure components are thermally stress relieved to reduce residual stresses from the welding process, increasing structure life.
Undercarriage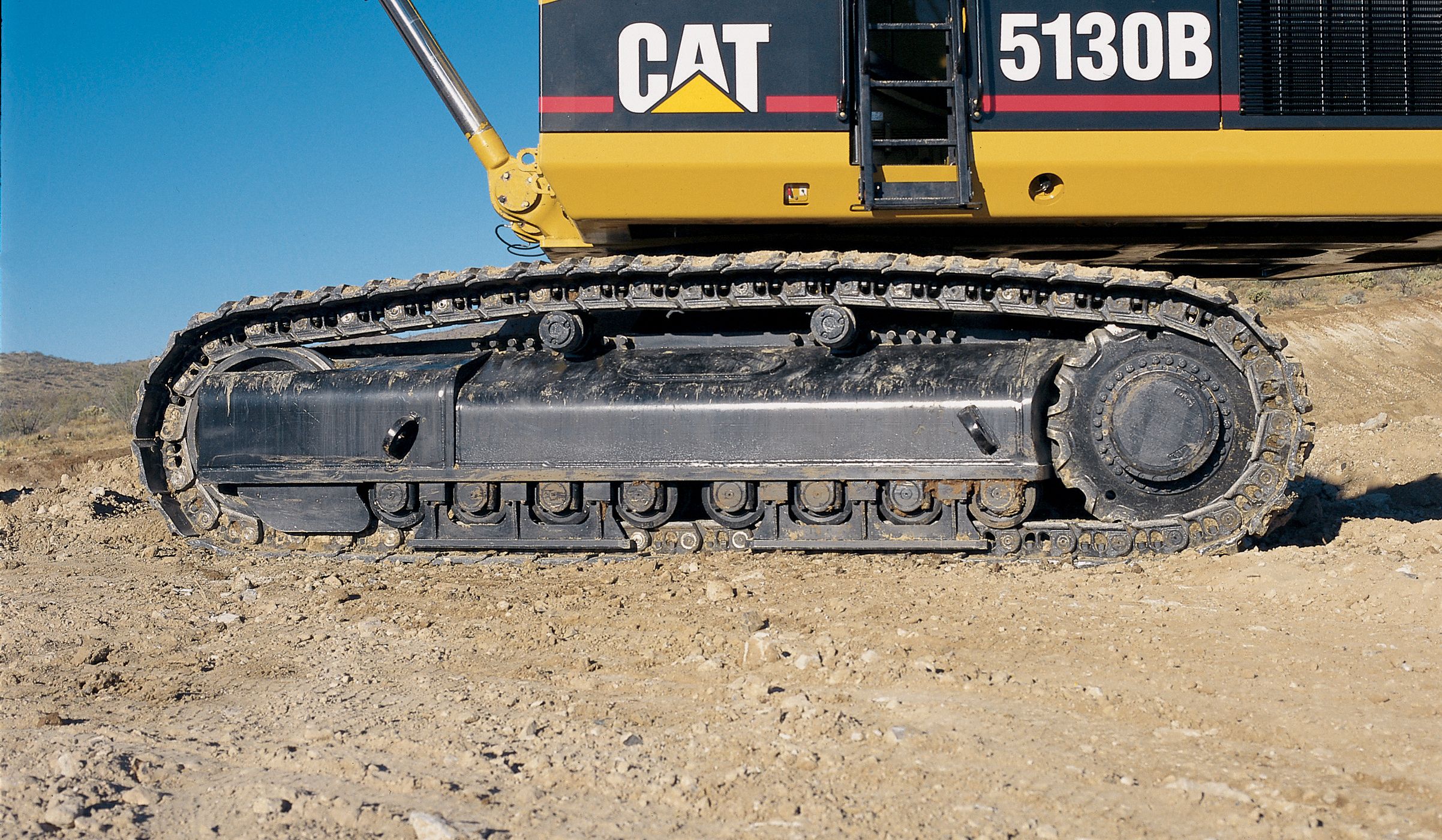 Durable, maintenance-free undercarriage absorbs stresses and provides excellent stability.
Track Gauge
A wide track gauge offers the stability needed for top production.
Moving Undercarriage
The moving undercarriage is a no-maintenance system that includes some of the same features found on the dependable D11-size track.
Track Roller Frames
Track roller frames hold moving undercarriage components rigidly in place. They also absorb stress loads transmitted from the carbody.
Track tensioning
Automatic track tensioning maintains the correct track tension.
Three Shoe Widths
Three shoe widths are available to match your application: rock, general purpose and soft underfoot.
Operator's Station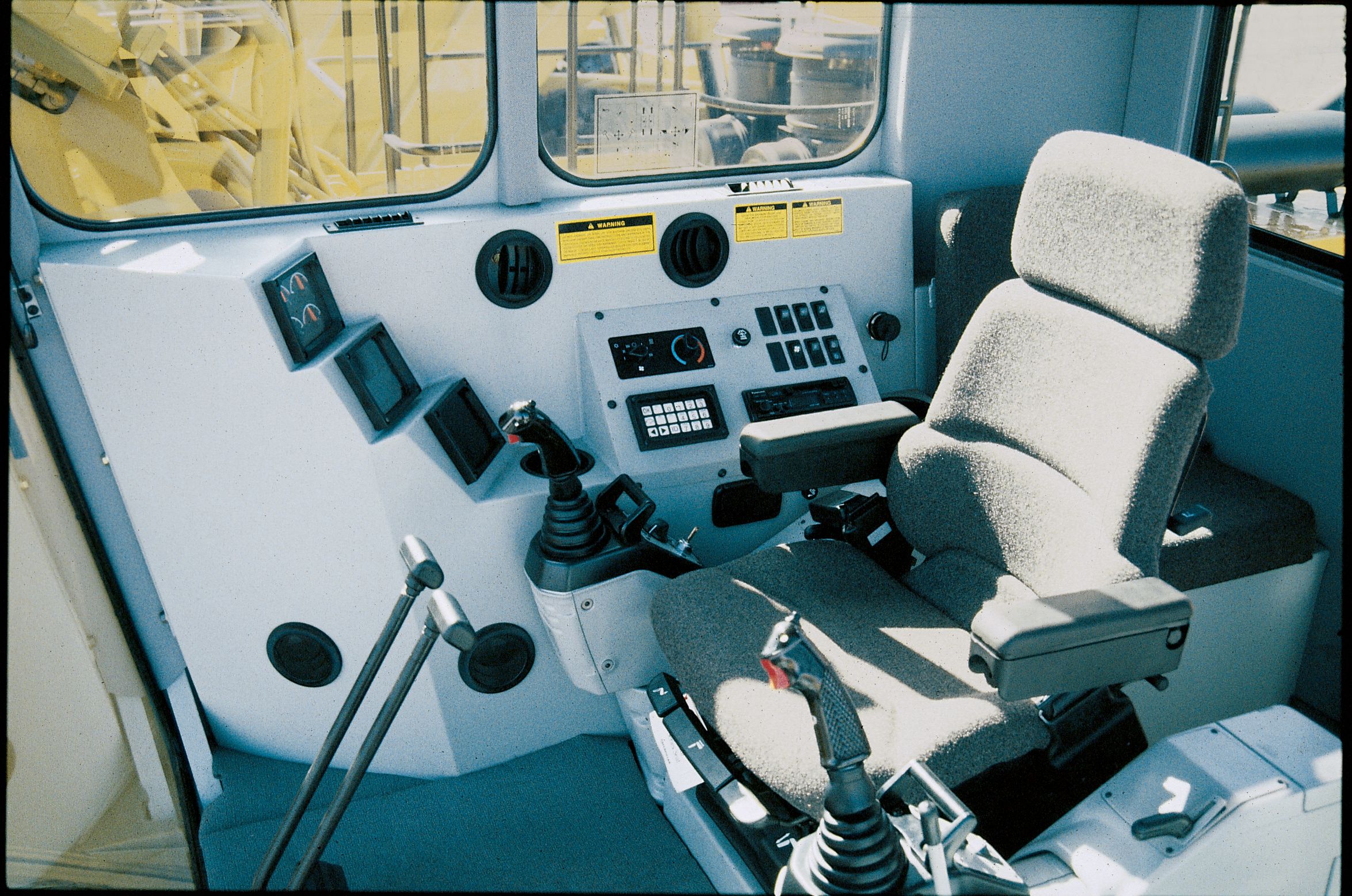 Designed for comfort and ease of operation.
Spacious Operator Compartments
Spacious operator compartments have exceptional, unobstructed view of the bucket and loading area.
Cab
Cab and nearby components are isolated to dampen sound and vibration.
Air Pressurization
Air pressurization with positive filtered ventilation keeps the cab environment comfortable and clean.
Seat
Contour series seat is fully adjustable for shift-long comfort.
KAB Seat
KAB seat is available as an option. The KAB seat has weight-compensated support, three-way seat cushion adjustment and the backrest is adjustable.
Vital Information Management System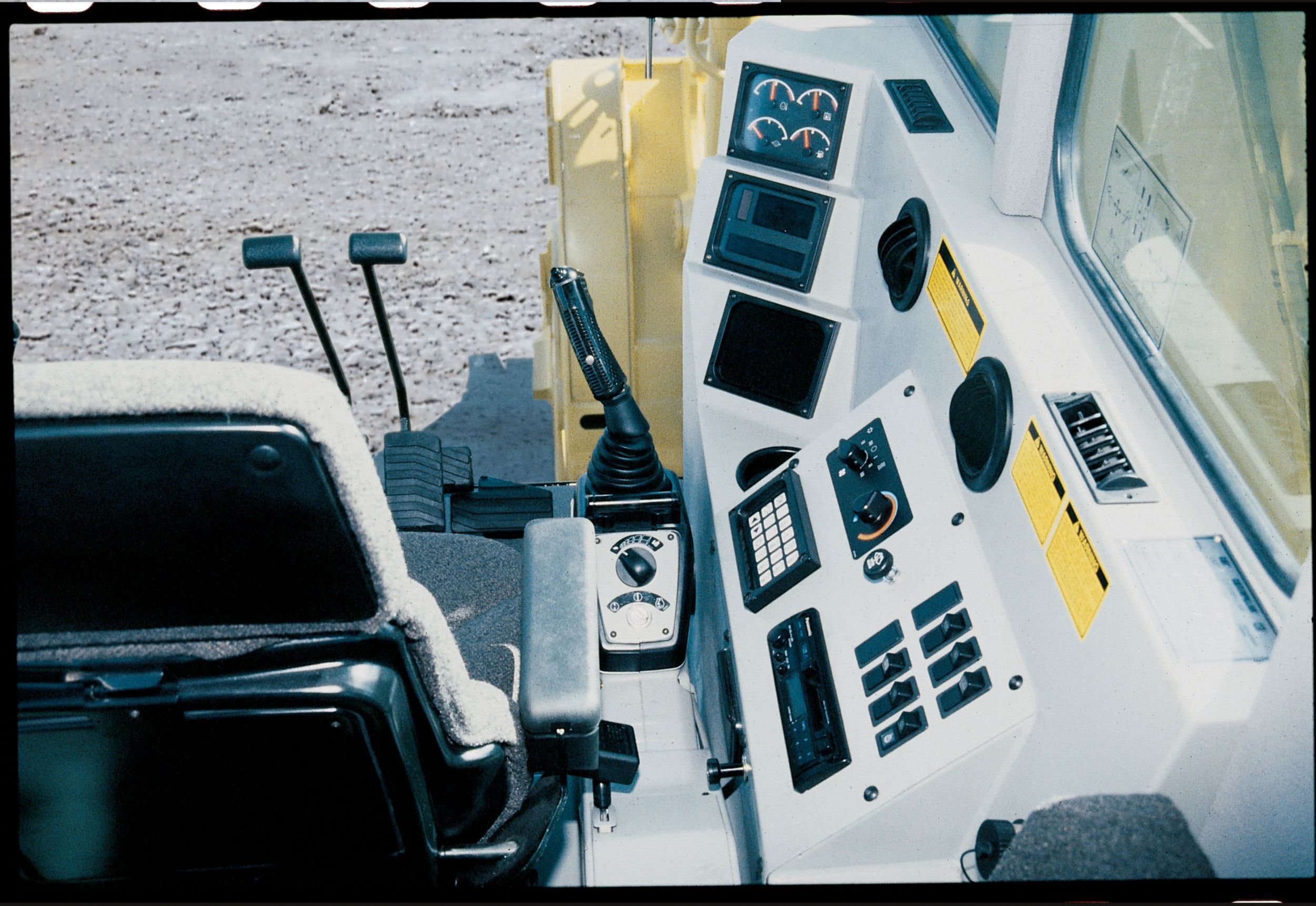 Provides operators, service technicians and managers with crucial operating data.
VIMS System
The Vital Information Management System continuously displays critical machine data.
Alert System
The three-category alert system provides advisory information to the operator when conditions in a monitored system exceed a prescribed setting for ordinary operations.
Diagnostic Program
The VIMS diagnostic program allows service personnel to download a complete record of machine data events and system diagnostics to a laptop computer.
Buckets and Ground Engaging Tools
Aggressive bucket design and efficient linkage configuration promote high bucket fill factors.
Fill Factors
High fill factors for the 5130B Mass Excavator set this machine apart from the competition.
Box-Section Construction
Box-section construction is utilized in the dozer portion of front shovel buckets to provide torsional strength when the bucket is closed for digging.
Steel Castings
Steel castings are used in high-stress areas such as the dozer hinges, bowl pivots, cylinder mounts and corner adapters.
Hardened Bearings
Hardened bearings improve the durability of the pivot and cylinder mounts in mass excavator buckets.
Wear Plates
Heat-treated steel is used to improve the service life of corner and center adapters, cutting edges and side bars which will be subjected to more abrasive conditions.
Bucket Tips
Bucket tips are top-pinned directly to the adapter for fast on-site replacement.
Variety
Several front shovel and backhoe buckets are available. Buckets range from rock/high density buckets to coal and light material buckets.
Modular Design
Provides a stable, productive machine that is easy to transport and service.
Shipping and Assembly
Machine breaks down into eight modules for ease of shipping.
Maintenance and Service Access
The right and left side modules provide excellent service access as well as storage and working space.
Right Module
Right module includes walk-around, lighted access to the engine, engine cooling system, batteries and hydraulic pumps.
Left Module
The left module includes a cab riser which allows stand-up access to hydraulic pilot lines and to the main junction box for electrical and electronic components.
Stability
Superior stability is achieved by creating a lower center of gravity and is a result of the modular design.