349D L Hydraulic Excavator
The 349D L offers outstanding performance, excellent control, high stick and bucket forces, impressive lift capacity, simplified service and a comfortable operator station to increase your productivity and lower operating costs.
Product Details
Engine
| | |
| --- | --- |
| Engine Model | Cat® C13 ACERT™ |
| Net Flywheel Power | 283 kW |
| Bore | 130 mm |
| Stroke | 157 mm |
| Displacement | 12.5 l |
| Cylinders | 6 |
| Power - ISO 9249 - Imperial | 283 kW |
| Power - ISO 14396 at 1,800 rpm - Metric | 305 kW |
| Power - ISO 14396 - Imperial | 305 kW |
| Power - ISO 9249 - Metric | 283 kW |
| Power - ISO 14396 - Metric | 305 kW |
Weights
| | |
| --- | --- |
| Operating Weight | 45 052 to 50 483 kg (99323 to 111296 lb) |
Track
| | |
| --- | --- |
| Number of Carrier Rollers - Each Side | 3 |
| Number of Track Rollers - Each Side | 9 |
| Number of Shoes - Each Side | 52 |
Swing Mechanism
| | |
| --- | --- |
| Swing Speed | 8.7 r/min |
| Swing Torque | 149 kN·m |
Drive
| | |
| --- | --- |
| Maximum Travel Speed | 4.7 km/h |
| Maximum Gradeability | 35°/70% |
| Maximum Drawbar Pull | 338 kN |
Hydraulic System
| | |
| --- | --- |
| Pilot System - Maximum Flow | 43 l/min |
| Pilot System - Maximum Pressure | 41 bar |
| Boom Cylinder - Bore | 160 mm |
| Boom Cylinder - Stroke | 1575 mm |
| Stick Cylinder - Bore | 190 mm |
| TB Family Bucket Cylinder - Bore | 160 mm |
| TB Family Bucket Cylinder - Stroke | 1356 mm |
| UB Family Bucket Cylinder - Bore | 170 mm |
| UB Family Bucket Cylinder - Stroke | 1396 mm |
| Main System - Maximum - Heavy Lift | 380 bar |
| Main System - Maximum Pressure - Normal | 343 bar |
| Main System - Maximum Pressure - Swing | 314 bar |
| Main System - Maximum Flow | 734 l/min |
| Stick Cylinder - Stroke - For Reach Front | 1778 mm |
| Main System - Maximum Pressure - Travel | 343 bar |
| Stick Cylinder - Stroke - For ME Front | 1758 mm |
Service Refill Capacities
| | |
| --- | --- |
| Cooling System | 35.5 l |
| Engine Oil | 42 l |
| Swing Drive - Each | 10 l |
| Final Drive - Each | 15 l |
| Hydraulic Tank Oil | 400 l |
| Hydraulic System Oil Capacity - Including Tank | 507 l |
| Fuel Tank | 705 l |
Brakes
| | |
| --- | --- |
| Standards | Meets the standard ISO 10265:1998. |
Cab/FOGS
| | |
| --- | --- |
| Standards | Cab/FOGS meets ISO 10262. |
Hydraulics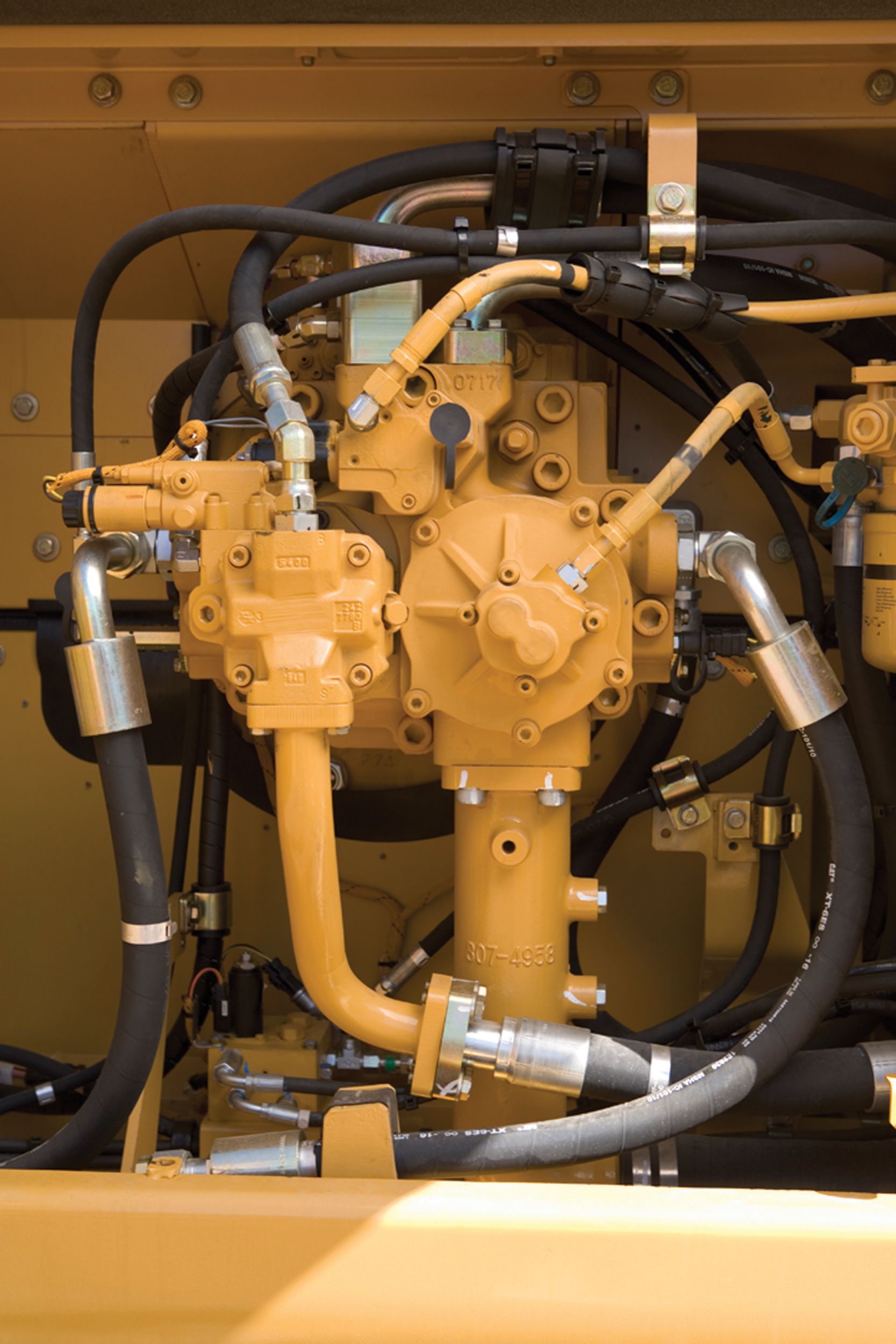 Cat hydraulics deliver power and precise control to keep material moving.
Pilot System
The pilot pump is independent from the main pumps and controls the front linkage, swing and travel operations. The pilot control valve operation is proportional to control lever movement, delivering outstanding controllability.
Component Layout
The component location and hydraulic system design provide the highest level of system efficiency. The main pumps, control valve and hydraulic tank are located as close to each other as possible. This design makes it possible to use shorter tubes and lines between components, reducing friction losses and pressure drops.
Hydraulic Cross-Sensing System
The hydraulic cross sensing system utilizes each of two hydraulic pumps to 100 percent of engine power under all operating conditions. This improves productivity with faster implement speeds and quicker, stronger pivot turns.
Boom and Stick Regeneration Circuits
A hydraulically operated stick regeneration circuit saves energy and improves multi-function performance during the stick-in operation. New on the 349D L, the boom regeneration circuit is operated electrically, and this system is managed by the machine ECM. The system improves cycle times and fuel efficiency, increasing your productivity and reducing operating costs.
Boom and Swing Priority
The hydraulic system on the 349D L provides automatic priority function for boom-up and swing operations eliminating the need for work mode buttons. When the boom or swing lever is activated, the system automatically assigns priority based on operator demand.
Hydraulic Cylinder Snubbers
Snubbers are located at the rod-end of the boom cylinders and both ends of the stick cylinders to cushion shocks while reducing sound levels and extending component and structure life.
Operator Station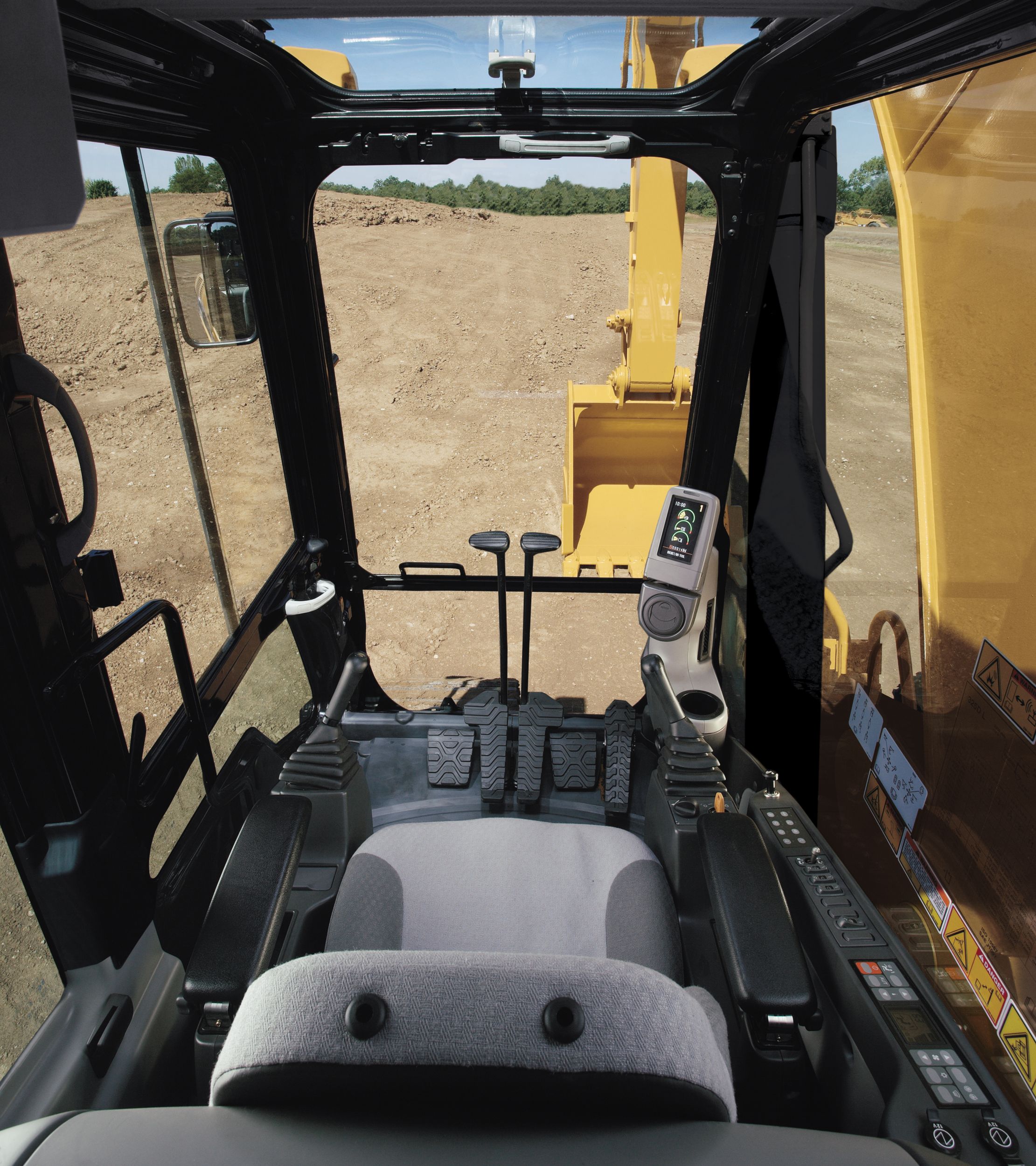 Designed for simple, easy operation, the 349D L allows the operator to focus on production.
The spacious, quiet and comfortable operator station assures high productivity during a long work day.
Switches, dials and controls are conveniently located within easy reach of the operator.
The monitor is easy to see and helps maximize visibility.
The standard air suspension seats adjust to suit the operator's size and weight.
The pressurized cab provides positive filtered ventilation and fresh or recirculated air can be selected.
Visibility is maximized with the elimination of window frames for all glass except the rear window. A large, polycarbonate skylight offers excellent upward visibility.
Hydraulic Activation Control Lever
For added safety, the hydraulic activation control lever must be in the operate position to activate the machine control functions.
Controls
The 349D L uses pilot operated control levers positioned so the operator can operate with arms on the armrests. The vertical stroke is longer than the horizontal to reduce operator fatigue. Joysticks with integrated buttons and sliding switches control all implement and swing functions. The sliding switches modulate control for hydro-mechanical tools and help increase operator comfort and reduce fatigue.
Prestart Check and Monitor Display
Prior to starting the machine, the system checks for low engine oil, hydraulic oil and engine coolant fluid levels and will warn the operator through a color Liquid Crystal Display (LCD) monitor. The LCD monitor displays vital operating and performance information in 27 different languages for operator convenience.
Cab Exterior
The exterior design uses thick steel tubing along the bottom perimeter of the cab, improving the resistance of fatigue and vibration. This design allows the FOGS to be bolted directly to the cab, at the factory or as an attachment later, enabling the machine to meet specifications and job site requirements.
Cab Mounts
The cab shell is attached to the frame with viscous rubber cab mounts, which dampen vibrations and sound levels while enhancing operator comfort.
C13 Engine with ACERT Technology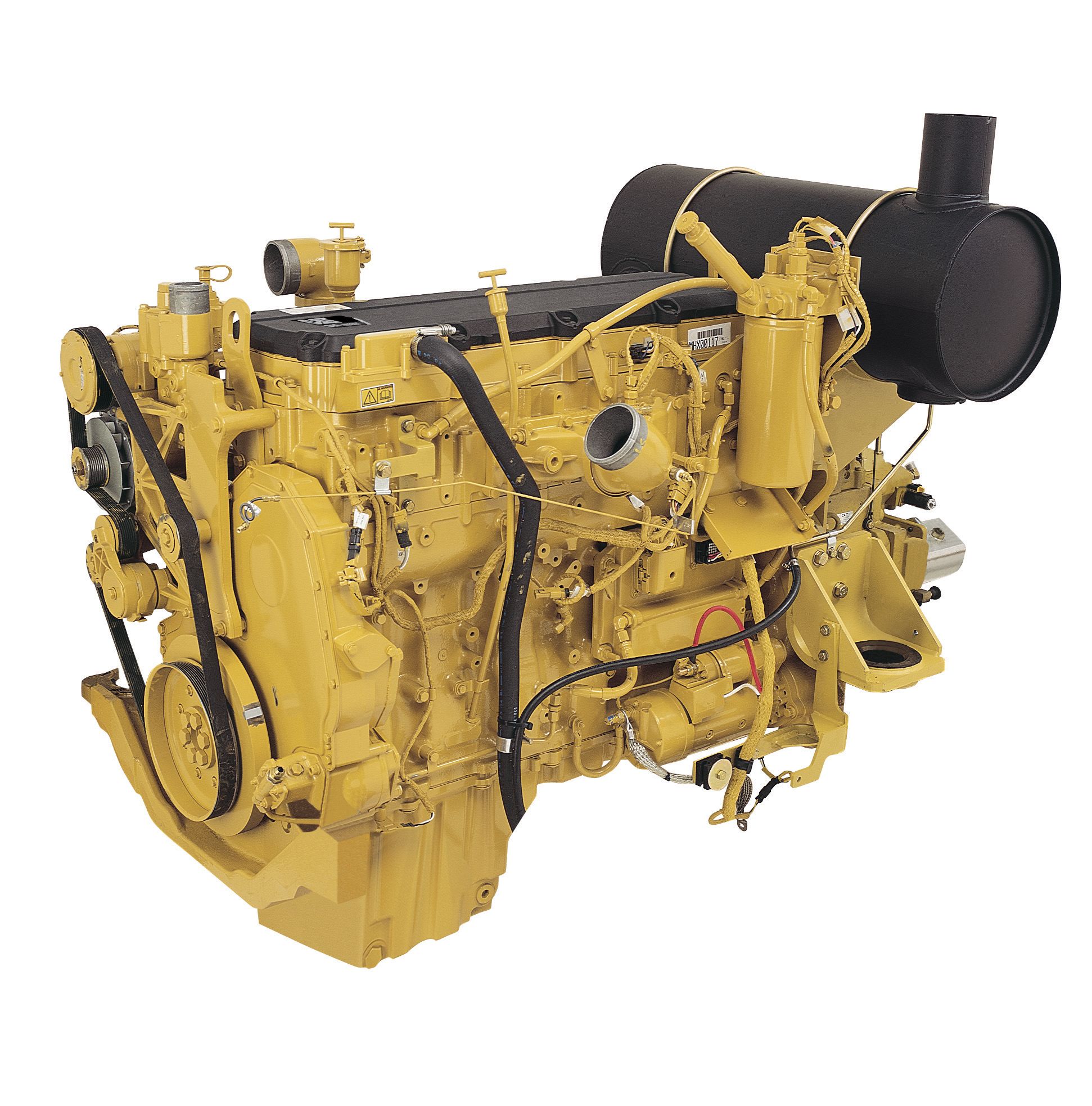 Built for power, reliability, economy and low emissions.
Performance
The 349D L, equipped with the C13 with ACERT Technology provides 283 kW horsepower.
Emissions
ACERT Technology is a differentiated technology that reduces emissions at the point of combustion. The technology capitalizes on Caterpillar's proven leadership in three core engine systems: fuel, air and electronics.
Fuel System
The Cat C13 features electronic controls that govern the mechanically actuated unit fuel injection (MEUI) system. MEUI provides the high-pressure required to deliver better fuel economy through finer fuel atomization and more complete combustion.
ADEM™ A4 Engine Controller
The ADEM A4 electronic control module manages fuel delivery to get the best performance per liter of fuel used. The engine management system provides flexible fuel mapping, allowing the engine to respond quickly to varying application needs. It tracks engine and machine conditions while keeping the engine operating at peak efficiency.
Turbocharger
The Cat C13 uses a wastegate turbocharger for improved performance.
The wastegate valve controls excessive engine boost pressure by allowing exhaust to bypass the exhaust-side turbine.
The wastegate also reduces turbine wear in high RPM; low load conditions and optimizes air and fuel delivery for peak engine performance.
The turbocharger increases the density of the air, enabling the engine to produce more power with few effects from altitude.
Low Sound and Vibration Levels
The engine mounts are rubber-isolating mounts matched with the engine package to provide optimum sound and vibration reduction. Further noise reduction has been achieved through design changes to the isolated top cover, oil pan, multiple injection strategy, insulated timing cover, sculpted crankcase.
Air Cleaner
The radial seal air filter features a double-layered filter core for more efficient filtration and is located in a compartment behind the cab. A warning is displayed on the monitor when dust accumulates above a preset level.
Structures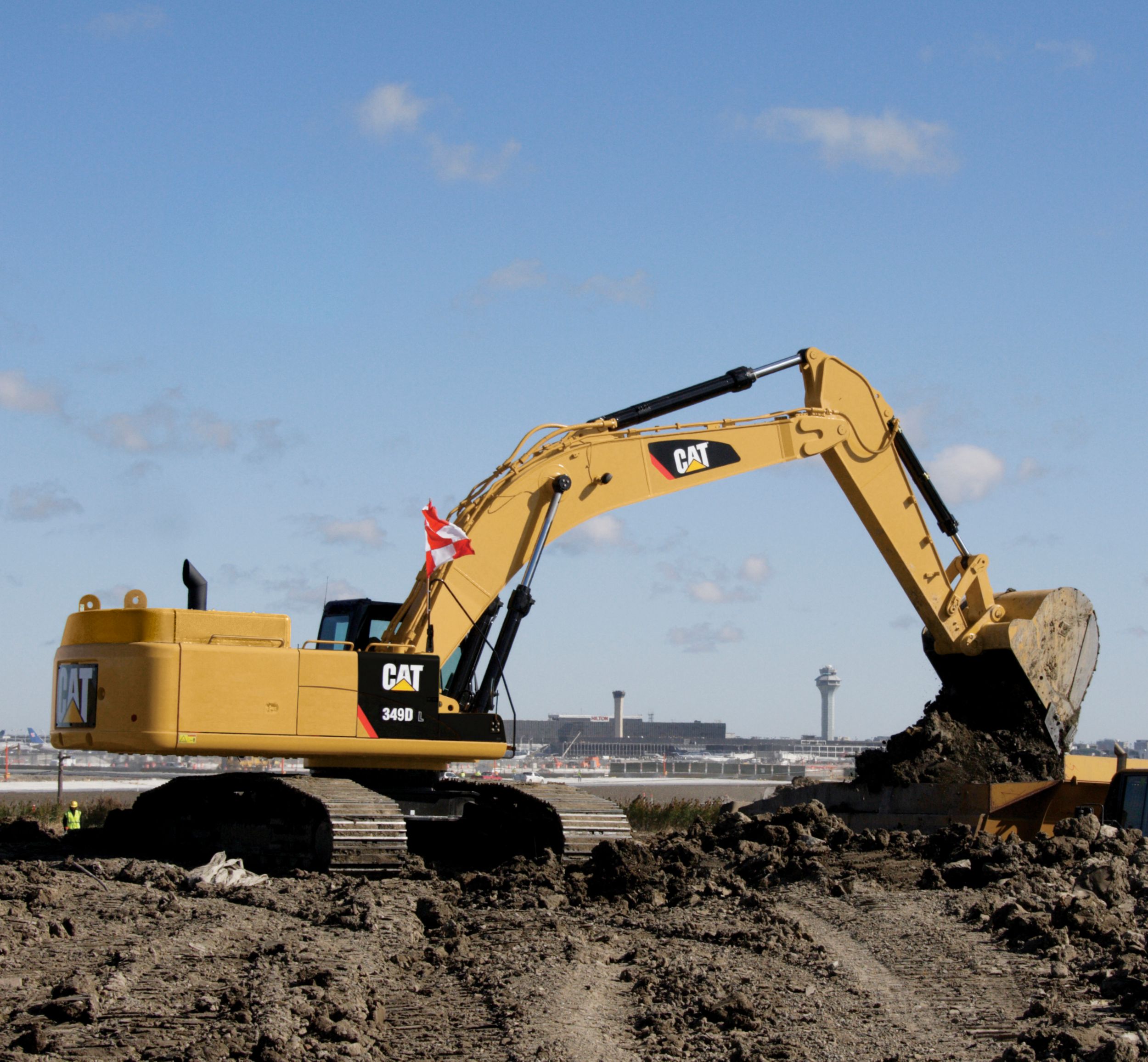 The 349D L structural components are the backbone of the machine's durability.
Carbody
The carbody utilizes a columnless design that allows the swing bearing to be directly mounted on the top plate for excellent rigidity and strength. The advanced carbody design stands up to the toughest applications.
Modified H-shaped, box-section carbody provides excellent resistance to torsional bending.
Robot-welded track roller frames with fabricated U-section design.
Robot welding ensures consistent, high-quality welds throughout the manufacturing process.
Upper Frame
The rugged main frame is designed for maximum durability. Robot welding is used for consistent, high-quality welds. The main channels are box sections connected by a large diameter tube in the boom foot area to improve rigidity and strength. The outer frame utilizes curved side rails for rigidity against bending and torsional loads.
Track Roller Frame
Uses a press-formed, pentagonal section for the track frame that is robot-welded for weld consistency and quality. The track frame has been designed so that the top of the track frame has a steep angle to help prevent accumulation of mud and debris.
Undercarriage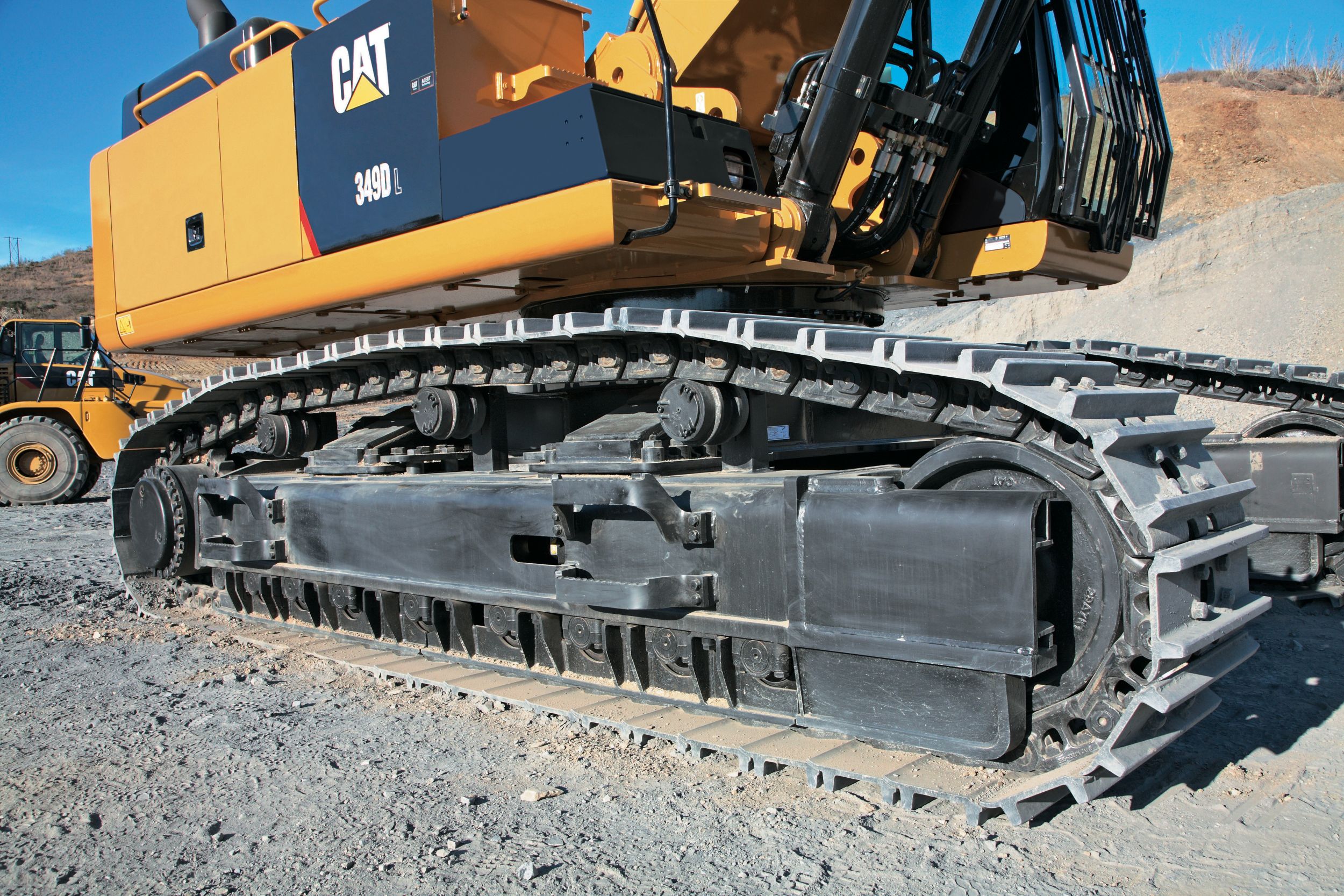 Durable undercarriage absorbs stresses and provides excellent stability.
Undercarriage Options*
The 349D L comes standard with a grease lubricated track called GLT4. The track links are assembled and sealed with grease to decrease internal bushing wear, reduce travel noise, and lower operating costs by extending service life. Track with Positive Pin Retention 2 (PPR2) and heavy duty idlers are available as attachments on the 349D L. The PPR2 prevents loosening of the track pin from the track link and the heavy duty idler is designed for extended life. Both options are ideal for extreme applications such as working on blasted rock or those that require a large amount of travel.
Travel Motors
Two-speed axial piston hydraulic motors provide the 349D L drive power and speed selection. When the high-speed position is selected, the machine automatically changes between computer-controlled high and low speeds depending on drawbar-pull requirements.
Straight-line Travel Circuit
The straight-line travel circuit is incorporated into the hydraulic system, which maintains low-speed, straight-line travel, even when operating the front linkage.
Final Drive
The final drives are a three-stage planetary reduction. This design results in a complete drive/brake unit that is compact and delivers excellent performance and reliability.
Track Guards
The idler guard and bolt-on center guard are standard equipment. They help maintain track alignment while traveling or working on slopes. For applications that require additional track protection or alignment, optional full length guards are available.

*Offering varies for different regions.
Booms, Sticks and Linkage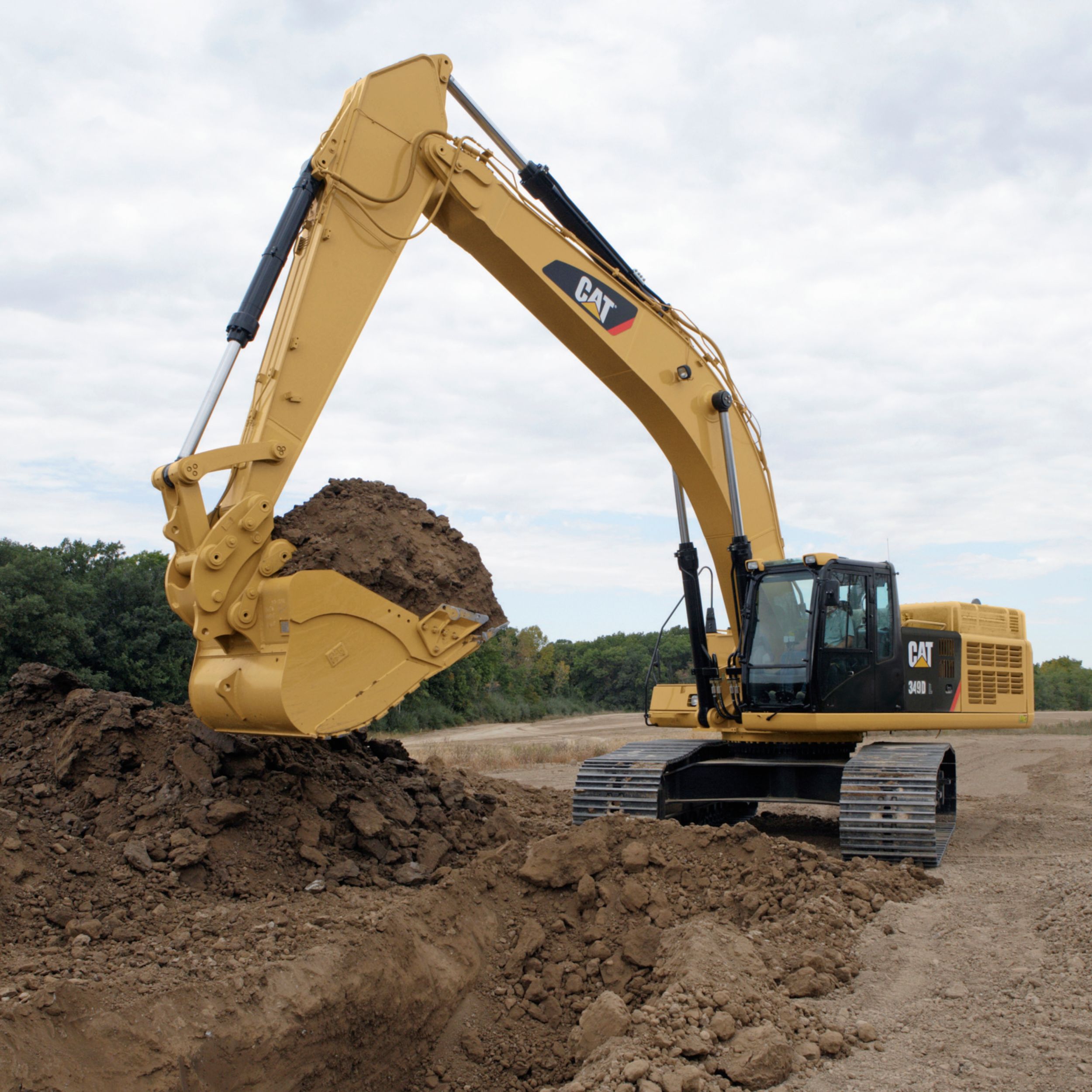 Designed for maximum flexibility to keep productivity and efficiency high on all jobs.
Front Linkage Attachments*
Three lengths of booms and five types of sticks are available, offering a range of configurations suitable for a wide variety of application conditions.
Boom Construction
The 349D L booms have large cross-sections and internal baffle plates to provide long life durability. Forged steel is used in critical high-load areas such as the boom-foot and boom cylinder connection.
6.9 m Reach Boom
The Reach boom is designed to balance reach, digging force bucket capacity, offering a wide range of applications as digging, loading and trenching.
6.55 m Mass Excavation Boom*
The Mass boom is designed to provide maximum digging forces, bucket capacity and truck loading productivity. The mass boom comes with two stick options for further job site versatility.
Stick Construction
The 349D L sticks are made of high-tensile strength steel, use a large box section design, interior baffle plates and an additional bottom guard to provide years of service under the most demanding applications.
Power Link*
The 349D L power link improves durability, increases machine-lifting capability in key lifting positions, and is easier to use compared to the previous lift bar designs.

*Offering varies for different regions.
Buckets and Teeth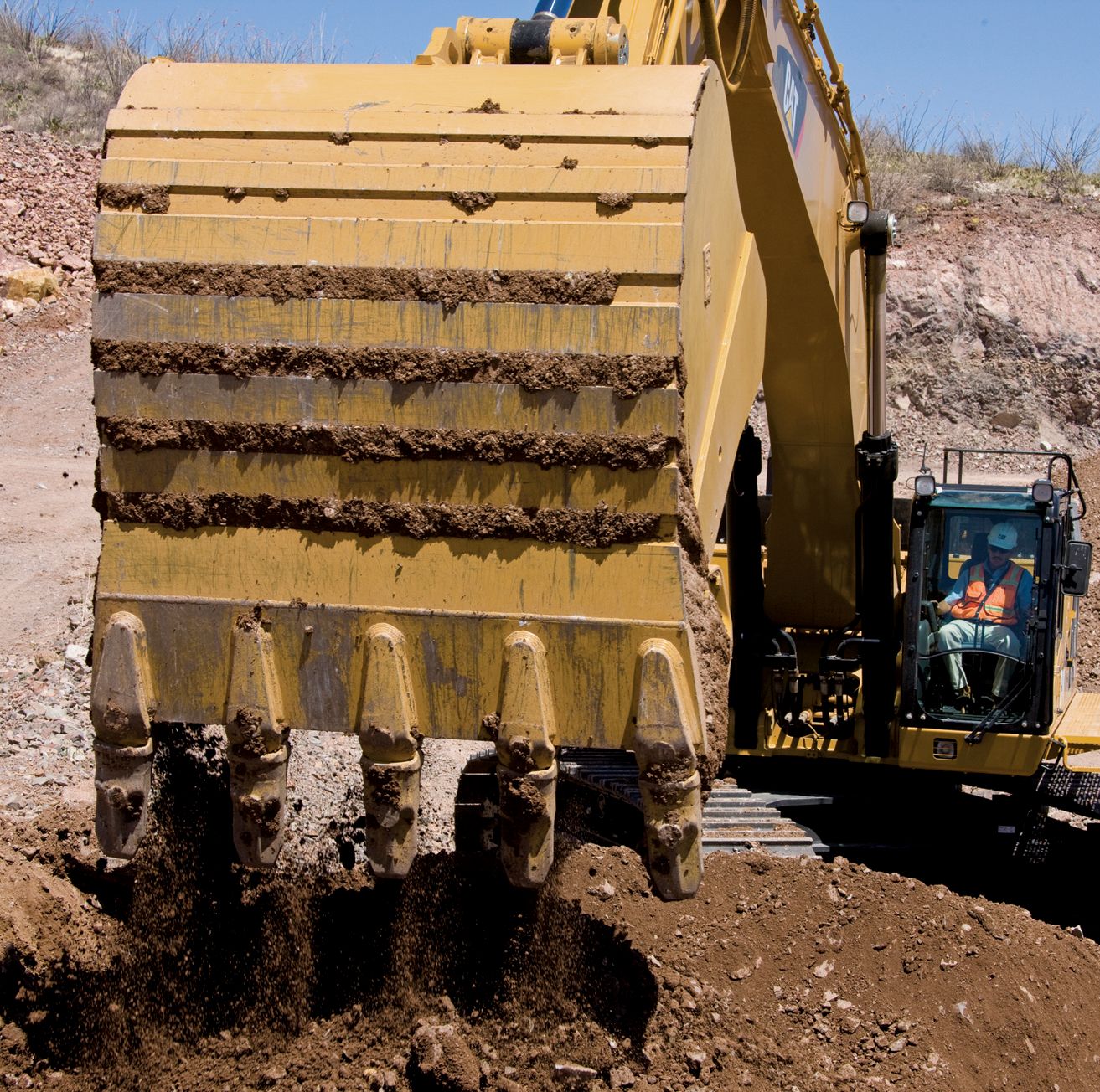 Designed and built for total system performance.
Optimized Package
Caterpillar offers a wide range of buckets, each designed and field tested to function as an integral part of your excavator. All Cat Buckets feature K Series™ GET (Ground Engaging Tools). Buckets are available in four levels of durability and are built to take full advantage of the machine's power.
General Duty (GD)
General Duty buckets are designed for use in low impact, lower abrasion materials such as dirt, loam and mixed compositions of dirt and fine gravel.
Heavy Duty (HD)
Heavy Duty buckets are the most popular and a good "centerline" choice. This bucket style is a good starting point when application conditions are not known. Heavy Duty buckets are designed for a wide range of impact and abrasion conditions including mixed dirt, clay and rock.
Severe Duty (SD)
Severe Duty buckets are designed for higher abrasion conditions such as shot granite. When compared to the Heavy Duty bucket, wear bars and wear plates are substantially thicker and larger for added protection.
Extreme Duty (XD)
Extreme Duty buckets are designed for very high abrasion conditions such as granite quarries. Corner shrouds have been added and side wear plates are larger for added protection.
Applications and Systems Match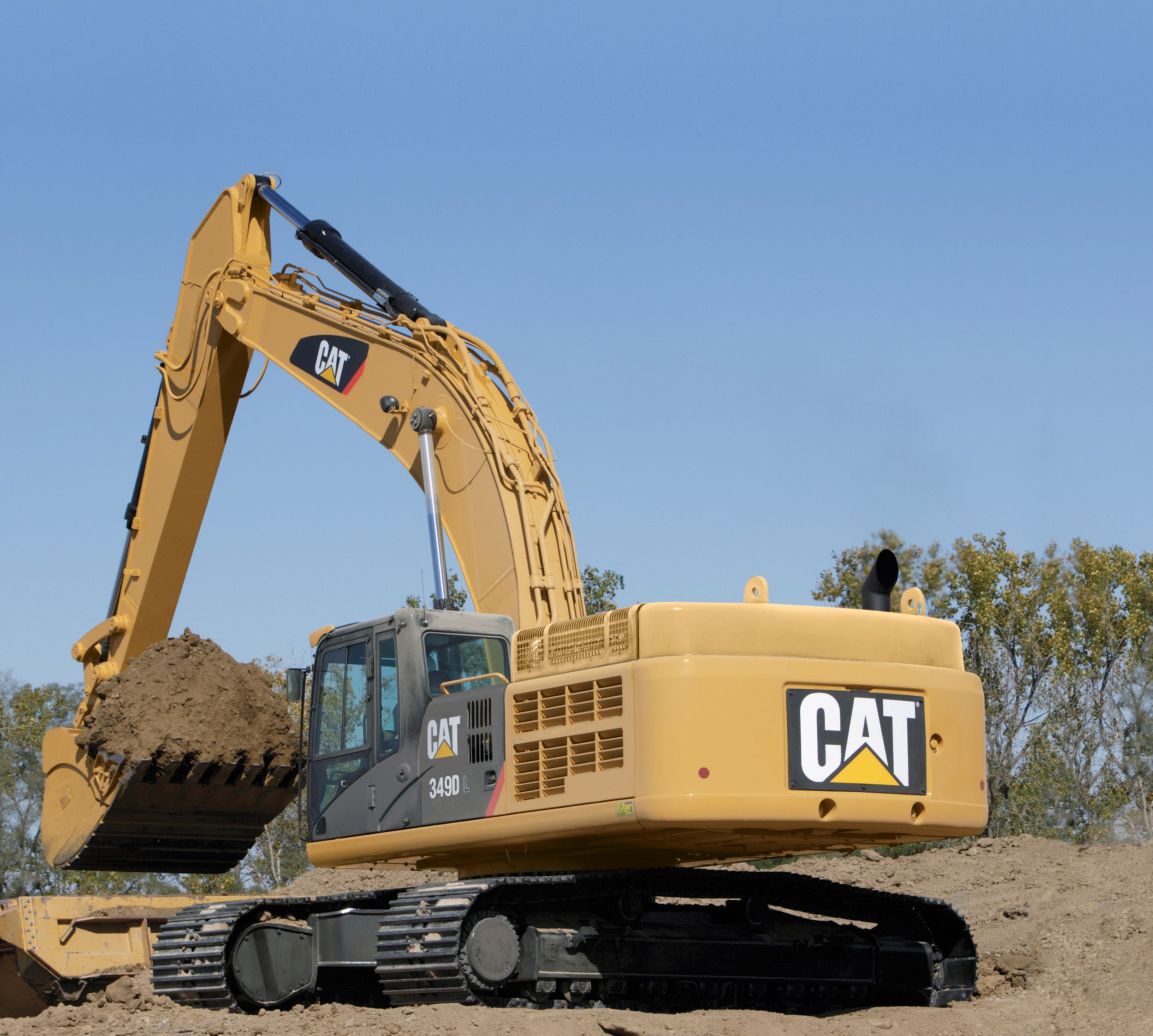 The 349D L is designed for matched performance with Cat Articulated Trucks.
Wide Range of Front End Attachments
The ability to select different front-end attachments provides adaptability for a wide range of job conditions in a variety of applications such as construction, mining, or quarry. Depending on the front-end configuration, and material density, the 349D L can be matched with the 730 to 740 articulated trucks. Additionally, systems match offers versatility in job set-up whether top loading or same level truck loading.
Optimum Pass Match Design
Five to six passes under two minutes, matched to the Cat 735, gives you maximum system production at the lowest cost per ton of material moved.
Maximum Availability
New standards for durability and reliability help ensure that your loading system has more uptime, operates efficiently and provides lasting value and high resale.
Designed for Safety
Cat machines are designed to keep operators and job sites safe.
Visibility
An optional rear vision camera and work area vision system can be installed improving safety for the operator, as well as other machines and personnel working around the excavator.
Safe Access
Handrails and anti-slip surfaces are designed for safe access on and off Cat machines. Daily maintenance service checks are easily accessible at ground level. An emergency escape is accessed through the rear window.
Safety Alarm
If an abnormality occurs, the warning information window is displayed on the monitor. If the abnormality is urgent, the master light blinks and an alarm activates, alerting the operator to take immediate action.
Cleaner for the Environment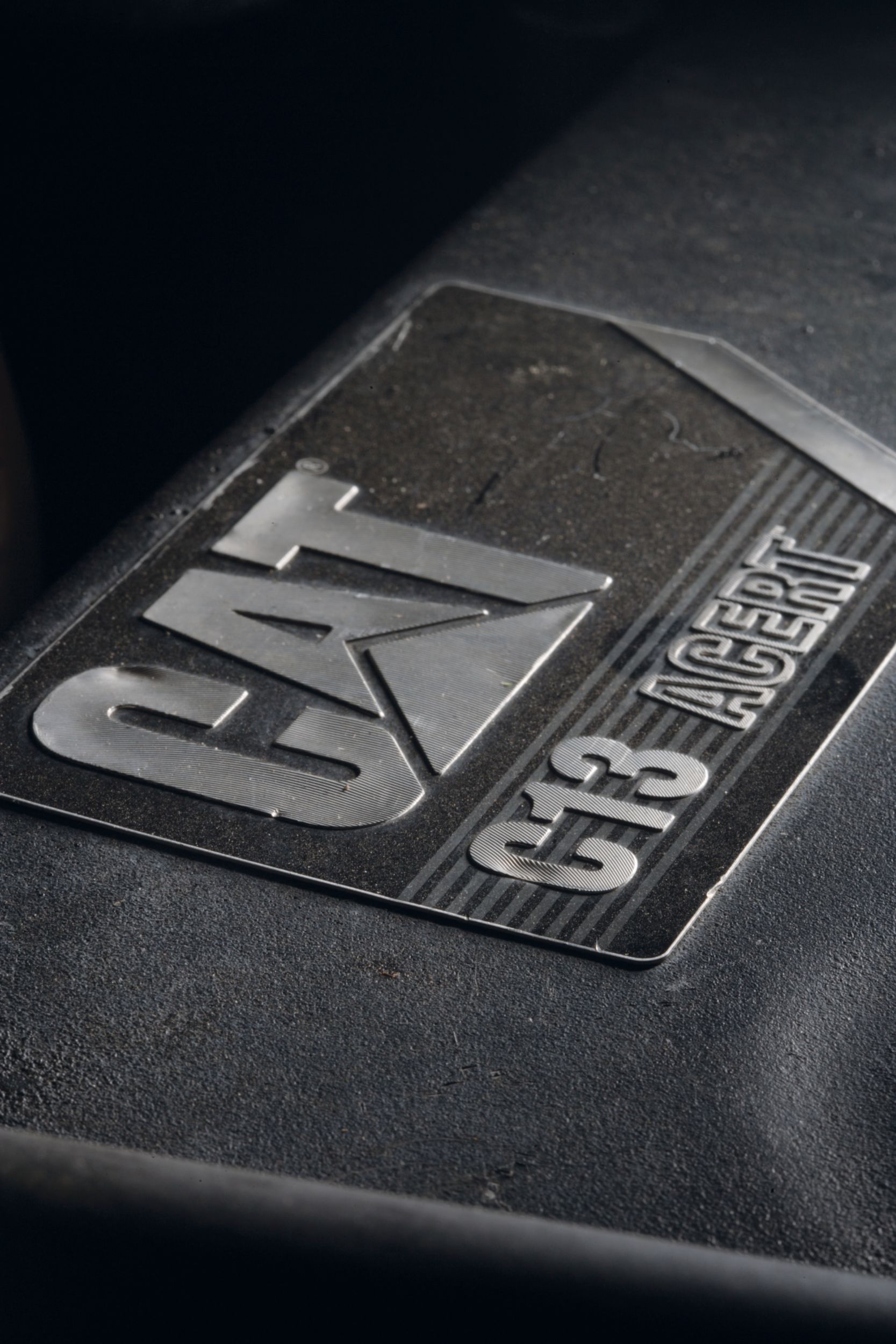 Caterpillar has long invested in technology, products and services that reduce the impact of earthmoving equipment on the environment.
Emissions
With ACERT Technology to lower emissions, the C13 engine improves maintenance costs through less engine wear and less oil consumption. This engine can use up to B30 biodiesel to further reduce emissions on the job site.
Fuel Management
A fuel consumption display allows the operator to monitor their fuel consumption. Three Power Management Modes allow the operator to select a mode for optimal performance with lower fuel consumption.
Fluids
Extended service and maintenance intervals increase machine availability and reduce the frequency of fluid handling. Cat HEES™ biodegradable hydraulic oil is fully decomposed by soil or water microorganisms for a cleaner job site.
Cat Reman Parts
We recycle used products into "like-new" Cat Reman products that offer the same performance and quality as new parts at a fraction-of-new price. Environmentally reconditioned reman parts are available for this machine.
Service and Maintenance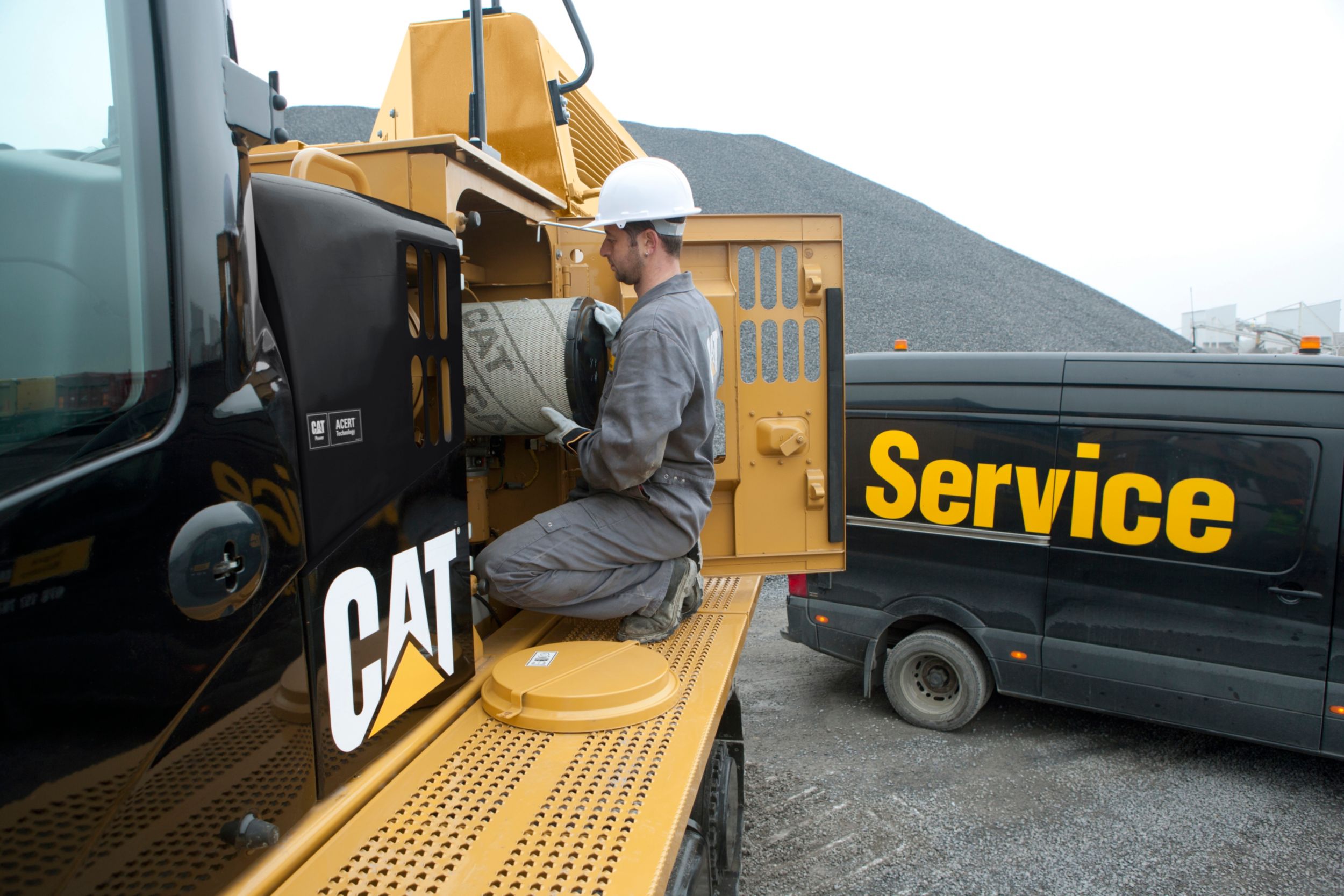 Simplified service and maintenance save you time and money.
Extended Service Intervals
Extended service and maintenance intervals increase machine availability. The maintenance intervals for engine oil and engine oil filter have been extended to 500 hours.
Capsule Filter
The hydraulic return filters are located in the hydraulic tank. The filter elements are removable without spilling hydraulic oil.
Pilot Hydraulic System Filter
Pilot hydraulic system filter keeps contaminants from the pilot system and is located in the pump compartment.
Radial Seal Main Air Cleaner
Radial seal main air cleaner with precleaner has a double-layered filter element for more efficient filtration. No tools are required to change the element.
Fuel-Water Separator
The water separator has a primary fuel filter element and is located in the air cleaner compartment for easy access from the ground.
Service Points
Service points are centrally located with easy access to facilitate routine maintenance.
Oil Sample and Pressure Ports
Oil sample and pressure ports provide easy checking of machine condition and are standard on every machine.
Greasing Points
A concentrated remote greasing block on the boom delivers grease to hard-to-reach locations.
Complete Customer Support
Cat dealer services help you operate longer with lower costs.
The Right Machine for Your Business
Your Cat dealer will guide you through your machine selection process, helping you choose the right machine for your specific industry and applications.
The Most Attractive Finance Package from Cat Financial
Cat Financial specializes in equipment financing and has a reputation as a trusted partner. Whatever your business, your Cat dealer and Cat Financial offer a range of flexible, highly competitive financial solutions for new Cat machines, making it faster and easier to obtain the Cat equipment you need.
The Most Cost-Effective Cat Customer Support Agreement
Cat Customer Support Agreements are the most effective way of running your machine at peak performance and eliminating the risk, cost, disruption and loss of revenue caused by unscheduled downtime.
The Most Beneficial Cat Warranty
The warranty coverage from your Cat dealer is backed by the worldwide resources of Caterpillar and is specifically designed to provide the highest levels of repair cost protection for Cat machines. This comprehensive coverage will enhance and sustain your entire ownership experience and provide complete peace of mind. Cat experts are always available to help you make the decisions that are best for your business.
POWER TRAIN

52° C cooling capability
Cat extended life coolant
Automatic engine speed control
Cat C13 diesel engine: - 2300 m altitude capability - 24-volt electric starting
Variable speed fan
Power management system
Economy mode
Radial seal air filter with double element
Electric priming pump
Secondary engine shut-off switch
Water separator in fuel line

UNDERCARRIAGE

Idler and center section track guiding guards
Towing eye on base frame
Grease lubricated track

ELECTRICAL

75 Amp alternator
Horn, signal/warning
Light, storage box mounted (Halogen, one)

OPERATOR ENVIRONMENT

Cab: - Bi-level automatic climate control with defroster - Ashtray with lighter - Beverage holder - Bolt-on FOGS capability - Coat hook - Interior lighting - Literature holder - Openable skylight - Pillar mounted upper windshield wiper and washer - Radio m
Monitor: - Time clock on monitor - Full graphic and full color display with language display - Machine condition, error code and tool mode setting information - Start-up level check for engine oil, engine coolant and hydraulic oil - Warning, filter/fluid c
Neutral lever for all controls
Pedal: - Capability to install two additional pedals - Travel control with removable hand levers
Seat: - Adjustable armrest - Electric provision for seat heater

GUARDS

Bottom guard, includes swivel guard

Bottom guard, includes swivel guard
OTHER STANDARD EQUIPMENT

Automatic swing parking brake
Cat data link with E/T use capability
Cat one key security system
Counterweight with lifting hook, without removal device
Door locks and cap locks
Heavy lift mode
High performance hydraulic return filter
Mirrors, rearview (frame-right, cab-left)
Product Link ready
Regeneration circuit for boom and stick
Reverse swing damping valve
Boom drift reducing valve
Stick drift reducing valve
Two speed auto-shift travel
Steel firewall between engine and pump compartment

Automatic swing parking brake
Cat data link with E/T use capability
Cat one key security system
Counterweight with lifting hook, without removal device
Door locks and cap locks
Heavy lift mode
High performance hydraulic return filter
Mirrors, rearview (frame-right, cab-left)
Product Link ready
Regeneration circuit for boom and stick
Reverse swing damping valve
Boom drift reducing valve
Stick drift reducing valve
Two speed auto-shift travel
Steel firewall between engine and pump compartment
ENGINE

Precleaner
Starting kit, cold weather, -32° C
Terminal, jump start

Precleaner
Starting kit, cold weather, -32° C
Terminal, jump start
FRONT LINKAGE

Booms: - HD Reach 6900 mm - Mass excavation 6550 mm
Buckets: - Bucket linkage: TB family for TB sticks UB family for UB sticks - Bucket tips and sidecutters - Edge protectors
Sticks: - R3.4TB Reach - M2.5UB Mass - M3.0UB Mass

GUARDS

Falling Object, for cab
Front Windshield
Track guiding, full length

HYDRAULICS

Auxiliary boom lines
Auxiliary stick lines
Control, single action
Circuit, cooling
Control, combined
Control, medium pressure
Pedal, tool modulation
Quick coupler universal circuit
Tool selection (via monitor 10 tools)

OPERATOR STATION

Joysticks: - Four button joystick for standard machine or single action auxiliary control
Radio, AM/FM radio mounted in right hand console
Radio ready mounting at rear location including 24V to 12V converter
Seat: - Adjustable high-back seat with mechanical suspension
Sun Screen

Joysticks: - Four button joystick for standard machine or single action auxiliary control
Radio, AM/FM radio mounted in right hand console
Radio ready mounting at rear location including 24V to 12V converter
Seat: - Adjustable high-back seat with mechanical suspension
Sun Screen
UNDERCARRIAGE

Fixed Gauge or Variable Gauge
Idler, heavy duty
Track, 600 mm
Track, 750 mm
Track, GLT4
Track, PPR2

Fixed Gauge or Variable Gauge
Idler, heavy duty
Track, 600 mm
Track, 750 mm
Track, GLT4
Track, PPR2
OTHER OPTIONAL EQUIPMENT

Converters, 7 amp-12V (one or two)
Product Link
Rearview Camera
Security System, Machine (MSS)
WAVS Camera ready