336D2 Hydraulic Excavator
The 336D2 OEM incorporates innovations to improve your job site efficiency through low owning and operating costs, excellent performance, and high versatility.
Product Details
Operator Station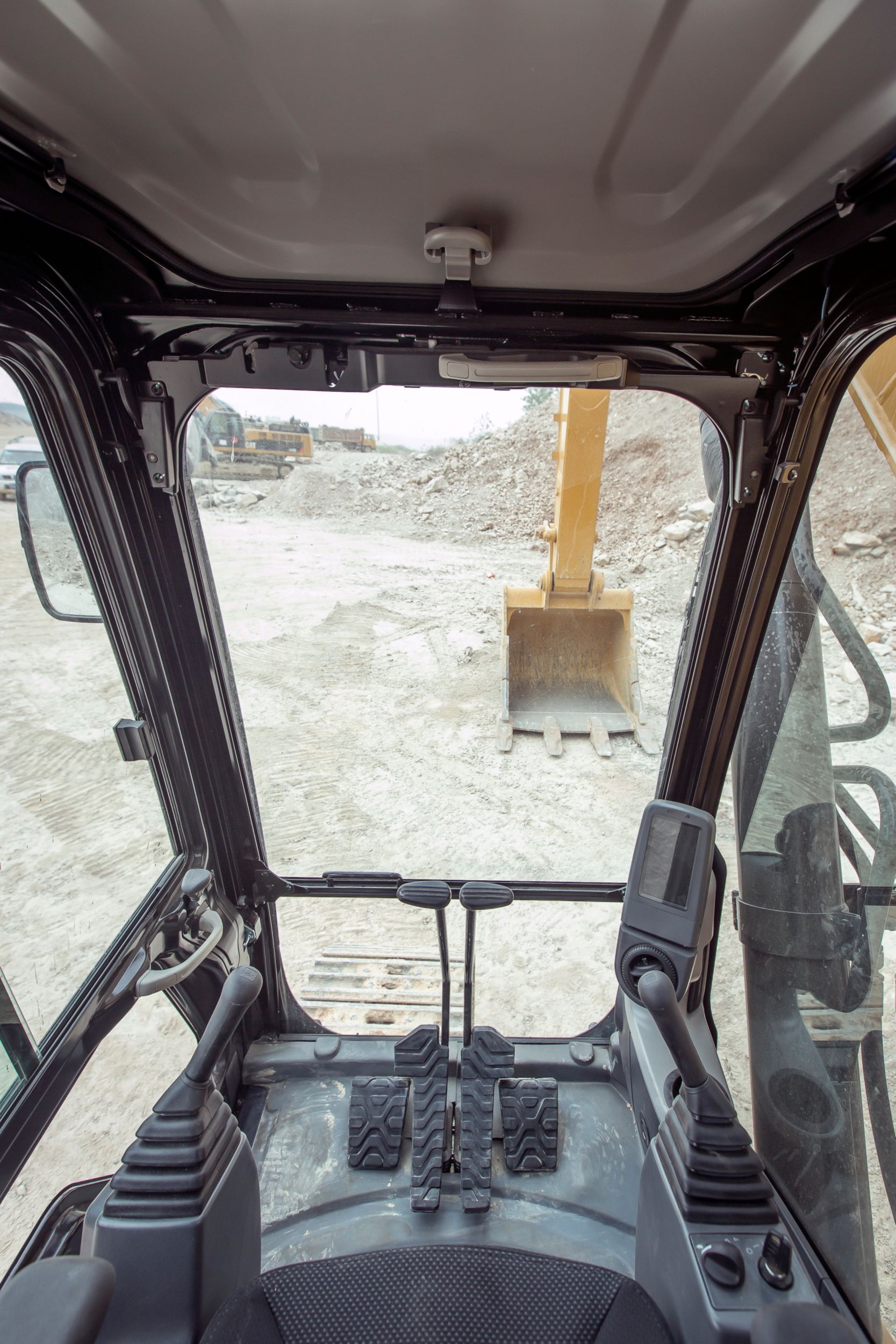 Ergonomically designed to keep you comfortable and productive all day long.
Cab Structure and Mounts
The cab shell is attached to the frame with viscous rubber mounts, which dampen vibrations and sound levels while enhancing your comfort. Thick steel tubing along the bottom perimeter improves the cab's resistance to fatigue and vibration. • An all-black cab enables improvements in finish quality - High gloss finish
ROPS Certified Operator Station
The 336D2 features a ROPS (Roll Over Protective Structure) compliant cab structure as standard. This design also allows for a Falling Object Guard System (FOGS) or front windshield guard to be bolted directly to the cab, either at the factory or in the field, enabling the machine to meet all job site requirements.
More glass versus previous non-ROPS cab to improve visibility
Volume increase: more interior head room space
Improved cab pressurization
ROPS cab air filter accessible at ground level
Seat
The air suspension seat provides a variety of adjustments to accommodate a wide range of operators. The seat includes a seat heater to meet your needs for comfort and productivity.
Joystick Control and Console
Low-effort pilot-operated joystick controls are designed to match your natural wrist and arm position for maximum comfort and minimum fatigue. The right and left joystick console can be adjusted to meet your individual preferences, improving overall comfort and productivity during the course of a long work day.
Climate Control
Positive filtered ventilation with a pressurized cab is standard. Fresh air or re-circulated air can be selected with a switch on the left console.
Windows and Wipers
All glass is affixed directly to the cab to maximize visibility, eliminating window frames. The upper front windshield opens, closes, and stores on the roof above the operator with a one-touch action release system. Pillar-mounted wipers increase your viewing area and offer continuous and intermittent modes.
Monitor
The full-color LCD monitor can be adjusted to minimize glare, and it has the capability of displaying information in 28 languages to meet the needs of today's diverse work force.
Engine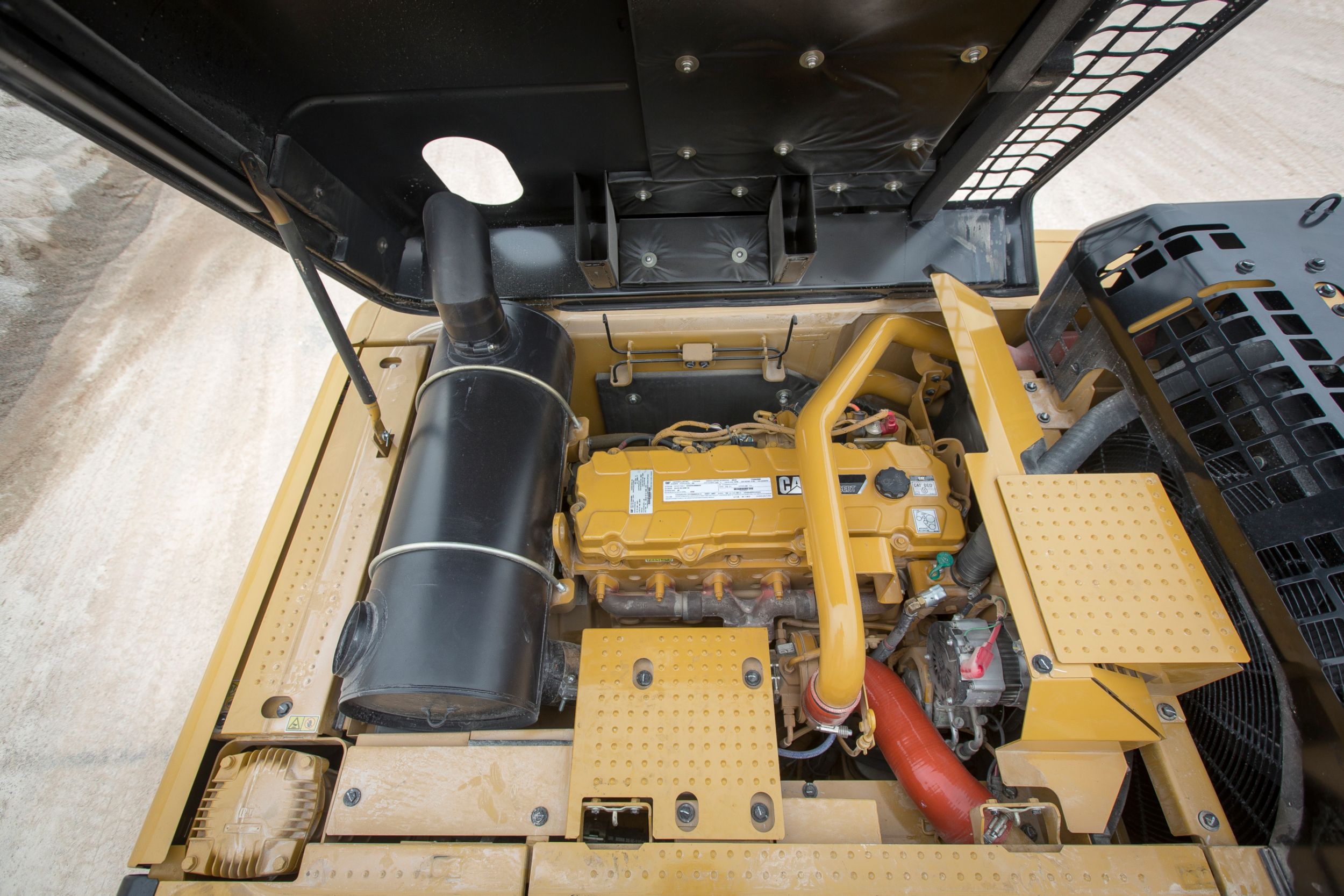 Powerful, reliable, and fuel efficient to deliver more to your bottom line.
Emission Standards
The Cat C9 engine has been designed to meet U.S. EPA Tier 3 and EU Stage III regulations. The engine incorporates proven robust components and precision manufacturing you can count on for reliable and efficient operation.
Filtration System
The C9 engine features an improved filtration system to ensure reliability even with less-than-quality fuel. Service intervals have been extended and the number of filters reduced to maximize your profit potential.
Automatic Engine Speed Control
Automatic engine speed control is activated during no-load or light-load conditions to reduce engine speed - all to help minimize fuel consumption.
Low Sound and Vibration
The Cat C9 engine is built to run quietly with limited vibration, which contributes to improving your comfort.
Hydraulics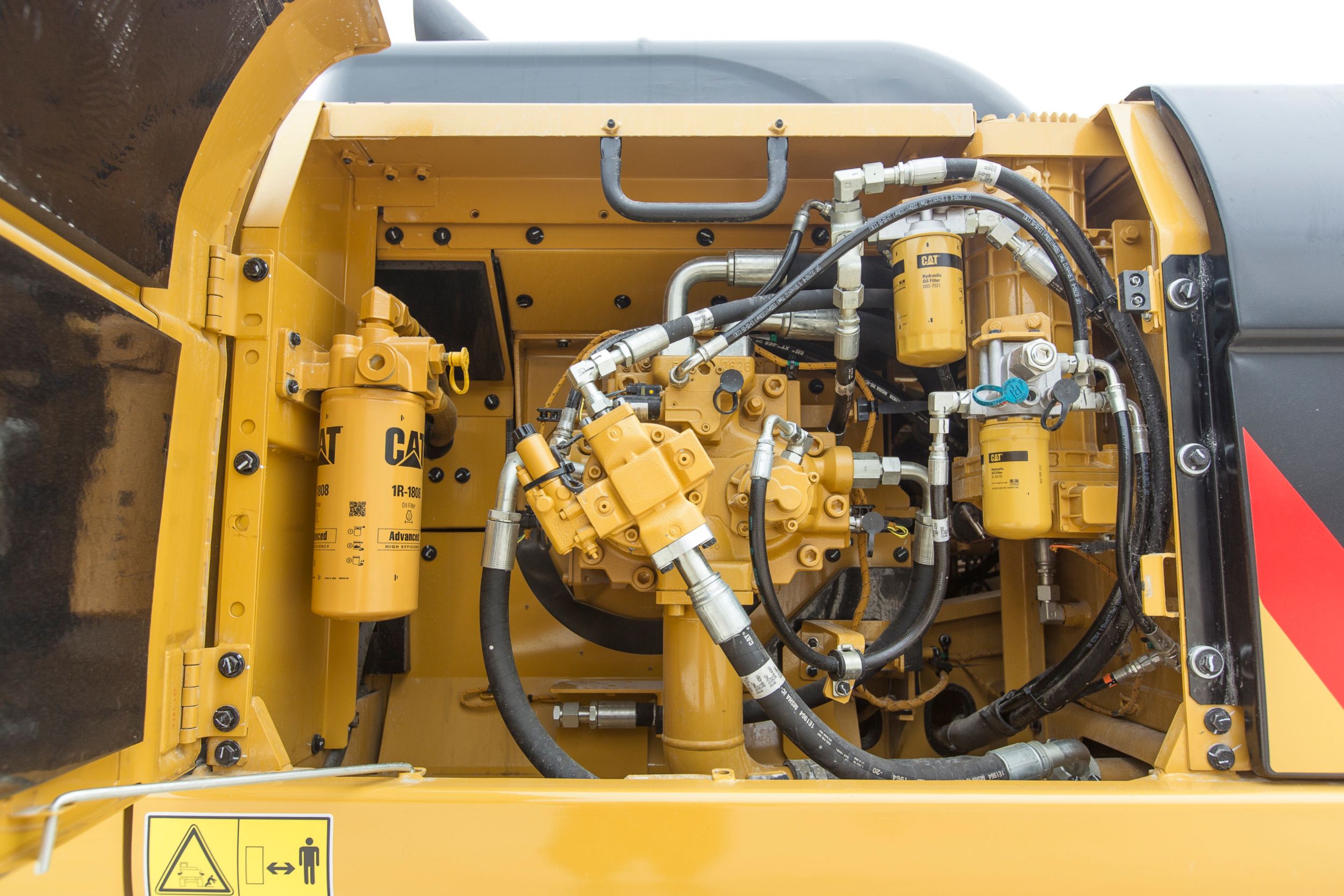 Uncanny power and control for multiple applications.
Hydraulic System
Hydraulic system pressure from the two?pump system delivers terrific digging performance and productivity. The hydraulic system and component locations have been designed to provide a high level of system efficiency. The main pumps, control valves, and hydraulic tank are located close together to allow for shorter tubes and lines between components, reducing friction loss and pressure drops.
Pilot System
An independent pilot pump enables smooth, precise control for the front linkage, swing, and travel operations.
Hydraulic Cross-Sensing System
The hydraulic cross-sensing system utilizes each of two hydraulic pumps to 100 percent of engine power under all operating conditions. This improves productivity with faster implement speeds and quicker, stronger pivot turns.
Auxiliary Hydraulic Valve
Control circuits are available as attachments to improve versatility. They allow operation of high- and medium-pressure tools such as shears, grapples, hammers, pulverizers, multiprocessors, and vibratory plate compactors.
Hydraulic Activation Control Lever
With the hydraulic activation lever in the neutral position, all front linkage, swing, and travel functions are isolated.
Structures and Optional Undercarriage

Strong and durable like you expect from Cat excavators.
Main Frame
The rugged main frame is built to perform in the toughest applications. The X-shaped, box-section carbody provides excellent resistance to torsional bending, and press-formed, robot-welded track roller frames provide exceptional strength and durability.
Rollers and Idlers
Sealed and lubricated track rollers, carrier rollers, and idlers provide excellent service life to keep your machine in the field and working longer.
Long Undercarriage
Wide and sturdy long undercarriage offers an excellent platform for applications that require maximum stability and lift capacity.
Counterweights
A 5.8 mt (6.4 t) weight works well in applications that require heavy lifting. It's bolted directly to the main frame for extra rigidity.
Undercarriage
Durable Cat undercarriage absorbs stress and provides excellent stability. The 336D2 comes standard with grease lubricated tracks. The track links are assembled and sealed with grease to decrease internal bushing wear, reduce travel noise and extend service life lowering operating costs.
Service and Maintenance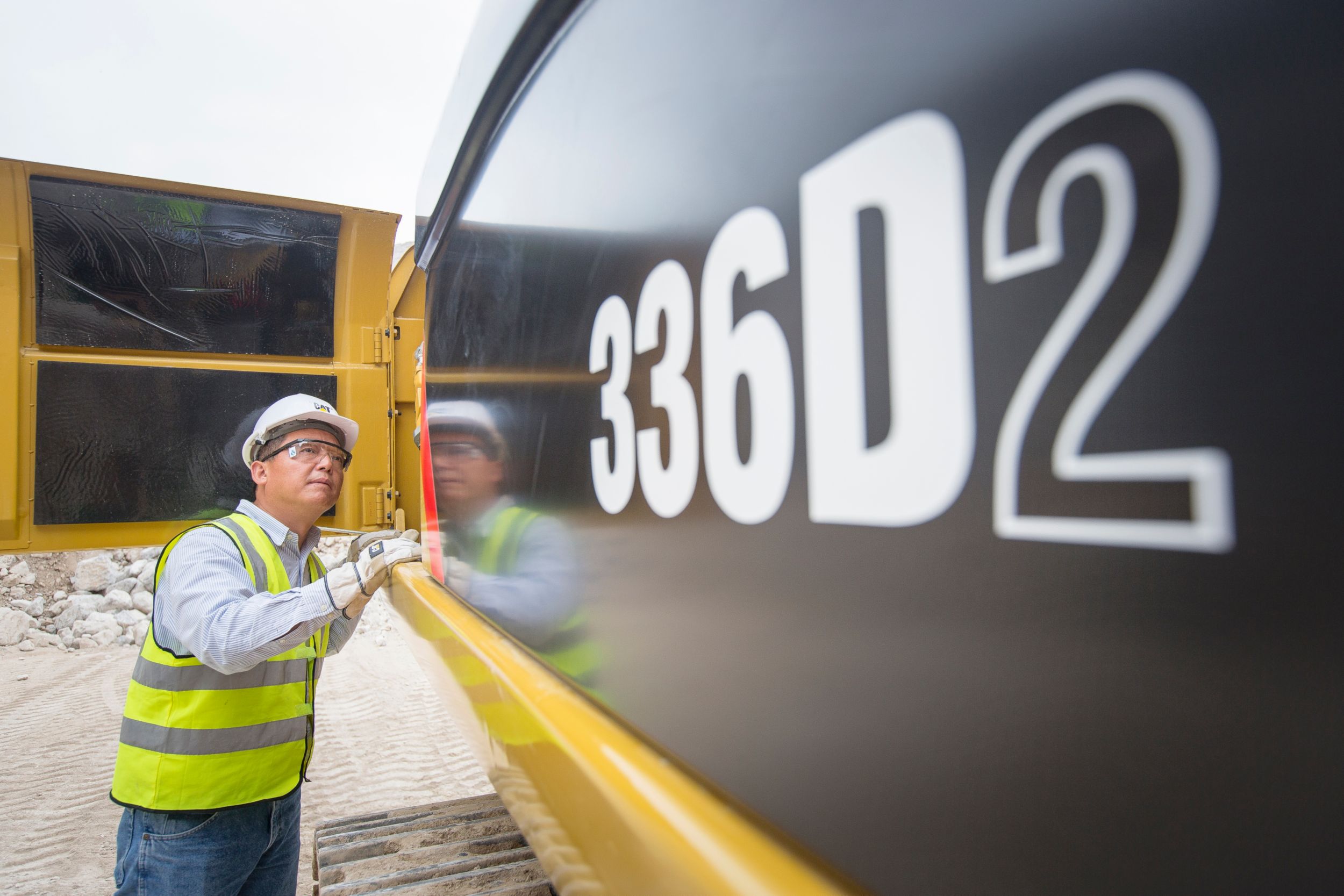 Simplified design to save you time and money.
Ground-Level Service
The design and layout of the 336D2 was made with the service technician in mind. Most service locations are easily accessible at ground level to allow service and maintenance to get completed quickly and efficiently.
Air Filter Compartment
The air filter features a double-element construction for superior cleaning efficiency. When the air filter plugs, a warning is displayed on the cab monitor. Maintenance-free batteries are standard along with a battery disconnect switch.
Greasing Points
A concentrated remote greasing block on the boom allows greasing of hard-to-reach locations on the boom and stick.
Fan Guard
The engine radiator fan is enclosed by a steel guard that provides maximum protection when carrying out routine service and maintenance.
Anti-Skid Plating
Anti-skid plating covers the entire upper structure and storage box to prevent slipping during maintenance. Safety is further enhanced with the addition of countersunk bolts to reduce trip hazards.
Diagnostics and Monitoring
Standard hydraulic test ports enable a service technician to evaluate the hydraulic system, engine oil, and coolant quickly and easily for more efficient maintenance.
Pump Compartment
A service door on the right side of the upper structure allows ground-level access to the hydraulic pumps, hydraulic filters, engine oil filter, and fuel filters.
Radiator Compartment
The left rear service door allows easy access to the engine radiator, hydraulic oil cooler, air-to-air aftercooler, and AC condenser. A reserve tank and drain cock are attached to the radiator for ground-level maintenance.
Complete Customer Support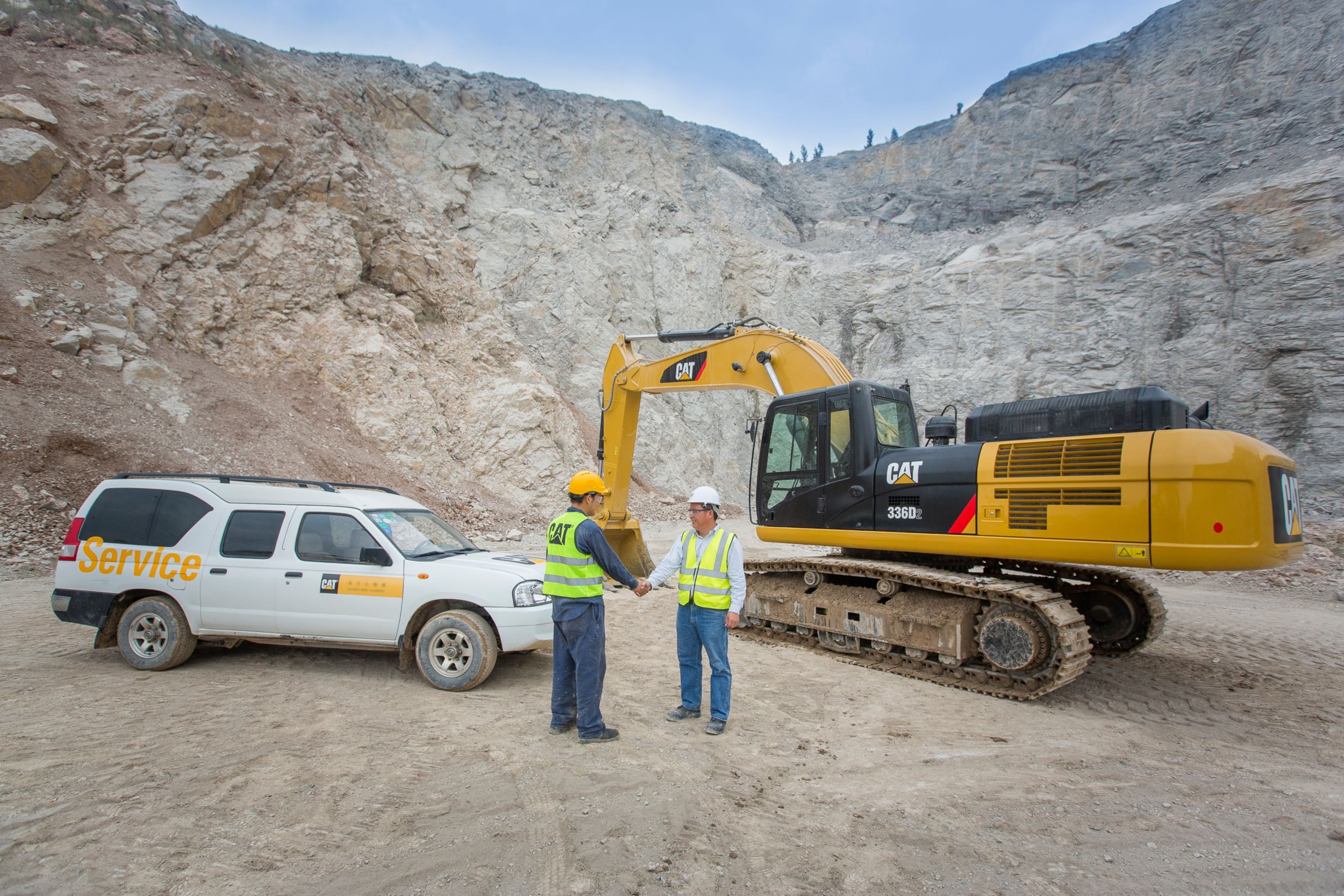 A wide range of personalized solutions from your local Cat dealer.
Product Support
Cat dealers utilize a worldwide computer network to find in-stock parts to minimize machine downtime. You can also save money with our line of remanufactured components.
Machine Selection
Your Cat dealers can provide specific recommendations with detailed comparisons of the Cat machines you are considering before you buy. This ensures you get the right size machine and appropriate work tools to meet all of your application needs.
Maintenance Services
Repair option programs guarantee the cost of repairs up front. Condition monitoring services and diagnostic programs such as scheduled oil sampling, coolant sampling, and technical analysis help you avoid unscheduled repairs.
Customer Support Agreements
Cat dealers offer a variety of product support agreements that can be tailored to meet your specific needs. These plans can cover the entire machine - including attachments - to help protect your investment.
Replacement
Repair, rebuild, or replace? Your Cat dealers can help you evaluate the costs involved so you can make the right choice.
ENGINE

Cat C9 engine
Meets U.S. EPA Tier 3 and EU Stage III regulations
2300 m (7,546 ft) altitude capability
Radial seal air filters (primary and secondary filter)
Automatic engine speed control with one touch low idle
High ambient cooling package 48° C (118° F)
Water separator with water level indicator sensor
Waved fin radiator with space for cleaning
Two-speed travel
Electric priming pump
Fuel pressure differential gauge

HYDRAULIC SYSTEM

High performance hydraulic return filters
Straight travel hydraulic circuit
Automatic swing parking brake
Boom lowering device for back-up
Auxiliary hydraulic valve*
Reverse swing damping valve*
Boom drift reducing valve*
Stick drift reducing valve*

High performance hydraulic return filters
Straight travel hydraulic circuit
Automatic swing parking brake
Boom lowering device for back-up
Auxiliary hydraulic valve*
Reverse swing damping valve*
Boom drift reducing valve*
Stick drift reducing valve*
CAB

ROPS cab
Air suspension seat with seat heater
Adjustable armrest
Retractable seat belt (75 mm [3 in] width)
70/30 split front windshield
Laminated upper front windshield and tempered other windows
Sliding upper door window
Openable front windshield with assist device
Pillar mounted upper windshield wiper and washer
Bi-level air conditioner (automatic) with defroster (pressurized function)
Color LCD display with warning, filter/fluid change, and working hour information
Control lever joysticks
Neutral lever (lock out) for all controls
Travel control pedals with removable hand levers
Radio mounting (DIN size)
AM/FM radio
12V - 2× maximum 10A power supply
Two stereo speakers
Beverage holder
Coat hook
Openable roof hatch
Washable floor mat

UNDERCARRIAGE

Idler and center section track guiding guard
Towing eye on base frame
Grease lubricated track

ELECTRICAL

Batteries (×2)
65 amp alternator

Batteries (×2)
65 amp alternator
LIGHTS

Storage box mounted right working light
Interior lighting

SAFETY AND SECURITY

Cat one key security system
Door and compartment locks
Signaling/warning horn
Rearview mirrors
Fire wall between engine and pump compartment
Emergency engine shutoff switch
Emergency exit rear window
Battery disconnect switch

COUNTERWEIGHT

5.8 mt (6.4 t) counterweight

TECHNOLOGY

Cat Electronic Technician data link