308D CR Mini Hydraulic Excavator with Swing Boom
The Caterpillar® 308D CR SB machine is engineered to offer the versatility of a swing boom machoine front linkage in a durable Compact Radius design. Attention to operator comfort and ease of maintenance ensures both productivity and lower operating costs.
Product Details
Engine
| | |
| --- | --- |
| Engine Model | 4M40-TL |
| Net Power | 41.5 kW |
| Gross Power | 43 kW |
Weights
| | |
| --- | --- |
| Operating Weight | 8440 kg |
| Operating Weight with Cab | 8440 kg |
Dimensions
| | |
| --- | --- |
| Max digging depth - standard stick | 4180 mm |
| Max reach ground level - standard stick | 6900 mm |
Compact Radius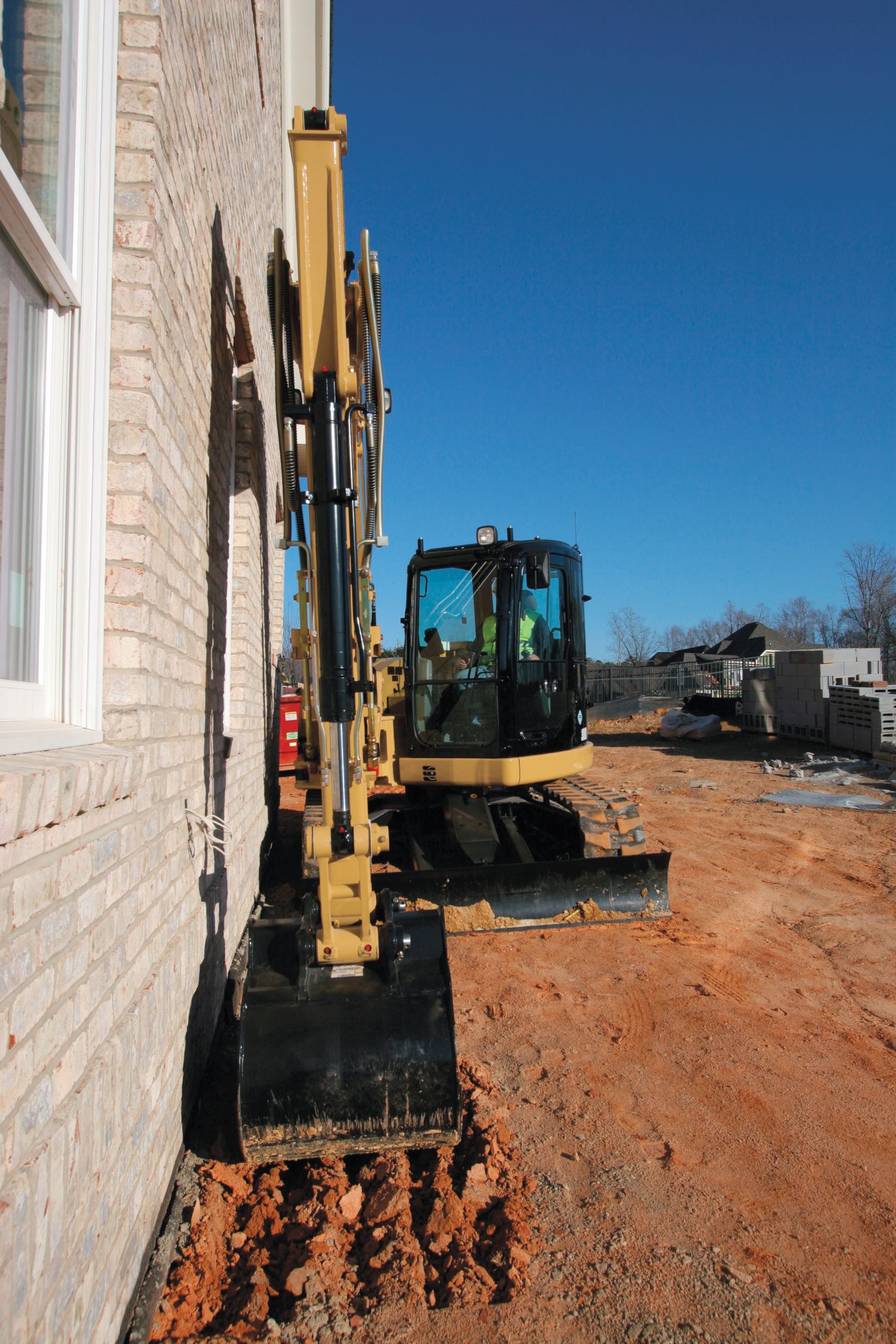 Greater machine versatility in tight spaces.
Compact Radius
The Compact Radius design of the 308D CR SB gives the machine greater versatility and capability to work within confined areas. The radius of the upper body stays close to the width of the undercarriage so the operator can concentrate on the work being done without having to worry about the back of the machine. The cab door is shaped to follow the line of the cab. It slides open taking up less space than a hinged door which allows the operator to get in and out of the machine easily even when working in tight areas. This design maintains the machine's compact dimensions reducing the risk of damage. Flexibility for different worksite applications with a reduced risk of damage and less stress for the operator add up to higher rates of productivity and lower operating costs.
Operator Station
A large, spacious cab provides operator comfort and improved visibility. The clear flat floor space gives the operator plenty of leg room. While an intuitive cab layout makes for ease of operation and reduces operator fatigue. The 308D CR SB features:
Air conditioning as standard.
Pressurised cab reduces the amount of dust that enters the cab.
A reclining suspension seat with adjustable wrist rests.
Low effort joystick controls are designed to match the operator's natural wrist and arm positions.
Overhead skylight, with integrated sun shade improves visibility and can be opened to create air flow.
Front windshield opens easily and stores in roof space above the operator with an automatic latching mechanism.
All hydraulic functions on the 308D are fully pilot operated lowering owning and operating costs and resulting in less down time.
Flat clear floor is uncluttered and easy to sweep out.
Monitor Display
The LCD monitor is located to give a clear view of the machine's monitoring system, ensuring fuel level, water temperature and warning lights are easy to read and understand.
Performance and Controllability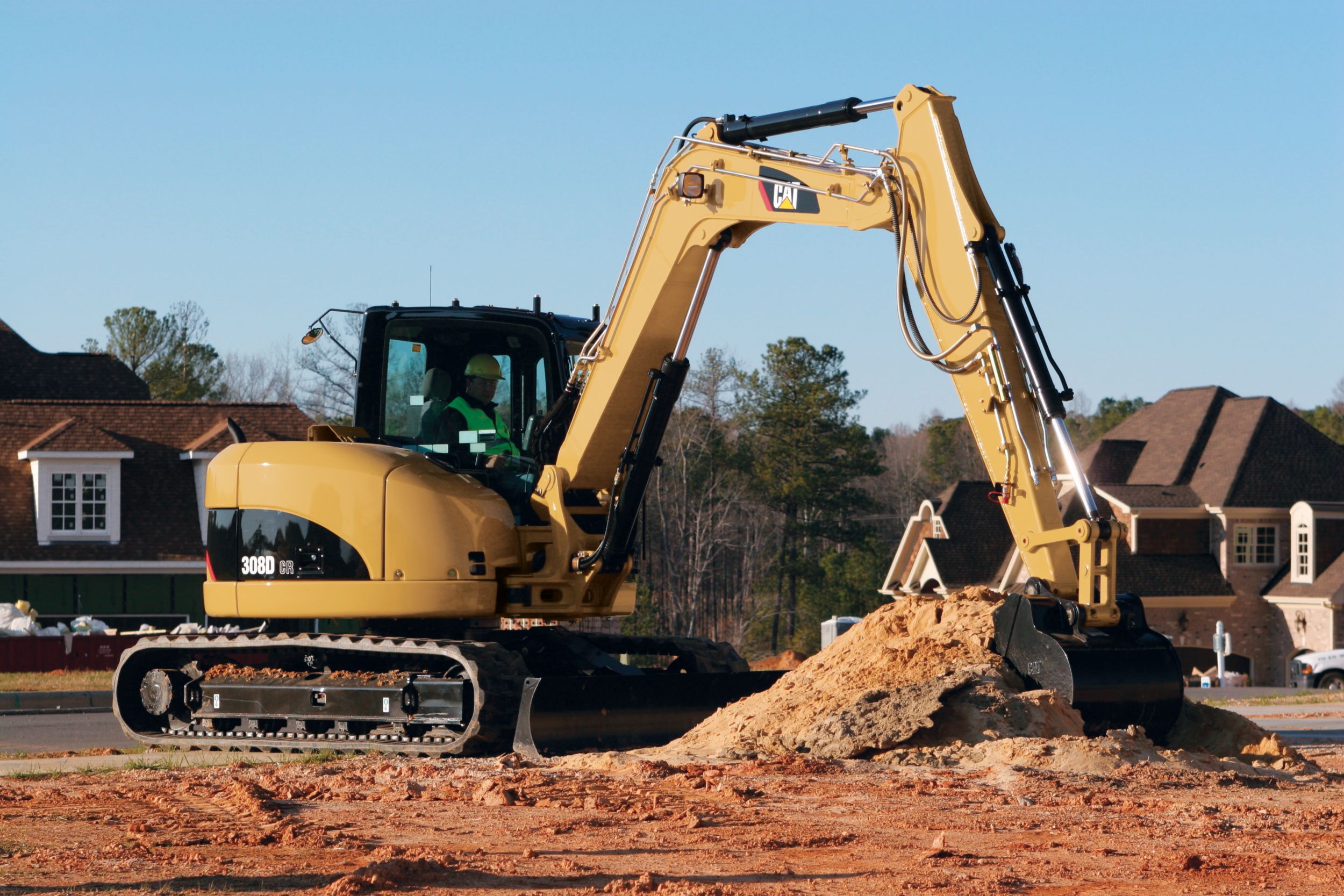 Powerful digging combined with smooth responsive control.
High Digging Force
High digging forces provide power through even the most compacted ground, coupled with direct, smooth control through responsive hydraulics ensuring that the Cat 308D CR SB delivers the high productivity that customers demand. Load sensing hydraulics optimise the flow of oil for smooth powerful performance and increased fuel economy.
Controllability
The new Cat 308D CR SB front linkage has been perfectly balanced with the hydraulics to deliver the high level of control required for fine grading and landscaping applications.
Automatic two speed function improves jobsite manoeuvrability by balancing high speed travel requirements and control.
Joystick mounted auxiliary control enhances machine controllability. The intuitive controls give fine modulation.
The levers and dozer function ensure that "as new" levels of controllability are maintained throughout the machine life.
Auxiliary lines including quick connectors are fitted as standard, meaning the Cat 308D CR SB comes ready to work.
Dozer blade float function enables easy ground levelling for landscaping and finishing applications as well as more efficient site clean-up.
Optional boom lowering check valve includes integral overload warning device.
Lift Capacity
The new Caterpillar 308D CR SB has high level lift capacity matched with outstanding stability all in a Compact Radius package to provide the on site versatility required to match the increasingly diverse needs of the customer.
Stick
A choice of standard or long stick enables the customer to match the machine choice to their equirements. The 308D CR SB features a swing boom design that allows the operator to trench parallel to the tracks against a wall or fence, meaning more versatility and flexibility.
Engine
Clean, quiet operation with superior power.
Engine
The new 308D CR Series Mini Hydraulic Excavator has a turbocharged engine providing increased power, fuel efficiency, altitude capability and overall performance while meeting EU Stage IIIA regulations.
Economy Mode
This standard feature allows the balance of performance and fuel economy while maintaining breakout forces and lift capacity. Operating in economy mode can help reduce your overall fuel consumption.
Electronic Control Module (ECM)
The ECM responds quickly to operating variables to maximize engine efficiency. Fully integrated with sensors in the engine's fuel, air, coolant and exhaust systems, the ECM stores and relays information on conditions such as rpm, fuel consumption and diagnostics.
Work Tools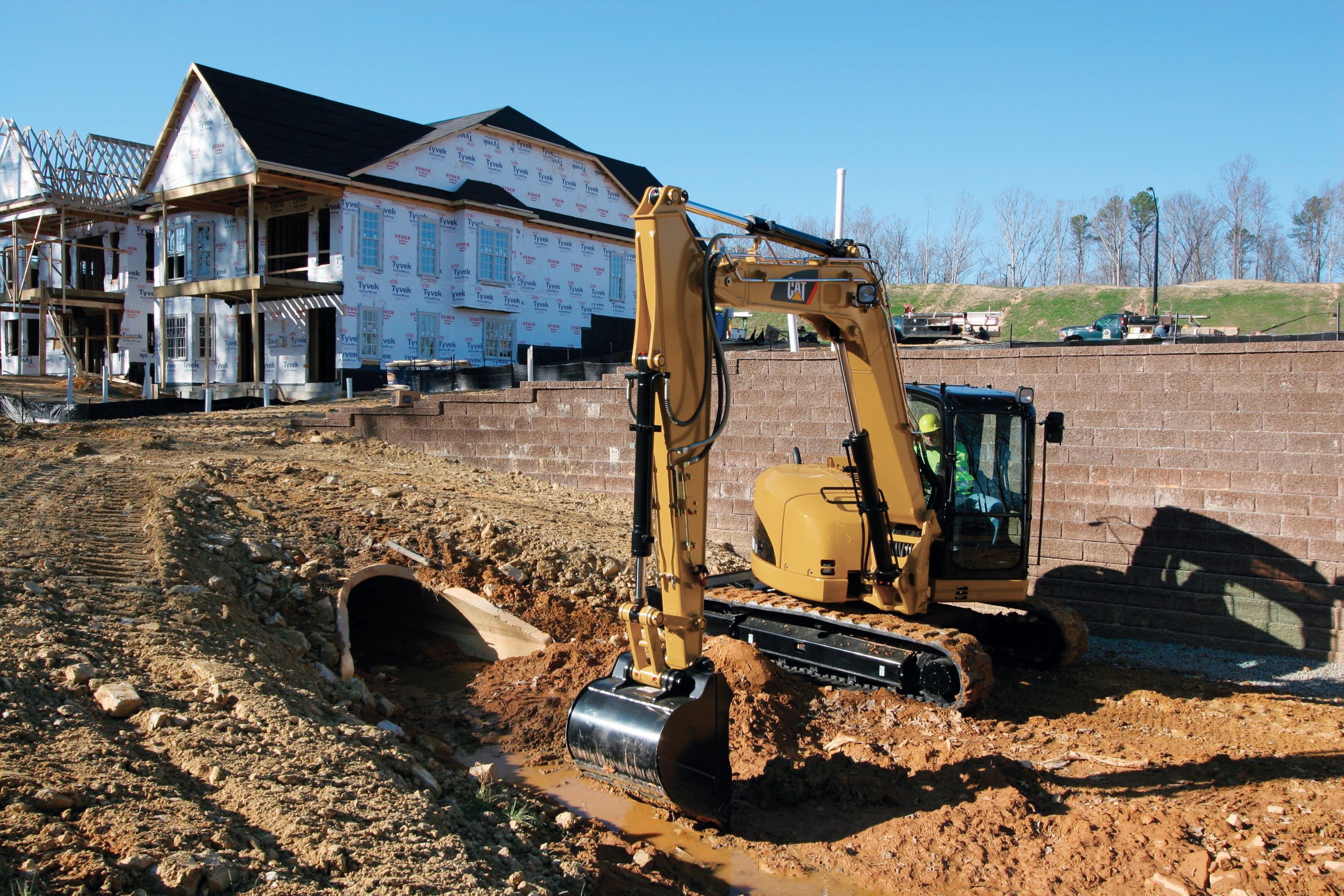 Cat Work Tools are matched to meet your application needs.
Wide Range of Work Tools
A wide range of work tools is specifically designed to get the best out of the machine and deliver excellent value through high productivity and long life. Cat Work Tools include:
Digging buckets
Heavy duty buckets
Heavy duty rock buckets
Swing ditch cleaning buckets
Tilting ditch cleaning buckets
Hydraulic hammers
Augers
Shears
Compactors
Performance
To maximize performance, Caterpillar mechanical and hydraulic Quick Couplers are compatible with all standard work tools, enabling the operator to simply release one work tool and pick up another, maximizing productivity.
One-way flow
One-way flow (hammer) and two-way flow (auger) auxiliary lines with quick connectors are fitted as standard. This feature allows the machine to adapt to a wide variety of applications without re-configuring the auxiliary lines. Here versatility is further enhanced with the option of a second auxiliary supply (for a rotating grapple).
Undercarriage
Excellent stability.
Customers Application
Depending on the customers application, the Cat 308D CR SB has four different track options to choose from, allowing the correct machine configuration to suit the job.
Rubber Belt
The standard track offering is 450 mm width.
Steel Track
A triple grouser track is available in 2 width options: 450 mm and 600 mm.
Segmented Rubber Track
This option of track prevents damage to concrete and other road surfaces ideal in urban applications.
Rubber Pads
The 450 mm wide shoe has four holes to attach the rubber pads to the steel track shoes. This option prevents damage to paved road surfaces and minimises noise and vibration during travel.
Blade Widths
The dozer blade is an important and useful tool for the Hydraulic Mini Excavator used for backfilling trenches, levelling, landscaping and site clean up. There are two blade width options available to accommodate the differences in track widths. The blade comes standard with a replaceable weld-on dozer cutting edge constructed of hardened steel for longer life.
Tie Down Points
Large oval tie down points are located on the blade and undercarriage for easy and safe machine tie down for transportation.
Serviceability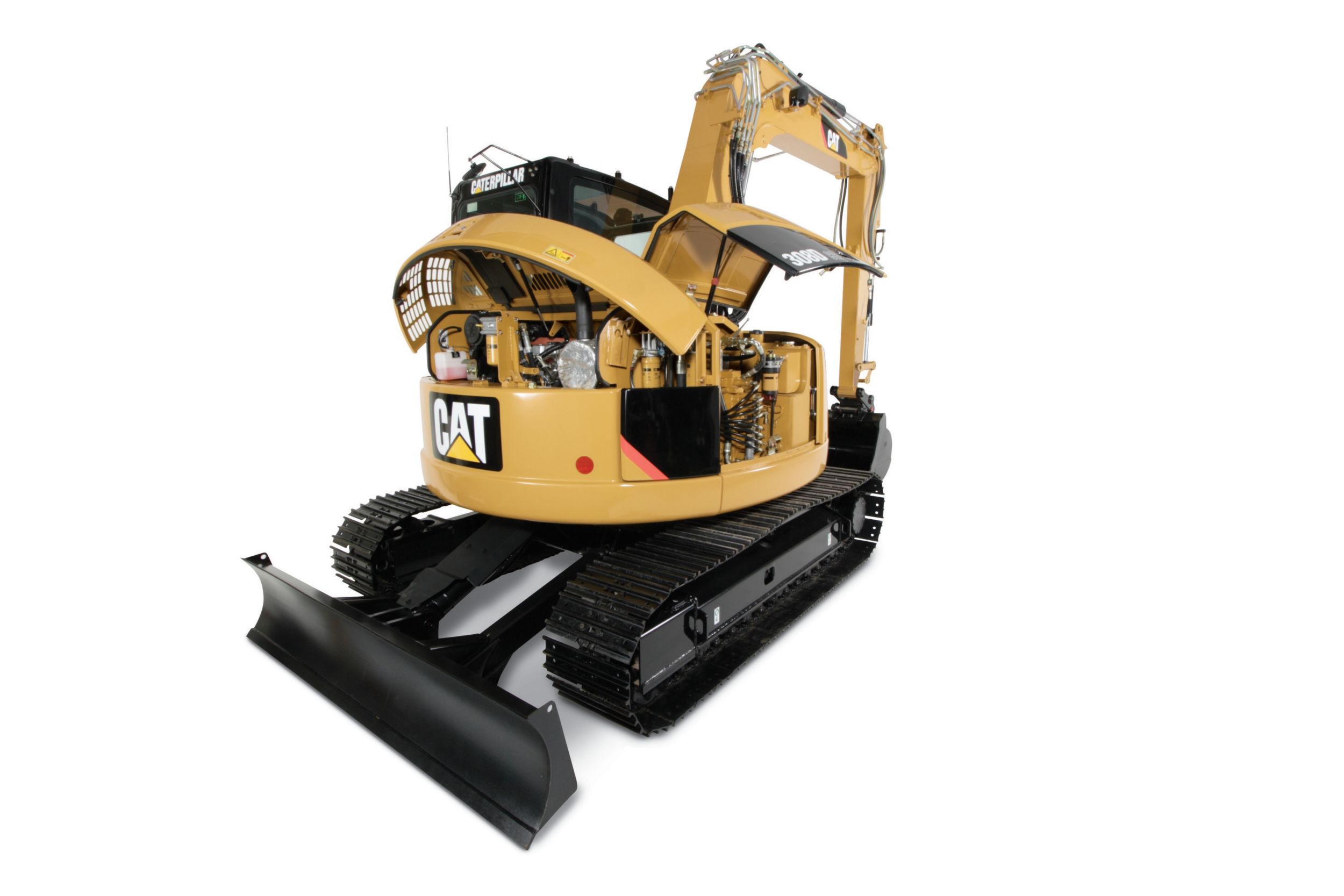 Easy access and minimal maintenance requirements keep your machine on the job.
Reliable and Easily Serviced
Robust, reliable and easily serviced are the key attributes of Caterpillar Mini Hydraulic Excavators. Full steel body work panels provide durable protection against damage. All daily service points are easily accessed through the rear hood and side cover and a 500 hour engine oil change interval lowers operating costs. The Cat S•O•S. points assist easy oil sampling for preventative maintenance checks.
Cat Product Link
The optional Product Link system simplifies equipment fleet tracking. Using satellite or cellular technology, the system automatically reports information such as location, machine hours, active and logged service codes and security alarms.
Cat Machine Security System
An optional Machine Security System (MSS) that utilizes a programmable key system that deters theft, vandalism and unauthorized usage. MSS uses electronically coded keys selected by the customer to limit usage by individuals or time parameters.
Customer Support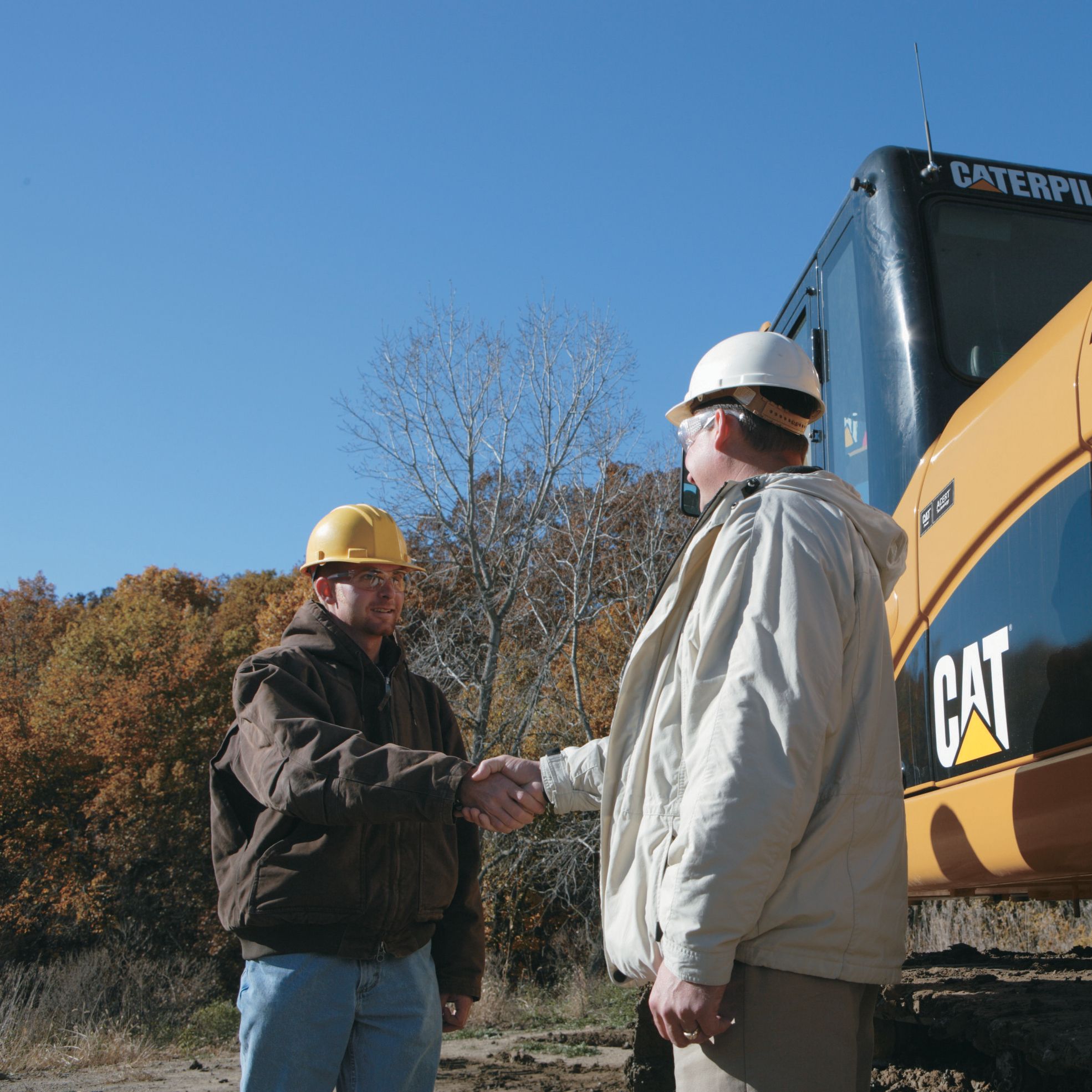 Unmatched support makes the difference
Your Cat dealer is ready to assist you with your purchase decision and everything after
Make comparisons of machines, with estimates of component life, preventative maintenance and cost of production.
Financing packages are flexible to meet your needs.
Your Cat dealer can evaluate the cost to repair, rebuild and replace your machine, so you can make the right choice.
A worldwide computer network enables the dealer parts counter to locate nearly all parts.
For more information on Cat products, dealer services and industry solutions, visit us at www.cat.com.
"Call Back Option available only for UAE, Bahrain, Kuwait, Oman and Qatar."