305.5E CR Hydraulic Excavator
The Cat 305.5E CR delivers high performance in a compact radius design to help you work in the tightest applications.
Product Details
Engine
| | |
| --- | --- |
| Engine Model | Cat® C2.4 |
| Net Power | 32.9 kW |
| Gross Power | 34.1 kW |
Weights
| | |
| --- | --- |
| Operating Weight | 5270.0 kg |
| Operating Weight with Cab | 5415.0 kg |
Dimensions
| | |
| --- | --- |
| Max digging depth - standard stick | 3470.0 mm |
| Max reach ground level - standard stick | 5630.0 mm |
| Height over cab | 2550.0 mm |
| Max cutting height - long stick | 5590.0 mm |
| Max cutting height - standard stick | 5330.0 mm |
| Max dump height - long stick | 4080.0 mm |
| Max dump height - standard stick | 3820.0 mm |
| Max horizontal reach - long stick | 6170.0 mm |
| Max horizontal reach - standard stick | 5790.0 mm |
| Max vertical dig depth - long stick | 2730.0 mm |
| Max vertical dig depth - standard stick | 2330.0 mm |
| Shipping Height | 2550.0 mm |
| Shipping Length | 5330.0 mm |
| Track Shoe Width | 400.0 mm |
| Transport Width | 1980.0 mm |
Engine Dimensions
| | |
| --- | --- |
| Bore | 87.0 mm |
| Stroke | 102.4 mm |
| Displacement | 2.4 L |
Travel System
| | |
| --- | --- |
| Max traction force - high speed | 26.8 kN |
| Max traction force - low speed | 47.8 kN |
| Travel Speed - High | 4.6 km/h |
| Travel Speed - Low | 2.8 km/h |
MSC Comments
Hydraulic System
| | |
| --- | --- |
| Operating Pressure - Equipment | 245.0 bar |
| Digging Forces - Stick (standard) | 28.9 kN |
| Digging Force - Stick (long) | 24.8 kN |
| Digging Force - Bucket | 50.9 kN |
| Operating Pressure - Travel | 245.0 bar |
| Operating Pressure - Swing | 185.0 bar |
| Auxiliary circuit - primary (245 bar, 3550 psi) | 70.0 L/min |
| Auxiliary circuits - secondary - at 174 bar | 38.0 L/min |
Swing System
| | |
| --- | --- |
| Machine Swing Speed | 9.0 RPM |
| Boom swing - left (without stop) | 80.0 Degrees |
| Boom swing - left (with stop) | 60.0 Degrees |
| Boom Swing - Right | 50.0 Degrees |
Blade
| | |
| --- | --- |
| Width | 1980.0 mm |
| Height | 375.0 mm |
| Dig Depth | 540.0 mm |
| Lift Height | 420.0 mm |
Service Refill Capacities
| | |
| --- | --- |
| Cooling System | 11.0 L |
| Engine Oil | 9.5 L |
| Hydraulic Tank | 68.3 L |
| Fuel Tank | 63.0 L |
| Hydraulic System | 78.0 L |
COMPASS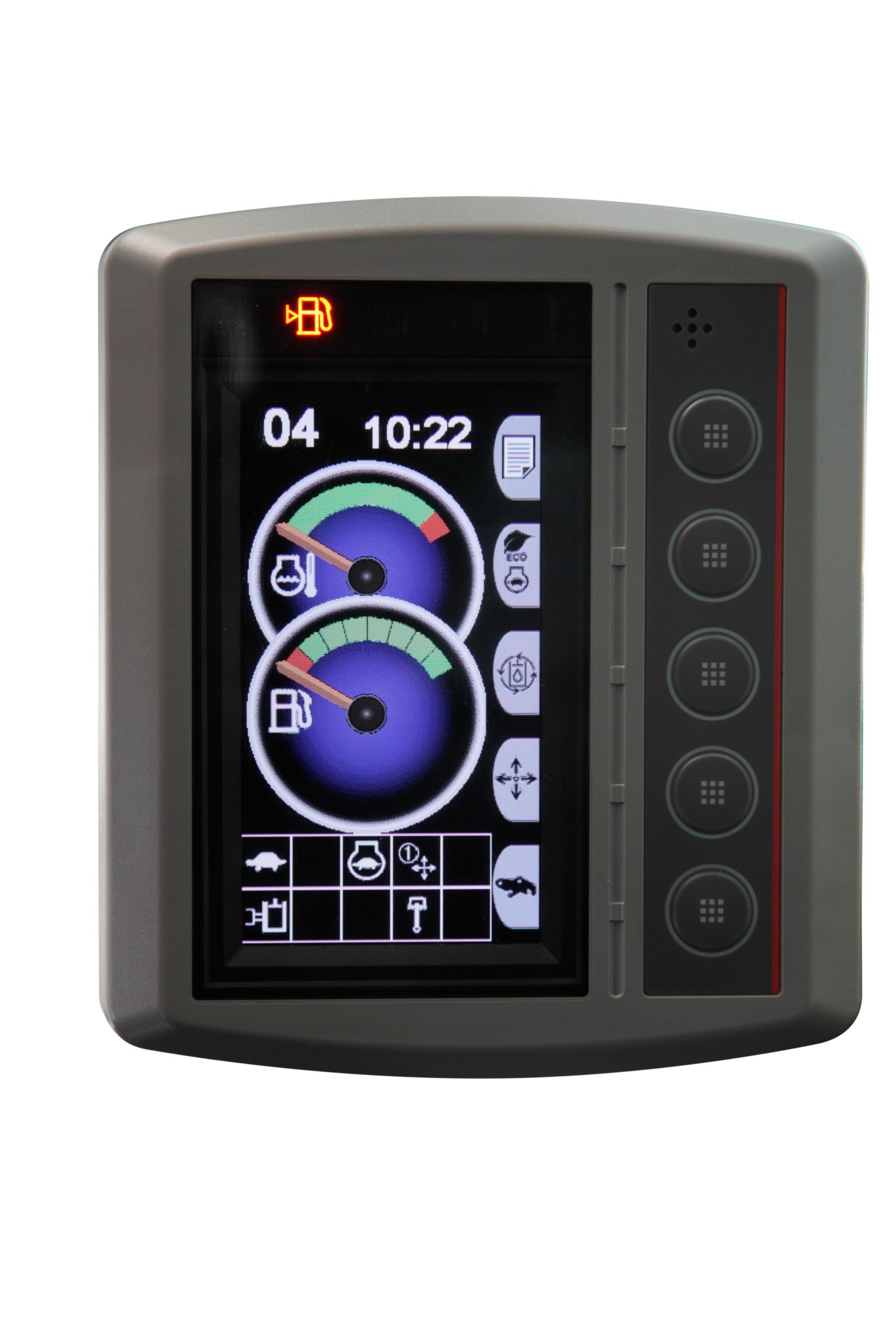 Complete Operation, Maintenance, Performance and Security System.
COMPASS Display Panel
Unlock the new features and experience the value of the exclusive COMPASS control panel on the new E series Excavators. The brand new Complete Operation, Maintenance, Performance and Security System on the Caterpillar E series mini hydraulic excavators was specifically designed by Caterpillar for compact excavators. It adds several new features to the machines increasing the amount of customer value:
A Standard Anti-theft Security System
Adjustable Work Tool Auxiliary Flow Control
Continuous Flow
Economy Mode - save up to 20% fuel while maintaining high productivity with the push of a button.
Operator Station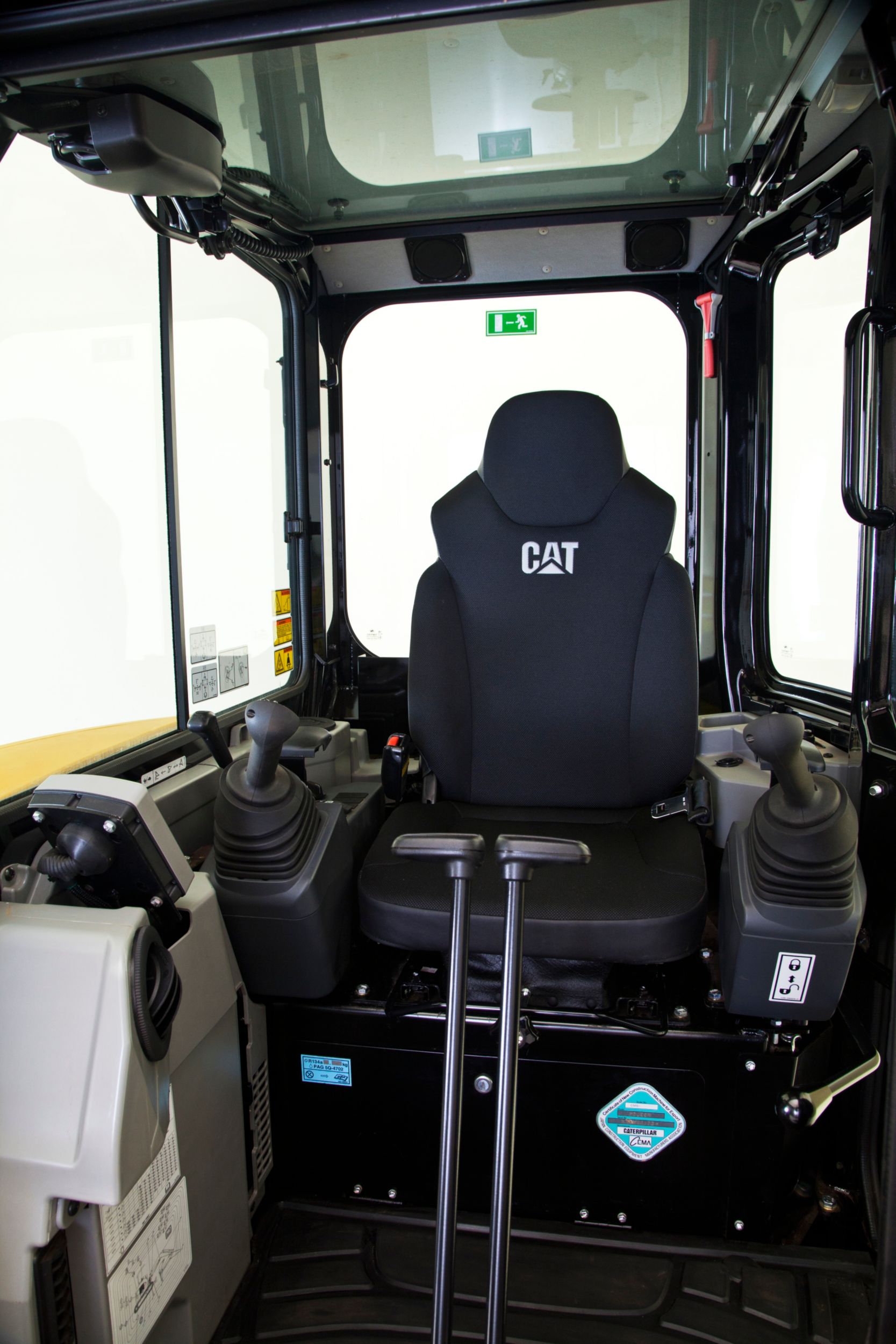 Superior comfort to keep you productive throughout the work day.
Comfortable Working Environment
Spacious and comfortable operator station with excellent visibility and legroom keeps the operator comfortable and reduces fatigue. Standard features include:
Reclining suspension seat with adjustable wrist rests.
Pilot operated controls on all services including travel levers and dozer functions.
Two post canopy design for better visibility to the work area.
A pattern control changer (not available in all regions) is accessible from the cab to switch between excavator and backhoe style controls.
Ample storage space under the seat that can be locked for added security.
Optional Enclosed Cab
For even greater operator comfort, an enclosed cab is available as an option and features:
Sealed cab with heat and optional air conditioning to keep you comfortable in a wide range of conditions.
Radio ready with speakers and easy radio installation.
Removable lower front window and sliding windows for excellent overall visibility.
Gas assisted front window slides up with minimal effort.
Sliding door system offers good access and maintains the machine's compact dimensions, reducing the risk of damage.
Joystick Controls
The boom swing and auxiliary hydraulic functions are located at your fingertips providing smooth, easy operation. These joystick mounted controls deliver more productivity through precise movement of the boom swing and auxiliary functions. They also eliminate foot pedals and free up the floor for more room for the operator's feet. 100% pilot controls provide consistent flow and pressure throughout the life of the machine. This also allows all controls to be locked out while starting the machine and when the safety lockout bar is in the up position.
Performance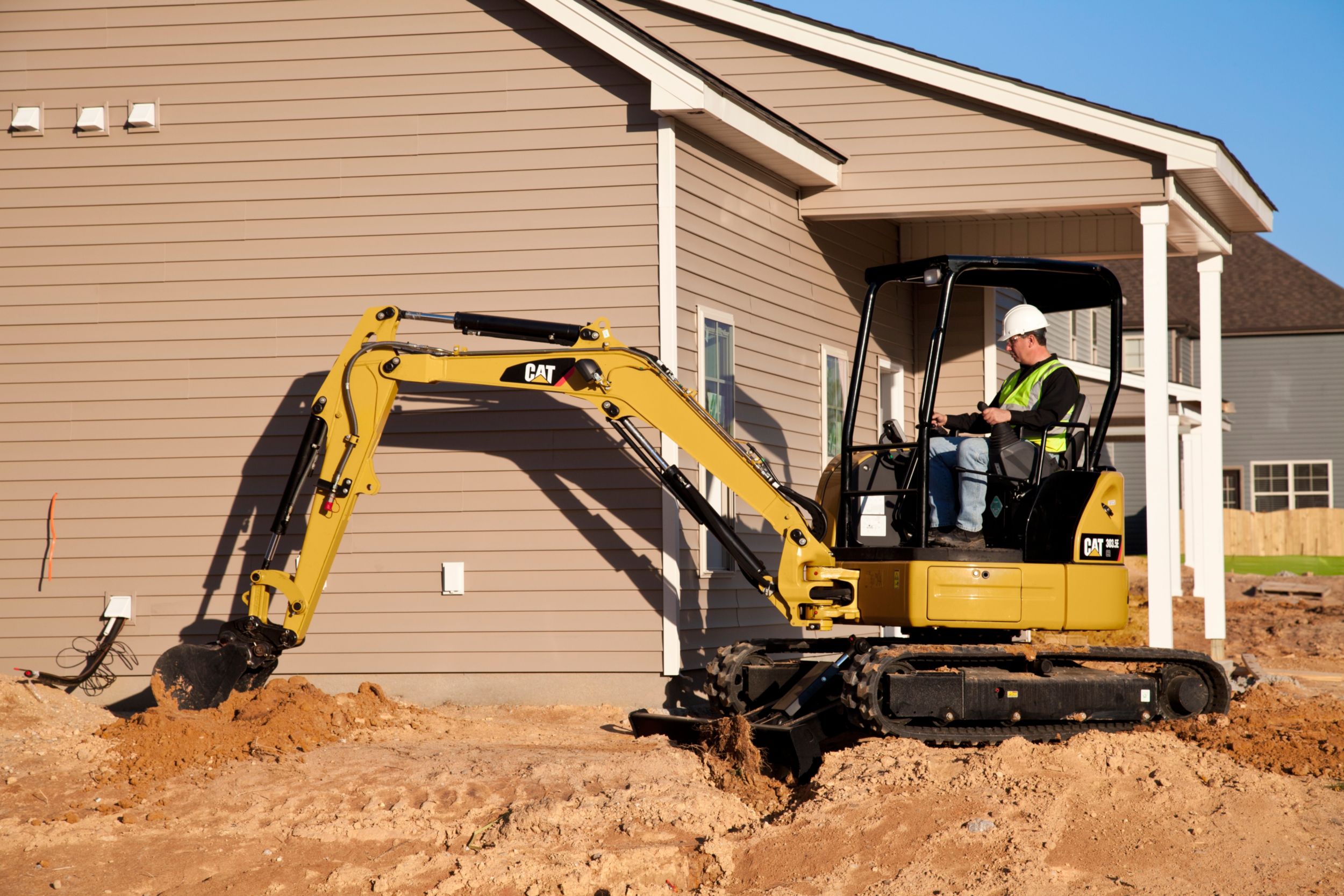 Powerful digging with precise control.
Stability
All four E-Series models feature increased stability, while maintaining the compact radius design. This increased stability leads to more productivity and versatility through the use of heavier work tools and the optional long stick.
Fast, Powerful Digging with Load Sensing Hydraulics
High digging forces and fast cycle times deliver the productivity that your job demands. Load sensing hydraulics optimize flow for smooth, powerful performance and increased fuel efficiency.
Engine
High performance power train provides optimized engine horsepower and strong performance. Engine meets U.S. EPA Tier 4 Interim and EU Stage IIIA emissions requirements. Automatic engine idle automatically lowers engine revolutions when not in use to conserve fuel and lower environmental noise and emissions. The E-Series models feature an engine kill switch conveniently located in the cab and accessible from ground level.
Automatic Two Speed
With the standard automatic two speed feature, the machine will automatically balance high speed and torque travel requirements based on the conditions to give the operator the optimum speed and control. The machine can be put in low gear if slower travel is desired while in tight conditions.
200 Degree Bucket Rotation
Industry leading bucket rotation of over 200 degrees provides greater material retention during truck loading. It also allows for easier vertical wall digging without having to reposition the machine.
Compact Radius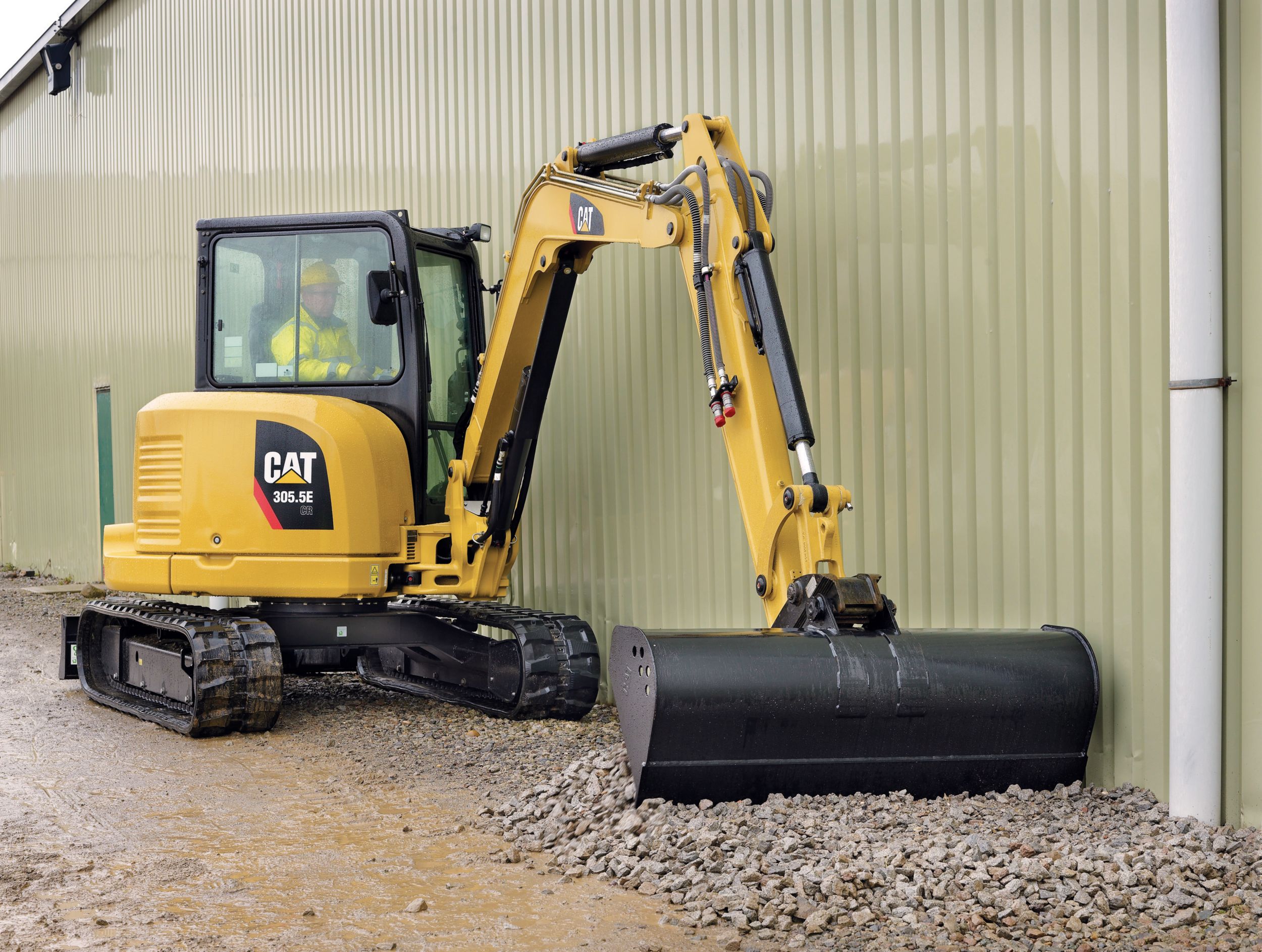 Work in the tightest areas.
Compact Radius
The compact radius design gives greater machine versatility and the capability to work within confined areas. This allows the operator to concentrate on the work being done without having to worry about damaging the back of the machine or other job site obstacles. On the 305D CR and the 305.5D CR, the upper body stays within 140 mm (5.5 in) of the undercarriage.
Coupler and Work Tool Options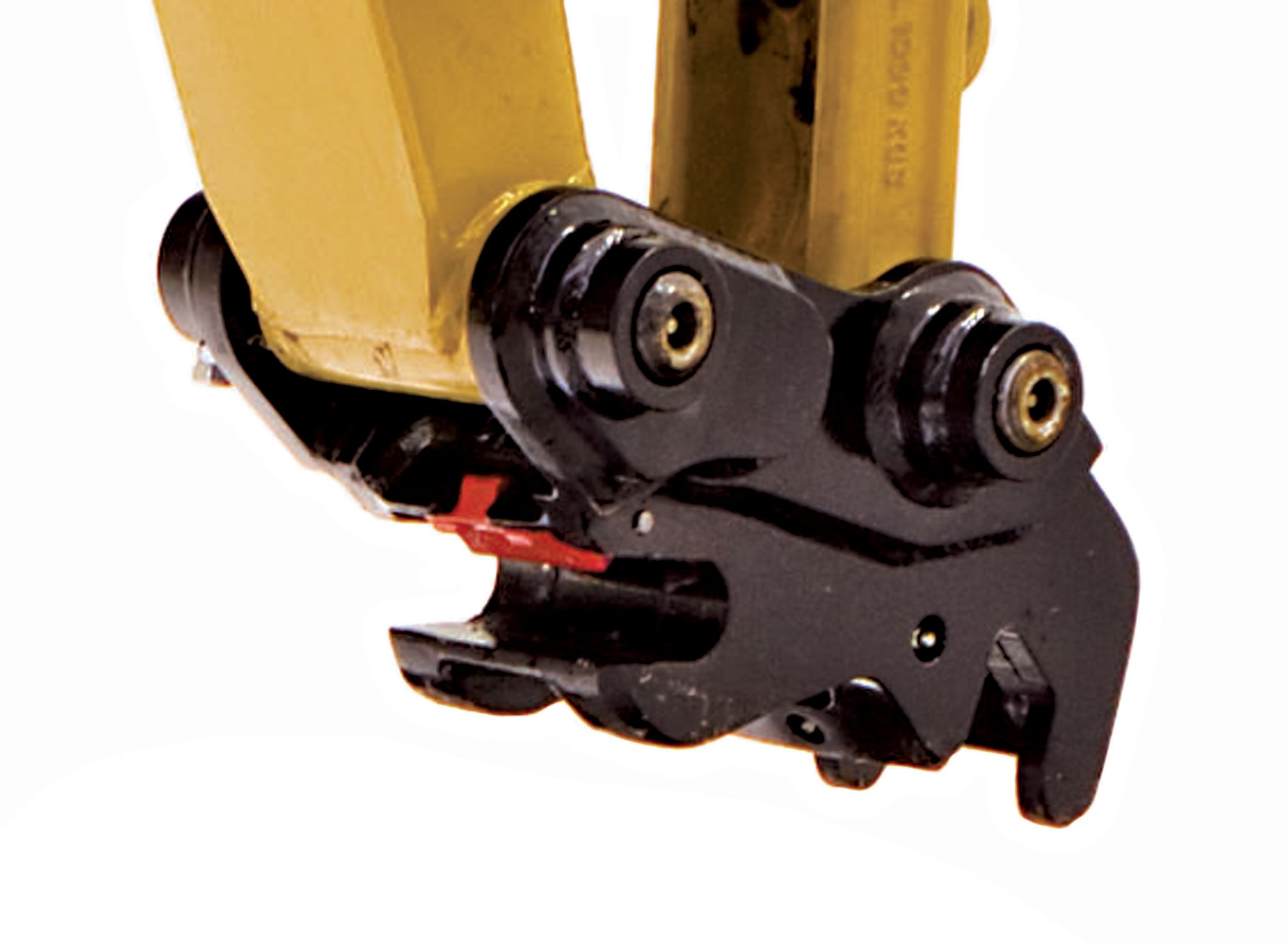 New coupler design and multiple work tools increase versatility.
Couplers
The E-Series is available with a mechanical pin-grabber or a hydraulic pin-grabber quick coupler option. The coupler design uses a wedge to keep the tool secure to the coupler, reducing wear and maintaining a tight fit through the life of the coupler. The hydraulic coupler allows the operator to change tools without leaving the comfort of the cab
Wide Range of Work Tools
A wide range of Cat Work Tools have been designed specifically for the Cat Mini Hydraulic Excavators to maximize machine performance. Available work tools include:
Buckets (heavy duty and heavy duty capacity)
Tilting, Ditch Cleaning Buckets
Hydraulic Hammers
Augers
Thumbs (not available in all regions)
Vibratory Compactors
Quick Coupler
Standard Thumb Ready Sticks (optional in Europe)
Machines come standard with stick mounted brackets, ready to fit a hydraulic thumb for even greater machine versatility. A factory installed bracket and relief valve make hydraulic thumb installation simple and cost-effective.
Standard Auxiliary Lines and Accumulator
One-way and two-way auxiliary lines (combined function), including quick connections, are fitted as standard equipment so the machine comes ready to work. A standard accumulator allows for auxiliary pressure to be released, making connecting and disconnecting work tools safer and easier.
Dozer Blade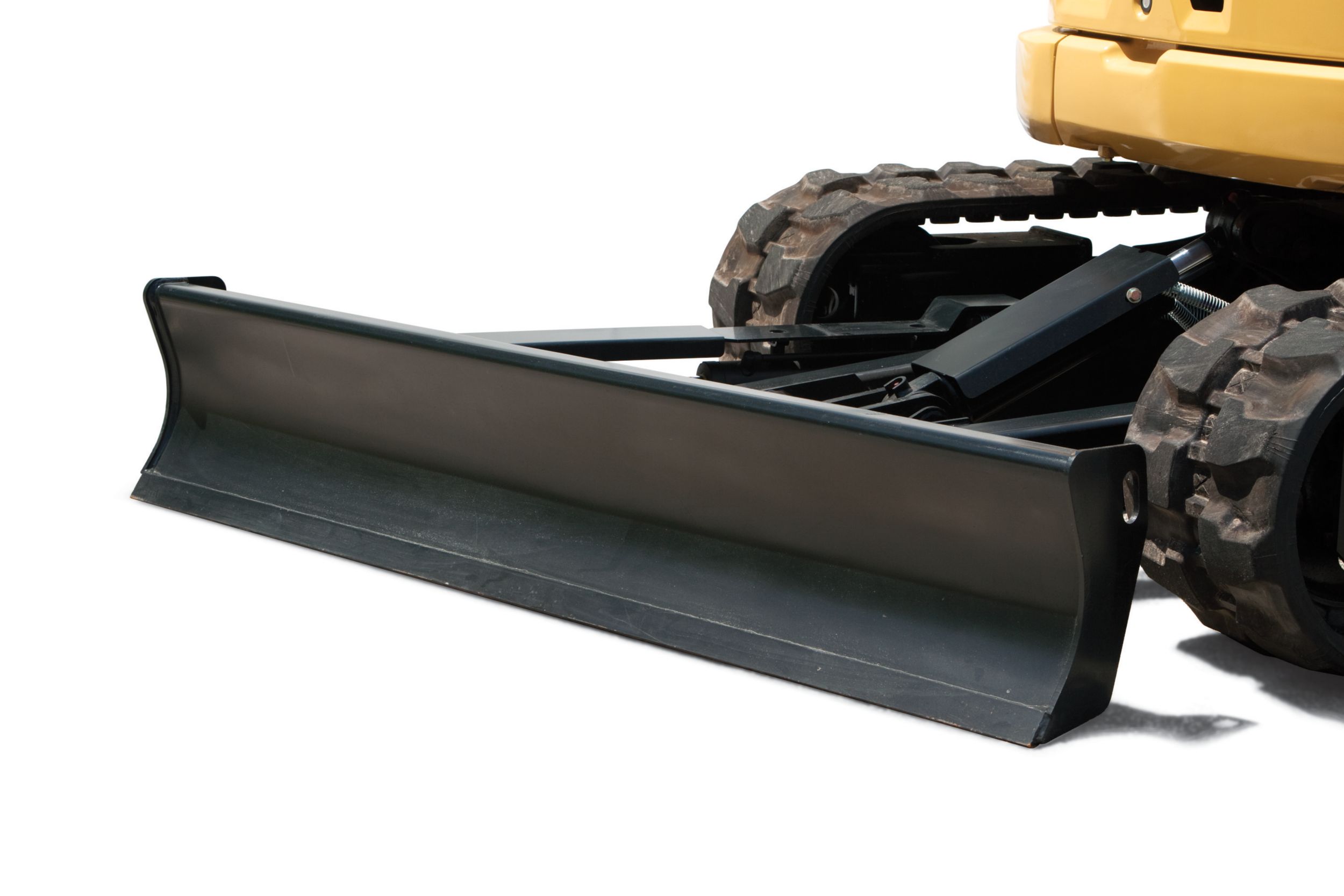 Standard dozer blade maximizes productivity.
Simple Dozer Control with Float Function
The dozer function is pilot controlled from inside the cab, providing smooth, proportional operation. The standard float function is enabled by pushing the lever fully forward into the detent position. Cleanup and backfilling is easier since the operator does not have to adjust the blade height during travel.
Excellent Blade Visibility
Visibility to the blade is excellent in any position, allowing the blade to be positioned behind the operator and away from the front linkage for better access when back dragging and finishing in tight areas.
Angle Blade Option
Increase machine versatility with the Cat angle dozer blade. Built for strength and durability, the hydraulic angle blade features a hardened steel wear edge and good protection to cylinders and hydraulic lines. The angle blade can be positioned straight ahead or angled up to 25 degrees to the left or right. This reduces the number of times required to back up and reposition when backfilling so you can finish the job faster. All functions of the blade are controlled with one joystick using a proportional roller switch for the angle function.
Undercarriage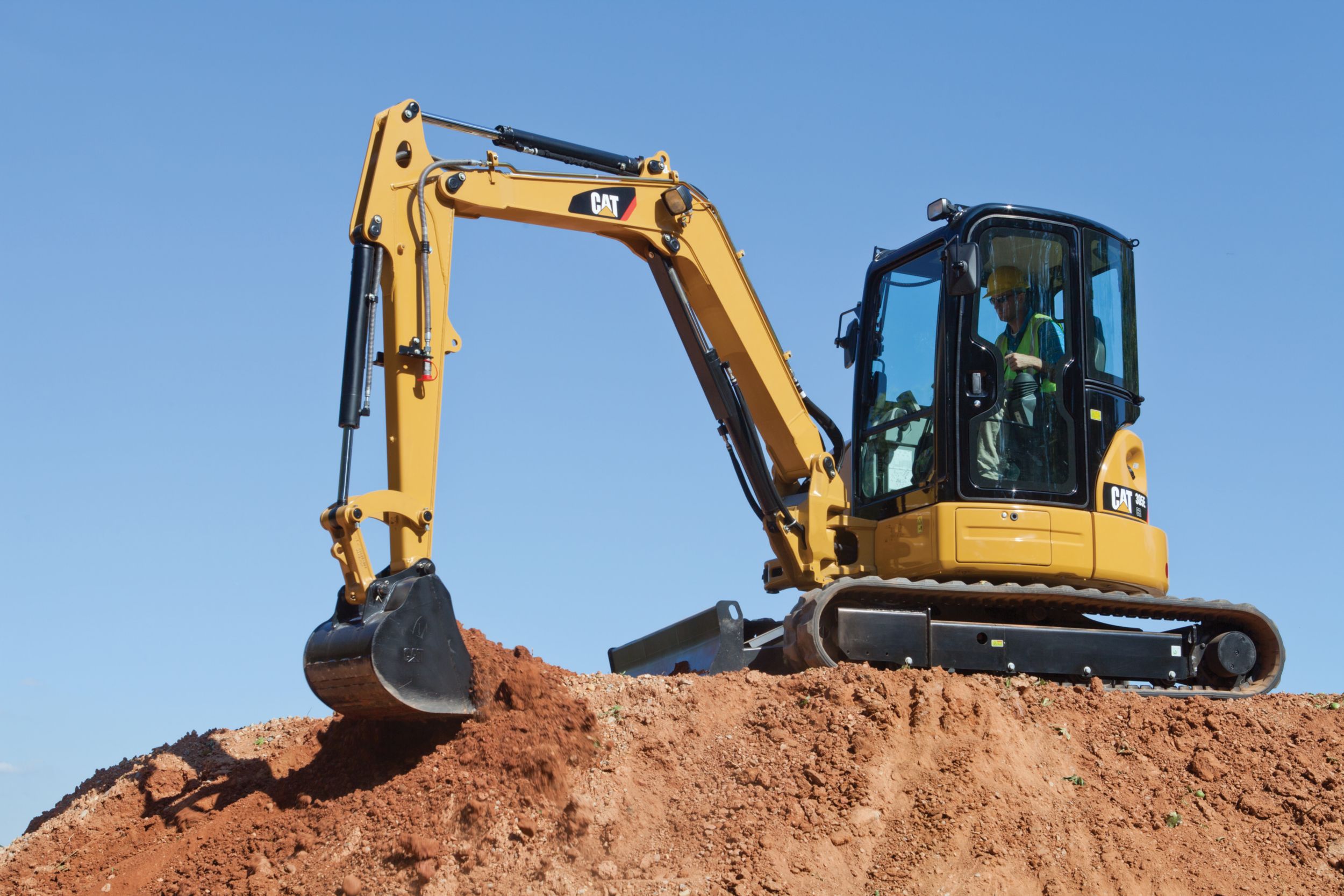 Stability and durability.
Rubber Track
The standard rubber track lets you work on multiple surfaces such as grass, pavement or stone without damaging the surface or machine.
Steel Track Option
Optional steel track is available for harsh conditions such as demolition. The extra weight of the steel tracks generally provides better stability when digging over the side of the machine. (Not available on the 304E CR.)
Rubber Pads
Optional rubber pads can be attached to the steel track to prevent damage to paved surfaces and minimize noise and vibration during travel with the steel track system. This option provides the maximum overall stability.
Serviceability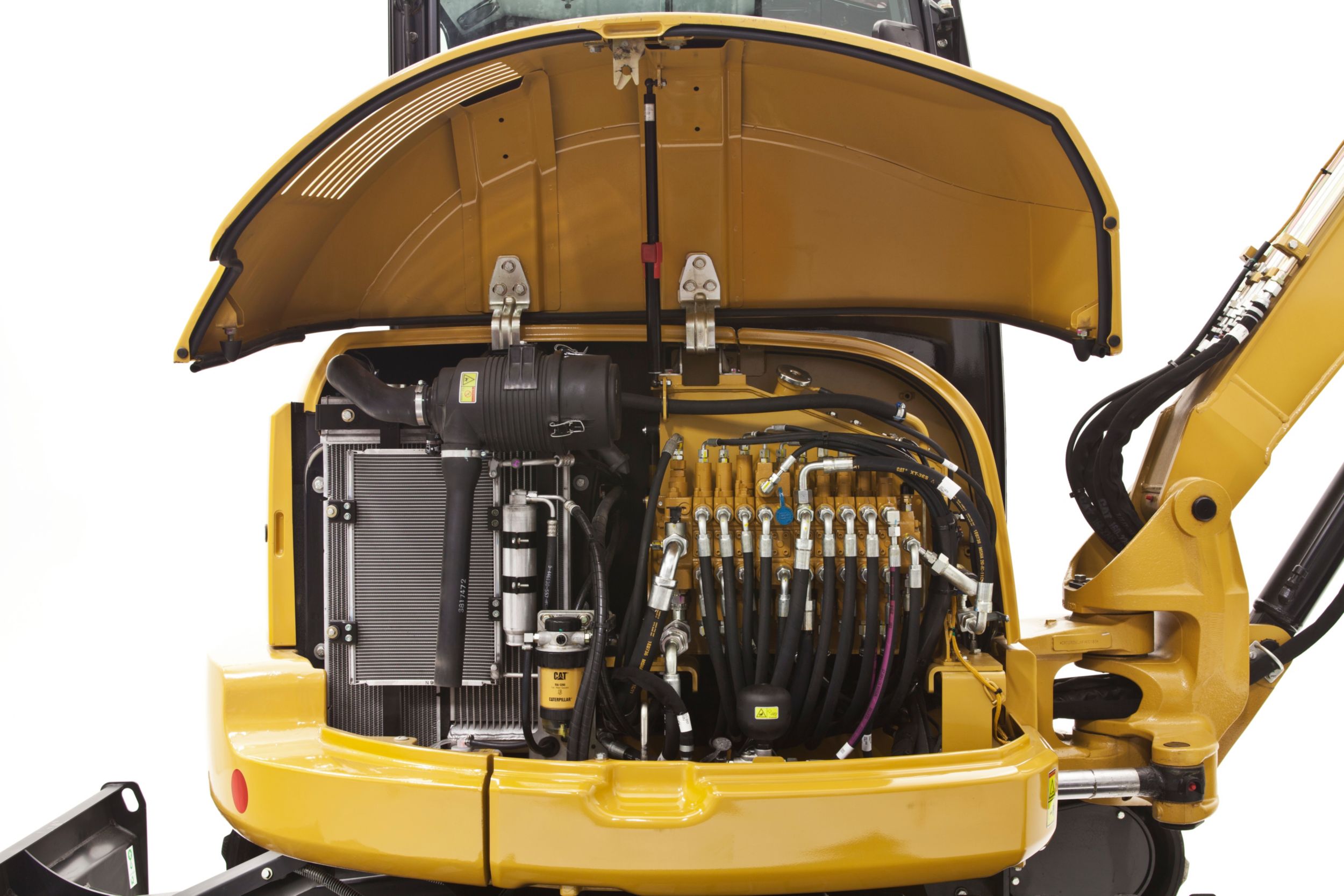 Simplified service and maintenance save you time and money.
Easy Service
Convenient service features make maintenance easy, reducing your downtime:
Lifting side hood allows access to air filter, main implement valve, 1-way/2-way auxiliary flow selector, accumulator, fuel filter and hydraulic tank. This eliminates the need to lift the cab when maintaining and servicing the machine.
Swing out rear door provides access to major components and service points including engine oil check and fill, vertically mounted engine oil filter, starter motor and alternator.
Easy access to the radiator and oil cooler results in simplified cleaning and reduced maintenance times.
SOSSM oil sampling valve allows easy sampling of the hydraulic fluid for preventative maintenance.
500 hour engine oil and filter change period reduces operating costs and machine downtime.
Customer Support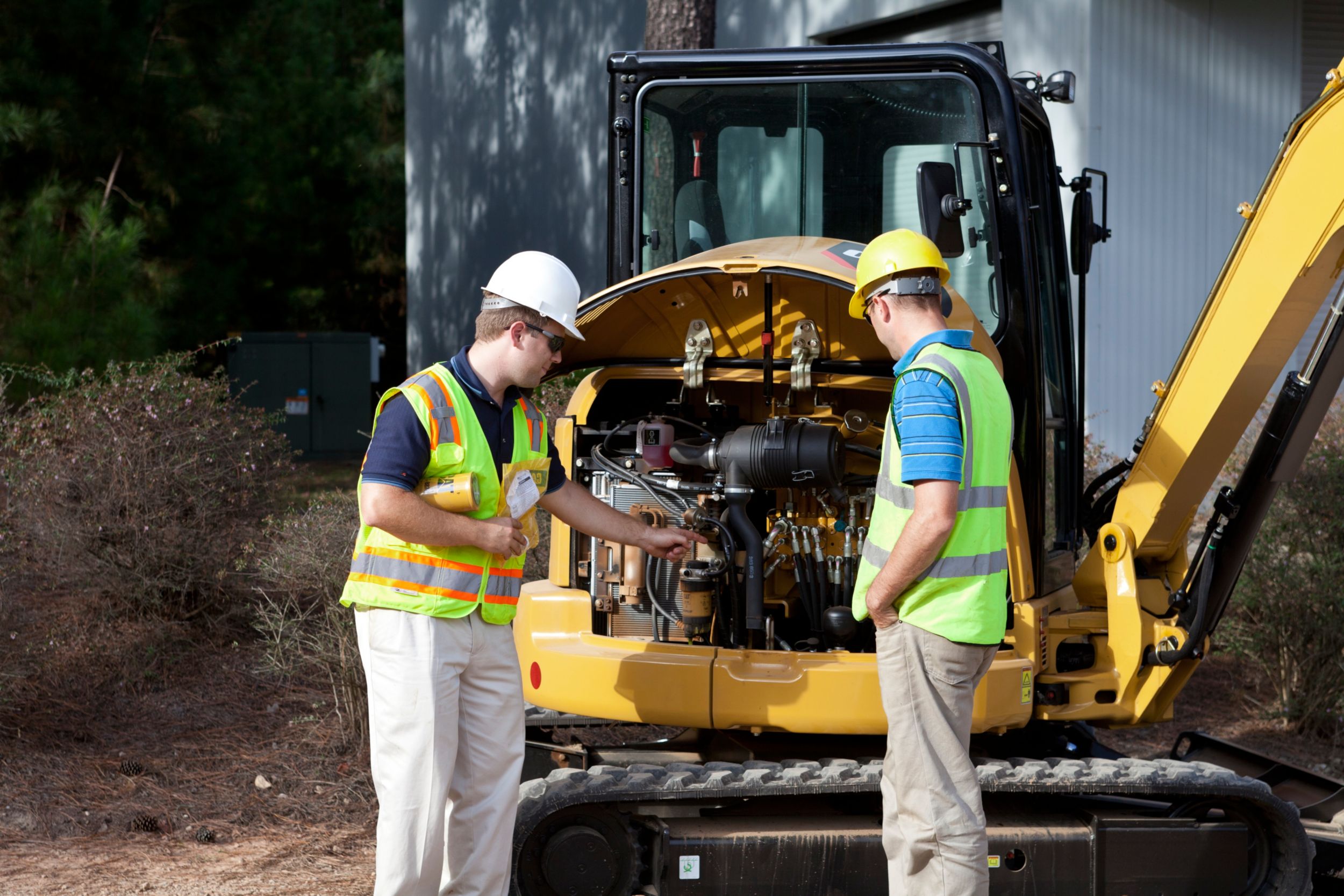 Support you can count on.
Superior Dealer Services
Your Cat dealer is ready to assist you with your purchase decision and everything after.
Financing packages are flexible to meet your needs.
Unmatched parts availability keeps you working.
Make comparisons of machines, with estimates of component life, preventative maintenance and cost of production.
Your Cat dealer can evaluate the cost to repair, rebuild and replace your machine.
For more information on Cat products, dealer services and industry solutions, visit www.cat.com.
1-way and 2-way (combined function) auxiliary hydraulic lines
Adjustable wrist rests
Alternator
Automatic engine idle
Automatic swing park brake
Automatic two speed travel
Auxiliary line quick disconnects
Boom cylinder guard
Cab mounted work light
Canopy with FOPS ISO 10262 (Level 1) and Tip-Over Protection (TOPS) ISO 12117
Coat hook
Cup holder
Control pattern changer (not available in Europe)
COMPASS display panel
Dozer blade with float function
Floor mat
Foot travel pedals
Gauges or indicators for fuel level engine coolant temperature, hour meter, engine oil pressure, air cleaner, alternator and glow plugs, service interval
Horn
Hydraulic oil cooler
Lifting eye on bucket linkage (optional in Europe)
Lockable storage box
Low maintenance linkage pin joints
Maintenance free battery
Rubber track
Seatbelt, 76 mm (3 in) wide, retractable (optional in Europe)
Standard stick
Suspension seat, vinyl covered
"Thumb ready" stick (standard equipment in all regions except Europe)
Travel alarm (optional in Europe)
Air conditioning
Angle dozer blade with float function
Beacon socket for canopy machines
Boom check valve (Europe only)
Boom mounted light
Cab, radio ready with FOPS ISO 10262 (Level 1), Tip-Over Protection (TOPS) ISO 12117, heater/defroster, interior light and windshield wiper/washer
Ecology drain valve for hydraulic tank
Ecology drain valve for engine oil
Fan and sun blind installation
Front screen guard for cab and canopy
High back suspension seat, fabric covered
Hydraulic quick coupler lines
Long stick
Mechanical quick coupler
Mirrors for cab and canopy
Secondary auxiliary hydraulic lines
Steel track and steel track with rubber pads
"Call Back Option available only for UAE, Bahrain, Kuwait, Oman and Qatar."