301.4C Mini Hydraulic Excavator
Product Details
Engine
| | |
| --- | --- |
| Engine Model | Yanmar 3TNV76 |
| Net Power | 13.2 kW |
| Gross Power | 17.9 kW |
| Displacement | 1116.0 cm3 |
| Rated Net Power (ISO 9249) | 13.2 kW |
Weights
| | |
| --- | --- |
| Operating Weight | 1470.0 kg |
| Operating Weight with Cab | 1470.0 kg |
| Note | Weights do not include worktools. |
| Operating Weight with Cab and Extending Undercarriage | 1558.0 kg |
| Operating Weight with Canopy | 1380.0 kg |
| Operating Weight with Canopy and Extending Undercarriage | 1468.0 kg |
Dimensions
| | |
| --- | --- |
| Height | 2276 mm |
| Maximum Digging Depth | 2210 mm |
| Maximum Digging Depth of Dozer Blade Below Ground | 264 mm |
| Maximum Digging Height | 3393 mm |
| Maximum Digging Radius | 3700 mm |
| Maximum Dumping Height | 2403 mm |
| Maximum Lift of Dozer Blade Above Ground | 211 mm |
| Maximum Reach on the Ground | 3636 mm |
| Maximum Swing Angle of Boom System to the Left | 73° |
| Maximum Swing Angle of Boom System to the Right | 49° |
| Maximum Vertical Digging Depth | 1482 mm |
| Minimum Boom Swing Radius | 1490 mm |
| Tail Swing Radius | 1075 mm |
| Track Length | 1460 mm |
| Undercarriage Width - Extended | 1300 mm |
| Undercarriage Width - Retracted | 990 mm |
| Width | 730 mm |
Travel System
| | |
| --- | --- |
| Travel Speed | 2.4 km/h |
| Gradeability | 30°/58% |
| Track Width | 230.0 mm |
Hydraulic System
| | |
| --- | --- |
| Operating Pressure - Equipment | 200.0 bar |
| Operating Pressure - Travel | 200.0 bar |
| Operating Pressure - Swing | 150.0 bar |
| Max. Bucket Force | 16.0 kN |
| Max. Stick Force | 7.1 kN |
| Pump Flow at 2,200 rpm | 35.0 L/min |
Blade
| | |
| --- | --- |
| Width | 980.0 mm |
| Height | 232.0 mm |
| Dig Depth | 264.0 mm |
| Lift Height | 211.0 mm |
Service Refill Capacities
| | |
| --- | --- |
| Fuel Tank Capacity | 24.0 L |
| Hydraulic Tank Capacity | 20.0 L |
Operating Specifications
| | |
| --- | --- |
| Machine Overhang | 424.0 mm |
| Stick Length - Long | 1100.0 mm |
| Stick Length - Standard | 940.0 mm |
Versatility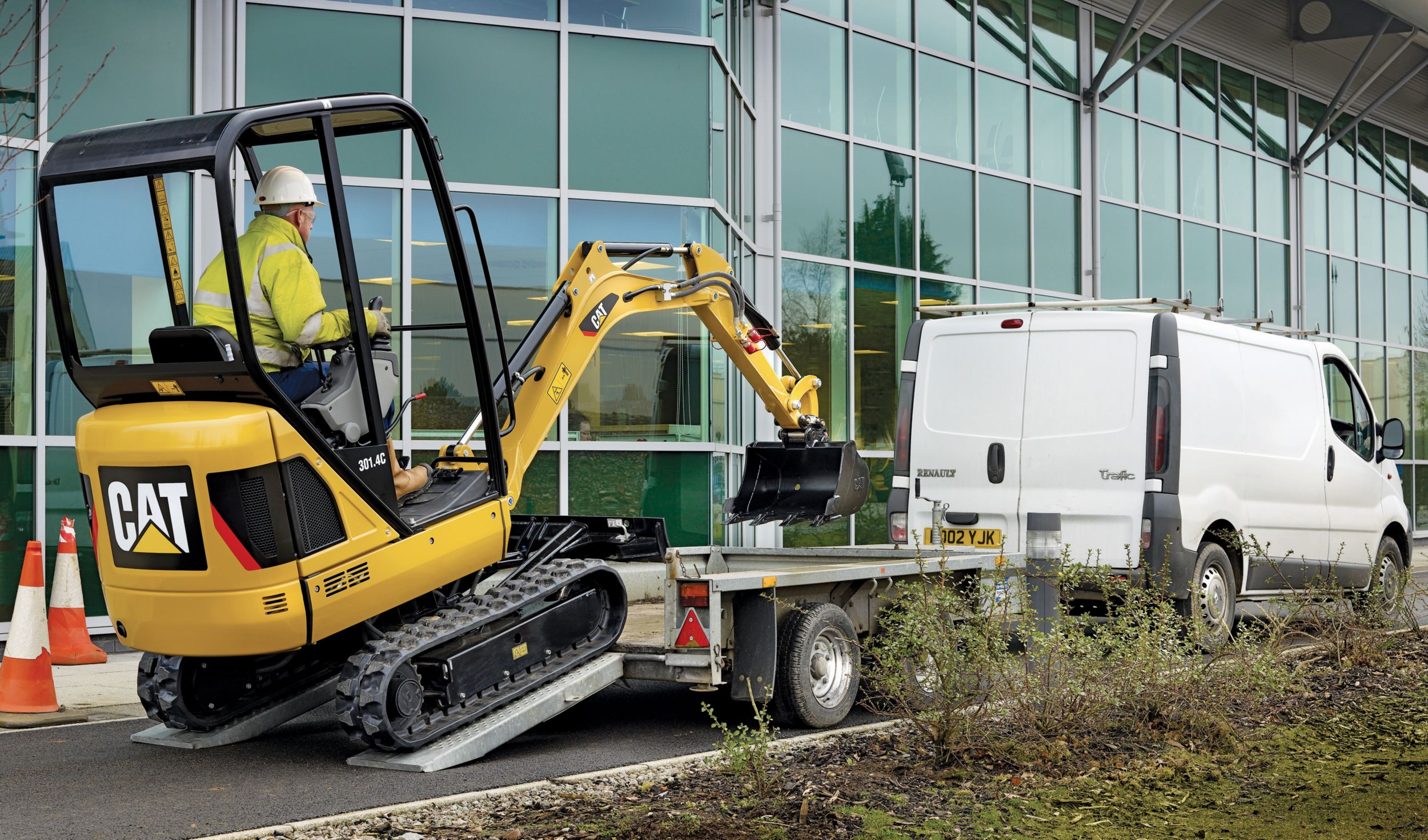 Easy to transport and greater site access
Easy Transportation
Compact in size and weighing just 1380 kg (3,042 lb) in standard configuration with canopy the Cat® 301.4C is easy to transport on a conventional trailer behind a pick up truck or transit van. Two threaded bosses mounted in the roof allow fitting of crane lugs and simplify lifting of the machine.
Extending Undercarriage and Blade
An extending undercarriage and fold out dozer blade allow the machine to be configured for excellent working stability and optimum performance. Blade extensions simply rotate and lock out of the way using retained pins eliminating the potential for lost parts.
Performance and Durability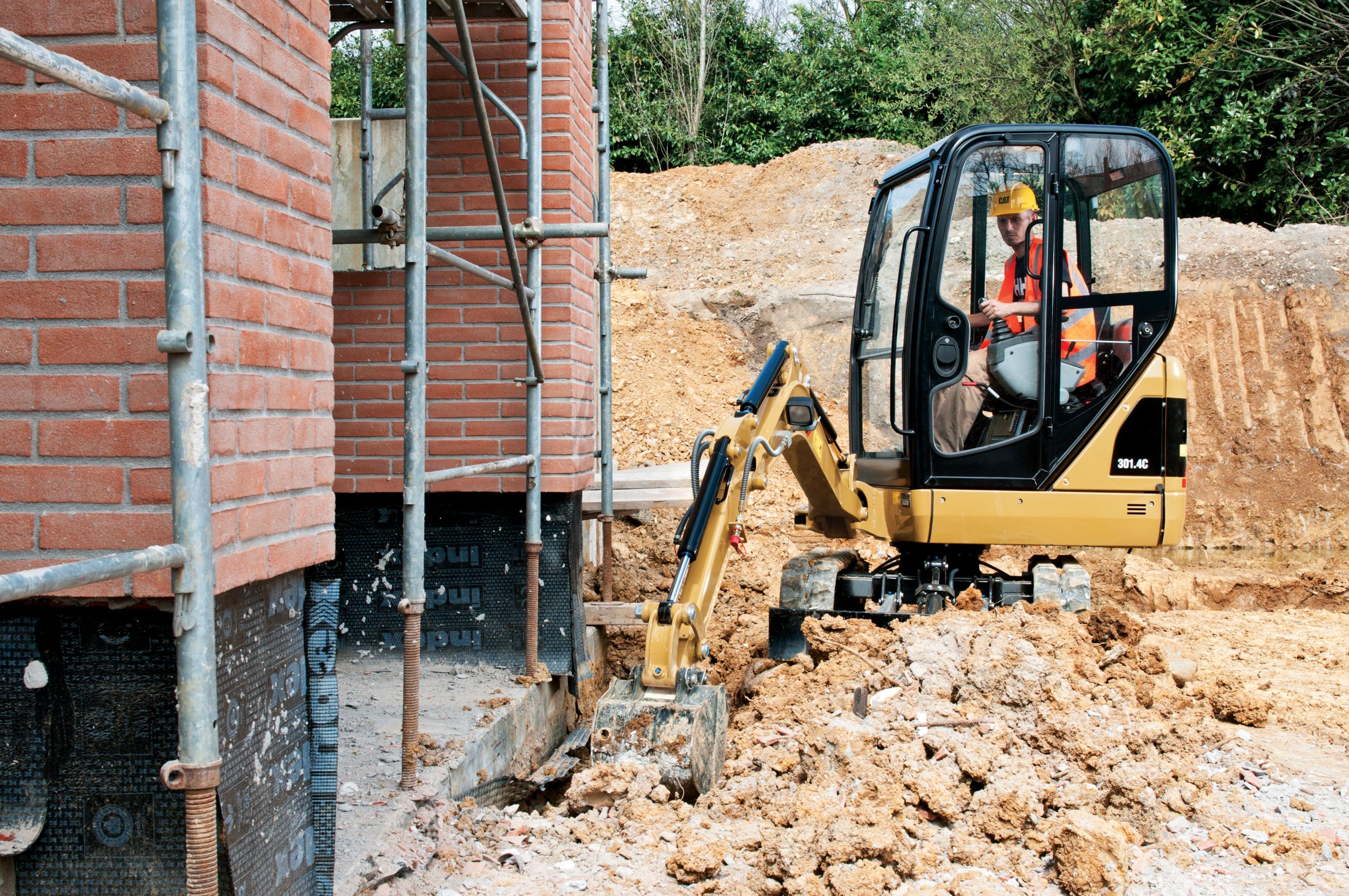 Powerful operation and greater uptime
Powerful Engine and Load Sensing Hydraulics
The 17.9 kW (24.3 hp) engine is matched with a load sensing hydraulic system to provide excellent digging performance and smooth control. Low noise and vibration levels deliver comfortable operation.
High Bucket Breakout Force
The 301.4C delivers 16 kN (3,597 lbf) of bucket force, ideal for dealing with heavy ground and tough applications.
Auxiliary Hydraulics as Standard Fit
Machine is 'ready to work.' Hammer and two way lines complete with quick disconnect fittings are standard. Connections are located close to the tool to reduce hose lengths and any potential damage. Hoses are protected by routing them through the boom.
Boom Cylinder Protection
The boom cylinder is mounted above the boom structure to increase the machines durability and reduce the potential for downtime.
Productive Comfort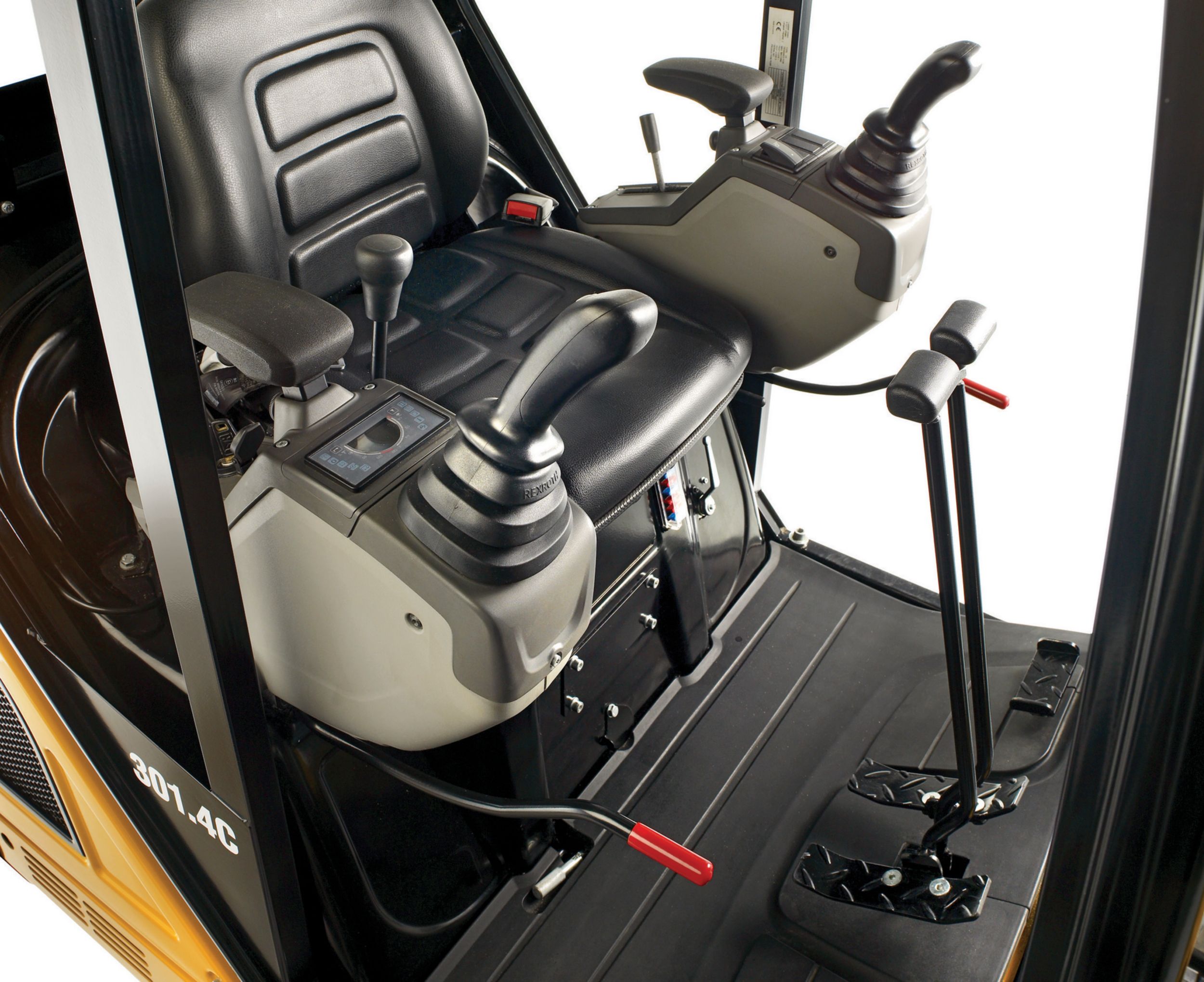 Large operator environment; ergonomic control layout
Operator Environment
The Cat 301.4C gives the operator a large comfortable space in which to work. The ergonomic control layout, travel pedals and adjustable wrist rests are engineered to reduce operator fatigue and increase productivity. The layout is designed for easy cleaning, minimizing downtime between jobs. There is a choice of cab with heater or canopy available. The canopy offering two sided access for even greater on site versatility.
Customer Support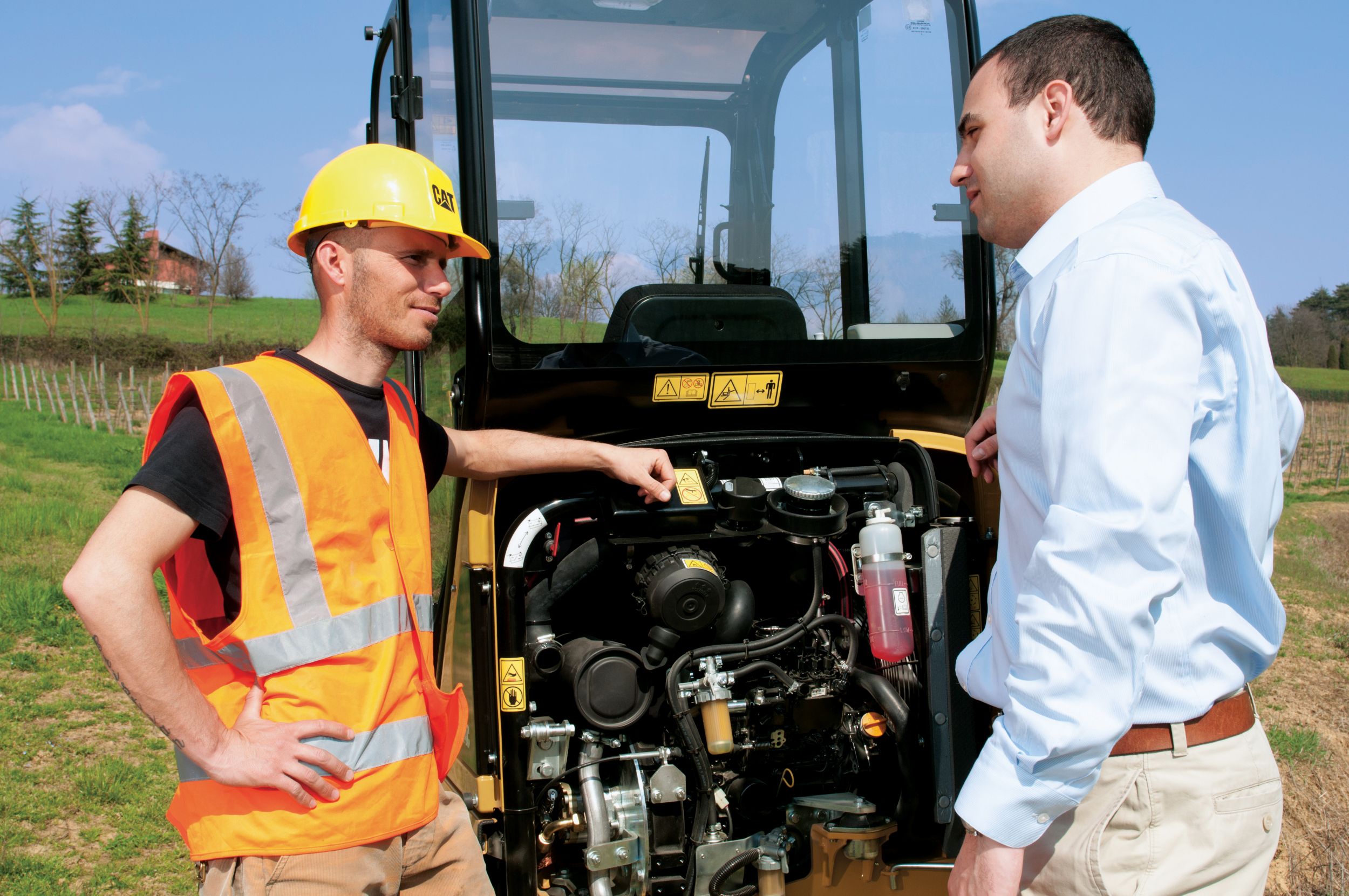 Low operating costs with excellent services and options
Excellent Service Access
Daily checks and regular service points including fuel and hydraulic oil fill are easily reached via the large steel rear door. The main hydraulic valve and lines are also easily reached through a removable floor plate and side panels. The machine has durable steel body panels all around, offering good resistance to impact damage and helping to maintain the machine's appearance and value.
Work Tools
A range of work tools is available to take advantage of the machine's versatility. All tools are matched to the machine to optimize performance and deliver excellent value through productivity and long life.
Customer Support
Product supported through the Cat dealer and Worldwide parts network, aimed at minimizing downtime and maximizing customer profitability. Offering includes:
Finance options
Warranty options
Maintenance options
1-way and 2-way (combined function) auxiliary hydraulic lines
230 mm (9.06 in) rubber track
Boom mounted light
Canopy with Tip-Over Protection (TOPS) ISO 12117
Control pattern changer (not available in Europe)
Dozer blade
Hydraulic oil cooler
Maintenance free battery
Retractable seat belt
Suspension seat, vinyl covered
Travel pedals
Bio oil
Boom check valve
Cab, radio ready with FOPS ISO 10262 (Level 1), Tip-Over Protection (TOPS) ISO 12117, heater/defroster, interior light and windscreen wiper/washer
Custom color paint
Ecology drain for engine oil
Front screen guard for canopy
Hydraulic quick coupler lines
Mechanical quick coupler
Mirror pack
Radio ready preparation
Roof mounted cab worklights
Rotating beacon
Suspension seat, fabric covered
Telescopic undercarriage and blade extensions (900-1300 mm [35.4-51.2 in]) (standard in North America)
Toolkit
Travel alarm
"Call Back Option available only for UAE, Bahrain, Kuwait, Oman and Qatar."