Caterpillar has been designing and building dozers for more than a century. The latest D8R builds on a long-standing reputation for reliable performance, and adds a new cab with features to help operators be more productive. The Cat D8R is designed to be durable, especially in challenging conditions like extreme heat and cold, sandy deserts and rocky terrain. It offers renowned versatility and productivity, along with ease of repair and service to keep the machine hard at work on your job site.
Operator Environment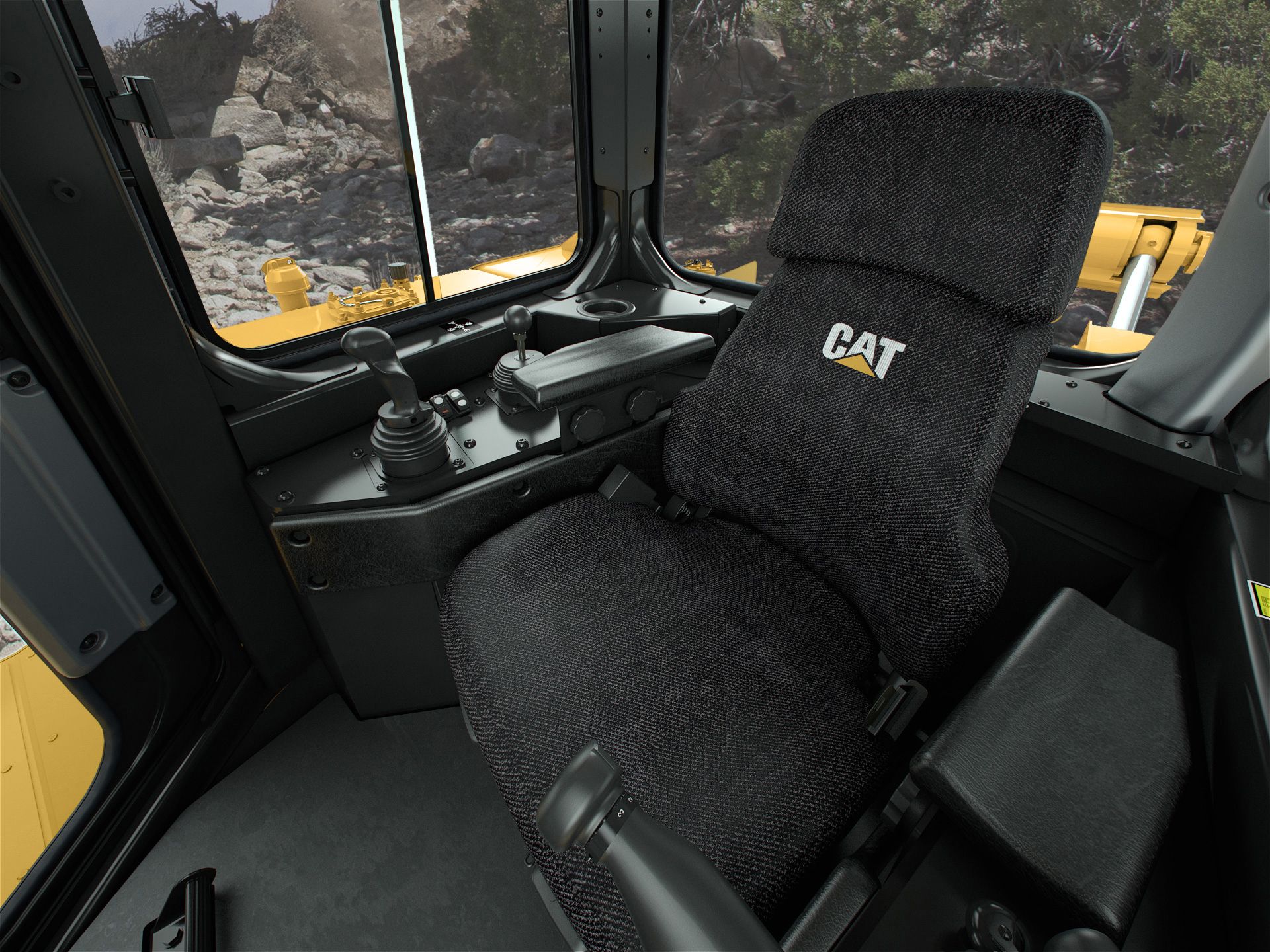 Comfort and productivityAn updated cab, with an Integrated Roll Over Protection Structure (ROPS), gives operators greater all around visibility to enhance safety and productivity. It offers a quieter interior, with improved pressurization to help keep dust out for a cleaner operating environment. The redesigned instrument panel is easy to read, showing fuel level and engine RPM, as well as temperature levels for power train oil, hydraulic oil and engine coolant. The Cat Electronic Monitoring System keeps the operator informed about machine operating conditions. Three-level alert indicators monitor coolant flow, coolant temperature, engine oil pressure, transmission oil temperature, alternator low voltage and transmission/hydraulic oil filter restriction.
Implement and Steering Controls
All D8R controls are ergonomically designed for low-effort and ease of operation.
The operator uses a single handle control to perform all direction and gear selection for ease of operation. The tiller bar control allows the operator to work more precisely in close areas around structures, grade stakes and other machines.
New pilot hydraulic implement controls reduce operator effort and offer more consistent, precise and responsive operation.
Power and Performance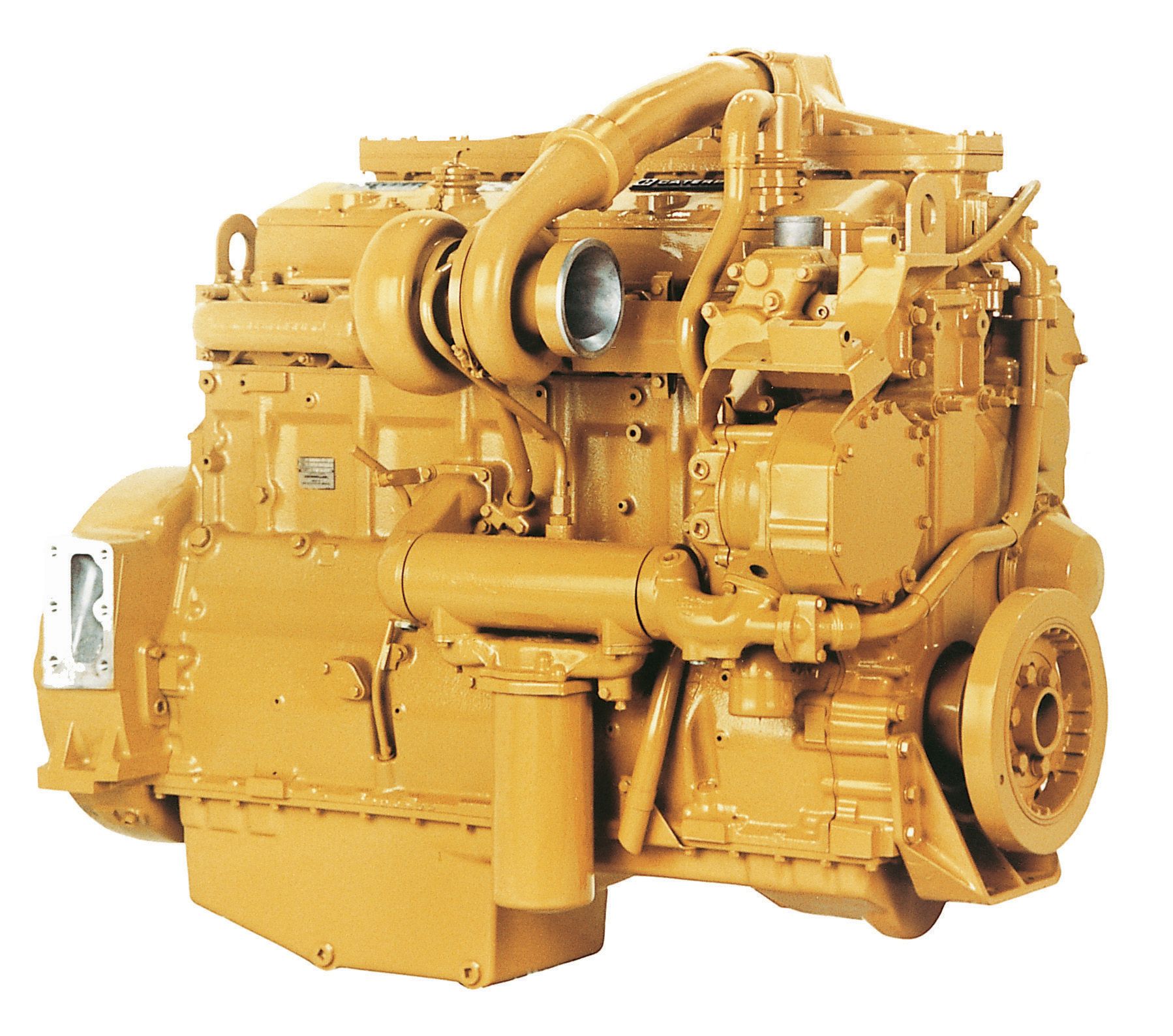 Built to get the job done
Engine
A powerful Cat 3406 diesel engine allows the D8R to doze through tough material. This field proven mechanical engine also features a modular design for ease of service.
Differential Steering
Differential Steering maintains full power to both tracks for best-in-class turning, even with a full blade load. When one track speeds up, the other slows down an equal amount, so you have better maneuverability and faster cycle times. You also get better load capacity, power and speed control in soft conditions because both tracks are powered during turns.
Planetary Power Shift Transmission
The proven mechanical transmission features three speeds forward and three speeds reverse. Large diameter, high capacity, oil-cooled clutches provide higher torque capacity and increase service life. Modular components offer easy service access.
Load Sensing Hydraulics
Field-proven system senses the load and continuously adjusts hydraulic power to maximize your efficiency. A dedicated implement pump ensures adequate available hydraulic power.
Torque Divider
A single stage torque divider sends 70 percent of engine torque through a converter and the other 30 percent through a direct drive shaft so you get more power to the ground.
Cooling System
The Advanced Modular Cooling System has excellent cooling capacity with increased air flow, allowing the machine to work in the most demanding environments. Two-pass cooling increases the relevant surface area for maximum cooling capacity. Individual radiator cores can be quickly replaced for ease of service.
Equipped for the Job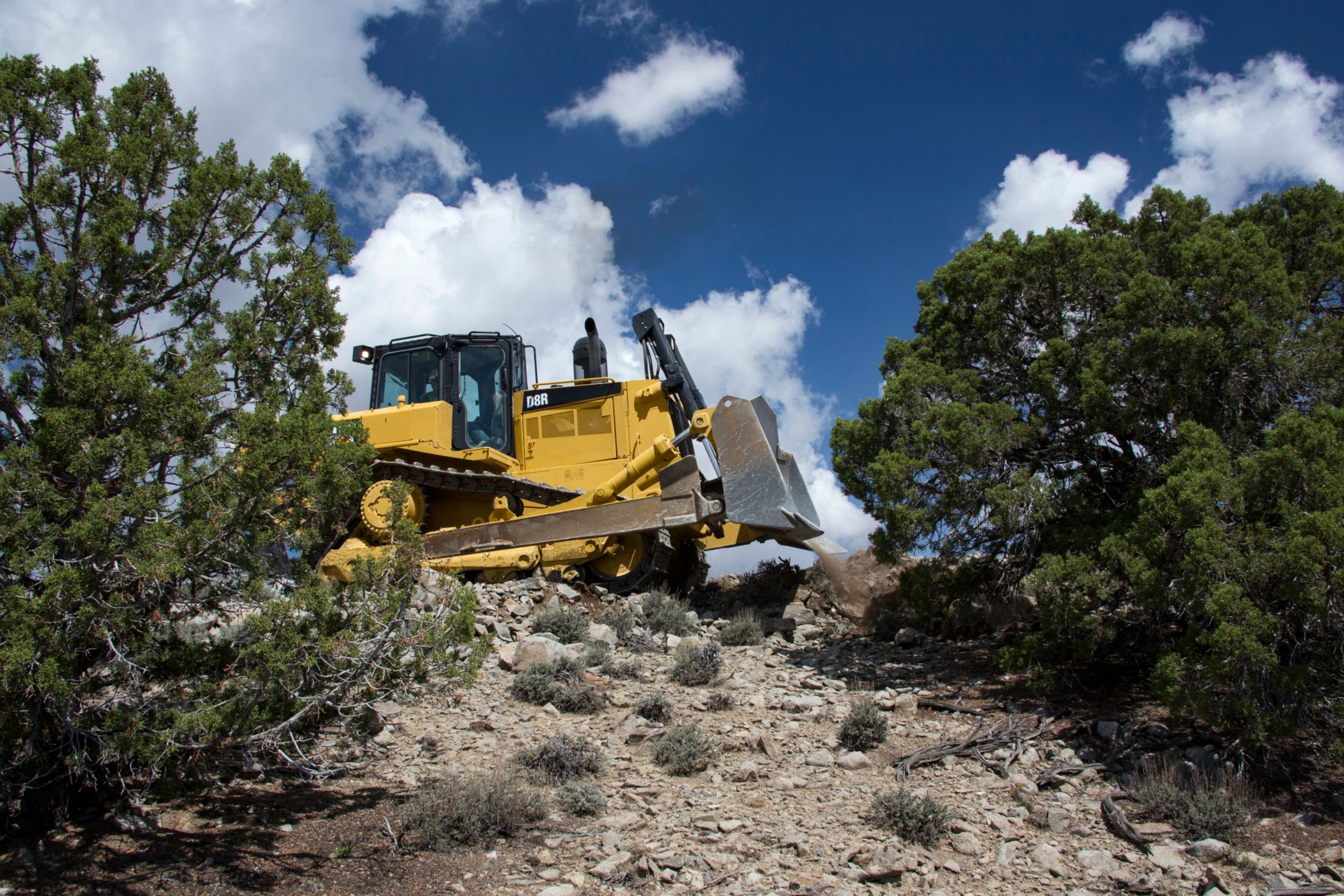 Tough from the inside out
Structures
The foundation of every Cat dozer is a rugged mainframe built to absorb high impact shock loads and twisting forces. Castings add strength to the main case and equalizer bar saddle. The pivot shaft runs through the mainframe and connects the roller frame for independent oscillation. This provides strength, and allows the machine to better follow ground contours for maximum traction and operator comfort. The D8R features the tag-link design to mount the blade closer to the machine for excellent maneuverability, balance and blade penetration. The tag-link provides solid lateral stability and eliminates the need for diagonal bracing.
Bulldozers
High tensile strength steel, with a strong box-section design, stands up to the most severe applications. Heavy moldboard construction and hardened bolt-on cutting edges and end bits add strength and durability. Optional rock guards and deflector shields help protect cylinders. High-Capacity Universal, Semi-Universal and Angle Blades are available, as well as special blades for landfill applications. Optional Dual Tilt improves load control and allows the operator to optimize the blade pitch angle for better balance and productivity. Tilt the blade forward for better penetration, then tilt back to increase carrying capacity.
Rear Implements
Single and multi-shank adjustable parallelogram rippers are made to penetrate tough material fast and rip thoroughly for use in a variety of materials. Single-Shank ripper depth can be adjusted from the seat using an optional pin puller. An optional push block provides additional weight when needed for tougher conditions. Multi-Shank rippers tailor the tractor to the material by using one, two or three shanks. Rear counterweights optimize balance for backing up steep slopes or increasing performance in heavy dozing applications. The D8R can also be outfitted with a winch. Please see your Cat dealer for available options to suit your applications.
Undercarriage
The elevated sprocket design helps protect major components from harsh impacts and provides a modular design for convenient service. A fully suspended undercarriage provides more ground contact, especially in hard, uneven terrain. Greater traction means less slippage, better balance and a smoother ride. An optional non-suspended undercarriage is available for working in low to moderate impact abrasive conditions. Sealed and Lubricated Track is standard on the D8R. The Cat Positive Pin Retention system is designed for high-impact and high load applications. The exclusive Caterpillar design locks the link to the pin to ensure internal lubrication between track pin and bushing is maintained. Lifetime lubricated idlers and track/carrier rollers provide the ability to re-use internal components and rebuild or reshell components for reduced owning and operating costs.
Serviceability and Customer Support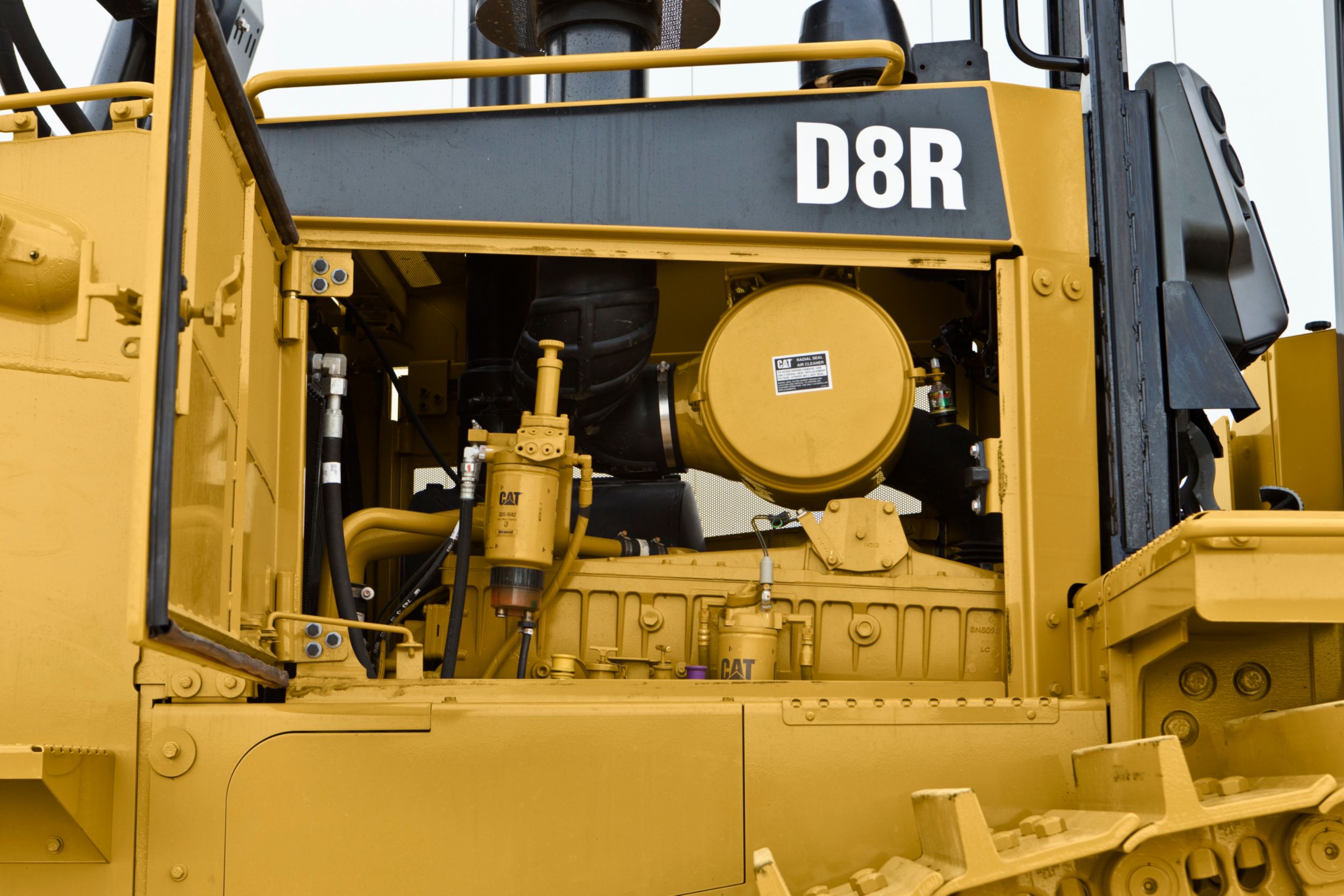 When uptime counts
Ease of Service
Simple mechanical systems support easy maintenance. Engine, cooling system, power train and undercarriage components are modular, designed for easy repair or maintenance access. The D8R is designed to make daily inspections and routine maintenance more convenient. Service points are grouped and ground-level sight gauges let you inspect fluid levels at a glance. Optional fast-fill fuel and engine oil attachments help you get back to work more quickly.
Renowned Cat Dealer Support
Knowledgeable Cat dealers have a global reputation for providing outstanding sales and service. When you need repairs, Cat dealers and our unmatched Caterpillar distribution network excel at getting you the right parts you need quickly. Maximize your equipment investment with a Customer Support Agreement tailored to meet your business needs. Take advantage of preventive maintenance programs like Custom Track Service, Scheduled Oil Sampling (S?O?SSM) analysis, and guaranteed maintenance contracts. Cat dealers can even help you with operator training to help boost your profits. Your Cat dealer can also help you maximize your equipment investment with services like Cat Reman parts and Cat Certified Rebuilds. Remanufactured parts offer you the same warranty and reliability as new parts at a fraction of the cost. A Certified Rebuild gives a "second life" for your machine, incorporating the latest engineering updates so you end up with a like-new dozer and a new machine warranty. Caterpillar strives to provide customers the lowest owning and operating costs over the life of their machine.
Product Link™*/VisionLink®
Product Link is deeply integrated into your machine. Easy access to timely information like machine location, hours and event codes via the online VisionLink user interface can help you manage your fleet and reduce operating costs. *Product Link not available in all areas. Please consult your Cat dealer.
Cat EMSolutions (Equipment Management Solutions)
EMSolutions lets you take control of your fleet with a solution specific to your equipment management needs. Comprehensive, technology-enabled equipment management – combined with the knowledge and expertise of your Cat dealer – can provide ways to help you achieve gains that go straight to your bottom line.
Improve availability
Reduce owning and operating costs
Streamline maintenance practices
Maximize equipment life
Increase resale value
Consisting of five levels of support, from remote access to equipment data to complete, proactive management of your fleet, EMSolutions allows you to choose the amount of support that's right for you.
Special Arrangements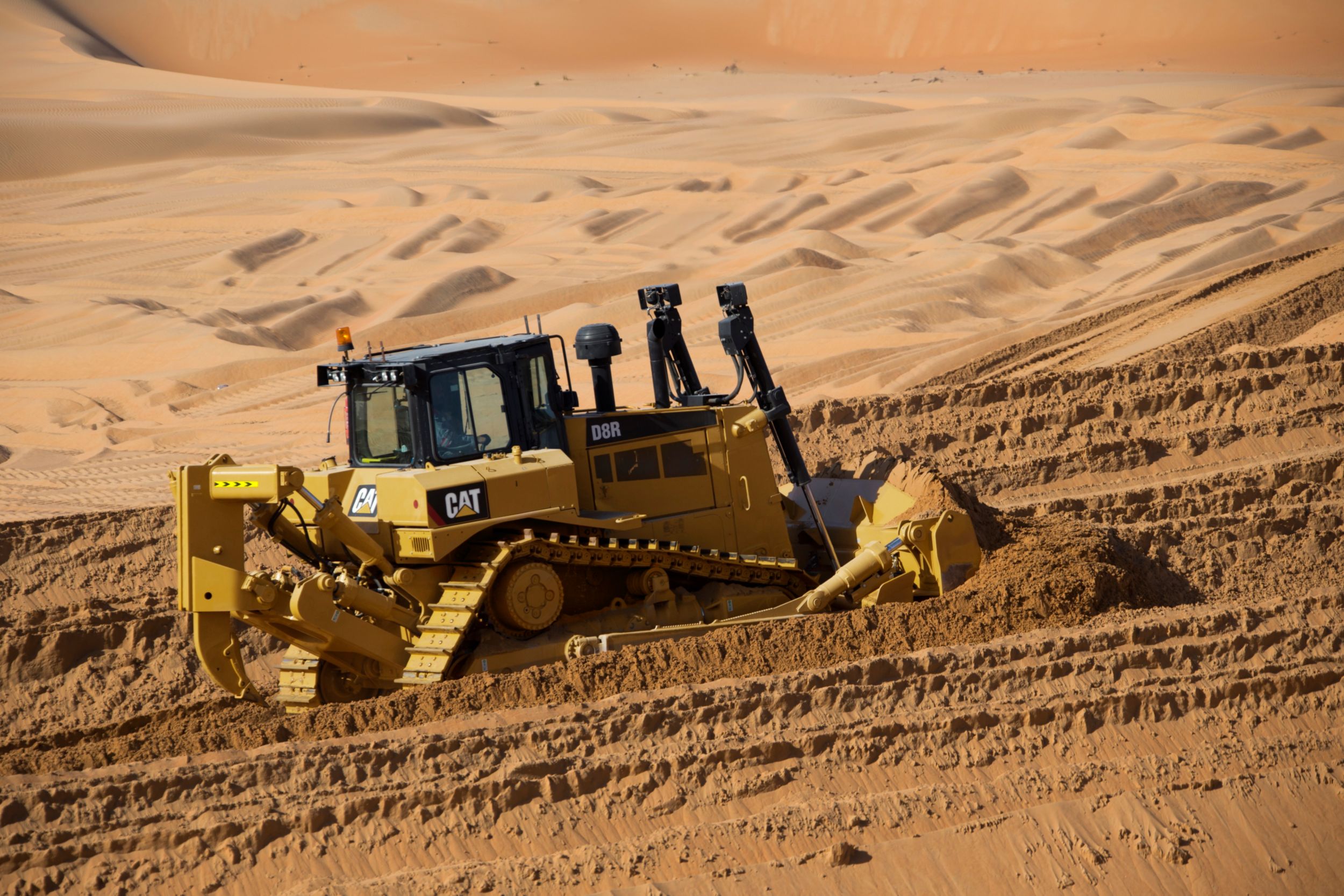 Purpose-built for performance
D8R Desert Arrangement
Caterpillar offers a package of options ideally suited to enhance machine performance in extremely sandy or abrasive underfoot conditions.
Copper nickel core radiator for added cooling performance.
Specially coated fan and radiator help resist abrasion.
Core protection grid.
Sealed bottom guard and added seals to help keep fine abrasive particles out of components.
Optional wear plates can be replaced to give you longer blade life when working in abrasive conditions.
D8R WH (Waste Handler)
Whether building or closing cells, pushing trash or spreading cover, the D8R WH is designed and built from the frame up to take on the unique challenges of landfill work.
Specialized guarding, striker bars and seals help protect the machine from impact and airborne debris.
Bottom and Final Drive guarding help prevent debris from wrapping around or damaging vital components.
The cooling system is designed for high debris environments, with easy access for cleanout.
Lights are mounted up and away from main debris area for protection, while still giving you plenty of light on the work area.
Specialized air intake precleaner helps deliver cleaner air to the machine.
Landfill blades and trapezoidal-hole track shoes help you optimize your waste handler for the job.
ELECTRICAL
75 amp alternator
Back-up alarm
Forward warning horn
75 amp alternator
75 amp alternator
Back-up alarm
Forward warning horn
EMS (Electronic Monitoring System) with temperature gauges
Fuel level gauge
Retractable seat belt (76 mm/3 in)
Rearview mirror
Decelerator
Engine doors
Fuel priming pump
Muffler
Prescreener
Torque divider
Powershift transmission (3-speed)
8-roller tubular track roller frame
Hydraulic track adjusters
Track guides
Differential steering with dual-twist tiller control
Independent steering and implement
Hydraulic oil cooler
Hydraulic valve – for blade and ripper
Mounting, lift cylinder
Blade lift cylinder – left hand
Blade lift cylinder – right hand
Back-up alarm
75 amp alternator
Back-up alarm
Forward warning horn
EMS (Electronic Monitoring System) with temperature gauges
Fuel level gauge
Retractable seat belt (76 mm/3 in)
Rearview mirror
Decelerator
Engine doors
Fuel priming pump
Muffler
Prescreener
Torque divider
Powershift transmission (3-speed)
8-roller tubular track roller frame
Hydraulic track adjusters
Track guides
Differential steering with dual-twist tiller control
Independent steering and implement
Hydraulic oil cooler
Hydraulic valve – for blade and ripper
Mounting, lift cylinder
Blade lift cylinder – left hand
Blade lift cylinder – right hand
Forward warning horn
75 amp alternator
Back-up alarm
Forward warning horn
EMS (Electronic Monitoring System) with temperature gauges
Fuel level gauge
Retractable seat belt (76 mm/3 in)
Rearview mirror
Decelerator
Engine doors
Fuel priming pump
Muffler
Prescreener
Torque divider
Powershift transmission (3-speed)
8-roller tubular track roller frame
Hydraulic track adjusters
Track guides
Differential steering with dual-twist tiller control
Independent steering and implement
Hydraulic oil cooler
Hydraulic valve – for blade and ripper
Mounting, lift cylinder
Blade lift cylinder – left hand
Blade lift cylinder – right hand
OPERATOR ENVIRONMENT
EMS (Electronic Monitoring System) with temperature gauges
Fuel level gauge
Retractable seat belt (76 mm/3 in)
Rearview mirror
EMS (Electronic Monitoring System) with temperature gauges
75 amp alternator
Back-up alarm
Forward warning horn
EMS (Electronic Monitoring System) with temperature gauges
Fuel level gauge
Retractable seat belt (76 mm/3 in)
Rearview mirror
Decelerator
Engine doors
Fuel priming pump
Muffler
Prescreener
Torque divider
Powershift transmission (3-speed)
8-roller tubular track roller frame
Hydraulic track adjusters
Track guides
Differential steering with dual-twist tiller control
Independent steering and implement
Hydraulic oil cooler
Hydraulic valve – for blade and ripper
Mounting, lift cylinder
Blade lift cylinder – left hand
Blade lift cylinder – right hand
Fuel level gauge
75 amp alternator
Back-up alarm
Forward warning horn
EMS (Electronic Monitoring System) with temperature gauges
Fuel level gauge
Retractable seat belt (76 mm/3 in)
Rearview mirror
Decelerator
Engine doors
Fuel priming pump
Muffler
Prescreener
Torque divider
Powershift transmission (3-speed)
8-roller tubular track roller frame
Hydraulic track adjusters
Track guides
Differential steering with dual-twist tiller control
Independent steering and implement
Hydraulic oil cooler
Hydraulic valve – for blade and ripper
Mounting, lift cylinder
Blade lift cylinder – left hand
Blade lift cylinder – right hand
Retractable seat belt (76 mm/3 in)
75 amp alternator
Back-up alarm
Forward warning horn
EMS (Electronic Monitoring System) with temperature gauges
Fuel level gauge
Retractable seat belt (76 mm/3 in)
Rearview mirror
Decelerator
Engine doors
Fuel priming pump
Muffler
Prescreener
Torque divider
Powershift transmission (3-speed)
8-roller tubular track roller frame
Hydraulic track adjusters
Track guides
Differential steering with dual-twist tiller control
Independent steering and implement
Hydraulic oil cooler
Hydraulic valve – for blade and ripper
Mounting, lift cylinder
Blade lift cylinder – left hand
Blade lift cylinder – right hand
Rearview mirror
75 amp alternator
Back-up alarm
Forward warning horn
EMS (Electronic Monitoring System) with temperature gauges
Fuel level gauge
Retractable seat belt (76 mm/3 in)
Rearview mirror
Decelerator
Engine doors
Fuel priming pump
Muffler
Prescreener
Torque divider
Powershift transmission (3-speed)
8-roller tubular track roller frame
Hydraulic track adjusters
Track guides
Differential steering with dual-twist tiller control
Independent steering and implement
Hydraulic oil cooler
Hydraulic valve – for blade and ripper
Mounting, lift cylinder
Blade lift cylinder – left hand
Blade lift cylinder – right hand
POWER TRAIN
Decelerator
Engine doors
Fuel priming pump
Muffler
Prescreener
Torque divider
Powershift transmission (3-speed)
Decelerator
75 amp alternator
Back-up alarm
Forward warning horn
EMS (Electronic Monitoring System) with temperature gauges
Fuel level gauge
Retractable seat belt (76 mm/3 in)
Rearview mirror
Decelerator
Engine doors
Fuel priming pump
Muffler
Prescreener
Torque divider
Powershift transmission (3-speed)
8-roller tubular track roller frame
Hydraulic track adjusters
Track guides
Differential steering with dual-twist tiller control
Independent steering and implement
Hydraulic oil cooler
Hydraulic valve – for blade and ripper
Mounting, lift cylinder
Blade lift cylinder – left hand
Blade lift cylinder – right hand
Engine doors
75 amp alternator
Back-up alarm
Forward warning horn
EMS (Electronic Monitoring System) with temperature gauges
Fuel level gauge
Retractable seat belt (76 mm/3 in)
Rearview mirror
Decelerator
Engine doors
Fuel priming pump
Muffler
Prescreener
Torque divider
Powershift transmission (3-speed)
8-roller tubular track roller frame
Hydraulic track adjusters
Track guides
Differential steering with dual-twist tiller control
Independent steering and implement
Hydraulic oil cooler
Hydraulic valve – for blade and ripper
Mounting, lift cylinder
Blade lift cylinder – left hand
Blade lift cylinder – right hand
Fuel priming pump
75 amp alternator
Back-up alarm
Forward warning horn
EMS (Electronic Monitoring System) with temperature gauges
Fuel level gauge
Retractable seat belt (76 mm/3 in)
Rearview mirror
Decelerator
Engine doors
Fuel priming pump
Muffler
Prescreener
Torque divider
Powershift transmission (3-speed)
8-roller tubular track roller frame
Hydraulic track adjusters
Track guides
Differential steering with dual-twist tiller control
Independent steering and implement
Hydraulic oil cooler
Hydraulic valve – for blade and ripper
Mounting, lift cylinder
Blade lift cylinder – left hand
Blade lift cylinder – right hand
Muffler
75 amp alternator
Back-up alarm
Forward warning horn
EMS (Electronic Monitoring System) with temperature gauges
Fuel level gauge
Retractable seat belt (76 mm/3 in)
Rearview mirror
Decelerator
Engine doors
Fuel priming pump
Muffler
Prescreener
Torque divider
Powershift transmission (3-speed)
8-roller tubular track roller frame
Hydraulic track adjusters
Track guides
Differential steering with dual-twist tiller control
Independent steering and implement
Hydraulic oil cooler
Hydraulic valve – for blade and ripper
Mounting, lift cylinder
Blade lift cylinder – left hand
Blade lift cylinder – right hand
Prescreener
75 amp alternator
Back-up alarm
Forward warning horn
EMS (Electronic Monitoring System) with temperature gauges
Fuel level gauge
Retractable seat belt (76 mm/3 in)
Rearview mirror
Decelerator
Engine doors
Fuel priming pump
Muffler
Prescreener
Torque divider
Powershift transmission (3-speed)
8-roller tubular track roller frame
Hydraulic track adjusters
Track guides
Differential steering with dual-twist tiller control
Independent steering and implement
Hydraulic oil cooler
Hydraulic valve – for blade and ripper
Mounting, lift cylinder
Blade lift cylinder – left hand
Blade lift cylinder – right hand
Torque divider
75 amp alternator
Back-up alarm
Forward warning horn
EMS (Electronic Monitoring System) with temperature gauges
Fuel level gauge
Retractable seat belt (76 mm/3 in)
Rearview mirror
Decelerator
Engine doors
Fuel priming pump
Muffler
Prescreener
Torque divider
Powershift transmission (3-speed)
8-roller tubular track roller frame
Hydraulic track adjusters
Track guides
Differential steering with dual-twist tiller control
Independent steering and implement
Hydraulic oil cooler
Hydraulic valve – for blade and ripper
Mounting, lift cylinder
Blade lift cylinder – left hand
Blade lift cylinder – right hand
Powershift transmission (3-speed)
75 amp alternator
Back-up alarm
Forward warning horn
EMS (Electronic Monitoring System) with temperature gauges
Fuel level gauge
Retractable seat belt (76 mm/3 in)
Rearview mirror
Decelerator
Engine doors
Fuel priming pump
Muffler
Prescreener
Torque divider
Powershift transmission (3-speed)
8-roller tubular track roller frame
Hydraulic track adjusters
Track guides
Differential steering with dual-twist tiller control
Independent steering and implement
Hydraulic oil cooler
Hydraulic valve – for blade and ripper
Mounting, lift cylinder
Blade lift cylinder – left hand
Blade lift cylinder – right hand
UNDERCARRIAGE
8-roller tubular track roller frame
Hydraulic track adjusters
Track guides
OTHER STANDARD EQUIPMENT
Differential steering with dual-twist tiller control
Independent steering and implement
Hydraulic oil cooler
Hydraulic valve – for blade and ripper
Mounting, lift cylinder
Blade lift cylinder – left hand
Blade lift cylinder – right hand
Differential steering with dual-twist tiller control
75 amp alternator
Back-up alarm
Forward warning horn
EMS (Electronic Monitoring System) with temperature gauges
Fuel level gauge
Retractable seat belt (76 mm/3 in)
Rearview mirror
Decelerator
Engine doors
Fuel priming pump
Muffler
Prescreener
Torque divider
Powershift transmission (3-speed)
8-roller tubular track roller frame
Hydraulic track adjusters
Track guides
Differential steering with dual-twist tiller control
Independent steering and implement
Hydraulic oil cooler
Hydraulic valve – for blade and ripper
Mounting, lift cylinder
Blade lift cylinder – left hand
Blade lift cylinder – right hand
Independent steering and implement
75 amp alternator
Back-up alarm
Forward warning horn
EMS (Electronic Monitoring System) with temperature gauges
Fuel level gauge
Retractable seat belt (76 mm/3 in)
Rearview mirror
Decelerator
Engine doors
Fuel priming pump
Muffler
Prescreener
Torque divider
Powershift transmission (3-speed)
8-roller tubular track roller frame
Hydraulic track adjusters
Track guides
Differential steering with dual-twist tiller control
Independent steering and implement
Hydraulic oil cooler
Hydraulic valve – for blade and ripper
Mounting, lift cylinder
Blade lift cylinder – left hand
Blade lift cylinder – right hand
Hydraulic oil cooler
75 amp alternator
Back-up alarm
Forward warning horn
EMS (Electronic Monitoring System) with temperature gauges
Fuel level gauge
Retractable seat belt (76 mm/3 in)
Rearview mirror
Decelerator
Engine doors
Fuel priming pump
Muffler
Prescreener
Torque divider
Powershift transmission (3-speed)
8-roller tubular track roller frame
Hydraulic track adjusters
Track guides
Differential steering with dual-twist tiller control
Independent steering and implement
Hydraulic oil cooler
Hydraulic valve – for blade and ripper
Mounting, lift cylinder
Blade lift cylinder – left hand
Blade lift cylinder – right hand
Hydraulic valve – for blade and ripper
75 amp alternator
Back-up alarm
Forward warning horn
EMS (Electronic Monitoring System) with temperature gauges
Fuel level gauge
Retractable seat belt (76 mm/3 in)
Rearview mirror
Decelerator
Engine doors
Fuel priming pump
Muffler
Prescreener
Torque divider
Powershift transmission (3-speed)
8-roller tubular track roller frame
Hydraulic track adjusters
Track guides
Differential steering with dual-twist tiller control
Independent steering and implement
Hydraulic oil cooler
Hydraulic valve – for blade and ripper
Mounting, lift cylinder
Blade lift cylinder – left hand
Blade lift cylinder – right hand
Mounting, lift cylinder
75 amp alternator
Back-up alarm
Forward warning horn
EMS (Electronic Monitoring System) with temperature gauges
Fuel level gauge
Retractable seat belt (76 mm/3 in)
Rearview mirror
Decelerator
Engine doors
Fuel priming pump
Muffler
Prescreener
Torque divider
Powershift transmission (3-speed)
8-roller tubular track roller frame
Hydraulic track adjusters
Track guides
Differential steering with dual-twist tiller control
Independent steering and implement
Hydraulic oil cooler
Hydraulic valve – for blade and ripper
Mounting, lift cylinder
Blade lift cylinder – left hand
Blade lift cylinder – right hand
Blade lift cylinder – left hand
75 amp alternator
Back-up alarm
Forward warning horn
EMS (Electronic Monitoring System) with temperature gauges
Fuel level gauge
Retractable seat belt (76 mm/3 in)
Rearview mirror
Decelerator
Engine doors
Fuel priming pump
Muffler
Prescreener
Torque divider
Powershift transmission (3-speed)
8-roller tubular track roller frame
Hydraulic track adjusters
Track guides
Differential steering with dual-twist tiller control
Independent steering and implement
Hydraulic oil cooler
Hydraulic valve – for blade and ripper
Mounting, lift cylinder
Blade lift cylinder – left hand
Blade lift cylinder – right hand
Blade lift cylinder – right hand
75 amp alternator
Back-up alarm
Forward warning horn
EMS (Electronic Monitoring System) with temperature gauges
Fuel level gauge
Retractable seat belt (76 mm/3 in)
Rearview mirror
Decelerator
Engine doors
Fuel priming pump
Muffler
Prescreener
Torque divider
Powershift transmission (3-speed)
8-roller tubular track roller frame
Hydraulic track adjusters
Track guides
Differential steering with dual-twist tiller control
Independent steering and implement
Hydraulic oil cooler
Hydraulic valve – for blade and ripper
Mounting, lift cylinder
Blade lift cylinder – left hand
Blade lift cylinder – right hand
ELECTRICAL
75 amp alternator
Back-up alarm
Forward warning horn
OPERATOR ENVIRONMENT
EMS (Electronic Monitoring System) with temperature gauges
Fuel level gauge
Retractable seat belt (76 mm/3 in)
Rearview mirror
POWER TRAIN
Decelerator
Engine doors
Fuel priming pump
Muffler
Prescreener
Torque divider
Powershift transmission (3-speed)
UNDERCARRIAGE
8-roller tubular track roller frame
Hydraulic track adjusters
Track guides
OTHER STANDARD EQUIPMENT
Differential steering with dual-twist tiller control
Independent steering and implement
Hydraulic oil cooler
Hydraulic valve – for blade and ripper
Mounting, lift cylinder
Blade lift cylinder – left hand
Blade lift cylinder – right hand
TRACTOR ARRANGEMENTS
Standard
LGP
Desert Arrangement
Waste Handler Arrangement
TECHNOLOGY PRODUCTS
Product Link – PL321
Product Link – PL522
POWER TRAIN
Engine with thermal shield
High speed oil change
STARTING AIDS
Ether aid
Heater, diesel fuel
Heather, engine 240V
System, prelube
AIR PRECLEANER
Precleaner: – Standard – Turbine – Turbine with screen
Precleaner: – Standard – Turbine – Turbine with screen
ENGINE COOLER
Radiator: – AMOCS – AMOCS, high ambient and abrasion resistant – AMOCS, debris resistant – Debris and abrasion resistant
Radiator: – AMOCS – AMOCS, high ambient and abrasion resistant – AMOCS, debris resistant – Debris and abrasion resistant
FAN SPEED RATIO
Fan drive: – Standard – Speed increase (high ambient) – Speed decrease
Fan drive: – Standard – Speed increase (high ambient) – Speed decrease
OPERATOR STATION
Integrated ROPS open canopy
Integrated ROPS enclosed cab
Vinyl or cloth covered suspension seats
Rear screen guards
GUARDS
Fuel tank
Heavy-duty radiator
Sweeps
Fuel tank
Heavy-duty radiator
Sweeps
ELECTRICAL
Lighting options of 4, 6, 8 or 10
REAR ATTACHMENTS
Drawbar
Counterweight
Rippers: – Multi-shank – Single shank
BULLDOZER
Semi-Universal blade
Universal blade
Angle blade
Semi-Universal blade
Universal blade
Angle blade
COOLING FAN
Fan, blower: – Standard – Coated – Ejector – Reversible
FUEL REFILL SYSTEM
Cover, fuel tank
Adapter, fast fuel
Cover, fuel tank
Adapter, fast fuel
FINAL DRIVE
Standard
Standard, guarded
LGP
LGP, guarded
Standard, arctic
UNDERCARRIAGE
Basic, suspended
Positive pin retention: – Guarded – Arctic – Non-suspended
Non-suspended, guarded
CARRIER ROLLER
No carrier roller, suspended
Carrier roller, suspended
Carrier rollers: – Suspended, arctic – Non-suspended – Non-suspended, arctic
POSITIVE PIN RETENTION TRACK
Track pairs: – Extreme service (44 sections) (560 mm/22 in; 560 mm/22 in, trapezoidal; 560 mm/22, steel mill; 610 mm/24 in; 610 mm/24 in, trapezoidal; 610 mm/24 in, chopping; 660 mm/16 in; 660 mm/26 in, trapezoidal; 710 mm/28 in; 710 mm/28 in, trapez
Track pairs: – Extreme service (44 sections) (560 mm/22 in; 560 mm/22 in, trapezoidal; 560 mm/22, steel mill; 610 mm/24 in; 610 mm/24 in, trapezoidal; 610 mm/24 in, chopping; 660 mm/16 in; 660 mm/26 in, trapezoidal; 710 mm/28 in; 710 mm/28 in, trapez
HYDRAULICS
Bulldozer tilt hydraulics: – Hydraulic, single tilt – Hydraulic, dual tilt
Lubricant: – Standard – High ambient – Arctic
Bulldozer tilt hydraulics: – Hydraulic, single tilt – Hydraulic, dual tilt
Lubricant: – Standard – High ambient – Arctic
ELECTRICAL
Batteries: – Standard – Heavy duty
Lights: – Four – Six – Ten – Eight (sweeps) – Eight (sweeps and rear screen) – Ten (ROPS A/C)
OPERATOR ENVIRONMENT
Operator station: – Canopy – Cab (Standard; Arctic)
Air conditioner: – No air conditioner – Air conditioner (Under hood; ROPS mounted)
Seat: – Vinyl – Cloth – Cloth, air suspension
GUARDS
Guards: – Bottom, heavy duty – Bottom, heavy duty, sealed
Grid, radiator core protector
Screen group: – Rear – Rear (canopy)
Guard: – Fuel tank – Rear transmission
Striker bars: – Front (suspended) – Front (non-suspended)
REAR ATTACHMENTS
Drawbar, rear, rigid
Ripper: – Single shank – Single shank, pin puller – Single shank, push block – Multi-shank
Counterweight, rear
Ripper single shank with striker bar
Ripper single shank pin and striker bar
Ripper multi shank with striker bars
Ripper single shank with push block and pin puller
Striker bar, rear
No rear attachment
Drawbar, rear, rigid
Ripper: – Single shank – Single shank, pin puller – Single shank, push block – Multi-shank
Counterweight, rear
Ripper single shank with striker bar
Ripper single shank pin and striker bar
Ripper multi shank with striker bars
Ripper single shank with push block and pin puller
Striker bar, rear
No rear attachment
OTHER ATTACHMENTS
Counterweight: – Drawbar – Additional
Fast oil change system
Paint, black hood and cylinders
PUSH ARMS
Bulldozer: – Push arm, single – Push arm, dual tilt
BLADES
8SU: – 8SU, with rock guard and wear plate – 8SU push plate – 8SU landfill wear plate – 8SU LGP – 8SU LGP landfill
8U: – 8U rock guard/wear plate – 8U landfill wear plate
8A
8SU: – 8SU, with rock guard and wear plate – 8SU push plate – 8SU landfill wear plate – 8SU LGP – 8SU LGP landfill
8U: – 8U rock guard/wear plate – 8U landfill wear plate
8A
GROUND ENGAGING TOOLS
Tooth: – Multi-shank – Single shank – Single shank, deep ripping
TRACTOR ARRANGEMENTS
Standard
LGP
Desert Arrangement
Waste Handler Arrangement
TECHNOLOGY PRODUCTS
Product Link – PL321
Product Link – PL522
POWER TRAIN
Engine with thermal shield
High speed oil change
STARTING AIDS
Ether aid
Heater, diesel fuel
Heather, engine 240V
System, prelube
AIR PRECLEANER
Precleaner: – Standard – Turbine – Turbine with screen
ENGINE COOLER
Radiator: – AMOCS – AMOCS, high ambient and abrasion resistant – AMOCS, debris resistant – Debris and abrasion resistant
FAN SPEED RATIO
Fan drive: – Standard – Speed increase (high ambient) – Speed decrease
OPERATOR STATION
Integrated ROPS open canopy
Integrated ROPS enclosed cab
Vinyl or cloth covered suspension seats
Rear screen guards
GUARDS
Fuel tank
Heavy-duty radiator
Sweeps
Guards: – Bottom, heavy duty – Bottom, heavy duty, sealed
Grid, radiator core protector
Screen group: – Rear – Rear (canopy)
Guard: – Fuel tank – Rear transmission
Striker bars: – Front (suspended) – Front (non-suspended)
BULLDOZER
Semi-Universal blade
Universal blade
Angle blade
COOLING FAN
Fan, blower: – Standard – Coated – Ejector – Reversible
FUEL REFILL SYSTEM
Cover, fuel tank
Adapter, fast fuel
FINAL DRIVE
Standard
Standard, guarded
LGP
LGP, guarded
Standard, arctic
UNDERCARRIAGE
Basic, suspended
Positive pin retention: – Guarded – Arctic – Non-suspended
Non-suspended, guarded
CARRIER ROLLER
No carrier roller, suspended
Carrier roller, suspended
Carrier rollers: – Suspended, arctic – Non-suspended – Non-suspended, arctic
POSITIVE PIN RETENTION TRACK
Track pairs: – Extreme service (44 sections) (560 mm/22 in; 560 mm/22 in, trapezoidal; 560 mm/22, steel mill; 610 mm/24 in; 610 mm/24 in, trapezoidal; 610 mm/24 in, chopping; 660 mm/16 in; 660 mm/26 in, trapezoidal; 710 mm/28 in; 710 mm/28 in, trapez
HYDRAULICS
Bulldozer tilt hydraulics: – Hydraulic, single tilt – Hydraulic, dual tilt
Lubricant: – Standard – High ambient – Arctic
ELECTRICAL
Lighting options of 4, 6, 8 or 10
Batteries: – Standard – Heavy duty
Lights: – Four – Six – Ten – Eight (sweeps) – Eight (sweeps and rear screen) – Ten (ROPS A/C)
OPERATOR ENVIRONMENT
Operator station: – Canopy – Cab (Standard; Arctic)
Air conditioner: – No air conditioner – Air conditioner (Under hood; ROPS mounted)
Seat: – Vinyl – Cloth – Cloth, air suspension
REAR ATTACHMENTS
Drawbar
Counterweight
Rippers: – Multi-shank – Single shank
Drawbar, rear, rigid
Ripper: – Single shank – Single shank, pin puller – Single shank, push block – Multi-shank
Counterweight, rear
Ripper single shank with striker bar
Ripper single shank pin and striker bar
Ripper multi shank with striker bars
Ripper single shank with push block and pin puller
Striker bar, rear
No rear attachment
OTHER ATTACHMENTS
Counterweight: – Drawbar – Additional
Fast oil change system
Paint, black hood and cylinders
PUSH ARMS
Bulldozer: – Push arm, single – Push arm, dual tilt
BLADES
8SU: – 8SU, with rock guard and wear plate – 8SU push plate – 8SU landfill wear plate – 8SU LGP – 8SU LGP landfill
8U: – 8U rock guard/wear plate – 8U landfill wear plate
8A
GROUND ENGAGING TOOLS
Tooth: – Multi-shank – Single shank – Single shank, deep ripping