The D8R Series II combines power and efficiency with advanced technology for outstanding production at lower cost-per-yard.
Engine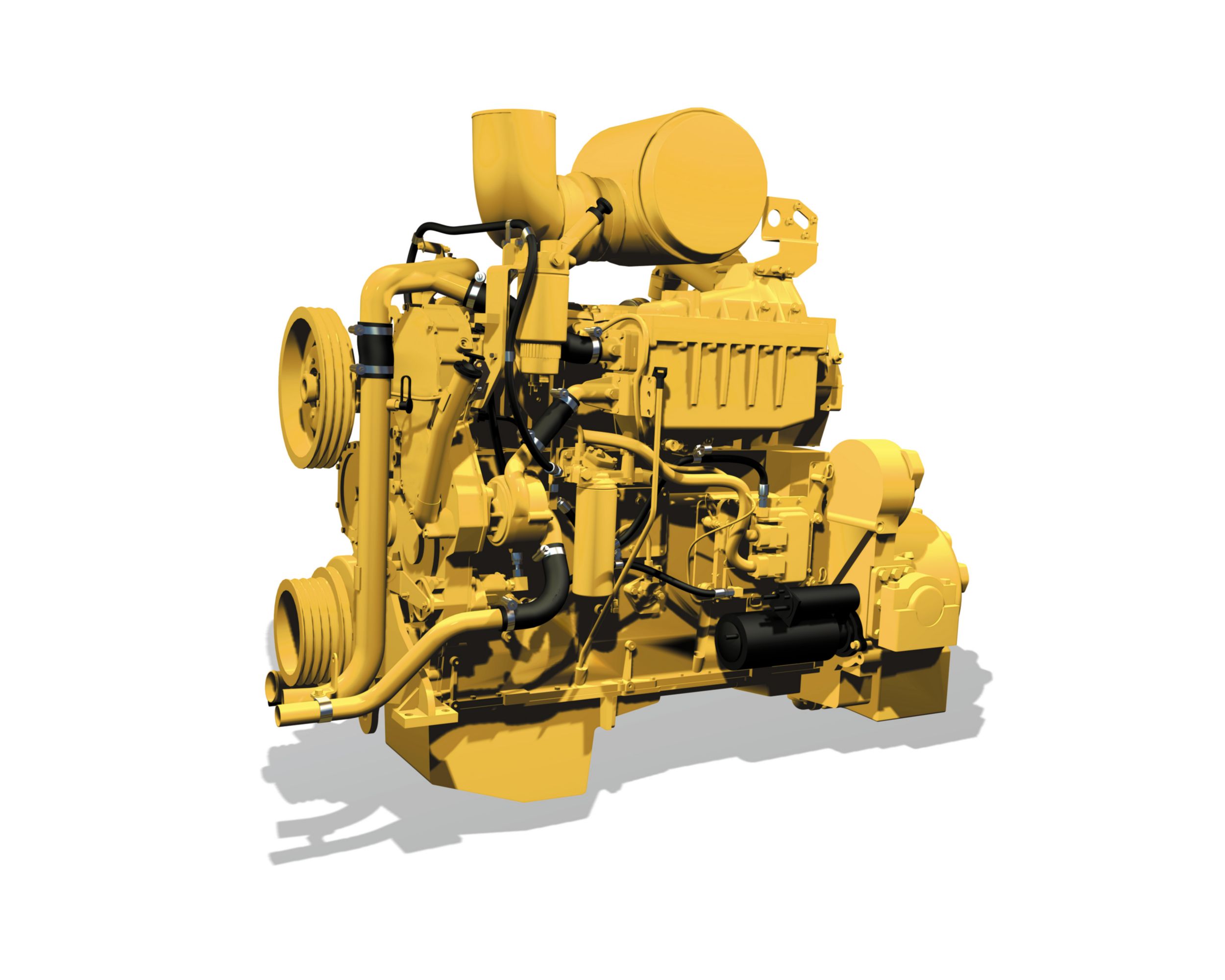 The 3406E engine, when matched with the torque divider and field proven powershift transmission, will provide years of dependable service.
3406E EUI Engine
The 3406E engine meets worldwide emissions regulations for the Environmental Protection Agency (EPA), the European Union (EU) and the Japan Ministry of Construction (JMOC).
Transmission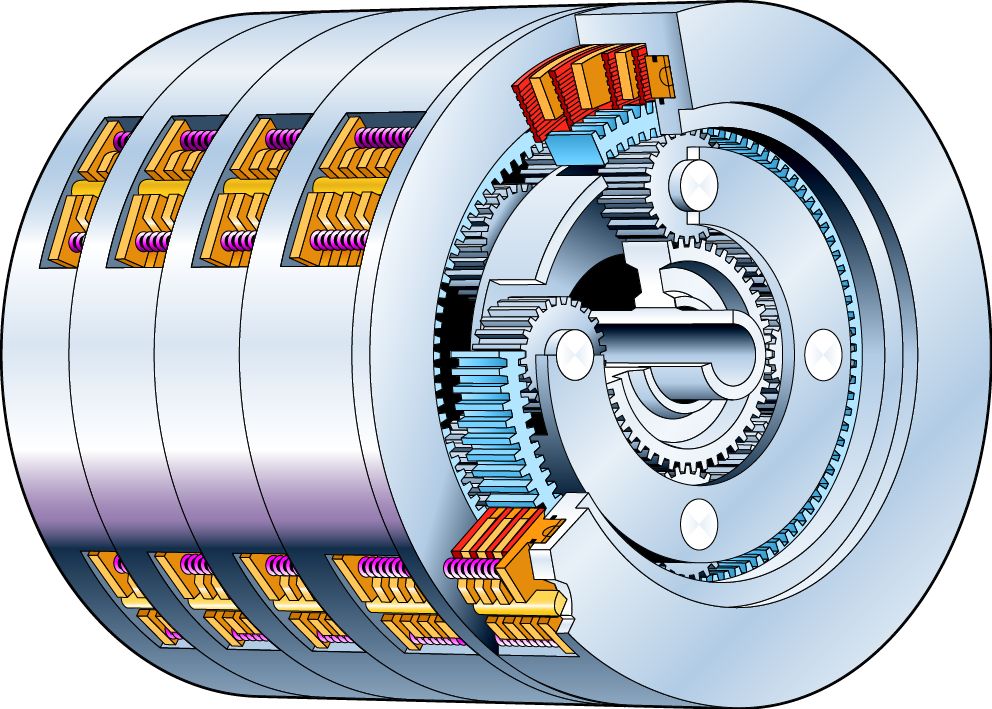 Matched with the electronic engine control the Caterpillar electronic transmission control allows the power train to work more intelligently.
Planetary Power Shift Transmission
The D8R II planetary power shift transmission features three speeds forward and three speeds in reverse and utilizes large diameter, high-capacity, oil cooled clutches. To maximize the life of the transmission the planetary design distributes loads and stresses over multiple gears. An additional fifth planetary gear is used in the high load-capacity carrying gears. ·Controlled throttle shifting regulates engine speed during directional shifts for smoother, more comfortable operation and longer component life. ·Electronic modulations system permits fast speed and direction changes. ·Modular transmission and bevel gear slide into rear case for servicing ease, even with ripper installed. ·Oil-to-water cooler for maximum cooling capacity. ·Forced oil flow lubricates and cools clutch packs to provide maximum clutch life.
Electronic Clutch Pressure Control
A new feature on the D8R II is an Electronic Clutch Pressure Control (ECPC)in the transmission which provides smoother shifting by modulating individual clutches precisely. ECPC also provides auto shift and auto-kickdown features.
Auto Shift and Auto-kickdown
Auto shift allows the operator to pre-select a forward and reverse gear for directional changes. Auto shift settings include first forward to second reverse, second forward to second reverse, and second forward to first reverse. Auto-kickdown allows the transmission to automatically downshift when significant load increases are detected.
Torque Divider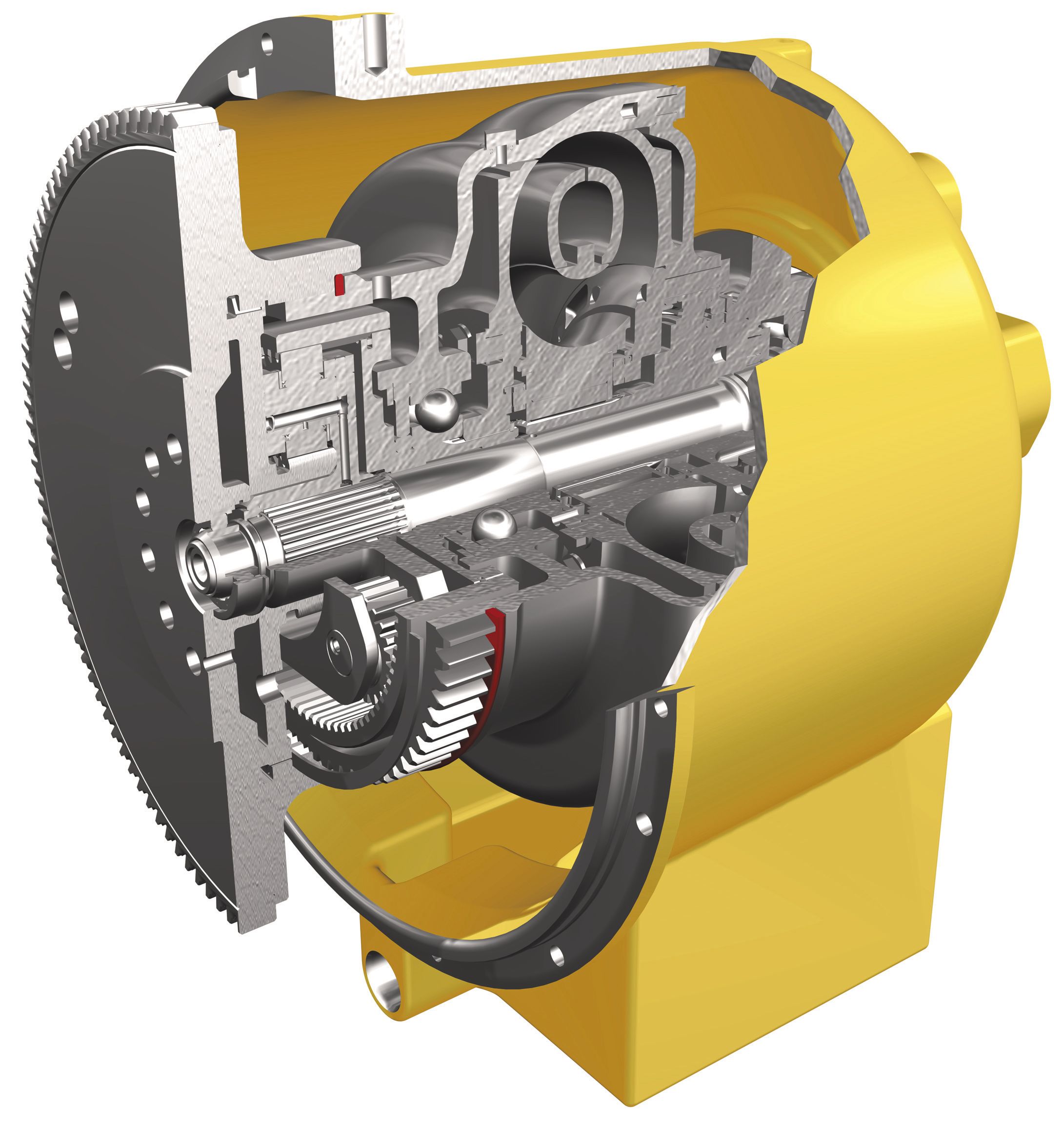 The D8R II torque divider provides efficiency benefits of a direct-drive power train while maintaining the capabilities of a converter drive.
Torque Divider Performance
An improved single-stage torque converter sends 70% of engine torque through a converter and 30% through a direct drive shaft for greater driveline efficiency and higher torque multiplication. The new torque converter provides improved efficiency and broader range of performance in second gear dozing and scraper pushloading.
Key Benefits of Torque Dividers
Caterpillar uses torque dividers on large track-type tractors for several key reasons:
High reliability.
Proven component design.
Low dynamic torque.
Optimum combination of operator efficiency and driveline reliability.
Components are designed to absorb full engine power.
High torque multiplication to get heavy loads moving.
Elevated Final Drives
Isolates final drives from ground and work tool induced impact loads for extended power train life.
Crown-shaved drive gears provide smooth, quiet, low maintenance operation.
Splash lubrication and Duo-Cone® seals extend service life.
Freewheel Stator
Improves torque divider efficiency. During machine operation under low drawbar loads, the stator is permitted to rotate to achieve peak efficiency. The result is a reduction in heat and an increase in fuel efficiency.
Operating Efficiency and Driveline Reliability
The torque converter shields the driveline from sudden torque shocks and vibration.
Steering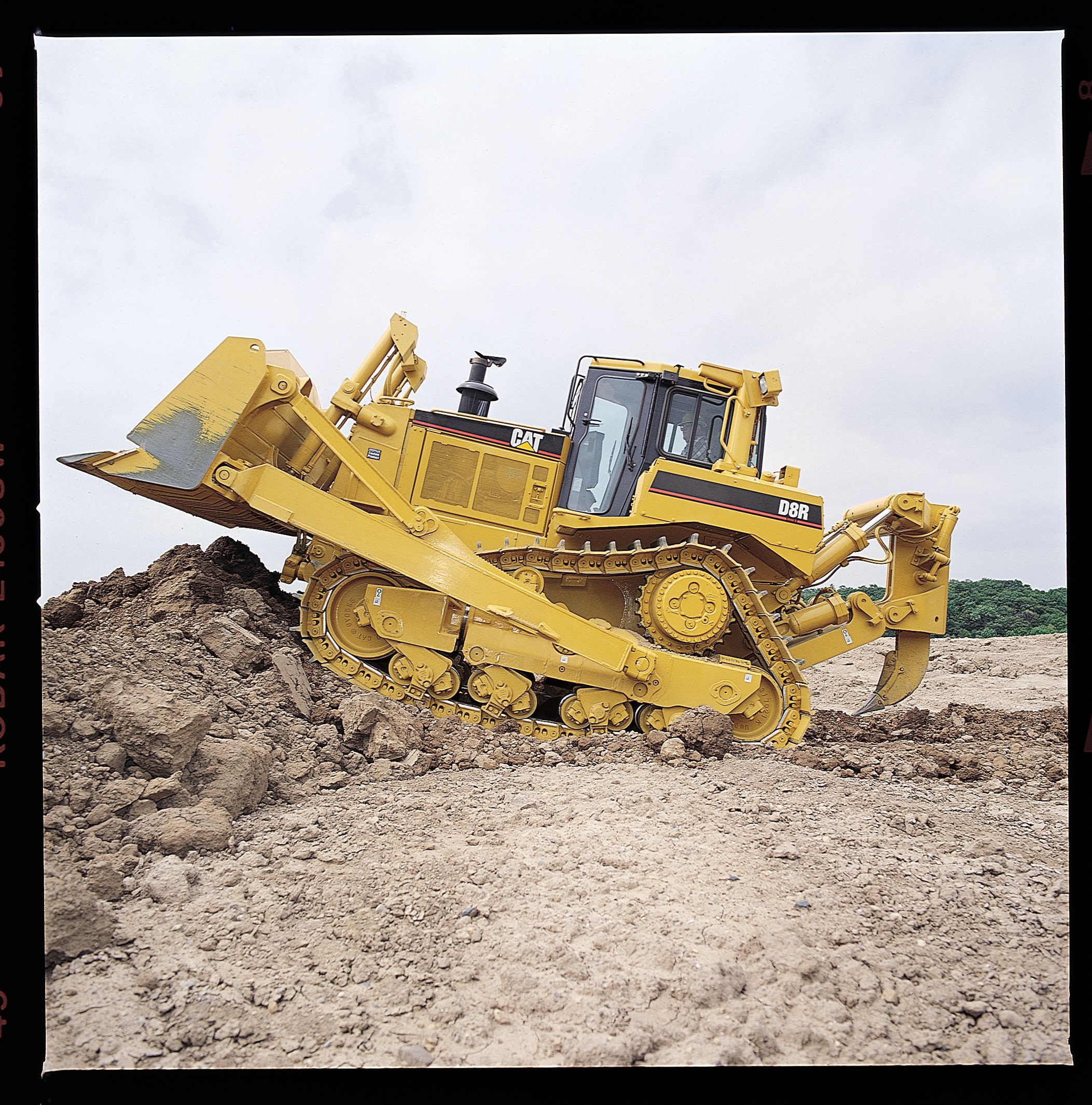 With differential steering, the D8R II delivers the performance you expect from Caterpillar.
Differential Steering
Delivers uninterrupted power to both tracks to help maintain blade loads and reduce cycle times.
Advanced Modular Cooling System (AMOCS)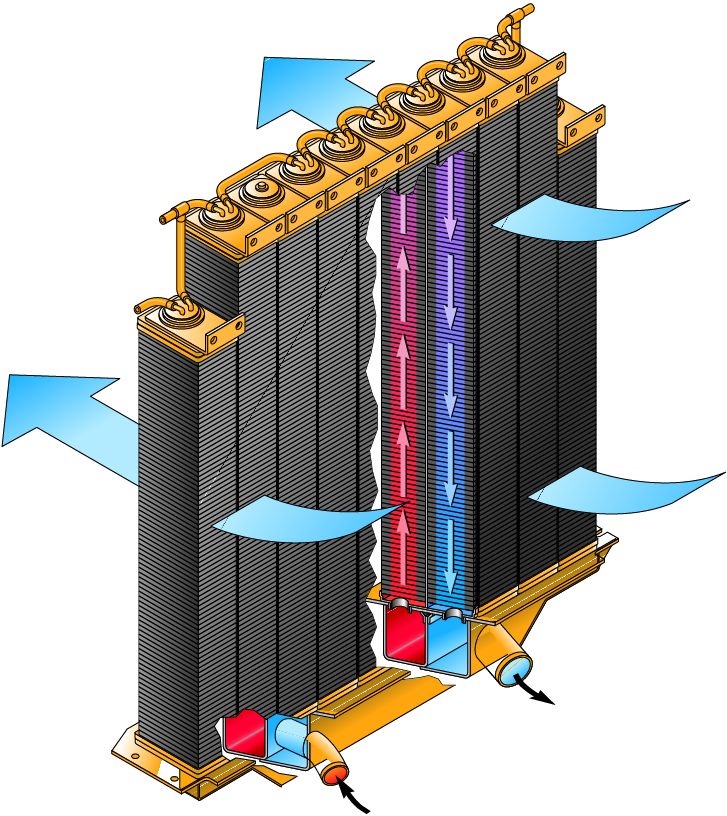 AMOCS utilizes an exclusive two pass cooling system and increased cooling surface area to provide significantly more cooling capacity than conventional systems.
Separate Circuit Aftercooler
AMOCS features a new Separate Circuit Aftercooler and aftercooler water pump.
Two Pass Cooling System
Circulates coolant from the sectioned bottom tank up through one side of the cooling element and down through the other side returning it to the bottom tank.
Modular Design
The cooling elements are individual core modules that are connected to a sectioned bottom tank. There is no top tank to remove.
With 9 steel fins per 2.54cm (1in), or an optional 6 steel fins per 2.54cm (1in).
Brass tube construction within each core for improved reliability.
Serviceability
Servicing of the AMOCS can be performed without tilting the radiator guard.
No need to remove or replace a major component as on a single-core radiator.
Each core module can be replaced individually (without removing the entire radiator), saving considerable cost and repair time. It also features a site gauge for quick service checks.
Protection From Leaks
To reduce the potential for coolant leaks, brass tubes are welded to a large, thick header, improving strength of the tube-to-header joint. The attachment sand blast grid should be used to prevent core damage in the conditions where abrasive materials can be airborne.
Operator Station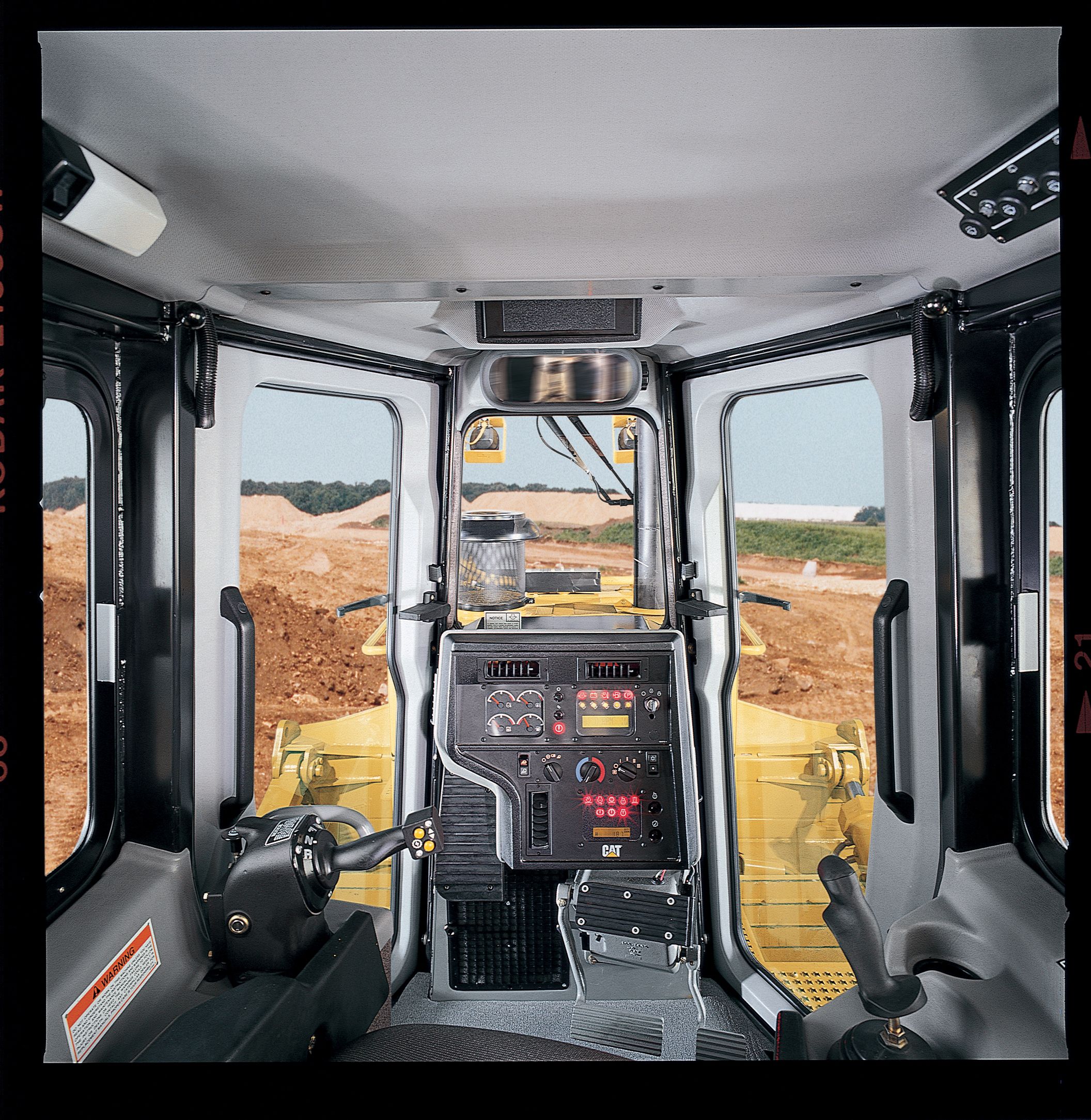 The D8R II operator station is designed for comfort and ease of operation.
Caterpillar Monitoring System
Provides the operator instant feedback on the condition of operating systems and records such performance data as high/low gauge readings to help diagnose problems and manage undercarriage. Caterpillar Monitoring System provides gauges that monitor the temperature of the engine coolant, hydraulic oil and power train oil, plus the fuel level.
Comfortable Operation
An isolation-mounted cab reduces noise and vibration. The cab is pre-wired for a 12-volt radio mount recessed in the headliner.
Cat Comfort Series Seat
The new Cat Comfort Series seat is fully adjustable and designed for comfort and support. The seat and back cushions are thicker and designed to reduce pressure on the lower back and thighs while allowing unrestricted arm and leg movement.
Single Twist Tiller With Push-Button Speed Control
New on the D8R II is a single twist tiller with push-button speed controls allowing one-hand control of the direction and degree of turns, forward-reverse shifting, and gear selection.
Hydraulic Control Lockout Valve
When engaged, the lockout valve prevents inadvertent operation of the hydraulic work tool attachments.
Throttle Control
A rocker switch control sets the high or low idle with a touch of the finger. A decelerator pedal gives the operator full control of engine speed when the rocker switch is in the high idle position.
Clear Full-Circle View
Tapered hood and "notched" fuel tank give the operator a clear line of sight to the front and rear work areas. The low rear window lets the operator see the ripper tip. The large, single pane windows in the doors allow the operator to see both ends of the blade.
Interior Amenities
The interior storage and amenities include:
Intermittent windshield wipers.
Small storage compartment behind seat for first aid kit.
Inside door releases.
Lunchbox tie-downs.
Cup holder.
Cigarette ashtray.
Console pads.
Standard 24 to 12 volt converter.
Power point plug-in behind seat.
Perimeter-mounted headliner with integral radio mount, speakers and antenna.
Suspension Isolation-Mounted Cab
The D8R II features a suspension isolation-mounted cab with standard ROPS/FOPS.
Air Ventilation System
The D8R II air ventilation system features a 4-speed blower fan for optimal operator comfort.
Structure
Engineered and built to give solid support in the most demanding work.
Mainframe
The D8R II mainframe is built to absorb high impact shock loads and twisting forces.
Equalizer Bar End Pins
Equalizer bar end pins are oil filled and have limited slip seals for longer life and reduced repair costs.
Undercarriage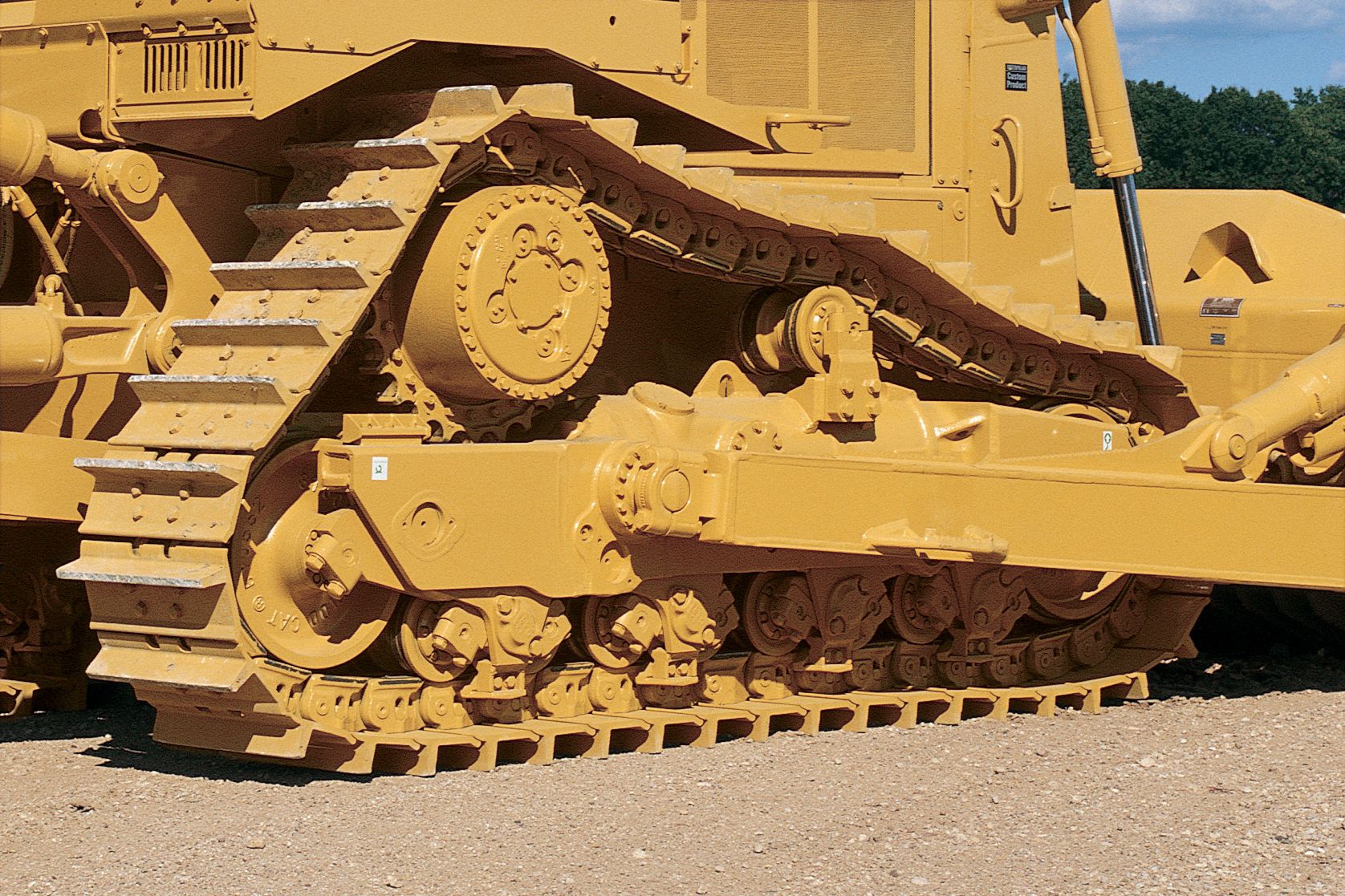 The Cat elevated sprocket is designed for better machine balance and component life.
Bogie Suspension
Conforms more closely to the ground to provide more ground contact, especially in hard, uneven terrain. Higher traction means less slippage, better balance, and a smoother ride.
Positive Pin Retention Track (Optional)
Designed for high-impact and high-loading applications such as mining, heavy construction, demolition, and waste disposal. Positive Pin Retention Track (PPR) is an exclusive Caterpillar design that mechanically locks the link to the pin.
Rollers and Idlers
Feature symmetric Duo-Cone® seals with an abutment-style cap.
Roller Frames
A new feature on the D8R II is an increased track roller frame adjustment length for more wear material available for use, extending link and roller wear life.
Idler Guards (Optional)
Increase undercarriage life by preventing most abrasive debris from falling past the idlers and onto the rollers and links.
Suspended Undercarriage Design
Absorbs impact loads to reduce the shock loads transferred to the undercarriage by up to 50% in uneven terrain.
Elevated Sprocket
Transfers work tool shock loads to the mainframe and allows the sprockets, final drives, axles and steering components to perform without absorbing excessive punishment. This allows Cat tractors to work harder and last longer than competitors' machines. A new tougher steel sprocket segment increases the life of both the segment and track bushing.
Sealed and Lubricated Track
Permanently coats the track pin with a sealed-in lubricant, minimizing metal-to-metal contact.
Virtually eliminates internal pin and bushing wear.
Lubricant is held in a reservoir in the track pin.
Other Features
The D8R II also features:
Tubular roller frames, to resist bending and twisting, with added reinforcement where operating loads are the highest.
Roller frames attach to tractor by a pivot shaft and pinned equalizer bar, eliminating diagonal braces for superior ground clearance and track oscillation in poor underfoot conditions.
Large pivot shaft bushings operate in an oil reservoir.
A low friction, no maintenance bushing is used in the saddle connection.
Resilient pads restrain equalizer bar oscillation.
The recoil system is sealed and lubricated.
Forged front track roller frames for better load distribution to maximize life.
Work Tools/Attachments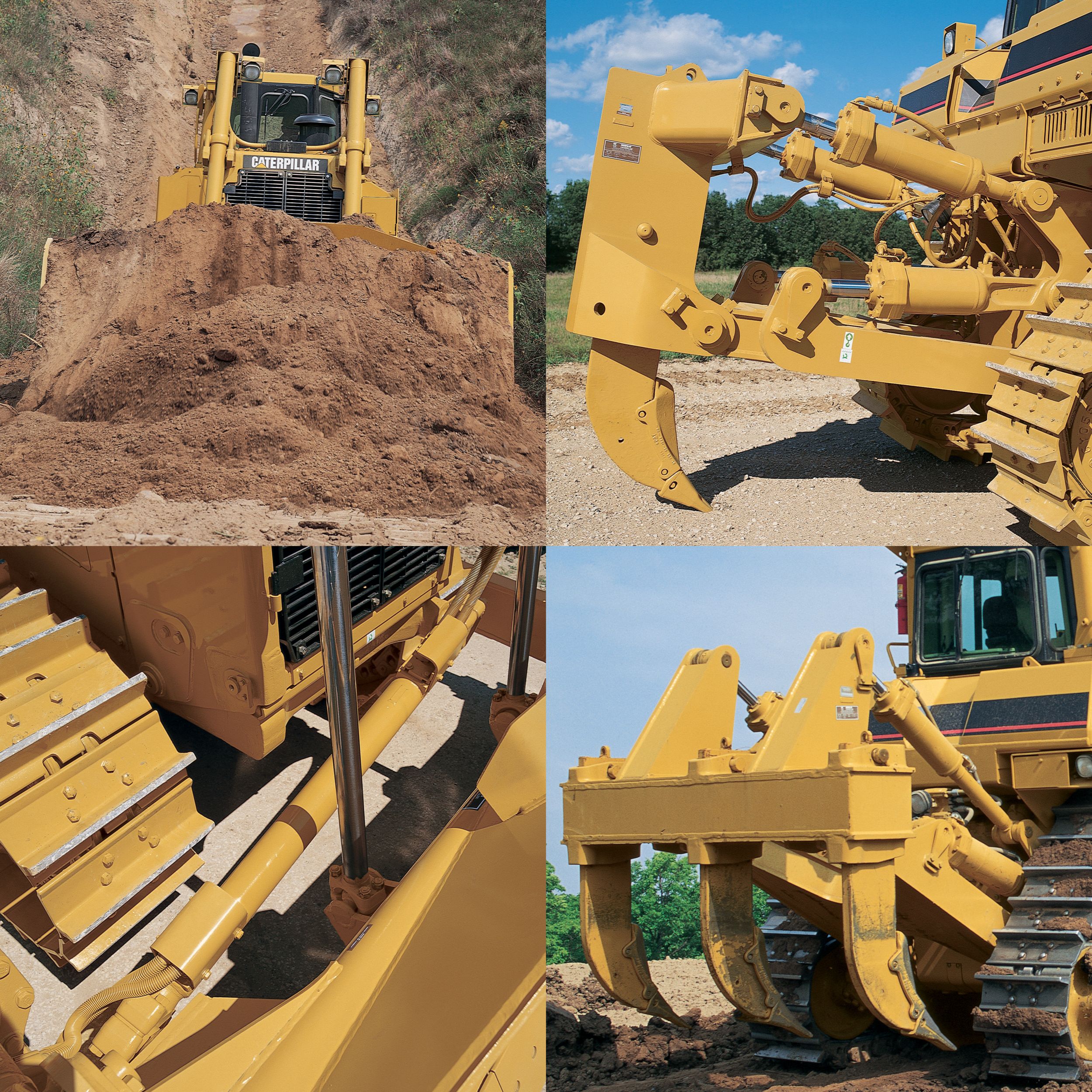 A variety of attachments provide the flexibility to match the machine to the job.
Blades
The Universal (U) blade and the Semi-universal (SU) blade make full use of the D8R II power. The U blade has increased capacity and less spillage. The SU blade is built for tough applications in tightly packed material where penetration is more important than capacity.
Rippers
The D8R II is available with either a single or multi-shank ripper and features a notched fuel tank for better visibility to the ripper tip.
Hydraulics
Adjusts attachment hydraulic power to increase both operator and machine efficiency.
Waste Disposal Arrangement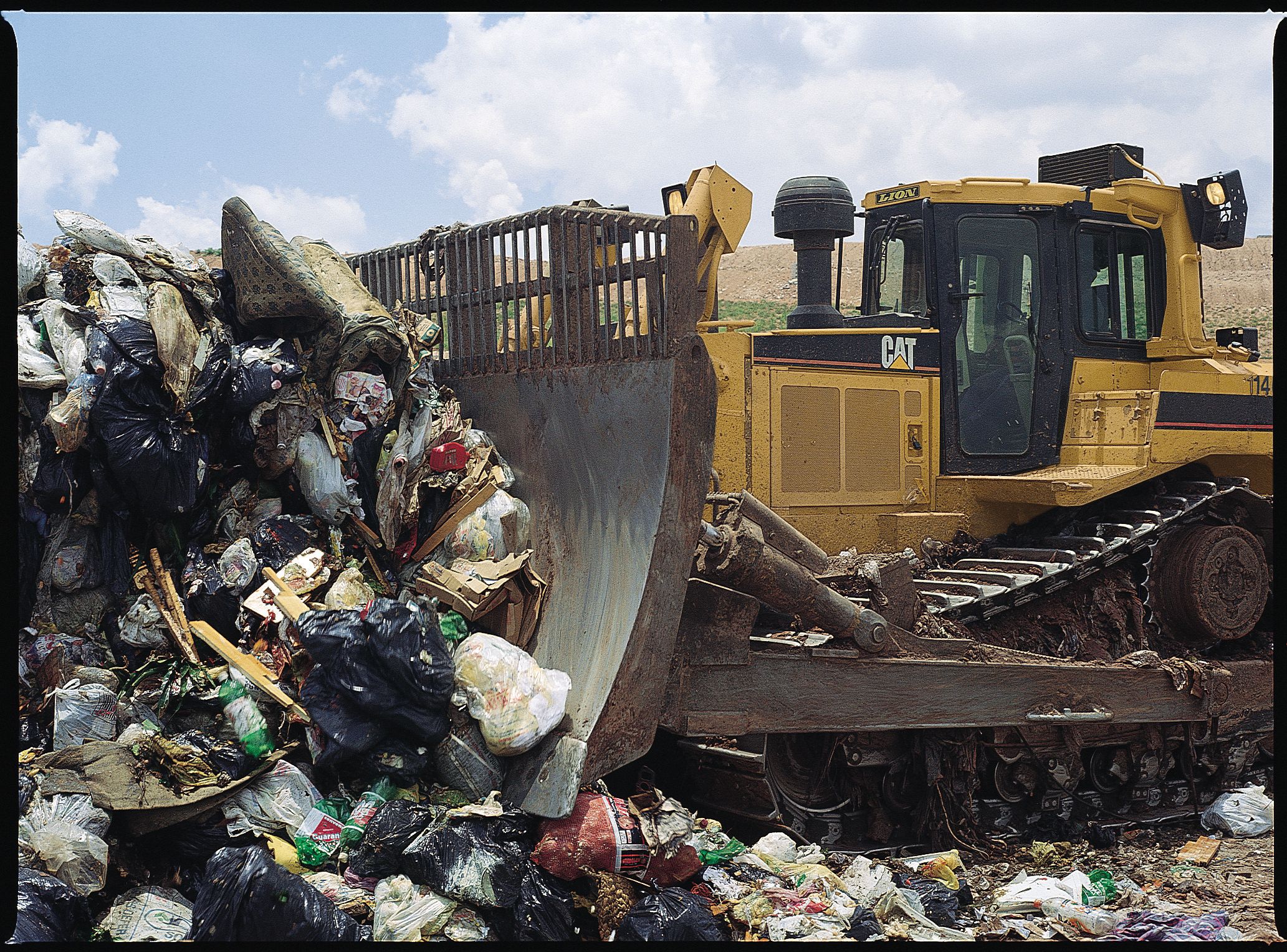 Field proven technology for the waste handling application.
Special Landfill Blade
The blade and push-arm specially modified by Caterpillar for waste handling applications provides tilt and tip movements to both sides. With these modifications the machine significantly increases the productivity of the application in even the toughest waste disposal conditions. All blade movements can be made using one lever in the operator compartment.
Debris Resistant Components
Several debris resistant components were included in the waste disposal arrangement to help reduce general obstruction, increase machine lifetime and improve productivity.
Protection Components
The radiators, engine compartment, crankcase (belly) and tilt cylinder tubing protections help protect the machine critical components in aggressive environments such as waste disposals. The protections for the idler seals, the pivot shaft and the final drive help prevent damage to these seals, minimizing machine down time and avoiding hydraulic oil contamination.
Serviceability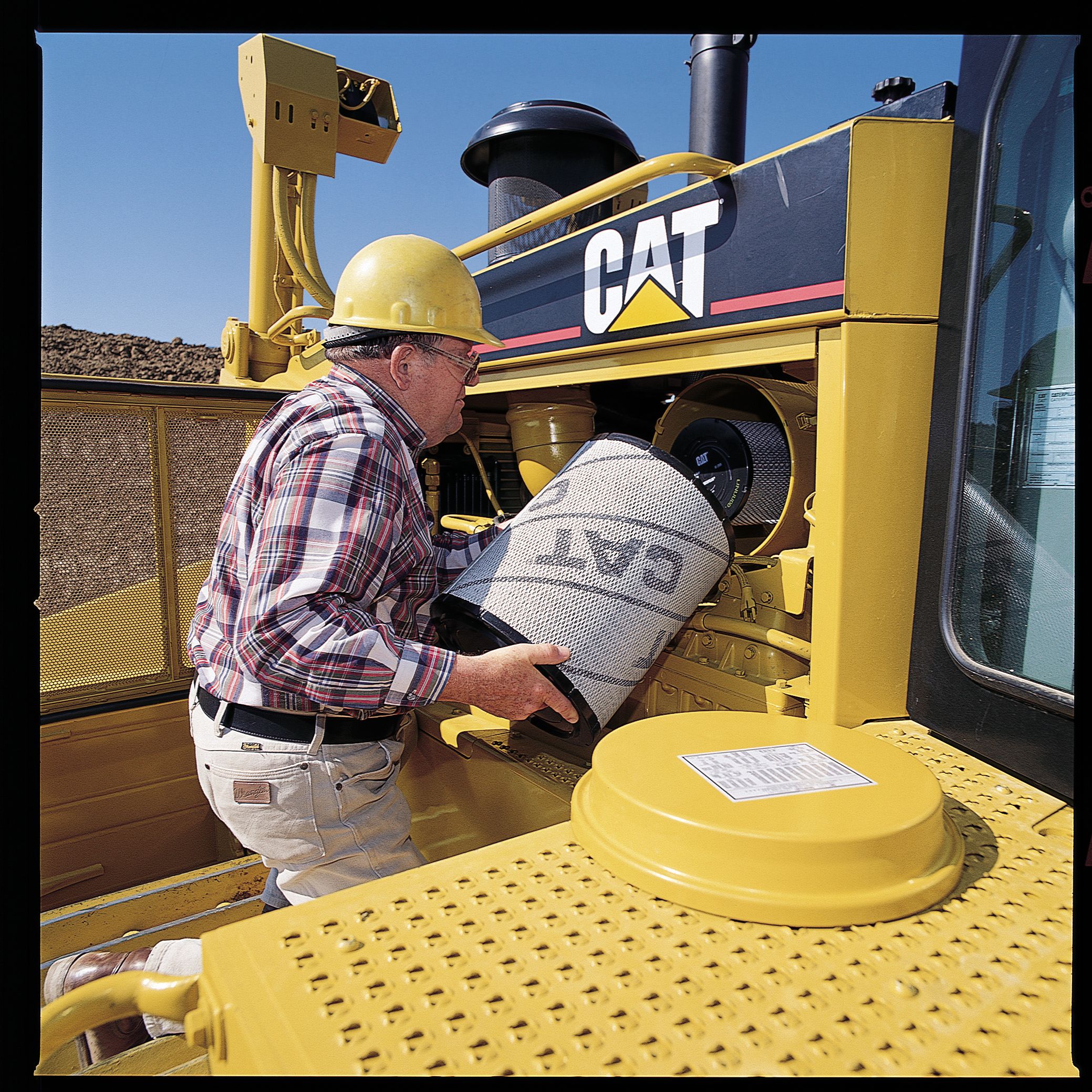 Simplified service means more productive uptime.
Built-In Servicing Ease
Less service time means more working time. Major components are made as modules and most can be removed without disturbing or removing others.
Ecology Drains
Provide an environmentally safer method to drain fluids. They are included on the radiator, hydraulic tank and major power train components.
Spin-On Filters
Spin-on fuel and engine oil filters save changing time. Further time is saved with fast fuel and quick oil change attachments. Equipped with a dozer and ripper, the D8R II has only 12 weekly (50 hour) lube points (grease fittings).
Advanced Modular Cooling System (AMOCS)
AMOCS individual cooling elements allow radiator servicing without major component removal, saving considerable time and cost.
Easier Maintenance and Repair
Experience easier maintenance and repair through monitoring key functions and logged faults. Electronic diagnostic access is possible with a single tool, the Electronic Technician (ET).
Quick Disconnect Fittings
Allow for fast diagnosis of the power train and work tool oil systems.
Electrical Connectors
To improve electrical system reliability and servicing, the D8R II uses Deutsch sealed electrical connectors in most locations. The harness connectors lock out dust and moisture better than "bullet" or "metal twist" connectors.
Fuel Tank
The D8R II includes an optional fast fuel fill attachment with positive fuel shut-off to prevent fuel spillage.
Product Link 201 (Optional)
The Caterpillar Product Link System is a factory installed or easily retrofittable wireless system that simplifies the work of tracking fleets. Using satellite technology, the Internet, and your Dealer's Storefront Website, the system automatically generates machine data and forwards it to the customer through the Dealer's Storefront Website. The customer can receive up-to-date information like:
Machine location.
Machine hours.
Machine health. For:
Timely service and repairs.
Service truck routing.
Lower operating costs.
Optimum fleet use.
Product Watch unauthorized machine usage.
Complete Customer Support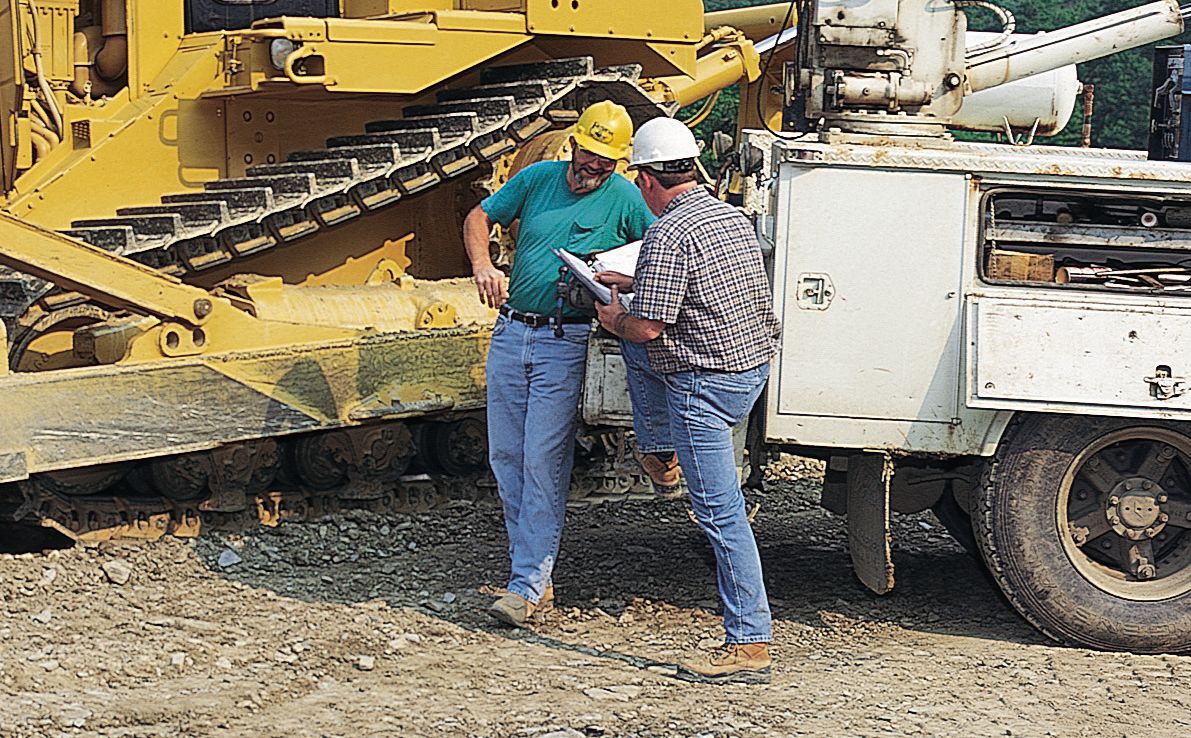 Unmatched in the industry!
Dealer Commitment
Dealers committed to fast, quality customer support. Your Cat dealer's investment in service begins with the fastest and most complete parts availability in the industry. The full range of exchange components and Caterpillar Remanufactured Parts are aimed at saving you time and money, and all carry new-parts warranty.
Customer Service Agreements
Dealer service response extends to programs such as Custom Track Service (CTS), Scheduled Oil Sampling (S•O•Ssm), and guaranteed maintenance contracts that get peak life and performance from your machine.
Advanced Modular Cooling System (AMOCS)
Adjustable Comfort Seat (vinyl)
Air Cleaner, Precleaner with Dust Ejector
Air Cleaner Service Indicator - Electronic
Alternator, 70 amp
Armrests, adjustable
Automatic Shifting Feature
o Autokickdown / Autodownshift
o Auto shift (2R/1F, 2R/2F, 1R/2F)
Back-up Alarm
Batteries (4), 3000 Cold Cranking Amps (24V)
Blower Fan
Control Deactivation Device (hydraulics)
Controlled Throttle Shifting
Controls, Hydraulic Pilot
Converter, 12V, 10amp (with two power outlets)
Cooler, Hydraulic Oil
Decelerator Pedal
Diagnostic Connector
Differential Steering System With Touch Shift
Direct Electric Starting, 24 Volt
Ecology Drains
o Engine Oil
o Engine Coolant
o Hydraulic Oil
o Fuel Tank Sediment
o Powertrain Case
o Transmission Case
o Torque Converter
o Engine Oil
o Autokickdown / Autodownshift
o Auto shift (2R/1F, 2R/2F, 1R/2F)
o Engine Oil
o Engine Coolant
o Hydraulic Oil
o Fuel Tank Sediment
o Powertrain Case
o Transmission Case
o Torque Converter
o Two Lights Forward on ROPS
o Two Rear on Fuel Tank
o Engine
o Powertrain Oil
o Hydraulics
o 560mm (22in) Moderate Service Shoes
o Two-piece Master Links
o Cap Locks for Fuel Tank
o Engine Oil Filler
o Radiator Filler and Dip Stick
o Battery Box Locks (two)
o Left Hand Service Area Cover Lock
o Engine Coolant
o Autokickdown / Autodownshift
o Auto shift (2R/1F, 2R/2F, 1R/2F)
o Engine Oil
o Engine Coolant
o Hydraulic Oil
o Fuel Tank Sediment
o Powertrain Case
o Transmission Case
o Torque Converter
o Two Lights Forward on ROPS
o Two Rear on Fuel Tank
o Engine
o Powertrain Oil
o Hydraulics
o 560mm (22in) Moderate Service Shoes
o Two-piece Master Links
o Cap Locks for Fuel Tank
o Engine Oil Filler
o Radiator Filler and Dip Stick
o Battery Box Locks (two)
o Left Hand Service Area Cover Lock
o Hydraulic Oil
o Autokickdown / Autodownshift
o Auto shift (2R/1F, 2R/2F, 1R/2F)
o Engine Oil
o Engine Coolant
o Hydraulic Oil
o Fuel Tank Sediment
o Powertrain Case
o Transmission Case
o Torque Converter
o Two Lights Forward on ROPS
o Two Rear on Fuel Tank
o Engine
o Powertrain Oil
o Hydraulics
o 560mm (22in) Moderate Service Shoes
o Two-piece Master Links
o Cap Locks for Fuel Tank
o Engine Oil Filler
o Radiator Filler and Dip Stick
o Battery Box Locks (two)
o Left Hand Service Area Cover Lock
o Fuel Tank Sediment
o Autokickdown / Autodownshift
o Auto shift (2R/1F, 2R/2F, 1R/2F)
o Engine Oil
o Engine Coolant
o Hydraulic Oil
o Fuel Tank Sediment
o Powertrain Case
o Transmission Case
o Torque Converter
o Two Lights Forward on ROPS
o Two Rear on Fuel Tank
o Engine
o Powertrain Oil
o Hydraulics
o 560mm (22in) Moderate Service Shoes
o Two-piece Master Links
o Cap Locks for Fuel Tank
o Engine Oil Filler
o Radiator Filler and Dip Stick
o Battery Box Locks (two)
o Left Hand Service Area Cover Lock
o Powertrain Case
o Autokickdown / Autodownshift
o Auto shift (2R/1F, 2R/2F, 1R/2F)
o Engine Oil
o Engine Coolant
o Hydraulic Oil
o Fuel Tank Sediment
o Powertrain Case
o Transmission Case
o Torque Converter
o Two Lights Forward on ROPS
o Two Rear on Fuel Tank
o Engine
o Powertrain Oil
o Hydraulics
o 560mm (22in) Moderate Service Shoes
o Two-piece Master Links
o Cap Locks for Fuel Tank
o Engine Oil Filler
o Radiator Filler and Dip Stick
o Battery Box Locks (two)
o Left Hand Service Area Cover Lock
o Transmission Case
o Autokickdown / Autodownshift
o Auto shift (2R/1F, 2R/2F, 1R/2F)
o Engine Oil
o Engine Coolant
o Hydraulic Oil
o Fuel Tank Sediment
o Powertrain Case
o Transmission Case
o Torque Converter
o Two Lights Forward on ROPS
o Two Rear on Fuel Tank
o Engine
o Powertrain Oil
o Hydraulics
o 560mm (22in) Moderate Service Shoes
o Two-piece Master Links
o Cap Locks for Fuel Tank
o Engine Oil Filler
o Radiator Filler and Dip Stick
o Battery Box Locks (two)
o Left Hand Service Area Cover Lock
o Torque Converter
o Autokickdown / Autodownshift
o Auto shift (2R/1F, 2R/2F, 1R/2F)
o Engine Oil
o Engine Coolant
o Hydraulic Oil
o Fuel Tank Sediment
o Powertrain Case
o Transmission Case
o Torque Converter
o Two Lights Forward on ROPS
o Two Rear on Fuel Tank
o Engine
o Powertrain Oil
o Hydraulics
o 560mm (22in) Moderate Service Shoes
o Two-piece Master Links
o Cap Locks for Fuel Tank
o Engine Oil Filler
o Radiator Filler and Dip Stick
o Battery Box Locks (two)
o Left Hand Service Area Cover Lock
Electrical Connectors / Deutsch
Electronic Distance Travel Indicator
Electronic Engine - 3406E
Electronic Hourmeter
Electronic Monitoring System
Electronic Powershift Transmission, 3 Speed
Electronic Throttle Switch
Ether Starting Aid
Extended Life Coolant
Final Drives With Four Planet Double Reduction Planetary
Front Towing Device
Fuel Priming Pump
Gauge Package - Temperature (coolant, hydraulic, powertrain)and Fuel Level
Hinged Extreme Service Bottom Guard
Hinged Radiator Grill
Horn
Hydraulic Oil Cooler
Hydraulic Track Adjusters
Hydraulic, two-valve, Lift and Tilt
Independent Steering and Implement Pumps
Lifetime Lubricated Track Rollers and Idlers
Lighting System, Halogen
o Two Lights Forward on ROPS
o Two Rear on Fuel Tank
o Two Lights Forward on ROPS
o Autokickdown / Autodownshift
o Auto shift (2R/1F, 2R/2F, 1R/2F)
o Engine Oil
o Engine Coolant
o Hydraulic Oil
o Fuel Tank Sediment
o Powertrain Case
o Transmission Case
o Torque Converter
o Two Lights Forward on ROPS
o Two Rear on Fuel Tank
o Engine
o Powertrain Oil
o Hydraulics
o 560mm (22in) Moderate Service Shoes
o Two-piece Master Links
o Cap Locks for Fuel Tank
o Engine Oil Filler
o Radiator Filler and Dip Stick
o Battery Box Locks (two)
o Left Hand Service Area Cover Lock
o Two Rear on Fuel Tank
o Autokickdown / Autodownshift
o Auto shift (2R/1F, 2R/2F, 1R/2F)
o Engine Oil
o Engine Coolant
o Hydraulic Oil
o Fuel Tank Sediment
o Powertrain Case
o Transmission Case
o Torque Converter
o Two Lights Forward on ROPS
o Two Rear on Fuel Tank
o Engine
o Powertrain Oil
o Hydraulics
o 560mm (22in) Moderate Service Shoes
o Two-piece Master Links
o Cap Locks for Fuel Tank
o Engine Oil Filler
o Radiator Filler and Dip Stick
o Battery Box Locks (two)
o Left Hand Service Area Cover Lock
Load Compensating Transmission Controls
Load Sensing Hydraulics
Muffler
OROPS Instrument Panel Guard
Pinned Equalizer Bar
Prescreener
Rain Cap
Rearview Mirror
Replaceable Sprocket Rim Segments
ROPS / FOPS Canopy (USA)
Scheduled Oil Sampling Ports
o Engine
o Powertrain Oil
o Hydraulics
Schedule Coolant Sampling port (engine coolant)
Seat Belt (retractable)
Starting Receptacle
Suspended Undercarriage With Eight Track Rollers
Torque Divider Transmission
Track Guiding Guards
Track, Sealed and Lubricated
o 560mm (22in) Moderate Service Shoes
o Two-piece Master Links
Vandalism Protection Includes
o Cap Locks for Fuel Tank
o Engine Oil Filler
o Radiator Filler and Dip Stick
o Battery Box Locks (two)
o Left Hand Service Area Cover Lock
o Cap Locks for Fuel Tank
o Autokickdown / Autodownshift
o Auto shift (2R/1F, 2R/2F, 1R/2F)
o Engine Oil
o Engine Coolant
o Hydraulic Oil
o Fuel Tank Sediment
o Powertrain Case
o Transmission Case
o Torque Converter
o Two Lights Forward on ROPS
o Two Rear on Fuel Tank
o Engine
o Powertrain Oil
o Hydraulics
o 560mm (22in) Moderate Service Shoes
o Two-piece Master Links
o Cap Locks for Fuel Tank
o Engine Oil Filler
o Radiator Filler and Dip Stick
o Battery Box Locks (two)
o Left Hand Service Area Cover Lock
o Engine Oil Filler
o Autokickdown / Autodownshift
o Auto shift (2R/1F, 2R/2F, 1R/2F)
o Engine Oil
o Engine Coolant
o Hydraulic Oil
o Fuel Tank Sediment
o Powertrain Case
o Transmission Case
o Torque Converter
o Two Lights Forward on ROPS
o Two Rear on Fuel Tank
o Engine
o Powertrain Oil
o Hydraulics
o 560mm (22in) Moderate Service Shoes
o Two-piece Master Links
o Cap Locks for Fuel Tank
o Engine Oil Filler
o Radiator Filler and Dip Stick
o Battery Box Locks (two)
o Left Hand Service Area Cover Lock
o Radiator Filler and Dip Stick
o Autokickdown / Autodownshift
o Auto shift (2R/1F, 2R/2F, 1R/2F)
o Engine Oil
o Engine Coolant
o Hydraulic Oil
o Fuel Tank Sediment
o Powertrain Case
o Transmission Case
o Torque Converter
o Two Lights Forward on ROPS
o Two Rear on Fuel Tank
o Engine
o Powertrain Oil
o Hydraulics
o 560mm (22in) Moderate Service Shoes
o Two-piece Master Links
o Cap Locks for Fuel Tank
o Engine Oil Filler
o Radiator Filler and Dip Stick
o Battery Box Locks (two)
o Left Hand Service Area Cover Lock
o Battery Box Locks (two)
o Autokickdown / Autodownshift
o Auto shift (2R/1F, 2R/2F, 1R/2F)
o Engine Oil
o Engine Coolant
o Hydraulic Oil
o Fuel Tank Sediment
o Powertrain Case
o Transmission Case
o Torque Converter
o Two Lights Forward on ROPS
o Two Rear on Fuel Tank
o Engine
o Powertrain Oil
o Hydraulics
o 560mm (22in) Moderate Service Shoes
o Two-piece Master Links
o Cap Locks for Fuel Tank
o Engine Oil Filler
o Radiator Filler and Dip Stick
o Battery Box Locks (two)
o Left Hand Service Area Cover Lock
o Left Hand Service Area Cover Lock
o Autokickdown / Autodownshift
o Auto shift (2R/1F, 2R/2F, 1R/2F)
o Engine Oil
o Engine Coolant
o Hydraulic Oil
o Fuel Tank Sediment
o Powertrain Case
o Transmission Case
o Torque Converter
o Two Lights Forward on ROPS
o Two Rear on Fuel Tank
o Engine
o Powertrain Oil
o Hydraulics
o 560mm (22in) Moderate Service Shoes
o Two-piece Master Links
o Cap Locks for Fuel Tank
o Engine Oil Filler
o Radiator Filler and Dip Stick
o Battery Box Locks (two)
o Left Hand Service Area Cover Lock
Water Separator
Automatic Shifting Feature
o Autokickdown / Autodownshift
o Auto shift (2R/1F, 2R/2F, 1R/2F)
Ecology Drains
o Engine Oil
o Engine Coolant
o Hydraulic Oil
o Fuel Tank Sediment
o Powertrain Case
o Transmission Case
o Torque Converter
Lighting System, Halogen
o Two Lights Forward on ROPS
o Two Rear on Fuel Tank
Scheduled Oil Sampling Ports
o Engine
o Powertrain Oil
o Hydraulics
Track, Sealed and Lubricated
o 560mm (22in) Moderate Service Shoes
o Two-piece Master Links
Vandalism Protection Includes
o Cap Locks for Fuel Tank
o Engine Oil Filler
o Radiator Filler and Dip Stick
o Battery Box Locks (two)
o Left Hand Service Area Cover Lock