The D8R LGP Tractor has wider shoes and extended track frames, reducing ground pressure for excellent flotation in soft, spongy or swampy conditions.
Power Train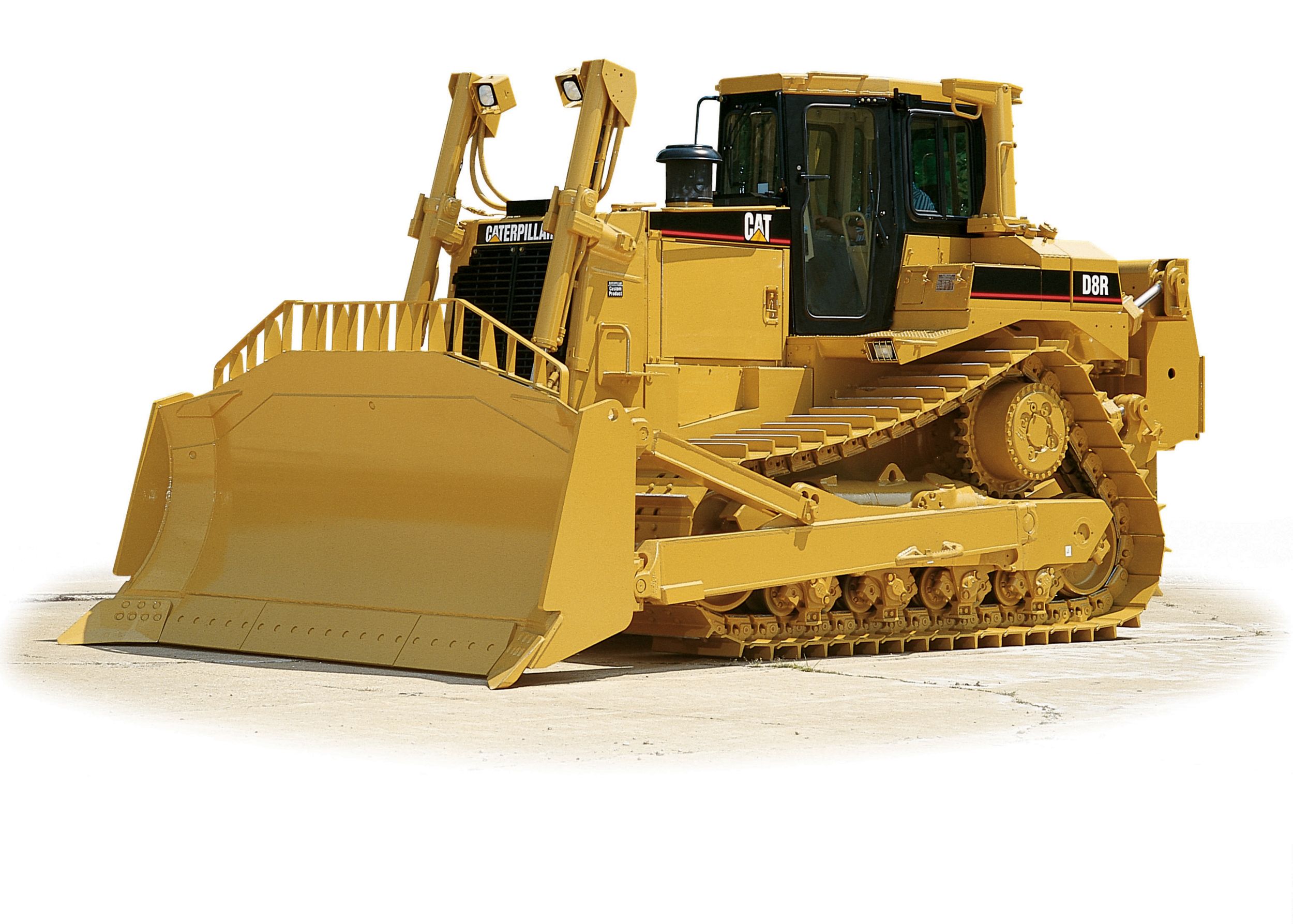 The 3406C engine, torque divider and field proven, power shift transmission provide an excellent balance between efficiency and power.
Engine
Caterpillar 3406C engine performs at full-rated net power with a torque rise of 55%.
Meets Regulations
The 3406C engine meets worldwide emissions regulations for the Environmental Protection Agency, the European Union and the California Air Resources Board.
Turbocharging and Aftercooling
Turbocharging and aftercooling provide high horsepower while keeping RPM and exhaust temperatures low.
Steel Spacer
A steel spacer between the block and head eliminates the need for block counterbores, extending block life.
Longer Component Life
Components live longer because oil-cooled pistons and full-length water-cooled cylinder liners provide maximum heat transfer for longer component life.
Valves
Stellite-faced valves, through-hardened crankshaft journals and steel-backed, copper-bonded aluminum bearings help assure reliable performance in the toughest duty.
Dealer's Exchange Program
Cat dealer's exchange program for major engine components can cut repair time and costs.
Torque Divider
A single-stage torque converter with output torque divider send 70% of engine torque through the converter, 30% through a direct drive shaft for greater driveline efficiency and higher torque multiplication.
Torque Converter
The torque converter shields the driveline from sudden torque shocks and vibration.
Final Drives
Elevated final drives are isolated from ground and implement induced impact loads for extended power train life.
Transmission
Planetary power shift transmission has 3-speeds forward and 3-speeds reverse and utilizes large diameter, high-capacity, oil-cooled clutches.
Cooling System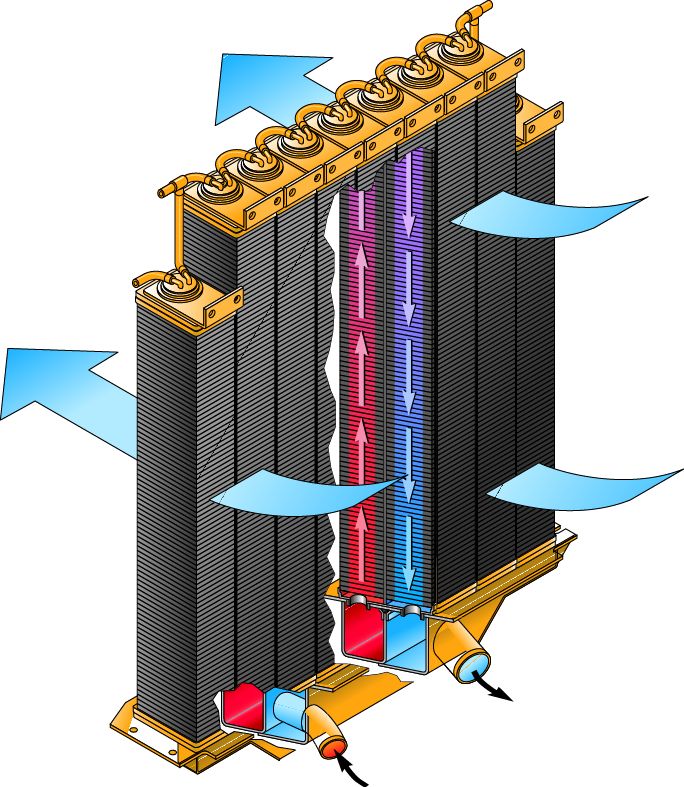 Superior cooling and ease of service keep the D8R LGP on the job and producing day after day.
Cooling Capacity
Advanced Modular Cooling System (AMOCS) utilizes an exclusive two pass cooling system and increased cooling surface area to provide significantly more cooling capacity than conventional systems.
Extended Life Coolant
Caterpillar Extended Life Coolant (ELC) is now standard in all D8R LGP tractors.
Two Pass Cooling System
Two pass cooling system circulates coolant from the sectioned bottom tank up through one side of the cooling element and down through the other side returning it to the bottom tank.
Cooling Elements
The cooling elements are individual core modules that are connected to a sectioned bottom tank.
Servicing
The servicing of the AMOCS can be performed without tilting the radiator guard.
Differential Steering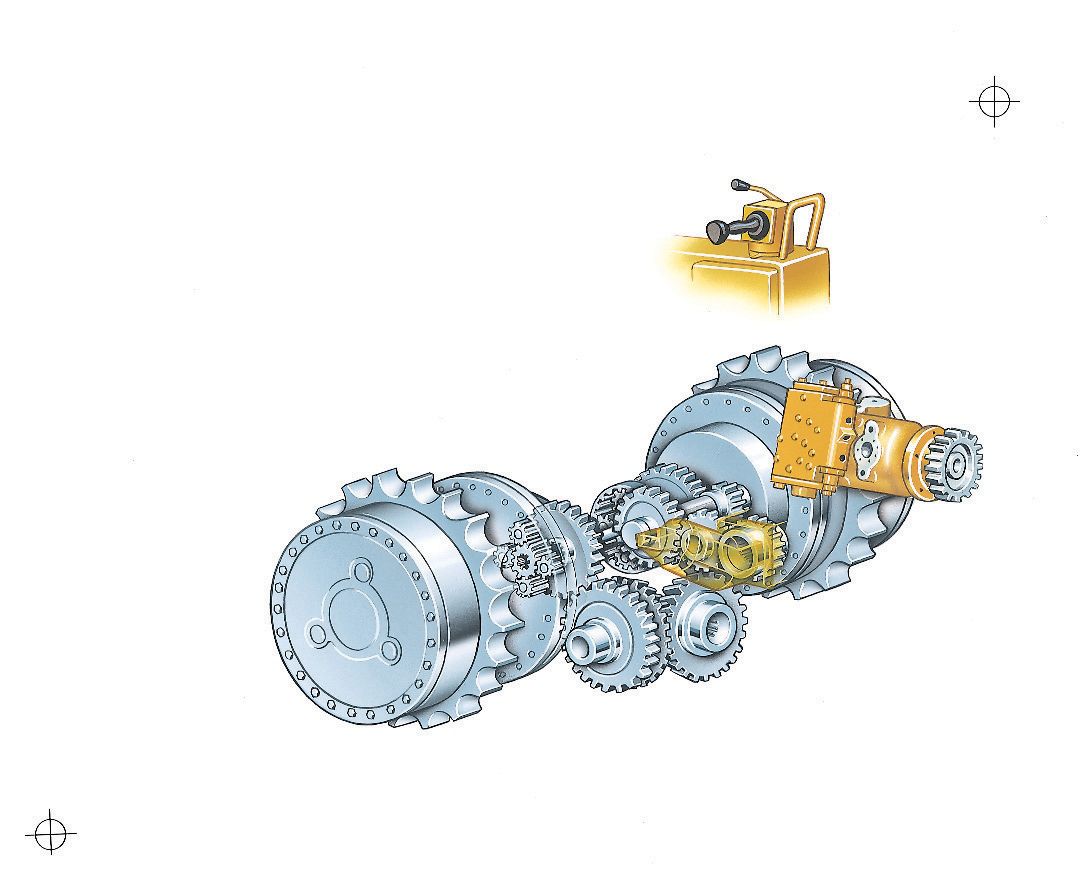 Uses hydraulics instead of friction to steer.
Uninterrupted Power
Differential steering delivers uninterrupted power to both tracks to help maintain blade loads, reduce cycle times and provide enhanced side slope capability.
Steering
The operator can steer and change directions easily with one hand.
Turning
A planetary differential turns the machine by speeding up one track and slowing the other while maintaining full power to both.
Tiller Control
Tiller control allows the operator to work more precisely in close areas, around structures, obstacles, grade stakes, other machines or on fine grades.
Efficient in Soft Underfooting
Especially efficient in soft underfooting, where both tracks can power through turns to keep loads moving and maintain traction.
Hydraulic System
An efficient hydraulic system devotes one pump solely to steering with a separate pump to power implements.
Structures
Durable design and construction stand up to the most demanding applications.
Mainframe
Mainframe strength. The D8R LGP mainframe is built to absorb high impact shock loads and twisting forces.
Frame Rails
Frame rails are full box section, designed to keep components rigidly aligned.
Steel Castings
Heavy steel castings give added strength to the main case, equalizer bar saddle, front cross member and tag-link trunnion.
Durability
The top and bottom rails are continuous rolled sections, with no machining or welding to provide superior mainframe durability.
Final Drives
The main case elevates the final drives well above the ground level work area to protect them from impact loads, abrasion and contaminants.
Track Roller Frame Alignment
A pivot shaft and pinned equalizer bar maintain track roller frame alignment.
Tag-link Construction
Tag-link construction brings the blade closer to the machine for more precise dozing and load control.
Tag-link Design
Tag-link design provides solid lateral stability and better cylinder positions for constant pryout independent of blade height.
Undercarriage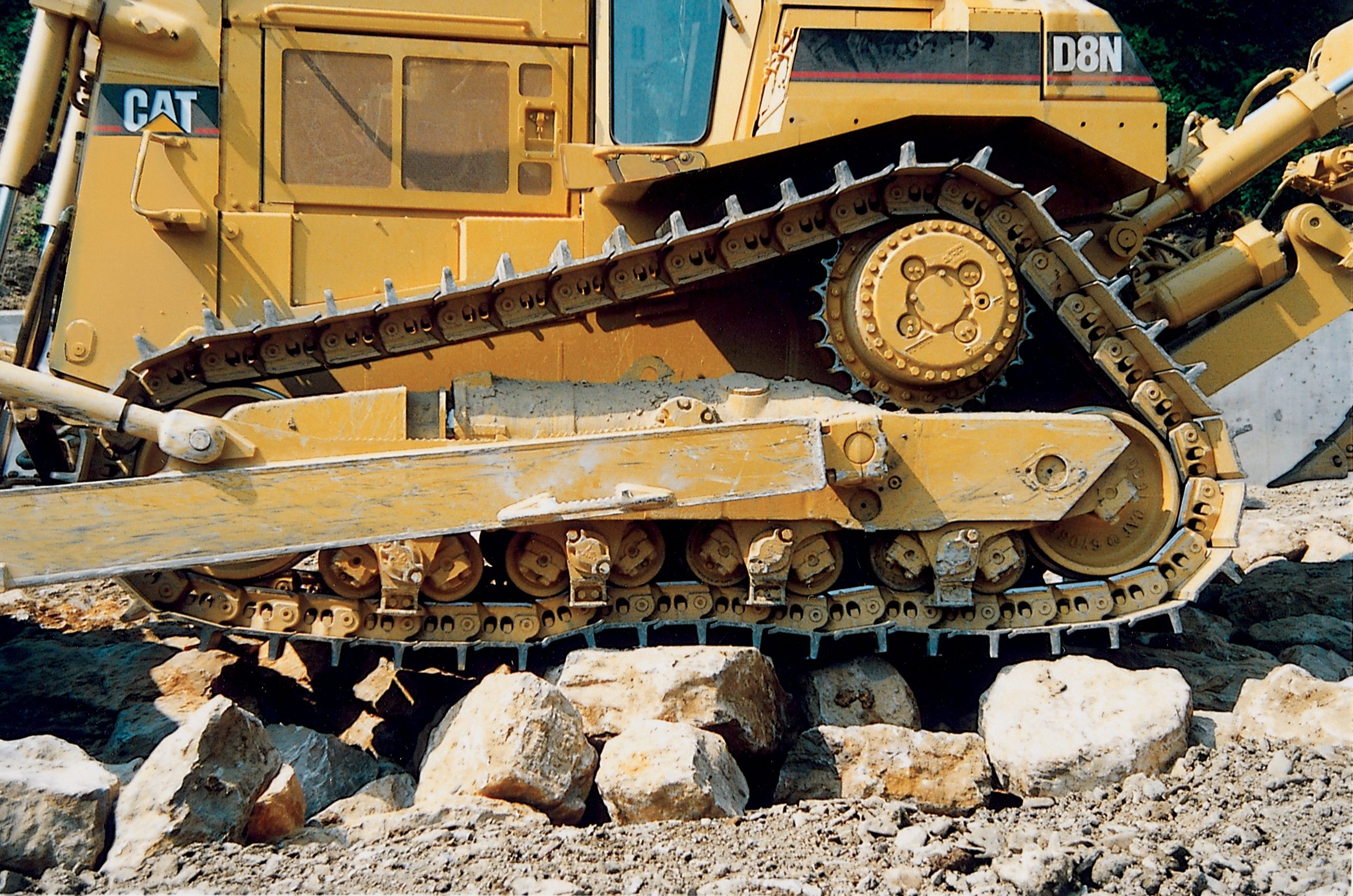 Caterpillar elevated sprocket tractors provide excellent traction, durability and ride with outstanding component life.
Design
Suspended undercarriage design absorbs impact loads to reduce the shock loads transferred to the undercarriage.
Suspension
Bogie suspension conforms more closely to the ground to provide more ground contact, especially in hard, uneven terrain.
Roller Frames
Roller frames are tubular, to resist bending and twisting, with added reinforcement where operating loads are the highest.
Non-suspended Undercarriage
Non-suspended undercarriage, without bogies, is available for applications involving moderate-impact, or highly abrasive materials.
Track
Sealed and lubricated track. Permanently coats the track pin with a sealed-in lubricant, minimizing metal-to-metal contact.
Low Ground Pressure (LGP)
The LGP configuration is offered for those tractors working in soft, marshy conditions, or side slope operations.
Operator Station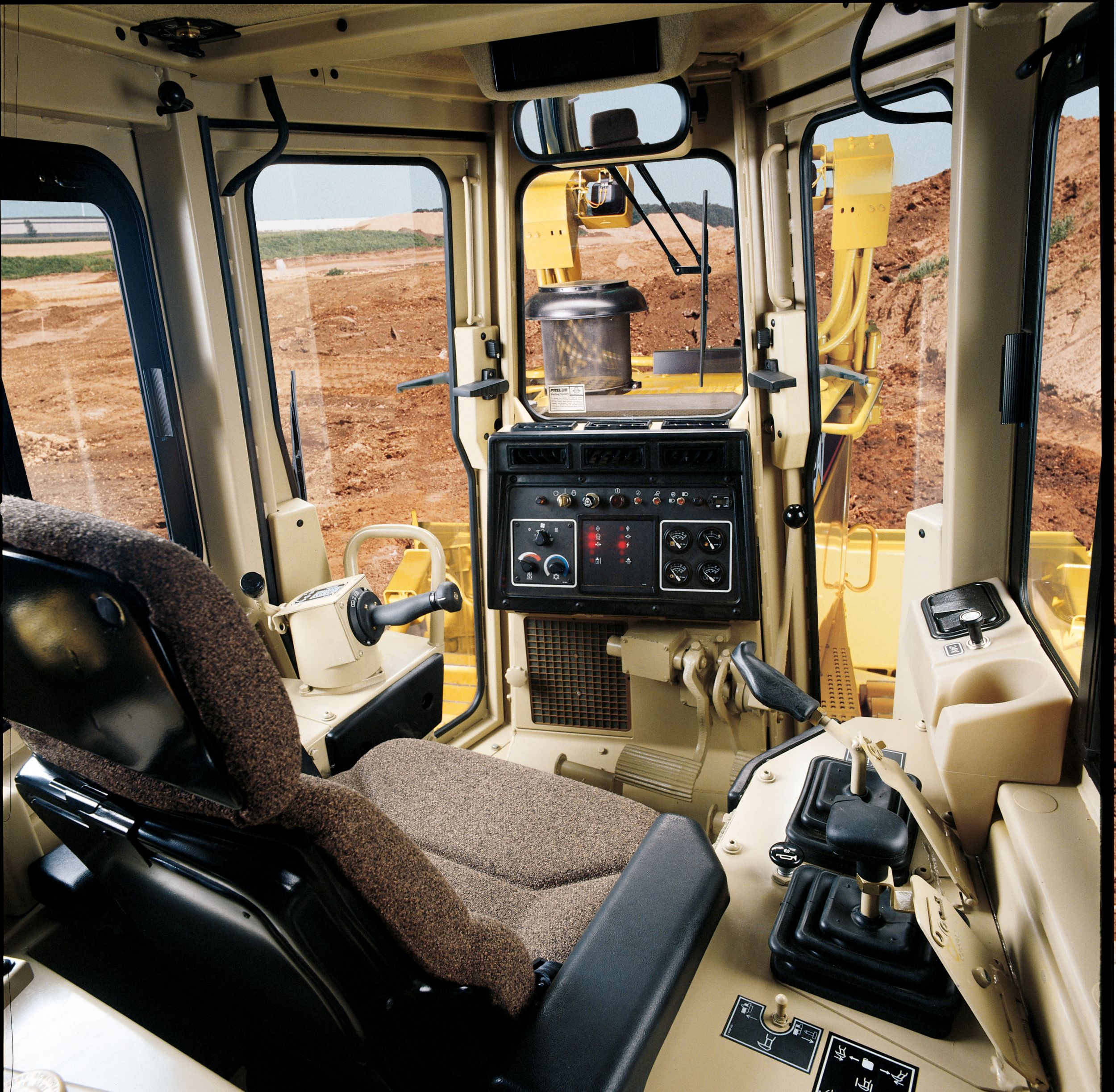 Designed for comfort and ease of operation.
View
Clear full-circle view.
Operation
Comfortable, non-tiring operation.
Controls
Low effort controls are easily accessible and provide sure, precise maneuvering with less operator fatigue.
Seat
The Caterpillar Contour Series Seat is fully adjustable and designed for comfort and support.
Control Lever Restraints
Implement control lever restraints, when engages, prevent inadvertent movement of control lever.
Tiller Control
Dual twist tiller controls the direction and degree of turns, forward-reverse shifting and gear selection with one control.
Electronic Monitoring System (EMS) and Gauge Group
The Gauge Group includes engine coolant temperature, power train oil temperature, hydraulic oil temperature and fuel level.
Work Tool Attachments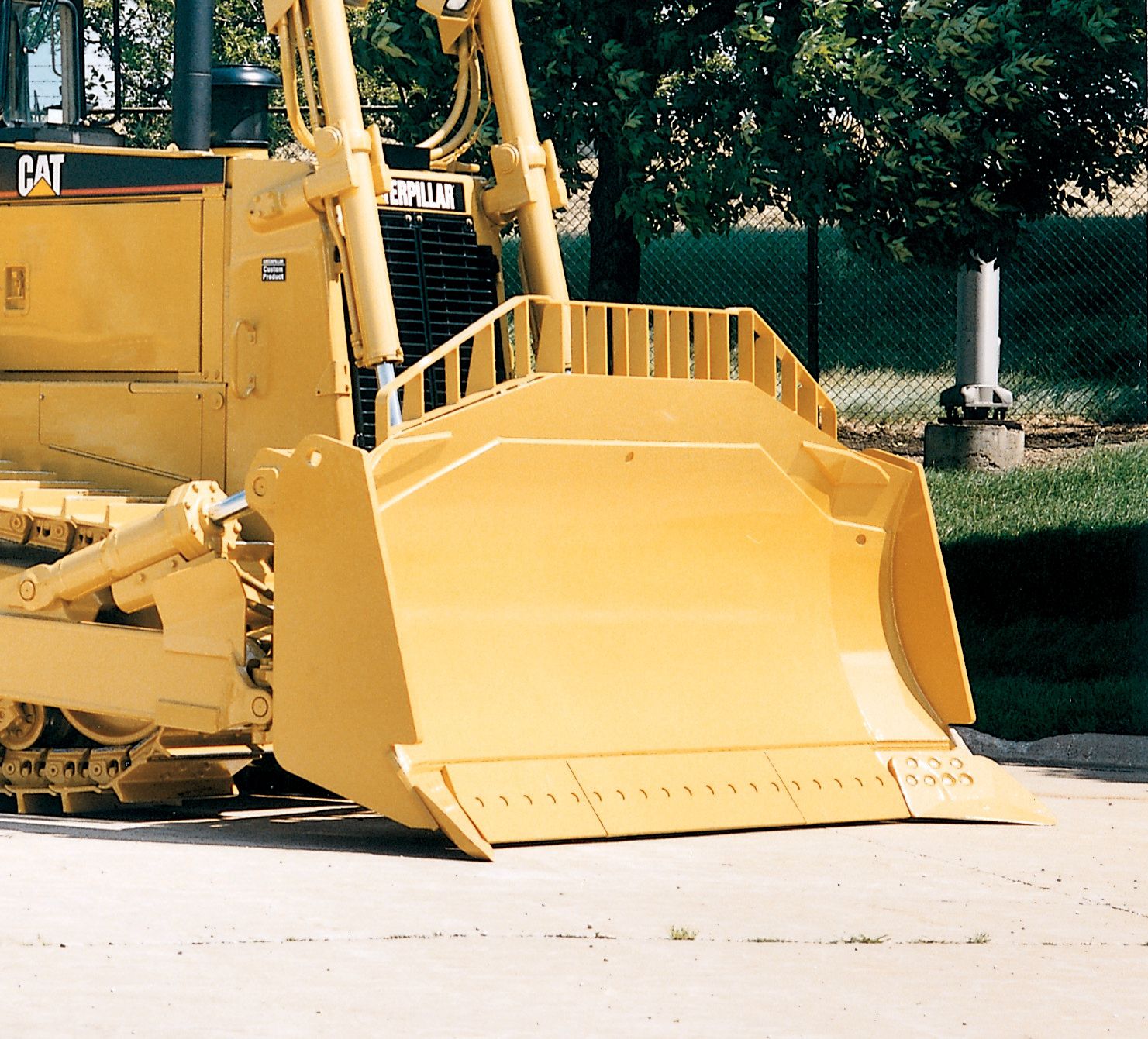 The D8R LGP can be tailored to fit a variety of applications with many attachment options.
Bulldozers
The 8SU blade and the 8U blade make full use of the D8R LGP's power.
Rippers
Single and multi-shank rippers are made to penetrate tough material fast and rip thoroughly.
Custom Products
In addition to the standard range of optional equipment, there are special attachments and machine configurations to suite particular customer needs.
Load Sensing Hydraulics
Adjusts implement and hydraulic power to increase both operator and machine efficiency.
Monitor Hydraulic Power
Load-sensing hydraulics utilize a feedback loop from the implement valve to the implement pump to continually monitor the hydraulic power requirements of the implement.
Pump Output
During normal blade or ripper corrections, pump output increases and decreases to provide precise power for dozing or ripping.
Increased Machine Production
Lower pump requirements reduce engine power requirements for the hydraulics, making more drawbar power available for increased machine production.
Serviceability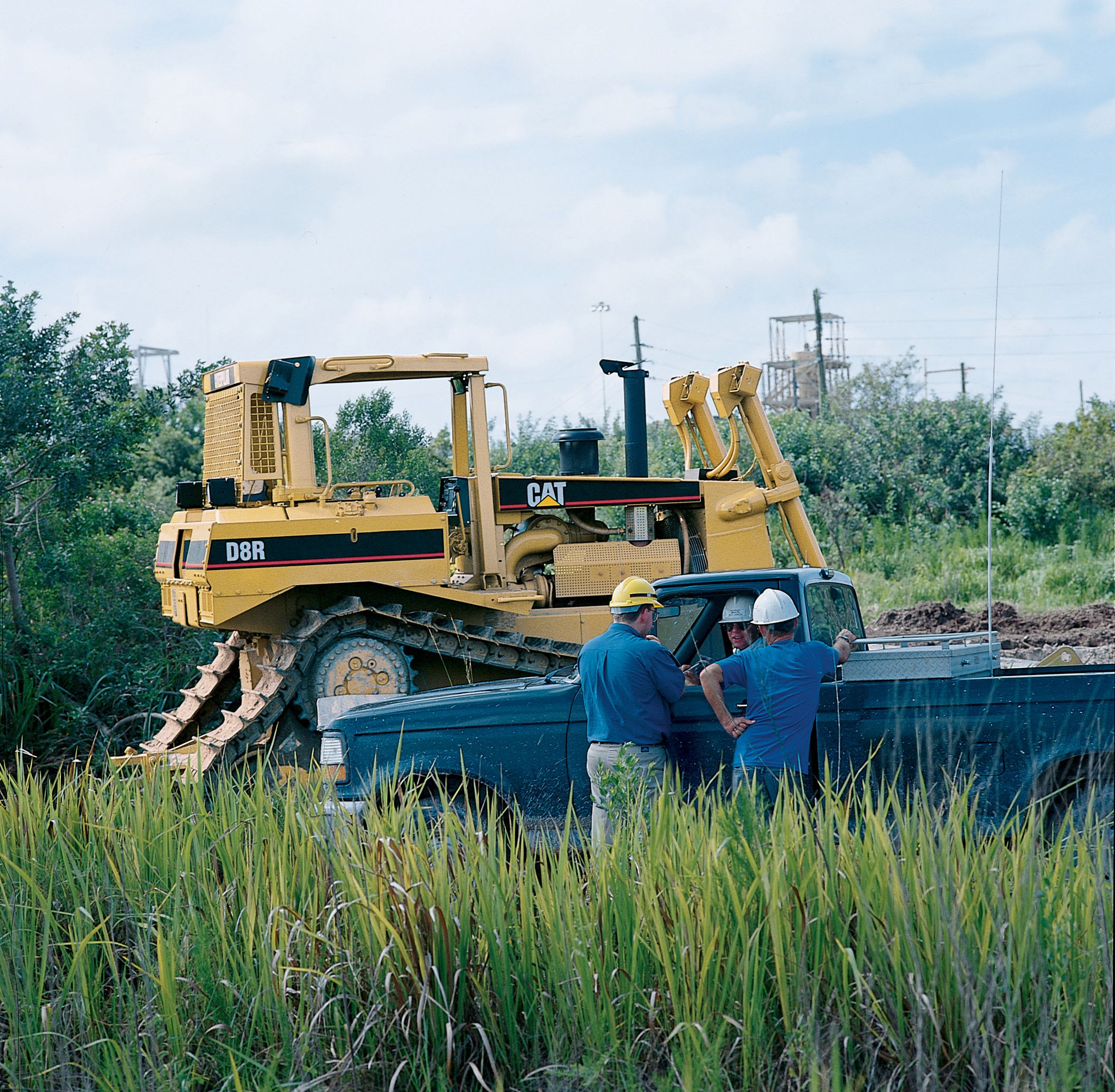 Ease of service and maintenance gives you more time on the job.
Servicing
Built-in servicing ease. Less service time means more working time.
Ecology Drains
Ecology drains provide an environmentally safer method to drain fluids.
Filters
Spin-on fuel and engine oil filters save changing time.
Cooling
AMOCS individual cooling elements allow radiator servicing without major component removal, saving considerable time and cost.
Diagnostic Connector
A diagnostic connector allows the Cat Dealer's electronic test instrument to quickly troubleshoot the electrical system.
Disconnect Fittings
Quick disconnect fittings allow for fast diagnosis of the power train and implement oil systems.
Customer Service
Caterpillar's dealer commitment is unrivaled in the industry.
Quality
Dealers committed to fast, quality customer support.
Response
Dealer service response extends to programs such as Custom Track Service (CTS), Scheduled Oil Sampling (SOS), and guaranteed maintenance contracts that get peak life and performance from your machine.
Experts
Your dealer is also expert at arranging affordable lease and rental.