Proven Caterpillar components combined with simplified maintenance deliver the durability and reliability you need to keep material moving in tough and varied working conditions.
Engine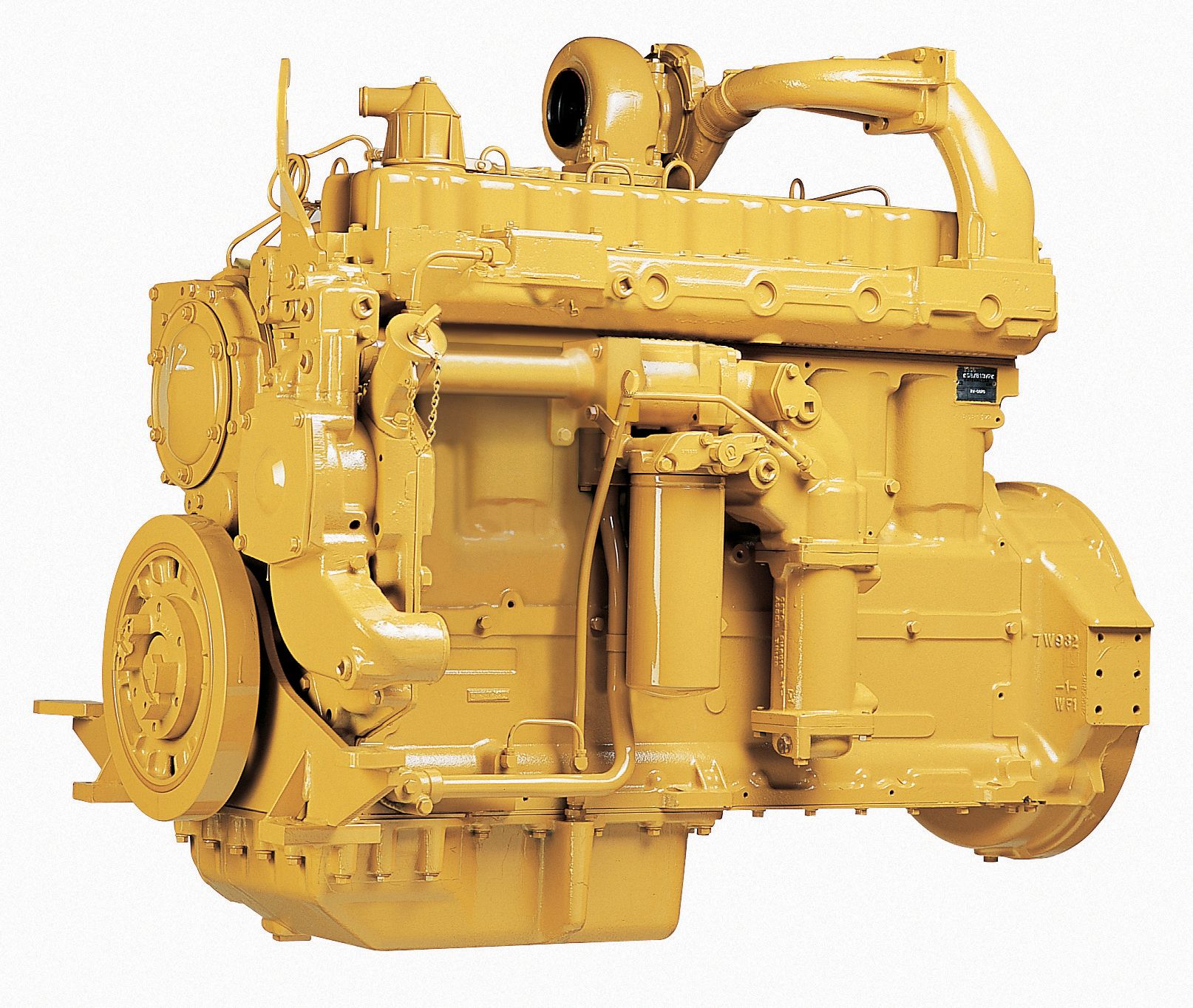 The Cat® 3306 uses direct injection to control fuel consumption and allows lower engine speeds for reduced stresses and increased life.
3306 Diesel Engine
The Caterpillar® 3306 is a six-cylinder, four stroke diesel. The large displacement allows lower engine speeds for reduced stresses and increased engine life.
Direct Injection
The 3306 maintains good productivity per unit of fuel burned by using direct injection to control fuel consumption. Optimum weight-to-horsepower ratios minimize cycle times, allow larger blade loads and shorter load times.Injector nozzels are non-clogging and adjustment free.
Aluminum Pistons
The 3306 features cam-ground three-ring cast tapered aluminum alloy pistons used to reduce friction, decrease heat build-up and provide excellent oil control. Crankcase journals are hardened and aluminum bearings are steel-backed. The high fatigue aluminum alloy-bearings surface not only has the capability to withstand heavy shock loads during crankshaft rotation, it will also adapt to normal wear of the crankshaft journals.
Valves
Valves are stellite face hardned with hard alloy steel seats for hardness that contributes to long service life.
Rebuildability
The 3306 has the ability to be rebuilt to provide long and reliable life.
Powertrain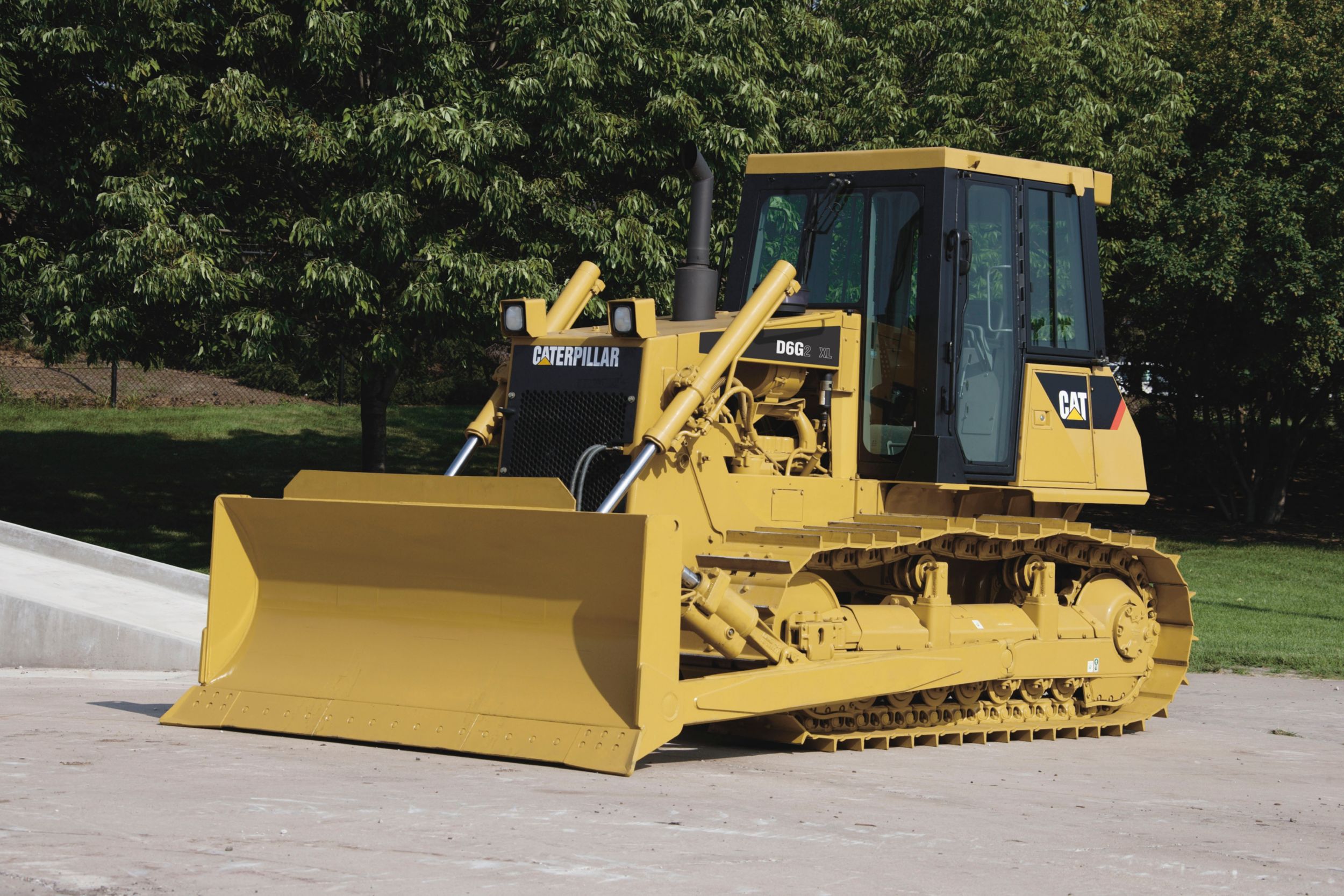 With a power train that is designed and built by Caterpillar, the D6G Series 2 XL ensures compatibility, maximum performance and reliability.
Torque Divider
The torque divider arrangement is a Caterpillar exclusive that provides high torque multiplication when under load with direct drive efficiency when completing lower engine load functions such as backfilling trenches or spreading material.
Power Shift Transmission
Three speeds forward and three speeds reverse, utilizing large diameter, high capacity, oil-cooled clutches.
Modulation system permits fast speed and direction changes.
Oil-to-water cooler for maximum cooling capacity.
Forced oil flow lubricates and cools clutch packs to provide maximum clutch life.
Undercarriage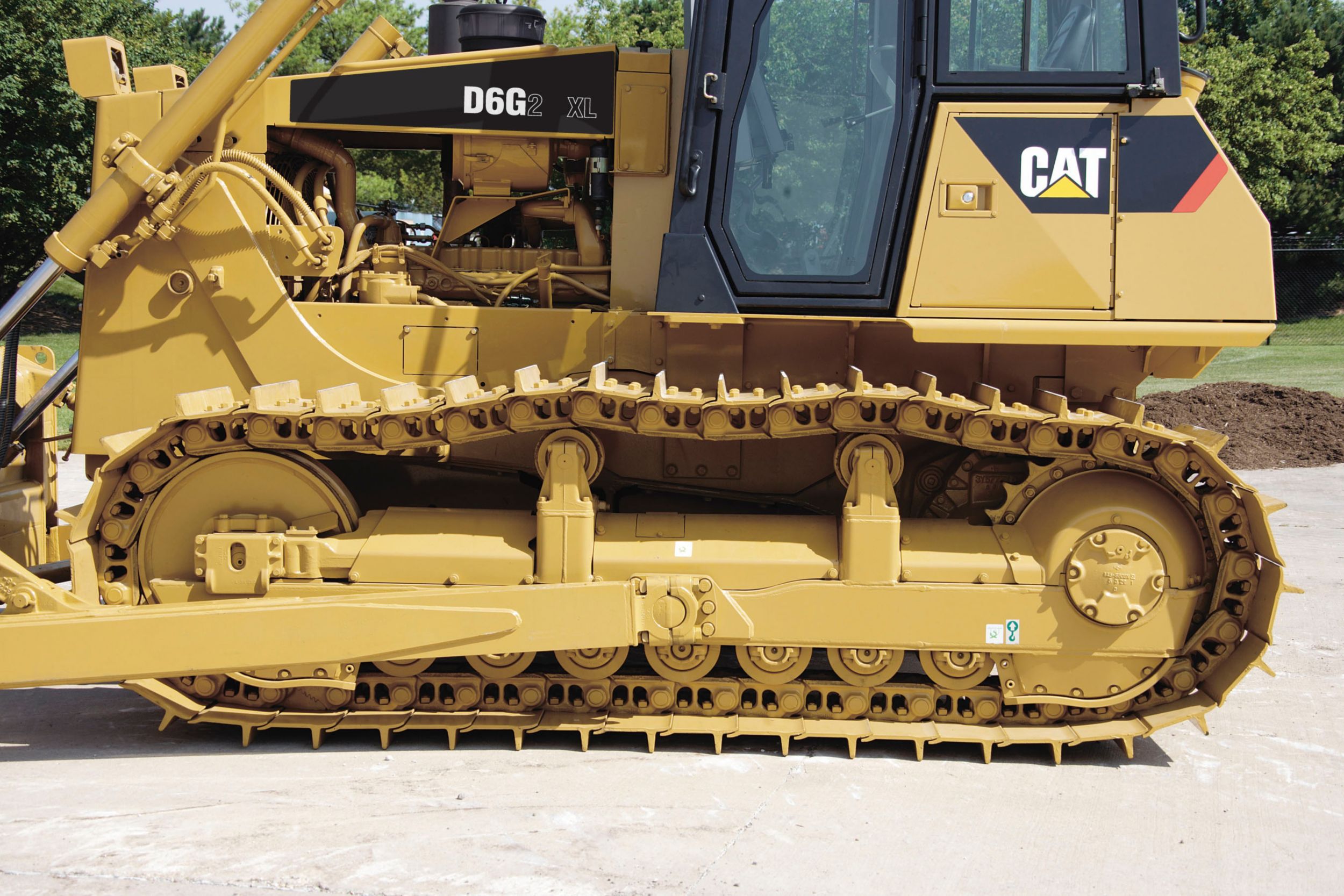 The Caterpillar undercarriage is designed for optimized machine balance and best possible performance and component life.
Roller Frames
The track roller frame is a reinforced box section construction with seven lifetime lubricated track rollers per side and outside mounted carrier rollers, two per side.
Rollers and Idlers
Feature symmetric Duo-Cone seals for long sealing life to prevent oil loss and dirt entry. Toric rings maintain performance over a wide range of temperatures. Rollers and idlers are lifetime lubricated, serviceable and rebuildable to provide value. Abutment-style caps securely attach rollers and idlers to the bogies.All idlers, track and carrier rollers are life-time lubricated and require no periodic maintenance intervals.
Track Shoes
Track shoes are available in sizes to match the working conditions.
Guards
Front and rear guiding guards are standard.
Sealed and Lubricated Track
Minimizes internal bushing wear with the pin by a thin film of lubricant and retained by a polyurethane seal. Extends service life of the undercarriage as a system.
Operator Station
The operator station is designed with optimum comfort and maximum productivity in mind.
Directional Controls
Steering and transmission controls are located conveniently to the operator's left for comfortable operation.
Dozer Blade Controls
The dozer controls are located on the operator's right hand side.
Walk Through Operator Area
The operator area has a walk through design providing a comfortable operating environment with the controls within easy reach.
Seat
A comfortable suspension seat is able to be adjusted fore and aft for greater operator comfort. Arm rests also help provide comfort for all day operation. Wide 76 mm (3 in) seat belt is standard.
Monitoring System
A machine monitoring system lets you track the following machine systems:
Fuel level
Coolant temperature
Transmission/torque converter temperature
Service hour meter
Air cleaner service indicator
Engine oil pressure and alternator are monitored by a warning lamp and audible alarm system.
Brake Pedal
A single brake pedal actuates both tracks to make operation easier.
Air Conditioner
An optional air conditioner with strategic vents provide a comfortable environment in a variety of weather conditions.
Cab
The optional cab is pressurized to keep dust out. A 3 speed blower fan is standard.
Work Tools
Work Tools and Ground Engaging Tools provide the flexibility to match the machine to the job, maximizing performance.
Bulldozers
All blades feature a strongbox-section design that resists twisting and cracking. Blades are made of Cat DH-2™ steel that has high tensile strength and stands up to the most severe applications. Heavy moldboard construction and hardened bolt-on cutting edges and end bits add strength and durability.
Straight Blade
The straight blade can handle a wide variety of materials including heavy material. With the high kW per mater (HP/ft) of cutting edge, aggressive penetration is achieved.
Angle Blade
The angle blade can be positioned straight or angled 25 degrees to either side making this blade a versatile option.
Semi-Universal Blade
The Semi-Universal blade is built for tough applications where penetration is more important than capacity. The blade wings are designed for superior load retention and penetration in tightly packed materials and for finishing applications.
Multi-Shank Ripper
Multi-shank rippers are made to penetrate tough material fast and rip thoroughly for use in a variety of materials.
Cutting Edges and End Bits
Cutting edges are made of DH-2 steel. End bits are made of DH-3™ steel to provide maximum service life in tough materials.
Serviceability and Total Customer Support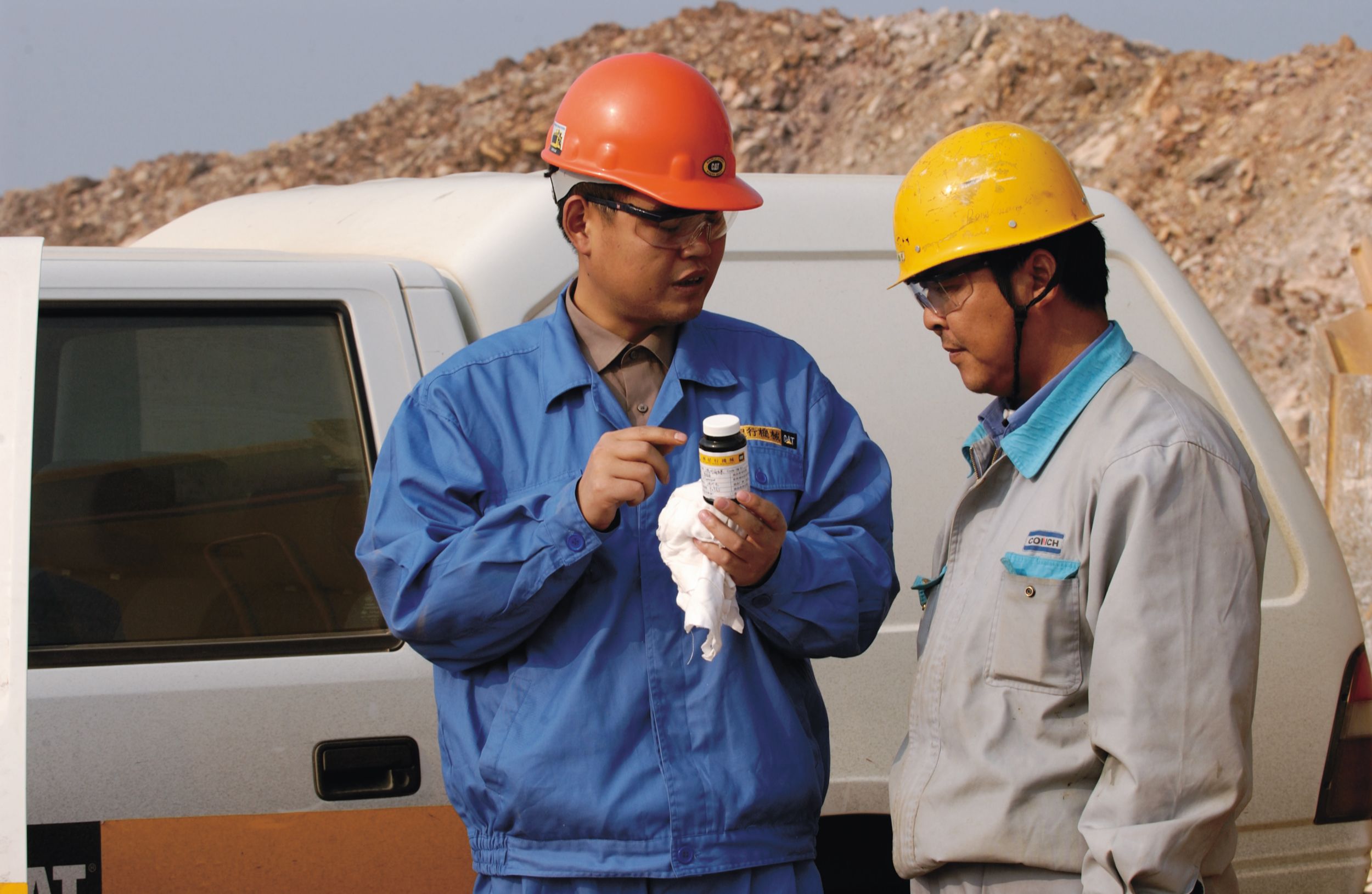 The most serviceable machines from the most committed dealers. World-class product support. The Cat Dealer Network trained experts keep your fleet up and running, maximizing your equipment investments.
Serviceablity
Minimizes maintenance and repair downtime. Large openings on either side of the machine make major service points easily accessible.
Machine Selection
Make detailed comparisons of the machines you are considering before you buy. How long do components last? What is the cost of preventive maintenance? What is the true cost of lost production? Your Cat Dealer can give you answers to these very important questions.
Product Support
Plan for effective maintenance before buying equipment. Choose from your dealer's wide range of maintenance services at the time you purchase your machine. Programs such as Custom Track Service (CTS), S•O•S analysis, Technical Analysis and guaranteed maintenance contracts give peak life and performance to your machine.
Parts Program
You will find nearly all parts at your dealer parts counter. Cat Dealers use a world-wide computer network to find in-stock parts to minimize machine downtime.Ask about your Cat Dealer's exchange program for major components. This can shorten repair time and lower costs.
Remanufactured Components
Genuine Cat Remanufactured parts save you money. You receive the same warranty and reliability as new products at cost savings to further reduce operating costs. Components are available for the drive train, engine, and hydraulics.
Operation
Improving operating techniques can boost your profits. Your Cat Dealer has training videotapes, literature, and other ideas to help you increase productivity.
ELECTRICAL
35 amp alternator
Maintenance free battery - 2
Hour meter
35 amp alternator
35 amp alternator
Maintenance free battery - 2
Hour meter
Decelerator
Guages
Hand throttle
Suspension seat - vinyl
Seat belt
Brake pedal - single
Double Reduction Final Drives
Cat® 3306 diesel engine with 24-volt starter
Fuel priming pump - manual
Fuel/Water seperator
Air cleaner with pre-cleaner
Blower fan
Muffler (curved tip)
Power-shift transmission (3F-3R)
Track End Guiding Guards
7-Roller Track Frame
560 mm (22 in) Single Grouser Sealed and Lubricated Track (D6G Series 2 XL)
Hydraulic Track Adjusters
Restrained Equalizer Bar
Segmented Sprocket
Extreme Service Cranckcase Guard
Hinged Radiator Guard
320 Liter (84 Gal) Fuel Tank
Front Pull Devise and retrieval hitch
Cap Locks (Fuel, Hydraulic, Fuel Drain Cover)
Maintenance free battery - 2
35 amp alternator
Maintenance free battery - 2
Hour meter
Decelerator
Guages
Hand throttle
Suspension seat - vinyl
Seat belt
Brake pedal - single
Double Reduction Final Drives
Cat® 3306 diesel engine with 24-volt starter
Fuel priming pump - manual
Fuel/Water seperator
Air cleaner with pre-cleaner
Blower fan
Muffler (curved tip)
Power-shift transmission (3F-3R)
Track End Guiding Guards
7-Roller Track Frame
560 mm (22 in) Single Grouser Sealed and Lubricated Track (D6G Series 2 XL)
Hydraulic Track Adjusters
Restrained Equalizer Bar
Segmented Sprocket
Extreme Service Cranckcase Guard
Hinged Radiator Guard
320 Liter (84 Gal) Fuel Tank
Front Pull Devise and retrieval hitch
Cap Locks (Fuel, Hydraulic, Fuel Drain Cover)
Hour meter
35 amp alternator
Maintenance free battery - 2
Hour meter
Decelerator
Guages
Hand throttle
Suspension seat - vinyl
Seat belt
Brake pedal - single
Double Reduction Final Drives
Cat® 3306 diesel engine with 24-volt starter
Fuel priming pump - manual
Fuel/Water seperator
Air cleaner with pre-cleaner
Blower fan
Muffler (curved tip)
Power-shift transmission (3F-3R)
Track End Guiding Guards
7-Roller Track Frame
560 mm (22 in) Single Grouser Sealed and Lubricated Track (D6G Series 2 XL)
Hydraulic Track Adjusters
Restrained Equalizer Bar
Segmented Sprocket
Extreme Service Cranckcase Guard
Hinged Radiator Guard
320 Liter (84 Gal) Fuel Tank
Front Pull Devise and retrieval hitch
Cap Locks (Fuel, Hydraulic, Fuel Drain Cover)
OPERATOR ENVIRONMENT
Decelerator
Guages
Hand throttle
Suspension seat - vinyl
Seat belt
Brake pedal - single
POWER TRAIN
Double Reduction Final Drives
Cat® 3306 diesel engine with 24-volt starter
Fuel priming pump - manual
Fuel/Water seperator
Air cleaner with pre-cleaner
Blower fan
Muffler (curved tip)
Power-shift transmission (3F-3R)
Double Reduction Final Drives
35 amp alternator
Maintenance free battery - 2
Hour meter
Decelerator
Guages
Hand throttle
Suspension seat - vinyl
Seat belt
Brake pedal - single
Double Reduction Final Drives
Cat® 3306 diesel engine with 24-volt starter
Fuel priming pump - manual
Fuel/Water seperator
Air cleaner with pre-cleaner
Blower fan
Muffler (curved tip)
Power-shift transmission (3F-3R)
Track End Guiding Guards
7-Roller Track Frame
560 mm (22 in) Single Grouser Sealed and Lubricated Track (D6G Series 2 XL)
Hydraulic Track Adjusters
Restrained Equalizer Bar
Segmented Sprocket
Extreme Service Cranckcase Guard
Hinged Radiator Guard
320 Liter (84 Gal) Fuel Tank
Front Pull Devise and retrieval hitch
Cap Locks (Fuel, Hydraulic, Fuel Drain Cover)
Cat® 3306 diesel engine with 24-volt starter
35 amp alternator
Maintenance free battery - 2
Hour meter
Decelerator
Guages
Hand throttle
Suspension seat - vinyl
Seat belt
Brake pedal - single
Double Reduction Final Drives
Cat® 3306 diesel engine with 24-volt starter
Fuel priming pump - manual
Fuel/Water seperator
Air cleaner with pre-cleaner
Blower fan
Muffler (curved tip)
Power-shift transmission (3F-3R)
Track End Guiding Guards
7-Roller Track Frame
560 mm (22 in) Single Grouser Sealed and Lubricated Track (D6G Series 2 XL)
Hydraulic Track Adjusters
Restrained Equalizer Bar
Segmented Sprocket
Extreme Service Cranckcase Guard
Hinged Radiator Guard
320 Liter (84 Gal) Fuel Tank
Front Pull Devise and retrieval hitch
Cap Locks (Fuel, Hydraulic, Fuel Drain Cover)
Fuel priming pump - manual
35 amp alternator
Maintenance free battery - 2
Hour meter
Decelerator
Guages
Hand throttle
Suspension seat - vinyl
Seat belt
Brake pedal - single
Double Reduction Final Drives
Cat® 3306 diesel engine with 24-volt starter
Fuel priming pump - manual
Fuel/Water seperator
Air cleaner with pre-cleaner
Blower fan
Muffler (curved tip)
Power-shift transmission (3F-3R)
Track End Guiding Guards
7-Roller Track Frame
560 mm (22 in) Single Grouser Sealed and Lubricated Track (D6G Series 2 XL)
Hydraulic Track Adjusters
Restrained Equalizer Bar
Segmented Sprocket
Extreme Service Cranckcase Guard
Hinged Radiator Guard
320 Liter (84 Gal) Fuel Tank
Front Pull Devise and retrieval hitch
Cap Locks (Fuel, Hydraulic, Fuel Drain Cover)
Fuel/Water seperator
35 amp alternator
Maintenance free battery - 2
Hour meter
Decelerator
Guages
Hand throttle
Suspension seat - vinyl
Seat belt
Brake pedal - single
Double Reduction Final Drives
Cat® 3306 diesel engine with 24-volt starter
Fuel priming pump - manual
Fuel/Water seperator
Air cleaner with pre-cleaner
Blower fan
Muffler (curved tip)
Power-shift transmission (3F-3R)
Track End Guiding Guards
7-Roller Track Frame
560 mm (22 in) Single Grouser Sealed and Lubricated Track (D6G Series 2 XL)
Hydraulic Track Adjusters
Restrained Equalizer Bar
Segmented Sprocket
Extreme Service Cranckcase Guard
Hinged Radiator Guard
320 Liter (84 Gal) Fuel Tank
Front Pull Devise and retrieval hitch
Cap Locks (Fuel, Hydraulic, Fuel Drain Cover)
Air cleaner with pre-cleaner
35 amp alternator
Maintenance free battery - 2
Hour meter
Decelerator
Guages
Hand throttle
Suspension seat - vinyl
Seat belt
Brake pedal - single
Double Reduction Final Drives
Cat® 3306 diesel engine with 24-volt starter
Fuel priming pump - manual
Fuel/Water seperator
Air cleaner with pre-cleaner
Blower fan
Muffler (curved tip)
Power-shift transmission (3F-3R)
Track End Guiding Guards
7-Roller Track Frame
560 mm (22 in) Single Grouser Sealed and Lubricated Track (D6G Series 2 XL)
Hydraulic Track Adjusters
Restrained Equalizer Bar
Segmented Sprocket
Extreme Service Cranckcase Guard
Hinged Radiator Guard
320 Liter (84 Gal) Fuel Tank
Front Pull Devise and retrieval hitch
Cap Locks (Fuel, Hydraulic, Fuel Drain Cover)
Blower fan
35 amp alternator
Maintenance free battery - 2
Hour meter
Decelerator
Guages
Hand throttle
Suspension seat - vinyl
Seat belt
Brake pedal - single
Double Reduction Final Drives
Cat® 3306 diesel engine with 24-volt starter
Fuel priming pump - manual
Fuel/Water seperator
Air cleaner with pre-cleaner
Blower fan
Muffler (curved tip)
Power-shift transmission (3F-3R)
Track End Guiding Guards
7-Roller Track Frame
560 mm (22 in) Single Grouser Sealed and Lubricated Track (D6G Series 2 XL)
Hydraulic Track Adjusters
Restrained Equalizer Bar
Segmented Sprocket
Extreme Service Cranckcase Guard
Hinged Radiator Guard
320 Liter (84 Gal) Fuel Tank
Front Pull Devise and retrieval hitch
Cap Locks (Fuel, Hydraulic, Fuel Drain Cover)
Muffler (curved tip)
35 amp alternator
Maintenance free battery - 2
Hour meter
Decelerator
Guages
Hand throttle
Suspension seat - vinyl
Seat belt
Brake pedal - single
Double Reduction Final Drives
Cat® 3306 diesel engine with 24-volt starter
Fuel priming pump - manual
Fuel/Water seperator
Air cleaner with pre-cleaner
Blower fan
Muffler (curved tip)
Power-shift transmission (3F-3R)
Track End Guiding Guards
7-Roller Track Frame
560 mm (22 in) Single Grouser Sealed and Lubricated Track (D6G Series 2 XL)
Hydraulic Track Adjusters
Restrained Equalizer Bar
Segmented Sprocket
Extreme Service Cranckcase Guard
Hinged Radiator Guard
320 Liter (84 Gal) Fuel Tank
Front Pull Devise and retrieval hitch
Cap Locks (Fuel, Hydraulic, Fuel Drain Cover)
Power-shift transmission (3F-3R)
35 amp alternator
Maintenance free battery - 2
Hour meter
Decelerator
Guages
Hand throttle
Suspension seat - vinyl
Seat belt
Brake pedal - single
Double Reduction Final Drives
Cat® 3306 diesel engine with 24-volt starter
Fuel priming pump - manual
Fuel/Water seperator
Air cleaner with pre-cleaner
Blower fan
Muffler (curved tip)
Power-shift transmission (3F-3R)
Track End Guiding Guards
7-Roller Track Frame
560 mm (22 in) Single Grouser Sealed and Lubricated Track (D6G Series 2 XL)
Hydraulic Track Adjusters
Restrained Equalizer Bar
Segmented Sprocket
Extreme Service Cranckcase Guard
Hinged Radiator Guard
320 Liter (84 Gal) Fuel Tank
Front Pull Devise and retrieval hitch
Cap Locks (Fuel, Hydraulic, Fuel Drain Cover)
UNDERCARRIAGE
Track End Guiding Guards
7-Roller Track Frame
560 mm (22 in) Single Grouser Sealed and Lubricated Track (D6G Series 2 XL)
Hydraulic Track Adjusters
Restrained Equalizer Bar
Segmented Sprocket
Track End Guiding Guards
35 amp alternator
Maintenance free battery - 2
Hour meter
Decelerator
Guages
Hand throttle
Suspension seat - vinyl
Seat belt
Brake pedal - single
Double Reduction Final Drives
Cat® 3306 diesel engine with 24-volt starter
Fuel priming pump - manual
Fuel/Water seperator
Air cleaner with pre-cleaner
Blower fan
Muffler (curved tip)
Power-shift transmission (3F-3R)
Track End Guiding Guards
7-Roller Track Frame
560 mm (22 in) Single Grouser Sealed and Lubricated Track (D6G Series 2 XL)
Hydraulic Track Adjusters
Restrained Equalizer Bar
Segmented Sprocket
Extreme Service Cranckcase Guard
Hinged Radiator Guard
320 Liter (84 Gal) Fuel Tank
Front Pull Devise and retrieval hitch
Cap Locks (Fuel, Hydraulic, Fuel Drain Cover)
7-Roller Track Frame
35 amp alternator
Maintenance free battery - 2
Hour meter
Decelerator
Guages
Hand throttle
Suspension seat - vinyl
Seat belt
Brake pedal - single
Double Reduction Final Drives
Cat® 3306 diesel engine with 24-volt starter
Fuel priming pump - manual
Fuel/Water seperator
Air cleaner with pre-cleaner
Blower fan
Muffler (curved tip)
Power-shift transmission (3F-3R)
Track End Guiding Guards
7-Roller Track Frame
560 mm (22 in) Single Grouser Sealed and Lubricated Track (D6G Series 2 XL)
Hydraulic Track Adjusters
Restrained Equalizer Bar
Segmented Sprocket
Extreme Service Cranckcase Guard
Hinged Radiator Guard
320 Liter (84 Gal) Fuel Tank
Front Pull Devise and retrieval hitch
Cap Locks (Fuel, Hydraulic, Fuel Drain Cover)
560 mm (22 in) Single Grouser Sealed and Lubricated Track (D6G Series 2 XL)
35 amp alternator
Maintenance free battery - 2
Hour meter
Decelerator
Guages
Hand throttle
Suspension seat - vinyl
Seat belt
Brake pedal - single
Double Reduction Final Drives
Cat® 3306 diesel engine with 24-volt starter
Fuel priming pump - manual
Fuel/Water seperator
Air cleaner with pre-cleaner
Blower fan
Muffler (curved tip)
Power-shift transmission (3F-3R)
Track End Guiding Guards
7-Roller Track Frame
560 mm (22 in) Single Grouser Sealed and Lubricated Track (D6G Series 2 XL)
Hydraulic Track Adjusters
Restrained Equalizer Bar
Segmented Sprocket
Extreme Service Cranckcase Guard
Hinged Radiator Guard
320 Liter (84 Gal) Fuel Tank
Front Pull Devise and retrieval hitch
Cap Locks (Fuel, Hydraulic, Fuel Drain Cover)
Hydraulic Track Adjusters
35 amp alternator
Maintenance free battery - 2
Hour meter
Decelerator
Guages
Hand throttle
Suspension seat - vinyl
Seat belt
Brake pedal - single
Double Reduction Final Drives
Cat® 3306 diesel engine with 24-volt starter
Fuel priming pump - manual
Fuel/Water seperator
Air cleaner with pre-cleaner
Blower fan
Muffler (curved tip)
Power-shift transmission (3F-3R)
Track End Guiding Guards
7-Roller Track Frame
560 mm (22 in) Single Grouser Sealed and Lubricated Track (D6G Series 2 XL)
Hydraulic Track Adjusters
Restrained Equalizer Bar
Segmented Sprocket
Extreme Service Cranckcase Guard
Hinged Radiator Guard
320 Liter (84 Gal) Fuel Tank
Front Pull Devise and retrieval hitch
Cap Locks (Fuel, Hydraulic, Fuel Drain Cover)
Restrained Equalizer Bar
35 amp alternator
Maintenance free battery - 2
Hour meter
Decelerator
Guages
Hand throttle
Suspension seat - vinyl
Seat belt
Brake pedal - single
Double Reduction Final Drives
Cat® 3306 diesel engine with 24-volt starter
Fuel priming pump - manual
Fuel/Water seperator
Air cleaner with pre-cleaner
Blower fan
Muffler (curved tip)
Power-shift transmission (3F-3R)
Track End Guiding Guards
7-Roller Track Frame
560 mm (22 in) Single Grouser Sealed and Lubricated Track (D6G Series 2 XL)
Hydraulic Track Adjusters
Restrained Equalizer Bar
Segmented Sprocket
Extreme Service Cranckcase Guard
Hinged Radiator Guard
320 Liter (84 Gal) Fuel Tank
Front Pull Devise and retrieval hitch
Cap Locks (Fuel, Hydraulic, Fuel Drain Cover)
Segmented Sprocket
35 amp alternator
Maintenance free battery - 2
Hour meter
Decelerator
Guages
Hand throttle
Suspension seat - vinyl
Seat belt
Brake pedal - single
Double Reduction Final Drives
Cat® 3306 diesel engine with 24-volt starter
Fuel priming pump - manual
Fuel/Water seperator
Air cleaner with pre-cleaner
Blower fan
Muffler (curved tip)
Power-shift transmission (3F-3R)
Track End Guiding Guards
7-Roller Track Frame
560 mm (22 in) Single Grouser Sealed and Lubricated Track (D6G Series 2 XL)
Hydraulic Track Adjusters
Restrained Equalizer Bar
Segmented Sprocket
Extreme Service Cranckcase Guard
Hinged Radiator Guard
320 Liter (84 Gal) Fuel Tank
Front Pull Devise and retrieval hitch
Cap Locks (Fuel, Hydraulic, Fuel Drain Cover)
OTHER STANDARD EQUIPMENT
Extreme Service Cranckcase Guard
Hinged Radiator Guard
320 Liter (84 Gal) Fuel Tank
Front Pull Devise and retrieval hitch
Cap Locks (Fuel, Hydraulic, Fuel Drain Cover)
ELECTRICAL
35 amp alternator
Maintenance free battery - 2
Hour meter
OPERATOR ENVIRONMENT
Decelerator
Guages
Hand throttle
Suspension seat - vinyl
Seat belt
Brake pedal - single
POWER TRAIN
Double Reduction Final Drives
Cat® 3306 diesel engine with 24-volt starter
Fuel priming pump - manual
Fuel/Water seperator
Air cleaner with pre-cleaner
Blower fan
Muffler (curved tip)
Power-shift transmission (3F-3R)
UNDERCARRIAGE
Track End Guiding Guards
7-Roller Track Frame
560 mm (22 in) Single Grouser Sealed and Lubricated Track (D6G Series 2 XL)
Hydraulic Track Adjusters
Restrained Equalizer Bar
Segmented Sprocket
OTHER STANDARD EQUIPMENT
Extreme Service Cranckcase Guard
Hinged Radiator Guard
320 Liter (84 Gal) Fuel Tank
Front Pull Devise and retrieval hitch
Cap Locks (Fuel, Hydraulic, Fuel Drain Cover)