The D7R LGP Tractor has wider shoes and extended track frames, reducing ground pressure for excellent flotation in soft, spongy or swampy conditions.
Overview
The D7R LGP's power, response and control deliver more production at lower cost-per-yard.
Engineered for demanding work.
The D7R LGP's durable construction is made for tough working conditions. It keeps material moving with the reliability and low operating costs you expect from Cat machines.
Power Train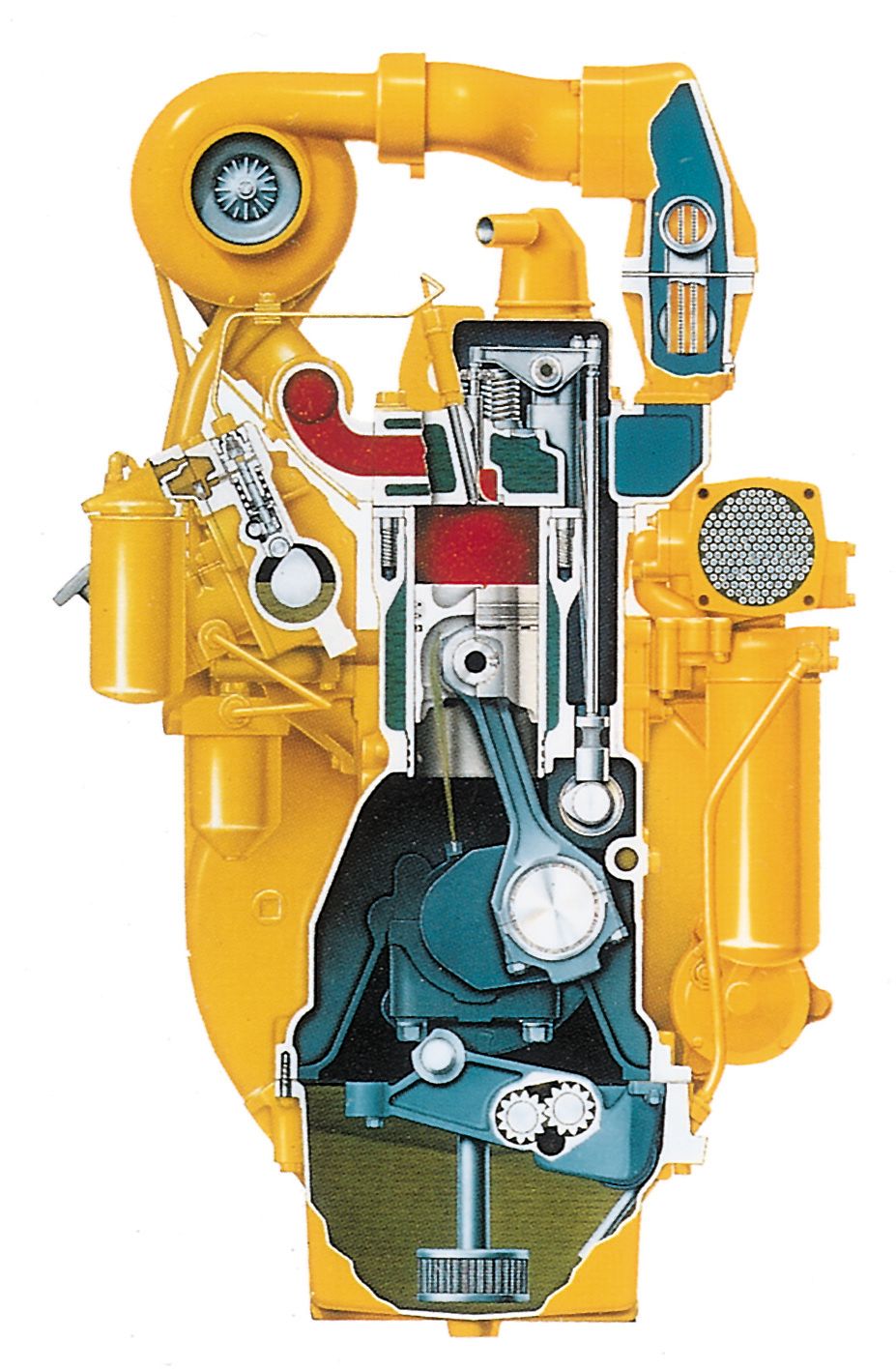 Reliable?durable?efficient!
Turbocharged 3306 Diesel Engine
Turbocharged and aftercooled 3306 diesel engine delivers plenty of power for quick response and big loads.
Large Displacement
The 3306 has large displacement, high torque rise and low rpm rating for low stress, long life.
High Torque Rise
High torque rise offers superior lugging capabilities to keep moving through tough spots without downshifting.
Direct Fuel Injection
Direct fuel injection precisely meters fuel for maximum productivity per unit of fuel.
Good Weight-To-Horsepower Ratio
Good weight-to-horsepower ratio allows faster loading, bigger loads and shorter cycle times.
Planetary Powershift Transmission
Planetary powershift transmission has 3-speeds forward and 3-speeds reverse and utilizes large diameter, high-capacity, oil-cooled clutches.
Torque Divider
An exclusive Caterpillar designed torque divider allows the engine to respond quickly to varying workloads.
Torque Converter
The torque converter shields the driveline from sudden torque shocks.
Cooling System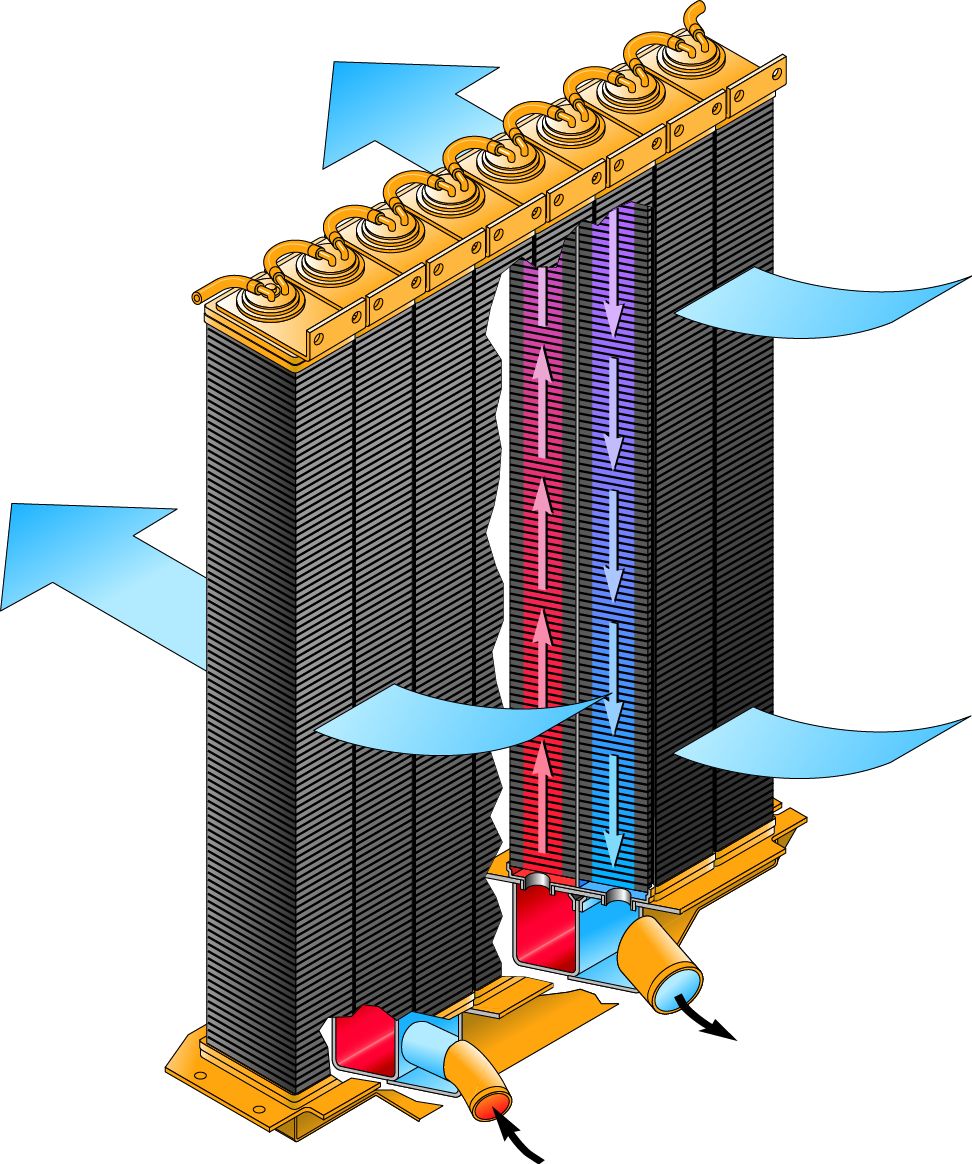 Superior cooling in the most demanding work conditions.
Advanced Modular Cooling System (AMOCS)
Advanced Modular Cooling System (AMOCS) utilizes an exclusive two pass cooling system and increased cooling surface are to provide a more efficient heat transfer system than conventional systems.
Two Pass Cooling System
Two pass cooling system circulates coolant from the sectioned bottom tank up through one side of the cooling element and down through the other side returning it to the bottom tank.
Cooling Elements
The cooling elements are individual core modules that are connected to a sectioned bottom tank. There are nine steel fins per inch, brass tube construction within each core and no top tank to remove.
Servicing AMOCS
The servicing of the AMOCS can be performed without tilting the radiator guard. There is no need to remove or replace a major component as on single core radiators. Each core module can be replaced individually, saving considerable cost and repair time.
Undercarriage
The Caterpillar elevated sprocket undercarriage arrangements allow optimized balance for the best possible performance in each application.
Final Drives
Final drives and associated power train components are raised above the work area - isolating them from ground-induced impact loads, as well as implement and roller frame alignment loads - extending power train component life.
Sprocket Position
The sprocket position keeps sprocket teeth, bushings and final drives away from the abrasive materials and moisture - resulting in longer final drive gear and seal life.
High Flange Improved Track Rollers
High flange improved track rollers (optional) combined with center or full length roller guard attachments greatly improve track guiding for demanding side slope or impact conditions.
Rotating Bushing Track
Rotating bushing track (optional) is a sealed and lubricated system which includes four track seals per joint, non-restrained floating bushings, longer track pins, redesigned track links and a unique pin retention system.
Applications
LGP undercarriage is specially designed to work in soft spongy conditions.
Track Shoes and Frame
Wide track shoes, long track frame and wider gauge increase track contact area, reduce ground pressure for improved stability and provide excellent flotation in swampy conditions.
Heavy-Duty Track Link
Heavy-duty track link is standard on all D7R configurations.
Track Shoe Options
Caterpillar single-grouser shoes are made from heat-treated, rolled steel for added strength.
Operator's Station
Comfort and convenience designed into the control station for an efficient and productive operator.
Operator Station Design
The operator's station provides excellent viewing area to the blade and rear of machine for maximum operator productivity.
Easy-To-Reach, Low-Effort Controls
Easy-to-reach, low-effort controls provide sure, precise steering and dozer control for less operator fatigue.
Isolation-Mounted Cab
Isolation-mounted cab (optional) with air pressurizer and heater reduces noise and vibration for shift-long comfort.
Storage Compartment and Cut Holder
The cab features a storage compartment and cup holder for added operator convenience.
Caterpillar Contour Series Seat
The Caterpillar Contour Series Seat is ergonomically designed and fully adjustable for maximum comfort.
Radio Installation Group
The radio installation group is standard in the D7R LGP cab. It includes mounting brackets, AM/FM antenna and speakers. The AM/FM stereo cassette radio is optional.
Sound Levels
Sound levels have been reduced.
Other Improvements
The D7R LGP incorporates several other improvements.
Steering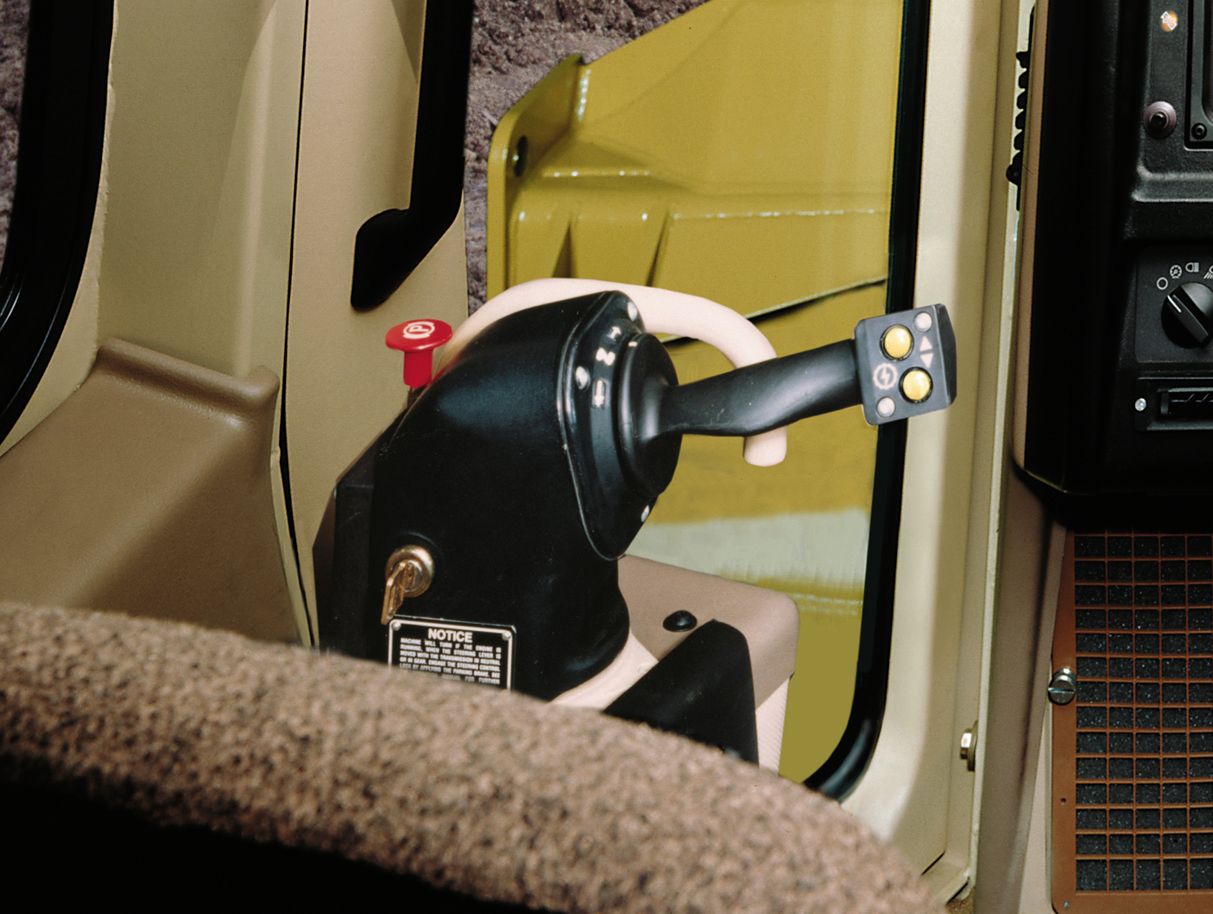 Choice of Differential Steering or Finger Tip Control for steering and transmission enable fast cycle times, excellent maneuverability and oeprator comfort.
Differential Steering
Differential steering maintains uninterrupted power to both tracks during turns through a hydraulically actuated planetary differential, and allows simultaneous one-hand steering and transmission control.
Finger Tip Control
Finger Tip Control allows simultaneous, one-hand steering and transmission control.
Automatic Shifting
Bi-Directional Autoshift allows the operator to preselect a forward and reverse gear for directional changes. Auto-kickdown automatically downshifts the transmission when the engine lugs down to a predetermined RPM level.
Work Tools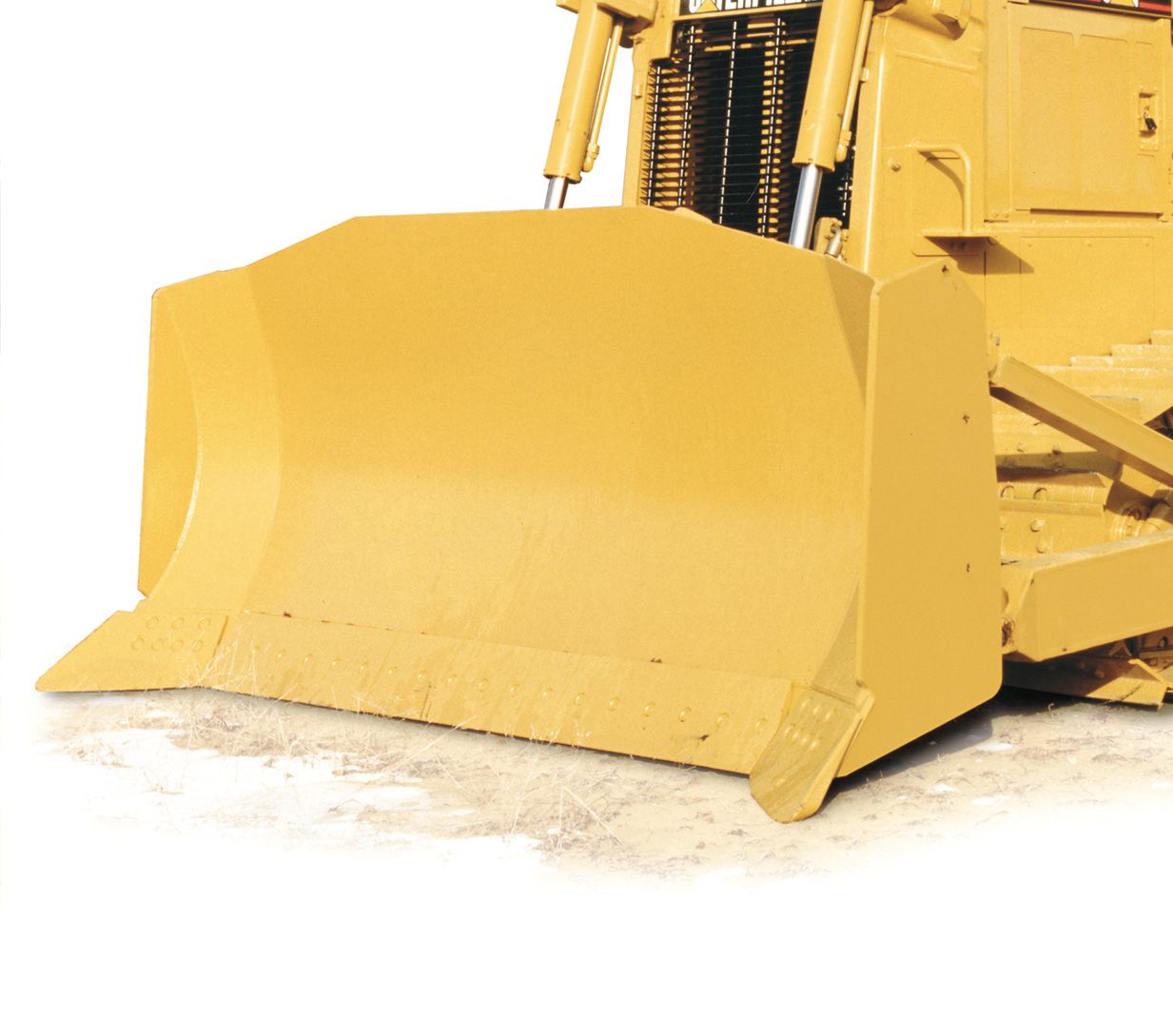 Caterpillar work tools include a choice of dozers, rippers and winches designed for efficient, high production.
Blades
Choose from the S, SU, U or A blade for optimum production.
Ripper
The multi-shank parallelogram ripper lets you choose up to three shanks, depending on job conditions.
Winch
A single lever controls all winch functions - actuates both clutch and brake to improve operator efficiency.
Load Sensing Hydraulics
Adjusts attachment and hydraulic power to increase both operator and machine efficiency.
Hydraulic Power Requirements Continually Monitored
Load-sensing hydraulics utilize a feedback loop from the implement valve to the implement pump to continually monitor the hydraulic power requirements of the implement.
Hydraulic Pump Flow and Pressure Output
During normal blade or ripper corrections the hydraulic pump's flow and pressure output are regulated to only what is needed.
Lower Pump Requirements
Lower pump requirements can reduce engine power requirements for the hydraulics, making more drawbar power available for increased machine production, higher operator efficiency and increased fuel efficiency.
Serviceability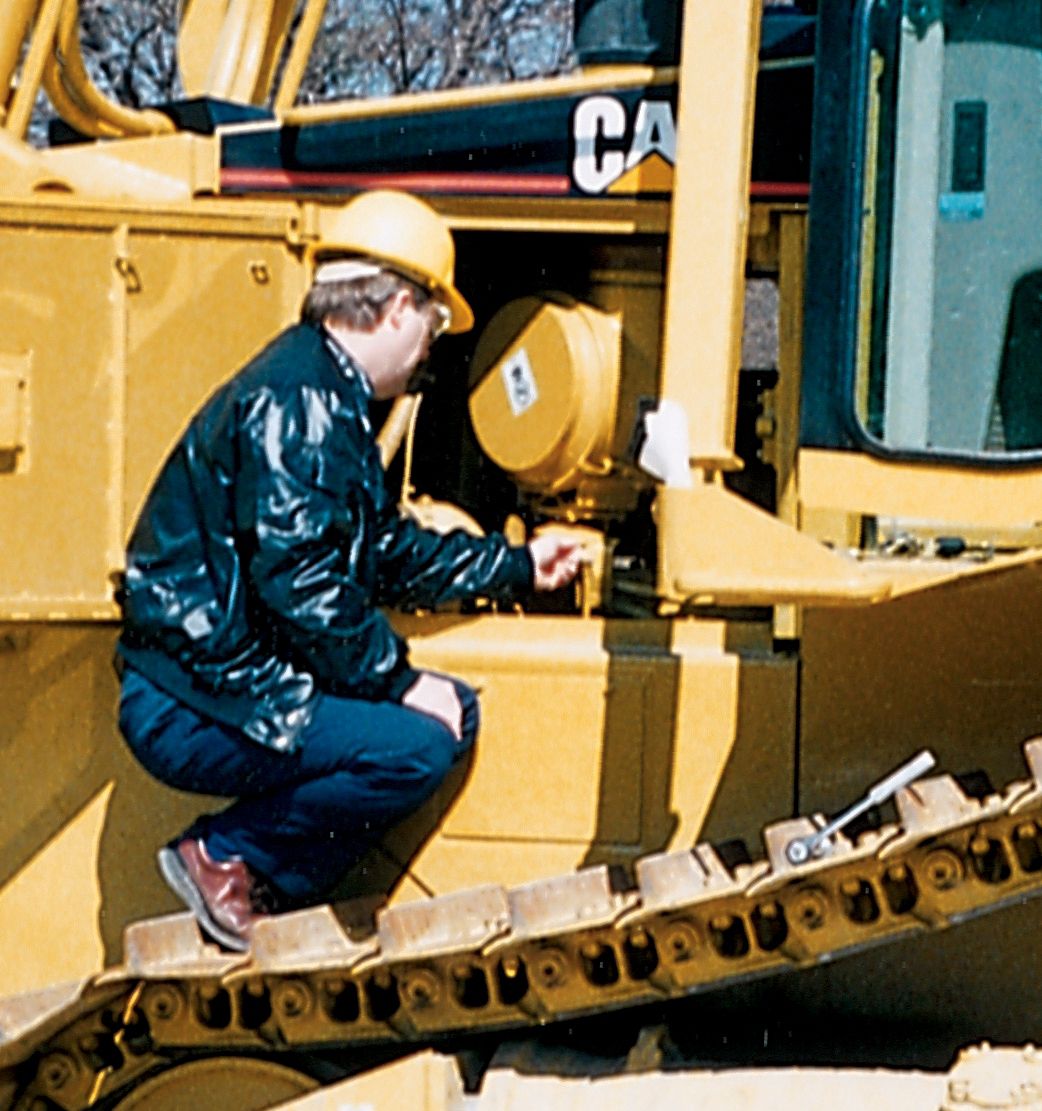 The Cat elevated sprocket tractor's modular design concept moves a generation ahead in simplified service and repair.
Major Components
Major components are easily accessible and removable as single units.
Modular Design
The modular design permits fast removal and installation.
Pre-Testing of Modular Components
Pre-testing of modular components before installation or after repair assures quality.
Grouped Service Points
Grouped service points allow easy access to service areas and make routine checks fast and convenient.
Diagnostic Connector
A diagnostic connector for a special dealer tool enables fast troubleshooting of starting and charging problems.
Quick, Easy Service Access
The D7R LGP design allows quick, easy service access and inspection.
Ecology Drains
Ecology drains provide an environmentally safer method to drain fluids. They are included on the radiator, engine and hydraulic tank; optional for the transmission, bevel gear case and torque divider.
Customer Service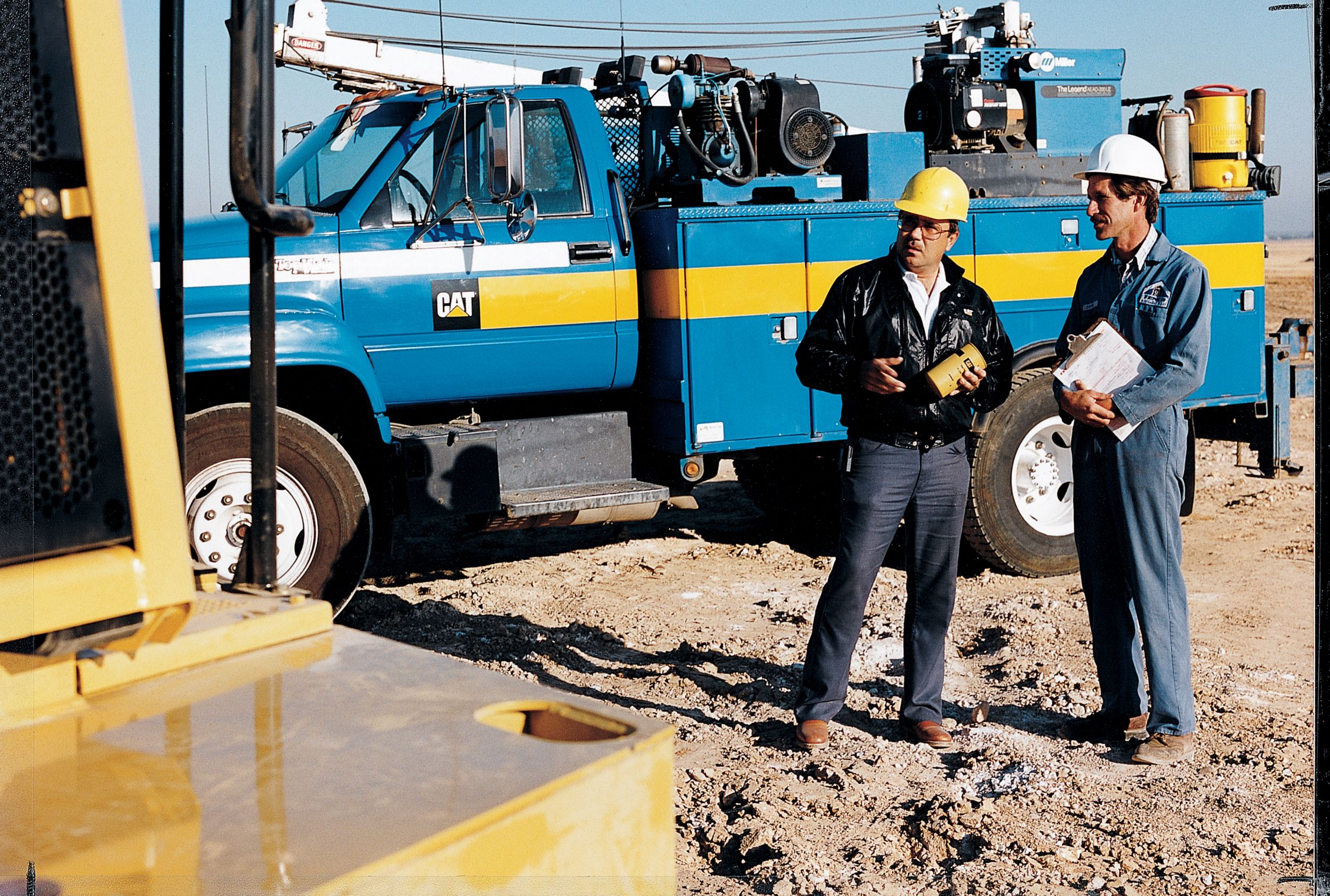 Unmatched in the industry!
Services
Your Cat Dealer offers a wide range of services that can be set up under a customer support agreement when you purchase your equipment.
Product Support
You will find nearly all parts at your dealer parts counter. Cat Dealers utilize a world-wide computer network to find in-stock parts to minimize machine down time.
Service Capability
Whether in the dealer's fully equipped shop or in the field, you will get trained service technicians using the latest technology and tools.
Selection
Make detailed comparisons of the machines you are considering before you buy. Your Cat Dealer can give you precise answers to your questions.
Operation
Improving operating techniques can boost your profits. Your Cat Dealer has training videotapes, literature and other ideas to help you increase productivity.
Maintenance
More and more equipment buyers are planning for effective maintenance before buying equipment. Choose from your dealer's wide range of maintenance services at the time you purchase your machine.
Replacement
Repair, rebuilt or replace? Your Cat Dealer can help you evaluate the cost involved so you can make the right choice.