A powerful six-cylinder Cat® 3046 engine and a Hydrostatic Power Train system provide the power you expect from the Cat D4C tractors and the productivity you need to increase your profitability.
Overview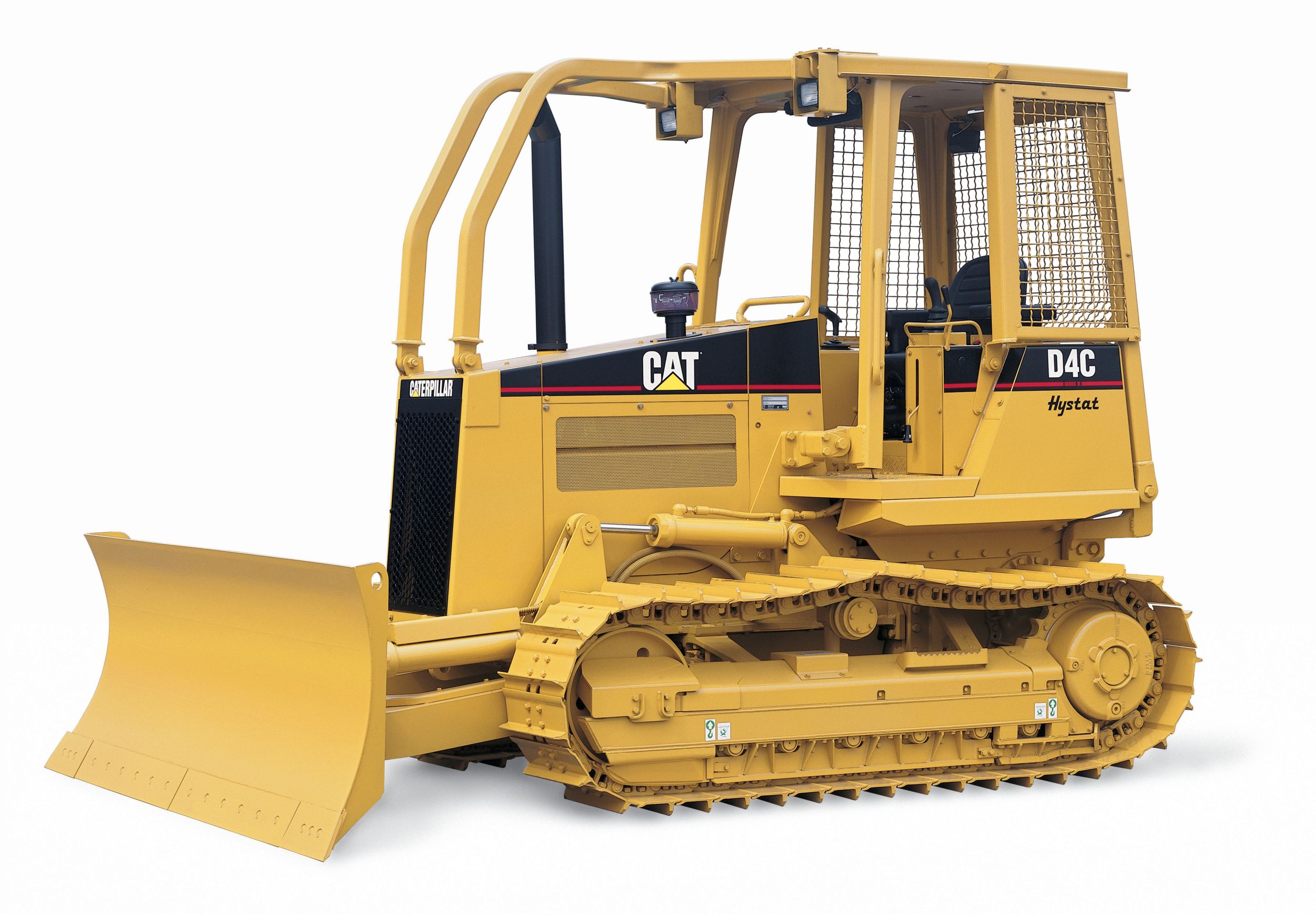 The Caterpillar C-series III Track Type Tractors offer rugged construction and outstanding reliability.
Outmaneuver every job you tackle
A single lever joystick controls speed, direction and steering on Cat® D4C Series III Hystat Track-type Tractors. Full powerturn capability is made possible by maintaining power to both tracks at any ground speed or turning radius.
Power Train
A powerful six-cylinder Cat® 3046 engine and the productivity you need to increase your profitability.
Hystat Power Train
The Hystat system is a high pressure, dual path, closed loop hydrostatic power train system. Each track is driven by a separate hydraulic circuit consisting of one variable-displacement piston-pump, connected by a Cat XT-6 hose.
Hystat Transmission
Dual-path, hydrostatic drive provides infinitely variable speeds up to 9.0 km/h (5.6 mph), forward or reverse.
Final Drives
Hystat System features double-reduction, with outboard planetary gear set, mounted independently of track frames to isolate them from machine weight and ground-induced shock loads. Externally mounted for easy maintenance and service.
3046 Engine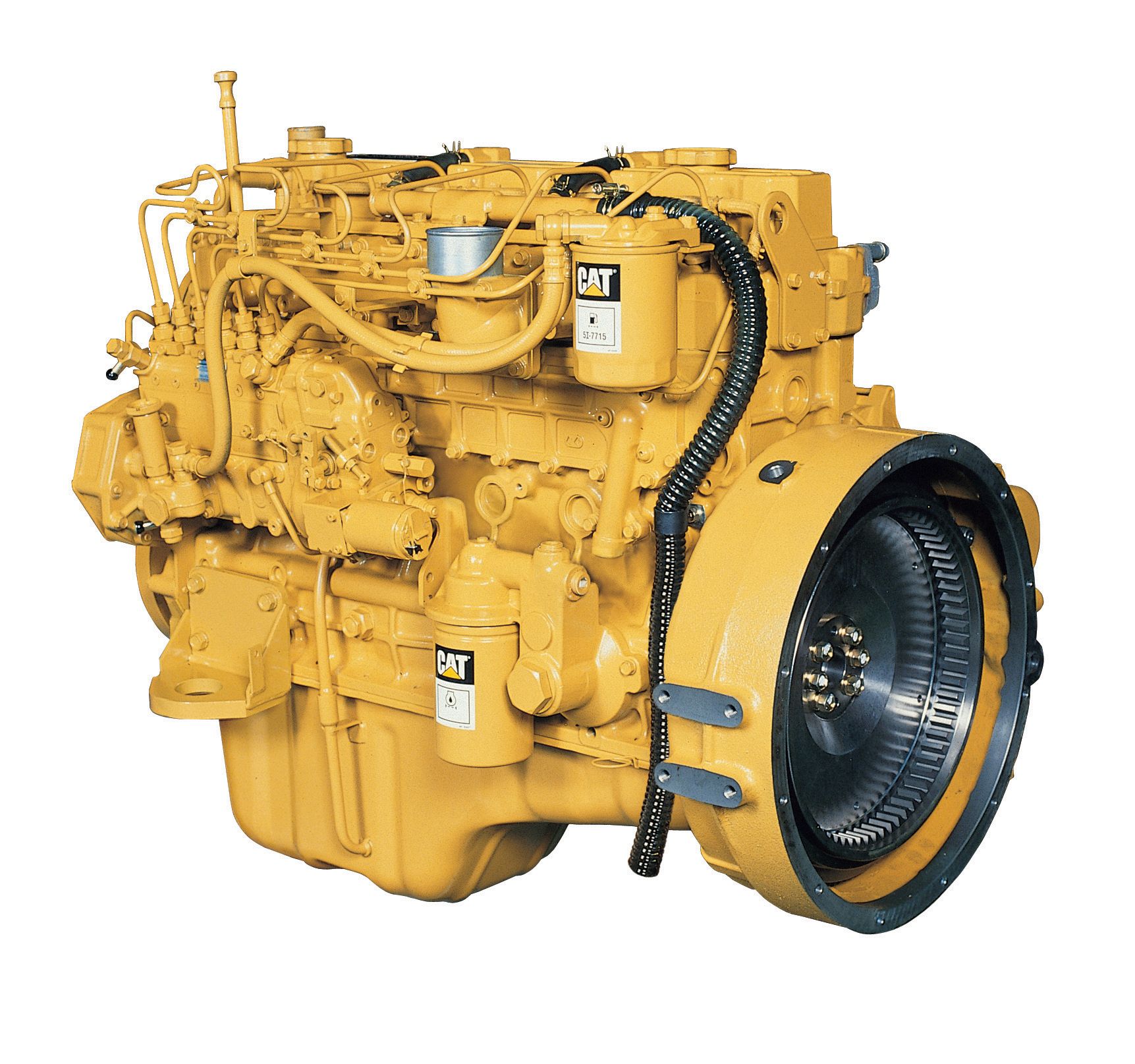 Smooth, responsive power, excellent fuel economy and lasting reliability. Designed specifically for small to medium size earthmoving machines.
Direct Injection Fuel System
Direct injection fuel system is adjustment free for reduced maintenance.
In-Cylinder Glow Plugs
In-cylinder glow plugs deliver dependable starts when operating in cold temperatures. Built-in temperature switch helps ensure lasting reliability.
Cooling System
A large diameter fan and full length, water-cooled cylinders, combined with excellent thermal efficiency, minimize heat rejection, prevent overheating and prolong engine life.
Cylinder Head
Cylinder head uses replaceable valve seal inserts, valve guides and a high quality composition steel laminated head gasket.
Aluminum Pistons
Aluminum pistons with a cast iron insert for increased durability under high compression loads. Pistons have two compression rings and an oil ring with a coiled expander.
Lubrication System
Lubrication system features an efficient, multiple-plate, water-cooled oil cooler to help prolong engine and lubricant life.
Hystat Control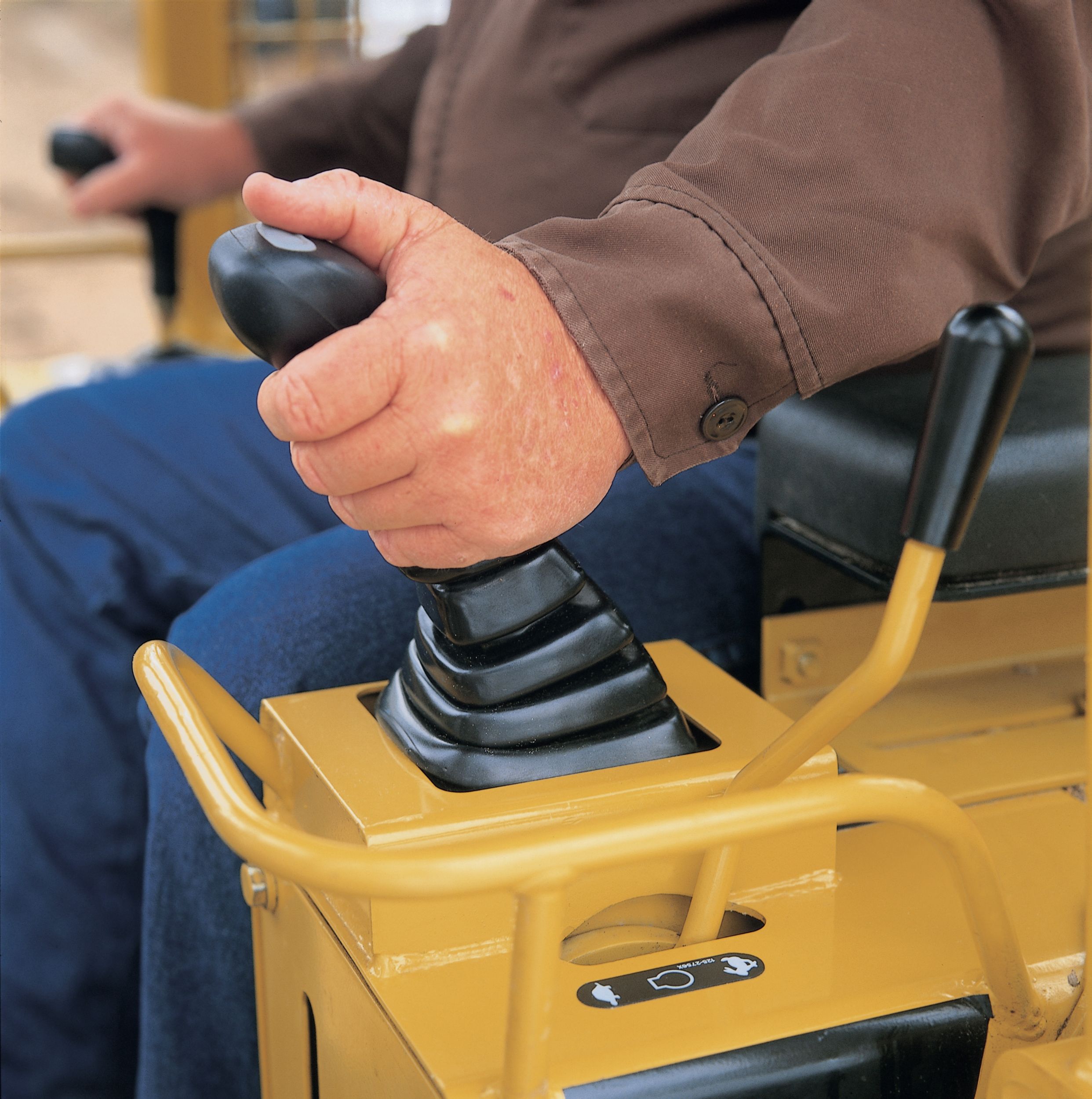 A single joystick allows you to control speed, direction and steering, effortlessly.
Joystick Controls
The joystick is ergonomically designed to fit comfortably within the palm of your hand. Control effort is minimal, so much so that you might find yourself using your fingertips.
Steering
Single lever steering and direction control. Moving control lever left or right slows that track, causing the machine to turn smoothly in that direction with full power to both tracks.
Direction/Speed
The Hystat control allows the operator easy forward movement, reverse movement, and stopping capabilities. A Turtle/rabbit switch is available with the toggle switch on top of the joystick.
Operator Station
Visibility down to the cutting edge is excellent, controls are ergonomically designed and well positioned, and armrests are fully adjustable for optimum comfort and productivity.
Ergonomic Design
Ergonomically designed for your maximum comfort and productivity. Take the opportunity to work comfortably and productively, day-in and day-out.
Pressurized Cab
The pressurized cab is sealed to keep dust out and sound to a minimum, resulting in a quiet working environment.
Control Console
Control console is back-lighted and contains controls for cab temperature, fan speed, the front/rear window washers, and two-speed wipers.
Optional Caterpillar Contour Series Seat
An optional Caterpillar Contour Series seat, with a retractable seat belt, is the premium seat option and is designed for maximum comfort and fully-adjustable support.
Blade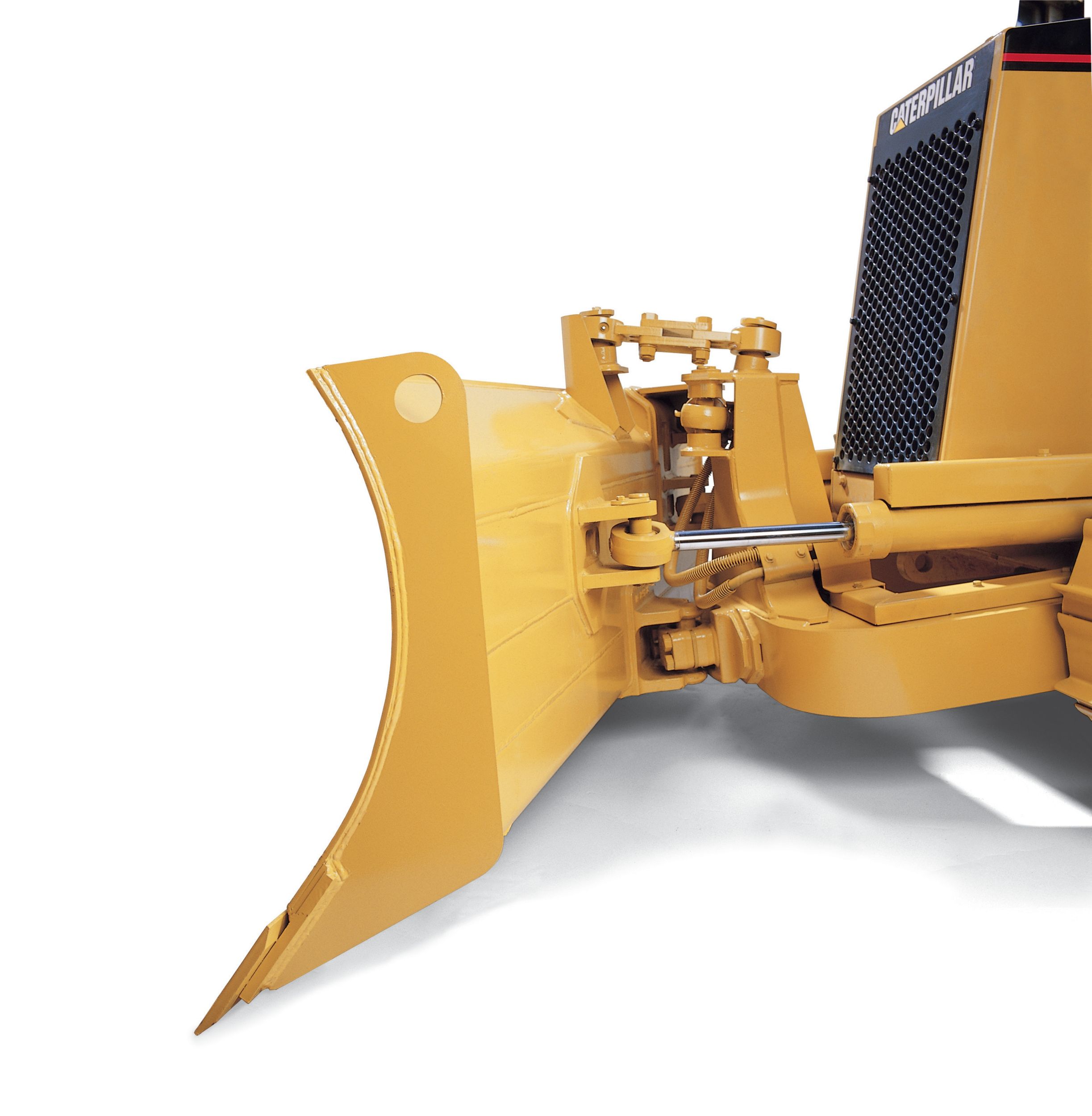 Designed and built for unmatched versatility, durability, and strength. All D4C tractors are equipped with a durable Variable Pitch, Power Angle and Tilt (VPAT) blade.
VPAT Blade
VPAT blades are built with four full-width, box-section reinforcement cells for unmatched strength and durability, just like what you find on larger Cat dozers.
Adjustable Top Pitch Link
An adjustable top pitch link provides a solid link between the blade and the top of the tilt tower on the C-frame.
The Cutting Edge
The cutting edge is recessed into the blade's moldboard, providing a smooth transition from the cutting edge to the moldboard.
Moldboard
A deeper moldboard curvature increases material rolling action. Increases to moldboard thickness provide added dent resistance.
Cylinders
Large diameter cylinders provide plenty of force to angle/tilt the blade, even in tough dozing applications.
Guarded Hoses and Tubing
Guarded hoses and tubing are protected from rocks and debris, extending service life. Heavy-duty hoses and tubing meet critical strength and flexibility demands for increased reliability.
Undercarriage
With soil conditions changing with each job you tackle, you need an undercarriage built for long wear life and low owning and operating costs. That's why D4C undercarriages are built with strong, durable components.
XL undercarriage
Track length is extended on extra long (XL)undercarriages for increased ground contact area, increased flotation, and for superior balance and finish grading performance. Shoe width: 406 mm (16").
Serviceability
The updated engine enclosures provide easier access to grouped service points. Remote grease zerks make lubricating C-frame pivot bearings easy.
Remote Zerk Lube Fittings
Allows easy lubrication of C-frame pivot bearings. Additional zerk fittings have been added to all bulldozer pivot pins to provide long life and maintain tight linkage.
Removable Engine Enclosure
Removable engine enclosure has a built-in grip handle and provides access to vertically mounted, spin-on engine oil and fuel filters, SOS valve and fuel priming pump.
Engine Oil Dipstick
Engine oil dipstick, oil fill and radiator fill are easily accessed through a hinged and lockable panel on top of the hood.
Increased Fuel Tank Capacity
Increased fuel tank capacities provide you with more work between refueling.
Combined Power Train and Hydraulic Oil Filters
Combined power train and hydraulic oil filters on Hystat models are vertically mounted for cleaner changes and are easily accessible by removing the rear panel. An SOS valve is conveniently installed on the filter base for sampling power train oil.
Fuel/water Separator
The fuel/water separator is accessed easily through a hinged door located at the rear of the machine.
Total Customer Support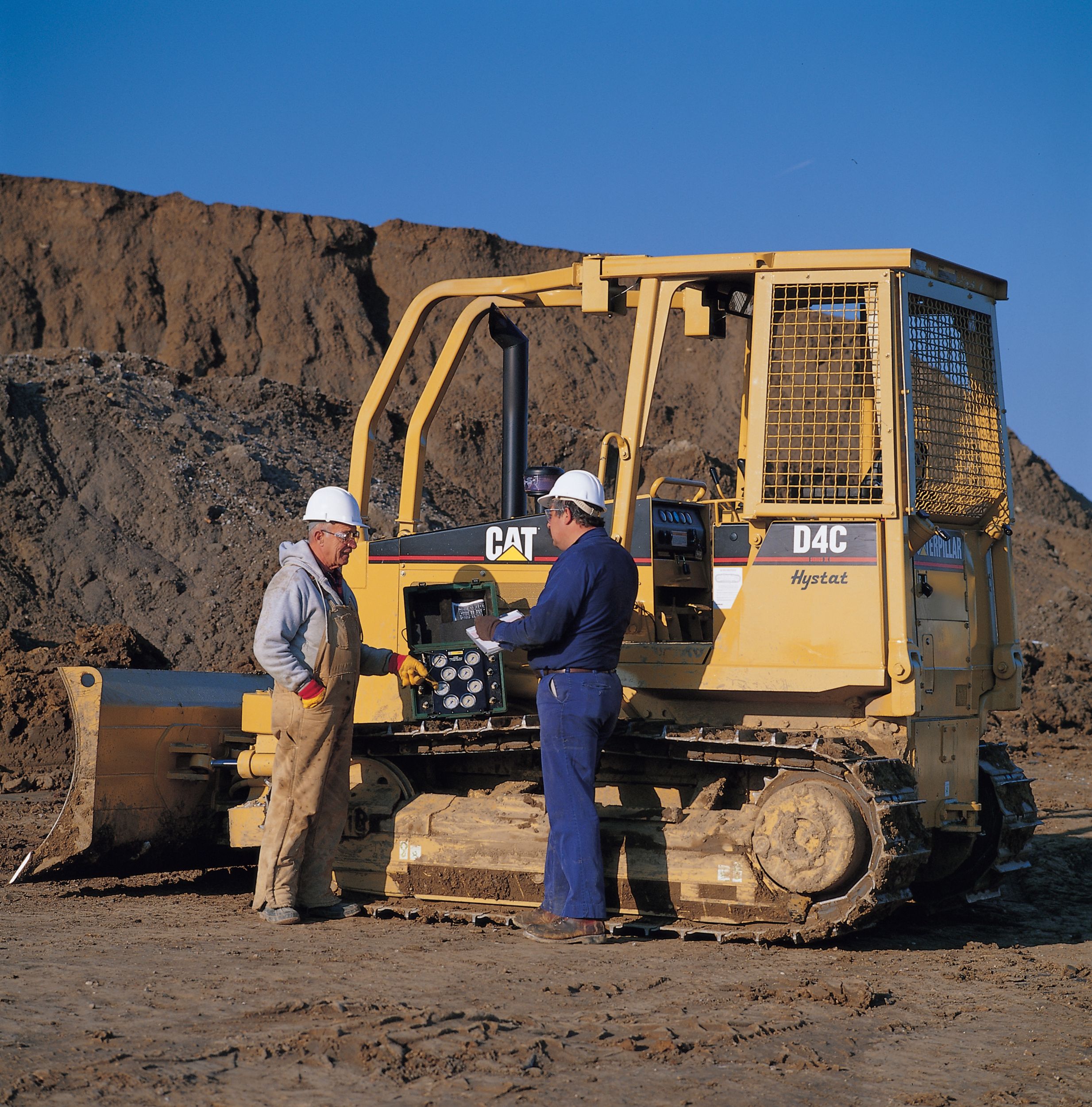 Your Cat dealer offers a wide range of services that help you operate longer at lower costs. Select individual services or a comprehensive Customer Support Agreement.
Selection
Your Cat dealer can help you make detailed comparisons of machines you are considering before you buy.
Maintenance
Choose from your Cat dealer's wide range of maintenance services at the time you acquire your D4C. Repair option programs guarantee the cost of repairs up-front.
Customer Support Agreement
A customer support agreement can enhance the value of your D4C by lowering your costs per unit of production and puts your Cat dealer's superior support capabilities to work for you.
Product Support
Nearly all the parts needed to support the D4C are already available at your dealer's parts counter. Cat dealers use a world-wide computer network to find in-stock parts to minimize downtime.
Replacement
Throughout the life of your D4C, your Cat dealer can help you evaluate the cost involved with repairing, rebuilding or replacing.