CB36B LRC Utility Compactor
The CB36B is a versatile machine that can be used as the only vibratory roller on small sized jobs or on larger jobs as a support roller for high-production rollers. The CB36B provides greater production capabilities with its 1400 mm (55") wide drums. Its high amplitude and drum width give it the capacity to achieve a tons-per-day production rate that make it an excellent match for shoulders, small parking lots, lane additions or other similar sized jobs.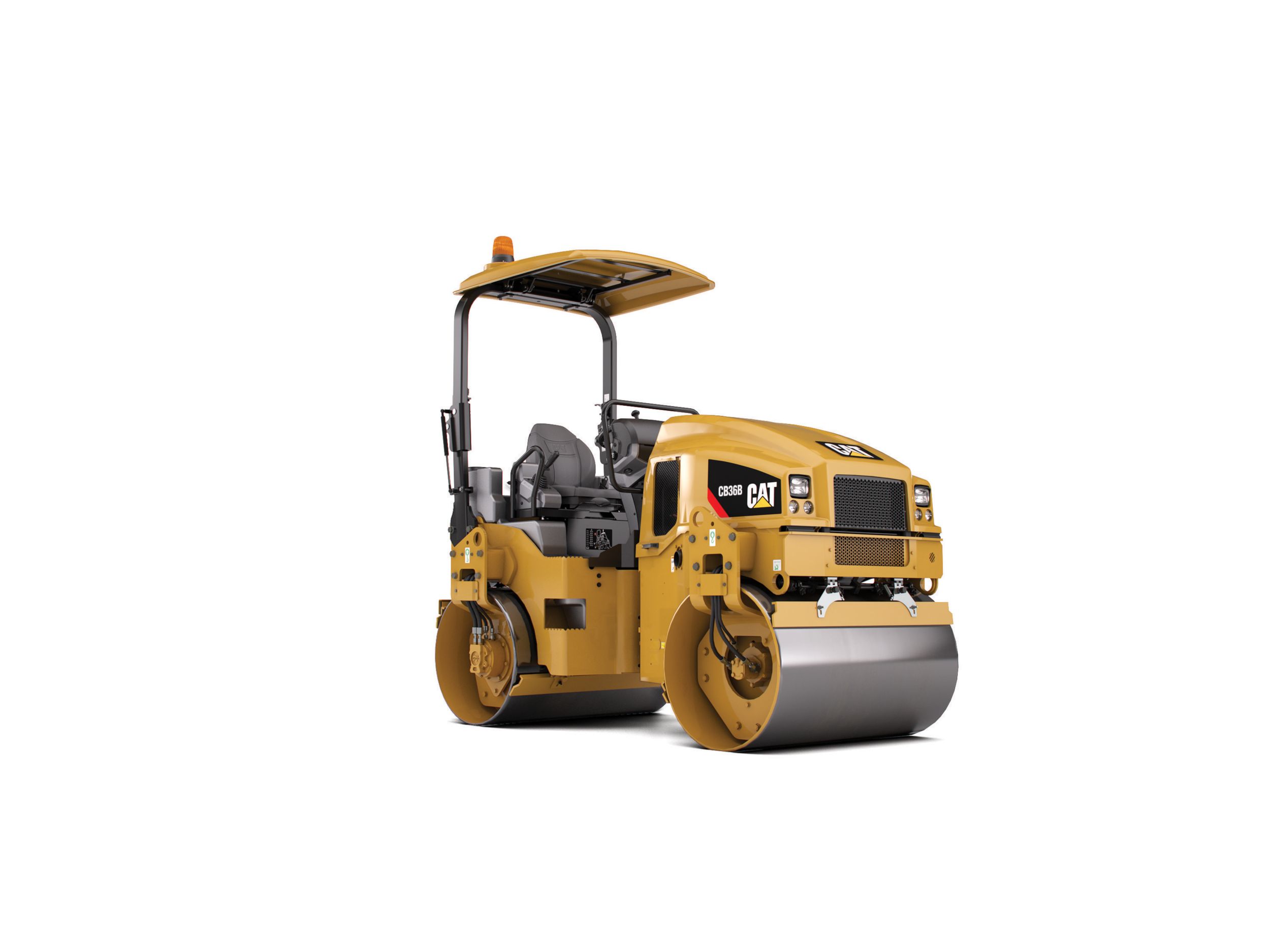 Product Details
Weights
| | |
| --- | --- |
| Operating Weight | 3803 kg |
| Maximum Weight at Front Drum | 1855 kg |
| Maximum Weight at Rear Drum | 1948 kg |
Operating Specifications
| | |
| --- | --- |
| Standard Compaction Width | 1400 mm |
| Curb Clearance | 520 mm |
| Turning Radius - Inside Drum Edge | 2897 mm |
| Ground Clearance | 284 mm |
| Travel Speed - Maximum | 13 km/h |
| Static Linear Load | 13.6 kg/cm |
Engine
| | |
| --- | --- |
| Gross Power | 36.6 kW |
| Engine Model | C2.2 |
Dimensions
| | |
| --- | --- |
| Overall Length | 2859 mm |
| Wheel Base | 2050 mm |
| Overall Width | 1500 mm |
| Maximum Machine Height | 2765 mm |
| Drum Width | 1400 mm |
| Drum Diameter | 800 mm |
Vibratory System
| | |
| --- | --- |
| Centrifugal Force per Drum - Maximum | 33.5 kN |
| Nominal Amplitude - High | 0.5 mm |
| Centrifugal Force per Drum - Minimum | 25.5 kN |
| Frequency | 55/48 Hz (3,300/2800 vpm) |
Service Refill Capacities
| | |
| --- | --- |
| Fuel Tank Capacity | 90.7 l |
| Water Spray Tank Capacity | 308 l |
Simple Operation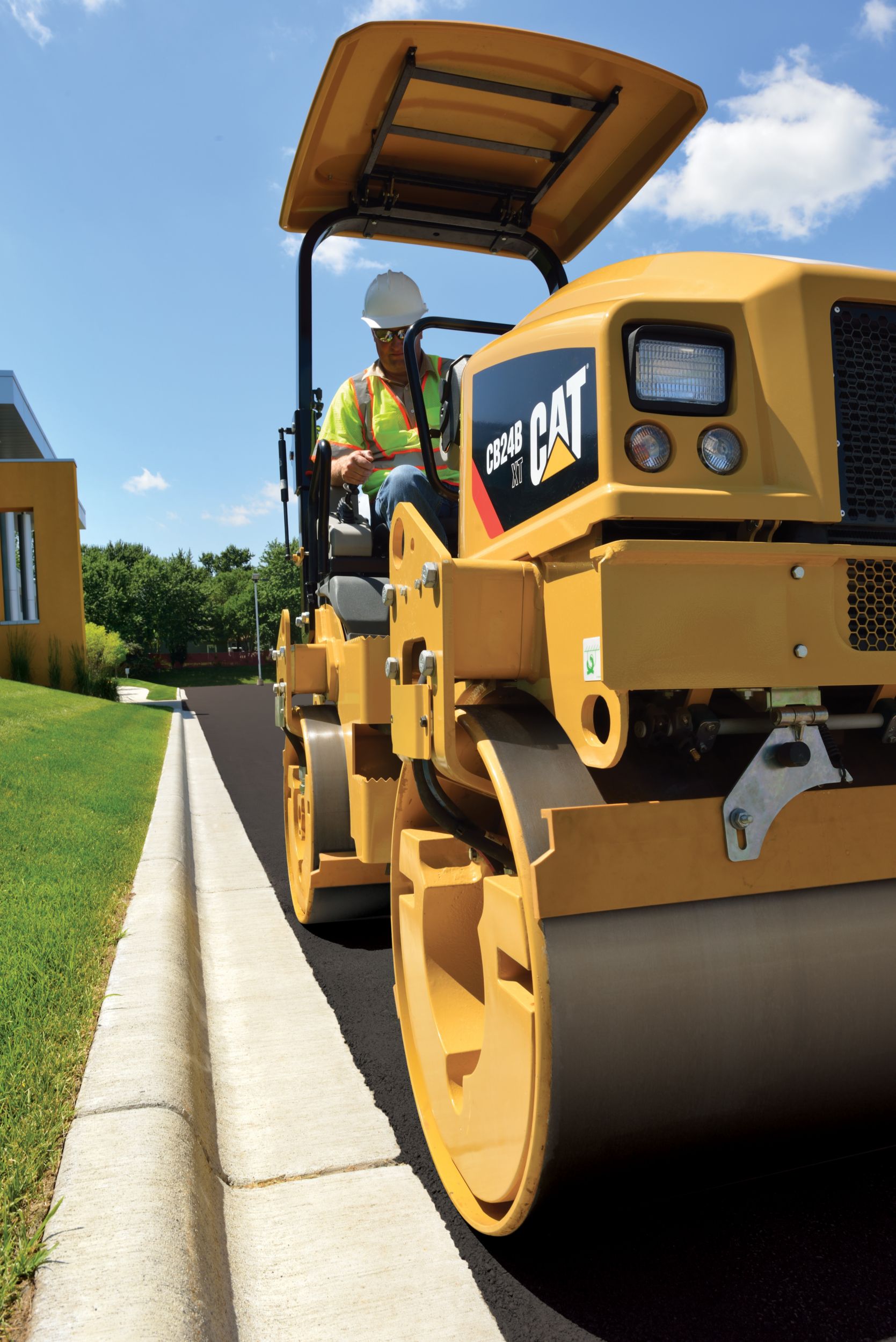 The operating environment offers improved comfort and visibility. The narrow frame design and contoured engine hood provide good visibility to the drum edges and front of the machine. The intuitive control panel utilizes a backlit LCD display and sealed switches with bright LED lights for easy recognition in a variety of operating conditions.
Intuitive Controls
Intuitive, multi-function control panel with vandal protection enables good performance. Easy viewing LCD Display and Vibrant LED lights on the control panel simplify operation in both day and night operation. Integrated vandal cover protects value.
LCD Display
Multiple language options are available for crew diversity. The display screen options include; engine speed, fuel level, hour meter, coolant temperature, hydraulic oil temperature, voltage. The default screen includes: engine speed, fuel level, hydraulic oil temperature and visual indicators to keep the operator informed of low water level (spray system), Eco-mode, drum selections, lights, water spray settings, traction control, regeneration, parking brake, and warning indicators.
Nighttime Operation
The bright LCD display and LED console lights optimize control for day and night operation. Roading and working lights include front lights with turn signals, a single rear working light with turn signals and a warning beacon.
Foldable ROPS and Canopy
Powerful lift cylinders enables a single person to raise and lower without the use of tools. A fixed ROPS is also available. The foldable canopy is compatible with fixed or foldable ROPS.
Efficient Compaction Performance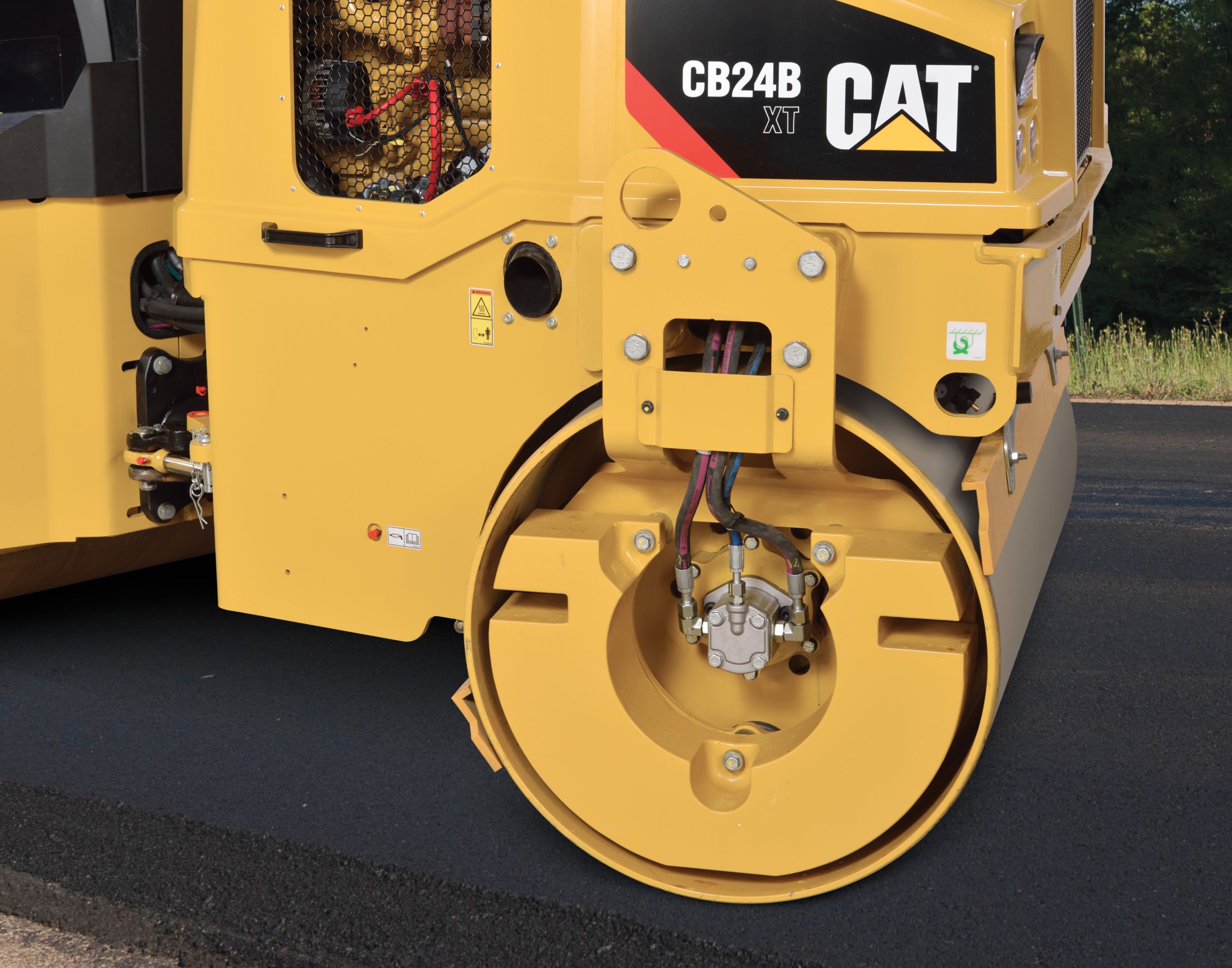 The vibratory system is equipped with a variety of frequencies and single amplitude that provide lower sound levels and job site versatility. A 50 mm (2") drum offset feature enhances control near curbs and obstacles while providing more coverage.
Vibratory Drums
The vibratory system is equipped with automatic vibration de-activation when the propel lever is in the neutral position. Vibration is available on front, rear, or both drums. The exclusive eccentric weight shaft delivers quick starting and stopping times and a bearing service interval of 3 years or 3000 hours.
Frequency Selection
Two frequency selections deliver excellent compaction performance and low sound levels. Selections of 55 Hz (3,300 vpm) and 48 Hz (2,800) are available.
Drum Offset Capability
A 50 mm (2") drum offset capability enhances control near curbs and offers more coverage.
Best_In_Class Water Spray System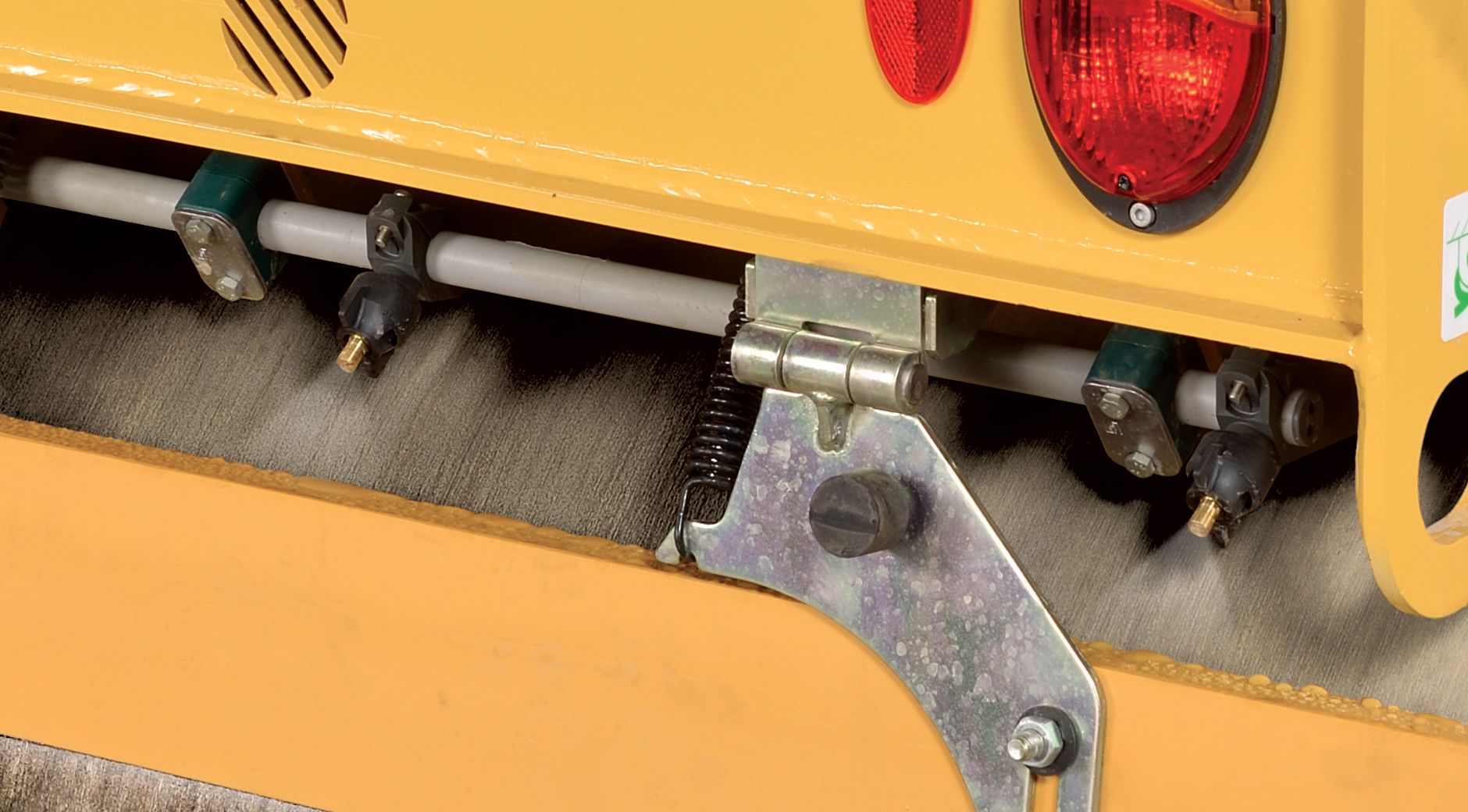 More coverage, and easier access: That summarizes the water spray system on Cat Utility Compactors. The result is less material pickup, and increased uptime for your crew.
Performance Enhancing Features
The protected spray bar is designed to fight winds, while a low water level indicator keeps the operator informed. A single water tank with a capacity of 308 L (81 gallons) provides more hours of operation between refills. The intermittent and continuous modes increase control and efficiency. Triple filtration in the tank, before the water pump, and in spray nozzles provides reliability. An antifreeze option provides protection in cold weather, while a single point to drain and filter water offers easy service.
Spring Loaded Scrapers
Spring loaded scrapers keep the drums clean and distribute water evenly for reduced consumption. Robust, retractable hinges help maintain contact with the drum and retract when roading to reduce unnecessary wear. Scrapers are located at the front and rear of each drum.
Optimized Power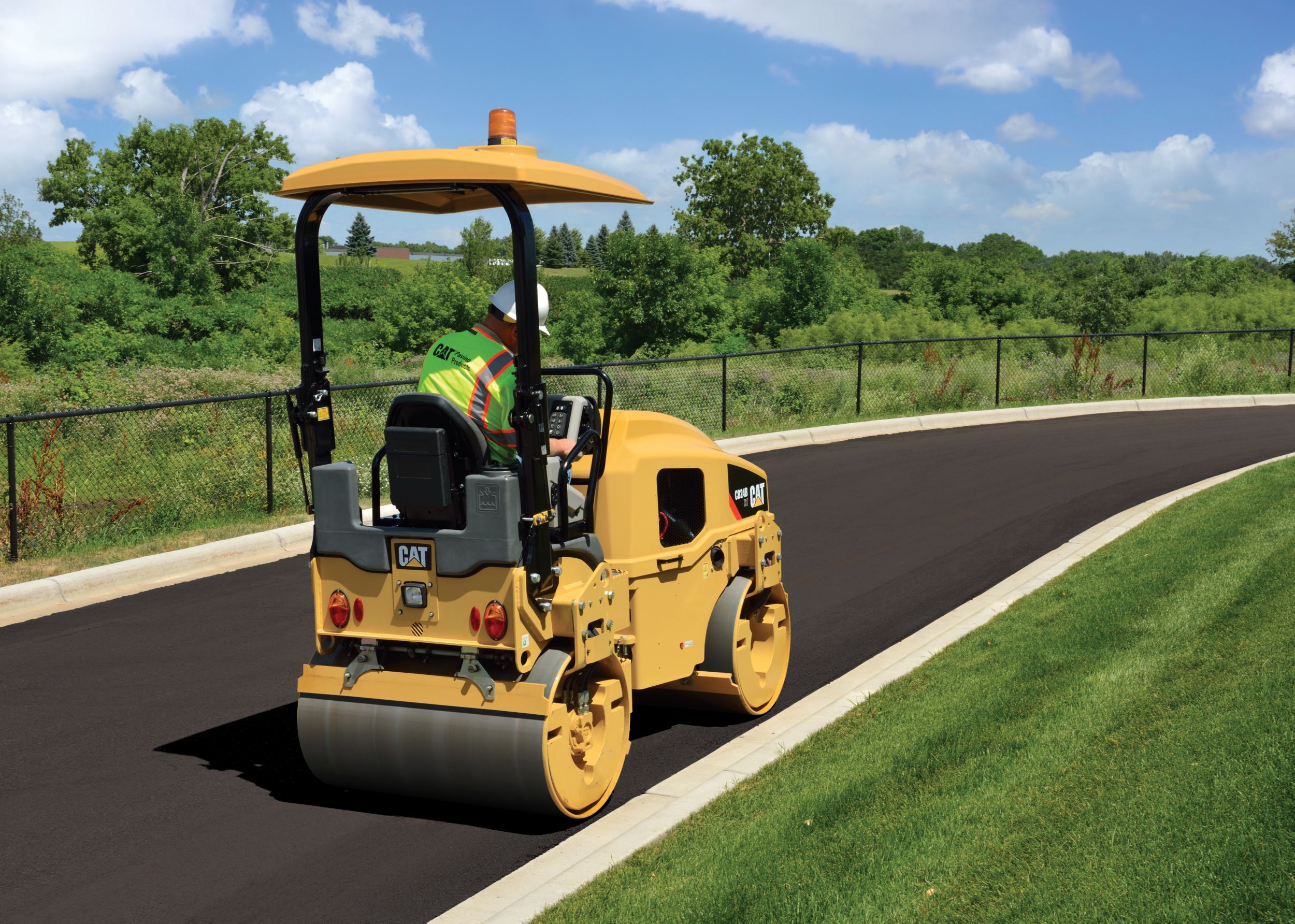 Cat engines are the power behind Cat Utility Compactors. Optimized engine power provides the push you need on any project grade.
Powerful Cat Engines
Two engine offerings are available to meet local emissions requirements. An electronic control module (ECM) helps enable steady operation. The engine includes an electric fuel-transfer pump and fuel tank sized for 12-14 hours of runtime. Multiple engine speed settings enable operators to customize to the specific application and environment. Eco-mode can reduce fuel consumption up to 8 percent, depending on model.
Traction Control
A traction control option is available in a pin-on design that offers quick installation. Field retrofitting can be completed in an hour.
High Ambient Cooling
The cooling system provides ambient capability of 49°C (120°F) @ 80 percent load. The hydraulically driven fan motor enables variable speeds and reduces sound levels.
Designed For Rental
These new models are designed specifically for the rental market. The intuitive control panel and spacious platform offer comfort to suit a variety of operators. Durable components and fuel efficient engines maximize uptime and lower lifetime operating costs, while the Product Link capability enables close monitoring to keep owners informed of machine location and service needs.
Comfort and Safety
These machines provide easy operation with intuitive controls and extensive legroom to suit a variety of operators. Durable components maximize uptime and lower operating costs, while fuel-efficient engines reduce costs. Low sound levels enhance the environment and ProductLink™ is available for simple remote monitoring.
Anti-Freeze System
Ballast
Battery Disconnect Switch
Bio-hydraulic Oil
Foldable Canopy
Fixed Canopy
Dual Propel Levers
Non-Suspension Seat
Product Link
Fixed ROPS
Foldable ROPS
Seat w/Operator Presence Switch
Sliding Seat
Traction Control
360° Exterior View
"Call Back Option available only for UAE, Bahrain, Kuwait, Oman and Qatar."